Since its rocky start in March, Bard AI has been working hard to catch up with competitors such as ChatGPT and Jasper. It seems that with the introduction of Bard Extensions, it is finally making significant strides.
Unlike other generative AI, it is capable of providing tailored responses by using data from the web, which makes it more up-to-date and accurate.
Now, with the integration of first-party Google apps such as Google Flights, Google Maps, Google Hotels, Google Drive, Google Docs, Gmail, YouTube, and other third-party services as extensions, Bard has immense potential to surge ahead in the ongoing AI race.
With integration Extensions, Bard will now be able to pull data across all these services (if you grant Bard permission) and provide more resourceful responses. Let's see how to use these Bard extensions with a few prompts.
How to Enable Extensions in Google Bard
Much like Bing Chat plugins, Bard now offers support for extensions. Anyone with a Google Account can now use Bard along with its new extensions.
Open your favorite browser, and head to bard.google.com, the Bard's official website. Then, click 'Sign in' if you are not signed to your Google account.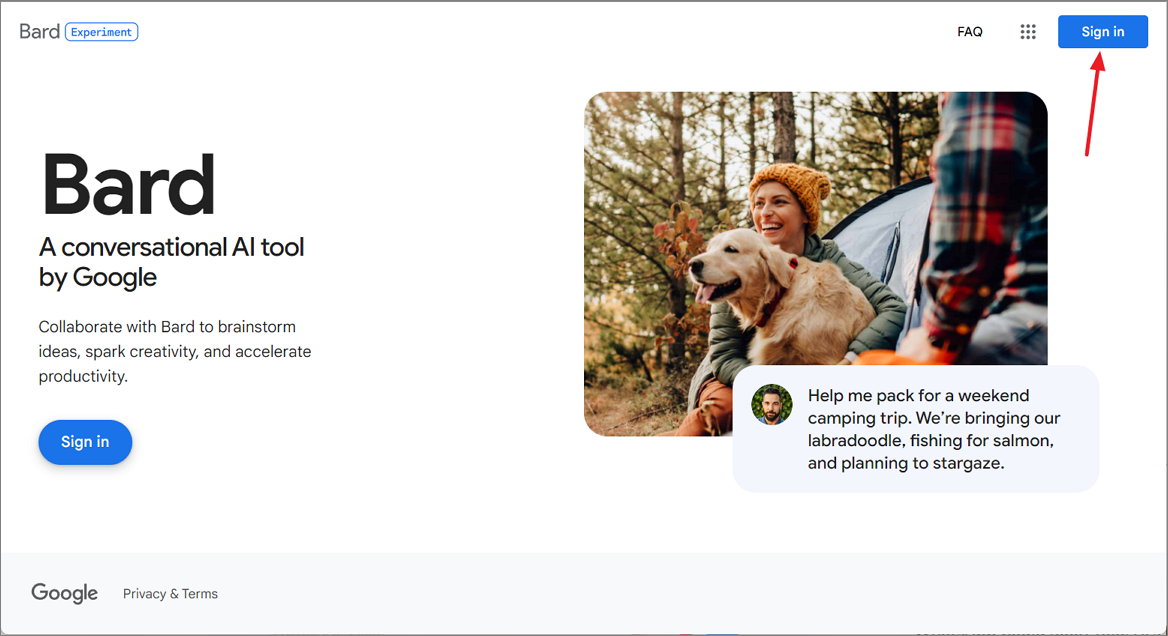 Now, click the new 'Extensions' button at the top left corner.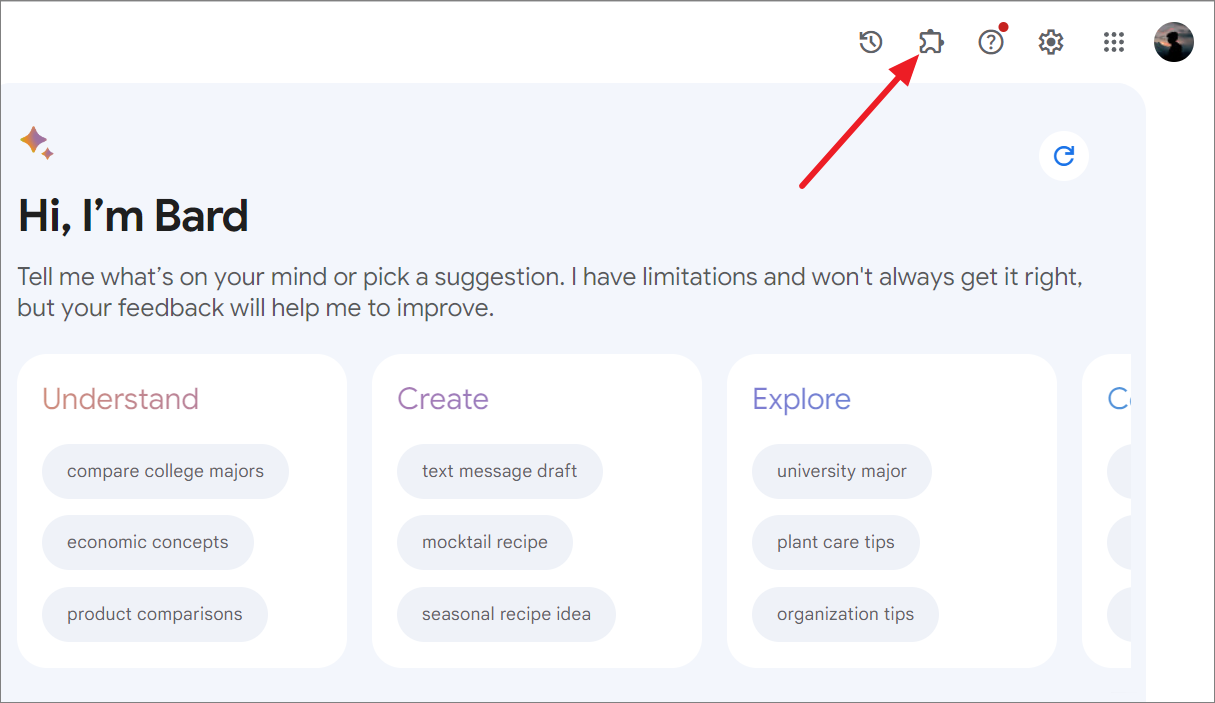 In the pop-up box, click 'Show me more' to show you more information about the extensions.
On the next prompt, you will be asked whether you want to grant permission to Bard to access your Gmail, Google Drive, and Docs. Click 'Continue' to proceed with this.
Bard only needs permission to enable the Workspace extension, which allows Bard to use your Google Workspace apps. Other extensions do not require your permission. If you don't want to connect Bard to your Google Workspace apps, click 'No thanks'.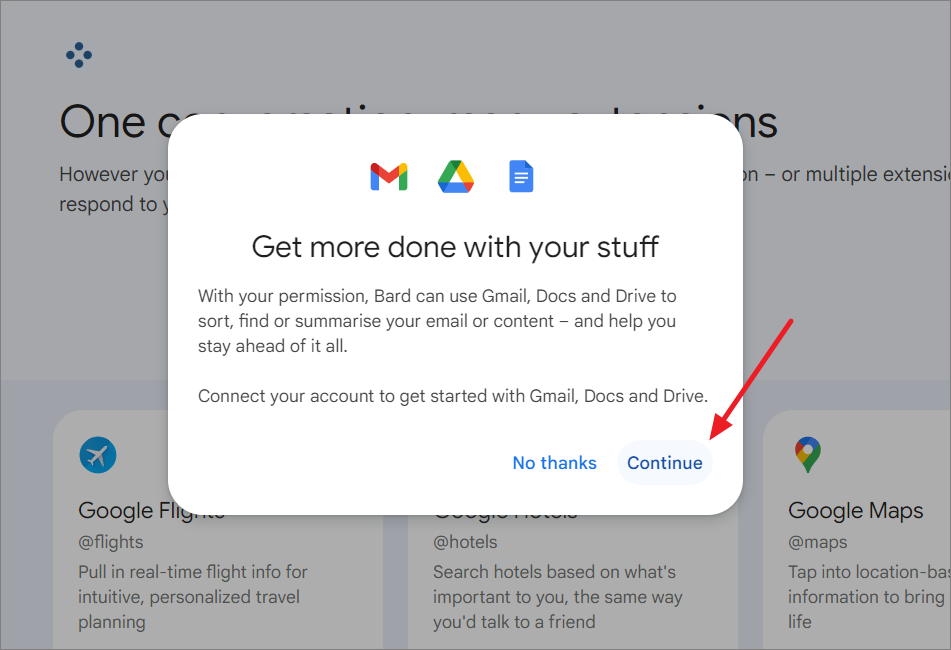 Next, click 'Connect' to grant permission to Bard to access your Google Workspace apps.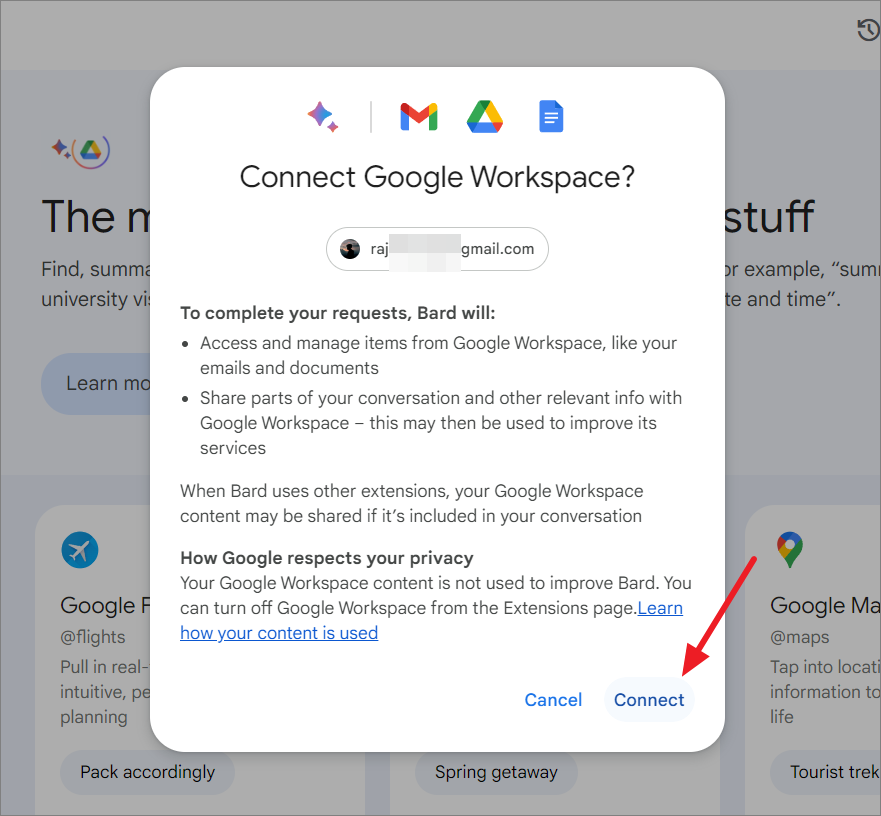 Finally, click 'Let's go!' to start using Bard Extensions.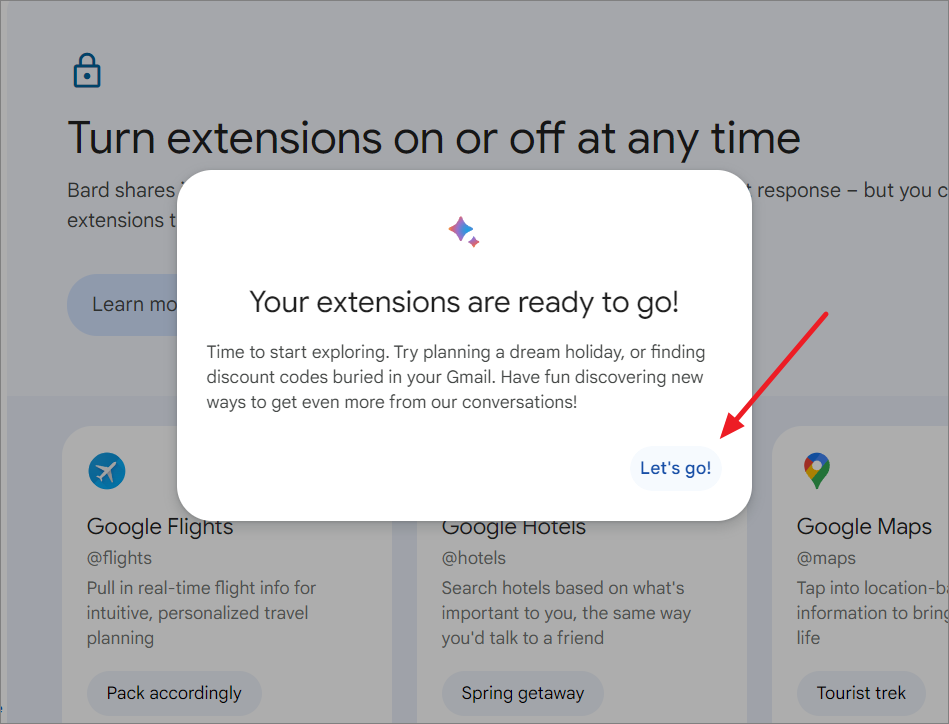 You can also deactivate extensions at your convenience. Additionally, Google assures that your personal content won't be used to train the Bard model, won't be accessed by humans, and won't be used for targeted advertising.
How to Use Bard Extensions
Now that Bard Extensions are enabled, you can interact with Bard to leverage its integration with various Google apps and services.
Trip Planning
For instance, you're planning a vacation to Athens, Greece, and want to use Bard Extensions to help you plan the trip. You can do this by giving this prompt: Bard, help me plan a trip to Athens, Greece and create me an itinerary and packing list.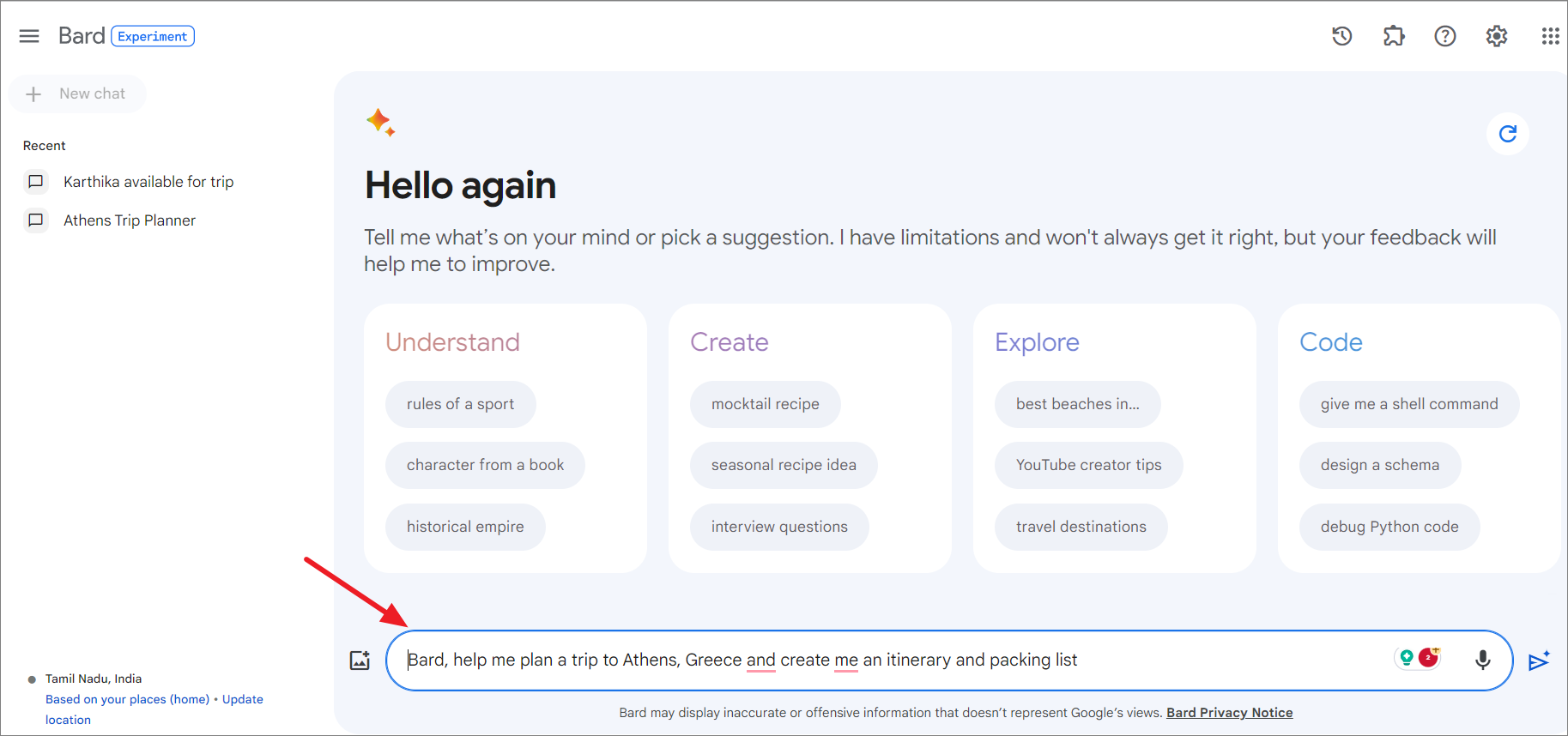 Bard will provide a sample trip plan and itinerary for you, which you can modify with additional prompts.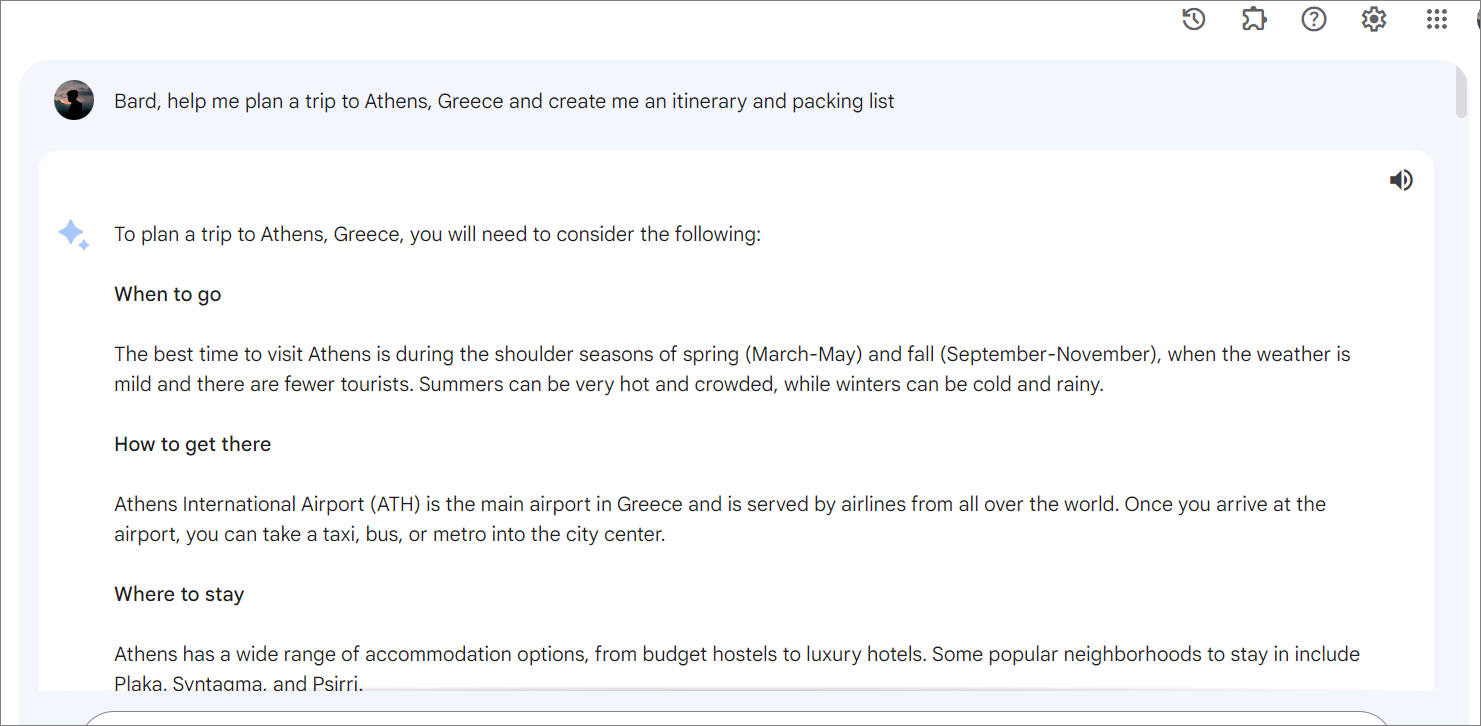 You can then use Bard Extensions to help you in several ways:
Retrieve flight information from Gmail.
Find nearby hotels and their rates using Google Maps.
Provide directions from the airport to the hotel and more.
Gather Information from your Gmail using Bard
When you're planning this trip with a friend, and you're curious about when she'll be available and if she's sent you an email about it. You can use Bard to easily search your emails for any information she might have sent. For that, let's give this prompt:
What dates did Karthika say she's available for the trip to Athens in email?
Bard will use extensions to gather information from your Gmail and provide your answers.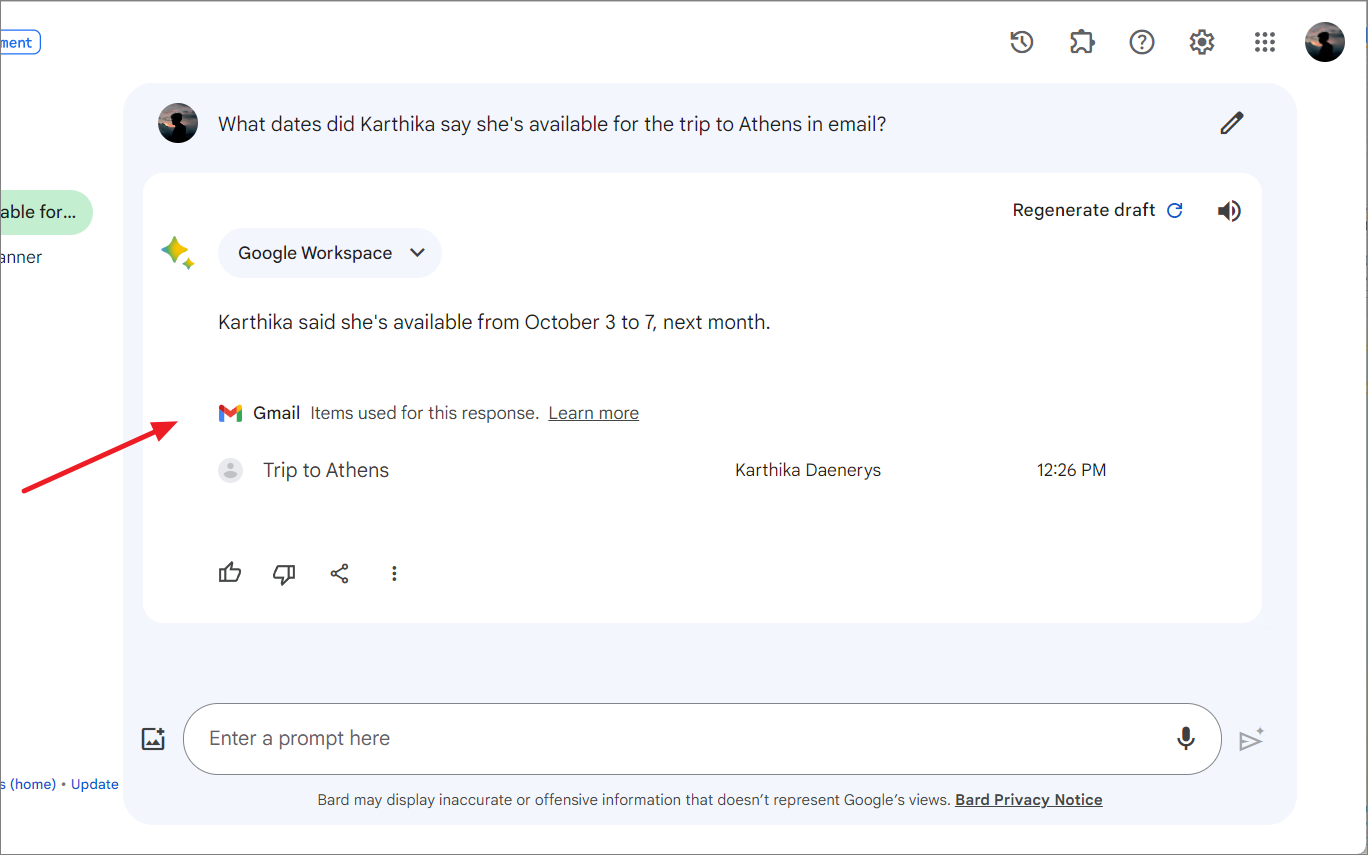 Find real-time Flight and Hotel details
Now, let's ask Bard to check if the available flights around those dates align with your friend's availability:
Show me flights from Kochi to Athens next month around the dates that works for Karthika
And let Bard fetch flight information for you.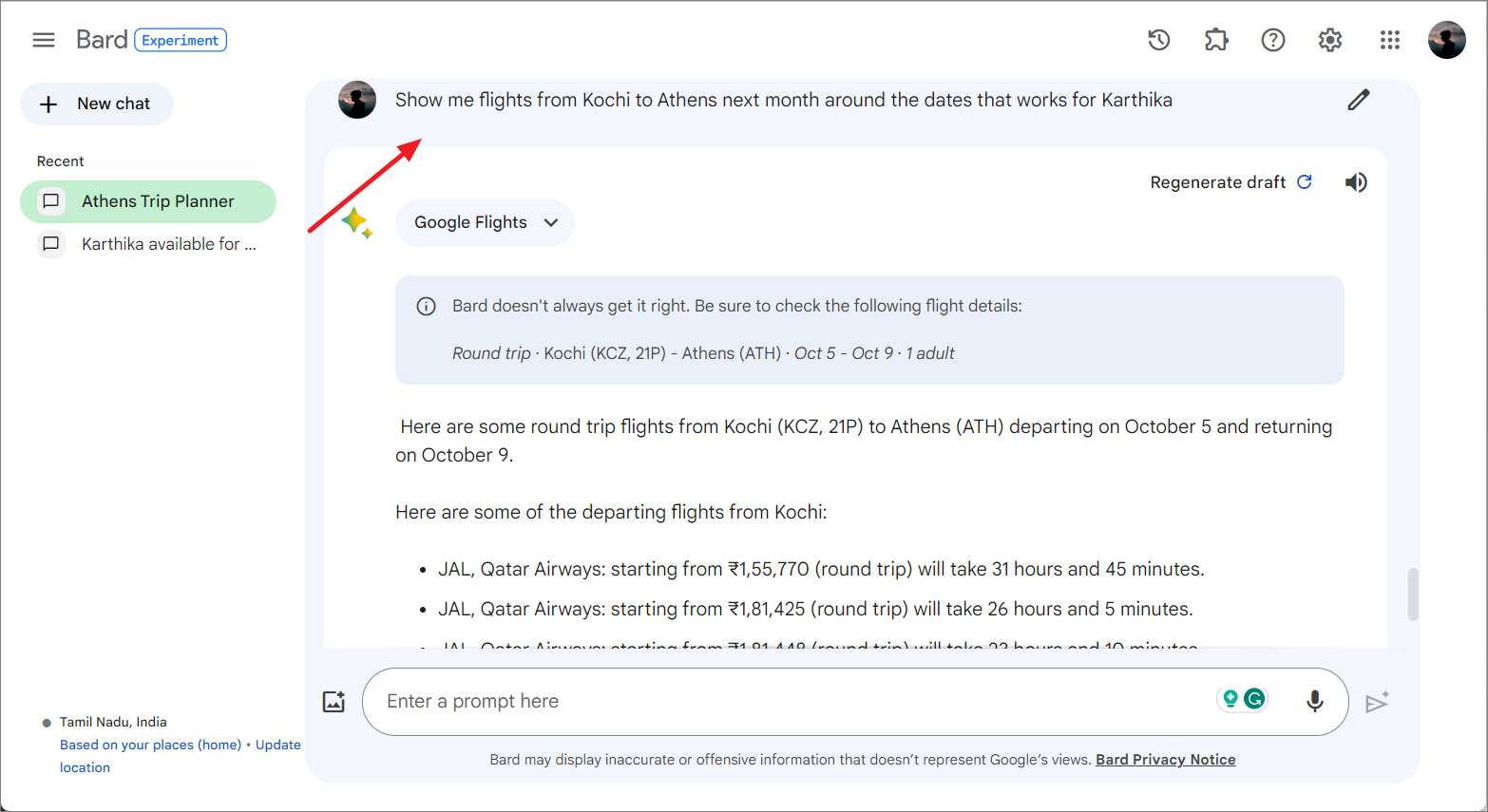 You can provide Bard with the specific dates that work for you, and it will further tailor the answer for you. Alternatively, you can click on a particular flight from the results, and it will take you directly to the flight booking site.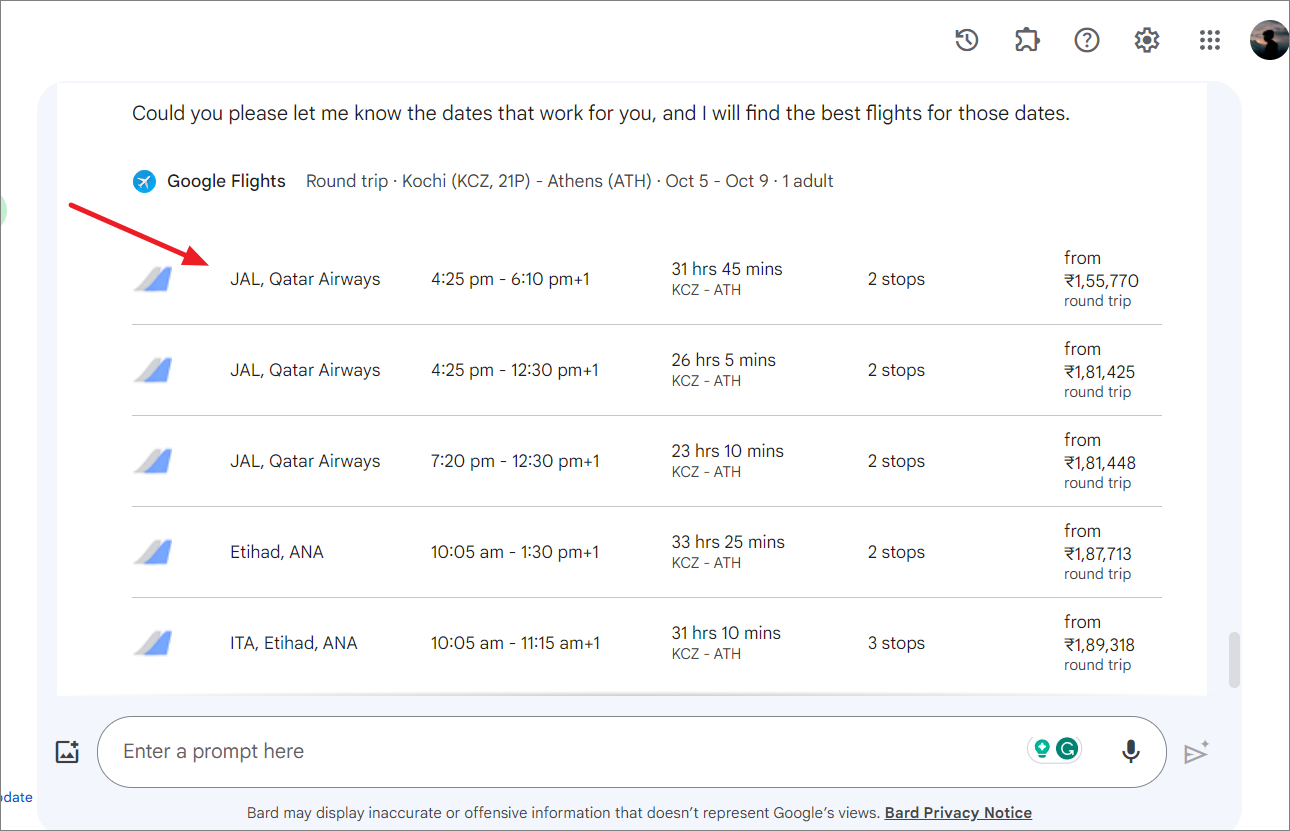 You can also ask Bard to find Hotel options for your stay:
Find me hotels near the places you suggested in the itinerary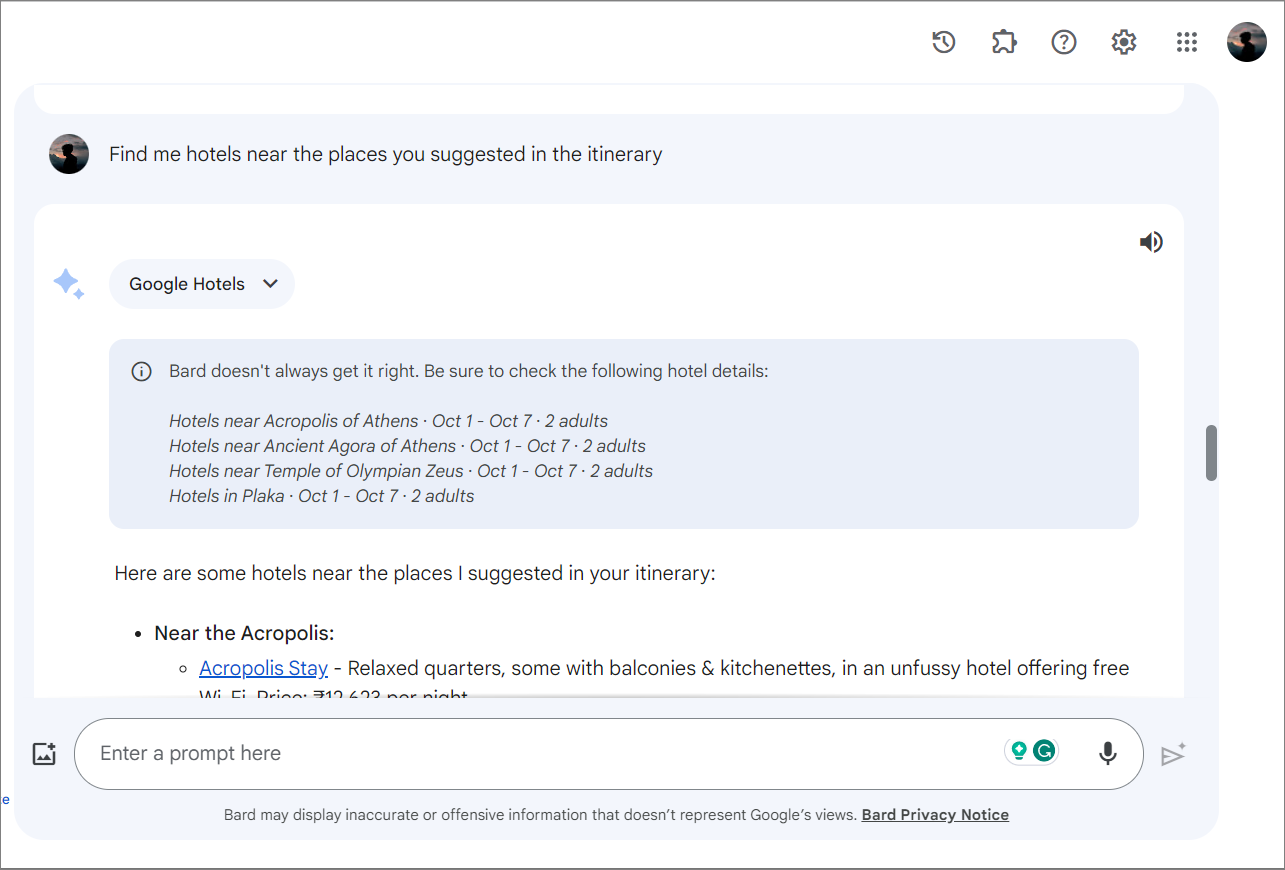 If you want to reserve a room in a particular hotel, click on that hotel in the result, and it will take you to the hotel site.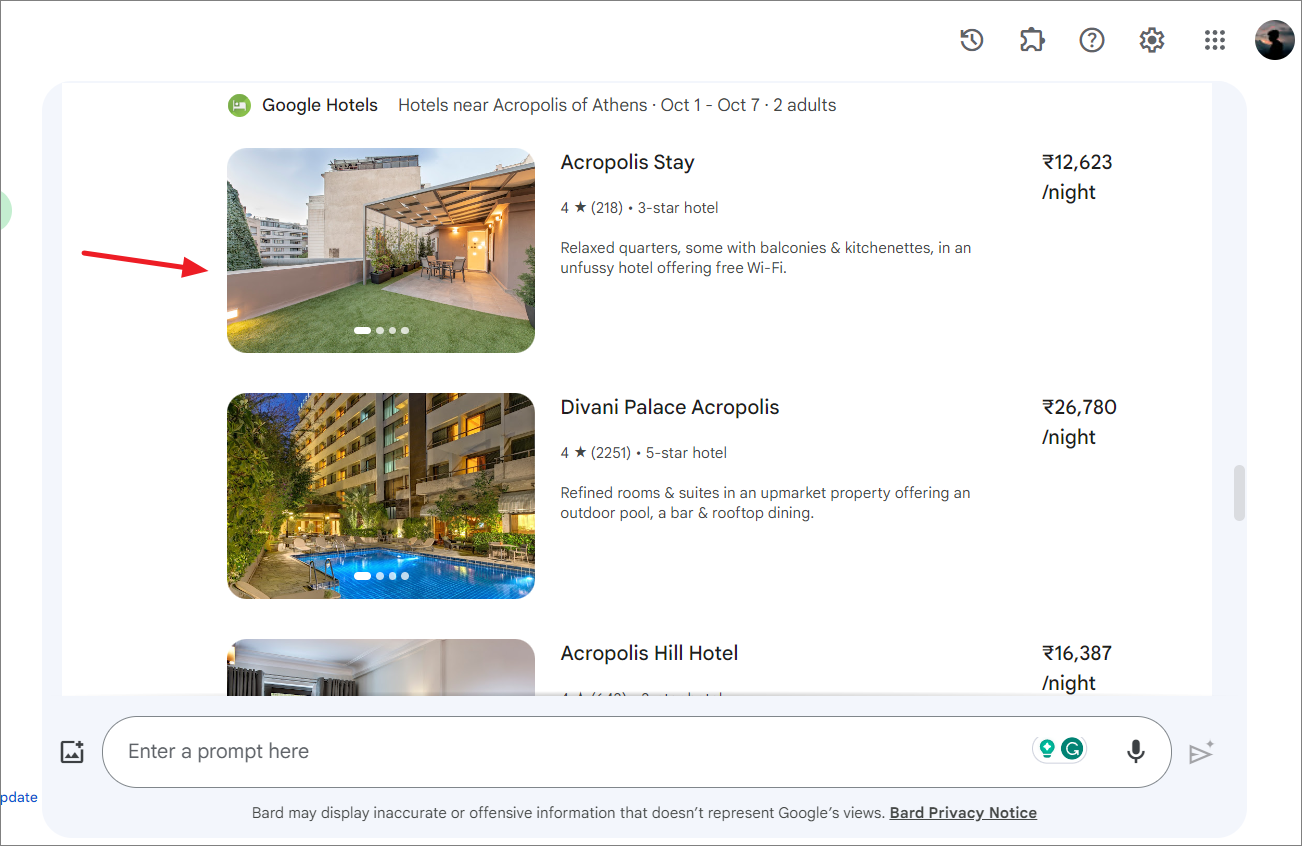 Get Directions using Bard
Bard's Google Maps extension can be used to get directions for the places you want to visit on your trip:
Show me distance and route from Hotel Grande Bretagne to Acropolis of Athens
The result will show you directions on Google Maps.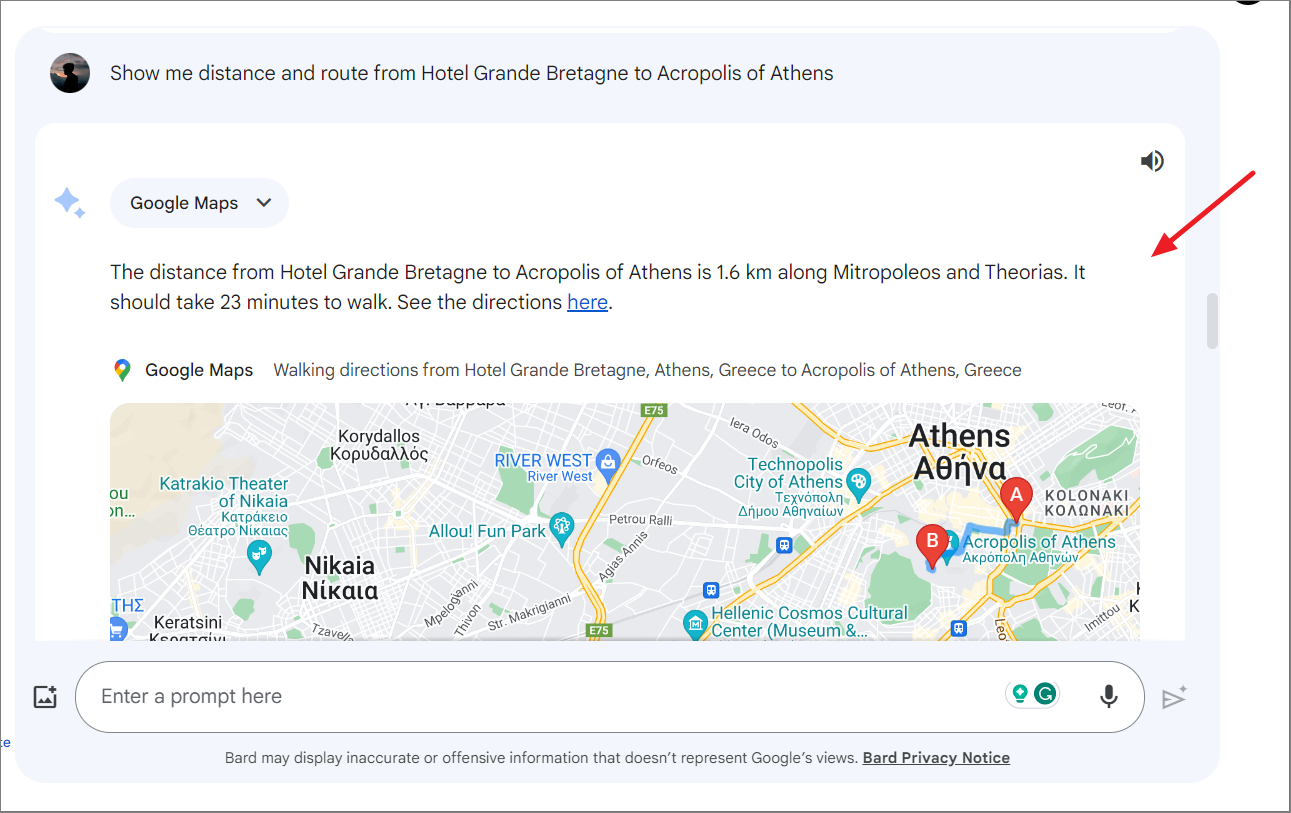 Watch YouTube Videos
You can even watch YouTube videos of things to do on your trip:
Show me videos of things to do on Athens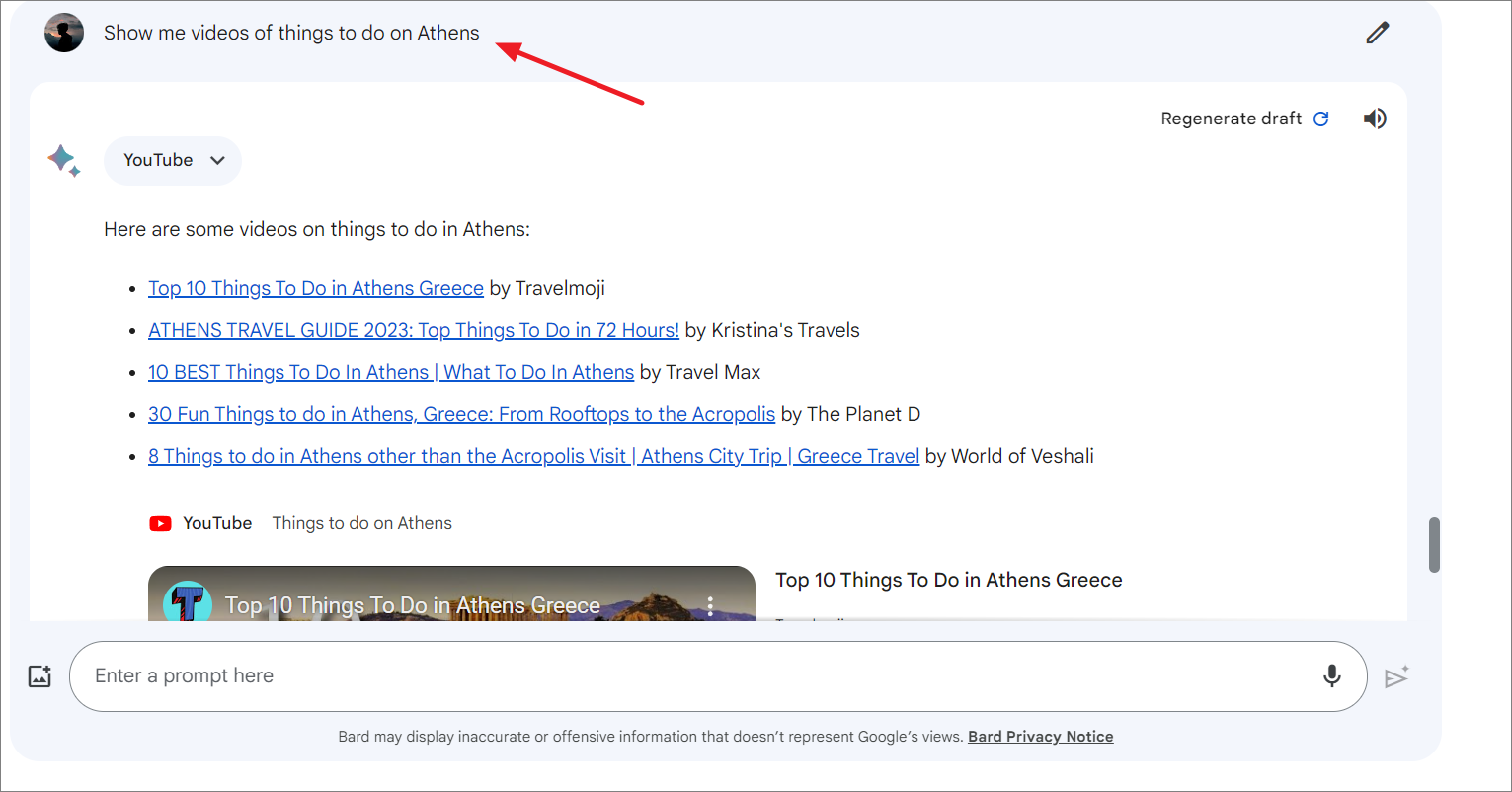 You can also ask Bard to fetch dates that suit everyone from your Gmail, check current flight and hotel details in real-time, show directions, and even watch YouTube videos about things to do in your destination. - all in one prompt:
Bard, help me plan a trip to Athens, Greece, create an itinerary and packing list, find the dates that work for Karthika from your Gmail, show me flights from Kochin, find hotels near the airport, show directions to the hotels, and show me some videos about things to do in my trip.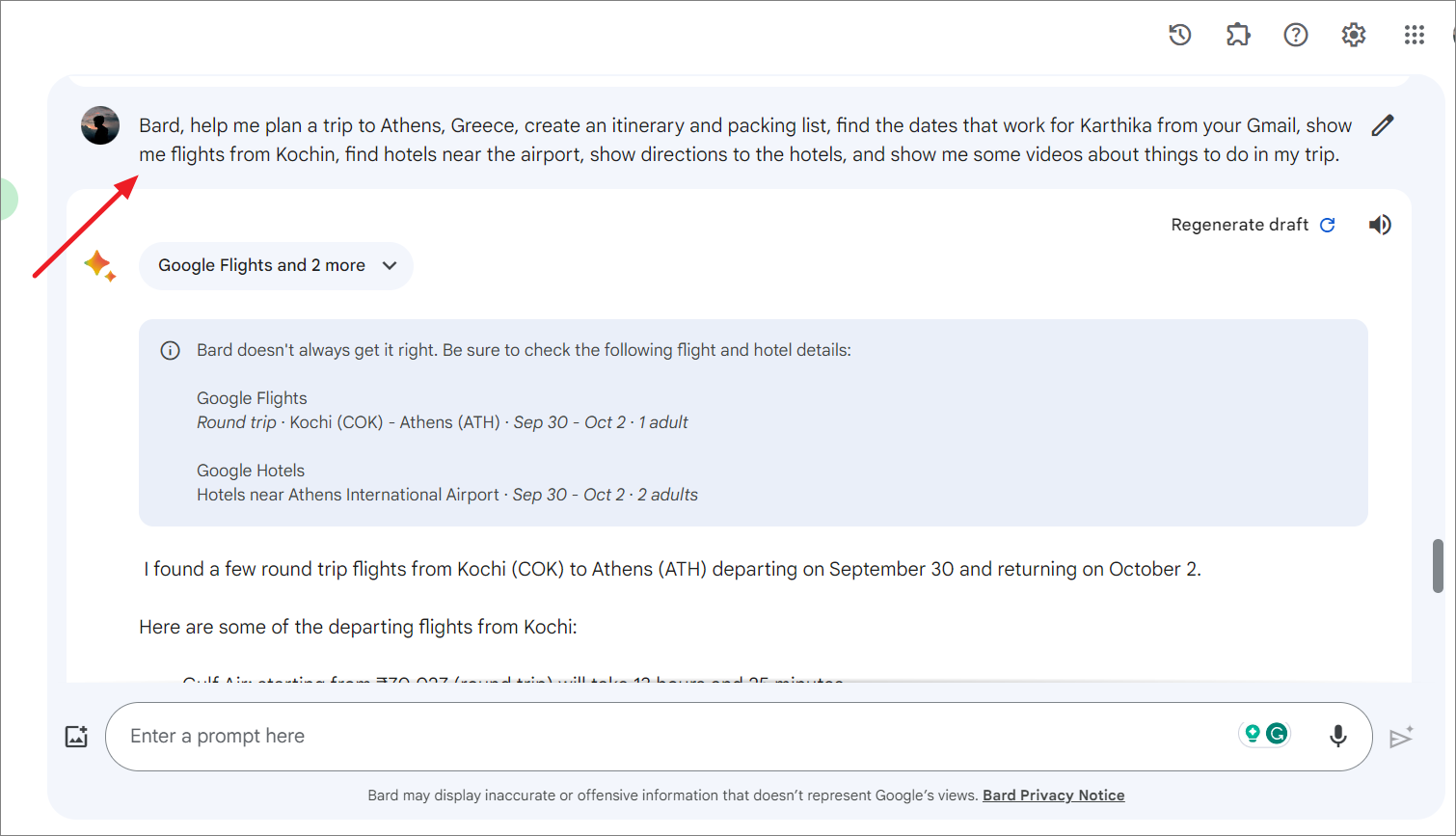 Get Answers using Content from Google Workspace
By enabling the Google Workspace extension, you can enable Bard to summarize, find, and get quick answers from your own content in your Google Drive, Docs, and Gmail.
For example, let's ask Bard to find and summarize a large document in your Google Drive with this prompt:
Find a document named 'Ingestion Workflow Guide' in my Google Drive and summarize it for me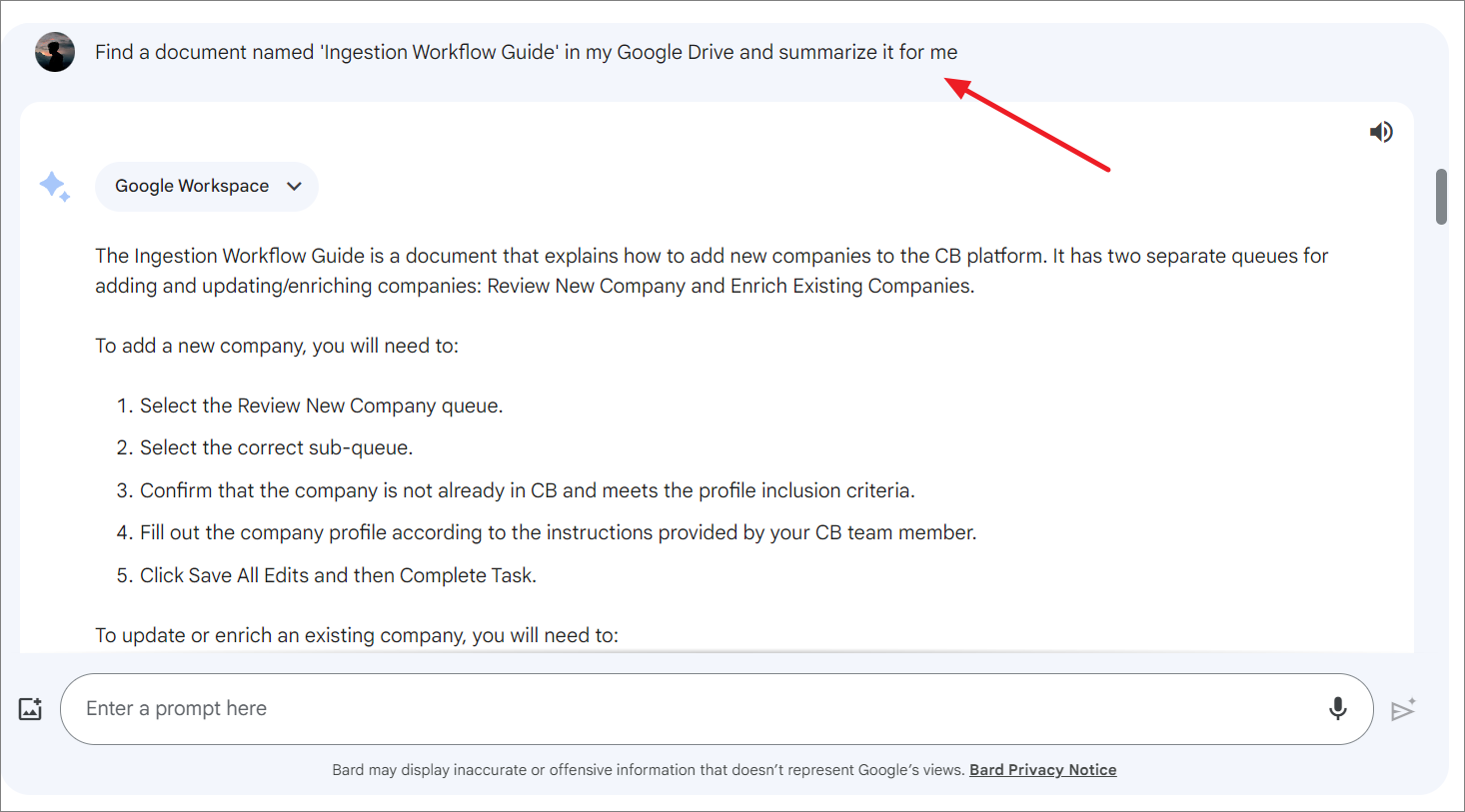 As of now, Bard only supports a few first-party extensions, but it has plans to add more Google products and third-party extensions, including Adobe Firefly, Instacart, Kayak, OpenTable, Zillow, and others.
---
Conclusion
Google's Bard AI, now with Extensions, integrates with various Google apps and third-party services. It can pull data from these services to provide tailored responses. Users can enable these Extensions and then interact with Bard for tasks like trip planning, fetching email info, checking flight and hotel details, and even summarizing documents from Google Drive. Bard Extensions promise to streamline tasks and provide information in a conversational, seamless way.