How to Fix "Your PIN is no longer available" error in Windows 10
Unable to login to your Windows 10 computer? Many users have reported a problem logging in through Windows Hello on their your Windows 10 systems. Even when the entered PIN is correct, the system shows the following error:
Your PIN is no longer available due to a change in the security settings on this device. You can set up your PIN again by going to Settings » Accounts » Signing options.
To fix your Windows 10 PIN, you need to login to the computer by other means such as a password. When you set up Windows 10 to use a PIN, you've to have a password lock set up in the first place. Use your password to login to the PC and then add a new PIN.
Note: If your Windows 10 computer has biometric hardware such as a fingerprint scanner or face unlock, you can log in using the biometrics as well.
Once you've logged in to the computer, go to the following folder on your PC:
 C:WindowsServiceProfilesLocalServiceAppDataLocalMicrosoftNgc
You might be asked to give Administrator permission to access the folder, click the Continue button. If you get "You have been denied permission to access this folder" message, click on the tiny security tab link inside the box.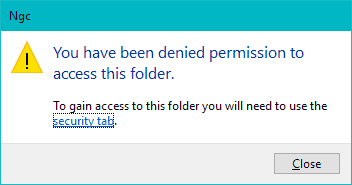 You'll get to the Ngc folder properties security section. Click on Advanced.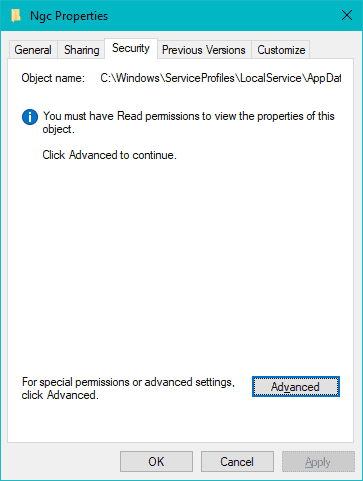 On the next screen, click on the Continue button under the Permissions tab.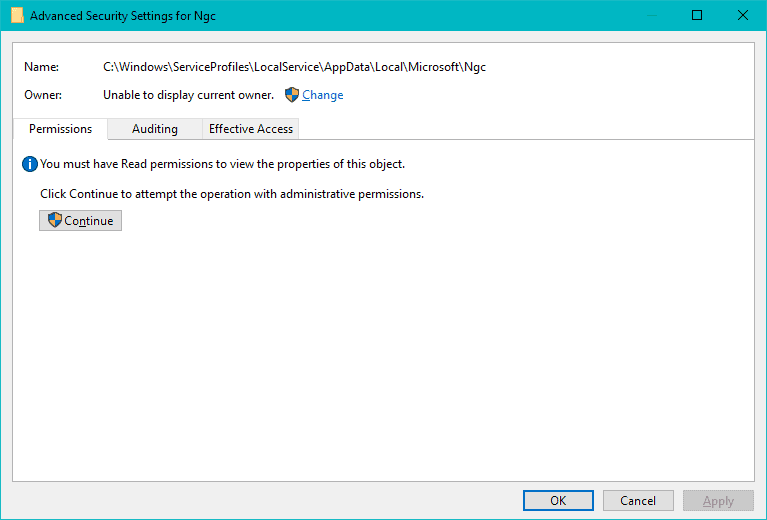 Once you've got the permissions to access and modify contents of Ngc folder, go ahead and delete all files inside Ngc folder, make sure delete the temp folder as well inside Ngc.
Once you've wiped the Ngc folder clean, go to Settings » Account » Sign-in options and Add a PIN again to your Windows 10 PC.
Your newly set up PIN will now let you login easily to your computer again. Cheers!