The hype around NFTs has been unreal this year. Although they've been around for some years, the boom they've experienced now has been unlike anything else. Everyone wants a piece of the action.
Even though anything can be an NFT – an image, video, GIF, music file, in-game items, even physical assets (theoretically), the most hype has been around digital art. As unbelievable as it may sound, many NFTs have sold for millions of dollars. Digital artist Beeple alone has sold multiple NFTs for millions. One of his NFT sold for $69 million, the highest for an NFT yet. And yet many more NFTs are bringing in thousands and hundreds of thousands of dollars, if not millions.
These non-fungible tokens could range from cute kitties, pet rocks, pixel art, to game plots. Whether you're looking to create, sell, or buy an NFT, you need to start somewhere. An NFT marketplace is that somewhere – your portal to the world of NFTs.
But with the explosion in NFT trade, the sheer volume of NFT markets that have popped up can be mind-boggling, especially for a beginner. So, how do you choose one?
When choosing an NFT market, there are several things to keep in mind. From the niche of the market to the underlying blockchain technology, everything will play an important role in driving your decision. Here's a list of some most popular marketplaces to explore at the moment. Hopefully, this guide will help you choose one which best meets your needs.
OpenSea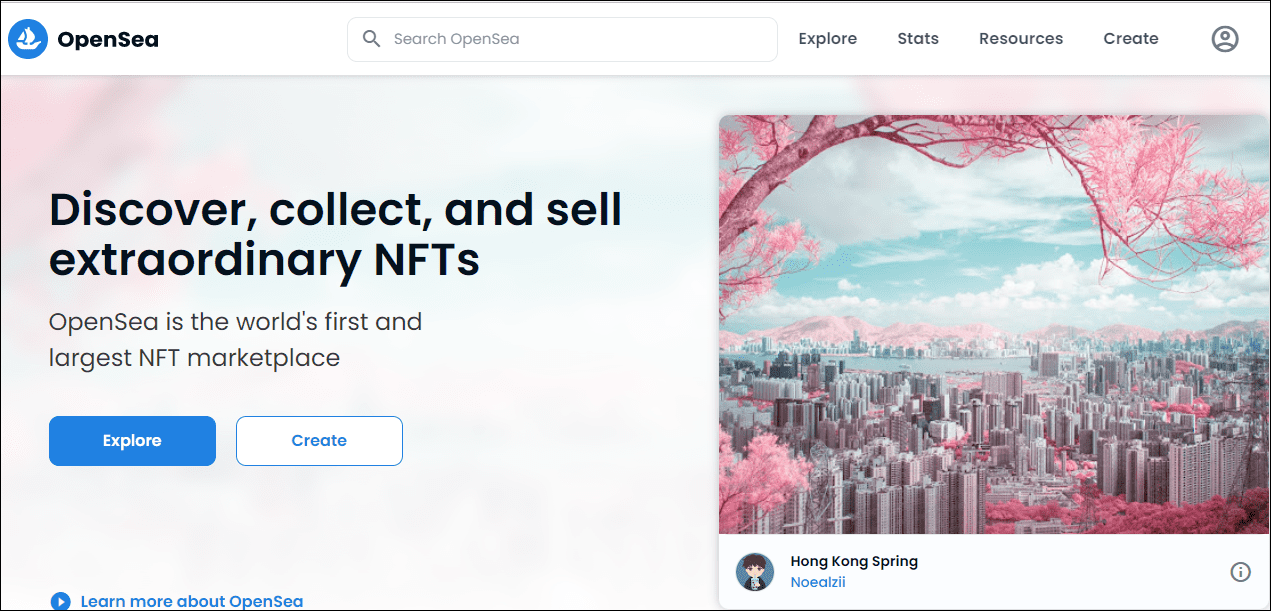 OpenSea is one of the largest and most accessible of the NFT marketplaces. It's also the market that's seen the largest trade in NFTs with the total trading volume at around $13.25 billion at the time of writing this.
It has all sorts of NFTs, from digital collectibles to artwork and GIFs, in-game items, videos, domain names, virtual worlds, and much more. OpenSea supports multiple blockchains, like Ethereum, Polygon, and Klatyn. So, whether you're looking for NFTs on Ethereum or trying to find alternatives to the blockchain, OpenSea is the perfect place.
Anyone can start creating and selling NFTs on OpenSea. Whether you want to buy or sell NFTs on OpenSea, navigating the marketplace is quite easy. It also supports most crypto software wallets like MetaMask, Coinbase, Dapper, Fortmatic, etc., or WalletConnect for any mobile wallet.
Signing up to either sell or buy an NFT is as easy as connecting your wallet to the marketplace. Whether you want to buy an NFT or sell, the process is very easy and beginner-friendly.
---
Axie Marketplace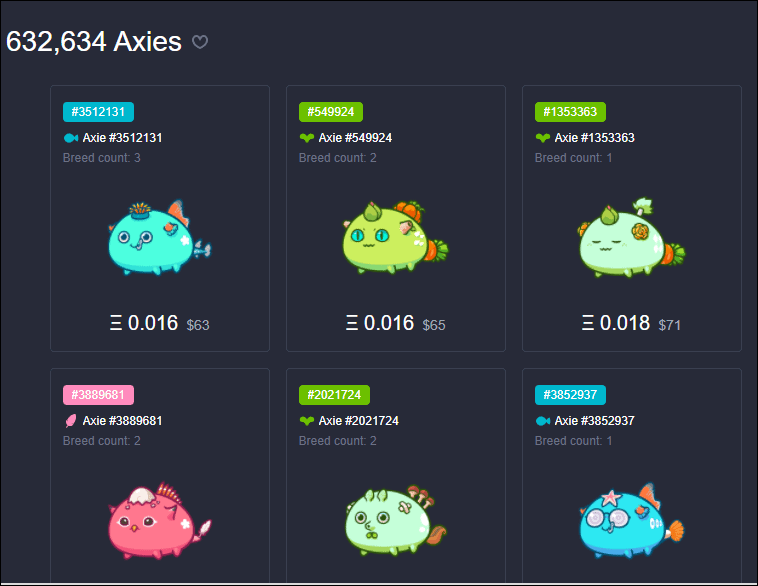 Where OpenSea was an NFT marketplace for everyone, Axie Marketplace is a dedicated space for the blockchain-powered Axie Infinity video game.
Axie Infinity is a game where you grow, breed, and battle Axies – cute, little monsters that'll remind users of Pokemons and mythological creatures like Chimera. Axie Marketplace is where you can buy and sell these little monsters. Apart from Axies, you can also buy other game-related stuff like plots or other in-game items.
Unlike digital art or other NFT collectibles, even if you buy an Axie NFT, it won't just sit in your wallet. You can use it in the same to breed more Axies, which you can then sell. You can also earn tokens within the game by winning battles against other players. These rewards can then be used towards breeding more creatures.
Although the entire marketplace is just for the game, it has had a total trading volume of around $3.8 billion. In fact, a few people have even made a living entirely out of breeding and selling Axies. It is based on the Ethereum blockchain and you can use almost any standard Ethereum wallet to connect.
If you're thinking of starting the game just to get into the NFT space, there are a few things to know. To start the game, you will need the Ronin wallet, transfer some ETH to it, and buy at least three Axies which will cost you several hundred dollars.
The game does plan to change this in the future where new players won't need to buy new Axies to get started. They will get non-transferable Axies with limited earning potential.
---
CryptoPunk from Larva Labs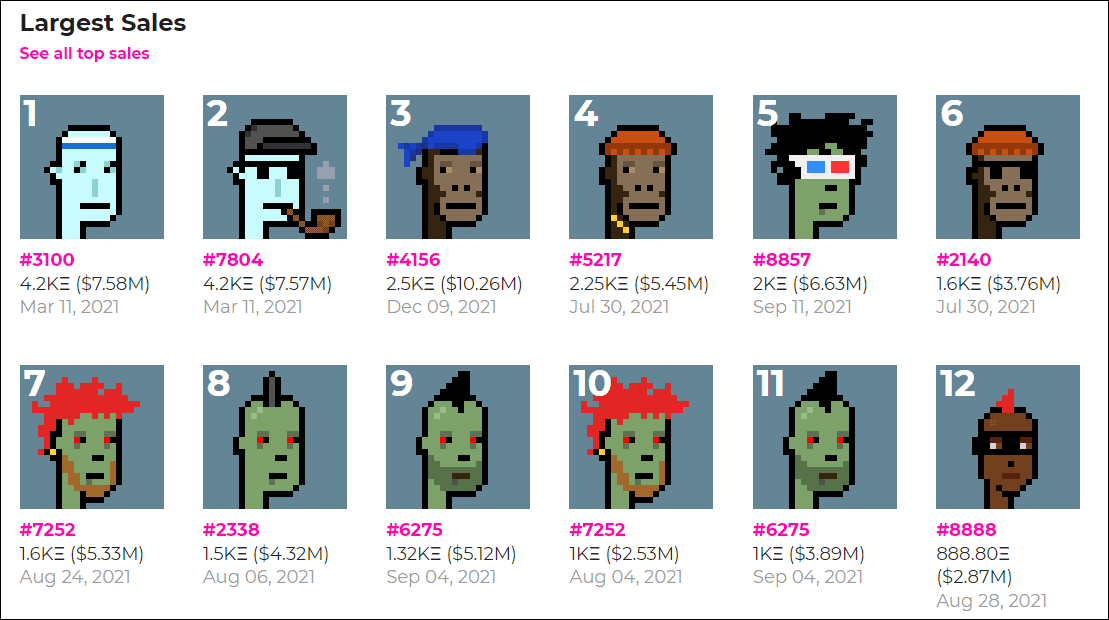 Another thriving NFT marketplace you might want to explore is the CryptoPunk marketplace from Larva Labs. Just like the Axie Marketplace, it has a particular niche, but the marketplace isn't game-focused. It's rather a marketplace that offers NFT collectibles – CryptoPunk collectible, to be exact.
CryptoPunks was one of the earliest examples of NFT on the Ethereum network. In fact, it's a project that apparently inspired the ERC-721 NFT standard – the first and most popular NFT standard on the Ethereum blockchain. CryptoPunks is a series of 10,000 characters with a pixel aesthetic. Back in 2017, they were distributed for free that anyone with an Ethereum Wallet could claim. Each CryptoPunk is unique. Most CryptoPunks are not built on the ERC-721 standard, although you can transfer it to the standard (if you own it) and wrap it.
The only expense was the gas fee, which in those days was negligible due to light network usage and obscurity of the CryptoPunks project. Fast-forward to now, and the only way to get your hands on a CyprtoPunk collectible is by paying at least 61 ETH (that's around $237,000 right now). That's the lowest price for a CryptoPunk at the time of writing this. The highest sale of a CryptoPunk was for $7.58 million. You'll find all others in-between this price range.
Although you can view the CryptoPunk collection on other marketplaces like OpenSea, the Larva Labs' official marketplace is the only place to get your hands on one. It lists all 10,000 CryptoPunks and distinguishes between them with different backgrounds. The ones not for sale have a blue background, while the ones that have a red background have been listed for sale by their owners. The purple background, on the other hand, indicates that an active bid is ongoing for the CryptoPunk.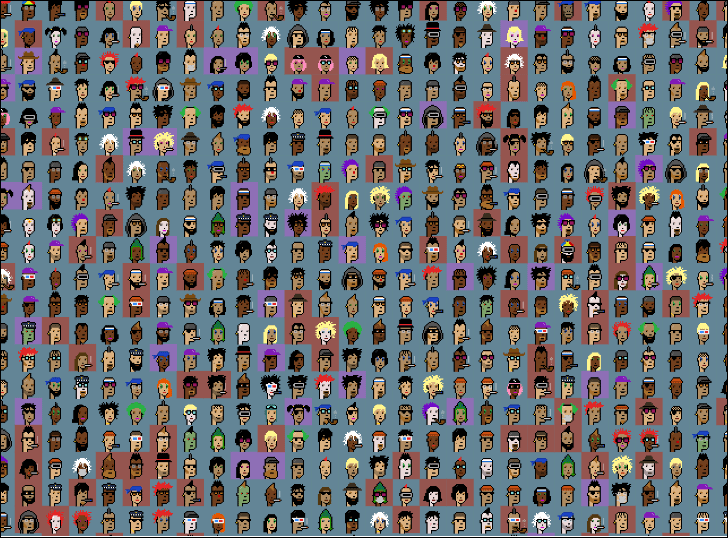 To buy one, simply connect your MetaMask wallet to the site and the option to buy or bid will appear. Obviously, this is only a marketplace to buy the CyberPunk NFTs and you can't sell any NFTs here. So, if you want to spend an insane amount of money on acquiring an NFT that inspired the modern CryptoArt movement, head over there. Many others have; that's how the market has seen a total trade volume of $2.3 billion.
---
NBA Top Shot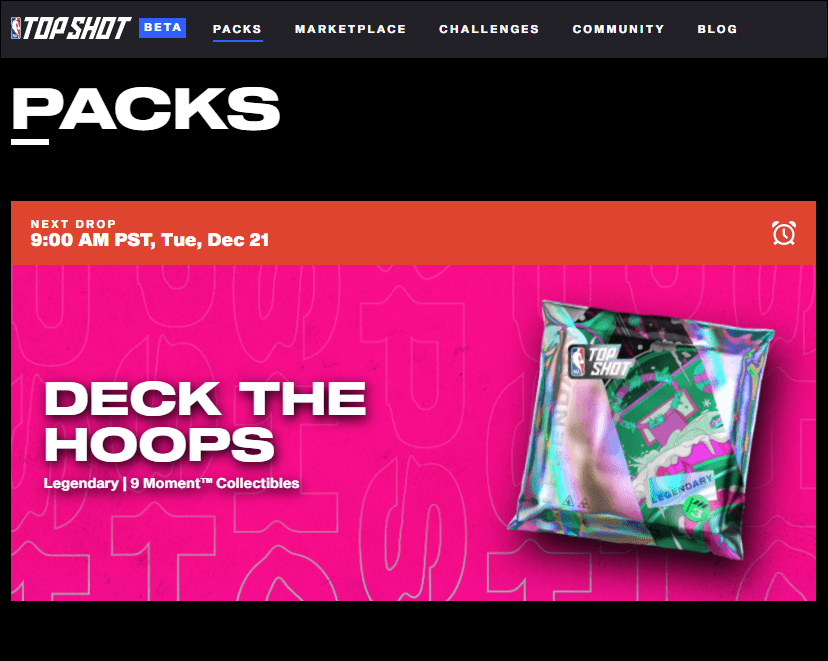 Introducing another niche-centric marketplace, this one market is largely responsible for introducing NFTs to a much wider public than seasoned crypto users.
It's also the first marketplace on the list that's on a blockchain other than Ethereum; it is on the Flow blockchain instead. NBA Top Shot is a place where you can buy famous moments from NBA and WNBA and own them. NFTs are available as trading cards, but the only difference is that these are in form of video clips. Since these work as collectible trading cards, there are several NFTs available for a single moment. But not all trading cards, even of the same moment, are of the same value.
Just like physical trading cards, NFTs on NBA Top Shot range from common to rare. There are all sorts of NFTs available, from packs starting from $10 to hundreds of thousands of dollars. As it uses the Flow blockchain technology and not Ethereum, you don't have to pay gas fees for transactions.
Your digital wallet stores the clips you buy where you can securely keep them as long as you want. You can also further sell your acquired NFTs on NBA Top Shot or other supported marketplaces.
One of the reasons NBA Top Shot has shot (wink) to popularity is because of how easy it is to use for conventional users and not just crypto experts. You can just connect your Google account to Dapper to start trading.
Once you set up your profile and verify your identity via SMS authentication, you can buy an NFT. You can use NBA Top Shot with an existing wallet, Flow wallet, Dapper balance, or even your credit card.
---
Rarible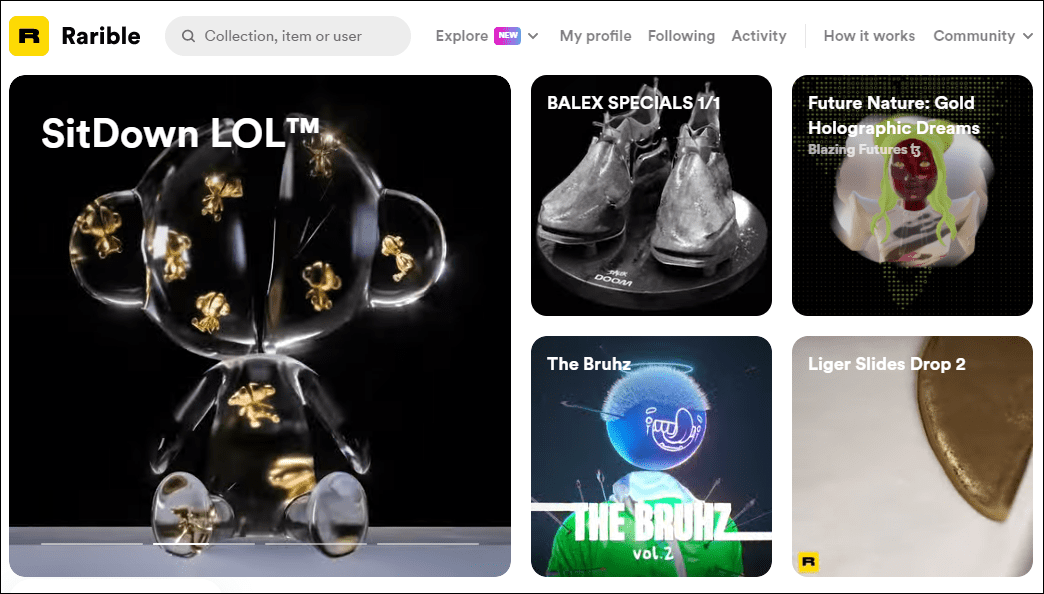 Another leading marketplace built on the Ethereum blockchain, Rarible is a lot like OpenSea. Much like OpenSea, Rarible offers a gamut of NFTs. From digital artwork, videos, music, and collectibles, you can buy or sell a wide variety of NFTs. The marketplace has seen a total trade volume of more than $260 million to date.
Other than the Ethereum blockchain, it also offers support for Flow and Tezos blockchains. For NFTs sold or bought on Flow and Tezos, gas fees are almost negligible.
Even as a seller, it's incredibly easy to use Rarible to mint and sell NFTs. Sellers can mint single or multiple NFTs on Rarible. It also offers a lazy minting option for sellers that lets users mint NFTs on the Ethereum blockchain without having to pay the increasing gas fees. Instead, the buyer pays the gas fees for the NFT.
Buying an NFT is also a piece of cake with Rarible's easy to navigate interface. Signing up to the marketplace is as easy as connecting your crypto wallet. And the marketplace supports most wallets like MetaMask, Coinbase, Rainbow, etc.
---
SuperRare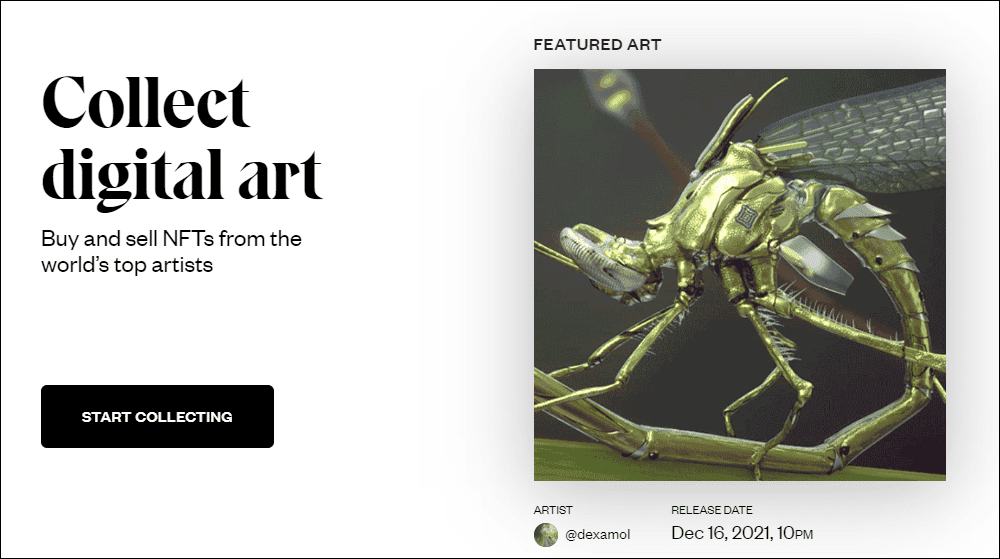 Quite similar to Rarible yet not so, SuperRare is another marketplace on the Ethereum blockchain. But it's the first on our list that's not as open as OpenSea or Rarible. SuperRare positions itself as a curated art gallery, making it a highly coveted marketplace to be. It's especially a marketplace that focuses more on the CryptoArt aspect of NFTs. Even the marketplace itself has a very minimal look. So, your senses aren't overwhelmed with all kinds of NFTs all at once.
Sellers want to be on it, but not everyone can be. It's one of its most interesting aspects for buyers – knowing that the artwork they are exploring has been curated. If you're into curated artwork and are tired of seeing all kinds of wacky stuff, SuperRare is the place to go to.
Artists have to go submit their profile and artwork and get approved before their work gets in front of your eyes. The vetting process is thorough with an exhaustive application form to be filled to even get on the team's radar. So you won't find any good-for-nothing GIFs here.
As a buyer, all you have to do is connect a supported wallet. It supports popular wallets like MetaMask and Fortmatic. Additionally, users also need to create an account and link the username to their wallet. But the whole process is rather easy. In no time, you can start checking out and buying digital art from the marketplace.
---
Solanart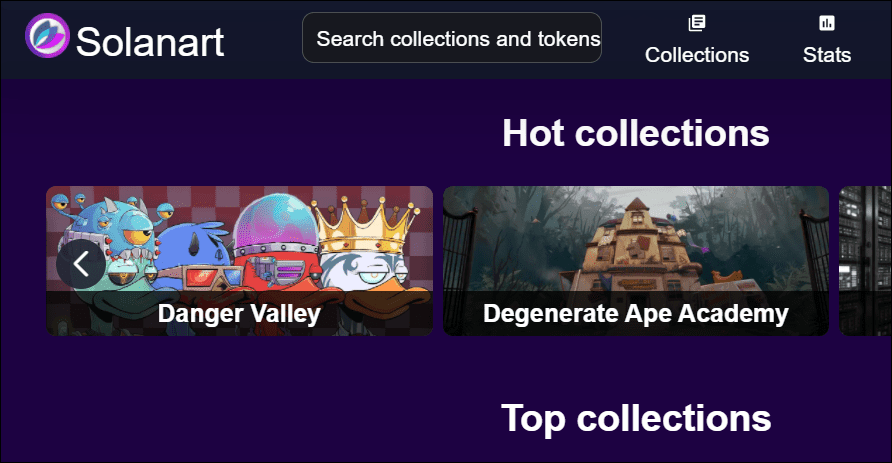 Solanart has seen an unprecedented boom in NFT sales in the short period it has been live, leaving behind seasoned marketplaces like Rarible and SuperRare. It has already had a total trade volume of over $578 million. Solanart is built on the Solana blockchain, considered one of the long-term rivals for the Ethereum blockchain.
Like SuperRare, Solanart is also a curated marketplace, where artists have to submit an application to get approved as a seller on the platform. The marketplace is soon going to drop a collection from Snoop Dogg, as well.
As the marketplace is relatively new and it only approves a few collections from artists each month, the number of collections you can explore on the marketplace is still limited. But the marketplace is growing fast, with many collections already trading for millions or hundreds of thousands of dollars. But there are NFTs available for a few hundred dollars too. So, no matter what amount of money you're looking to spend, you'll likely find something.
As Solana blockchain uses a proof-of-stake consensus algorithm, the gas fees aren't high. It only charges a 3% transaction fee to sellers.
To buy NFTs on Solanart, you need a Solana-compatible wallet such as Solflare or Phantom. Then, load your wallet with Solana – the blockchain's native cryptocurrency. Finally, all you need to do is connect your wallet to the marketplace and place your bids to buy an NFT.
---
Nifty Gateway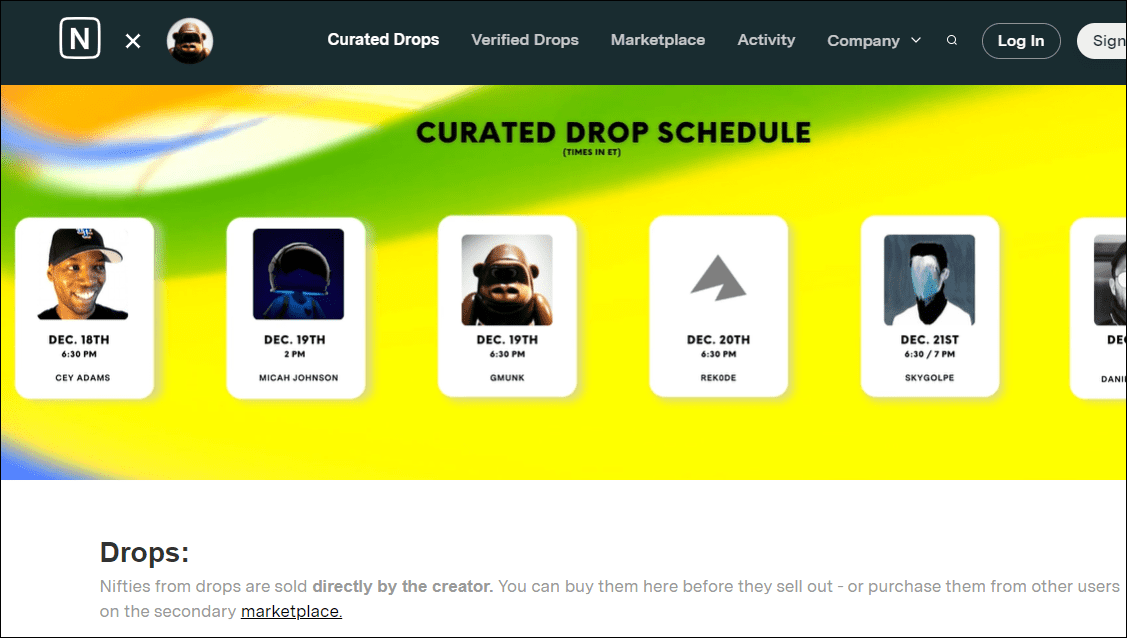 One of the first NFT marketplaces to make it to the big leagues with a sale in million dollars was Nifty Gateway. It is a highly curated place where celebrities like Grimes, The Weeknd, Paris Hilton, and Eminem have listed their NFTs. On Nifty Gateway, NFTs are called nifties (cheeky!)
They have a rigorous process to add artists to their marketplace. The collections are divided into Curated, Verified artists, and Unverified artists. Curated collections are dropped every three weeks.
Note: Verified NFT project signifies that the team or person who claims to have created the NFT has in fact created it. The project is not curated by the marketplace. Additionally, these projects also meet the legal and smart contract standards of the platform.
The crypto exchange Gemini owns Nifty Gateway, with which it also enjoys a seamless integration. This also provides additional security to the NFTs in your wallet.
But more than additional security, the integration with Gemini means that Nifty Gateway gets to leverage Gemini's custody technology. Because of the Custodial system, collectors on the platform, i.e. buyers, don't have to pay any gas fees while buying, selling, or gifting nifties. It's possible because it requires no movement on the blockchain. And even when you mint an NFT, collectors don't have to pay the gas fee as the platform currently covers 100% of the cost.
You have to use the Nifty Gateway Omnibus wallet to enjoy these benefits though. You can use your debit card, credit card, Gemini balance, or prepaid ETH to make purchases on the platform.
Additionally, the concept of the no-gas fee is only applicable for sales within the Nifty Gateway. The platform also lists and makes it possible for users to buy an NFT from other marketplaces, like OpenSea. When you're buying an NFT from a platform other than Nifty Gateway, you will have to pay the gas fee as well as a 3.5% transaction fee. But this cost is strictly one-time. Once the NFT transfers onto the platform, moving (reselling, gifting, etc.) it within the platform won't cost you gas fees again.
Since Nifty Gateway uses the Ethereum blockchain technology, you can also use any Ethereum wallet like MetaMask or Fortmatic. Starting from January 2022, the platform is also introducing a new feature that'll cut down the gas fees by 75% when you make a wallet-to-wallet purchase.
---
Foundation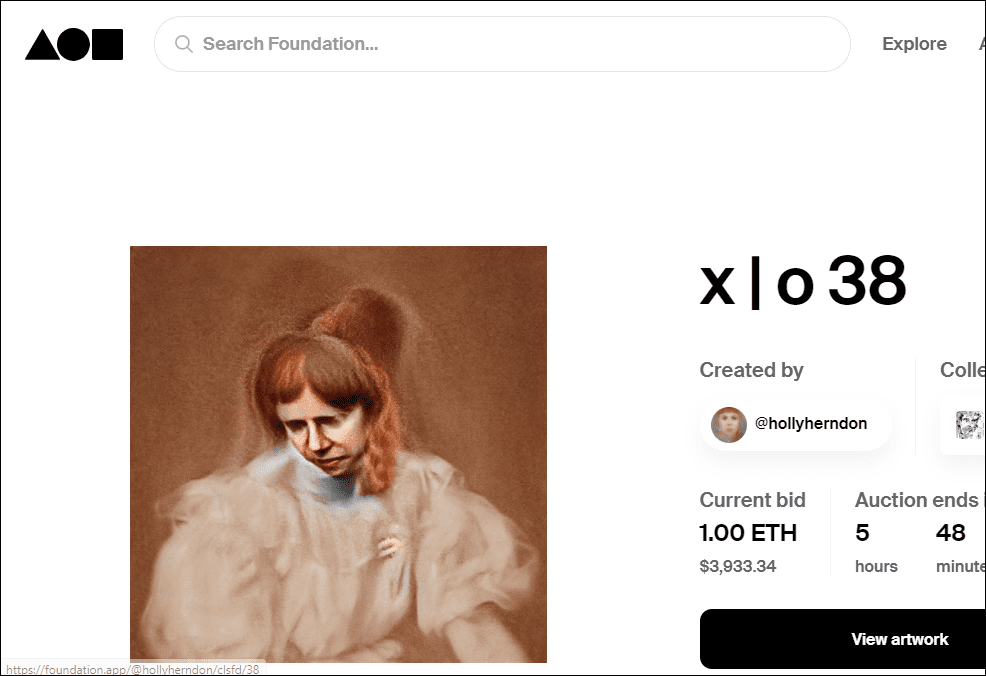 Foundation launched just earlier this year, and yet it has already established itself as one of the top marketplaces with a total trade volume already close to $120 million.
Built on the Ethereum blockchain, the marketplace positions itself as a creative playground for artists. But not anyone can join Foundation as an artist. Only those who have received an invite from the Foundation community can join the marketplace as an artist.
Joining as a collector is as easy as any other marketplace. All you have to do is connect your MetaMask wallet to the marketplace and you can start placing bids in ETH. Foundation has a lot of notable NFTs to explore.
---
Binance NFT Marketplace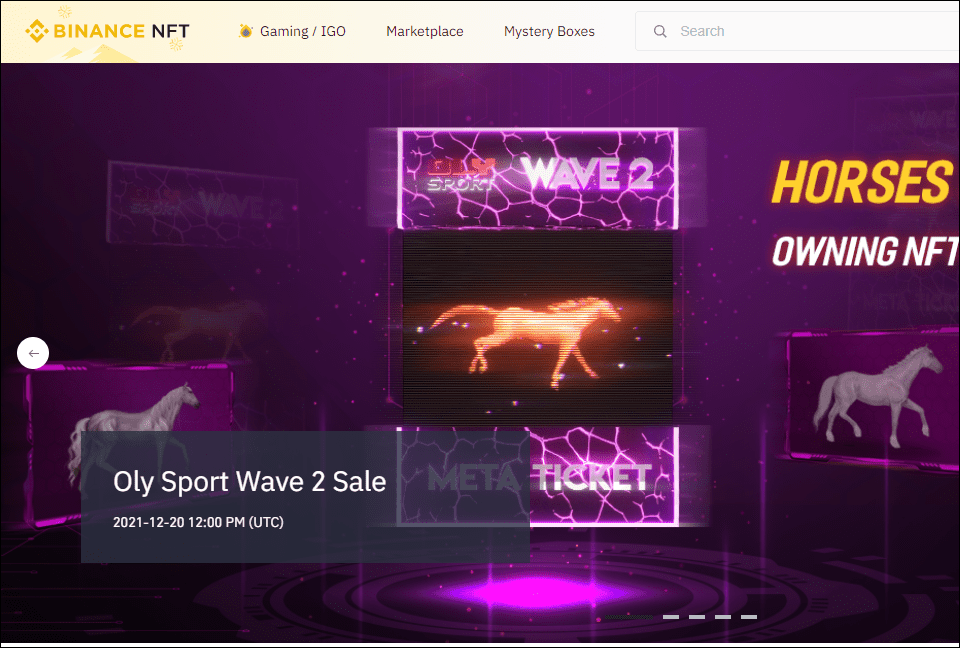 Powered by one of the largest crypto exchanges in the world, Binance, Binance NFT Marketplace is another great place to explore the world of NFTs. It uses the Binance Smart Chain blockchain, so the gas fee for your NFT transactions is very low.
The marketplace attracts a lot of users from the Binance exchange due to the various offers and partnerships it offers. And if you've got a Binance account already, you don't even have to go through the hassle of creating one on the marketplace. It works automatically!
Other than its native currency Binance Coin (BNB), it also supports ETH and BUSD. So, depending on what the creator has listed, you can use these coins to buy an NFT on the platform. There are also frequent events and mystery boxes on the platform where you can win rare and common NFTs.
---
With the exponential increase in the popularity of NFTs, the marketplaces where you can buy and sell them have popped up quicker than you can say non-fungible tokens. It's important to choose a market that's right for you while also being secure.