Leather has always been the material of bold statements. It is fashionable, chic, and surprisingly never runs out of style. Although the process to make this stylish fabric is morbid, consumers seem to love the result. The desire for leather and the visual and tactile richness it follows expands to almost every piece of fashion.
Today's mainstream fashion scenario includes accessories like bags and phone cases. In fact, phone accessories by themselves have come to be a distinct yet visible branch of fashion. So, when this is the case, it's only human to want to experiment, try new styles, and experience that luxury.
If you shifted (or upgraded) to the latest iPhone 13 and are looking for leather cases to match your sense of fashion and lay the same on your phone, here are the best options in the market.
Apple's Leather Case
Nothing can top Apple's own leather case for its latest iPhone 13. This MagSafe case is made with the best, for the best, and invariably attracts the best of preferences.
The case is built with magnets that aid MagSafe and Qi-compatible charging. The same magnetic system effortlessly aligns and smoothly attaches and detaches from your iPhone 13.
Apple's leather case for the iPhone 13 attributes to supreme quality leather. It is specially tanned and finished to offer its signature smooth, soft, and flexible experience that will elegantly age with time. Considering the MagSafe usage, it would display additional imprints along with the expected leather creases and other marks.
The case is available in a range of six colors – Dark Cherry (burgundy-ish), Golden Brown (the one in the picture), Sequoia Green, Midnight (black), and Wisteria (lilac).
---
Modern Leather Case by Nomad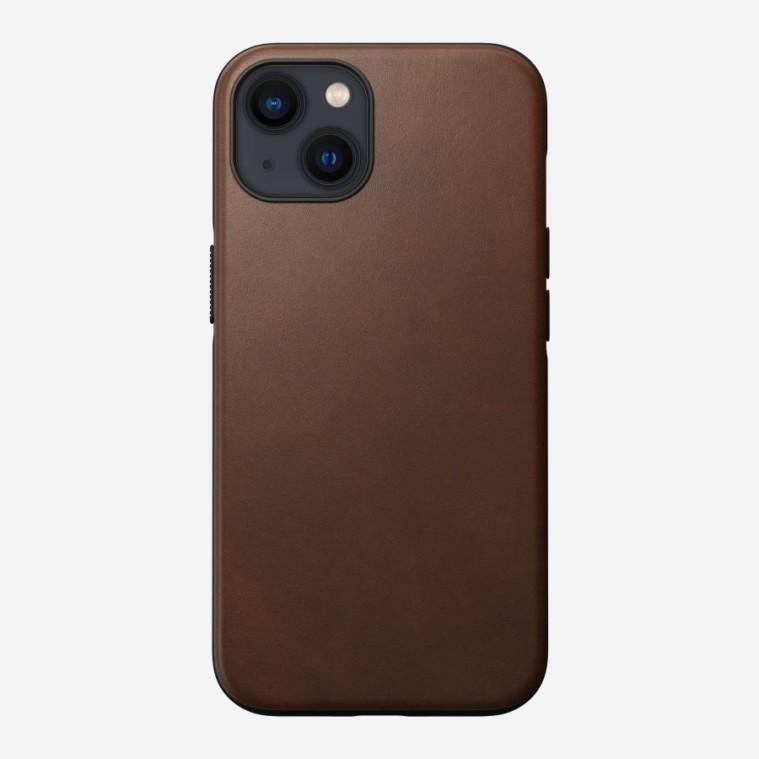 When it comes to iPhone leather cases, Nomad contendingly stands with Apple almost every time. The price, the quality, and the facilities are almost the same, if not better.
Manufactured with American Horween leather, Nomad's Modern Leather case assures you an exclusive patina that only gets better with use. The case is available in three classic colors – brown, black, and beige.
The Modern Leather case by Nomad embeds an NFC (Near Field Communication) digital business card that can transfer information by simply tapping the back of the case on the receiving phone. It supports MagSafe accessories and other wireless charging.
The exterior of this vegetable-tanned leather case has a TPE (thermoplastic elastomer) bumper that can protect from a 10 feet fall. Raised protection guards the camera and the screen. The interior has a soft microfibre lining that can shield your iPhone 13 from scratches and an internal shock absorber to defend against damage.
---
Limitless 4.0 MagSafe Black Leather Case by Mous
The Limitless 4.0 MagSafe Black Leather Case by Mous is not your average leather case, though it looks rather simple.
The Limitless 4.0 series offers one of the slimmest leather cases for the iPhone 13. The polycarbonate (PC) and thermoplastic polyurethane (TPU) combination brings in the safety aspect while the black leather covering ensures the good looks.
Mous' Limitless 4.0 Black Leather Case features N45 magnets that make it MagSafe (as the name suggests). It is super compatible with Mous' MagSafe products and accessories as well. The case provides a wristlet to fashionably ease movement as well
This REACH (Registration, Evaluation, Authorization, and Restriction of Chemicals) and ROH (Restriction of Hazardous Chemicals) certified case is formulated with AiroShock – an ultra-strong shock-absorbing technology. It assures premium protection, and superior durability, and screen protection.
---
Mujjo's Full Leather Case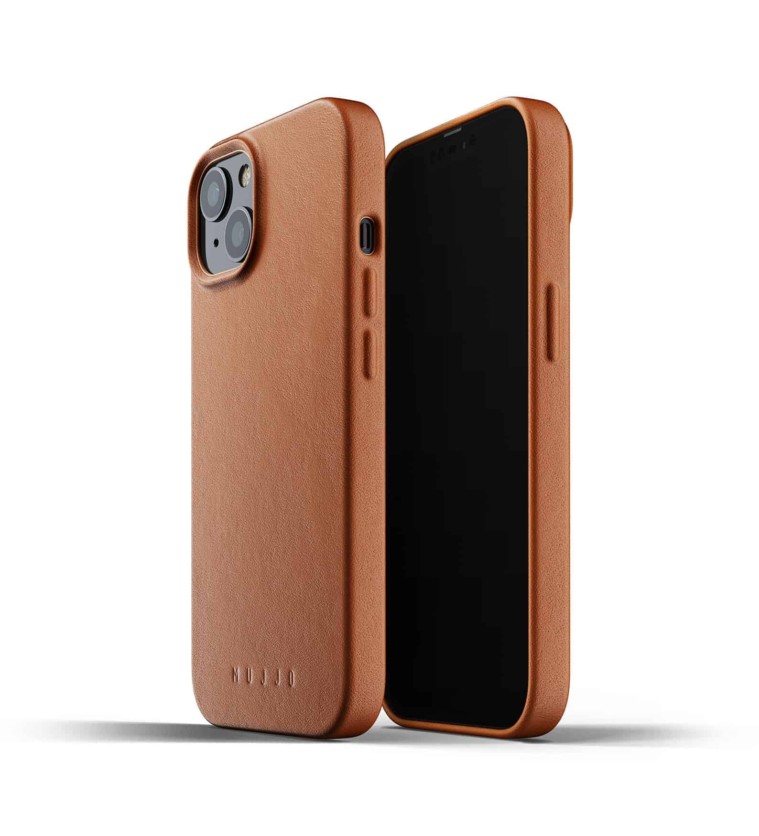 Mujjo offers a slightly cheaper and simple alternative to the fancy and expensive leather cases. This full-grain leather case is engineered with a long-lasting finish that can offer better grip, warmth, and protection.
The case has a 30-day return policy should you ever be disappointed or dissatisfied with the product. But, if you love it, Mujjo promises to insure your case with a 2-year warranty.
The vegetable-tanned leather used in the Mujjo Full Leather case skillfully and productively covers your entire iPhone 13 including the buttons – offering better clickability. The leather layers precisely around the charging ports and speakers.
With this case, your iPhone 13 gets elevated screen protection and a raised bumper to secure the camera from scratches. The interior has a satin finish facilitated by Japanese microfibre, and the exterior of the case promises to beautifully age with a rich patina. This case is available in Tan (the one in the picture), Black, and Moroccan Blue.
---
Diana Leather Case by Cyrill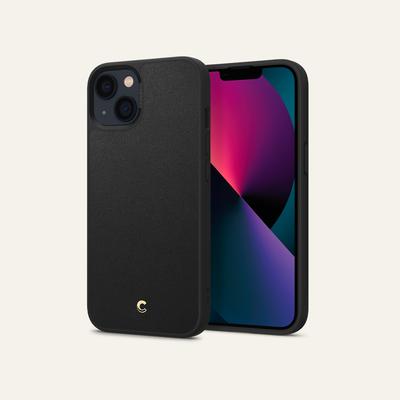 Cyrill is another super stylish hub for phone cases. The Diana Leather series is a modest yet environmentally conscious case for your iPhone 13.
When it comes to leather, it's important to make sustainable choices, and Cyrill is one such brand that offers Polyurethane/vegan leather (PU leather) instead of cruelty leather. So, if you're on a non-guilty hunt for leather cases, Cyrill has your back.
The Diana Leather case by Cyrill provides multiple layers of protection to your iPhone 13 between soft microfibre inner protection and an eco-friendly outer leather covering. It is MagSafe and supports other modes of wireless charging too. The case offers raised camera protection and a 360-degree airbag to safeguard your iPhone 13 from drops.
Since this one's a vegan leather case, it wouldn't have a patina. It can dry up, crack, and peel off over time. To avoid this and better the aging process, necessary measures like regular cleaning, dusting, and using PU protectors can protect and keep your Diana (vegan) Leather Case almost good as new.
You get a 30-day return period and a 2-year warranty upon purchasing this leather case.
---
Bellroy Phone Cases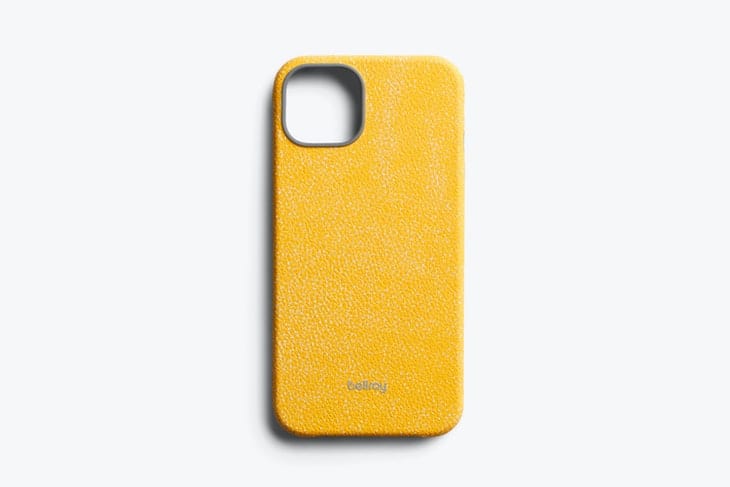 Bellroy crafts its iPhone cases with a mixture of polymer and environmentally certified leather. The leather here is not cruelty-free as premium animal hides (skin) go through an eco-tanning process before making it onto the phone case.
Bellroy's leather cases are equipped with the Swiss anti-microbial technology – HeiQ HyProTecht. It is environmentally safe, certified, and free from toxins as well.
Bellroy's iPhone 13 case is available in 7 vibrant colors – Black, Basalt, Cobalt, Lagoon, Racing Green, Terracotta, and Citrus (the one in the picture). This super slim phone case comes with a 3-year warranty and a lifetime of fine wine-like aging process. The case is also suitable for wireless charging. If you like the make and feel of this Bellroy case, you can up your leather case to a productive range with the Mod Case.
---
Scarlet Croco Faux Leather Case by Ideal of Sweden
Another faux alternative to genuine leather is Ideal of Sweden. The iPhone cases by this brand implement ethical leather and animal-free materials into their production.
The Atelier Case collection has 10 individual cases with sober but statement-creating colors and patterns. The Scarlet Croco case is a merge of scarlet red and gold detailing around the camera. It also has a golden brand embossment.
The Scarlet Croco case by Ideal of Sweden is a handcrafted phone case – hence, would feature its own and individual patina. The case would protect your iPhone 13 from the inside with a soft and smooth microfibre and offer an overall slim and fitting protective effect. It is compatible with Qi-certified chargers by Ideal of Sweden.
---
Grip iPhone Leather Case by Vaja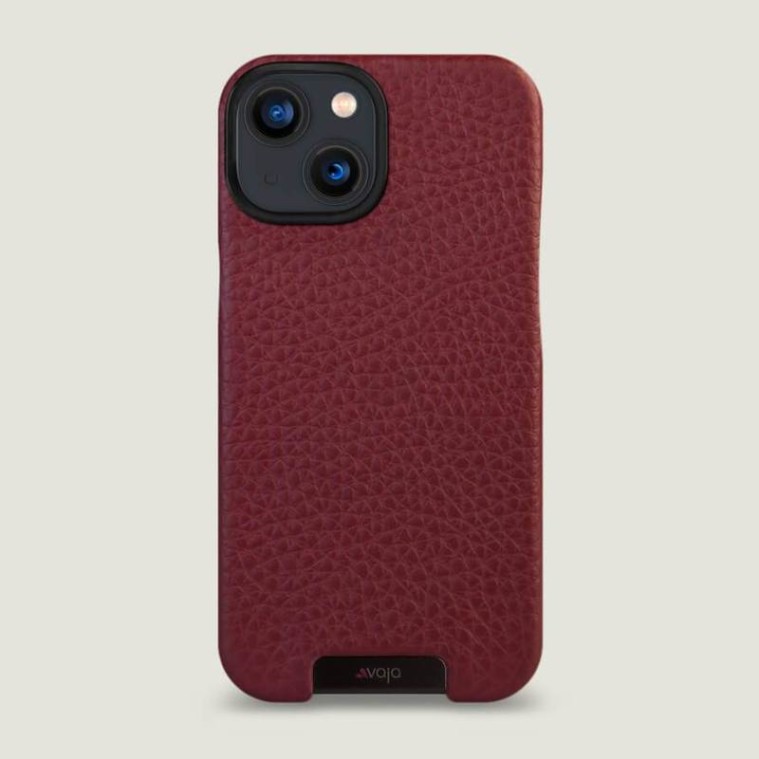 The Grip iPhone 13 Leather Case by Vaja is one of the premium choices for the best leather case. Made and fully enveloped in superior leather, this phone case is built to last and age gracefully while it covers and defends your iPhone 13 from damage.
The case is available in Floater Ruby Wine (the one in the picture), Floater Black, and Floater Crown Blue.
The Vaja Grip iPhone Leather Case is a grippy case with a tough and protective polycarbonate frame. Made with premium leather, this phone case has a matte black eyelet that enables great photography and protects your camera. It is MagSafe and promises to envelop your iPhone with style and security.
---
LeatherSafe Pocket Book by Pad & Quill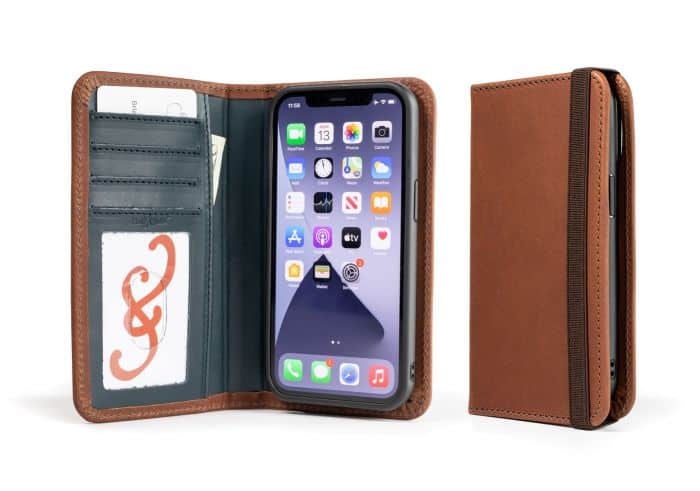 If you're looking for a multi-purpose leather case for your iPhone 13, Pad & Quill has the perfect remedy. Although this case is a lot more expensive than most cases on the list, it offers that many facilities.
The LeatherSafe case is a protective leather pocketbook with a wallet that can hold up to 4 to 6 cards and cash. Produced with thick American full-grain leather that starts off tough but softens with time and usage, the case also carries a 25-year warranty.
The LeatherSafe Pocket Book by Pad & Quill brings together age-old leather-making with strong marine-grade UV-resistant nylon stitching that strengthens the case. This MagSafe leather cover encloses its utility (wallet) section with a protective elastic that easily and firmly holds both folds of the folio. There's also a quick-viewing section for your cards.
Pad & Quill offers a 30-day money-back period, during which you can claim a refund for product dissatisfaction.
---
Leather is not only stylish, but it is also timeless. Though ethical leather cases are highly supported and recommended, genuine leather (animal leather) comes with its own perks and quality-based features. Whatever may be your choice (cruelty or non), we hope you found the best leather case for your iPhone 13.