E-mailing or Electronic Mailing is one of the most favorable channels of formal communication. An e-mail directly connotates formal and impersonal conversations. E-mailing is not that much of a personal manner to chat, given the numerous platforms and applications available for the purpose. But, sometimes, it can be a personal choice.
If you're formally involved with people, then, chances are that most if not all of the communication are taking place over e-mails. When you're in a profound formal position, there's almost a regular need to check your e-mails, organize them, send and broadcast e-mails, and most importantly, virtually collaborate with your teammates.
Constantly going back and forth to your browser and onto your e-mailing platform can be a task. This is when e-mail applications come into the picture – to help make the process a lot easier and productive. So, if you're looking for some efficient e-mail apps to assist your everyday work life, on your Windows 11, here's a compilation of the best.
Windows Mail and Calendar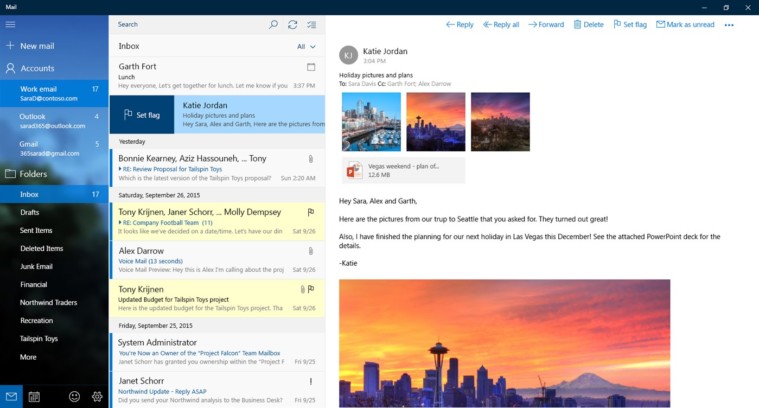 In any given situation, we always vouch for the home brand. Though there are many e-mail apps in the virtual market, the in-built mail app on your Windows 11 computer is pretty good as well.
A highlighting feature of this application is its integration of apps like Calendar and People. This e-mail app is all for free and is super compatible with your PC.
Microsoft's 'Mail and Calendar' app for Windows features as two separate apps but with a smooth transitional system. This e-mailing application is often overlooked and sometimes even ignored, but it does offer a range of productive features.
With the in-built Mail app on Windows, you can pin your favorite inboxes to the Start menu, link inboxes, and unify numerous e-mail accounts such as Yahoo, G-mail, and Office 365. The platform also allows you to tag people (@mention them), use caret browsing, customize e-mail background, drag and drop attachments, and use keyboard shortcuts among other features.
---
eM Client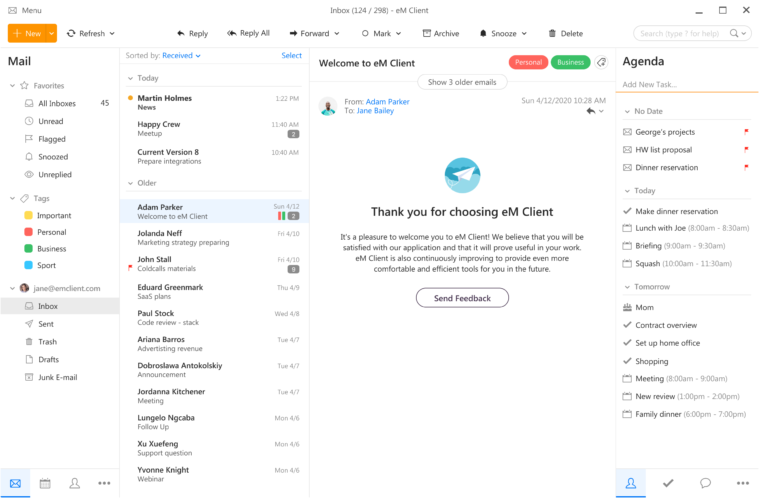 eM Client is one of the most talked-about e-mail apps for Windows – and for some very good and valid reasons. It's one of the best productivity apps that brings together a formal platform with some very humane features.
The free version of the eM Client is very limited. It offers only 2 of the many features but it does have a free license. The paid (Pro) version is separate for Individuals and Companies at a reasonable annual price and several features.
The free eM Client has got your back with e-mail, calendar, and task management for up to a maximum of 2 e-mail accounts on a single device. The Pro client, on the other hand, supports unlimited accounts for both Individuals and Companies. It manages e-mail, tasks, and calendars, allows commercial use, and VIP support for a year.
'Snooze e-mail', 'Send e-mail later', 'Watch for reply', Mass Mail, Notes, and Translation for incoming and outgoing e-mails are some of the other Pro features. Pro eM Client supports a minimum of 1 device and a maximum of 10 devices for individuals. The company eM Client supports a minimum of 10 devices and a maximum of 50 devices. Anything above the maximum in both requires you to contact the sales dept.
---
Mailbird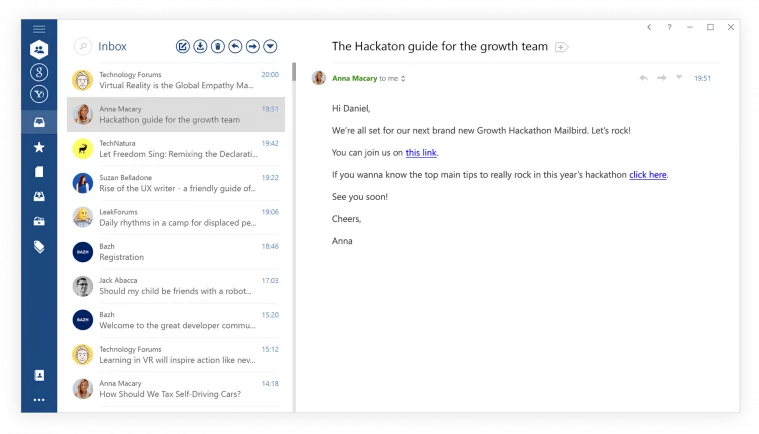 Mailbird is completely a paid e-mail application. The brand provides a Personal and Business plan – both require payment at varying prices. Though your pocket may feel a pinch, Mailbird makes sure it's worth it.
This e-mailing application combines an effortless user interface with some great features such as a 'Speed Reader' that can scan e-mails in seconds, an option to Snooze emails, and a Dark theme to visually lay it easy, among tons of other features.
Mailbird encourages and allows you to consolidate all your inboxes in one place. You can merge your contacts, and messages from several e-mail accounts. Here, the liberty to integrate does not limit only to e-mail accounts.
You can also integrate a variety of your favorite applications such as Whatsapp, Facebook, Google Calendar, Dropbox, etc. Customizable layouts, custom sounds, keyboard shortcuts, and multi-language support are some of Mailbird's features. The platform also provides a 'LinkedIn Lookup' option to instantly and professionally look someone up, and an 'Attachment Search' to easily dig into your e-mail attachments.
---
Outlook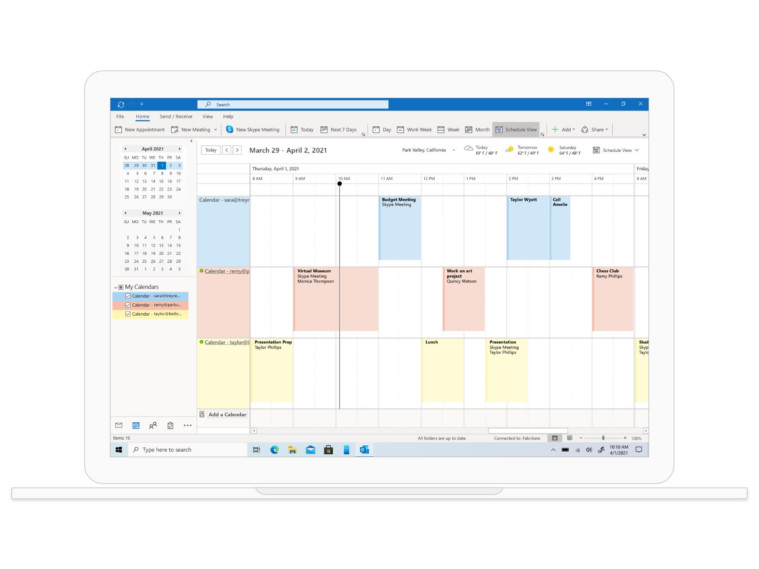 Outlook has been one of the top e-mail applications for Microsoft Windows for a long time now. And the good news is, it stays that way.
Outlook Live is a free e-mail client that works brilliantly for personal and small-scale use. If you wish to expand and go premium, you will need to purchase Microsoft 365 to enjoy Outlook 365.
On Outlook, which is also a given application on windows 11, you get free access to Outlook's e-mail and calendar, along with spam and malware filters, a mailbox storage capacity of 15 GB, OneDrive storage space of 5 GB, and the web version of premium Office applications like PowerPoint, Excel, and Word.
With Outlook 365, everything from security to mailbox storage, access to Microsoft 365 apps, and OneDrive storage is premium – additionally, OneDrive is also protected from ransomware. Other premium features include zero ads, data encryption, customized domain names, protection from unsafe files and links, and automatic document scanning for any malware or threats.
Premium Outlook is about $7 per month for an individual and $70 for a year. For a group of 6 people, the subscription amount for a month will approximately be $10, and $100 for a year.
---
Thunderbird

Thunderbird is Mozilla's free e-mailing application and cross-platform e-mail client. It is available for Windows 11 with a ton of features and add-ons on a simple and friendly user interface.
However, unlike most of the e-mail apps on this list, this one's pretty old school unless you customize it to your liking. Thunderbird is the ideal match for someone who doesn't want to spend too much time setting it up.
Thunderbird has a Mail Setup Wizard that'll do the setup work for you. The app provides strong image protection and user privacy and security against phishing. It manages your add-ons, large files, and junk mail. Thundermail is an open-source network with more features like smart folders, a one-click address book, a quick filter toolbar, a message archive, search tools, and an attachment reminder.
---
Postbox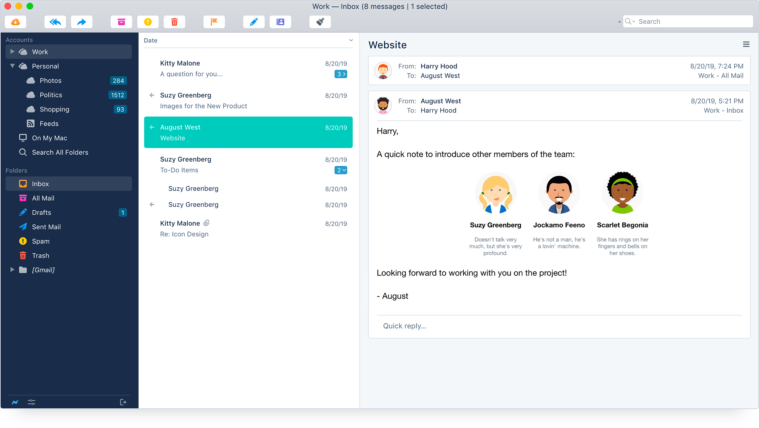 Postbox has been an e-mail client for Windows and Mac desktops since 2008. Though a paid e-mail application, you only need one license to use Postbox on any device for an entire lifetime.
You would have all the access to updates and upgrades upon purchasing the license. You can also try Postbox for free for 30 days before making the big decision.
Postbox manages and organizes your e-mail, secures your privacy, has a friendly interface, an efficient Search mechanism, and a bunch of other features. With Postbox, you can take to a conversational view of your e-mails, virtually live in a tabbed workspace, edit themes, customize display names, apply keyboard shortcuts, scale, and edit images, and use smart folders.
The e-mail app vows to protect you and your e-mail from tracking, malware, filter out your junk mail and offer nearly 70 ready-to-use professional e-mail templates. And the cherry on the icing? The features amount to just the tip of the iceberg.
---
Spike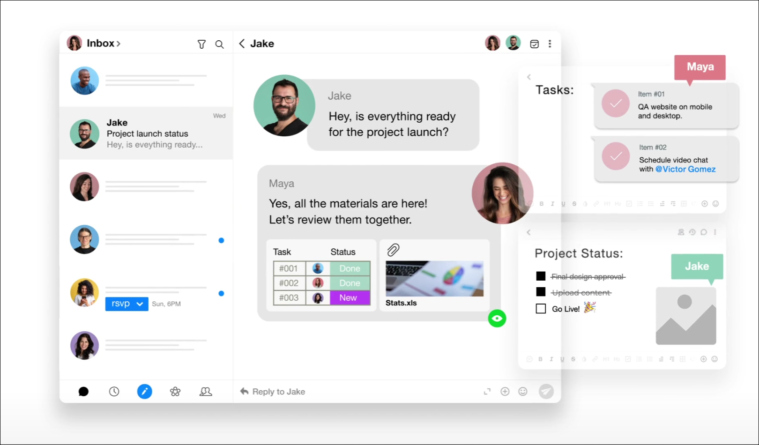 Spike Mail or just Spike is one of the most unconventional e-mail applications. It's formally, informal.
The platform allows you to have a more conversational method of e-mailing as opposed to the traditional, uptight manner of responding to professional hierarchy.
On Spike, everything happens in real-time. You can collab tasks, notes, chats, and an entire workspace to ease your workflow in a team.
Spike has some of the most humane features that we tend to see less often in the conventional e-mailing scenario. This little application understands the fact that we're only humans. So, you have the option to unsend e-mails, snooze them or send them later. Spike also validates your right to know, and hence provides a 'read indicator'.
You can effortlessly sync your e-mail accounts, stay on top of your reminders, enjoy the drag-and-drop feature, apply the app's built-in translator, shift between dark and light themes, customize your swipes, execute bulk actions, and respond with Spike's in-line RSVP feature. And like we say, these are just some of the features.
---
Missive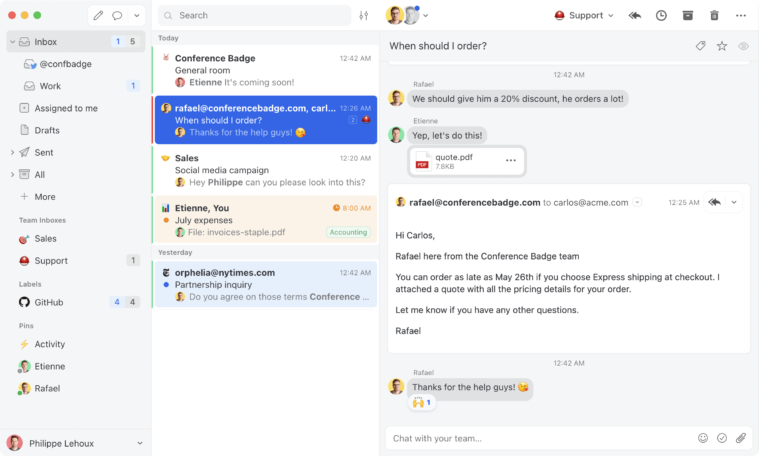 Missive is another exceptional e-mail application, especially for work. The platform optimizes productivity with collaborative e-mailing features and threadable group chats.
Missive offers a free plan that is extendable for as long as you please, and chargeable Starter and Productive plans. The paid plans are refundable for up to 30 days if you happen to be displeased with the product.
Missive's free plan allows a maximum of 3 accounts per organization, 2 personal accounts per user, and 2 shared social media accounts. You can indefinitely extend this plan but can retrieve only 15 days of history.
With both free and paid accounts, you can enjoy Missive's Team inboxes, Missive Live chat, calendars, collaborative writing, an integrated space for social media and SMS, and canned messages. Other promising facilities are workload balancing, customizable swipe actions, conversation snoozes, keyboard and application shortcuts, contact management, and personalized channels.
---
Newton Mail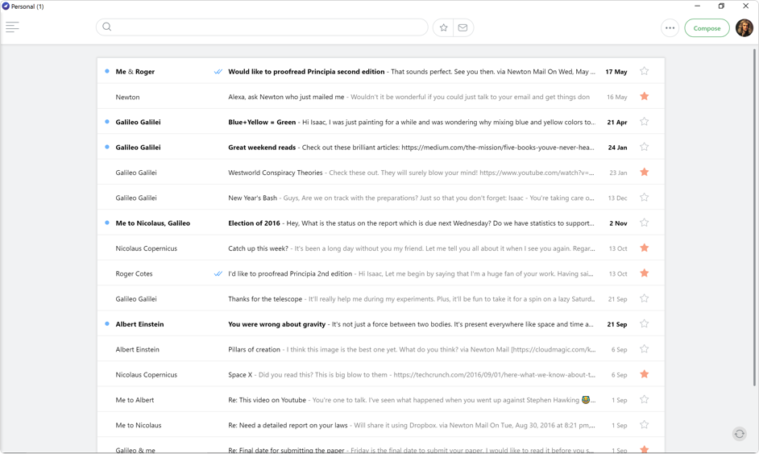 Newton is a paid e-mail application. It offers only one subscription that costs about $50 a year. Although a little pricey, the app's features seem to be deserving.
Newton allows you to freely experience the application for 14 days, after which, you can choose to continue with a subscription. The app is compatible with Windows, Mac, Android, Linux, iOS, and Android.
Newton offers a range of cosmos-like facilities to make your e-mailing experience a lot better and by that, a lot like it's out of this world.
On this Supercharged Emailing platform, you can unify and organize inboxes from a bunch of accounts such as Yahoo, Gmail, iCloud, and Outlook, and integrate apps like Trello, OneNote, Evernote, Asana with a single click. You can calendar your workdays with Newton Scheduler, snooze e-mails, revisit conversations with Newton Recap, read receipts, apply True Darkmode, and a lot more.
---
Spark Mail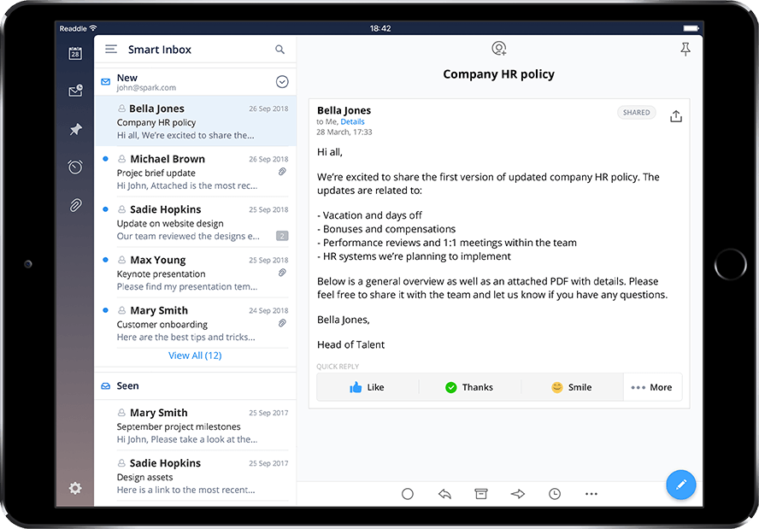 Spark Mail is yet another fantastic e-mail application for the modern e-mailer. The brand promises to get you loving your e-mails, again.
However, Spark Mail is only available for Mac, Android, iPhone, and iPad as of now. It will soon be a cross-platform app for Windows and the Web. To stay tuned with Spark's updates, send them your e-mail address.
Spark Mail ensures to lend you control over your inbox by offering features like snoozing e-mails, smart inboxes, and smart search too. You can also craft and use your own personal or professional e-mail signatures.
The platform boosts productivity with its collaborative drafting option, shared inboxes private team comments, and e-mail delegation. Creating e-mail links to circulate them with your teammates, using e-mail templates to save some thinking time, sending e-mails later, and setting e-mail follow-up reminders, are some of the fantastic facilities on Spark.
---
E-mailing is a modern-day necessity, not a luxury. This mode of communication is so crucial that it requires the ideal functional blueprint to suit the user. And given how vast and diverse our needs and personal approaches to things are, we hope you found the perfect e-mail app to integrate into your Windows 11 PC and master the e-mailing game.