Phone cases have radically changed over the lifetime of mobile phone usage. These decorative covers are not just for fancy anymore. What was once limited to phone protection, fashion, and ease of portability, is a multi-faceted phone accessory today. These cases shield the device from damage, make them look prettier on the outside, and they tend to our immediate necessity – moolah.
Most times, we prioritize two things when we head out – our phone and our money. If the phone is coverless, then we carry two things, but if the phone has a cover and moreover, a cover with a cardholder, then, you're carrying the bare minimum – but with everything you need in it. Ladies, especially! We hear you. The pocketless fashion is steadily changing, but it'll be a while before we go completely hands-free. Until then, boys and girls (since we made an awkward specification), here are the 11 best phone cases with cardholders you could use for your iPhone 13.
#1. MagSafe Leather Wallets By Apple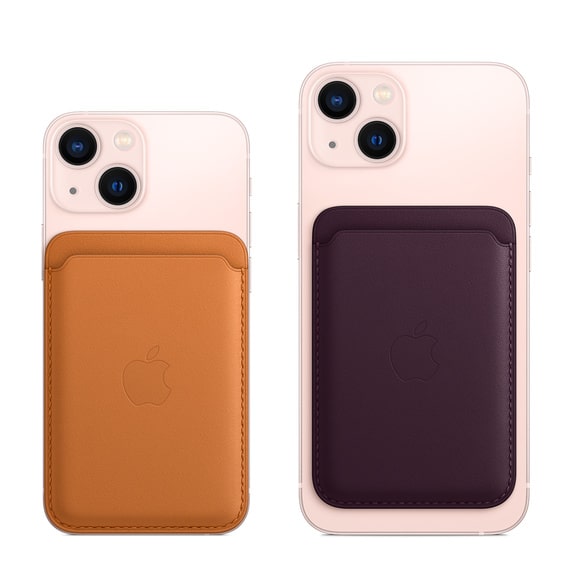 If you're thinking chic and practical, these leather wallets by Apple are a perfect choice – they accessorize your iPhone 13 like none other and add efficiency to it. MagSafe wallets can hold up to 3 cards and enclose with firm and securing magnetism. Equipped with strong magnetic technology, these wallets can easily latch onto the back of your iPhone or iPhone 13 MagSafe phone cover. If you're ever worried about losing your Magsafe wallet, you can always track it down by using the Find My feature.
Apple's MagSafe leather wallets are handy, efficient, classy, and colorful. Manufactured with exclusive French leather, this wallet series offers 6 vibrant color choices – Golden Brown, Sequoia Green, Dark Cherry (wine red), Midnight (black), and Wisteria (lilac).
---
#2. Smartish Wallet Slayer – Volume 2
The name of this phone case says it all! The Smartish Wallet Slayer is here to seriously cut you the slack of carrying around a fat wallet. Smartish, in fact, has two volumes of Wallet Slayers. The one in the picture is the second volume.
The flexible phone case has a smooth fabric finish and a cardholder that can hold up to 3 cards and some cash too! Now, you may wonder if you'll ever miss out on the good of having a flip cellphone cover. Well, with Wallet Slayer Vol 2, you won't! The phone case has a slice of a slot, enough to vertically fit just one card, right next to the cardholder. This space allows you to fit and use your card as a kickstand!
└ Smartish Wallet Slayer – Volume 1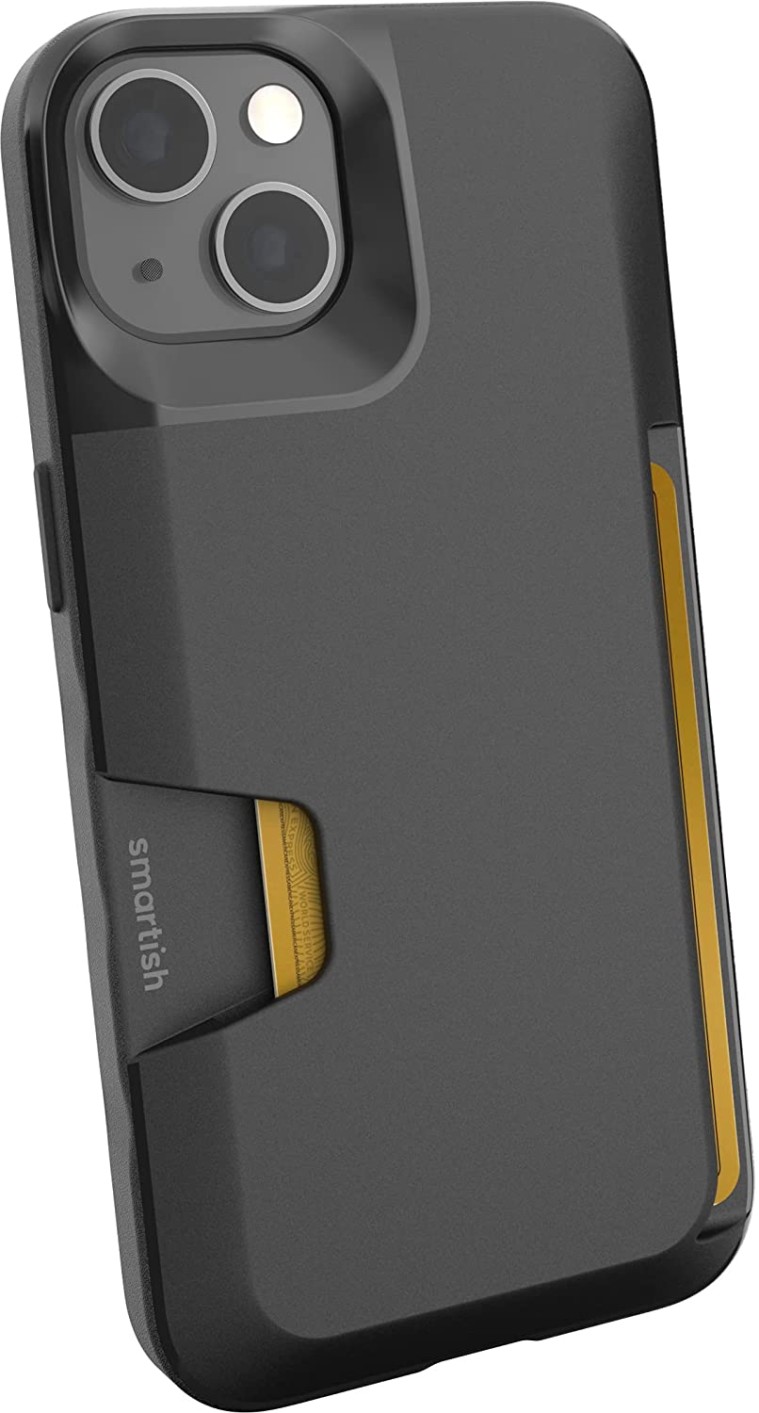 Volume one of the Wallet Slayer edition has a matte finish. This case too is built to be super light, durable, and flexible, just like Volume 2. Both volumes offer the same kind of efficiency when it comes to accessibility, card, and cash holding capacity, raised camera protection, great grip, and airy corners that resist damage.
However, Volume 1 only lacks one feature that Volume 2 highlights. The credit card kickstand. This edition of the Wallet Slayer sadly does not accommodate a credit card slice. But, if you're not the kind to need a kickstand, then both Volumes would be a great addition to your iPhone 13.
Also, the Wallet Slayer (both editions) does not offer wireless charging facilities. You will have to take your phone out of the case to wirelessly charge it.
---
#3. Mod Phone Case + Wallet By Bellroy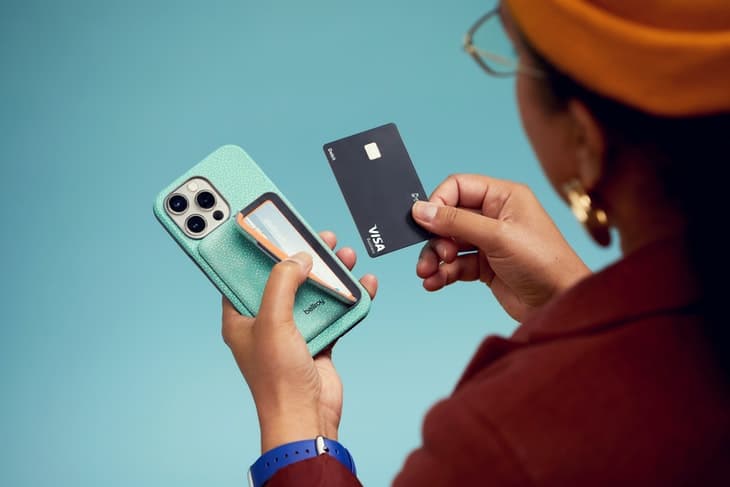 The Mod case by Bellroy is a combination of a phone case and a wallet case. Here too, the wallet is detachable from the phone case and attaches back with a firm magnetic lock system. The wallet is accommodative of 3 cards and secures them all with a magnetic trapdoor – which can also be used as a kickstand.
Furnished with HeiqQ V-Block technology, the case is anti-microbial, durable, non-toxic, and sustainable. The cover is made with flexible polymer and eco-leather and offers a collection of 6 colors – Black, Basalt, Cobalt, Lagoon, Terracotta, and Citrus. The case also supports MagSafe charging (without the wallet, of course). Overall, the Mod case makes for a fashionable and thoughtful choice for your iPhone 13.
Three-Card Phone Case By Bellroy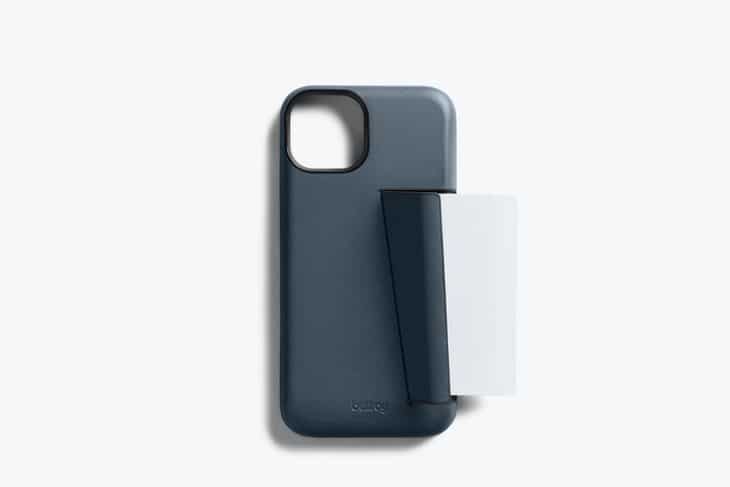 This one's another productive case by Bellroy that follows the same organization, specifications, and colors featured by the Mod phone case + wallet edition. Only here, both the case and the wallet are integrated. The case itself opens into a three-card-holding wallet space that further closes with a safety lock system. The cardholder also doubles as a kickstand. However, this case is incompatible with MagSafe or Qi charging.
---
#4. Element Case Black OPS X4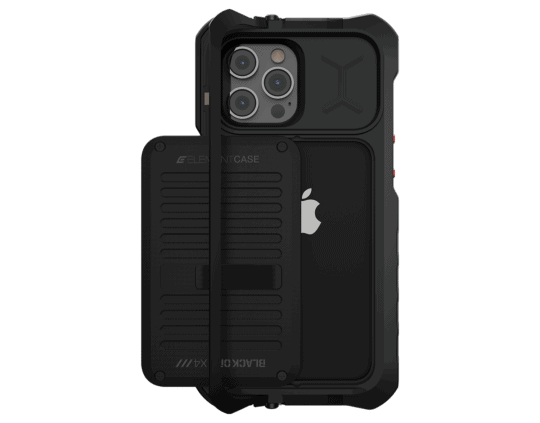 If you're on the hunt for a badass phone cover that also supports cards, the Element Case Black OPS X4 is for you. This ruggedly stylish and shock-proof phone case designs a highly secure space for your cards behind a sliding case, which the brand likes to call the 'card magazine'. The cover is also mechanized with a steel kickstand.
The sides are super grippy and even if your phone does slip out of your hands with the cover on, the incorporated MIL-SPEC armor technology would shield your phone from damage. The Black OPS X4 is also compatible with MagSafe charging. So, if you're known for rough mobile usage and/or if your phone is in dire need of military-grade protection, then this phone case would work in your defense.
---
#5. Full Leather Wallet Case by Mujjo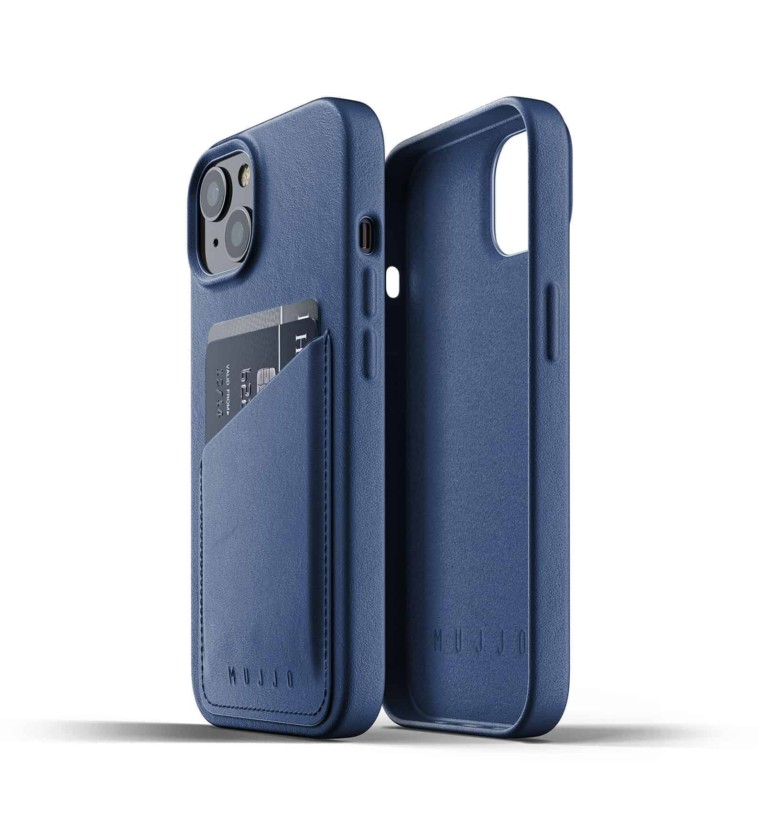 Mujjo features a line of three different colors in its full leather wallet case edition for the iPhone 13. Monaco Blue (the one in the picture), Tan, and the Black variety are constructed with eco-friendly leather that smoothly falls over your iPhone's buttons, providing better clickability. The leather covering precisely envelops around the access ports, offers raised camera protection, and extends into a compact card holder capable of holding 2 to 3 cards. The interior of the case has a lining of Japanese microfibre that amps up the level of protection aimed to serve your iPhone 13.
---
#6. Alto Metro Leather Wallet Case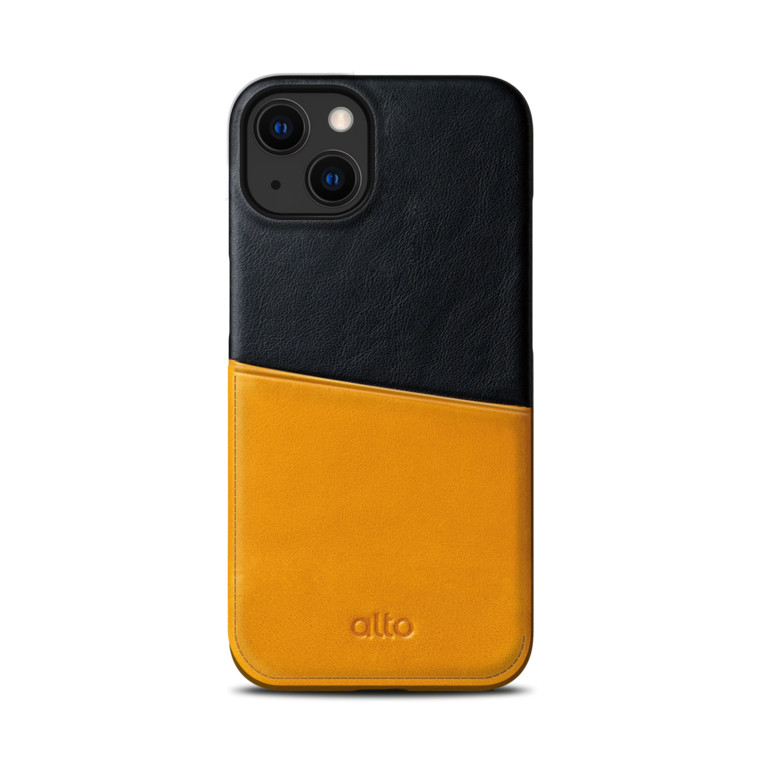 If you're someone who uses a single card and banks more towards e-transactions, then the Alto Metro leather wallet case would be a good choice. With a single card holding capacity along with a diagonal slot that branches out as a kickstand too, this phone cover is simple yet functional.
The brand offers two combinations of wallet cases – Raven Black/Caramel Brown and Original Nude/Cement Gray. If dual colors are not your thing, they also have a jet black phone case, characterized by their signature Raven Black leather. The case is also supportive of wireless charging. For this, you will need to turn the cardholder and get it out of the way.
---
#7. Spigen Case Slim Armor CS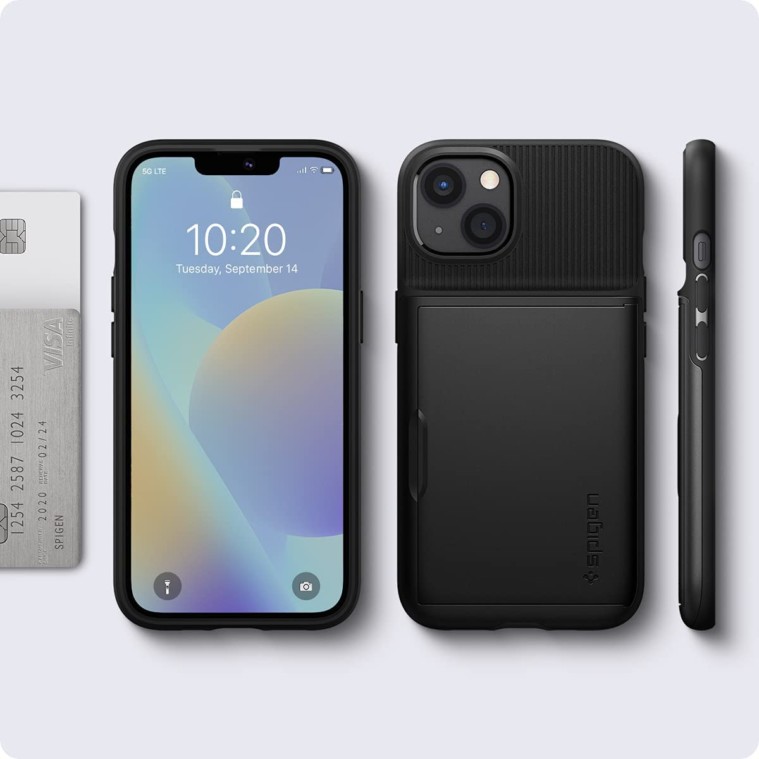 Spigen presents a slim and sleek phone case for your iPhone 13. Though accommodative of only 2 cards, the slidable cardcase protects with reassuring technology of shock-absorbent PC material. Impact-resistant TPU embeds the interior of the phone case. Thus, doubling phone safety with double the protective layers and materials. The other option besides a black Spigen Slim Armor CS cover is a pink case, which is also pretty dope.
---
#8. Bigphilo Slim Card Case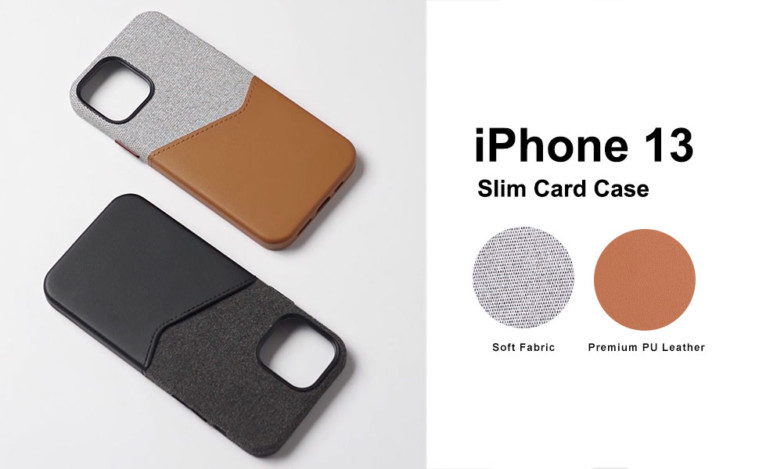 If you don't prefer to go all leather, Bigphilo offers a merge of both vegan leather and soft, skin-friendly, anti-allergic fabric. The phone case permits a maximum of 2 cards in its leather cardholder. Since the case is light and non-bulky, it allows for wireless charging. Aluminum buttons dot the peripheral of the case, sitting firmly on your iPhone's buttons, thus supporting better and smoother usage.
But, here are the downsides. The Bigphilo leather case prioritizes appearance a little more than protection. This case would be ideal only if you're super careful with your phone and not rough. The fabric of the phone cover is thin and can be prone to relative wear and tear – all depending on how gently the case is used. On the whole, this phone case is for the delicate user.
---
#9. Vena's Legacy Card Holder Case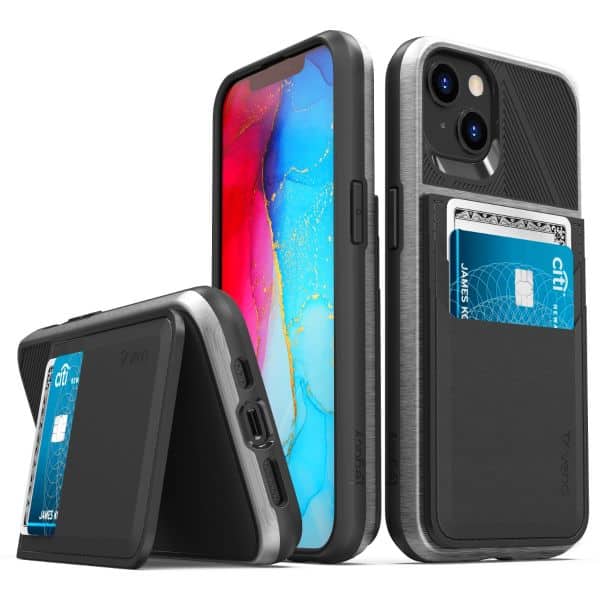 The Legacy phone cover is a double-layered PC (polycarbonate) and TPU (Thermoplastic Polyurethane) case with a cardholder that can hold a maximum of 2 cards. The holder also works as a kickstand, offering both money holding capacity and handsfree comfort. RFID (Radio Frequency Identification) blocking material lines the cardholder and safeguards your card(s) from radio signal invasion. Plus! This phone case allows MagSafe and wireless charging.
---
#10. Smartish Crossbody Wallet Case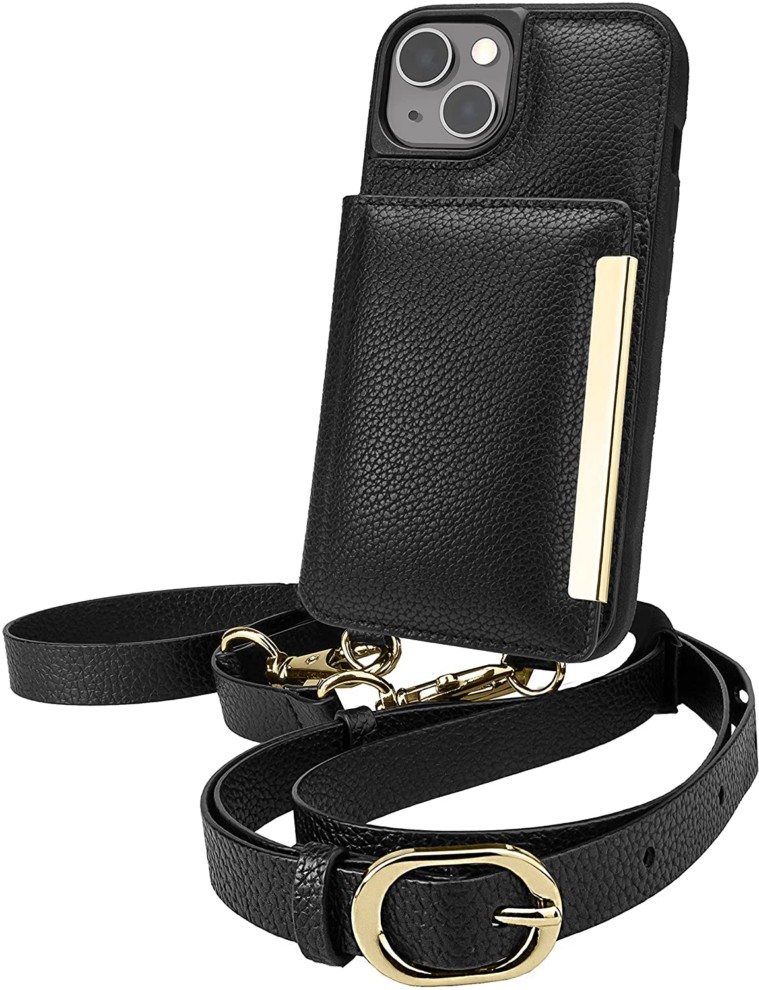 This one's called the Dancing Queen by Smartish – and it's named that way for a very good reason. This edition of Smartish phone cases not just has great card space but also thoughtful accessories – with which, you can carry everything you need and still go out and dance!
First off, the phone case has a detachable and adjustable crossbody strap (and here's a secret, there's a lot more to it than just leather!). There's a secure wallet space that can fit up to 5 cards and some cash, lipgloss loops along the crossbody strap, and a detachable wristlet. If you want none of the extras (the strap and the wristlet), you can remove them and rock the phone case just as it is! The only limitation? You cannot wirelessly charge your iPhone 13 with the case on.
---
#11. i-Blason Cosmo Wallet Case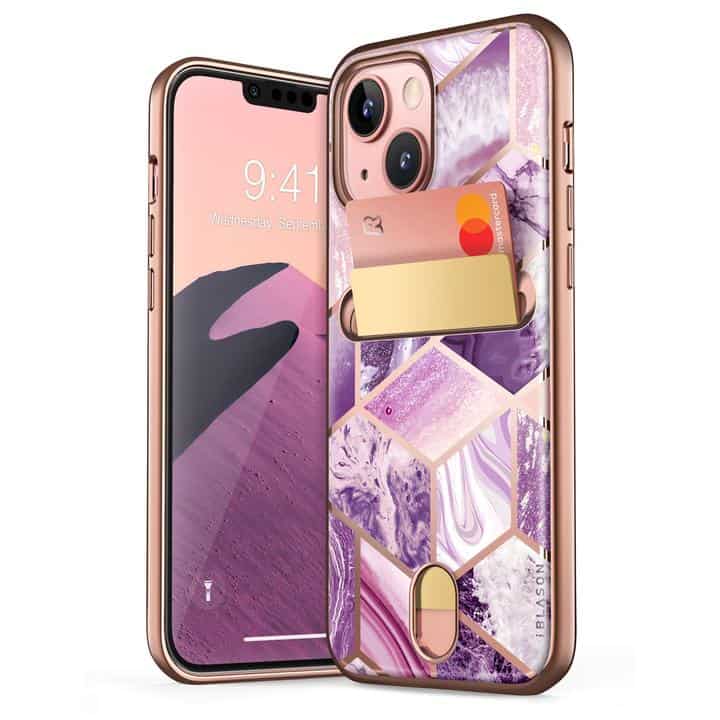 i-Blason brings together convenience and appeal. The Cosmo Wallet Case series is nothing less than visual brilliance. The cover is created with satisfying blocks of marbelized textures that work over a cardholder that can carry 2 cards.
Given the fashionability of the case, the durability can be apprehensive. But i-Blason guarantees scrape and scratch resistance along with protection against fading and discoloration. The cover has a four-fold color range – Pink, Blue, Purple, and Green. Each color is designed with its own gradient marble shades and textures.
---
Phone covers are essentials. They used to be accessories. But with today's heavy movement and phone usage, our phones have near-death experiences almost frequently. You can escape potential phone damage and the horror of carrying your phone and wallet, or another bag for them, by choosing the right phone cover. We hope, this list made the right stitch in time. But remember, to keep your case efficient, refrain from stuffing more than the case can take. This way, you and your phone case will share mutual respect and concern for each other!