What do professionals dread the most? Most of you wouldn't guess it right, it's losing their emails. People generally receive and store all important files and data on their email. This not only keeps them at one place but also can be accessed anytime from anywhere across the globe.
When it comes to email, the first name that comes to our mind is 'Gmail'. Most of the users around the globe prefer Gmail over any other email service across the web. This can be attributed to the fact that it was developed by Google, simple and straightforward interface, and abundance of user-friendly features.
Why You Should Backup your Emails
This is the first question that comes to mind when you hear of email backup and is a perfectly valid question since a large percentage of users opt against it, due to lack of awareness. But you have to realize that in today's world, cyber-attacks, accounts being hacked, misuse, and loss of data over the internet are common. If you have important documents or files on your email, you should create a backup, so that you can easily retrieve them in case your account is hacked, the emails deleted by mistake, or you simply lose access to the account.
What Else Can I Do? Backing up your emails is a solution but your focus should be on enhancing security by keeping a strong password. A strong password is highly effective when it comes to preventing others from hacking into your account and your data from being compromised. However, having a backup wouldn't hurt, it would act as an additional measure.
Download Emails Individually from Gmail
One of the easiest ways of backing up your mail is by downloading them to your computer. Whenever you receive or send a mail to someone through Gmail, you have the option to download it.
If you don't want to backup all your emails but a few certain ones, the option to download the emails individually from Gmail is a great and effective option. However, if you're looking to bulk download emails, we suggest you to check out the other methods on this page.
When you open a mail, you will see three dots at the top-right to open the menu. In the context menu, you will see the option to reply, forward, report the mail, block sender, and download the mail amongst many others.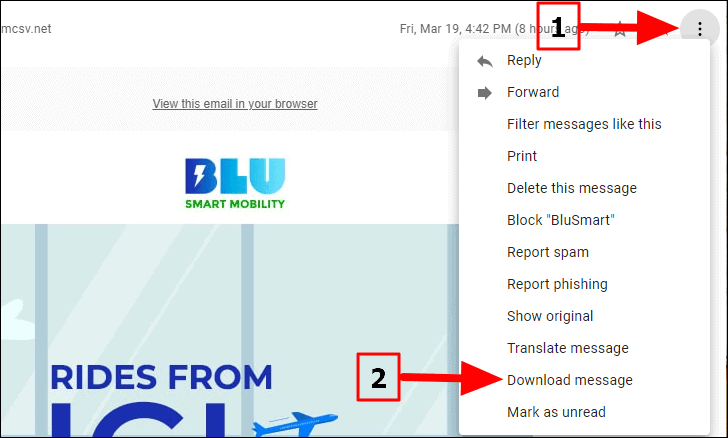 After you click on the 'Download message' option, the email will be downloaded to the default 'Downloads' folder on your system. It is advisable to keep all your downloaded mails in one folder and categorize them using sub-folders.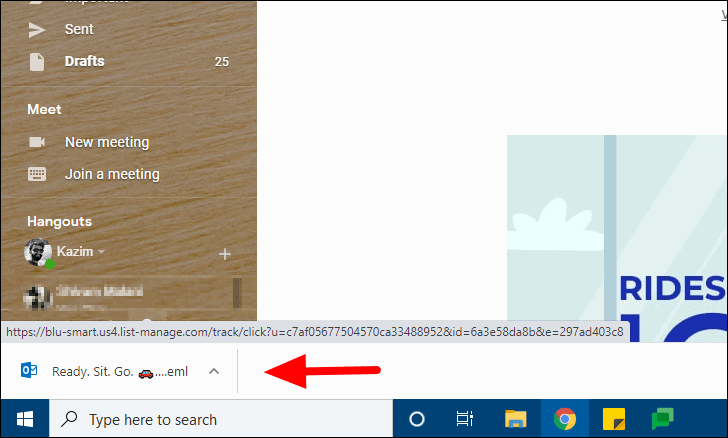 ---
Back Up All Emails in Gmail with Google Takeout
Google Takeout allows you to download all the data on your Google account, either to create a backup or to use it with another service. It works with almost all the services offered by Google. When you go with Google Takeout, it creates a backup of all emails on your account.
Creating a Backup with Google Takeout
To use Google Takeout for creating a backup of the emails in your Gmail account, open takeout.google.com in a web browser on your computer.
When you open Google Takeout, all Google services are selected by default. Since we are interested in creating a backup of Gmail only, click on 'Deselect all' to untick all services first.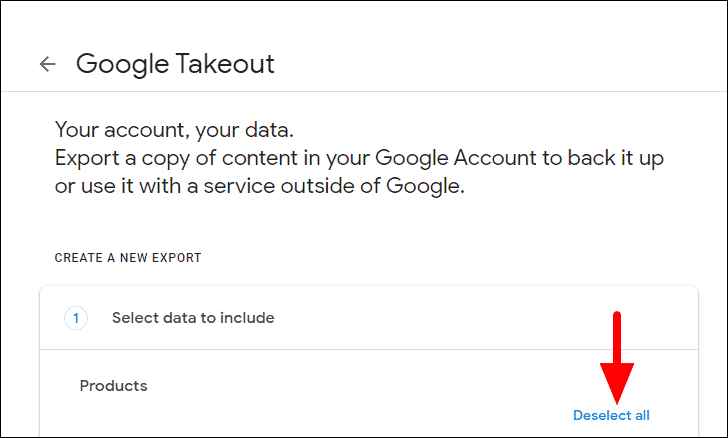 After you have deselected all, scroll down and tick the checkbox next to 'Mail'.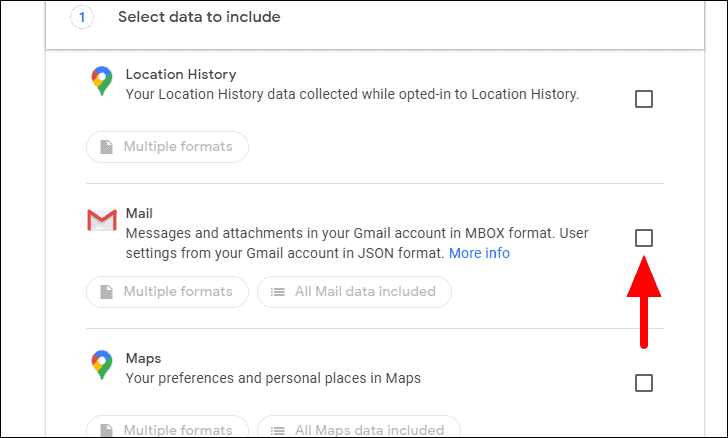 Now, you will see the option to select the data of which you want to create a backup. Click on 'All Mail data included' to select/unselect the various data options.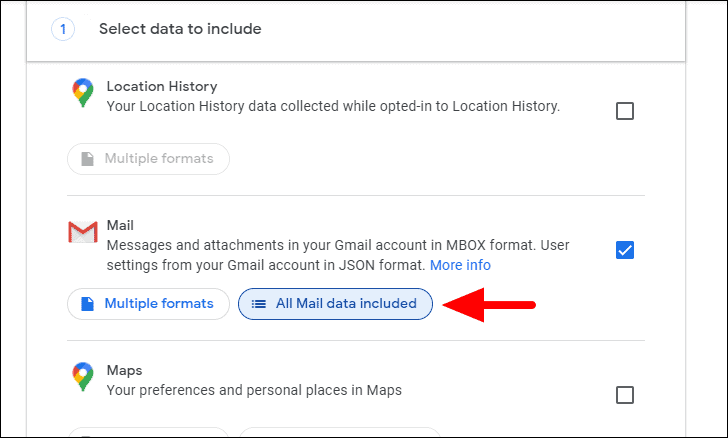 If you want to create a backup of all the mails, tick the checkbox for 'Include all messages in Mail'. In case, you want to create a backup of selected stuff, untick the first checkbox and make the necessary selection from the list and then click on 'OK' at the bottom.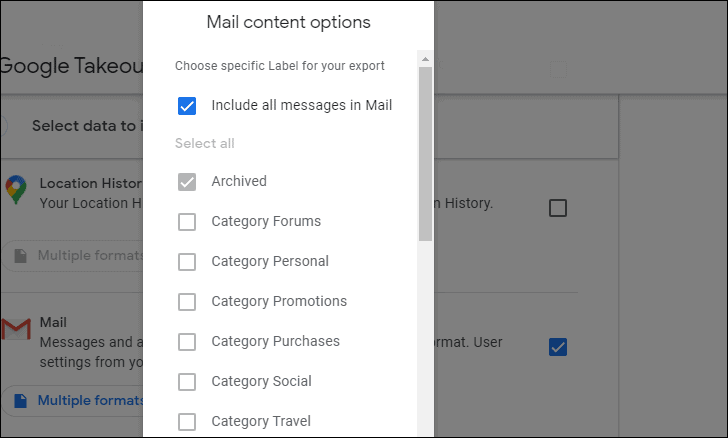 Once you are done with the all the selections, scroll to the bottom and click on 'Next step'.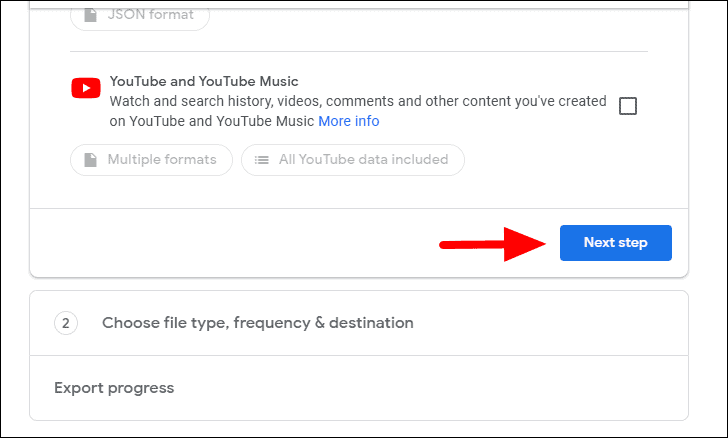 The next step is to select the frequency, file type, and size. First, you have to select the frequency from the two, either once or every two months for a year. Tick the checkbox behind the option that you want to select.
The next section is for file type and size. You have two options for the file type, ZIP or TGZ. The benefit of '.zip' files is that they can be opened easily on most computers.
Lastly, select a preferred file size from the list. If the backup is larger than the selected size, the file will be split in two. Finally, click on 'Create Export' at the bottom.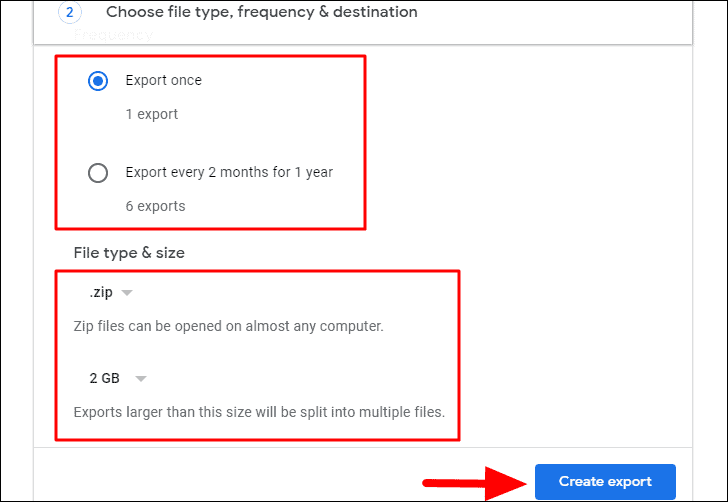 The process of creating a backup takes a while depending on the data in your emails and how big of a file is created. Smaller files are created relatively quicker than large files which may take even days.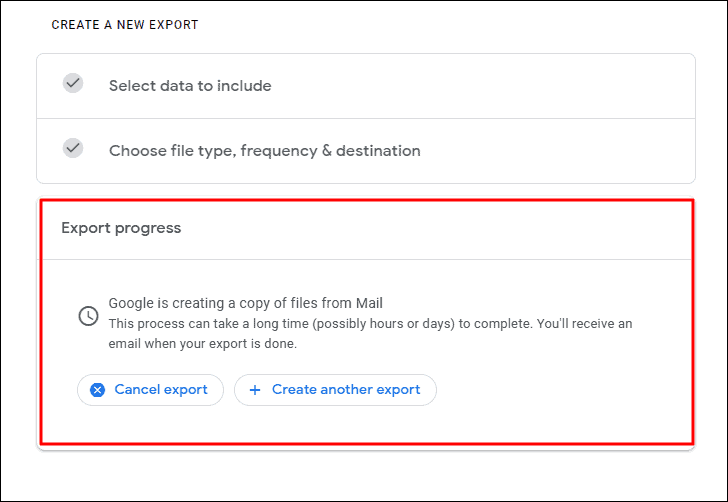 Downloading Gmail Backup Created by google Takeout
After you have requested backup, you will receive a mail from Google confirming the same. Also, you will receive the download link(s) for the created backup in another email, which may take a couple of hours depending on the file size. The download link is valid for a period of 7 days from the day the request is made.
When you receive the email, open it and click on the 'Download' buttons. Also check how many files have been created and the size of each for future reference.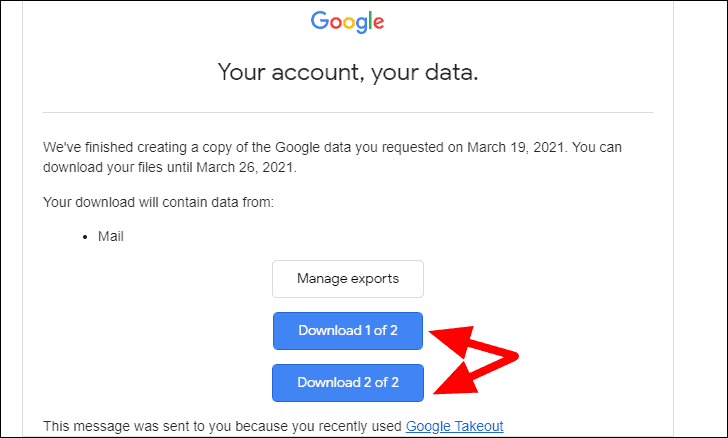 After you click on the 'Download' buttons, you will be asked to verify your identity by entering your Google password. Once you are through, download the files to your computer. The files are in '.zip' format since it's the default setting and we didn't change it earlier.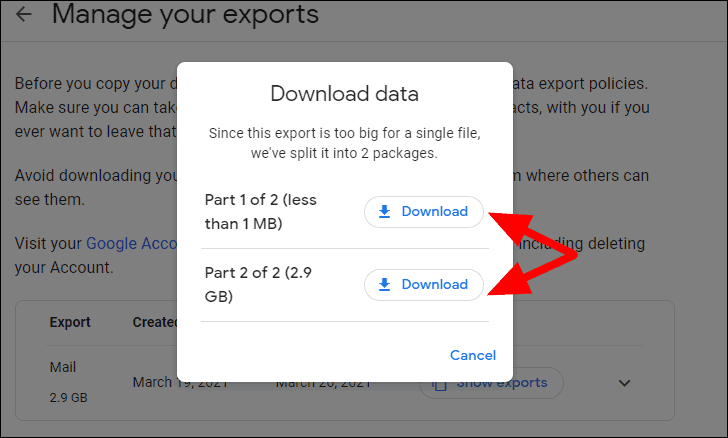 Also, never download the files on public computers or systems that you share with others, since the data can be misused.
---
Forward Emails that you Wish to Back up in Gmail
This is another simple way of creating a backup where you enable email forwarding to another address. One of the major drawbacks is that you can only enable forwarding for incoming mails and not the ones that you send. Also, you can only create a backup for the mails that you receive after setting up the forwarding feature. You should never add someone else's email address as the forward address as the data may be compromised.
Adding an Email ID to Forward the Mails
To enable email forwarding, open Gmail and click on 'Settings' at the top-right corner.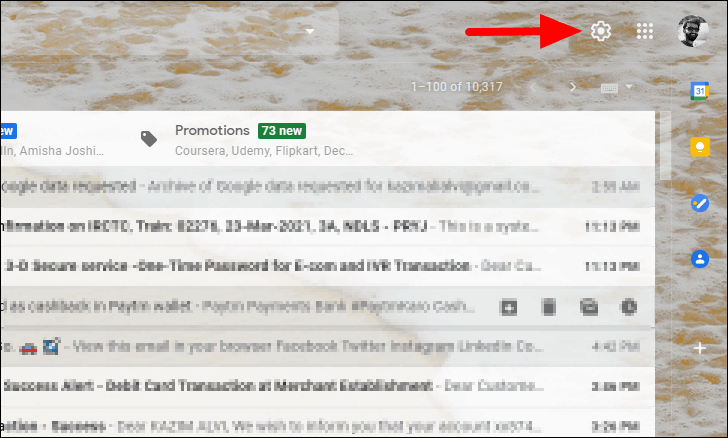 When you click on 'Settings', a 'Quick settings' box will open which has the basic settings to customize the view and other parameters. To open the complete Gmail settings, click on 'See all settings'.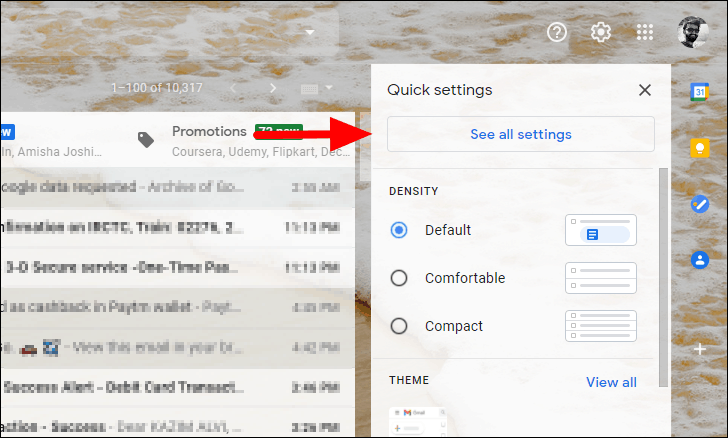 You will now see various tabs at the top, go to 'Forwarding and POP/IMAP'.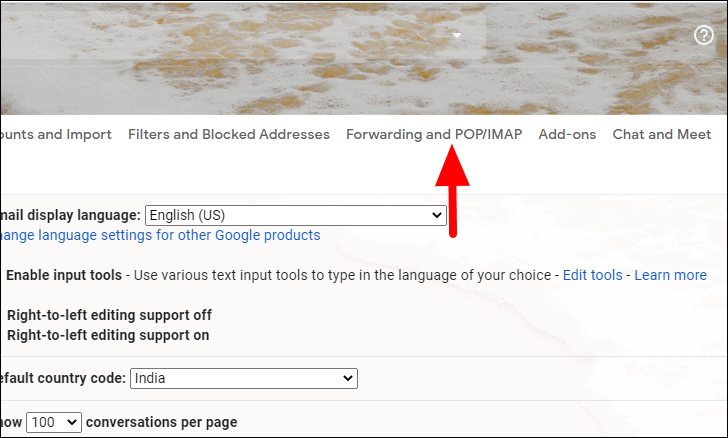 In the 'Forwarding and POP/IMOP', you will a lot of options to configure the forward settings. To enable forwarding, click on 'Add a forwarding address', the first option at the top, next to the 'Forwarding' section.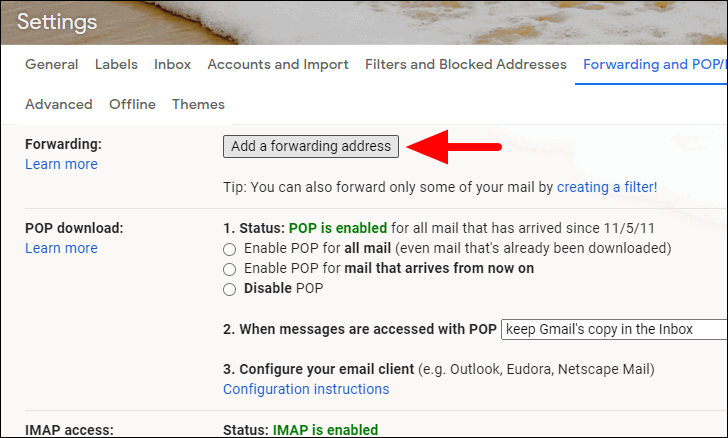 You now have a box to enter an email address where you want to forward all the mails to and then click on 'Next' at the bottom of it.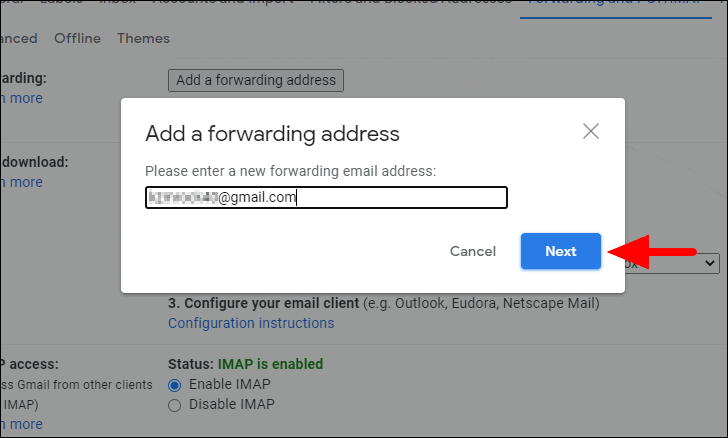 A new window now opens where you have to confirm the email ID by clicking on 'Proceed'.
Next, click on 'OK' in the confirmation box that pops up to confirm the change.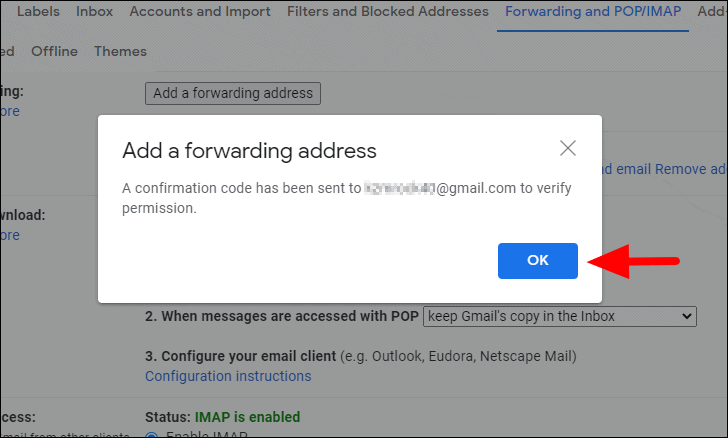 Confirming the Forward Request
When you add an email ID to forward the mails to, a confirmation is sent to the forwarding address. To confirm, there are two options, either using the confirmation code or by clicking on the link in the mail.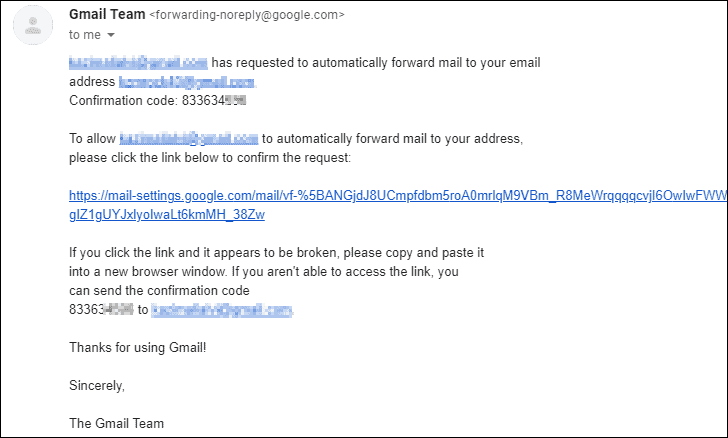 After clicking on the confirmation link, a new page opens. Click on 'Confirm' to allow receiving emails from your primary ID.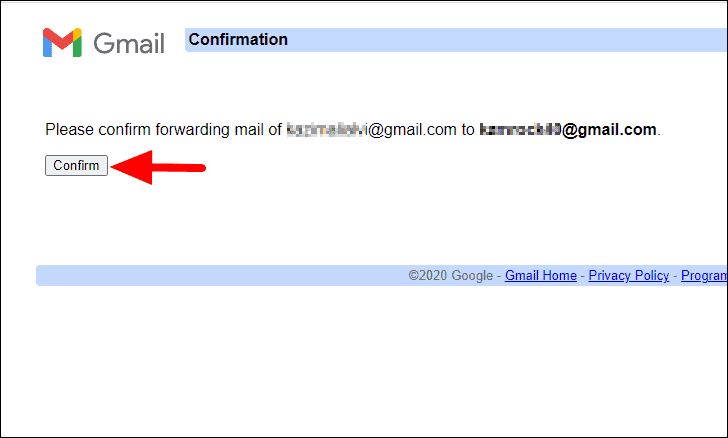 Changing Email Forwarding Settings
Open the Gmail account that you wanted to back up and go to the 'Forwarding and POP/IMAP' as we did earlier. Now, tick the checkbox behind 'Forward a copy…' and select the option 'Keep Gmail's copy in the inbox' as shown in the image below. This will make sure that your mails are forwarded and kept as is in the inbox on your primary account.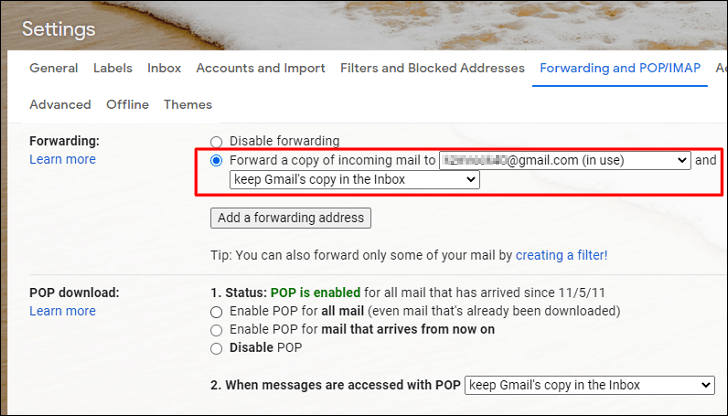 After making the changes, scroll down to the bottom and click on 'Save Changes' to apply them.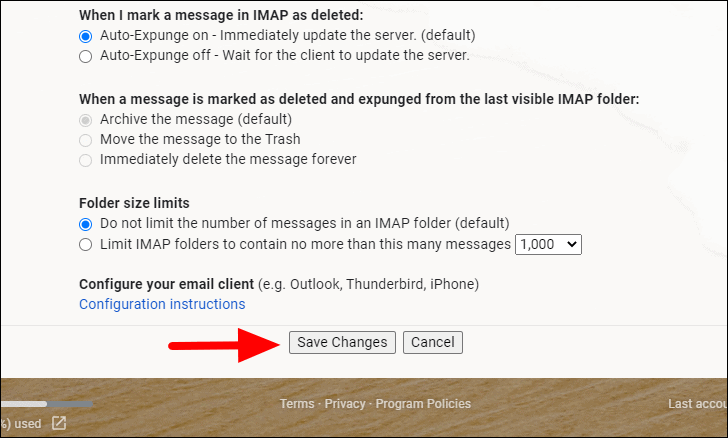 ---
Backing Up Emails in Gmail with Third-party Apps
We have already seen some exemplary methods to back up emails in Gmail but we haven't yet discussed the third-party apps that come to aid. With emails becoming the primary mode of professional communication and file sharing, the need for backup is now more than ever.
To tap this segment, a lot of apps have been launched specifically to create email and other backups for users. There are some really great applications on the web with fascinating features that not just create a backup but also requires way less attention and involvement on your part.
Important note: Using third-party services means you're allowing someone else to have access to your Emails as they assist in backing up your data. We strongly advise against using any third-party service (no matter how safe) unless you absolutely need it and fully understand the scope of the risks it might involve.
UpSafe
UpSafe helps users back up their Google data and emails. It is one of the most popular apps in the segment, however, it lacks the feature of setting a frequency, which means you have to remember backing up each time.
SysTools Gmail Backup
This is another great apps which offers a lot more customizations when it comes to backup file type and allows you to add multiple Gmail accounts as well for backup.
Gmvault
It's probably one of the most trusted applications, not just because of the multitude of customizations and features, but also its small size and straightforward interface. Also, you can set a frequency for automatic backups and sit back and relax.
---
Now that we have discussed most of the email backup methods, you would feel acquainted and oriented with the concept. Also, as discussed earlier, creating a backup should be your sole approach. A strong password goes a long way in minimizing the chances of hacking.