🔊
In short.
To delete Google Bard history and activity data, visit bard.google.com and access the Bard Activity page. From there, you can delete individual prompts or activity based on specific days or custom time ranges. To stop saving Bard activity, turn off the "Bard Activity" toggle on the same page.
Google Bard is a large language model from Google AI. It can generate text, translate languages, access the internet, write creative content, answer your questions, and hold conversations. Google reportedly plans to incorporate Bard in Search in the future.  
It is a lot similar to ChatGPT but also not quite. Like ChatGPT, you enter prompts or questions to Bard to elicit a response from the chatbot. But unlike ChatGPT, you can't see and access your entire conversation history on Bard. However, Google Bard does store the prompts you enter, the results you generate, and the feedback you provide to your Google account.
How does Google use your Bard Data?
Of the Bard data stored in your Google account, only the prompts you previously entered are visible to you in your account activity. You can delete this activity from your account, both individual prompts and your activity, based on time. The rest of the data, like your Bard conversations and your feedback, are not visible to you, and you cannot delete them.
All your data, like your conversations, your general location based on your IP address, usage information, and your feedback, is also stored by Google separately from your account. At this stage, Google uses this information to improve Bard; they are not currently sharing the data with any third parties for advertising purposes. The company says it will inform the users if this changes.
Now, your conversations are also viewed by trained human reviewers to improve Bard. Google stores these conversations for up to three years. Although you should never provide any personal information that can identify you or someone else in your prompts, Google uses an automated tool to delete any personally identifiable information.
Even when you delete your Bard activity from your Google account, Google won't delete the already reviewed conversations from wherever it stores them separately. As mentioned previously, they can retain them for up to three years.
You can also turn off Bard activity for your account. When you turn off activity, none of your prompts will be saved to your Google account. But Google still saves your conversations for up to 48 hours in this case to process any feedback; it won't be visible in your account. Turning off activity does not affect the past data, and the timeline of 3 years retention period applies to it.
Deleting Individual Prompts
To delete individual activity, follow these steps. Go to bard.google.com from your preferred browser. Click on the 'hamburger menu' icon in the top left corner of the page if the menu isn't already visible.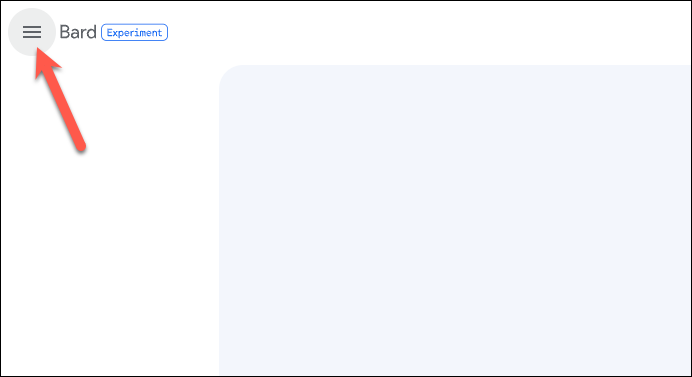 Select 'Bard Activity' from the menu.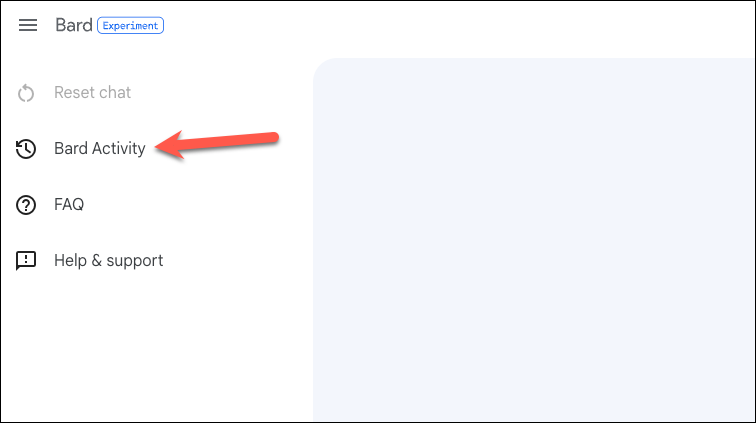 Your Bard Activity will open in a separate tab. Under the 'Your Activity' section, find the prompt you want to delete and click on the 'Delete (X)' button next to it.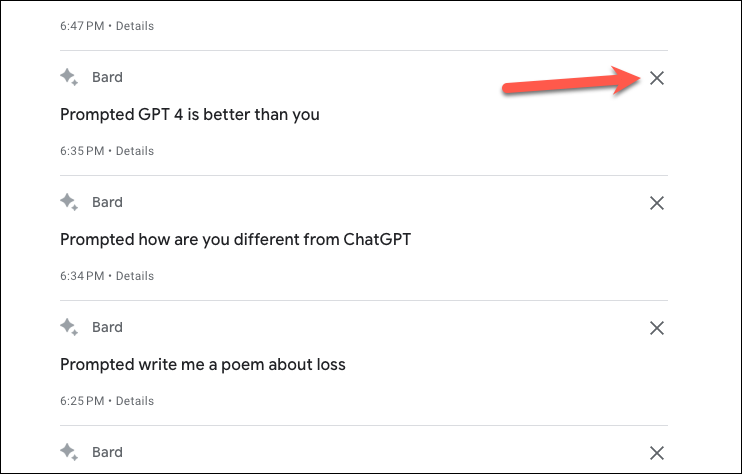 Click 'Delete' from the confirmation prompt.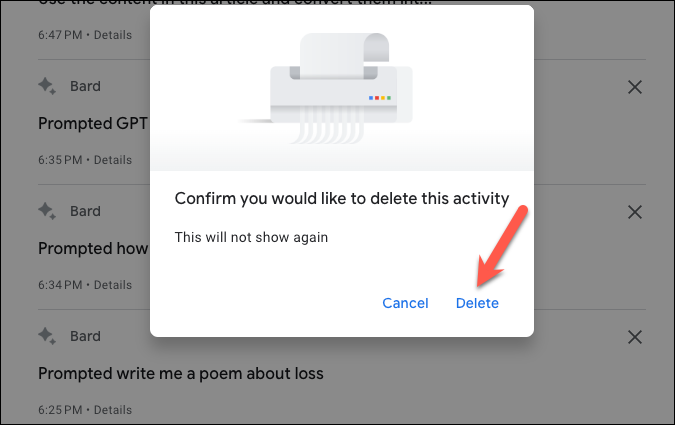 That's it. The prompt will be deleted from your account and won't be shown there again.
Deleting All Activity
Instead of deleting individual prompts, you can also delete your activity on the basis of time. For example, you can delete it based on the hour, day, or all time.
Open the Google Bard website, and go to 'Bard Activity' from the menu on the left; click the menu icon first if the menu is not open.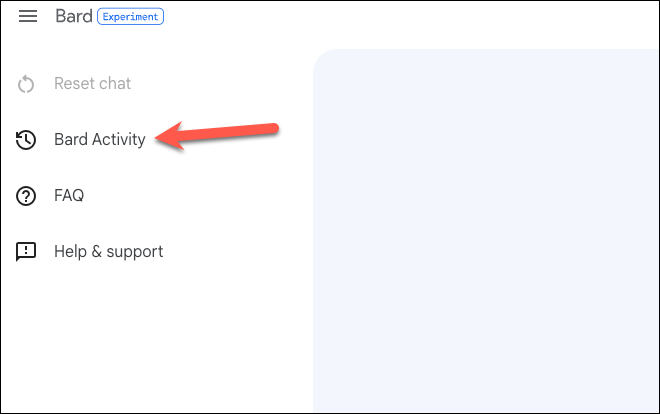 Then, on the Your Bard Activity page, you can see your prompts divided into the days you entered them. To delete the activity for a particular day, click the 'Delete (X)' button next to it.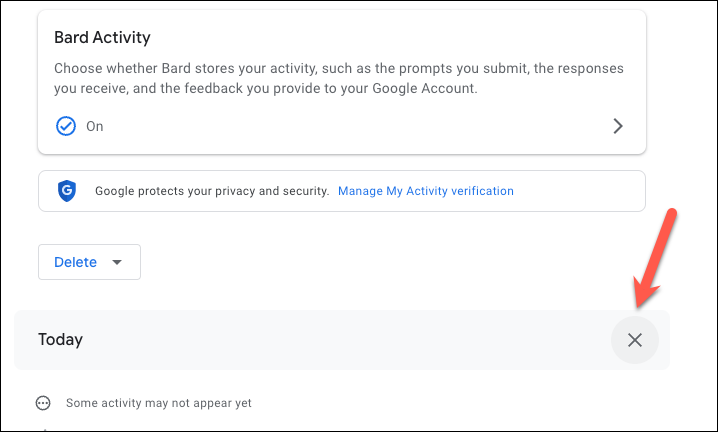 You can also delete the activity based on the time range. Click the 'Delete' button above the activity.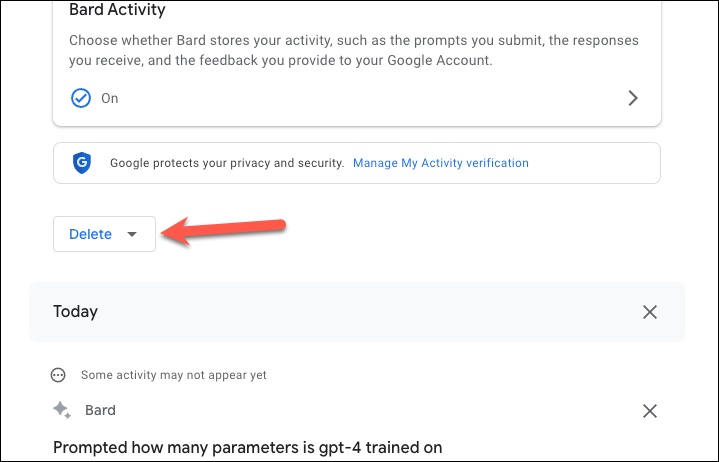 Then, select the time range you want to delete from the available options: 'Last Hour', 'Last Day', 'All Time', and 'Custom Range'.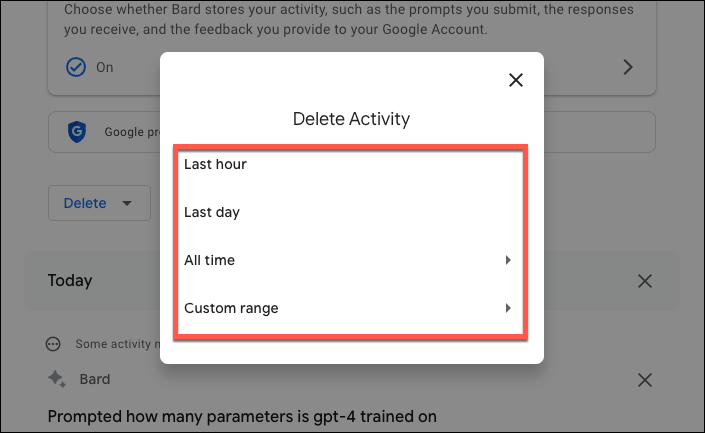 If you select 'Custom Range', enter the After and Before dates and click 'Next'.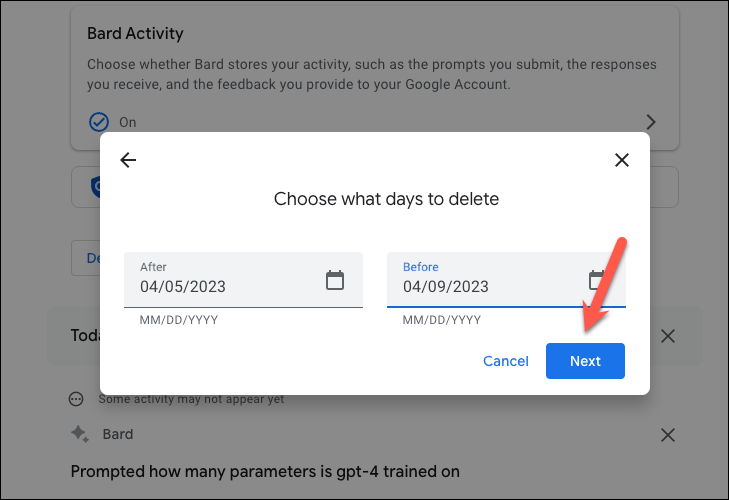 A confirmation prompt with a preview of the activity that will be deleted will appear. Click 'Delete' to confirm the activity for the chosen time range.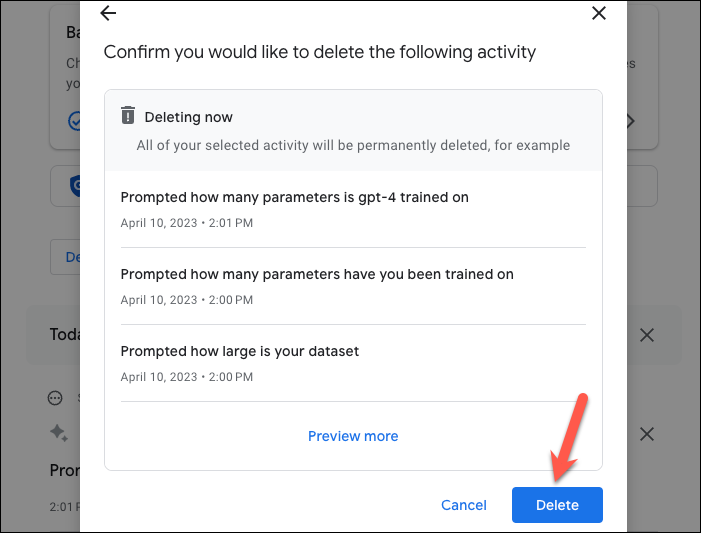 Turn Off Bard Activity
You can also turn off your Bard Activity completely. As explained above, turning off Bard Activity does not affect past data.
Go to Bard Activity from the Bard website. Then, click the 'Bard Activity' option.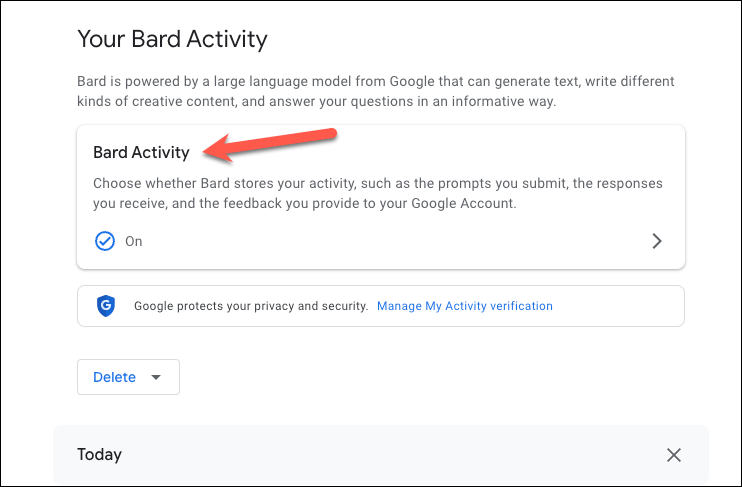 Turn off the toggle for 'Bard Activity' on the next page. And that's it.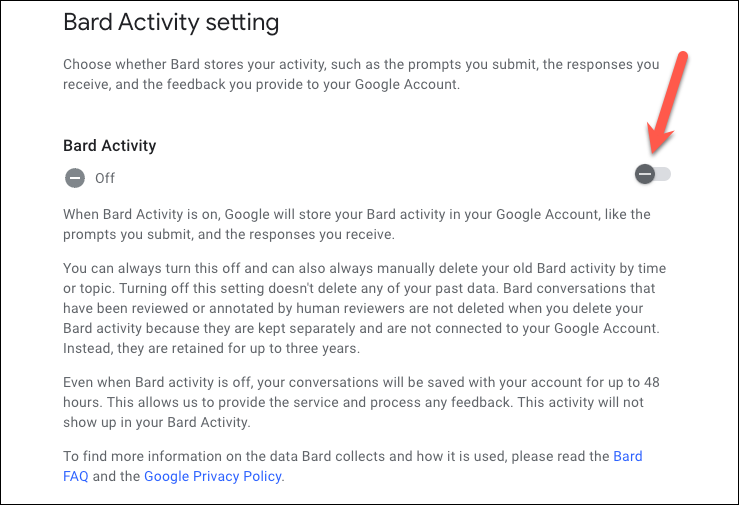 ---
Deleting your Google Bard history and activity data is an excellent way to protect your privacy. If you're uncomfortable storing the Bard activity data for your Google account, you can delete it anytime.