How to Request Refund for an App or Game in App Store on iPhone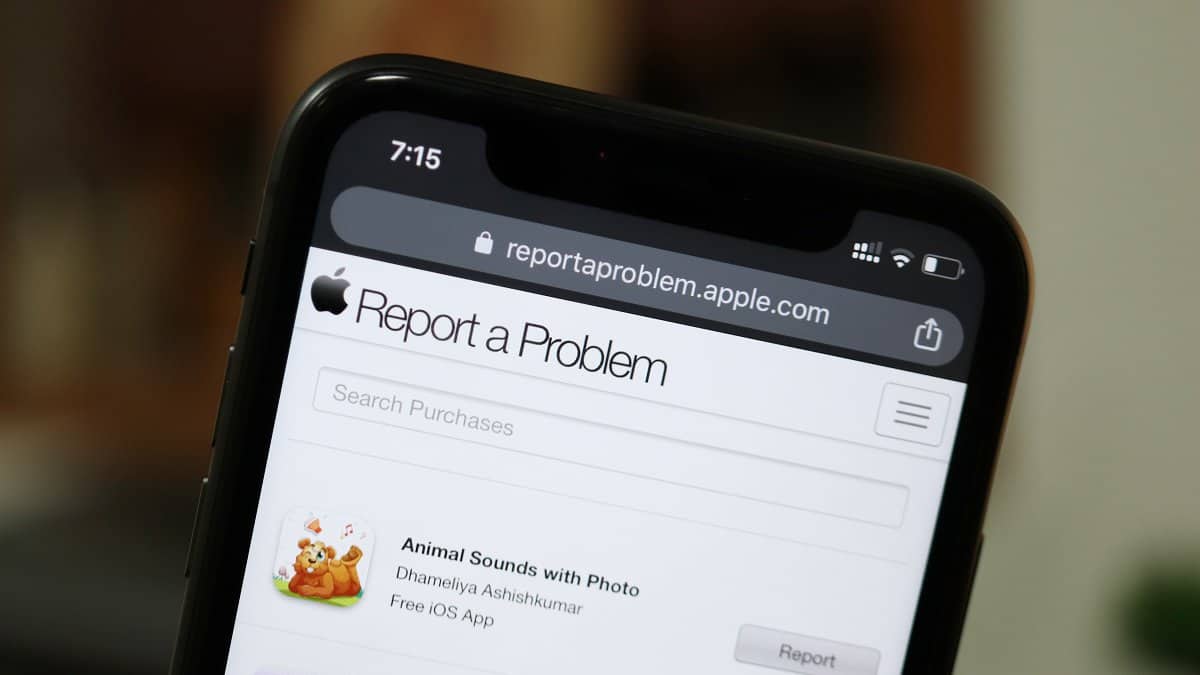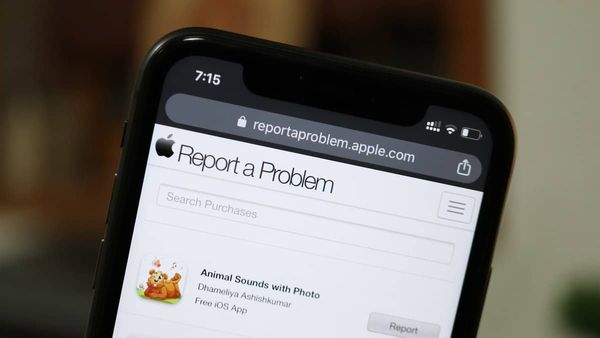 Have you ever accidentally bought an app from the App Store, or renewed a subscription you didn't mean to, or an app you bought wasn't as advertised, or you didn't even authorize the purchase? Oh, you have? Well, then did you know that you could request a refund for the same from Apple? Oh, you didn't? Then, it's a good thing you are here!
While it is a lesser-known fact and Apple doesn't advertise it much, getting a refund is not only possible, it's also pretty easy. Whether you want a refund for an in-app purchase, a subscription or an app, the process is the same. It's worth remembering that even though refunds are possible, this is not a means to get a free trial of an app. And whether those requests for refunds will become actual refunds is still at Apple's discretion.
You can request refunds from Apple from either the Web or iTunes.
Note: You can only request refunds for purchases made in the last 90 days.
Get a Refund from Apple's Website
There is no direct option on your iPhone to request a refund for a purchase. But you can request one from Apple's website. Go to Apple's 'Report a Problem' page. The page works on both PC or iPhone.
Log in with your Apple ID using your email ID/ username and password.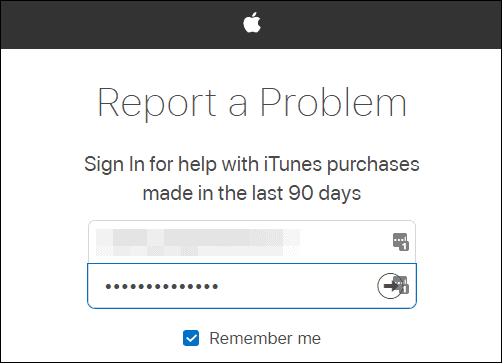 Once logged in, all your purchases will be listed, and those include free apps and other content too. To make the search more efficient, you can go to the tab for which you are trying to request a refund. There are different tabs for Apps, Subscriptions, Movies, TV Shows, Music, & Books.
Identify the app you want to get a refund for, and then click the 'Report' or 'Report a Problem' button next to it. After a couple of seconds, a drop-down menu will appear on your screen.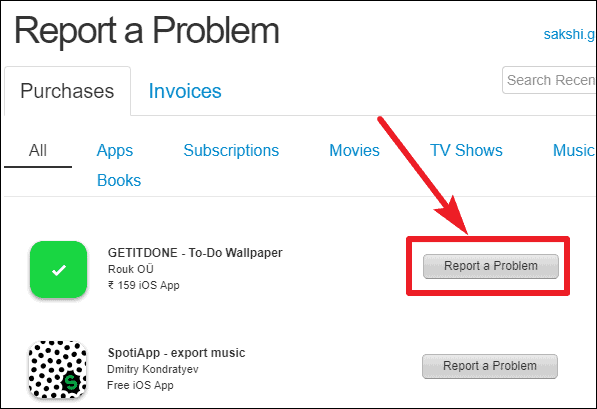 On clicking the Report a Problem, you will first need to specify the issue from a drop-down menu. Click on the 'Choose Problem' option to expand the menu. There are 4 options in the menu: 'I'd like to request a refund', 'App fails to install or won't download', 'App doesn't work or behave as expected', or 'I didn't authorise this purchase'.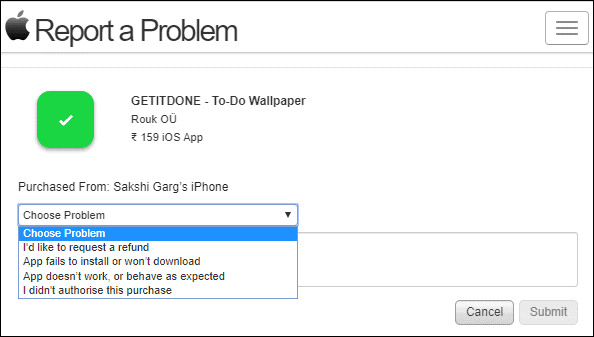 If you are facing the 'App fails to install or won't download', or 'App doesn't work or behave as expected', choosing the option will advise you to visit the developer's support page, as "they may have more specific troubleshooting steps for their app."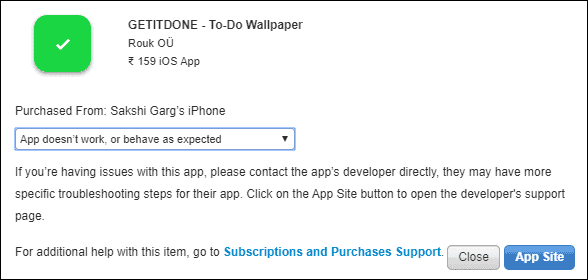 If you didn't authorize the purchase, choose the fourth option, and it will prompt you to visit the iTunes Store Support to get immediate assistance as it is an urgent matter that comes under account security breach.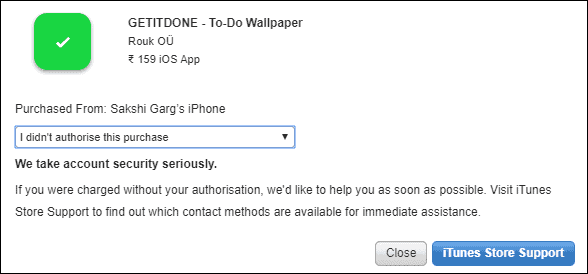 For other reasons, select the first option – I'd like to request a refund – and describe the reasons behind your request in the textbox provided. Then click on the 'Submit' button to submit the report. And your work is done. Whether or not your request will be eligible for a refund will be at Apple's discretion and will depend on the company's Terms and Conditions.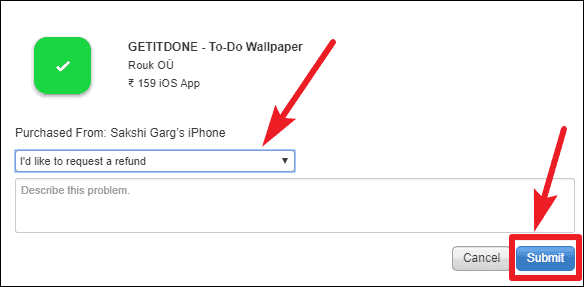 ---
Get a Refund using iTunes
You can also use iTunes to request a refund if that's more up your alley (though we doubt it; who wants to tango with the slow and annoying iTunes when there is a quicker and easier way). Regardless, it is still an option.
Open iTunes on your PC, and click on 'Account' and then select the 'View My Account' option. If you are prompted to sign-in to your account, enter your account information to login.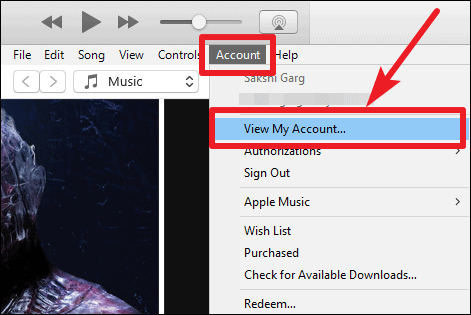 Your account information will open. Scroll down and click on 'See All' next to 'Purchase History'.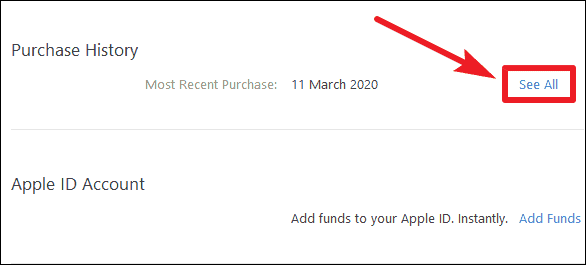 A screen will open listing all your purchases. Find the app you want to request a refund for, and click on the 'More' option next to the App.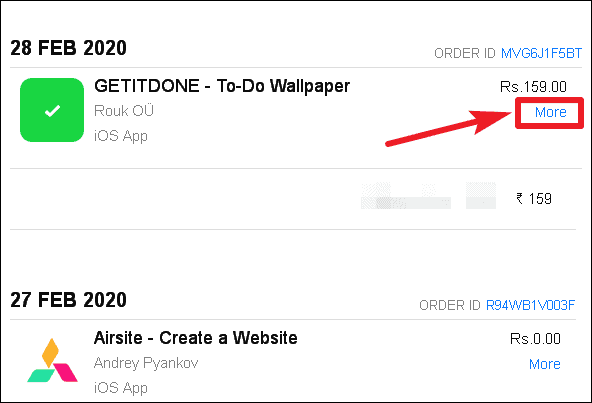 Options will expand underneath it. Click on the 'Report a Problem' button and it will take you to the Report a Problem webpage on Apple's website from the first option.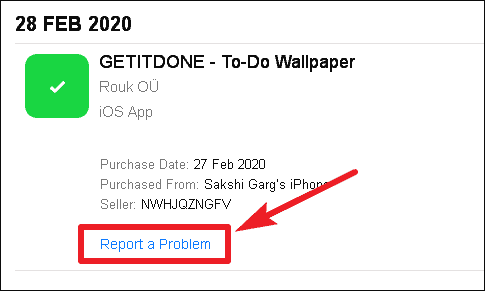 Follow the rest of the instructions the same way as in the first method mentioned above.
---
Conclusion
Requesting a refund for an app is easy if you know how to. You can either use Apple's website or iTunes to request a refund. In any case, allow up to 48 hours to receive an update from Apple and hear their verdict on the matter after you have submitted your request.
If the refund is approved, the funds are applied to the same payment method that you used to buy the item. The time it takes for the money to appear on your account or statement depends on the payment method.