You'll find that ChatGPT is no longer a playground for AI enthusiasts who want to play with and discover the potential of this chatbot. People are increasingly using it in their daily lives, and travel planners should get aboard this train.
While ChatGPT was previously limited in the assistance it could provide you with your travel planning for obvious reasons (lack of information after mid-2021), the introduction of Plugins to this mix has since turned the tables.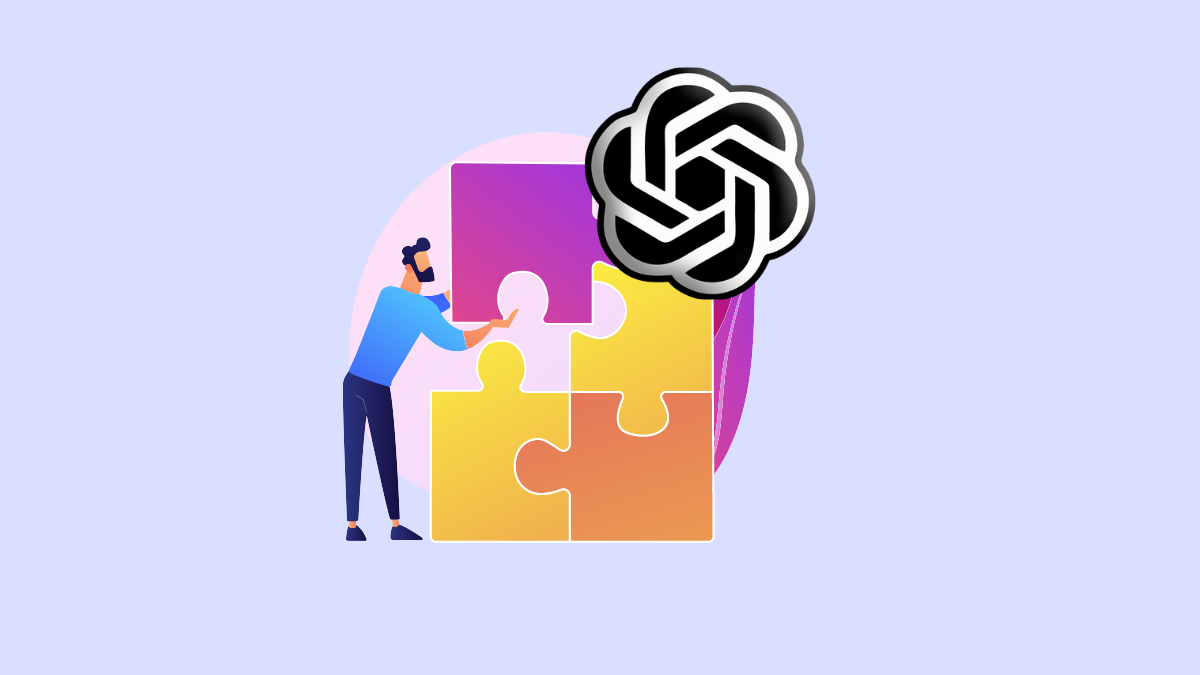 So, my dear globetrotters, hold onto your hats because we're about to embark on an exciting journey into the ocean of ChatGPT plugins and bring back pearls that are a must for travelers!
Kayak
For travelers, Kayak has to be one of the first Plugins you need to try. This little gem is just what you need, especially if you aren't sure about what you're looking for help with.
I provided it with a rather vague request for help planning a trip to Thailand. With no other information, it kicked into action and presented me with the list of things it needed to know to help me to the best of its abilities.
It asked everything: where I would be traveling from, my travel dates, budget, if I was traveling accompanied or by myself, the kind of accommodation, flights, transport I'd prefer, any specific landmarks I wanted to visit, etc.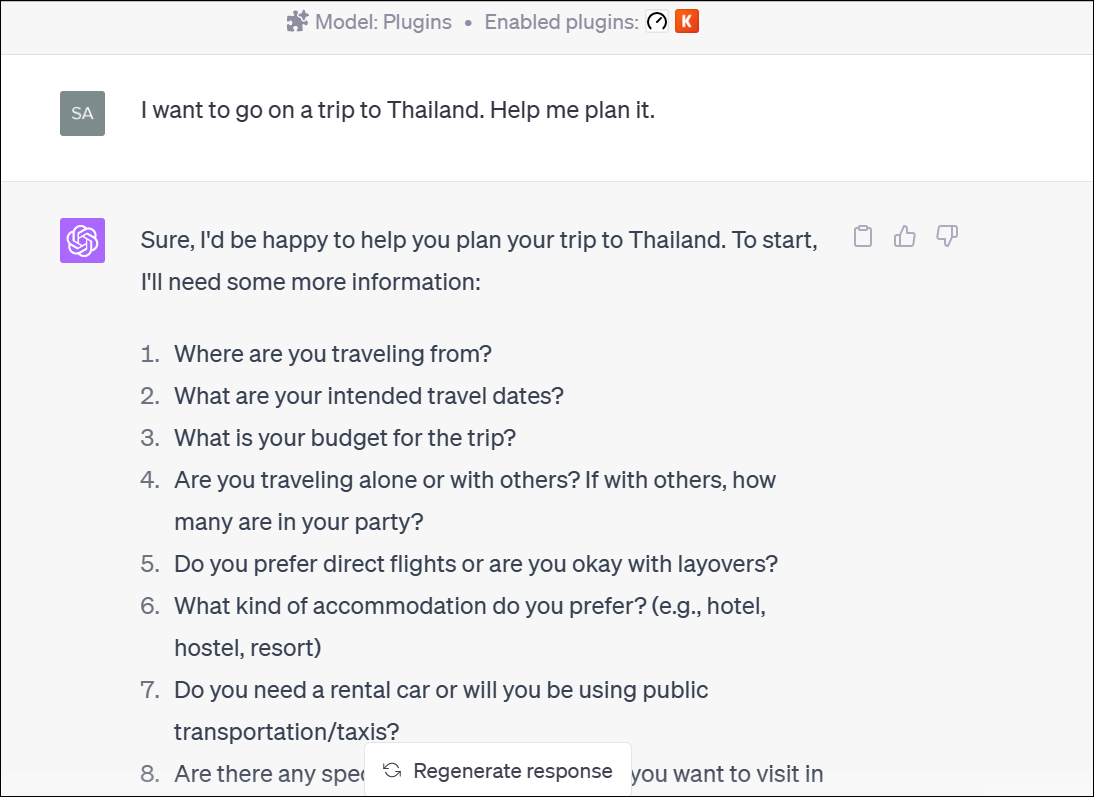 It then provided me with the most suitable and affordable flight option, as well as a few hotel options that catered to my needs on Kayak. Once it was finalized, it helped with the itinerary and transportation (rental cars, taxis, etc.) as well.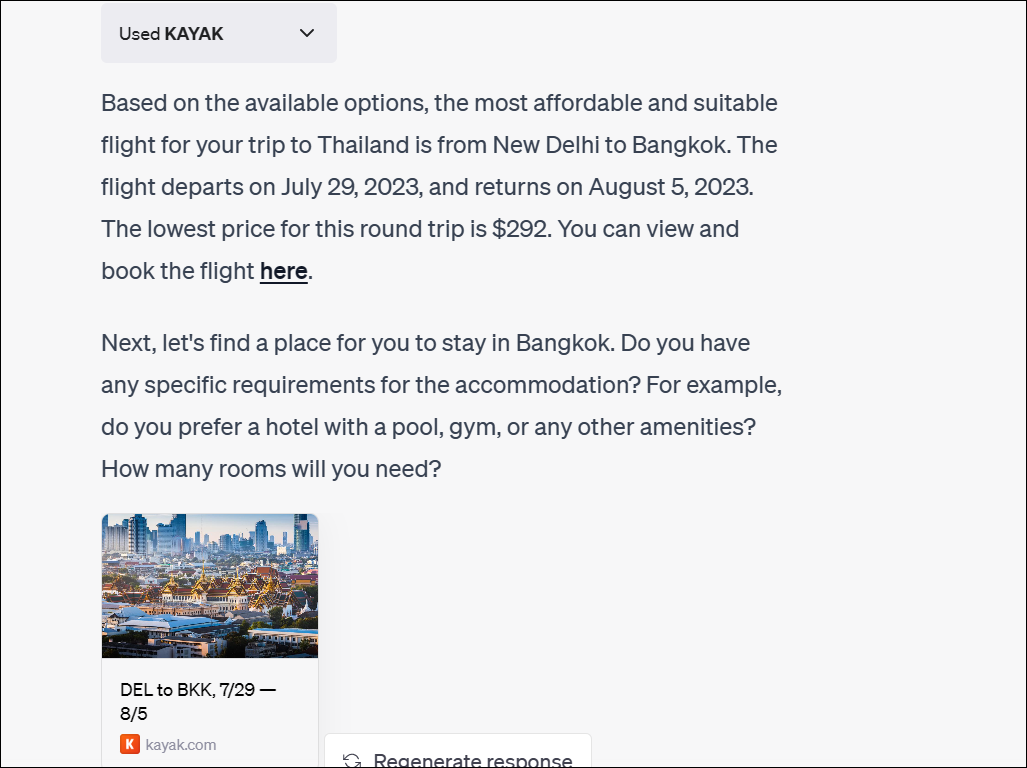 All in all, the experience was a good one, even when I was purposely being vague and providing the bare minimum of information. But when I made my requests clear, it helped me plan a great itinerary considering all my requests.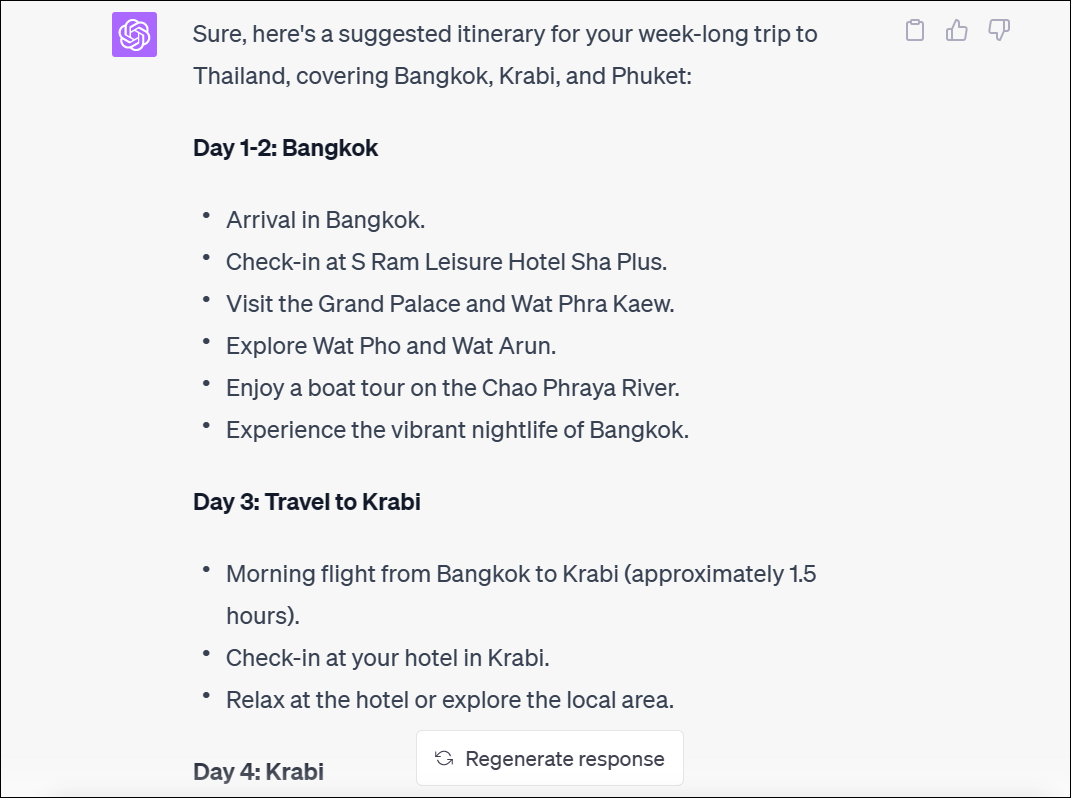 Trip.com
This was another Plugin that met my expectations. And if you don't want to use Kayak, which is more of a search engine for travel deals and redirects you to other websites for bookings, this one might be more up your speed.
Similar to Kayak, I again provided it with a vague request outlining nothing else but my destination. And it went on and asked me about my preferences similar to Kayak. In addition to the city I'd be traveling from and my flight and hotel preferences, it also asked me about the cities in Thailand I'd like to visit.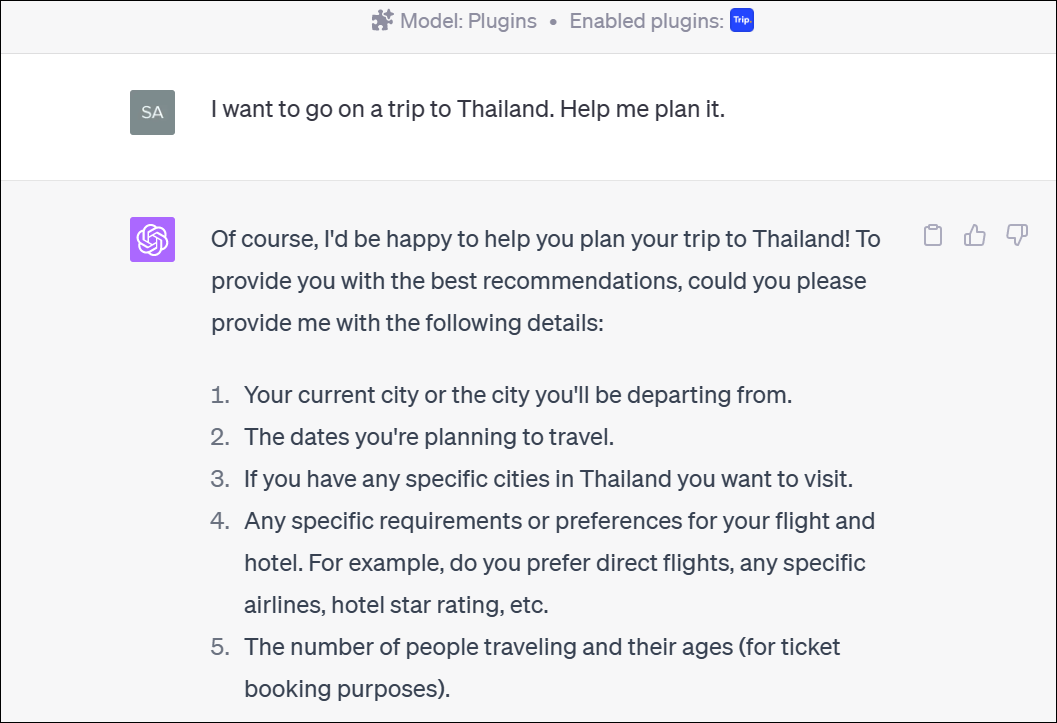 Then, it went ahead and made me an itinerary outline that covered all the cities and even took care of providing flight and hotel recommendations in each city – something that Kayak didn't do. Then, it went ahead and created a complete itinerary for me, along with activities.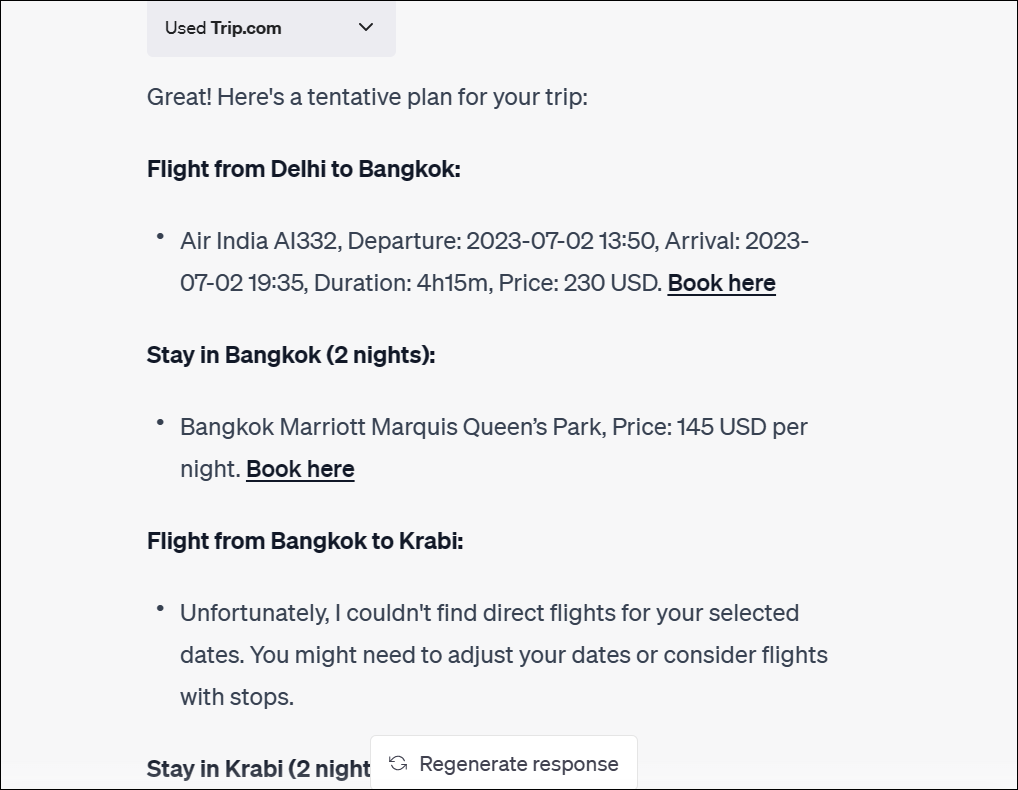 However, it didn't help with transportation, so that was a plus point for Kayak. Moreover, with Trip.com, the options listed weren't the most affordable. So, ultimately, the decision boils down to your needs.
Expedia
Now, the thing about Expedia is, it has off days. And it doesn't work very well with vague prompts. For example, when I didn't tell it anything about where I was going to take off from, it didn't bother to ask and assumed it was going to be New York. That's why I'm putting it below Kayak and Trip.com.
But when you do give it information to work with, it works! From hotels to flights to activities to rental cars, it can whip up the entire itinerary for you. Just remember to be proactive with your prompts and provide it information to work with. Otherwise, you'll be wasting your time. Like Trip.com, it provides booking links you can directly book. Also, it provided more practical and affordable options.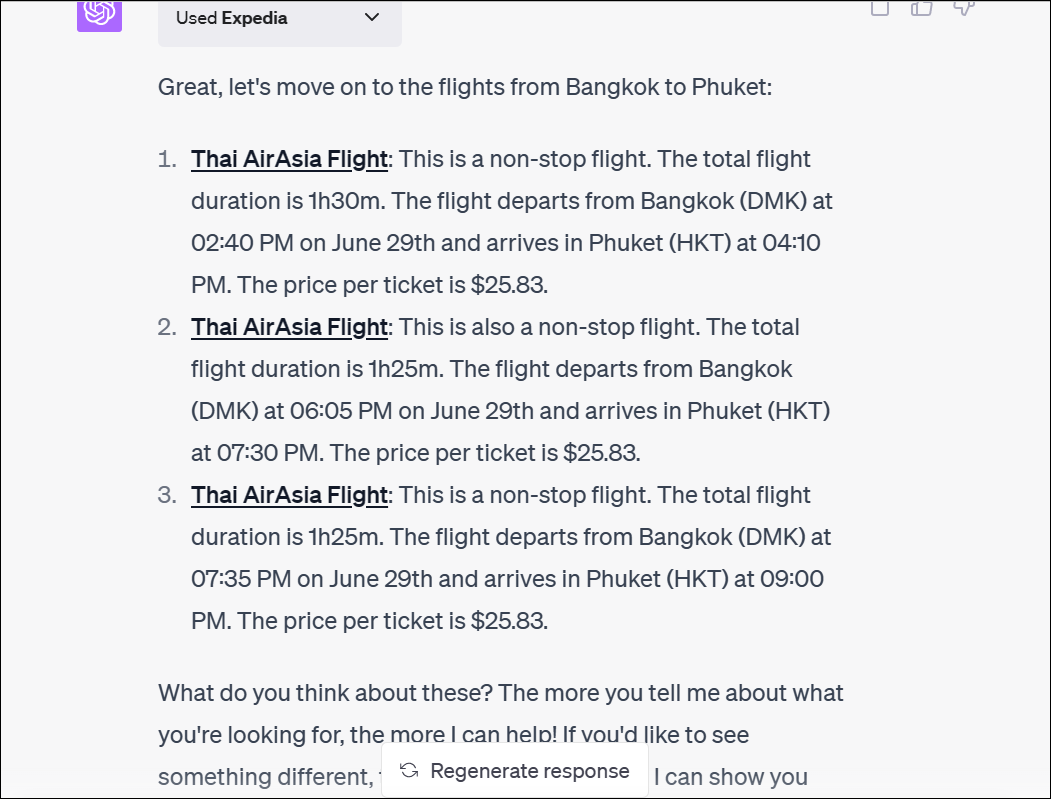 GetYourGuide
In all the cases above, the itineraries they created were similar (I instructed Kayak to accommodate my preferred cities myself, even if it didn't ask). However, if you want something different in terms of activities and experiences, the GetYourGuide plugin should be on your Installed list without a doubt.
It would list different experiences, even guided ones if that's what you prefer, for the places you want to visit.
While it's not something you'd use to plan your entire trip, using it in conjunction with either of the above Plugins would get you an off-beat itinerary that makes the most of your trip. It's a great option for casting a wider net.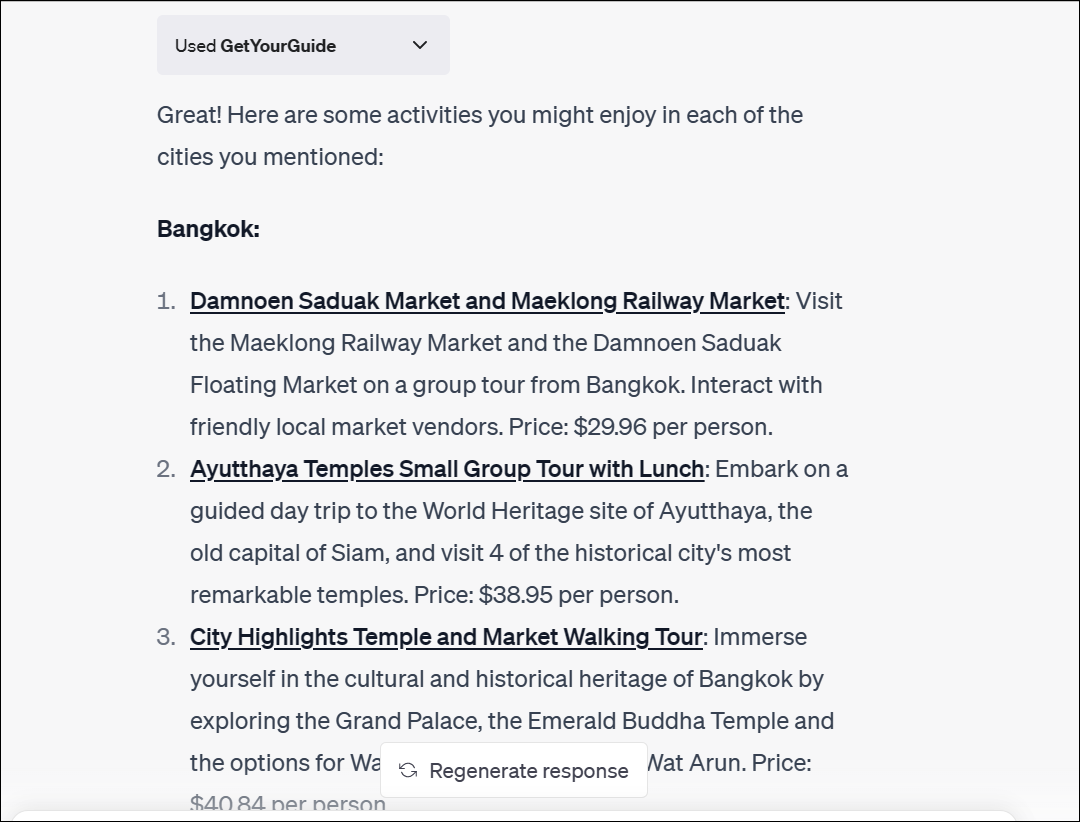 OpenTable
While the rest of the plugins will take care of your flights, accommodations, rental cars, activities, etc., OpenTable is a must to find and book dining experiences at restaurants that are worth it. After all, no matter where you are, you'll need food.
OpenTable helps you find great dining recommendations with booking links on ChatGPT itself so you can make reservations.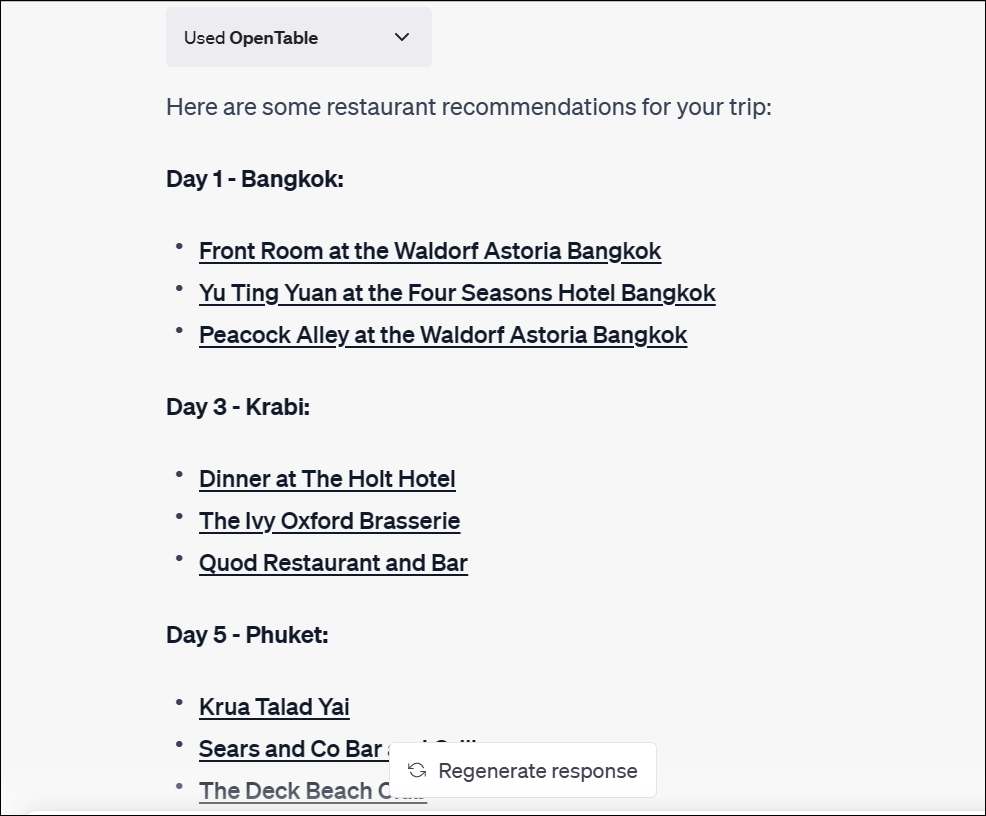 Mix and Match
ChatGPT allows you to use three plugins at a time. My advice would be to use one of the planning plugins from Kayak, Trip.com, and Expedia, with GetYourGuide and OpenTable, for the most optimum experience.
However, as it is extremely easy to disable one plugin and enable another, I'd say give all the combinations a try. Each of these plugins has its own unique flavor, and it's all about finding the one that suits your travel style best.
It's all about the Prompts
Let's talk about prompts – the secret ingredient to getting the most out of your ChatGPT travel plugins. I may have intentionally begun with vague prompts to test the plugins, but to use the plugins efficiently, you need to be as specific as possible.
Think of prompts as the magic spell you use to summon your plugin genie, ready to fulfill your travel wishes. But remember, like any good genie, your plugins need clear instructions to deliver what you want. Otherwise, you'll only be wasting your wishes – or queries. Don't forget that GPT-4 has a cap of 25 messages every 3 hours.
So, instead of saying, "Plan a trip to Malta," try saying, "Plan a budget-conscious trip to Malta from New York for two adults and two children from July 5th to July 20th." See the difference? The more information you provide, the more accurate and useful the responses will be.
You might be wondering, "What about times when I don't have specific details?" Not to worry! Even if you're in the early stages of your trip planning and don't have exact dates or locations, you can still use prompts to explore your options. For instance, you could ask, "What are some popular destinations in Europe in the summer?" or "Find me the best flight deals from New York in July."
The goal is to communicate your needs effectively to the plugin. State your purpose and requests clearly. And, of course, when in doubt, let plugins like Kayak or Trip.com take the wheel, which will ask you questions and force you to provide more details.
---
Keep in mind that these tools are designed to assist you in your travel planning. You should not treat them as a substitute for doing your own research as they can hallucinate and give false information; at best, they are a great starting point. So, don your explorer's hat, embrace the unknown, and let these ChatGPT travel plugins guide you on your adventures!