Kickstands are tiny but prominent features in phone cases. These metal extensions kick right off the case and help position the phone in any orientation, helping users enjoy phone-screen viewing without the hand-ache.
Anyone with a phone knows the pain and the potential face whacks of holding a phone with our hands and above our faces. Kickstands help negate the problem by offering a helping stand to place your phone instead of the slippery and sweaty handwork.
If you're someone who often uses their phone hands-free (or would love to), then a kickstand case is what you need the most. And if you're looking for the best kickstand case for your iPhone 13, we've sorted out the added pain of looking for it. Presenting, the best iPhone 13 kickstand cases to save you the hand-ache and the head-ache.
Spigen Tough Armor – For Tough Slips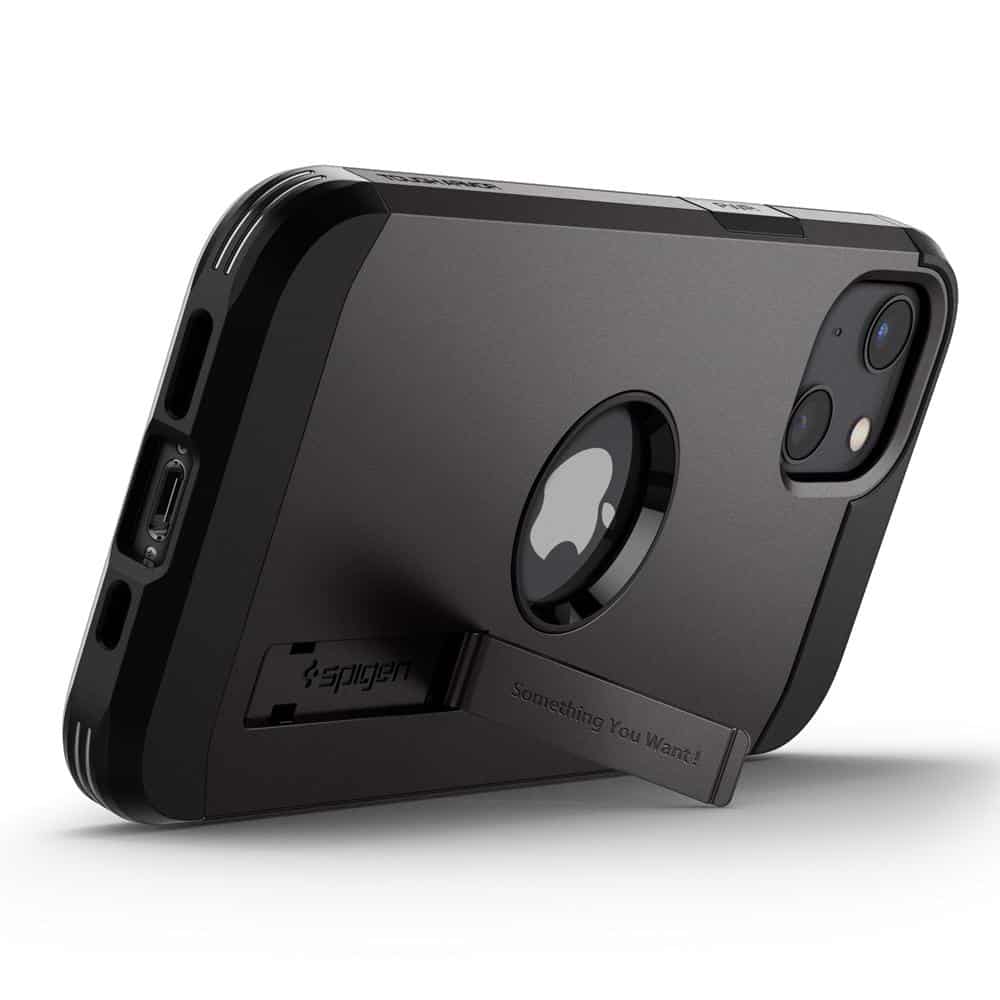 If you're someone who is fondly known for dropping your phone, then Spigen's Tough Armor case is the best option. This case not only provides the best protection for your iPhone 13 but also offers a reliable kickstand to use at your convenience.
The tough armor case by Spigen is equipped with the latest protective technology. The phone's basic shield is a double-layered body with a flexible TPU (thermoplastic polyurethane) on the inside and an external polycarbonate casing that's both tough and long-lasting.
Spigen promises military-grade protection, technologized with air cushioning. The secure layering of the phone case also has a layer of foam that can take extreme impact, and thereby, extra shock as well. The kickstand is an extension of the tough PC covering on the outside. Given the general strength of the case's exterior, the kickstand too can be a compelling reliance.
If you don't want something as bulky as Spigen's tough armor, you can opt for a slimmer construction with Spigen's Slim Case Armor. This case protects your phone with the same technology as the Tough Armor, while being light and handy at the same time. With the Slim Case, you don't have the showiness of the logo cutout. But, you do have the advantage of wireless charging without removing the case. Apart from this, there's no difference at all, in terms of quality and price.
---
Otterbox Defender Series XT Holster – For the Belt Person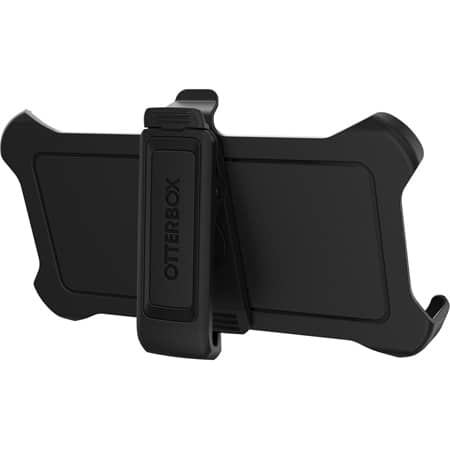 If you're someone who wears a lot of belts, then Otterbox's Defender Series XT Holster can be your belt and kickstand buddy.
With Otterbox's case, you receive a very light polycarbonate finishing that does not compromise protection. But, as you can see in the photo, the case has a claw-like appearance that helps to easily latch onto your phone, protect your device from dust, impact, and drops. The interior of the phone case is assured to contain several layers of PC that sum up to the non-heavy feel and the smooth and strong quality.
The kickstand or the holster in Outterbox's Defender Series XT Holster case is rotatable all the way to 360 degrees. It works great as a belt clip-on and as a kickstand. Since it's rotation-wise very flexible, you can angle your phone to your most niche conveniences. If you don't wear a lot of belts, you can still use the holster to clamp to any surface like bag straps, car seat straps, shirts, pants, etc.
Considering the holster protrusion, this case does not support MagSafe charging.
---
Spigen Ultra Hybrid S – For the Show Off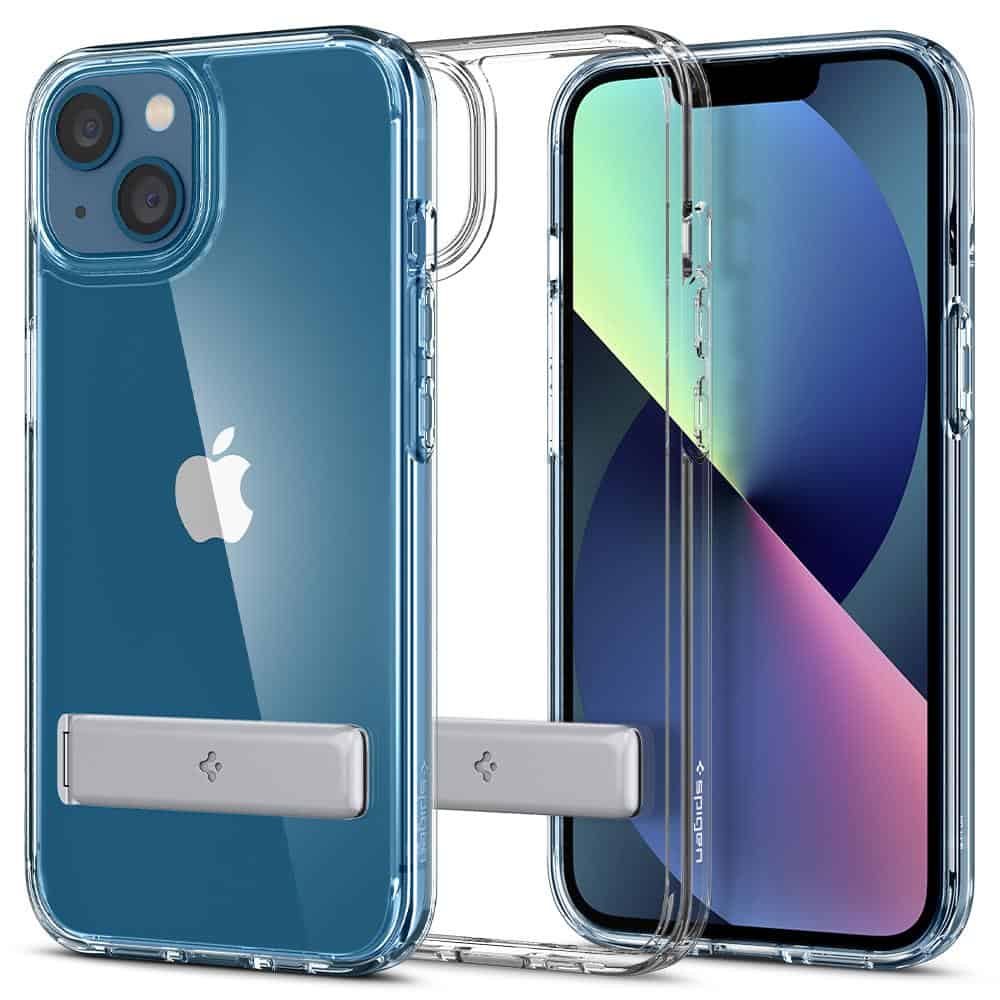 If you're disappointed with the fact that protective cases also shield your phone from visual catchiness, then Spigen has the perfect solution. The Ultra Hybrid S Case provides a smooth, 100% transparent case with a kickstand to fit every need.
As the name gives it away, this case braces your phone with hybrid protection consisting of a flexible, shock-absorbing bumper and a solid back. But, the thing with transparent cases, is that they can yellow with time and ruin the see-through appearance of your phone. But, with this case, you wouldn't have to worry about that. The Ultra Hybrid S case is crafted with an anti-yellow blue resin that guarantees to protect the clear appearance of your iPhone 13. This case also embeds military-grade air cushioning.
Spigen also has an alternative to this style of casing – the Slim Armor Essential S. To be honest, this one's the pricier alternative. For 5 to 6 more dollars, you get the same transparent and protective technology as Ultra Hybrid S but with the added good looks and wireless charging compatibility! This cover also offers a tough and bendable bumper, in addition to a scratch-resistant surface, and not to forget the kickstand.
---
ESR Metal Kickstand Case – For the Budget-Conscious Show Off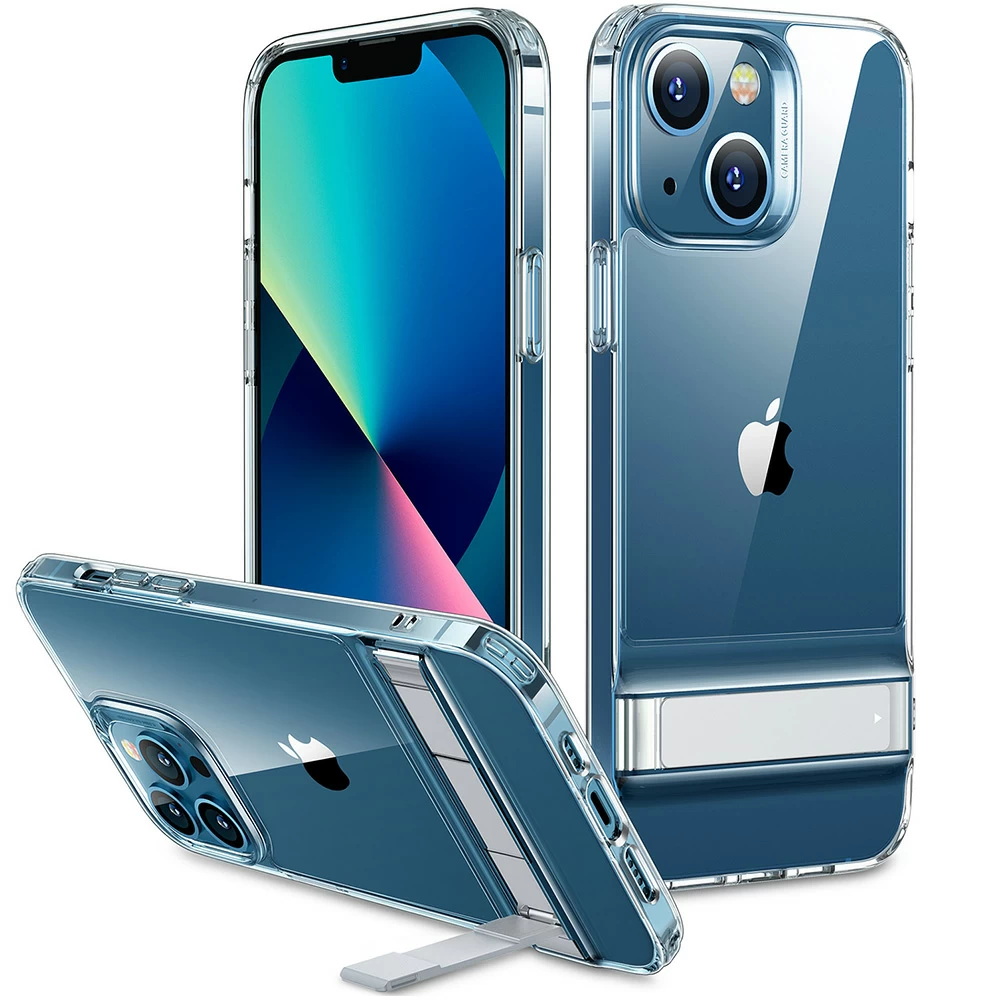 ESR backs you up with a slightly budget-friendly substitute for Spigen's clear cases. It composes mil-grade protection along with adaptability to MagSafe/wireless charging.
ESR's Metal Kickstand Case offers good durability, soft air-cushioned polymer corners, and a dependable kickstand to view in any orientation of your choice. The kickstand bends to a maximum of 60 degrees. This clear case is equipped with anti-yellowing technology alongside scratch-resistant finishing as well. If you don't have clear case feels, ESR has the same case model in opaque black too.
---
Torras Moonclimber Series Case – For Greater Heights
We mean 'greater heights' in the best way possible. You may not touch the moon, but you could touch 6 times the average armor protection for your iPhone 13. Torras ain't lying.
Torras offers a speckless cover that's not just transparent but is transparent with armor-level protection and shock-absorption – that too 6 times the usual. This phone case is mechanized with an adjustable kickstand that works for both landscape and portrait orientations. The kickstand allows 60-degree bendability in either orientation. You can also have the Moonclimber Case on while MagSafe charging your iPhone 13.
---
Supcase Unicorn Beetle Pro Rugged Case – For the Metal Fan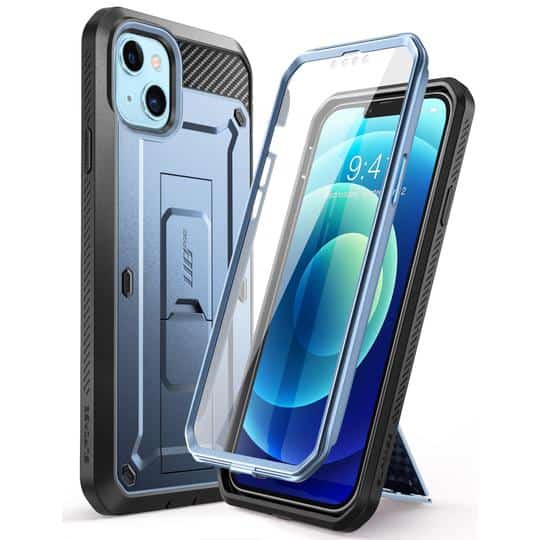 Apologies for the puns intended, but this kickstand case is sure to give your phone a ruggedly metallic look along with ruggedly firm security. Supcase's Unicorn Beetle Pro Rugged Case is a handsome blend of productivity and appeal.
Before we get into the specs, we need to make an honorable announcement. Supcase won the CNET annual drop test, fairing the strongest from the tallest heights. This one's called "pro rugged" for no small feat. The case offers full-body protection for your iPhone 13, with a built-in screen guard, non-flexible PC, and shock-absorbent TPU.
As icing on the list of impressive features, this resilient case offers a rotatable holster that works as a belt clip-on, a finger-holder, and a kickstand. The Supcase Unicorn Beetle Pro Rugged Case is sure to add magic and sturdiness to your iPhone 13.
---
i-Blason Cosmo Snap Case – For the Style Icon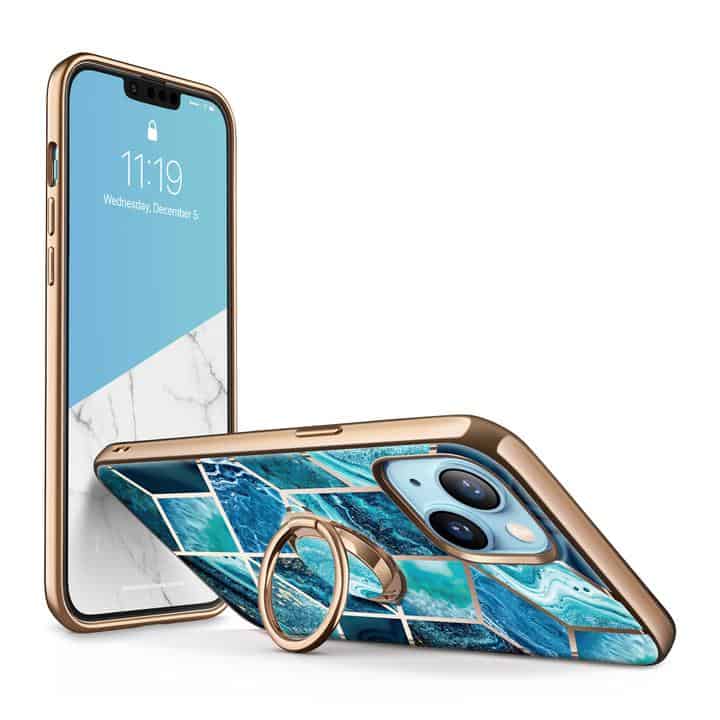 Merging fashionability with efficiency is not always a sure-shot recipe. Beauty with brains comes at the cost of innovation and i-Blason brings that merge to your iPhone 13.
i-Blason is known for its super stylish phone cases. Their Cosmo series is undoubtedly a visual treat with marbelized textures and eye-soothing color gradience. The Cosmo Snap Case series offers three colors – ocean blue (the one in the picture), marble purple, and marble pink.
The case features an in-built ring that works as a finger-holder and as a kickstand. It is rotatable through 360 degrees and flippable to a max of 180 degrees. The chicness of this phone may seem like a doubtful hint at poor protection, but that's not the case with i-Blason's Cosmo Snap Case. Built with grippy edges and a shock-absorbing TPU bumper offering military-standard protection, this case still manages to be lightweight, fashionable, and it instantly snaps onto your iPhone 13 like a glove.
The ring obstructs MagSafe charging in this phone case. Hence you will need to remove the case to achieve this type of charging.
---
Casely's Phone Rings – For the Minimalist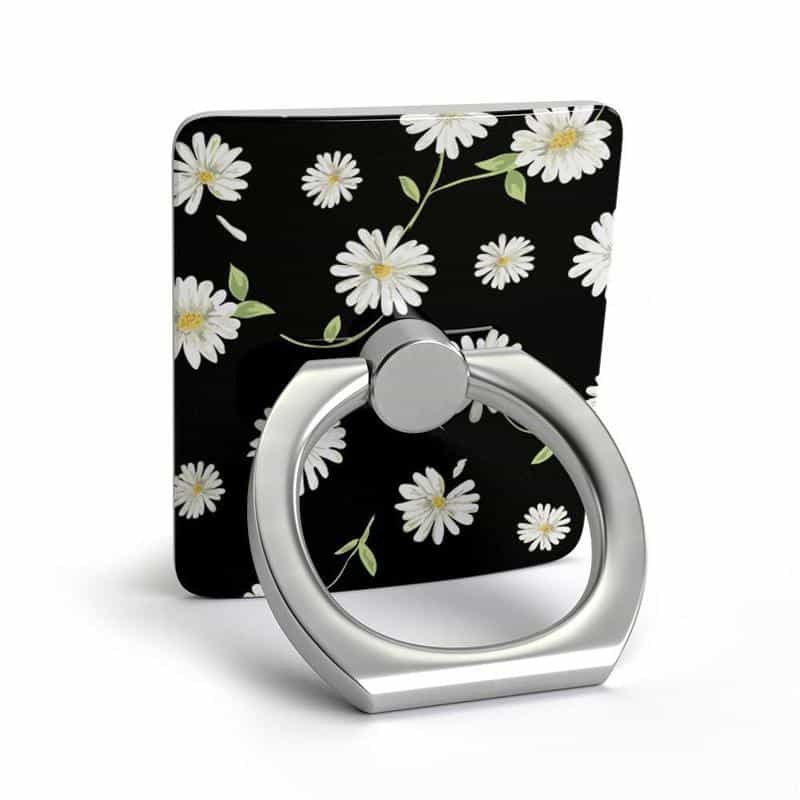 If you're looking for a kickstand for your iPhone 13 but not very keen on spending the extra money (after paying a massive price already) for an entire kickstand case, then phone rings are the best and cost-effective options.
Casely has some super cute phone rings that can fit anyone's taste of patterns and colors.
Casely's phone rings are essentially accessories that ensure better grip and control over your phone. These finger holders are very effective while texting and holding your phone in place for calls. But apart from the foundational efficiency, these phone rings also double up as kickstands.
Casely manufactures their phone rings with unbreakable adhesive so your phone stays where it is while viewing it hands-free. They also enable a 360-degree rotatability – so you can view in any orientation and at custom angles. Plus! Casely's phone rings are removable and reusable. To top it all, they look pretty darn cute on your iPhone 13.
If you want to up your case game, you can also match your Casely phone ring with a Casely phone case.
---
ESR's Boost Kickstand – An Efficient Alternative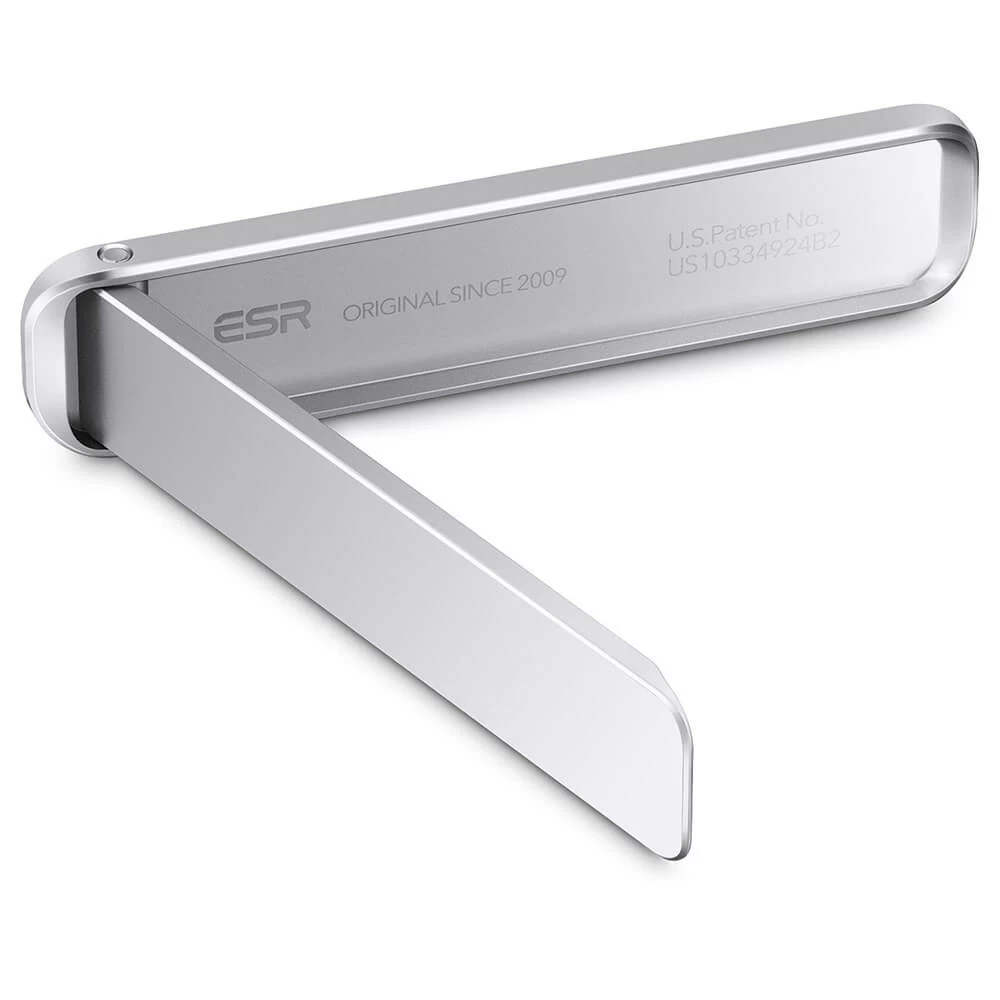 Another budgetable option for a kickstand case is an adhesive kickstand. ESR's Boost Kickstand is an individual kickstand that sticks to your phone and works flexibly as a stand.
The kickstand works for all Apple series of phones and allows access to any orientation of viewing. You also have three color choices – Silver, Navy Blue, and Black.
Other ESR Alternatives
---
Kickstand cases are great accessories that bring both style and functionality to your iPhone 13. They're reliable, helpful, and most of all, something we never knew we needed so bad. We hope you found the perfect match for your iPhone 13 on our list.