Our daily lives are interwoven with the World Wide Web, and the web browser is our gateway to most of the Internet these days. And this is especially true now when web apps are experiencing a revival as more and more developers are giving up on developing specialized apps for each platform.
But even for such a crucial software of our lives, most of us have only ever tried a couple of browsers and stayed stuck with them. Now, there's nothing wrong with it, of course. You know that saying, "If it ain't broke, don't fix it?" But even if things aren't broken, it doesn't mean they don't need shaking up every once in a while. Now, users want more features from their browsers; the old browsers dominating the market have refused to fill this gap in innovation to promote their business model (looking at you, Chrome).
And the truth is that even if you don't feel there's anything lacking, without exploring the unknown, you'll never realize what you were missing in your old browser. So, let's venture beyond the well-trodden paths of Chrome, Safari, Edge, and Firefox, and even browsers like Brave, Vivaldi, and Tor, and into the exotic jungles of the best new web browsers in 2023!
1. Arc Browser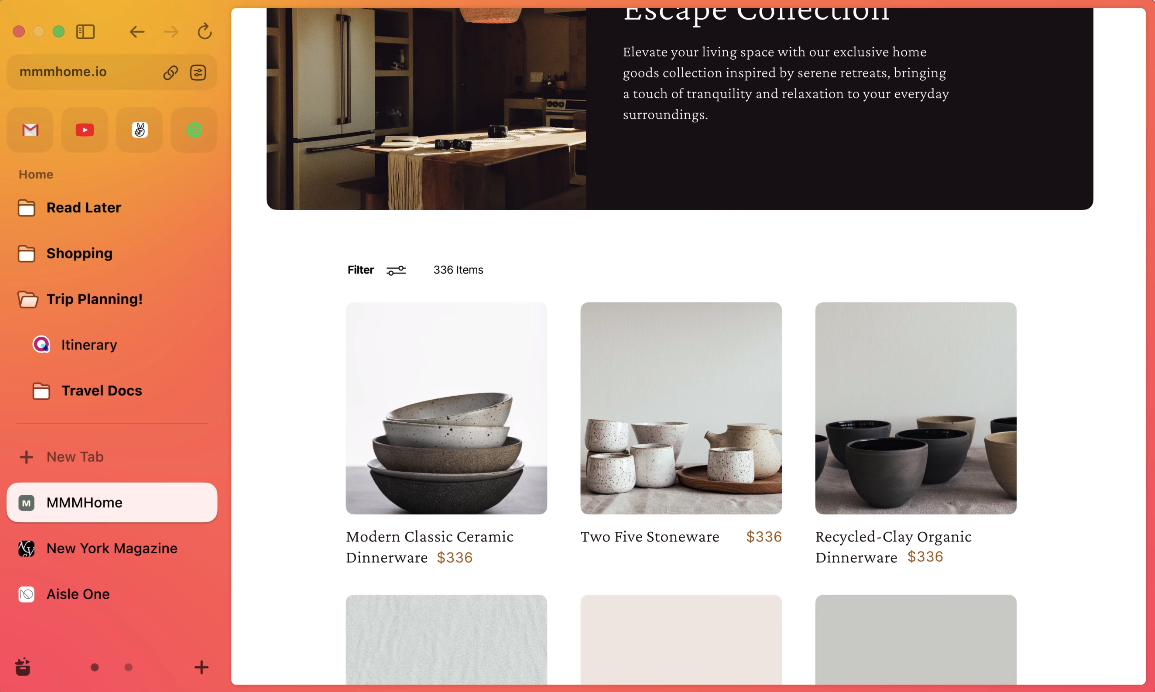 Touted as a browser that could very well replace Chrome, Arc is a bold new step in the direction of reinventing browsers.
Pros: A completely reimagined UI; Great for organization and productivity; Insane web app customization with Arc Boosts
Cons: UI can take time to get used to; Not available for Windows (yet); Only basic privacy protection (like Chrome or Edge)
Platforms: Mac, iPhone
Get Arc Browser
If you're looking for a cozy walk down a familiar web browsing lane, then I'd advise you to look elsewhere. But if you're prepared to challenge your conceptions and rethink what a browser can be, then Arc might be the thrilling expedition you've been longing for.
Getting started on Arc isn't going to be difficult. Creating an account to get started is easy, as is importing your bookmarks from your old browser. In fact, the process was one of the most fun I've ever had while installing a browser – something I thoroughly enjoyed. As part of the signup process, you'll need to create an account (that's non-negotiable) for syncing purposes, and you can elect to choose an ad blocker right away.
It has a lot of great features that will mainly help you rein in the chaos that our browsers often tend to become. As soon as you're in, you'll see a sidebar. It's one of the most important UI changes you'll need to adjust to. It houses everything, from your address bar to navigation buttons, your tabs and bookmarks, spaces to separate your browsing needs, everything.
There's also a learning curve and an adjustment period as the UI is drastically different from what you have come to expect from browsers. There's no home page, for example, or no page for a new tab.
Other features include a Spotlight-search-like feature that allows you to perform almost everything in Arc (from searching open tabs and creating new spaces to pinning tabs and changing the theme), built-in tools for taking notes or sharing mini-websites, customizable websites with Arc Boosts, and a split view (both vertical and horizontal) for tabs.
Built on the Chromium engine, the browser is available on both Mac and iPhone as of now, with development for Windows underway. Still, even in its infancy, it's a very promising browser that might become a staple as it grows.
2. Sidekick Browser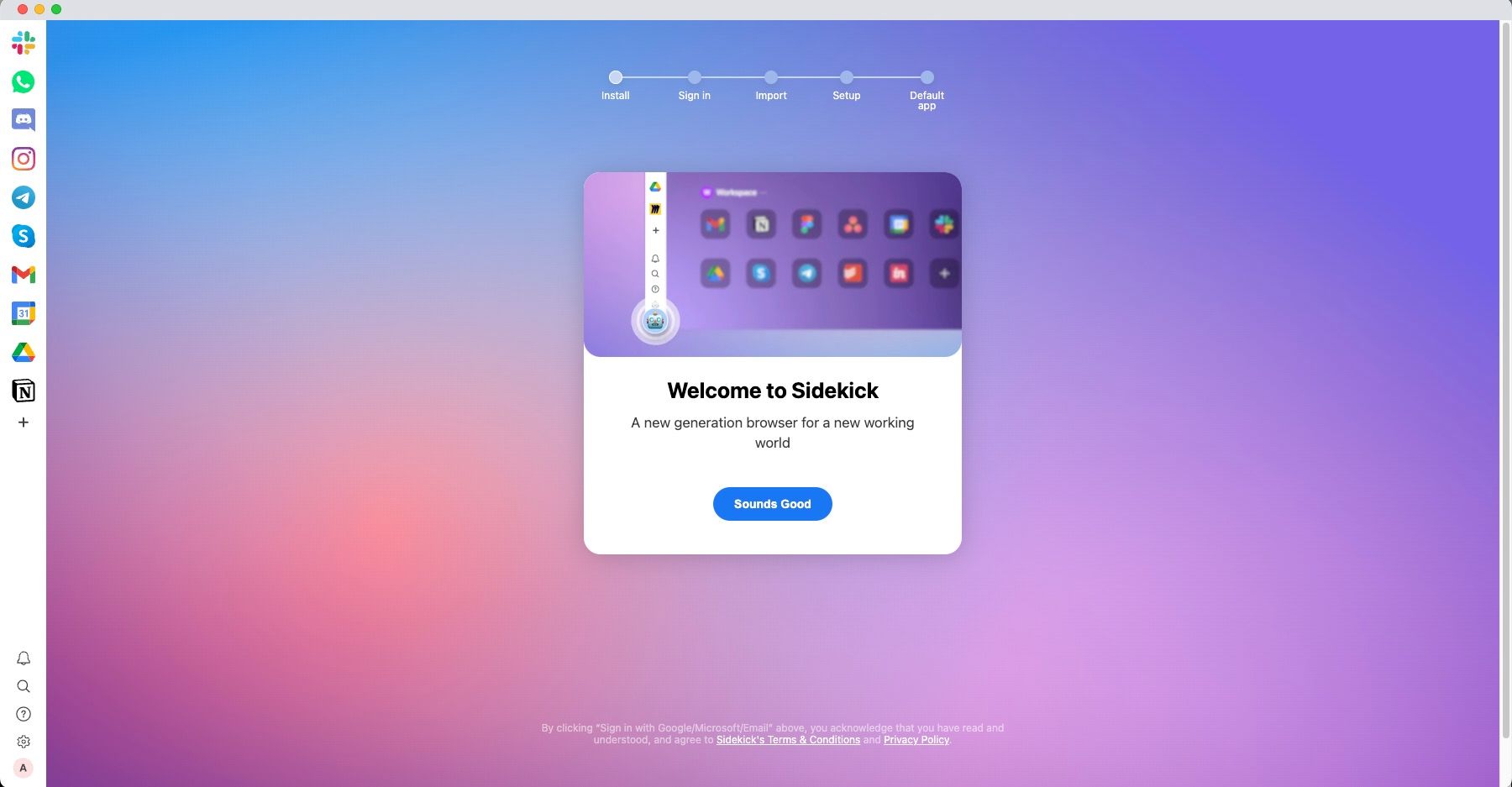 It's the browser to reach for to supercharge your focus and reduce distractions.
Pros: Great for honing productivity for users who struggle with focus; First-of-its-kind browser marketed especially for users with ADHD
Cons: Not all features are free; Not available on mobile; Basic protection against tracking
Platforms: Windows, Mac, Linux
Get Sidekick Browser
Sidekick is another new take on browsers. It's new because it's catering to a diverse group of people who don't fit the checkboxes most commercial browsers try to tick. It's a browser made by ADHDers for ADHDers that focuses on providing tools to cut down on unwanted distractions.
With features like Focus mode, Distraction Blocker, Task Manager, Adblocker, and more, it's designed to streamline workflow at every step.
It's built on the Chromium browser, so shifting browsers and importing bookmarks is easy. It also claims to have a 3 times faster page response than Chrome.
With other features like an Apps sidebar, multiple login sessions, split view, browser wide search that works across tabs, apps, documents, and workflows, it's definitely a browser that wants to upend the current staleness that pervades this software.
Sidekick is available on different platforms – Windows, Mac, and Linux. But unfortunately, they do not have a mobile browser currently. The basic version of Sidekick is free, but to access the full scope of features, it costs $8/month.
3. SigmaOS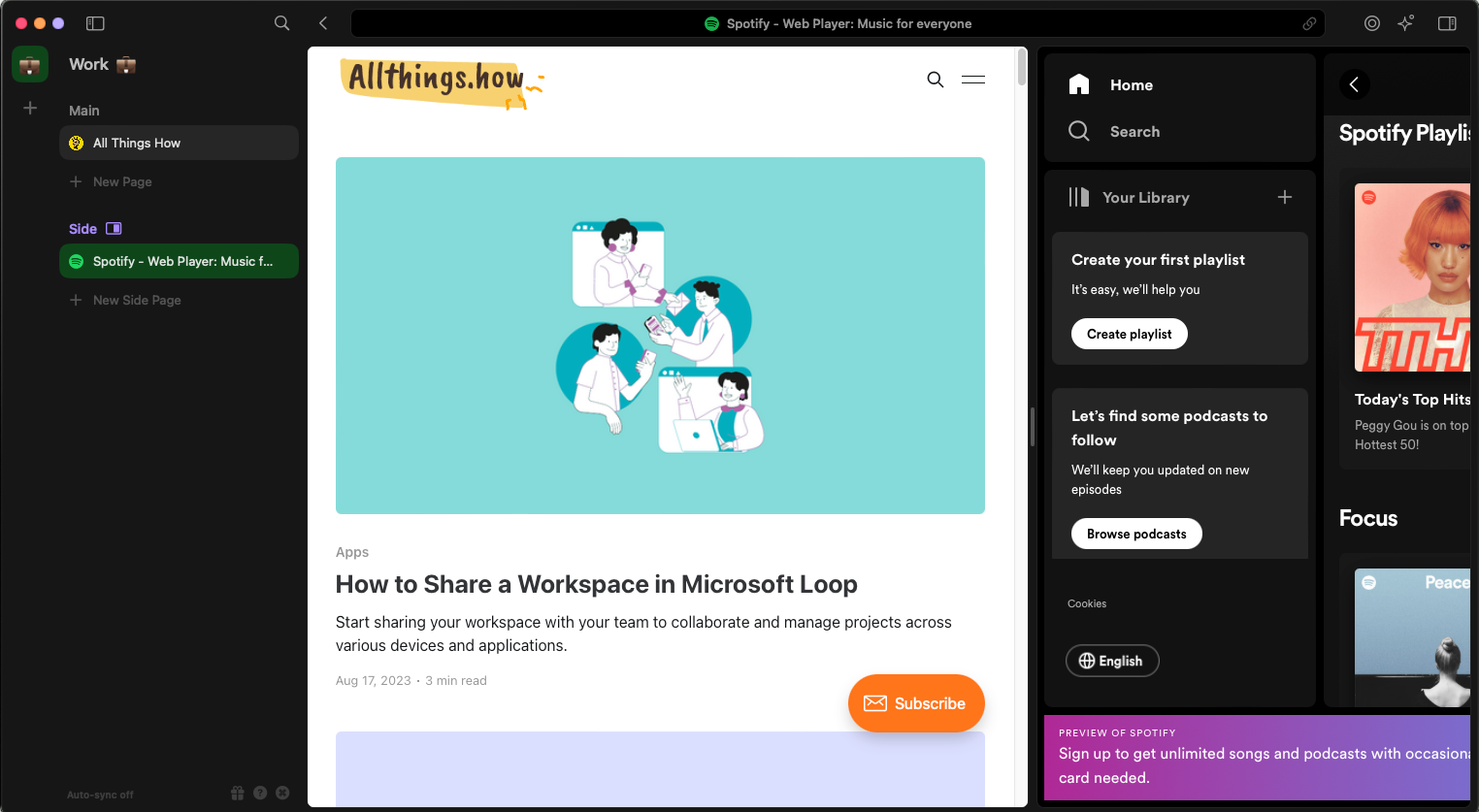 With Workspaces at its core, SigmaOS is the browser for anyone who wants to be their most productive self even while browsing.
Pros: Beautiful UI; iCloud Keychain and Chrome Extensions (some) are accessible; AI integration; Partial web tracking protection (better than most browsers such as Chrome, Edge, or Safari)
Cons: UI can take time to get used to; Limited Platform availability; Not all features are free
Platforms: Mac
Get SigmaOS
SigmaOS is another browser worth checking out. It has a refreshing design (it was a runner-up for Best Design at Product Hunt awards), but that's just the cherry on top.
It's full of features to supercharge your productivity. Tabs appear vertically in a sidebar, and you can organize them in different workspaces. Flowing between tabs in your workspace is easy. And when you're done with a tab, you can mark it 'Done' to close it. What an incentive to increase productivity and decrease clutter. After all, we all love checking items off a list, don't we? And if you're not done with them, you can snooze them for later.
It also features a Focus mode where you can down on all distractions and a Split View to double your efficiency. The Split View is one of the best I've seen, with different sections for the Main page and Side page to add different websites easily. Moreover, you can search for any of your open tabs within your workspaces as well as history and new web search with Lazy Search, and there are plenty of keyboard shortcuts to boost efficiency.
With the introduction of Airis (their browser-wide AI), SigmaOS is already leaving a ton of browsers behind. Airis can help with summaries, explanations, and other queries you might have.
The basic version of the browser is free which offers 3 workspaces. For unlimited workspaces, co-browsing workspaces, and cross-device syncing, you can get the Personal Pro subscription at $8/month.
4. Opera One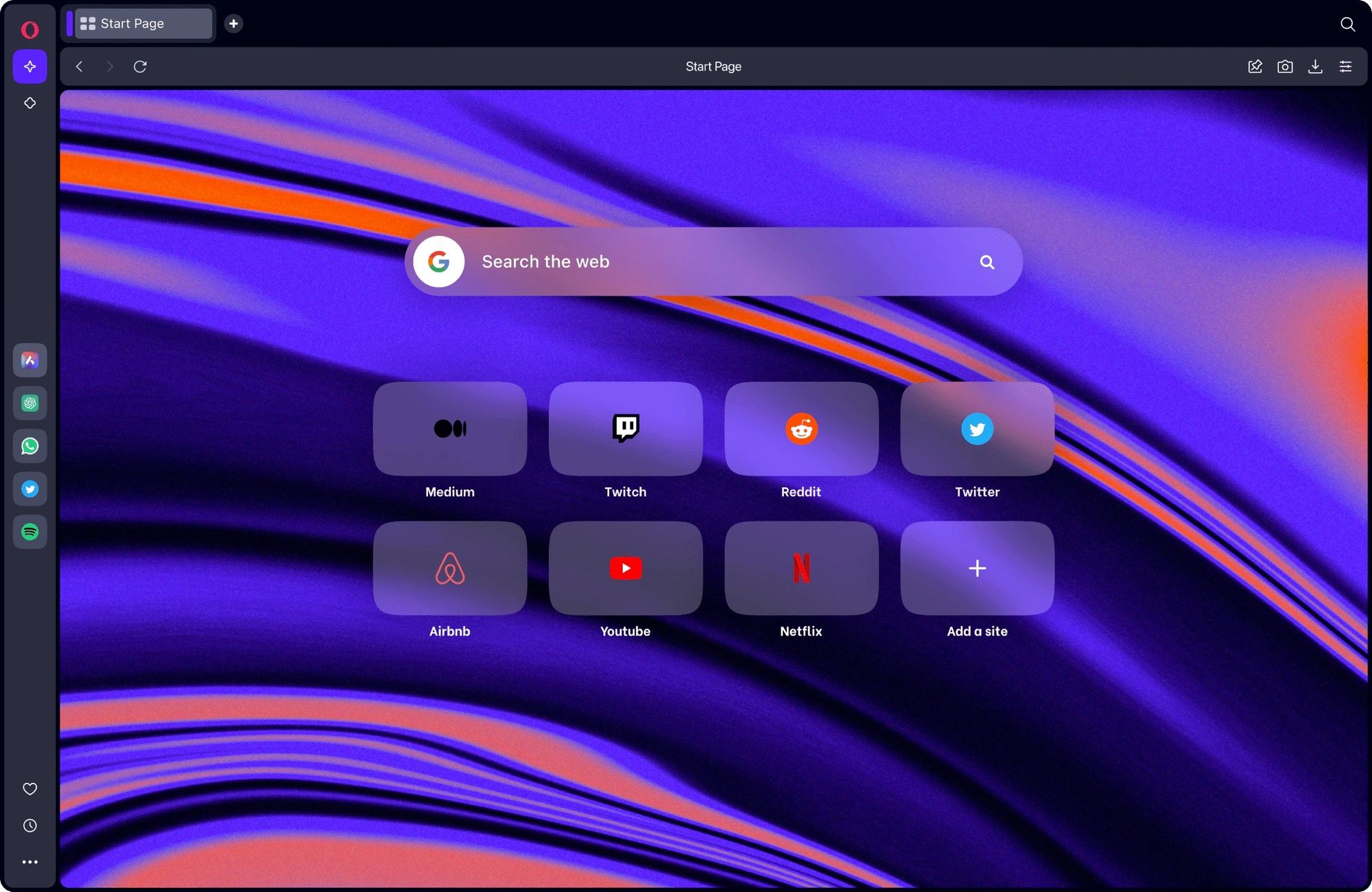 This revamped browser from Opera is the browser you need if you want something new yet familiar.
Pros: Clean UI; Access to AI in the sidebar; Separate Workspaces for separate browsing needs; Modular design makes it easy to organize tabs; Built-in crypto wallet
Cons: Not all features are free; No Split View; Partial Protection against tracking
Platforms: Mac, Windows, Android, Apple
Get Opera One
Opera has been an old presence in the world of browsers, but with Opera One, the team is attempting to provide a browser that aligns with the future. Opera One features an entire new design with tab islands that make it easy to organize your tabs.
It also features a collapsible sidebar that provides fast access to your workspaces, apps, and AI tools like ChatGPT, ChatSonic and Opera's own AI assistant Aria. Shifting between workspaces is extremely quick so you can switch from work mode to personal browsing in a jiffy.
It also features an in-built ad-blockera and a basic VPN (VPN Pro costs extra). With sidebar apps, messengers, like Whatsapp, and music players, like Spotify, enjoy a seamless integration. Built on Chromium, it's also fast and importing data from other browsers is easy.
In comparison to other browsers, it needs to work more on offering some groundbreaking features. But it is available on most platforms (with the AI integration) and new AI features are being promised. All in all, it looks like it has a bright future.
---
The market for Web browsers is a curious one. The main players have had established dominance for so long that it has impacted the innovation. But with these new browsers that favor user experience more than the business models and ad revenues, things might finally get shaked up.