Binance Smart Chain has become very popular lately, owing to the fact that people are always looking for alternatives to the Ethereum blockchain. The model of the Ethereum blockchain has led to steep rises in gas prices.
The unpredictable nature of gas on Ethereum might be driving people to seek out alternatives. But it's still the most popular blockchain when it comes to NFTs. As such, the solutions that already exist for Ethereum are unmatched.
MetaMask is one such solution. MetaMask is one of the most popular crypto wallets out there, especially for NFTs. But the configuration of the software wallet is to interact with the Ethereum blockchain only.
Fortunately, it's easy to use it with the Binance Smart Chain as well. Using MetaMask with Binance Smart Chain gives users all the features that MetaMask offers when it comes to interacting with blockchain applications. These features have, after all, taken years to come into effect and recent wallets on the BSC blockchain still have a long way to come.
Or it's also possible that you already use the MetaMask wallet and don't want to go through the trouble of creating another software wallet. Whatever your reasons may be, there's a completely easy way to do it.
What is Binance Smart Chain?
If you're still on the edge about the Binance Smart Chain blockchain or want to make a more informed decision, here's a little overview. Binance Smart Chain is a parallel blockchain platform for the Binance Chain network. Both blockchains are owned by the Binance cryptocurrency exchange.
The Binance Smart Chain blockchain doesn't replace the Binance Chain blockchain. Instead, it was made to fix some programmability limitations with the latter. Both support cryptocurrency. But the main difference is that the BSC blockchain is equipped with support for Ethereum Virtual Machine (EVM) as well as smart contracts.
This has two major effects. First, BSC has support for NFTs. Second, it can also support Ethereum applications and projects to run natively on the Binance Smart Chain. Although both chains work independently of each other, both chains are still linked through a Binance bridge.
Binance Smart Chain uses a Proof of Staked Authority (PoSA) algorithm instead of the Proof-of-Work algorithm that makes gas on Ethereum so volatile. PoSA is a modified version of Proof-of-Stake which requires users to stake their identity and reputation instead of tokens.
Using BSC for NFTs has various benefits, like:
Low gas fees
Greater transaction speed
High Reliability
BSC Tokens
BSC runs on the native cryptocurrency of the Binance platform: BNB (Binance Coin). But while, the token standard for Binance Chain is BEP2, for the Binance Smart Chain, it's BEP20. It's the BEP20 token that has support for smart contracts. You need BNB to pay for gas and transaction fees as well as run smart contracts on BSC.
The dual nature of the BC and BSC chains offers users the best of both worlds. Users get a high transaction capacity of BC while BSC lets them enjoy smart contract functionality.
BSC also supports ERC20 tokens, or as they are called on the network, BEP2E tokens. Its BEP20 token is itself an extension of the ERC20 token standard for Ethereum. Since the BEP20 token is similar to both BEP2 and ERC20 tokens, its compatible with both. Hence, cross-exchange is very easy.
This gives users additional incentive to choose BSC over other blockchains that have been popping up. It's also the reason BSC has become one of the top blockchains in the dApp world, with its total transaction volume exceeding well over $15 billion.
Binance has its own NFT marketplace. It is also home to one of the most popular dApps PancakeSwap which allows users to exchange assets without any hassle. Other dApps include BakerySwap, BurgerSwap, Venus, MOBOX, Bomb Crypto, etc.
Is Connecting MetaMask to BSC Safe?
Now, to answer the most important question when it comes to this whole setup, i.e., connecting MetaMask to BSC. Is the whole ordeal safe? After all, it's your tokens you'll be risking. Sending them to the wrong address or addresses you can't use means losing your tokens. And once you lose them, it can be near impossible to recover them.
But you can rest assured that it's completely safe to connect MetaMask to BSC. As BSC supports EVM, it was made so that users can easily port projects over from Ethereum.
MetaMask, as well, supports all Ethereum Virtual Machine (EVM) networks. So, even though, without any additional configuration, it only supports Ethereum and all ERC20 tokens, with some configuration, it can support all networks that were based on or are a hard fork of the Ethereum blockchain.
So, you can't just connect your MetaMask wallet to BSC, you can connect it to any network that supports EVM like Matic, Fantom, Harmony, xDAI, Heco Chain, MoonRiver, etc. You cannot use it with blockchains Solana or Bitcoin for this exact reason.
Note: Before you connect MetaMask with any other network, always be extra careful that you are connecting to the correct network. There are a lot of scammers that use similar URLs.
But that's not to say that you don't have to be careful when making transactions on BSC with MetaMask.
Binance is not just one platform. There's Binance which is the cryptocurrency exchange and also where the whole journey started. It has a US-based site, Binance.us which is still a cryptocurrency exchange, just on a lesser scale than the international version.
Then, there's the Binance Chain, the original blockchain from Binance. And finally, there's the Binance Smart Chain, the new blockchain that runs parallel to Binance Chain and supports smart contracts and EVM.
So, when someone's talking about Binance, they could be talking about any of these in the Binance ecosystem. But we're only configuring the MetaMask wallet for Binance Smart Chain which uses the BEP20.
When you're using MetaMask to withdraw your BNB tokens, you always have to withdraw them as BEP20 tokens. Otherwise, you will end up losing those tokens. If you withdraw them as BEP2 tokens, they will not function as you want them to even if you don't lose them. For example, if you want to use them in dApps, they won't work because they don't have that functionality.
It's also important to configure your MetaMask wallet to run with BSC before you try to transfer any BNB to it. Without configuring it for BSC, you will end up losing your tokens as it's only configured for Ethereum assets. We cannot stress this enough.
Now, that we know everything we need to know about connecting MetaMask to Binance Smart Chain, let's get going.
Setting Up MetaMask
Before connecting MetaMask to BSC, the most basic step includes having MetaMask installed. There's no separate MetaMask wallet for BSC out there. You need to download and install the original MetaMask wallet, i.e., the one that's for Ethereum.
Users can use MetaMask both as a browser extension or a mobile app. You can set it up on either device as the configuration process is the same on both.
Go to metamask.io to download the MetaMask wallet. If you want to download it as a browser extension, it supports Chrome, Firefox, Brave, and Edge browsers. Go to your respective browser and follow the steps for installing the extension.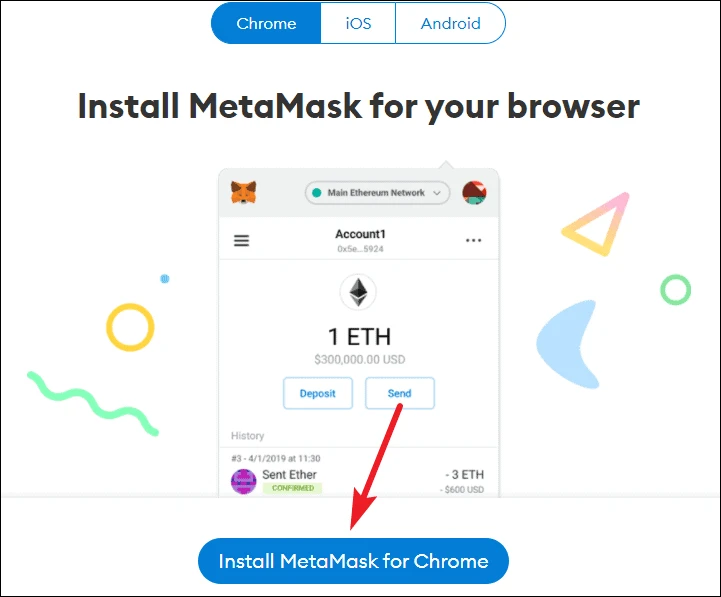 Once you install the extension, you can either import your existing wallet or create a new one. Even if you have an existing MetaMask wallet, you can create an entirely new one for BSC to keep them separate. But you can also create a separate account within your existing wallet.
To import an existing wallet, you'll need your secret backup phrase. When you create one, you'll be given this secret backup phrase. You need to keep this phrase very safe, preferably on a device that's not connected to the internet. If you lose this phrase, you cannot gain access to your wallet. You should also never share the phrase with anyone. Anyone with access to your phrase can access your wallet and transfer all your tokens. Click the option to 'Import wallet' or 'Create wallet' depending on your need.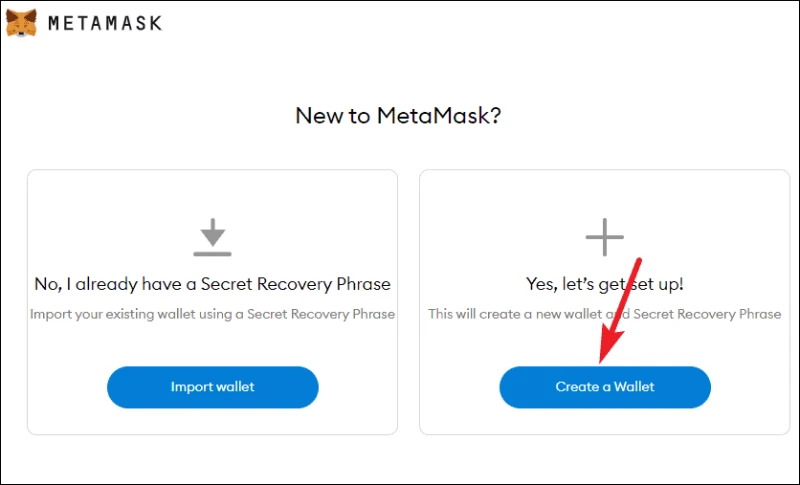 Whether you're creating a new wallet or importing an existing one, you'll have to create a new password for it.
Once you set up a password and complete the steps regarding the secret backup phrase, your MetaMask wallet will be set up.
Connecting MetaMask to BSC
Click the MetaMask wallet icon from your extensions menu or your address bar.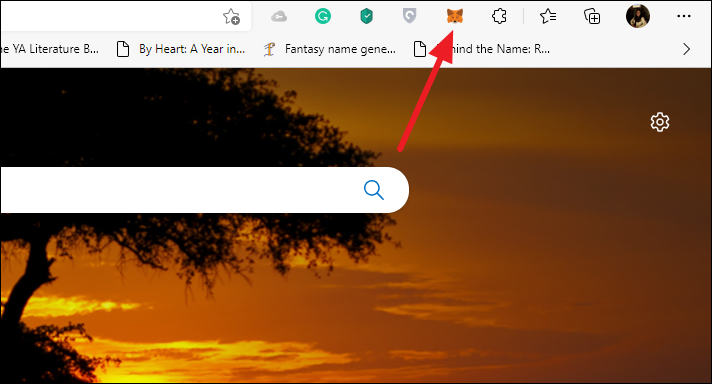 The mini-window for the extension will open. Click the 'Account Options' (three-dot menu) icon.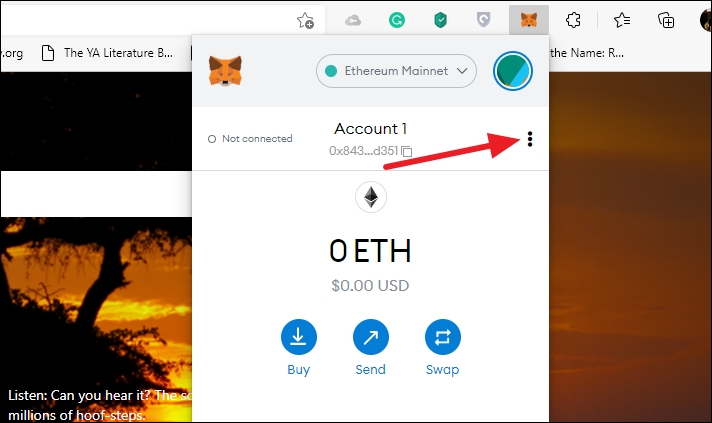 Then, click the option for the 'Expand View' option.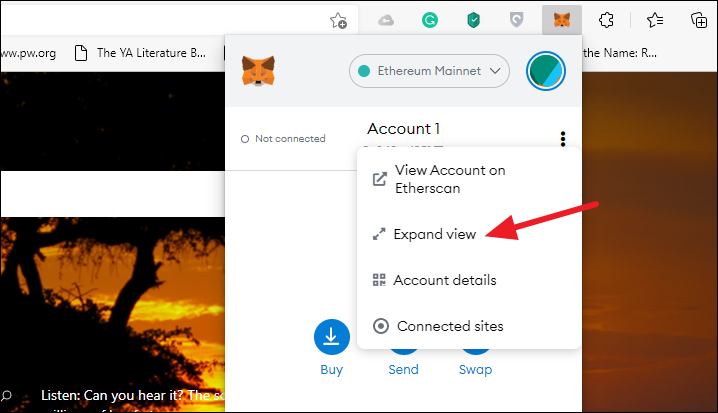 The wallet interface will open in the expanded view instead of the mini extension window and will be easier to manage. Click the 'Ethereum Mainnet' option in the upper-right corner.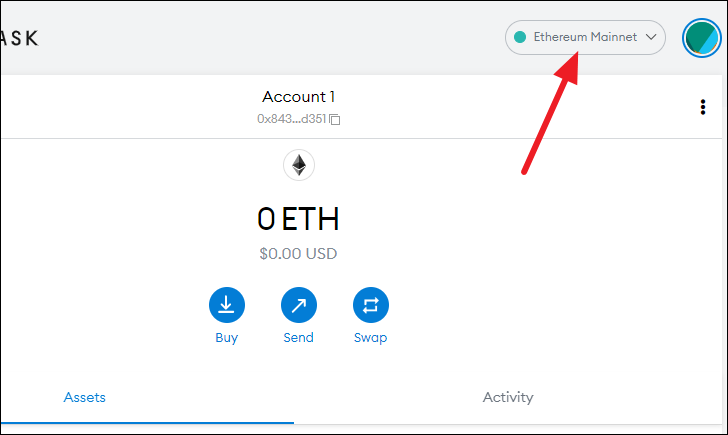 The drop-down menu will expand. Click 'Add Network' at the bottom of the menu.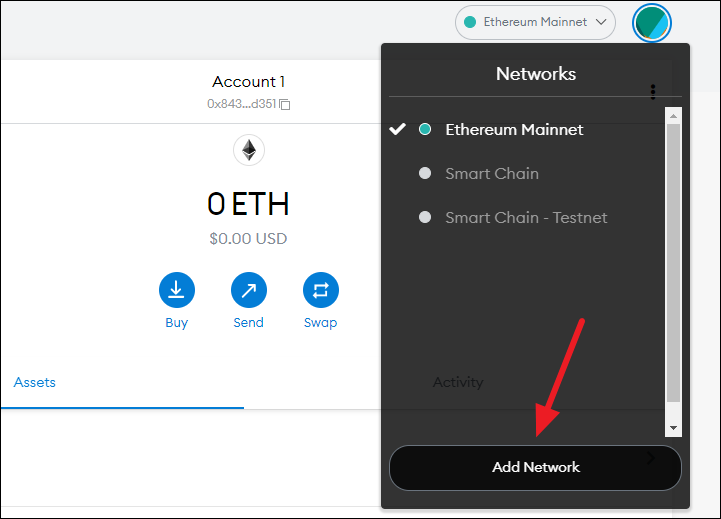 The option to add a new network will open. You can add two BSC networks in MetaMask: mainnet and testnet. We'll explain how you can create both.
Mainnet
Enter these parameters to add the BSC main network. This is the one you most probably want to add. Mainnet is the completely developed blockchain network while testnet usually exists as a working prototype.
Network Name: Smart Chain
New RPC URL: https://bsc-dataseed.binance.org/
ChainID: 56 (if 56 doesn't work, try 0x38)
Symbol: BNB
Block Explorer URL: https://bscscan.com
Although you'll see optional next to some fields when entering this information, you should still enter the above information without altering it.
Click 'Save' to add the network.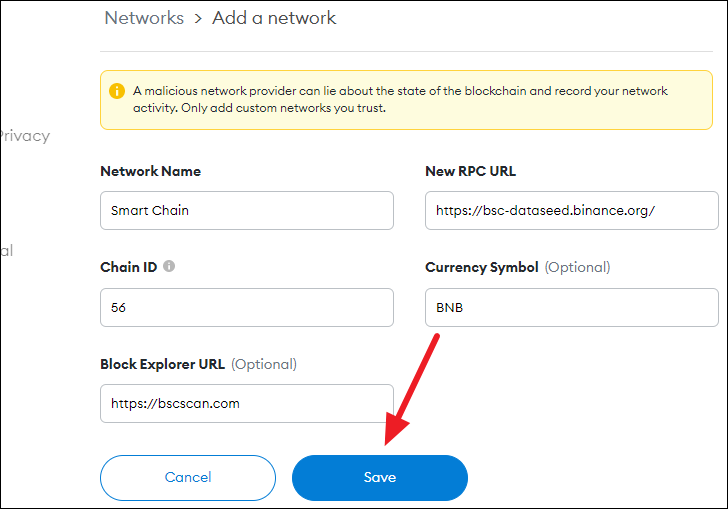 Once you click 'Save', you'll automatically switch to the BSC mainnet and the cryptocurrency symbol and logo will change from ETH to BNB in the wallet's interface.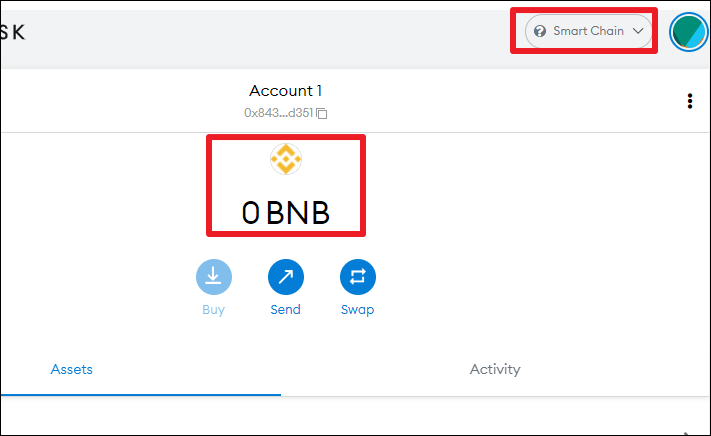 Testnet
Network Name: Smart Chain – Testnet
New RPC URL: https://data-seed-prebsc-1-s1.binance.org:8545/
ChainID: 97 (if 97 doesn't work, try 0x61)
Symbol: BNB
Block Explorer URL: https://testnet.bscscan.com
Before adding the mainnet, you can also try to add the testnet. You can even try to add some testnet tokens to your account to make sure that the setup is working correctly.
Click 'Save' to add the network to MetaMask.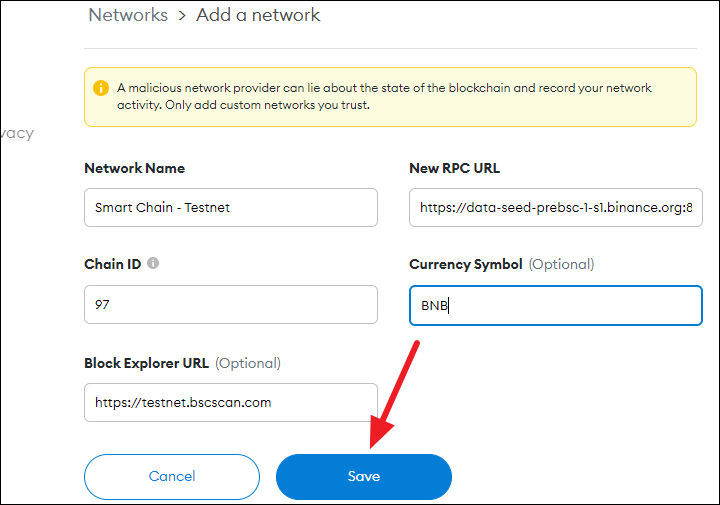 Testing the BSC Testnet
As soon as you save the network, you'll see that the network you just saved will be the one you'll automatically switch to. The currency symbol will also switch to BNB instead of ETH.
While on the testnet, you might see still see the logo for ETH instead of BNB. That's nothing to worry about. You're still on the BSC testnet as long as the network name in the corner indicates so. But most probably you will see the logo for BNB.
Then, go to Binance Smart Chain Faucet to claim some testnet tokens. BSC Faucet is a portal for developers to get BNB and other BSC tokens for the testing environment. But since they're free, anyone can claim them.
Go to your wallet and click the 'Account 1' or account name at the top to copy the wallet address. This is the public address of your wallet which you share with others.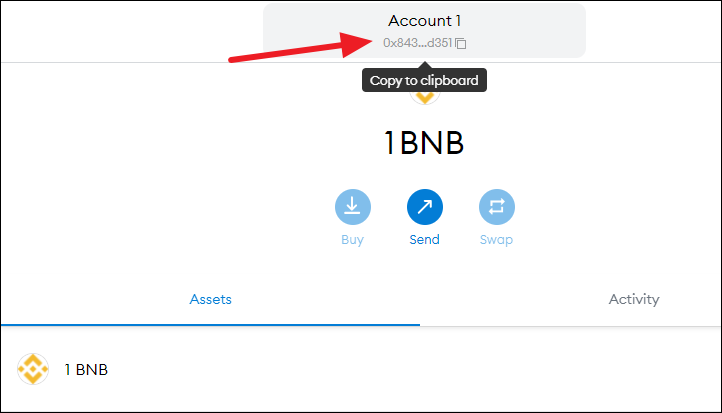 Then, head over to the BSC Faucet and paste your wallet address in the textbox and click 'Give me BNB'.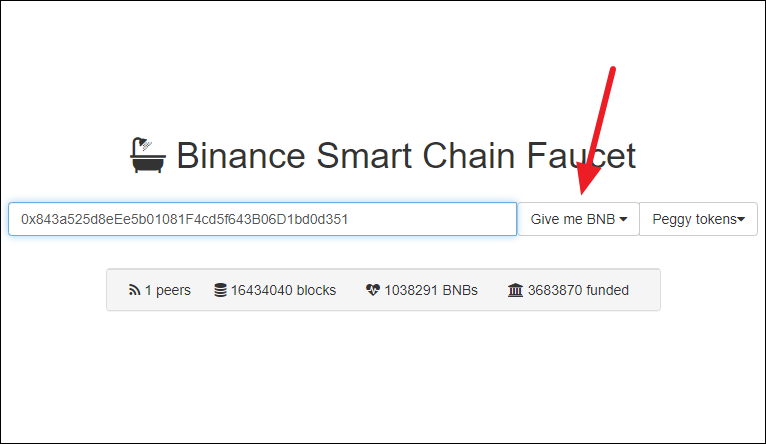 If your funding request is accepted, the token will appear in your wallet in a few seconds. Refresh your wallet to check. You can only claim one BNB on the testnet in one minute.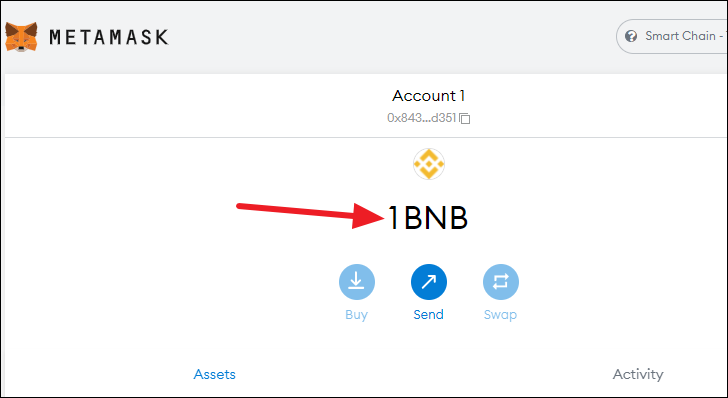 Now, that the experiment with testnet is complete, you can switch to the BSC mainnet without any worries and transfer BNB from the Binance Smart Chain network to your MetaMask wallet.
Remember to choose 'Binance Smart Chain' as the network and not 'Binance Chain' when making transactions.
Connecting MetaMask Mobile to BSC
To view the BSC network in your mobile wallet, you'll have to add the network there too.
Go to the hamburger menu in the top-left corner.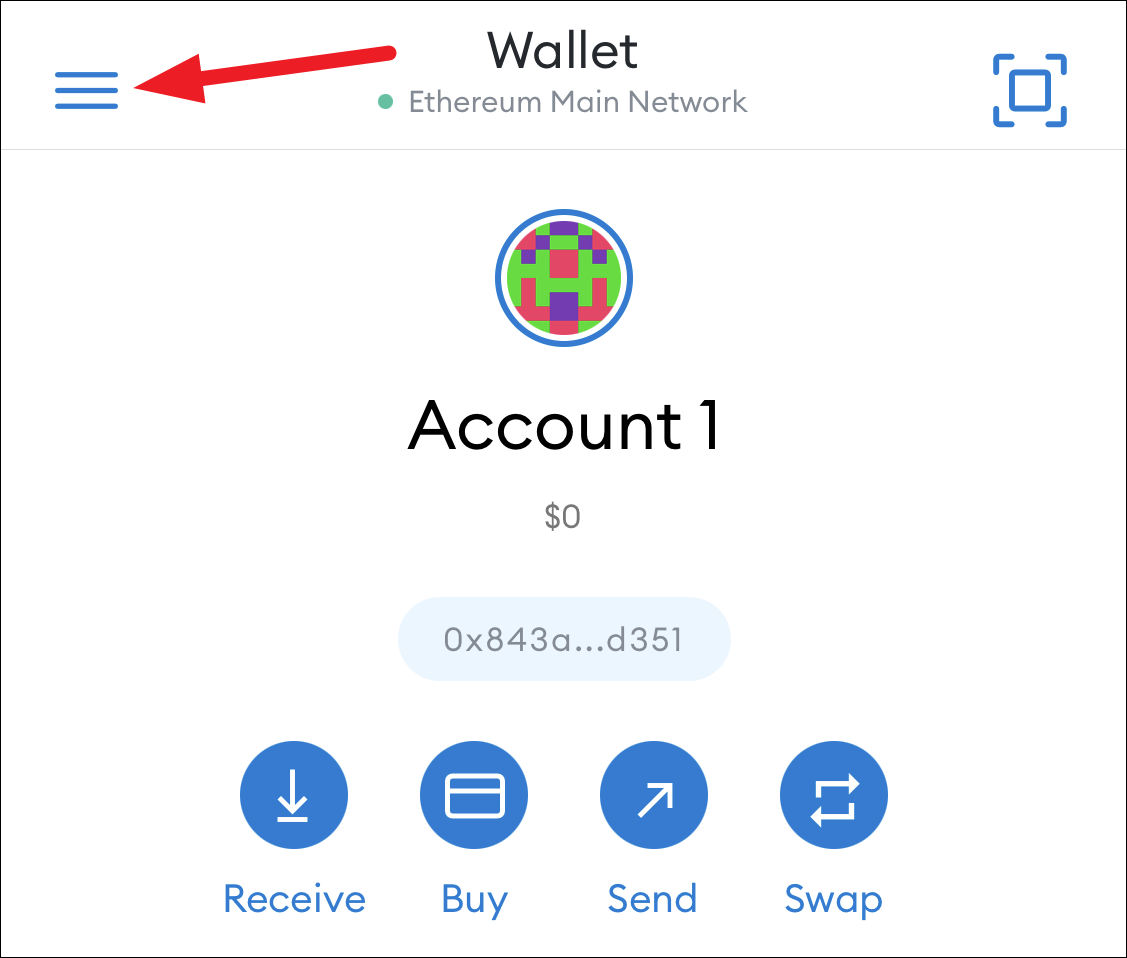 Then, tap the option for 'Settings'.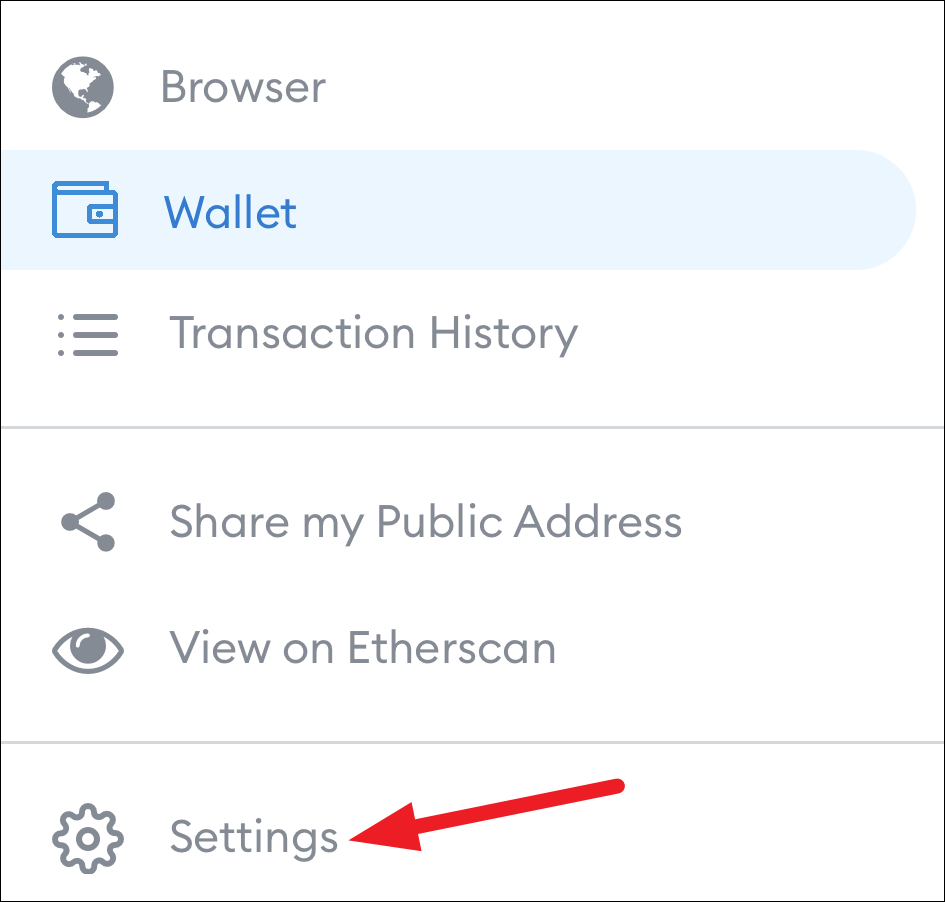 Go to 'Networks' from settings.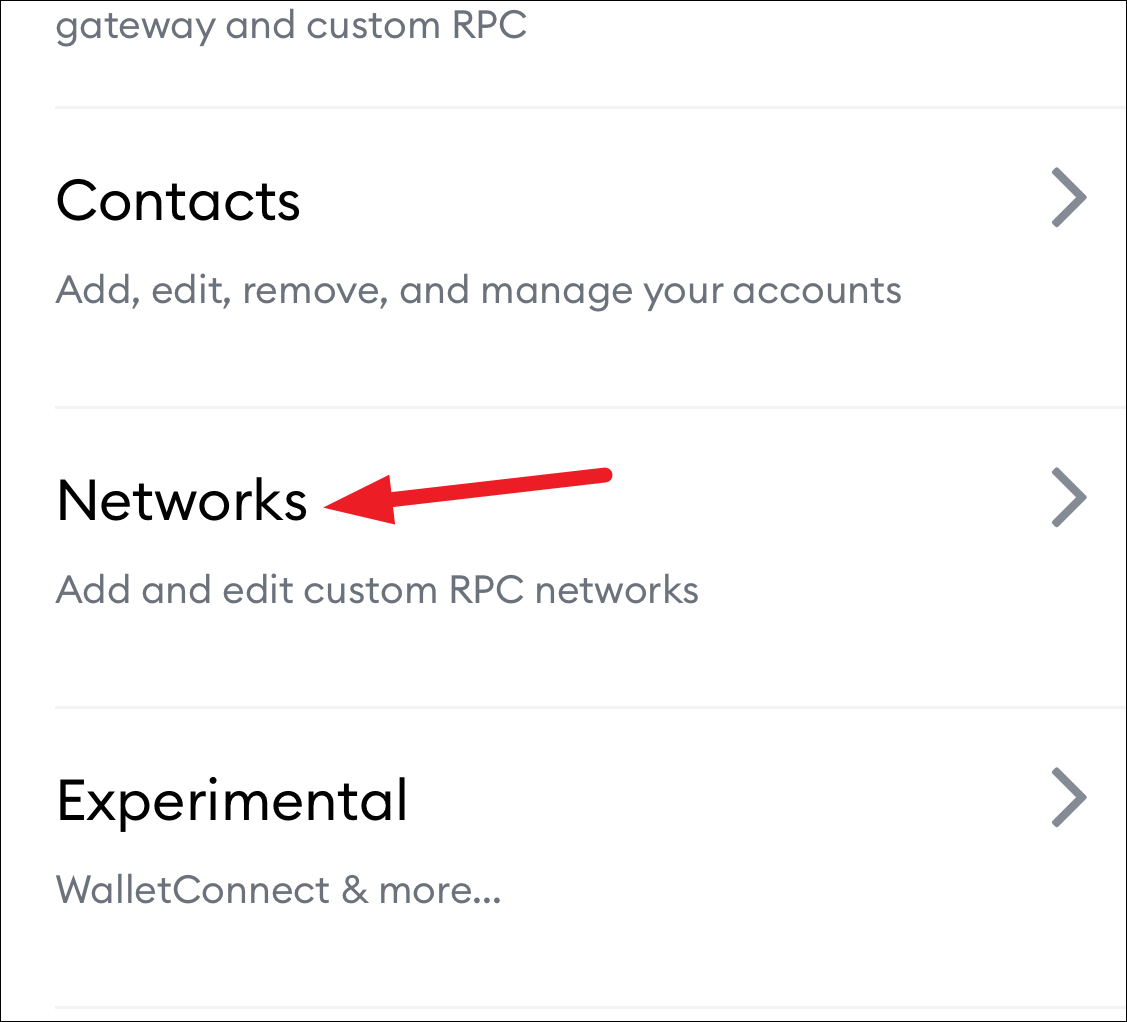 Tap 'Add Network' at the bottom of the screen.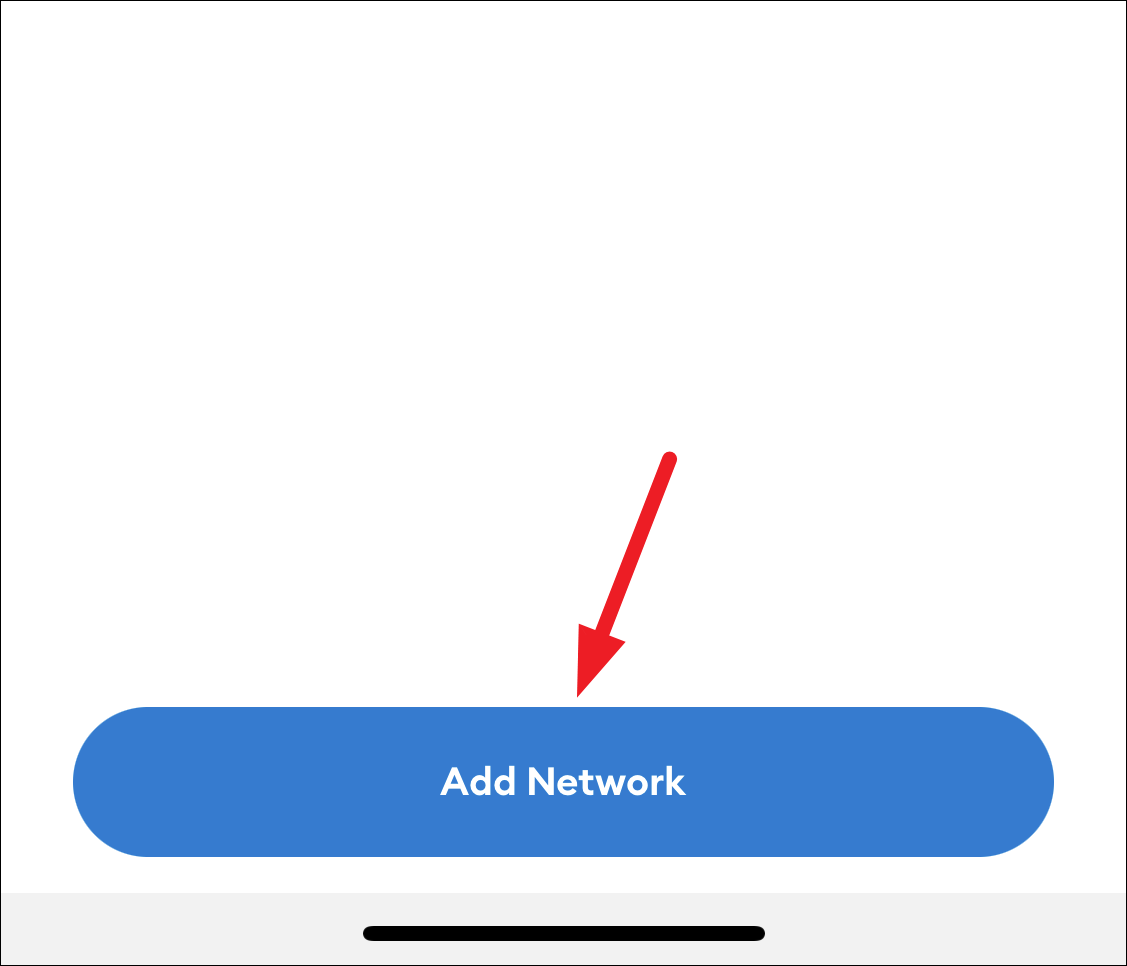 Add the same parameters as given above to add the network in the mobile app and tap 'Add'.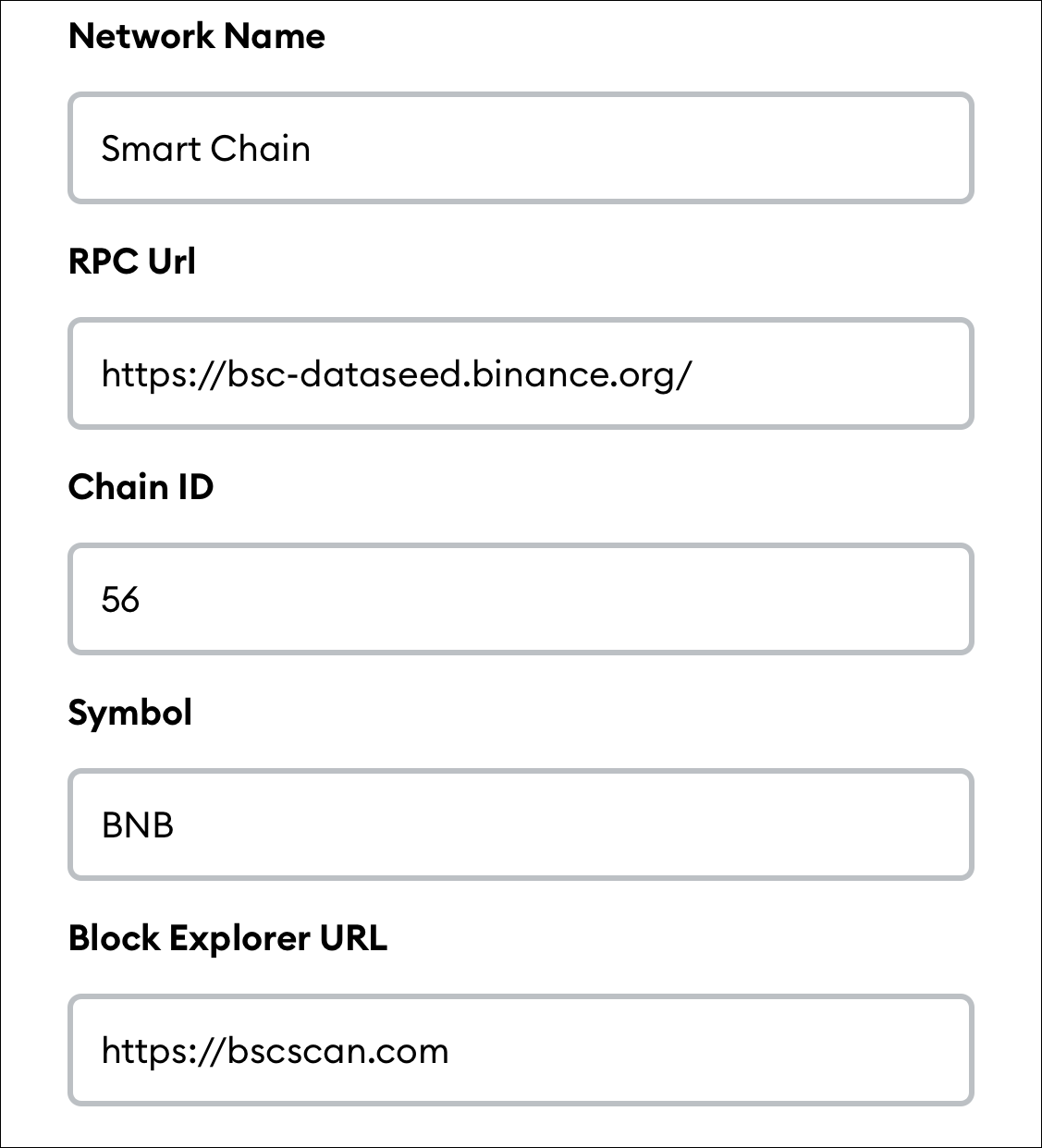 Using MetaMask within the BSC Ecosystem
Once you've configured the MetaMask wallet for the BSC network, you can use it to connect to dapps in the ecosystem and also create, buy, or swap NFTs. You can easily send any BNB tokens you hold from an exchange or other wallet to MetaMask. Just remember to select the 'Binance Smart Chain' network when you want to make the transaction, and not 'Binance Chain'. That's the most important thing to remember when sending BNB tokens to your MetaMask wallet so you don't end up losing them.
Connecting MetaMask on the BSC dapps is also as easy as connecting it to ETH dapps as most dapps support the wallet. Let's see how you can connect your wallet to PancakeSwap, the largest dapp in terms of volume on the Binance Smart Chain blockchain.
Go to pancakeswap.finance and click the 'Connect Wallet' button in the top-right corner.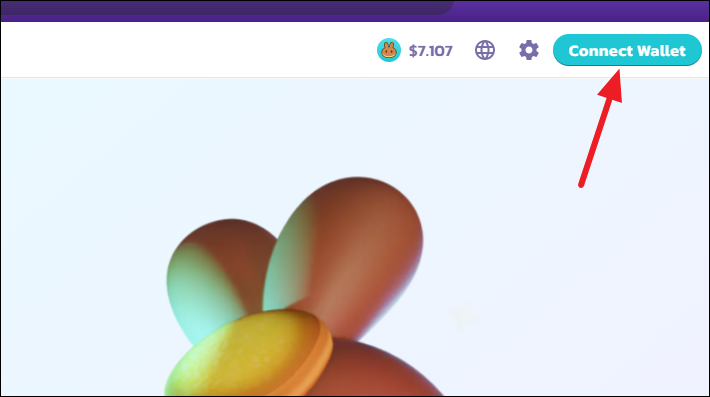 The window for connecting your wallet will open. MetaMask will be the top wallet on the list. Click the option for 'MetaMask'.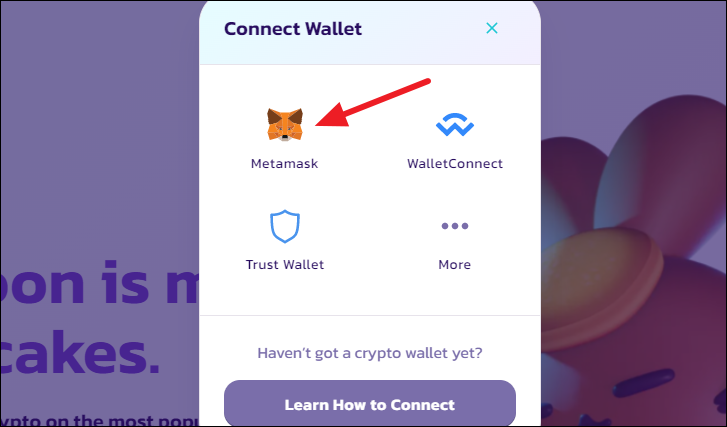 You'll receive permission to connect PancakeSwap in a MetaMask window. Select the account you configured for use with BSC. If you didn't create an additional account, the one account you have will be automatically selected. Click 'Next' to proceed.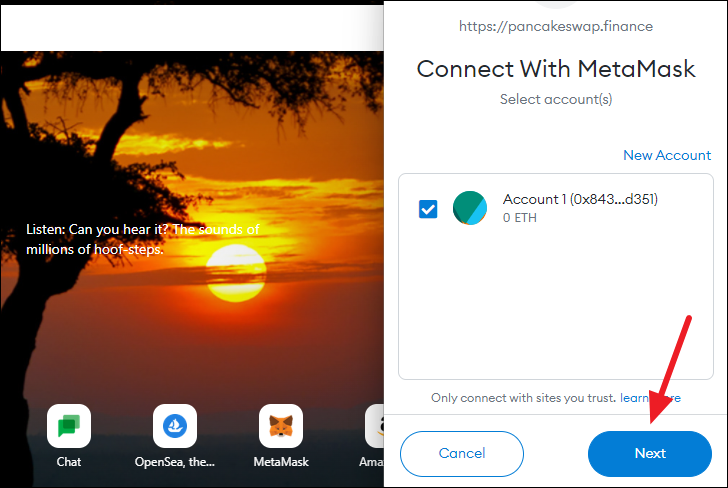 Additional permission will appear to let PancakeSwap view the address of your account. Click 'Connect' to complete the setup. Your MetaMask wallet will be connected with PancakeSwap.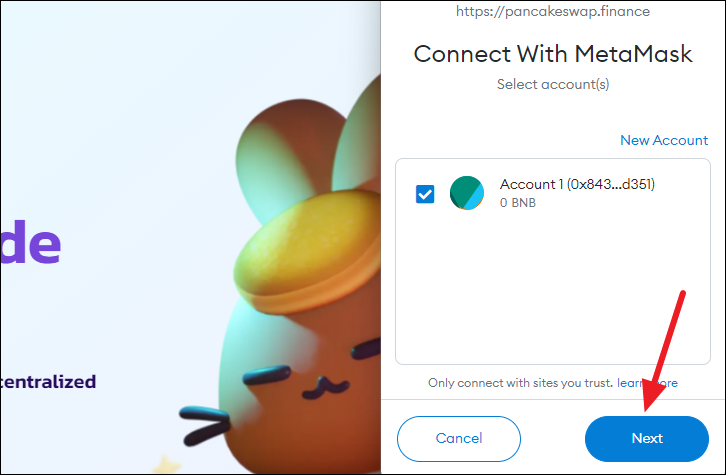 ---
Binance Smart Chain is a great blockchain option to explore the world of dapps and NFTs where gas alone doesn't burn a hole in your pocket. And with MetaMask, you get a trusted wallet to store your BSC assets. All you need is a little bit of effort. And MetaMask will be your gateway to Ethereum as well as Binance Smart Chain blockchain.