With each new iteration of iOS, Apple keeps spicing up its native Reminders app, and let me tell you, iOS 17 is keeping that trend alive and kicking!
The Reminders app has received a few updates, and among them is a scrumptious new feature that's gonna tickle your organizational tastebuds, especially if you're a productivity junkie or a fan of Kanban boards. Yes, that's right. Forget those plain old lists; now you can view your reminders in Kanban board-style columns with iOS 17.
The update has been rolled out everywhere – iOS 17, iPadOS 17, and macOS Sonoma, so you'll get your boards on every device you use.
What is a Kanban Board?
For the uninitiated, here's a quick overview. Originating from Japan, the word "Kanban" literally translates to "billboard" or "visual sign." Now, I know what you're thinking: "Great, but what does a billboard have to do with organizing my life?" Well, a Kanban board is all about the visual management of your workflow. Imagine a whiteboard (physical or digital, your choice!) that's been divided into several columns. These columns typically represent the different stages of a task, from "To-Do" to "In Progress" to "Done."
Basic versions might just have three of these columns, but you can change it up if you want. Next up are the tasks that represent your work items or jobs; these are your game villains that have to conquer. You start by adding the tasks to the "To-Do" column.
As you start working on a task, you move it to the "In Progress" column, and once you complete a task, you slide that bad boy into the "Done" column. Visualizing your tasks in this manner helps you stay more productive and efficient.
Kanban Boards in Apple Reminders
Now, traditionally, with a Kanban board, there's a limit to how many tasks the "In Progress" column can have to ensure that there isn't an overload at any stage.
With iOS 17 Reminders, you can create Kanban-style boards that'll have different columns visualizing the status of your tasks, but that's about it.
You cannot put in any WIP (work in progress) limits. But still, using columns in Reminders, you can achieve the most important aspect of the Kanban Board – Visualization. So, let's get going!
How to Create a Kanban Board in Apple Reminders
Creating these Kanban Boards with columns is really easy in the Reminders app. You can also convert an existing list to columns, but we'll showcase the process with a new list.
First off, start with creating a new list of Reminders. Tap the 'Add List' option at the bottom-right corner of the screen.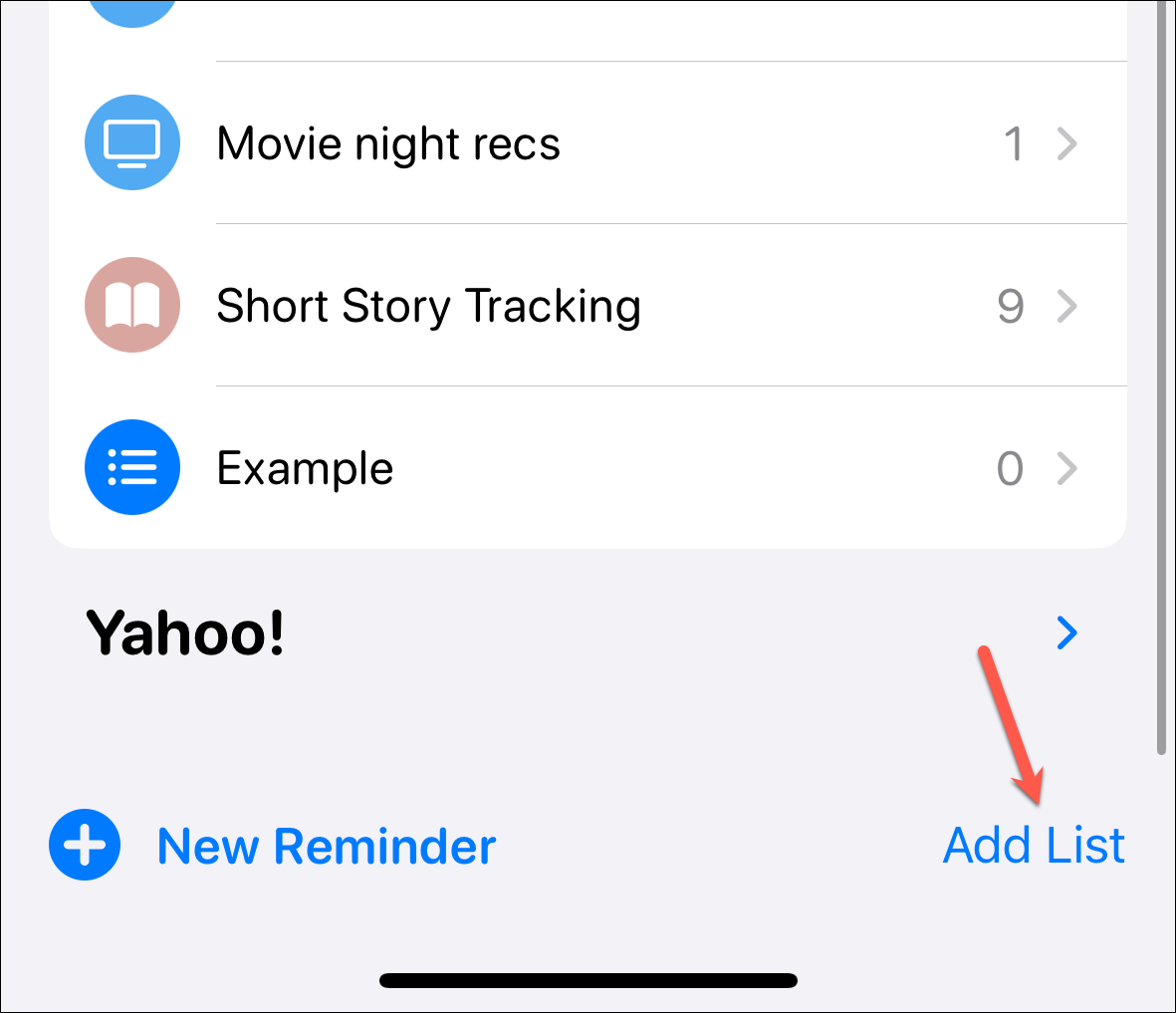 If prompted, select where you want to add the new list.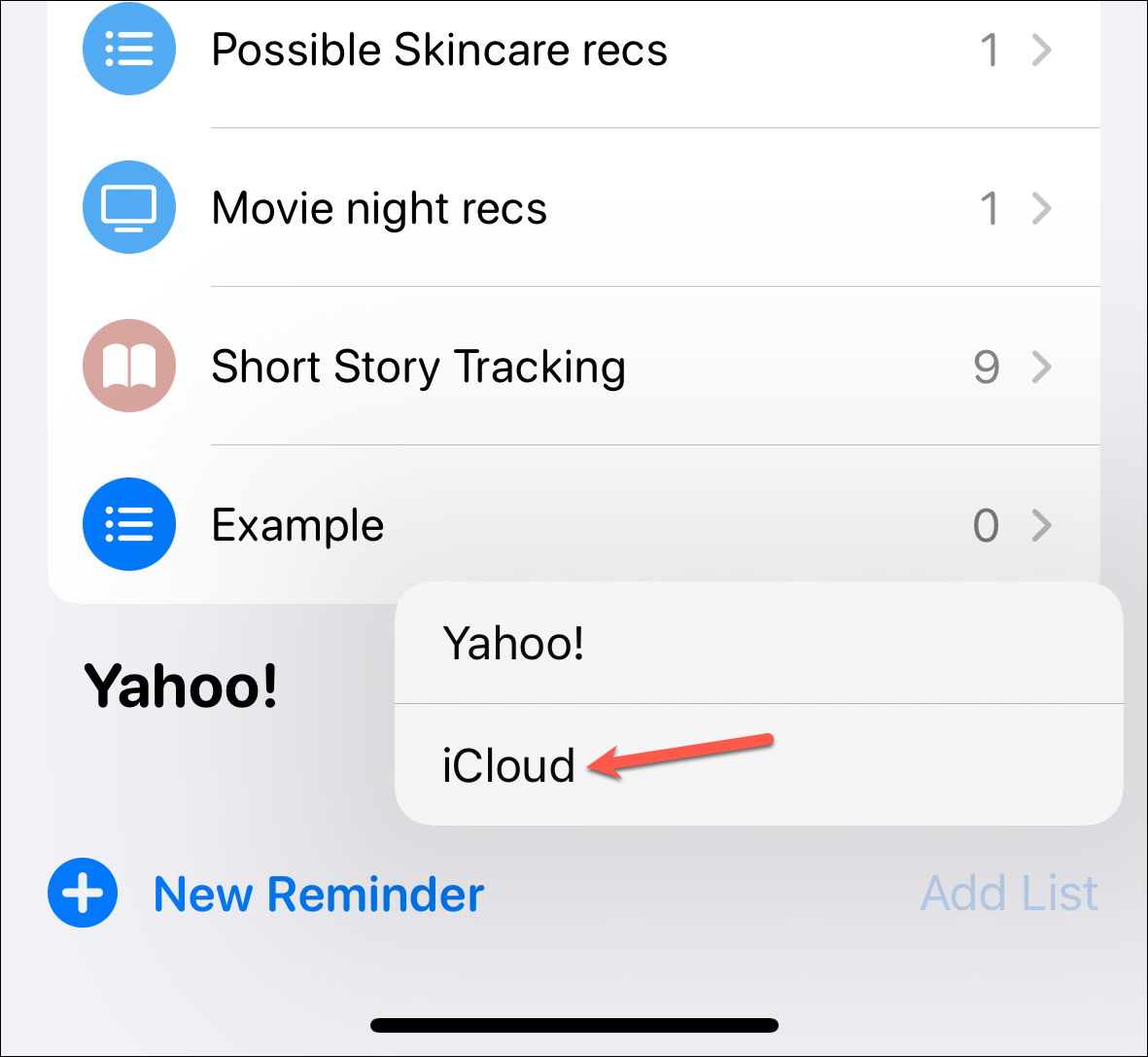 Then, give your list a name, select the icon, color, list type, etc., and tap on 'Done' in the upper-right corner.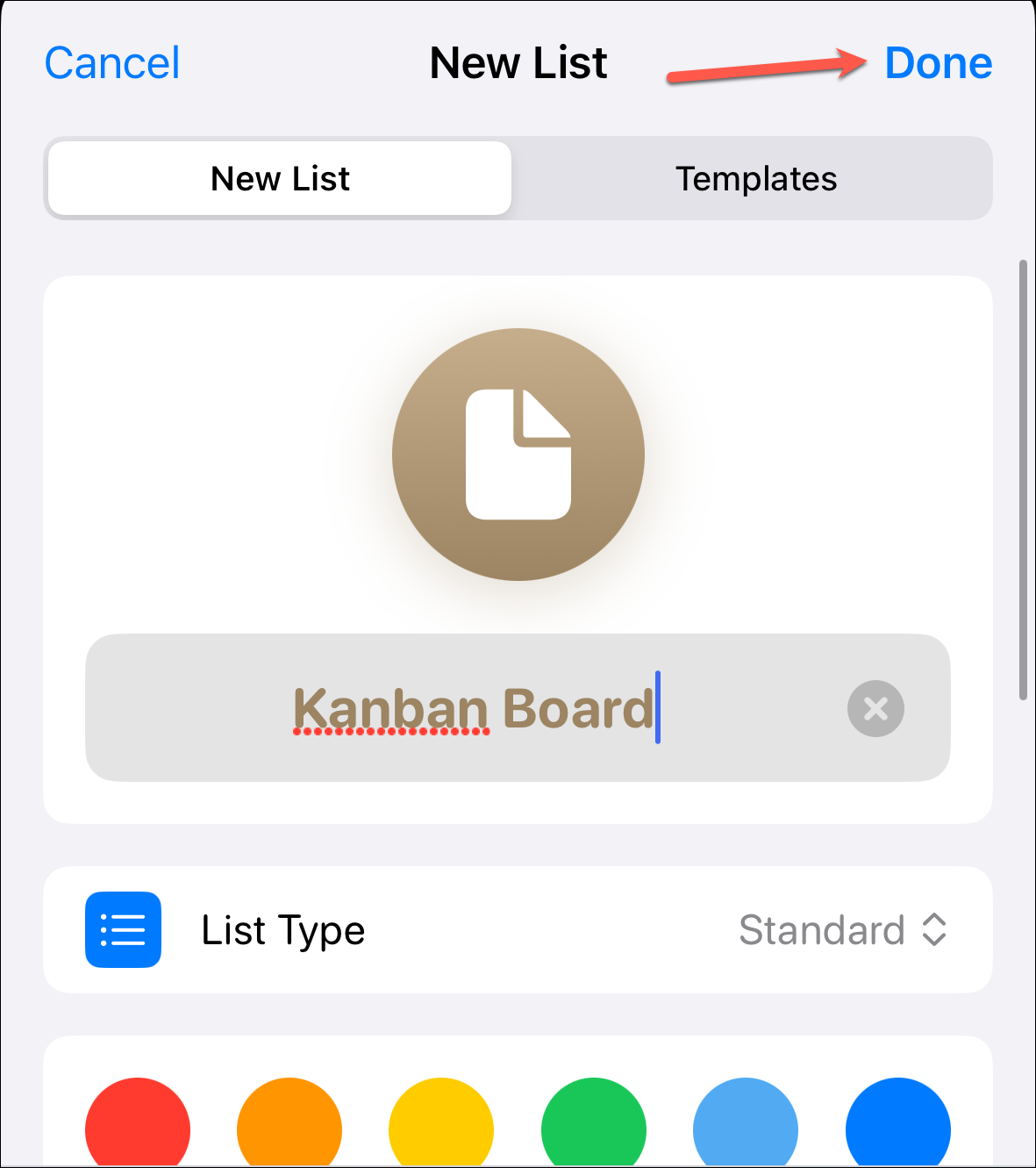 Next, open the list if it doesn't open automatically and tap the 'three-dot menu' (...) in the upper-right corner.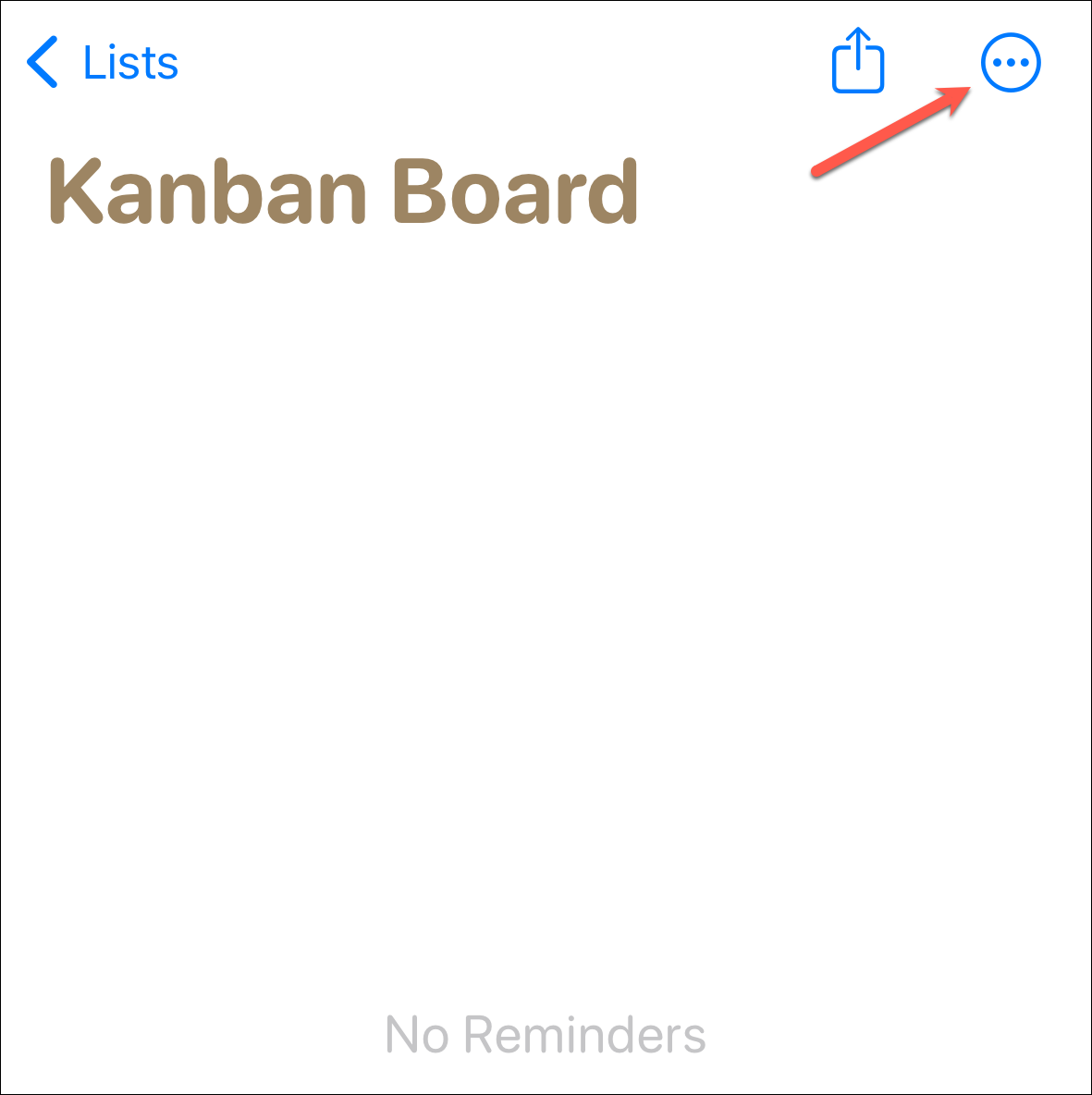 From the menu that opens, select 'View as columns'.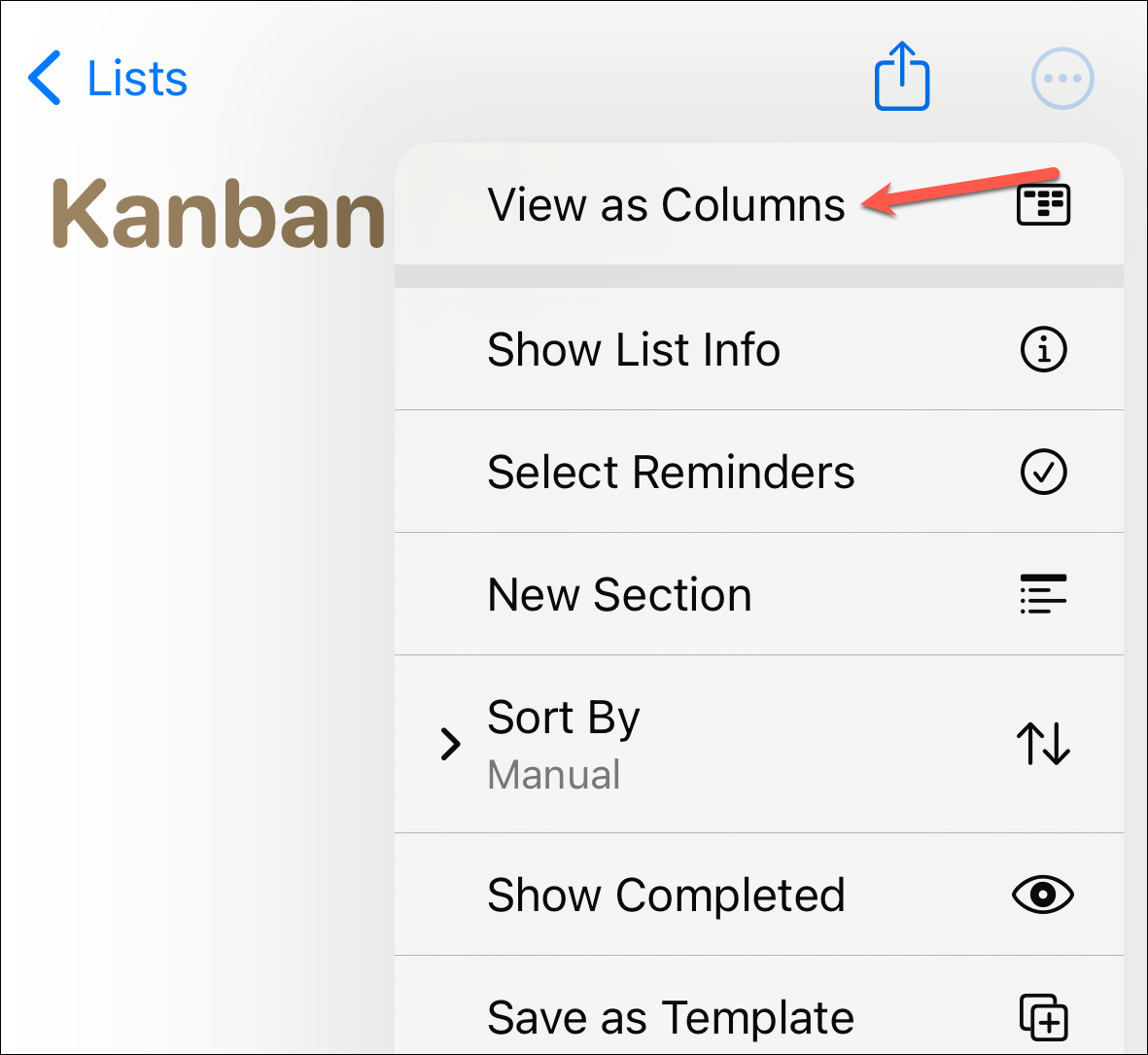 Now, if you enter any task item directly, it'll be added to the 'Others' column that Apple Reminders creates by default. Unfortunately, you cannot delete this column at the time of this writing.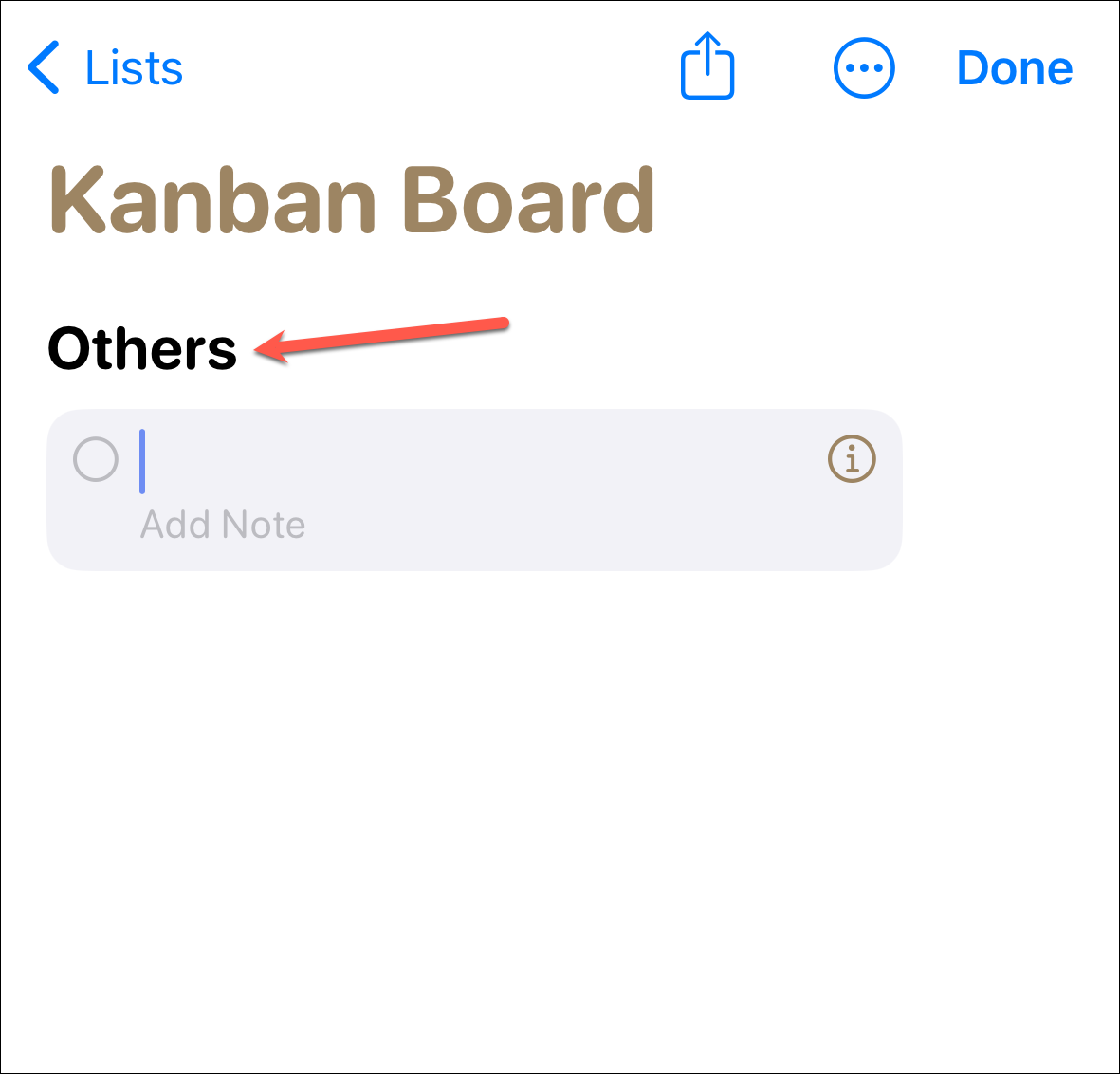 But to create a new column, tap the 'three-dot menu' again and select 'New Column' from the options.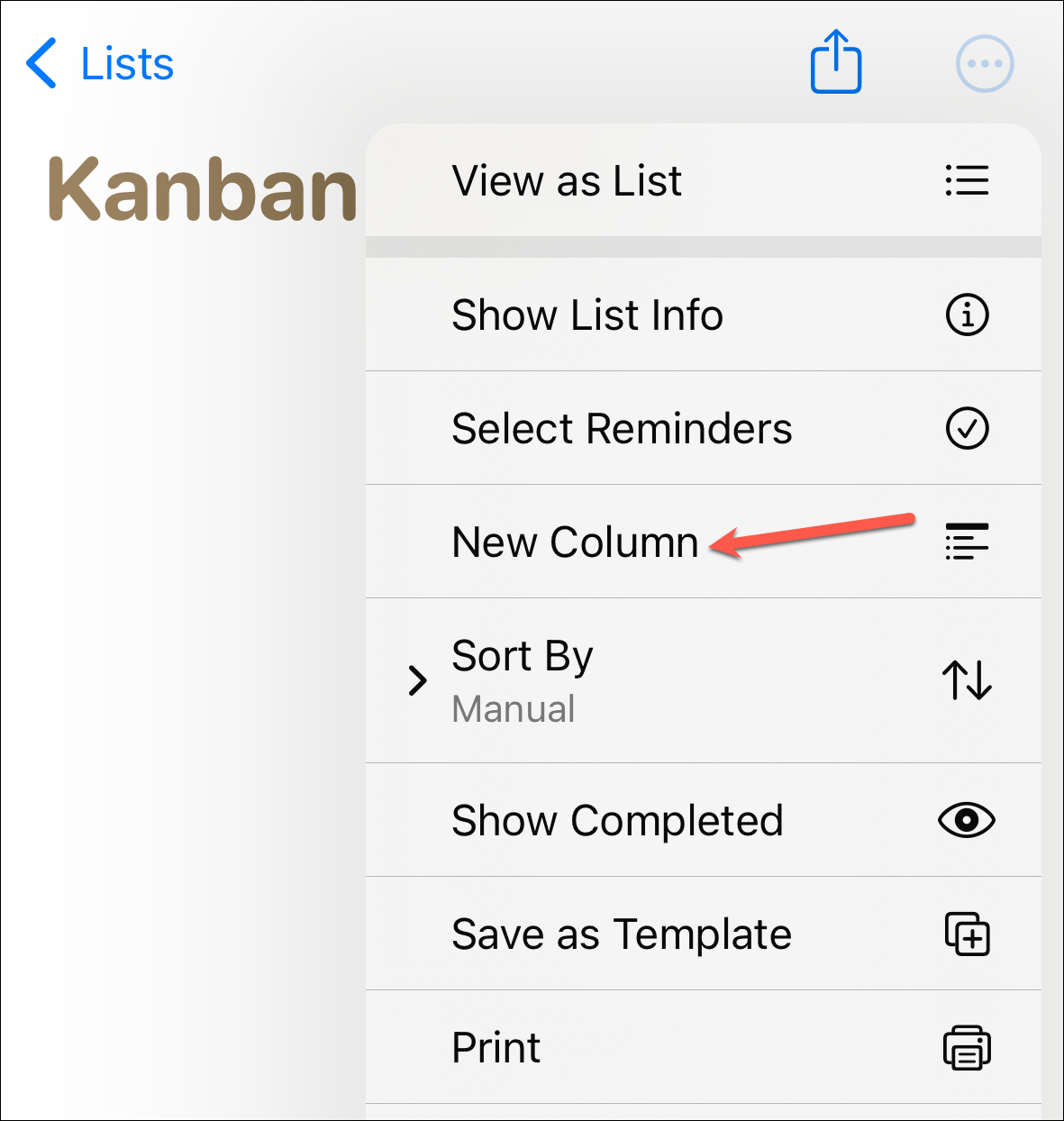 Enter a name for your column and tap 'Done'. In the spirit of the Kanban board, let's enter the traditional name, 'To Do' for this column, shall we?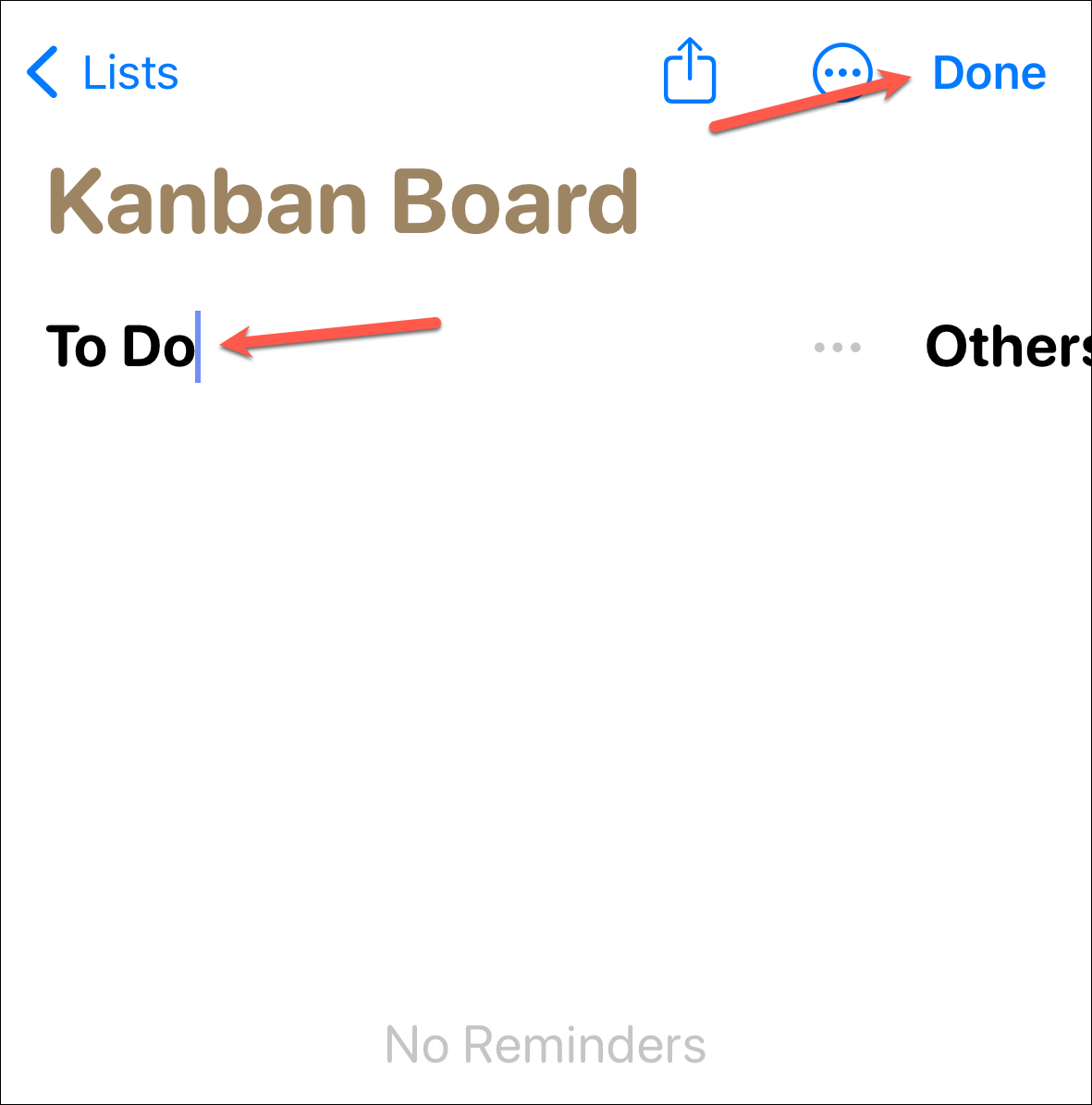 To enter more columns now, tap the 'three-dot menu' icon and go to 'Manage Columns' from the menu.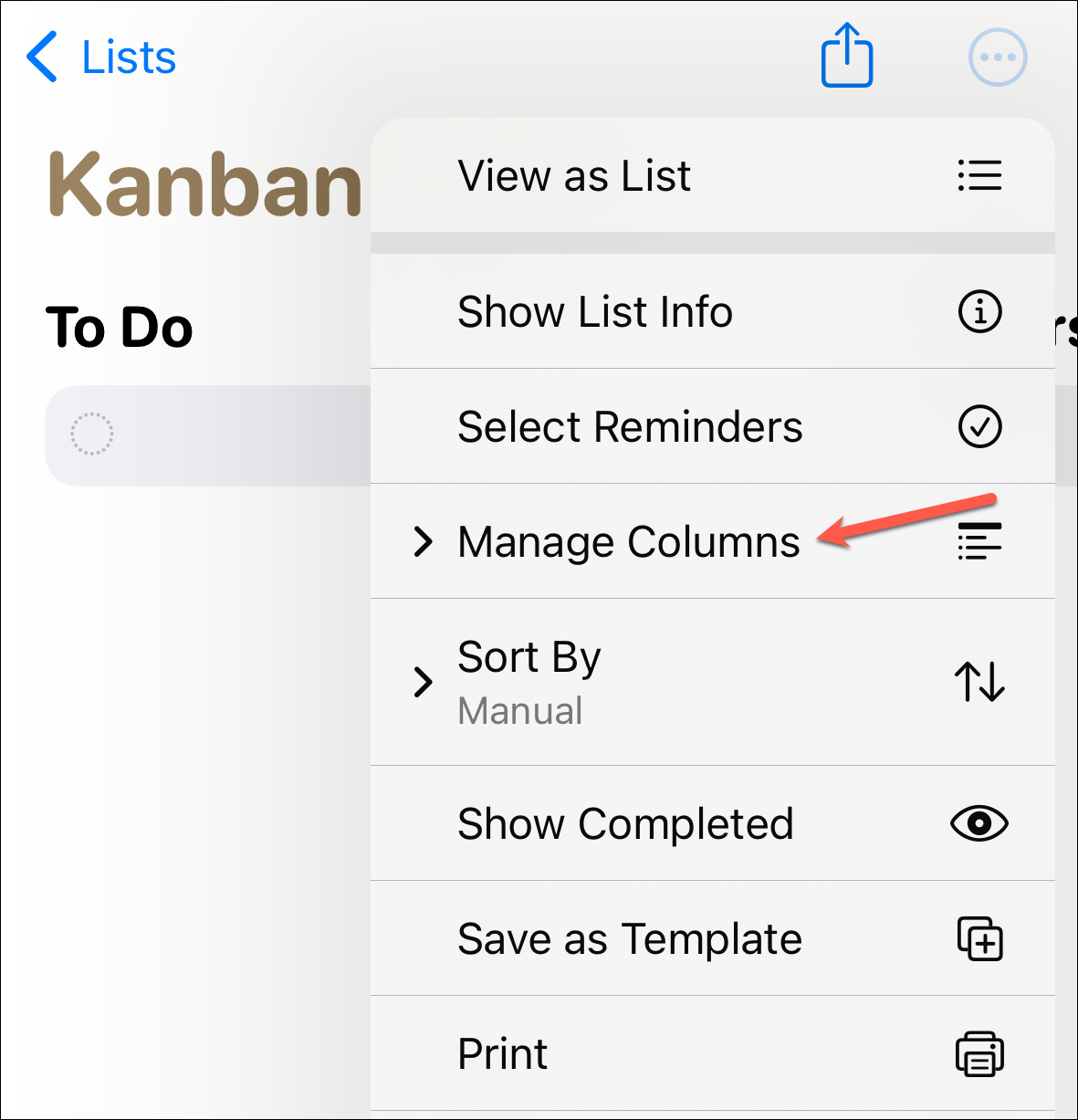 Then, tap on 'New Column'.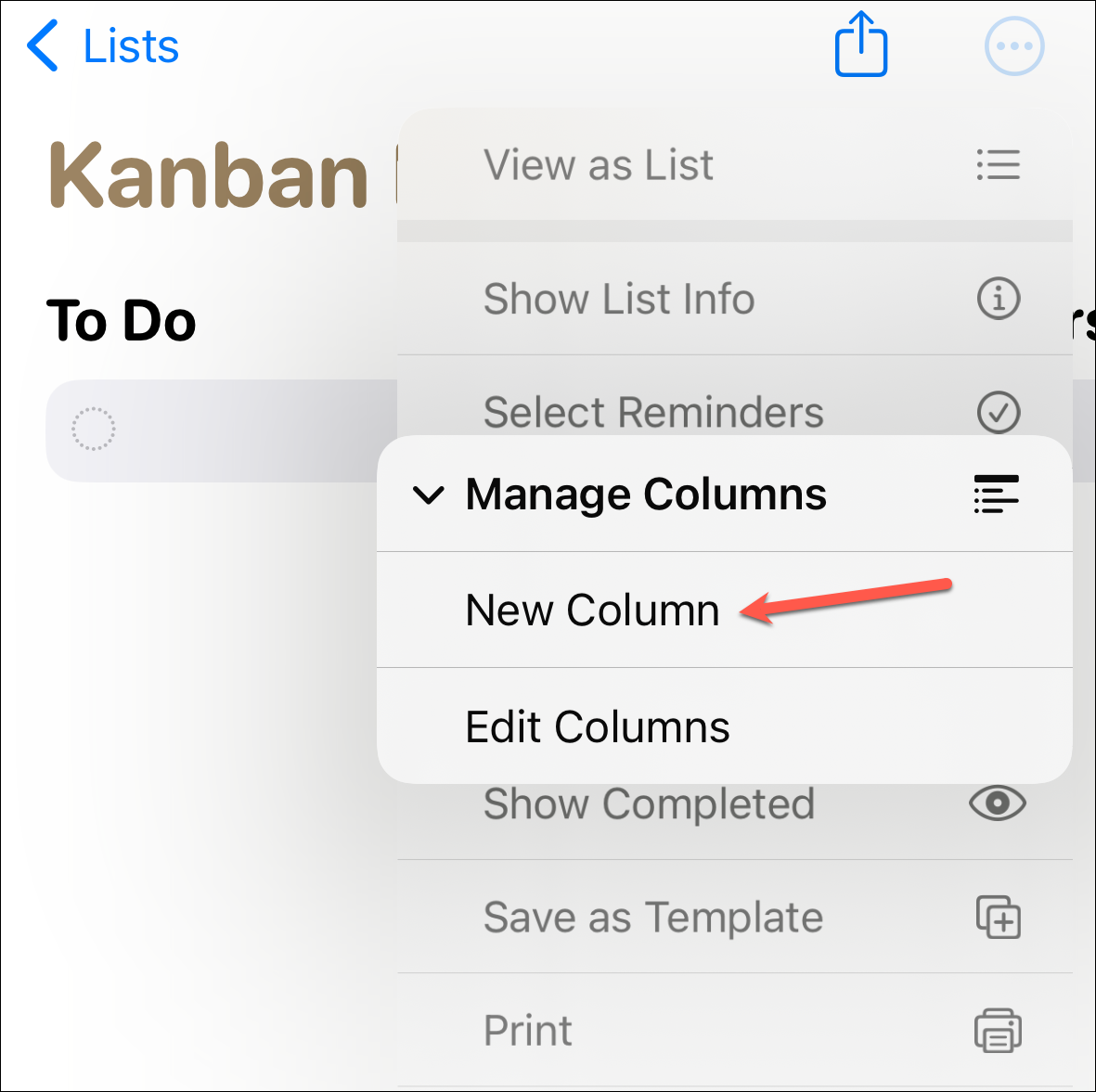 Enter two new columns this way and name them 'In Progress' and 'Done'.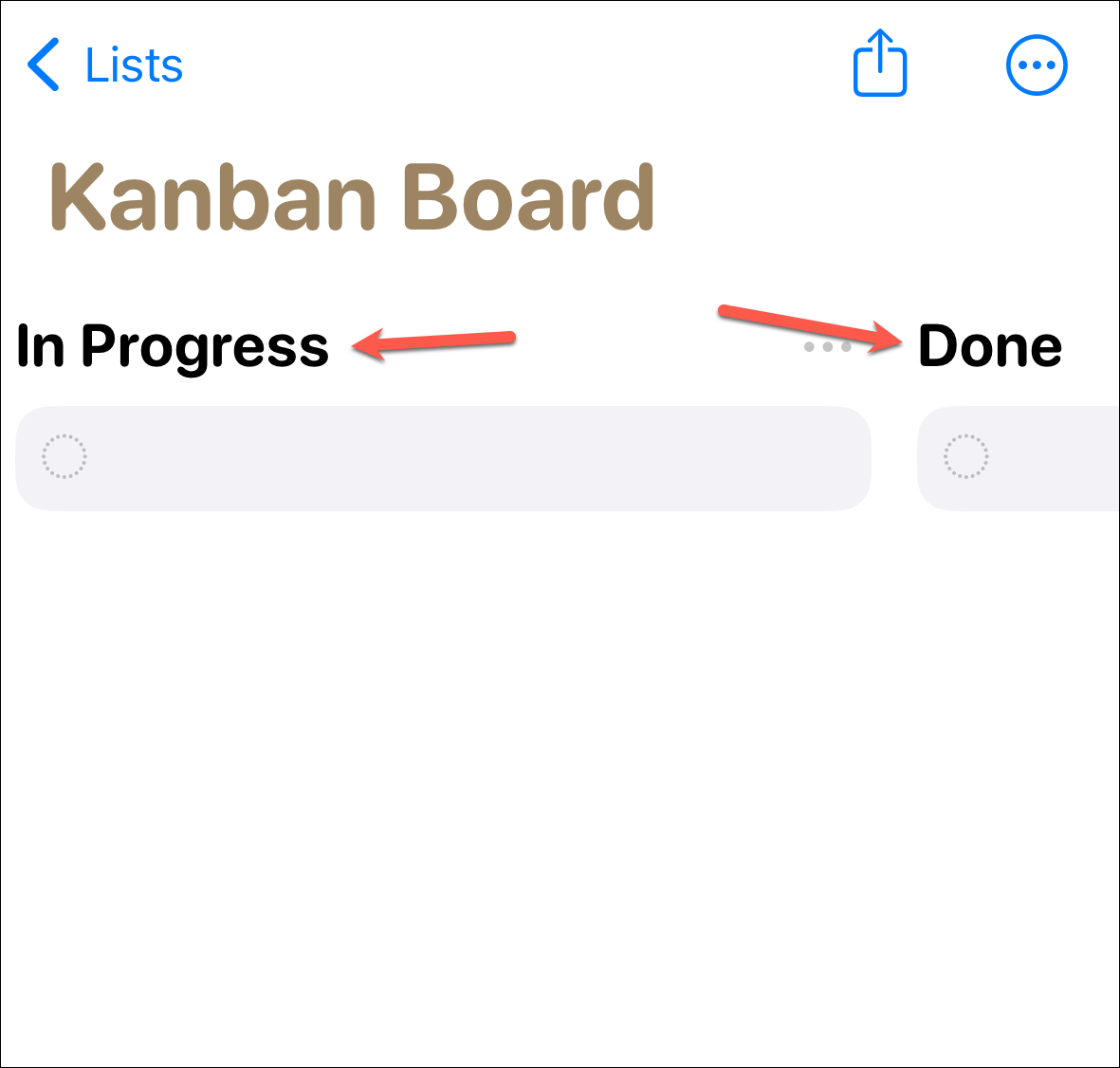 Next, you can start creating tasks in the 'To do' column. Like a normal reminder, you can add any details to it, like date, time, location, etc.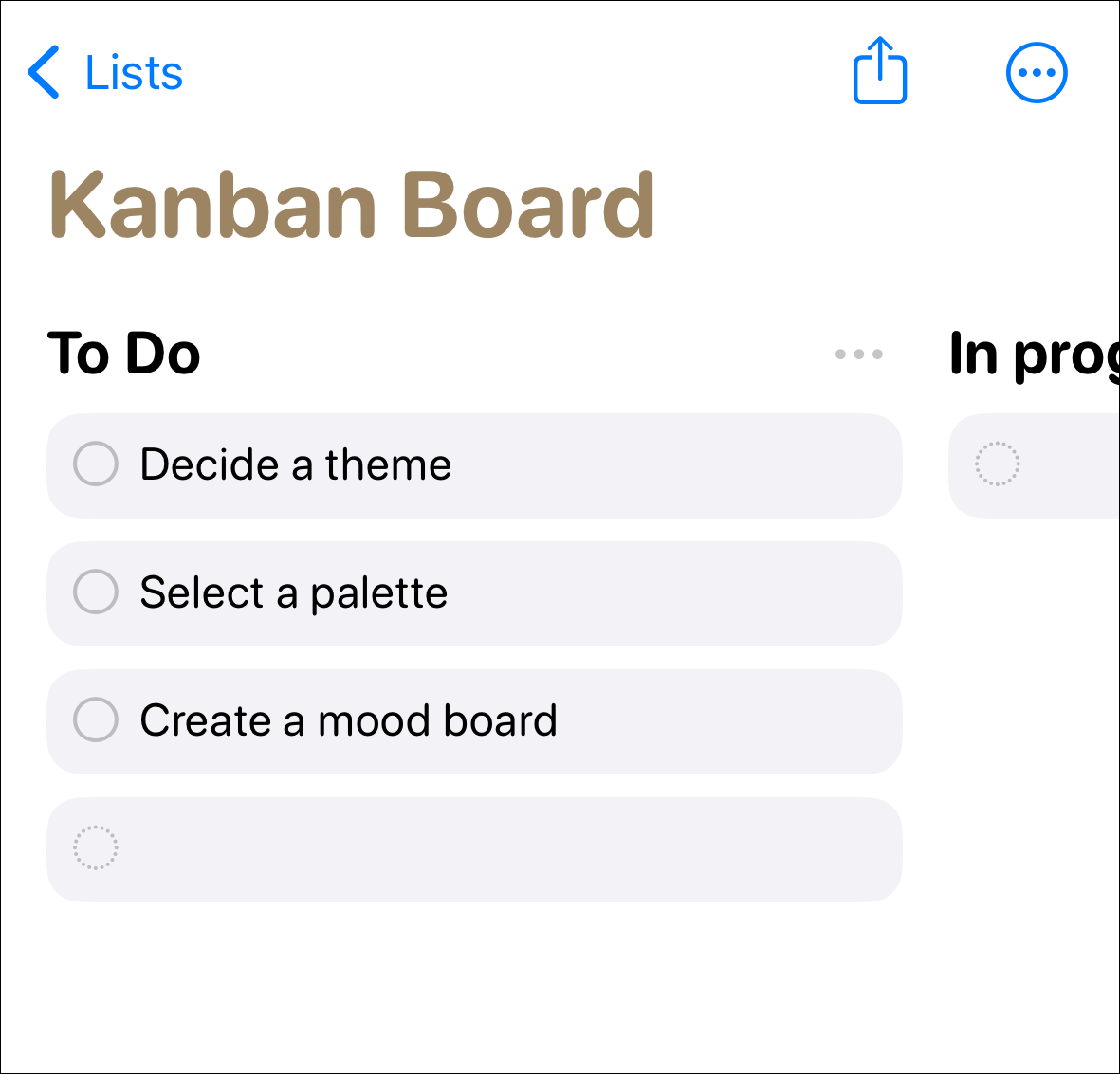 Now, once you start doing a task, you can drag and drop it to the 'In Progress' column.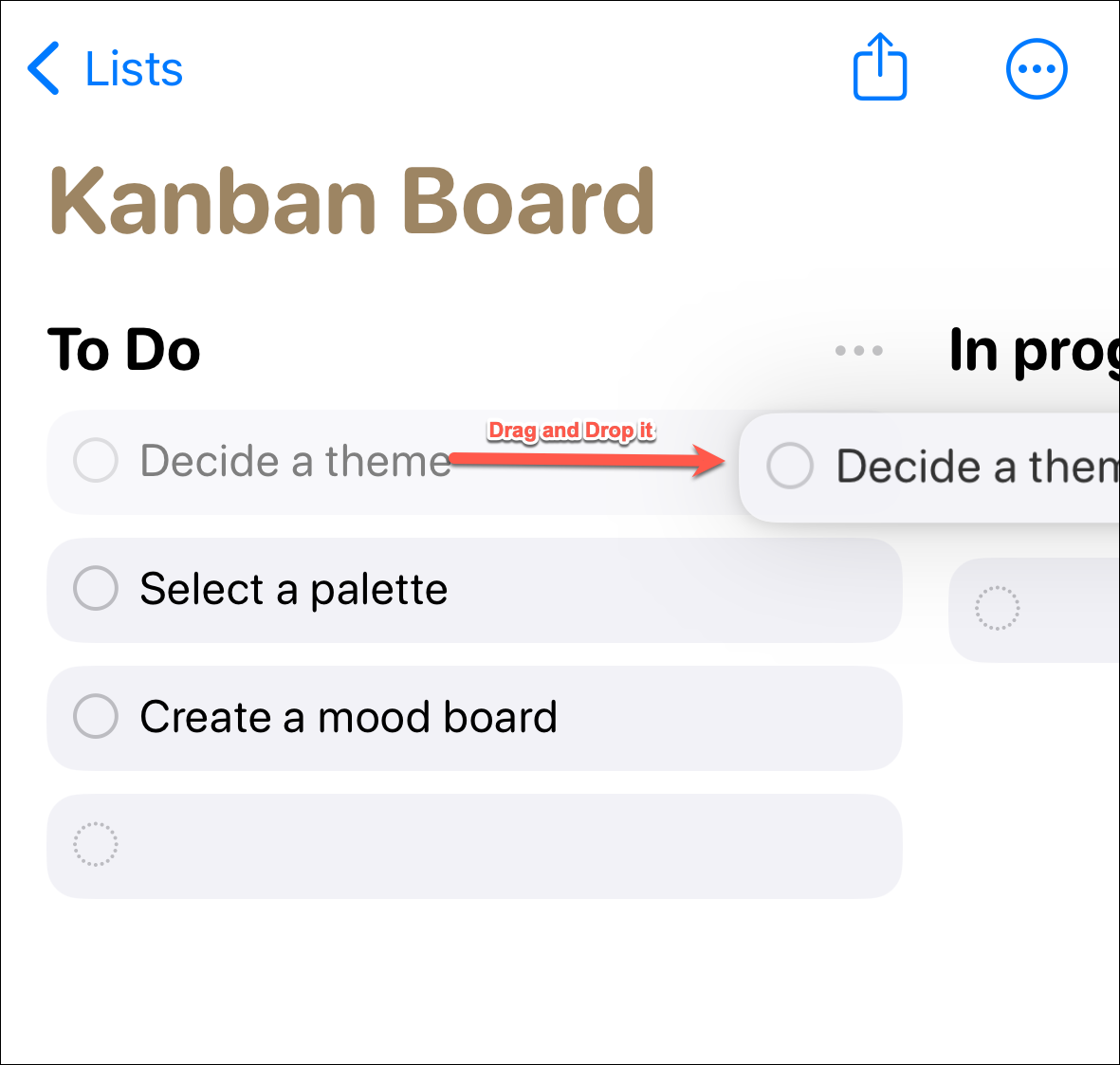 Similarly, when it's finished, you can move it to the 'Done' column.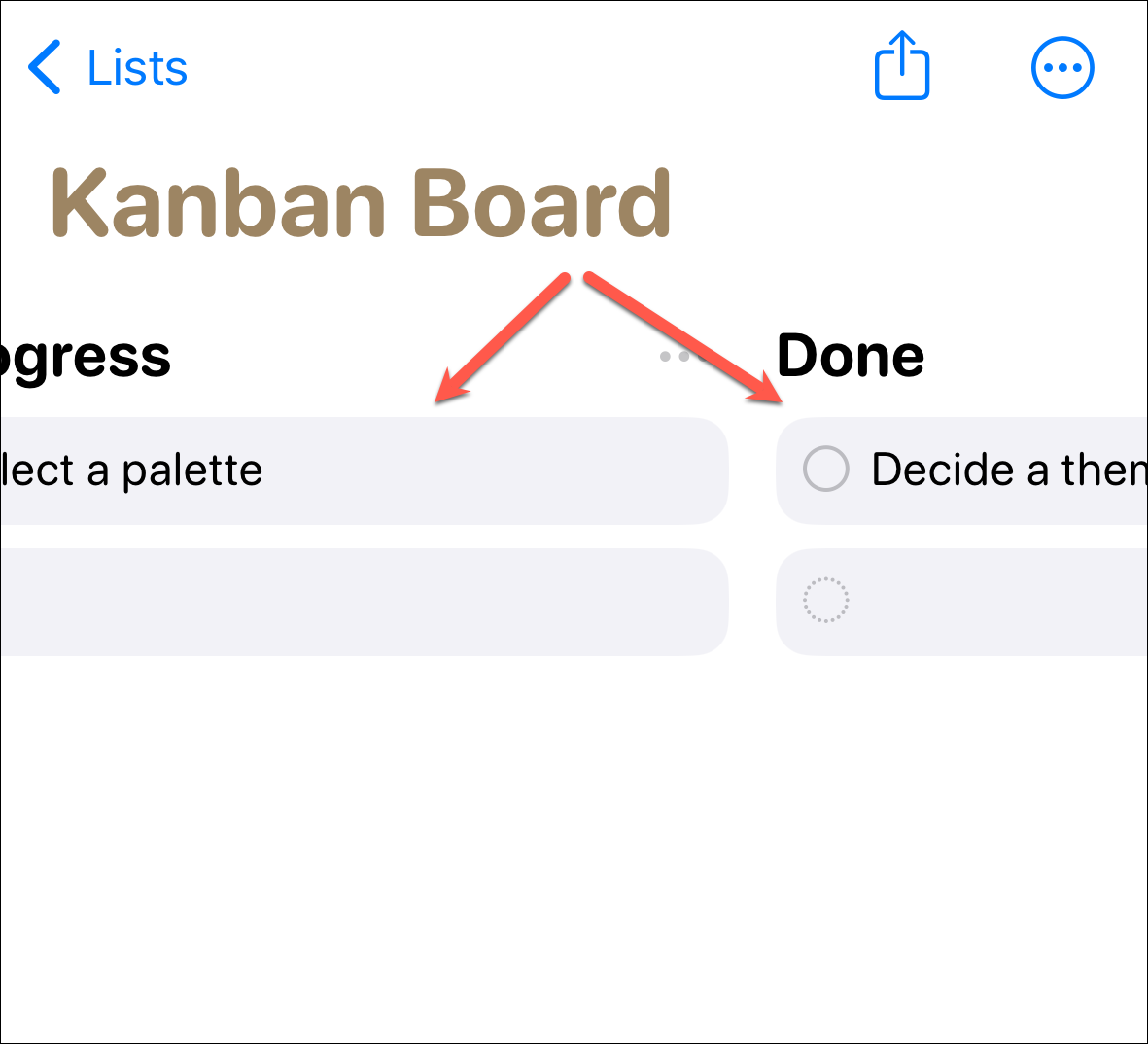 If you mark the task as completed, it is hidden from the list. But to keep visualization on-point, you can select 'Show completed' from the three-dot menu.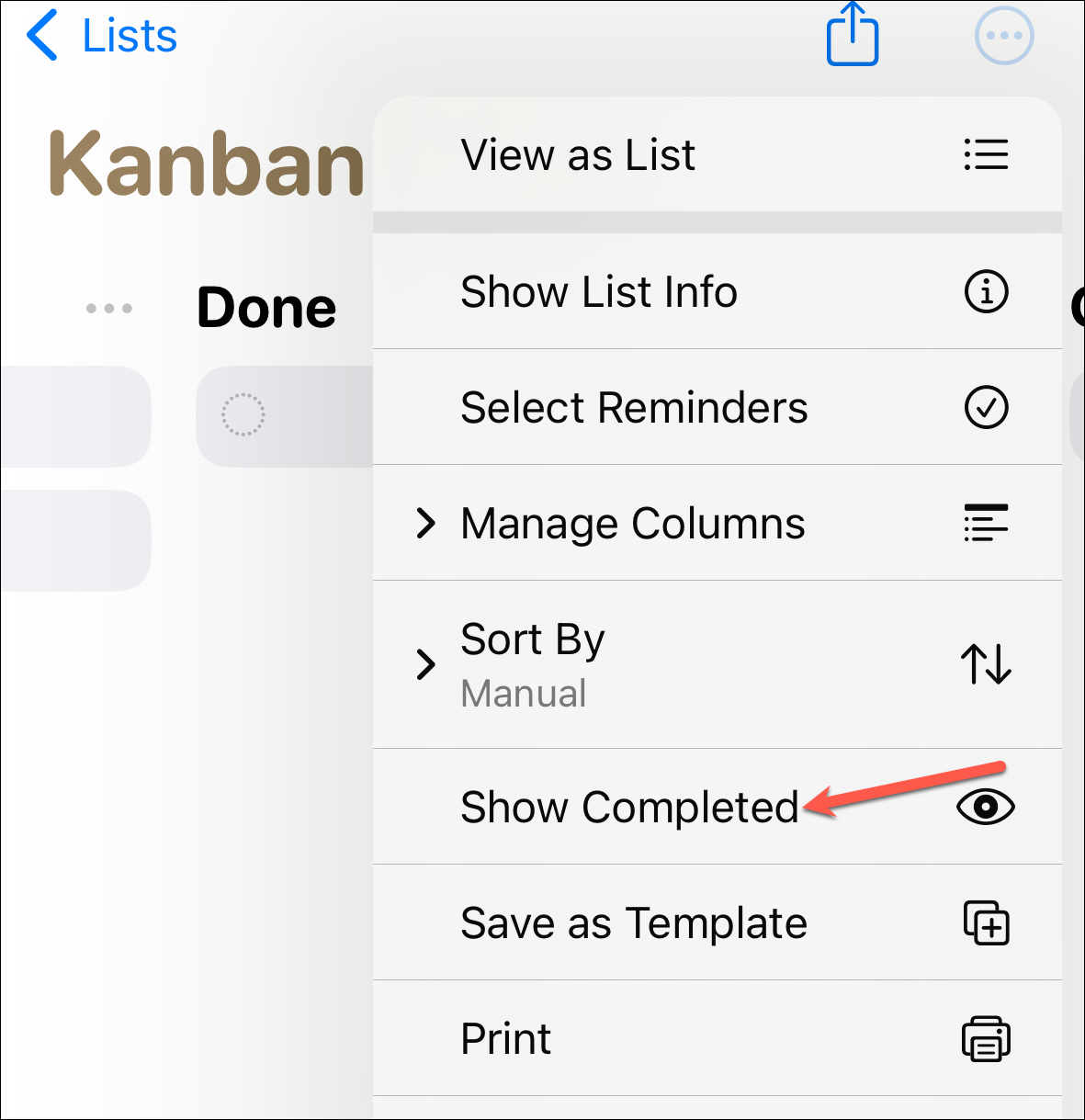 To make any changes to the columns, select Manage Columns > Edit Columns from the three-dot menu.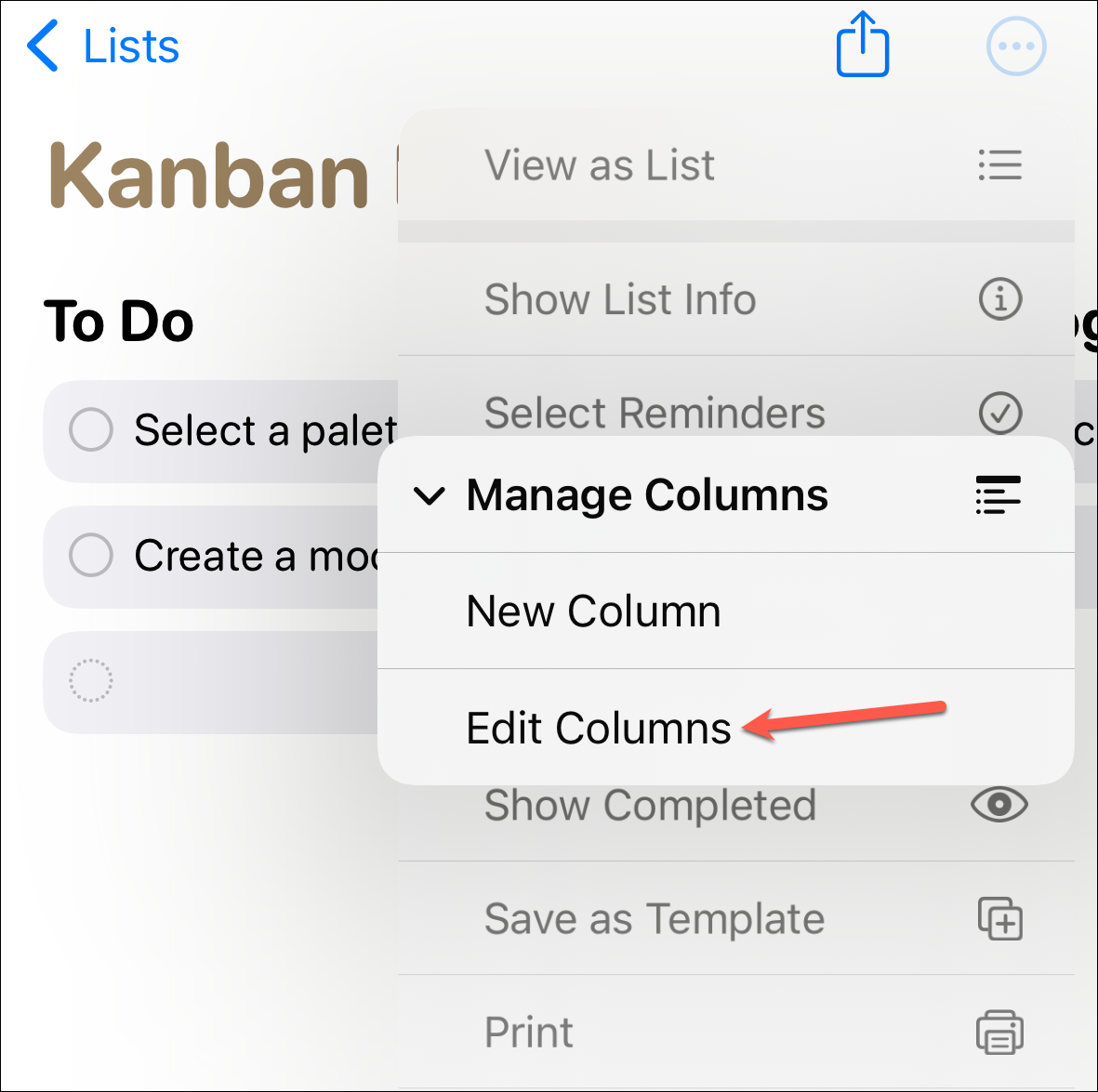 Then, you can edit the name of the columns or rearrange them by dragging them using the three stacked lines.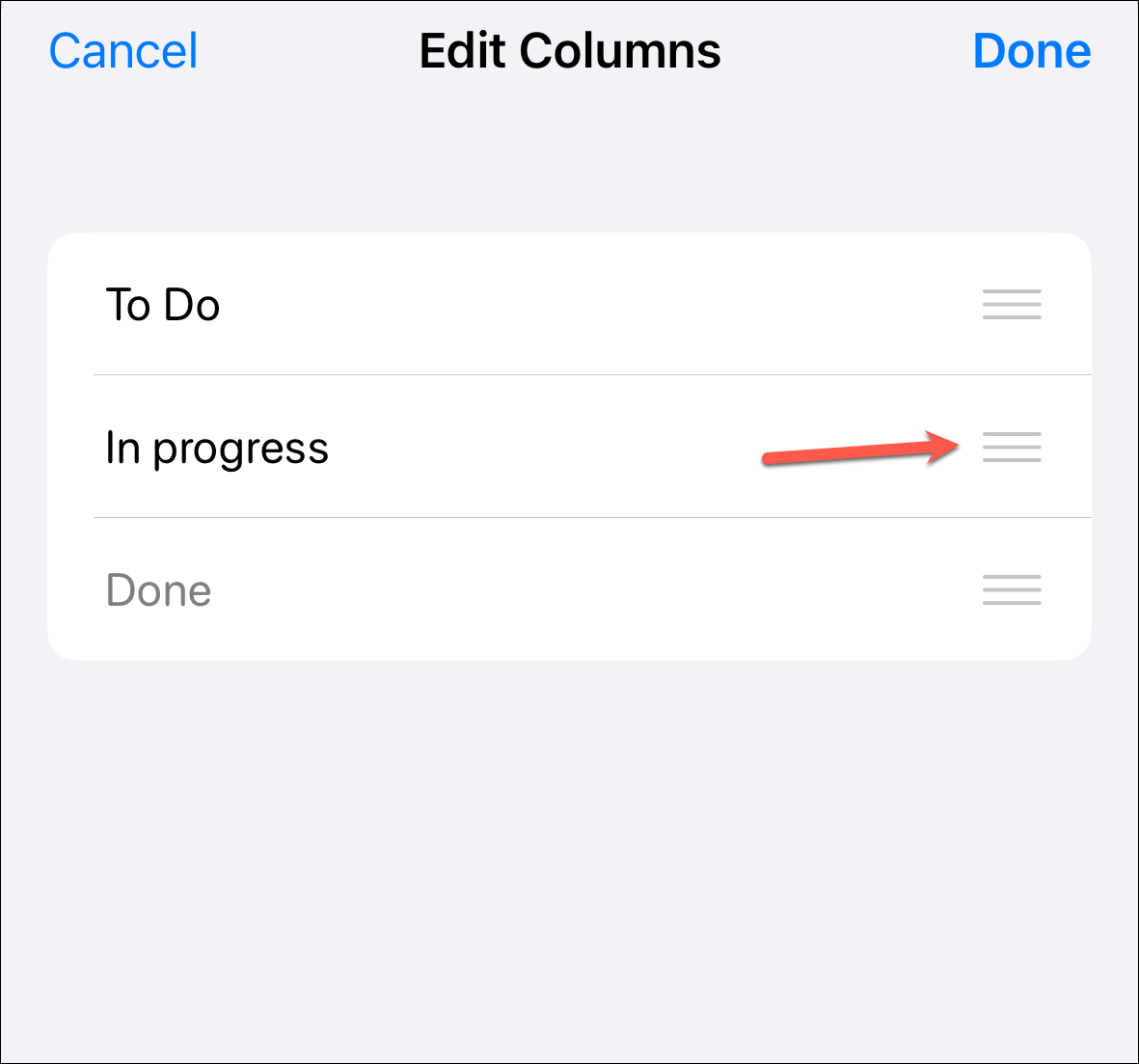 To delete a column, go back to your Reminder list and tap the 'three-dot' menu icon on the right of the column name. Then, select 'Delete Column' from the options.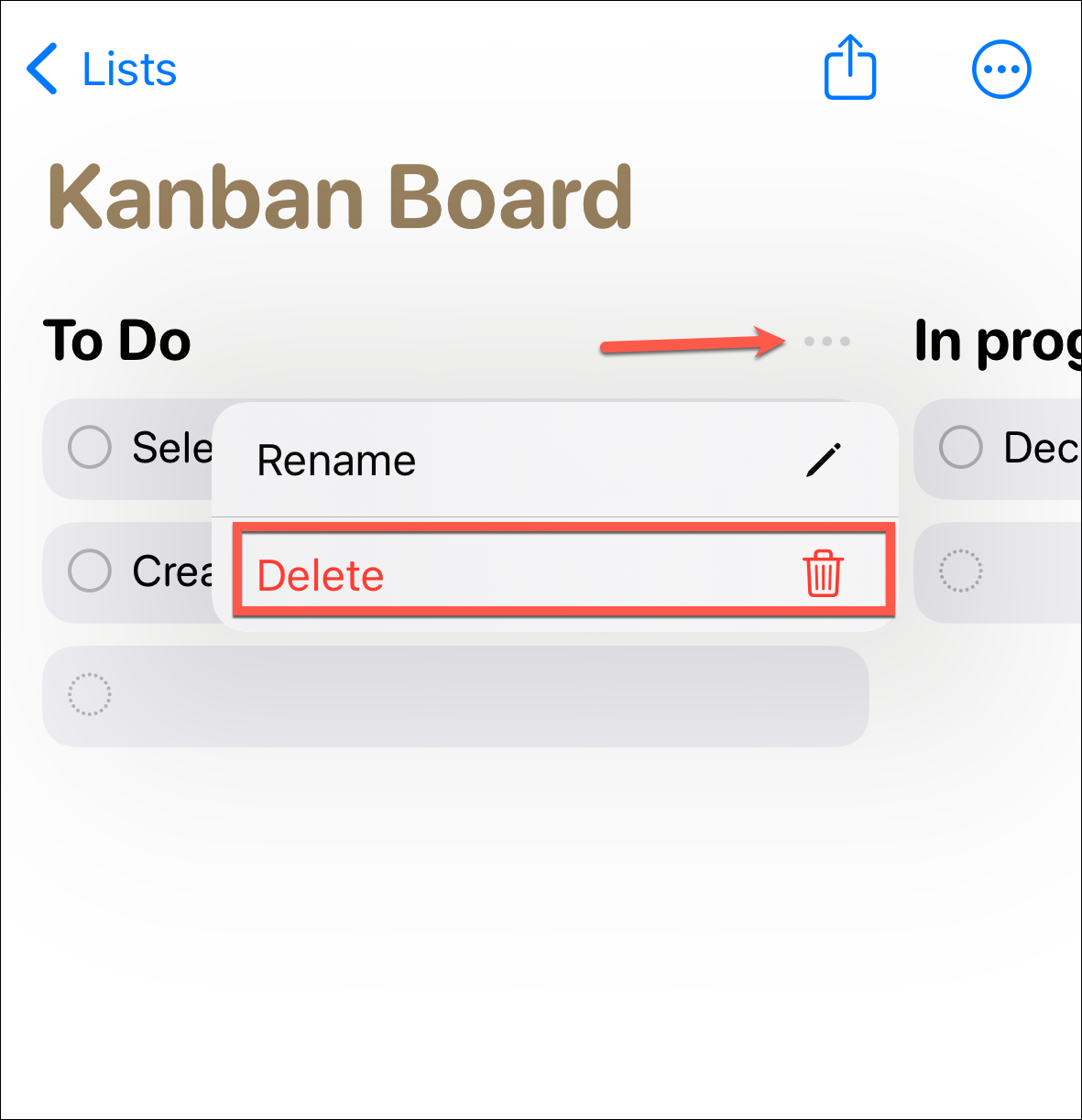 If the column is empty, it'll be deleted right away. For a column with items in it, you'll get a confirmation message; tap 'Delete' to proceed.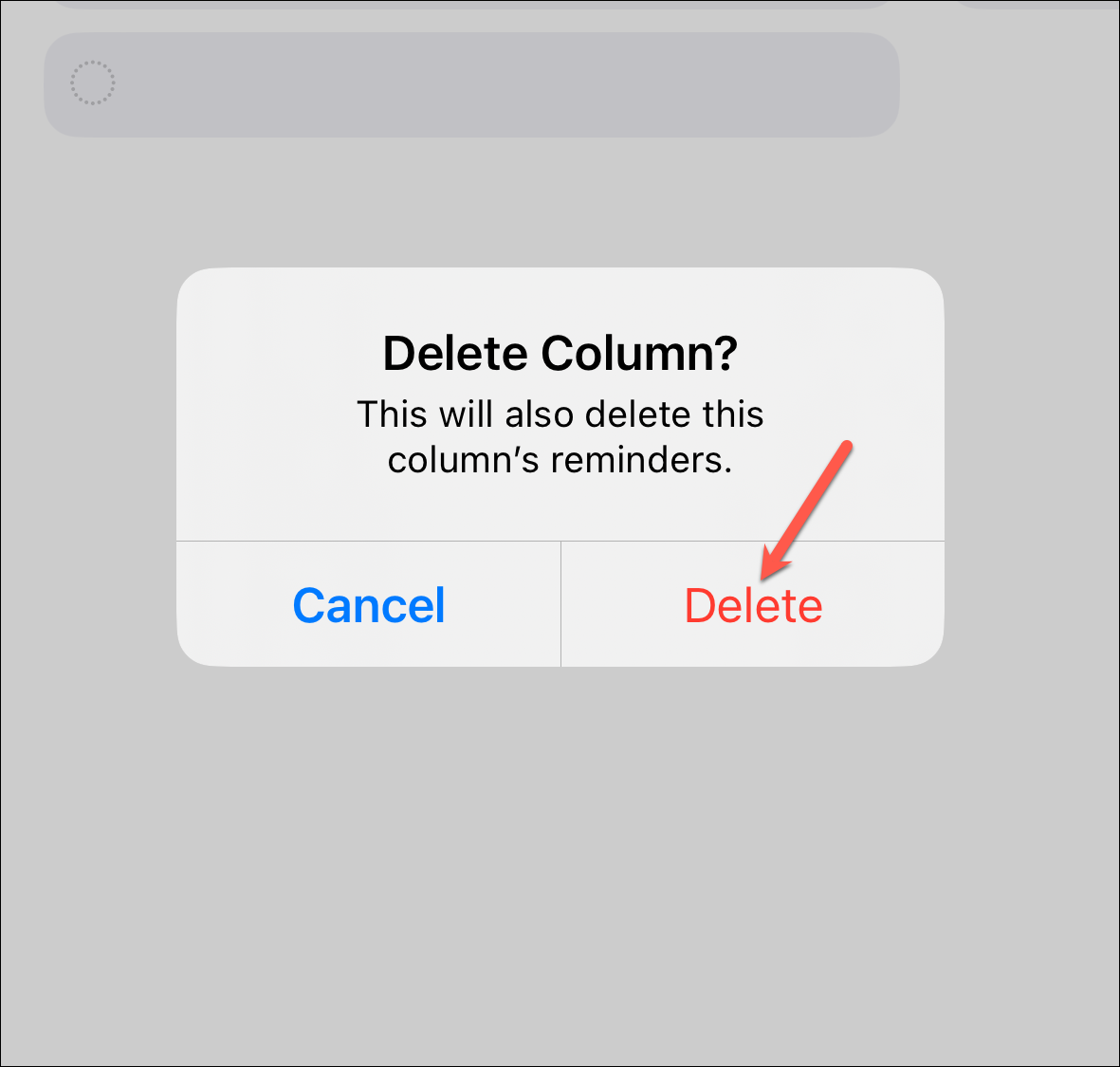 Note that the option to rename, delete, or rearrange is absent for the 'Others' column.
You can also go back to the list view at any time by tapping 'View as List' from the three-dot menu.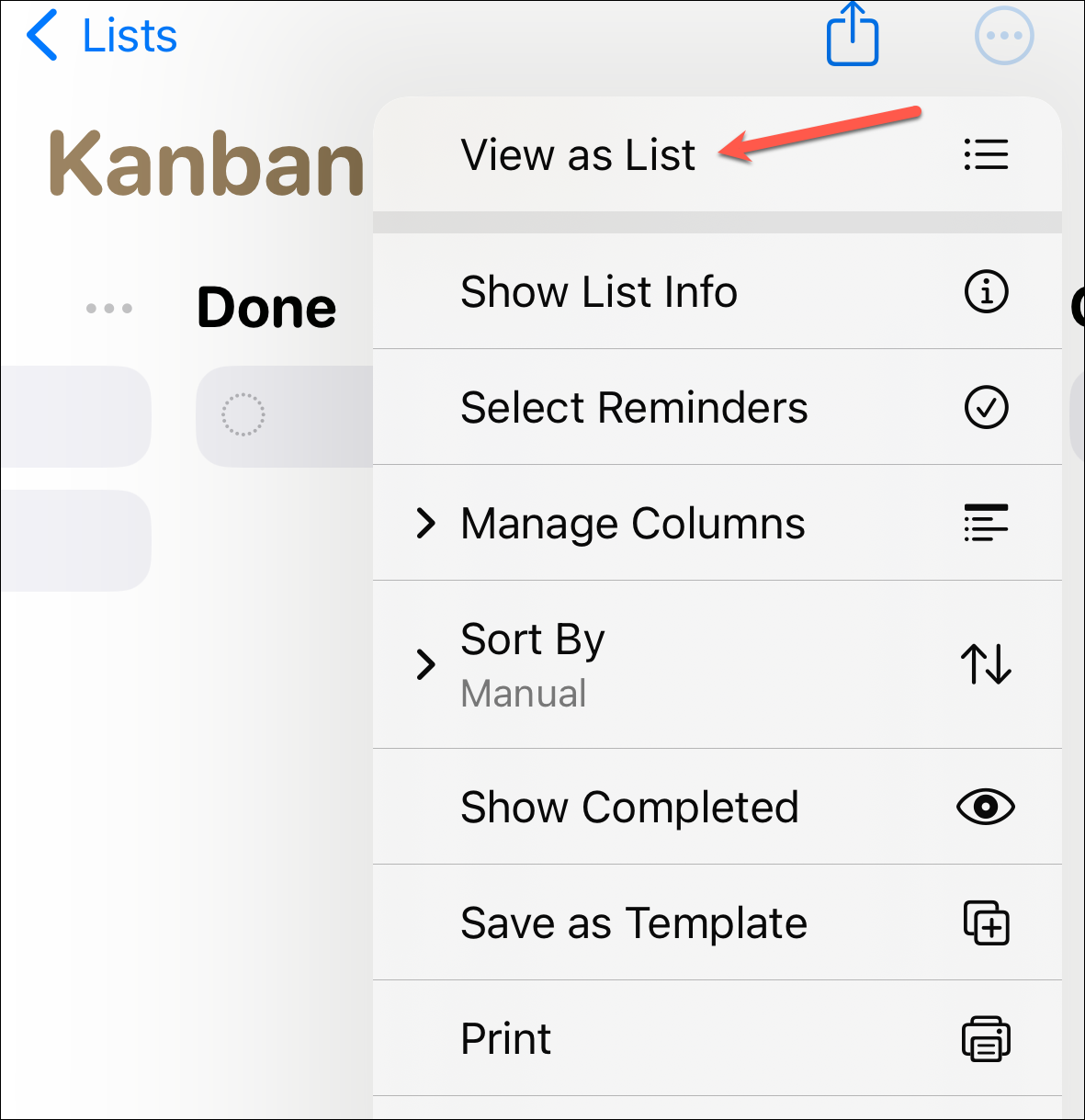 The Reminder list will appear as a list, with columns as section names. The Others section won't appear, but if you had any tasks added there, they will appear in a separate section without a header.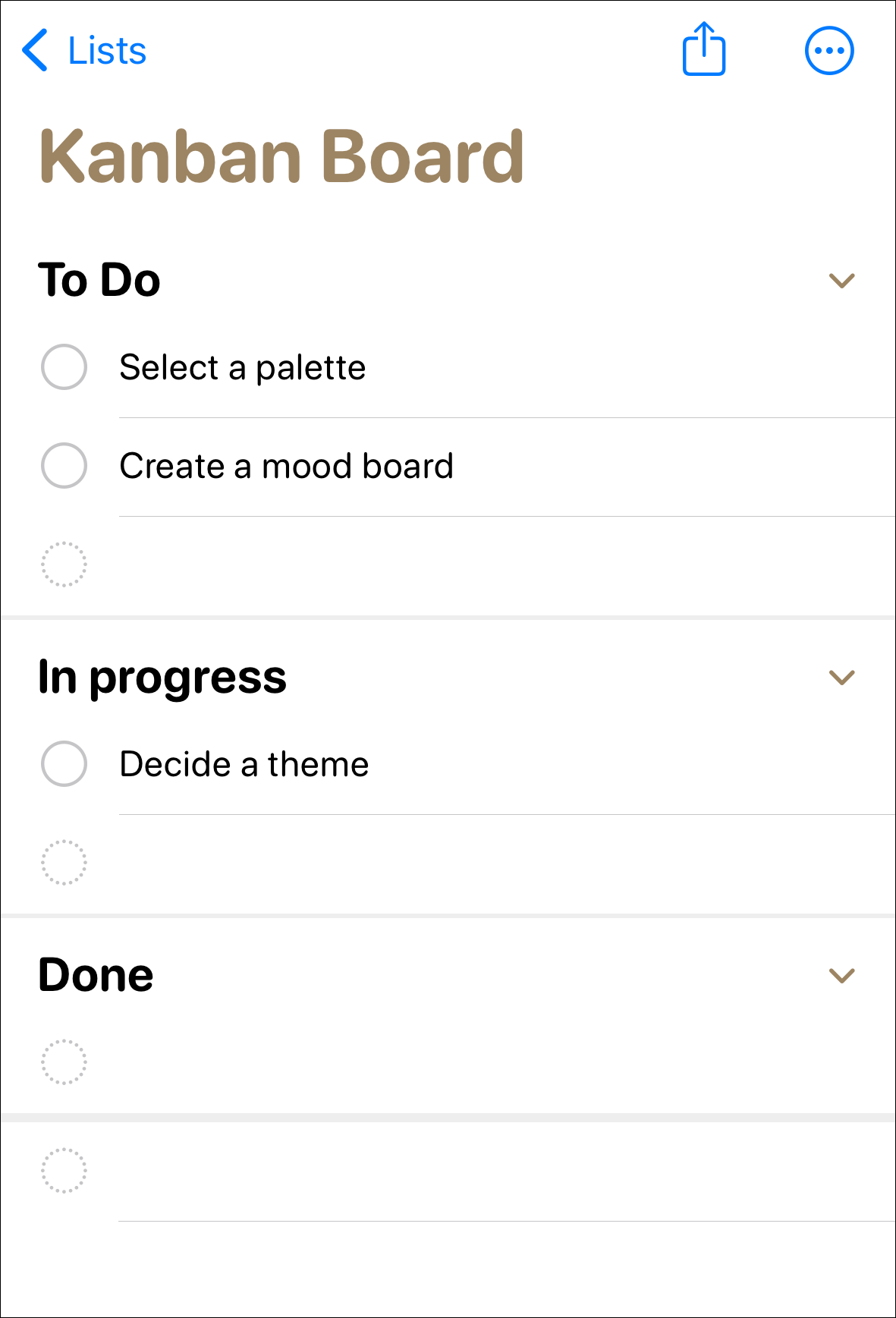 ---
Kanban Boards can help greatly with efficiency and improving your workflow. While many apps already exist where you can keep track of your tasks efficiently, the Column View in the Reminders app is great news for users who don't rely on any third-party apps.