With iOS 17, Apple has introduced a wonderful new feature to our iPhones known as StandBy. Though it appears as a mere aesthetic feature at first appearance which turns your iPhone into a bedside clock or a digital photo frame, it's much more than that. Designed to provide information even from far away, StandBy mode is a powerhouse of information with widget Smart Stacks, Live activities, full-screen notifications, and even Siri.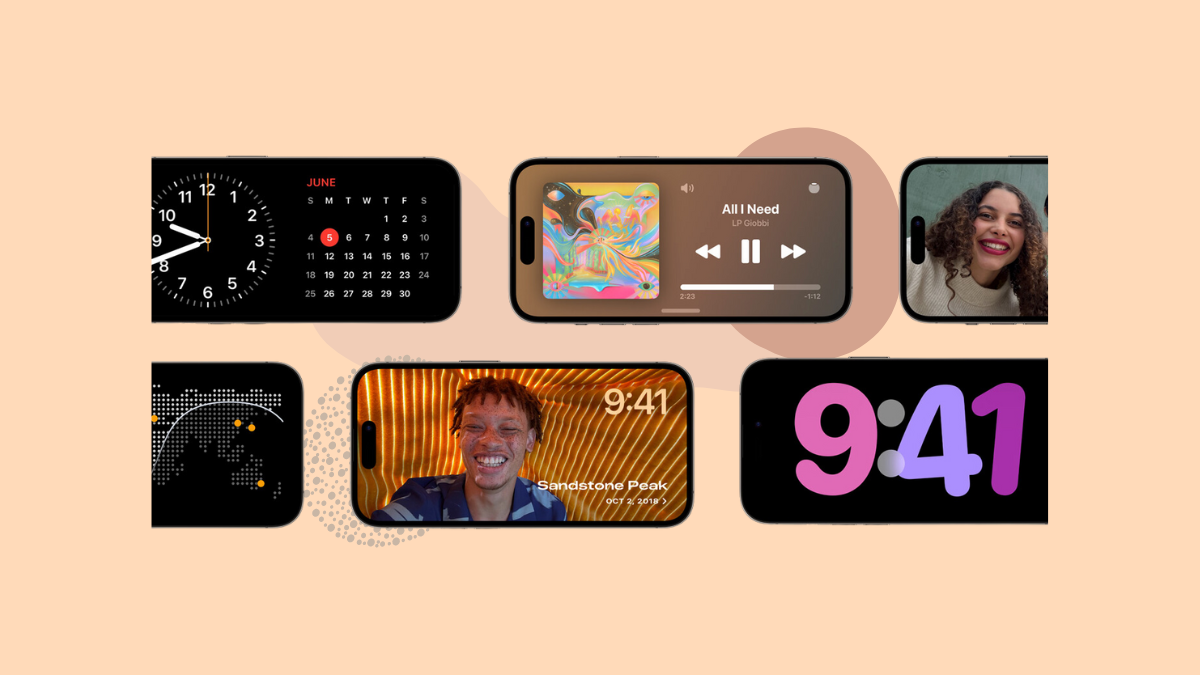 But there's one catch with the feature: it only kicks in when your iPhone is charging and turned to its side. So, it makes sense that you want a charger that'll allow you to fully enjoy this feature. That's where a wireless MagSafe charger stand comes in. But how do you choose the perfect charger from the horde of chargers available in the market? Don't worry; we're here with the perfect guide.
How to Choose a MagSafe Stand?
With a MagSafe charger stand, it becomes extremely easy to take advantage of the StandBy mode in iOS 17. There's also an additional benefit to using a MagSafe charger. StandBy remembers your preferred view for each place when you're using a MagSafe charger. So, for your living room charger, you can set it up for Photos, whereas the bedroom charger can be set up for the clock view. It's simply perfect!
However, before we go on to list the chargers, it's important to have judgment criteria. The most important thing here, of course, is that the MagSafe stand should allow charging in Landscape mode. Otherwise, it's Sayonara StandBy. Moreover, it should be compatible with your devices.
Also, before you go on the hunt for a MagSafe charger, make sure that your iPhone is MagSafe compatible. That includes iPhone 12 or later.
Other than that, the criteria will differ for everyone, from functionality to portability or aesthetics to affordability, and we'll try to have something that caters to everyone's needs. Let's go!
1. Twelve South Forté for MagSafe Charger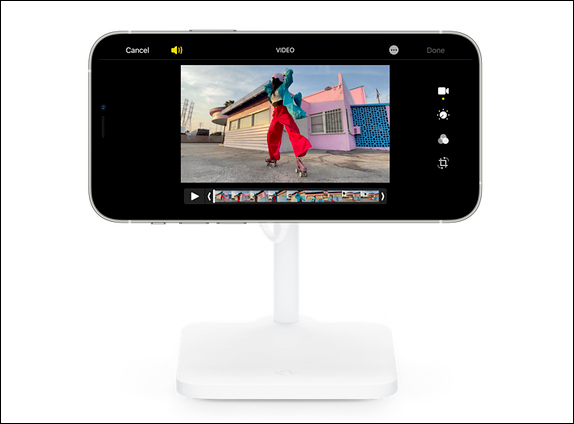 Twelve South Forté for MagSafe Charger
Simplicity at its finest! Perfect for owners of the MagSafe charging puck from Apple.
Buy at apple.com
If you already have the MagSafe charger from Apple, all you really need is a stand to go along with it, in which case, let me direct your attention towards the Twelve South Forté wireless charging stand.
It's sleek, and compact, and pairs amazingly with the MagSafe charging puck from Apple to create the only charging stand you'll need. It can hold your iPhone in both Portrait and Landscape modes and even tilt up to 7- degrees to create the perfect viewing angle. You can even convert it into a charging pedestal for your AirPods. Really, it's the perfect solution that costs $39.95 for users who already have the MagSafe charger.
2. Belkin BoostCharge Pro Portable Charger Pad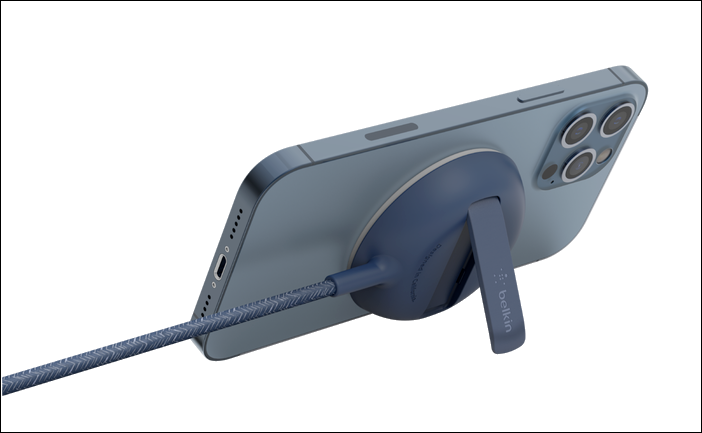 BoostCharge Pro Portable Wireless Charger Pad
With Official 15W MagSafe Charging, Belkin's BoostCharge Pro is a steal. If you're a fan of minimalist design, this one's for you.
Buy at belkin.com
The portable wireless charger pad from Belkin is the perfect MagSafe charger to go for if you want a MagSafe stand that can go anywhere with you. It's basically a MagSafe charger, with a foldable kickstand, so you can easily carry it wherever you want, but also prop up your iPhone horizontally on it to enjoy the StandBy mode.
And the comfortable, round back actually lets you use your iPhone while charging if you want. At just $29.99 (current discounted price that seems to going on for a while; the retail price is $49.99, though), it's the perfect option where you get the MagSafe charger and a stand in one go.
3. Belkin BoostCharge Pro 3-in-1 Wireless Charger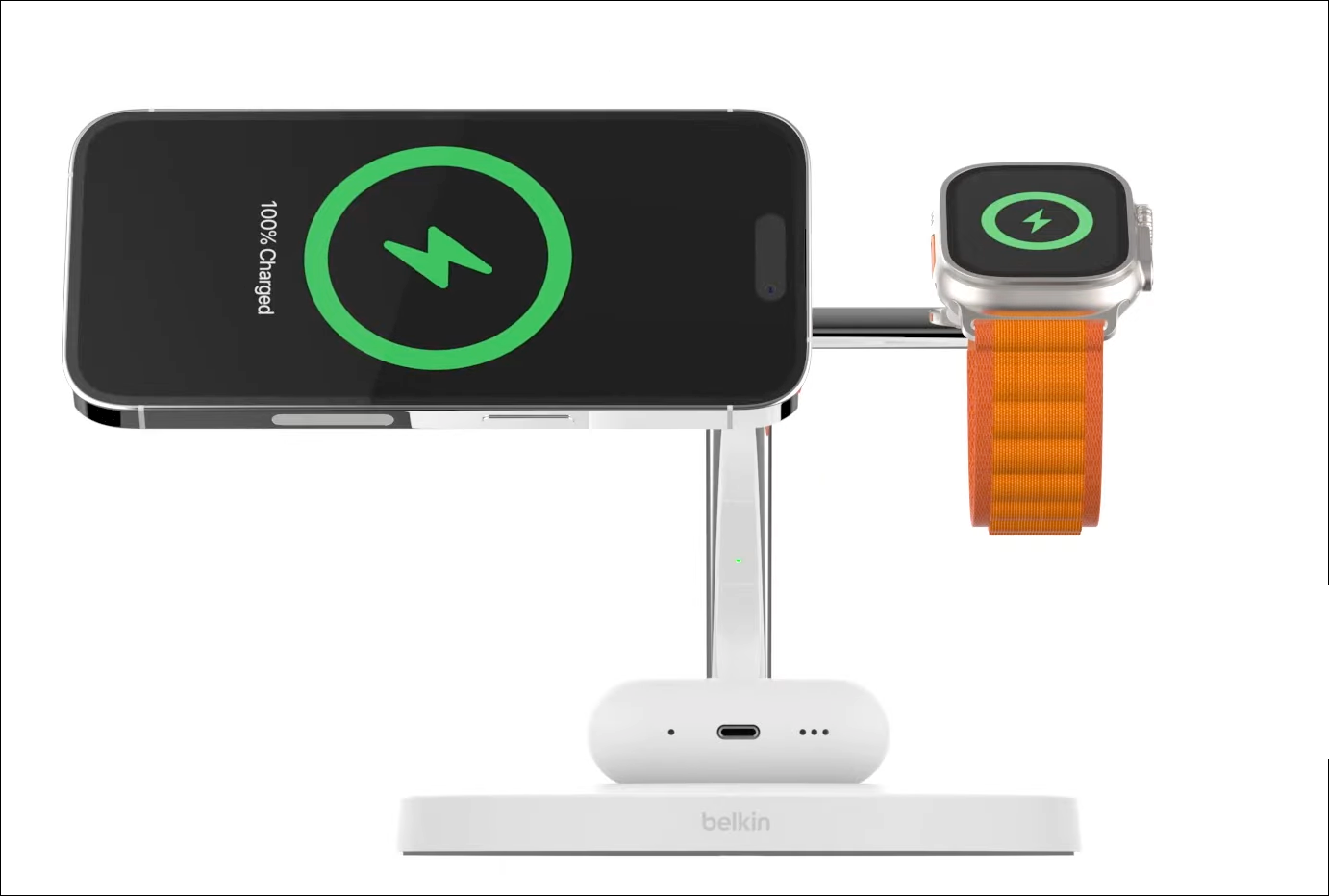 Belkin BoostCharge Pro 3-in-1 Wireless Charger with Official MagSafe Charging
With official MagSafe charging up to 15 W for iPhones, the 3-in-1 charger is a great option for Apple product aficionados. It's the "Swiss Army knife" of MagSafe stands!
Buy at belkin.com
If portability is not your biggest concern and you want a one-stop solution for all your devices like iPhone, AirPods, and Apple Watch, the Belking BoostCharge Pro 3-in-1 will be your best friend.
With fast charging for all your devices and seamless support for charging your iPhone in any orientation (Bonjour, StandBy), this MagSafe charger is all you need. The only caveat? It costs $149.99, but seeing as you don't need to invest in any other chargers or cables, it's a steal.
4. Anker 3-in-1 Cube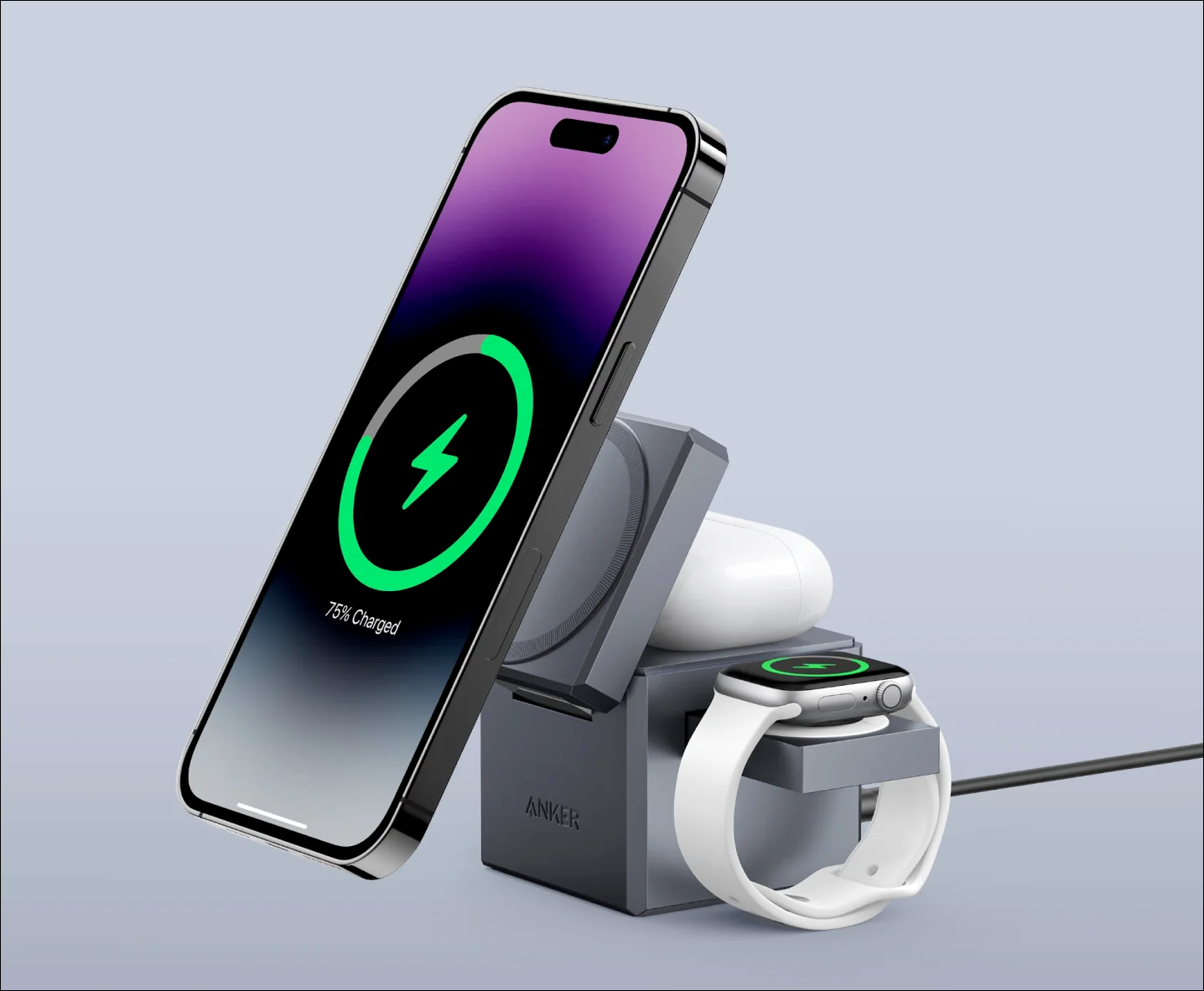 Anker 3-in-1 Cube with MagSafe
If a charger could be risqué, this would be it!
Buy at anker.com
If you're a power user who wants a more portable option for charging all your devices, you'd be so glad to be in the company of the Anker Cube. Just don't blush at its oozing allure.
The 3-in-1 charger is folded into a cube that's easy to carry anywhere. It has a 15W charging pad for your iPhone that unfolds from the top, and other charging pads for Apple Watch and AirPods that appear from other sides. Honestly, it's the most sci-fi-esque charger out of this lot. The charging pad for the iPhone is easily rotatable to put your phone horizontally or even adjust it at an angle of up to 60 degrees. At $149.95, it's a worthy charger to set your sights on.
5. Twelve South HiRise 3 Deluxe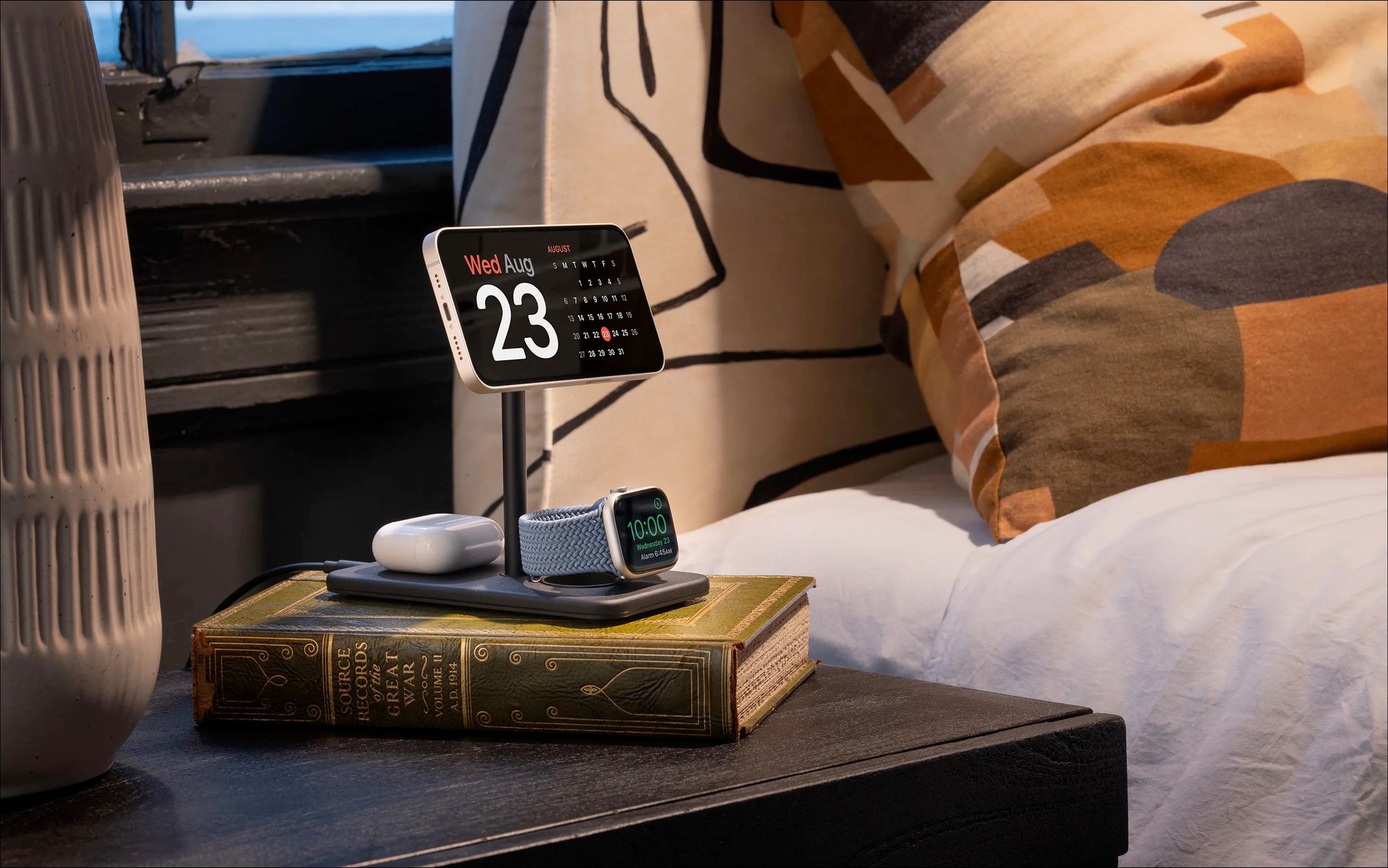 HiRise 3 Deluxe from Twelve South
This elegant charger won't look out of place in any voguish room.
Buy at twelvesouth.com
If you want a charger that's big on functionality but also doesn't ruin the aesthetics of your room, the HiRise 3 Deluxe will not disappoint you. Capable of fast charging your iPhone, Apple Watch, and AirPods, this MagSafe charger is a study in elegance. With its aluminum post to the vegan leather-wrapped base, it was designed to evoke subtle luxury.
For $149.99, it's a great addition to have anywhere in your house to prop up your iPhone horizontally in StandBy. However, if you want your hands on it, you'll have to wait till 25 September; you can pre-order it, though.
6. Nomad Stand One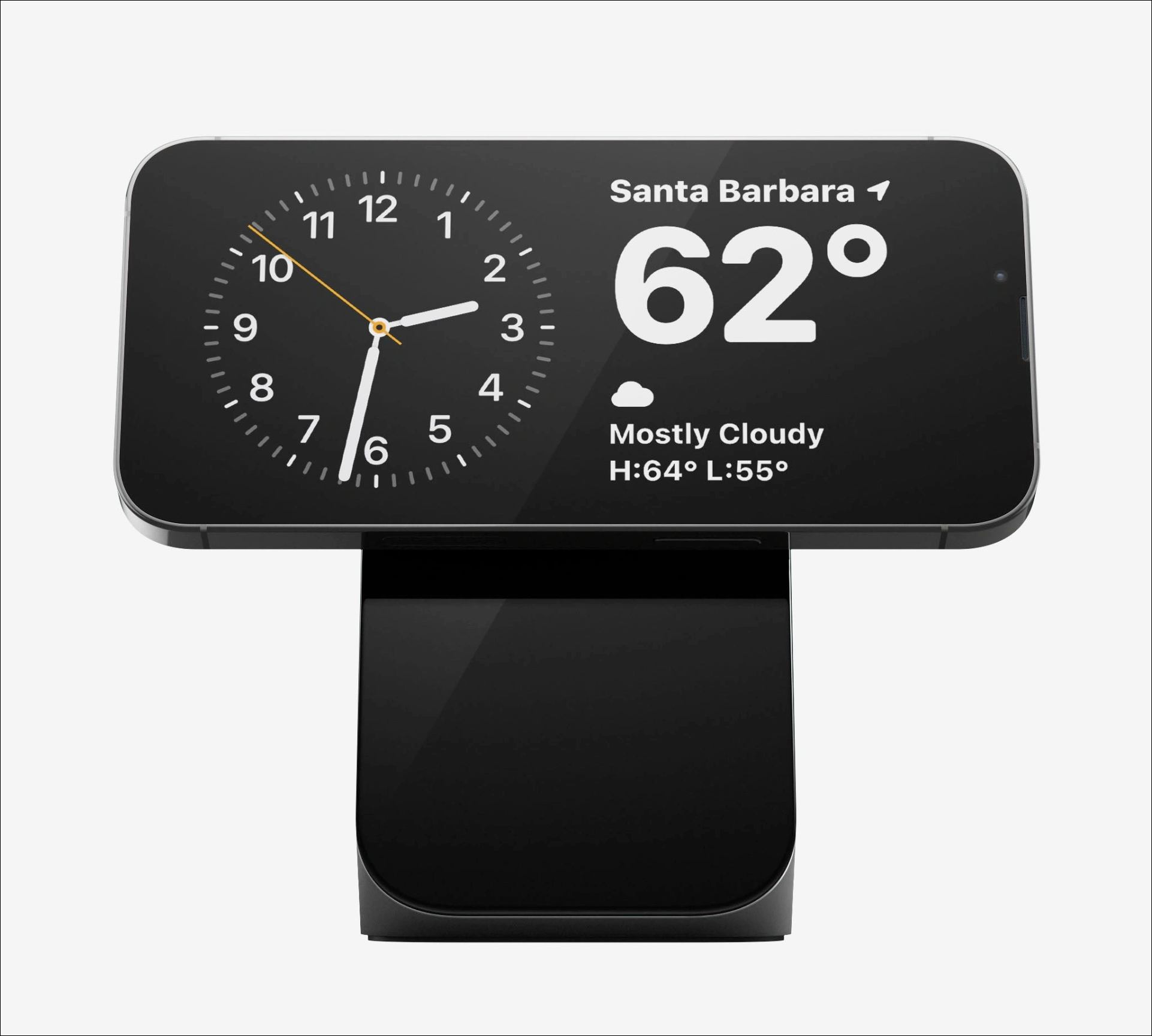 If you want a solid charger, you won't be disappointed.
Buy at nomadgoods.com
Nomad Stand One is a solid choice for users who want a, well, solid charger. Made with a metal body that features a beautiful glass top, it's both beautiful and sturdy. For users who want their charger to complement their desk, and not ruin it, one of the two colors – Carbide and Silver – will fit it seamlessly.
With official 15W MagSafe charging, it supports your iPhone in both horizontal and vertical positions, so StandBy is a go! Priced at $110, it could be a bit pricey considering you cannot charge your AirPods simultaneously, or your Apple Watch at all. But its premium materials do lend it an air of worthiness.
Note: Nomad Mount Stand seemed like a good fit, as well, especially for users who already own the MagSafe charger from Apple. But it turns out it is not compatible with the iPhone 14 Pro. But if your iPhone falls on the compatibility list, go for it.
7. Elago Stands for MagSafe Chargers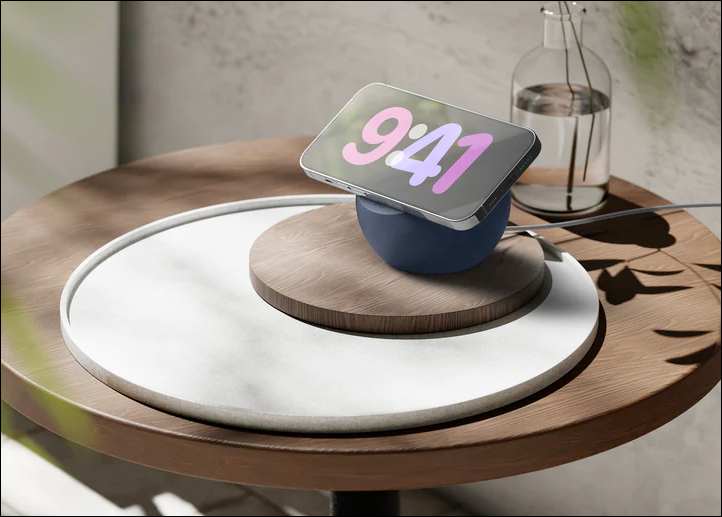 Elago MagSafe Charging Stands
Affordable yet chic charging stands for your MagSafe charging puck - a combo we all love!
Buy at elago.com
If you want affordable yet chic charging stands for your MagSafe charger, Elago has some great options. Elago's is a BYOM (bring your own MagSafe charger) party, though. With their Silicone bodies, they look premium while not breaking the bank.
There are some great options. The MS2 Charging Stand, with its orb design, is a fun take. Though it retails for $24.99 on Elago's website, you can get it for $17.99 on Amazon. If you want something more conventional, MS1, MS3, and MS4 charging stands are great options that range from $19.99 - $24.99.
8. HyperJuice 4-in-1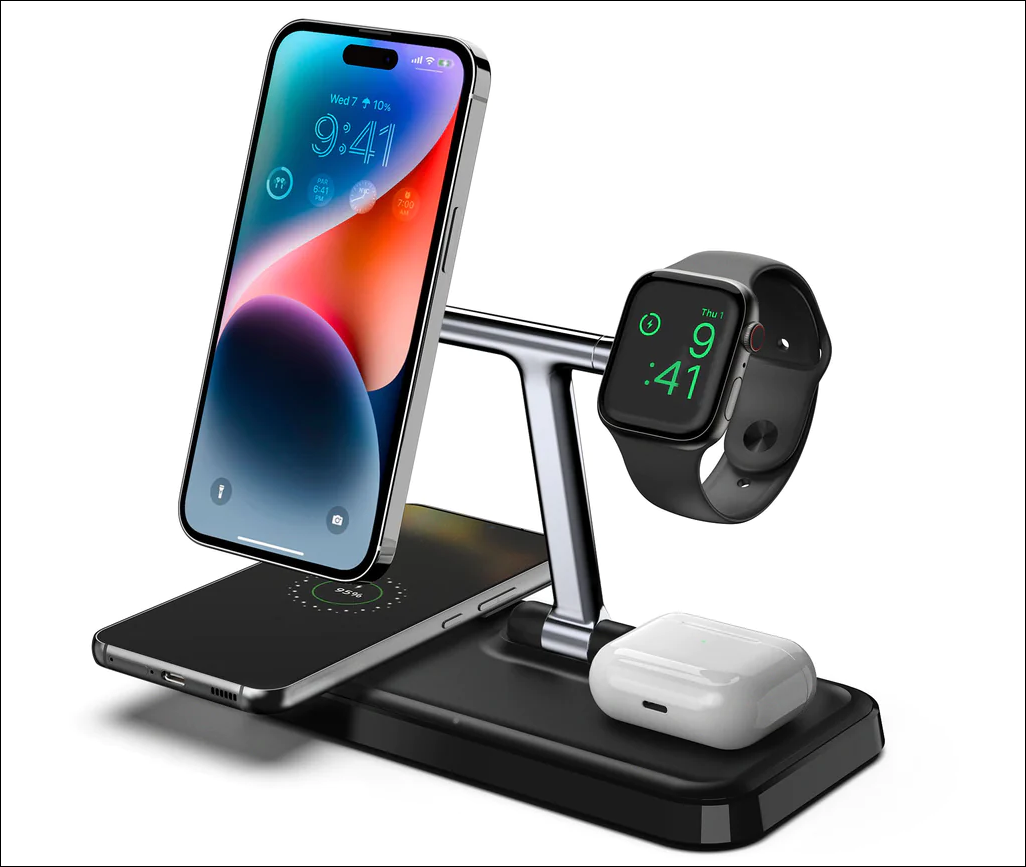 HyperJuice 4-in-1 Wireless Charger
For power users who need to charge more than 3 devices. It's the "I've got everything under control" stand.
Buy at hypershop.com
If 3 charging stations are not enough for you, HyperJuice swoops in with 4 simultaneous charging stations. The charging pad for iPhone is Apple-certified MagSafe, delivering charging up to 15W, which supports charging in both orientations.
Other than that, you can charge your Apple Watch, AirPods, and another Qi device using the charger. You can also fold the charger, making it portable. At $149.99, HyperJuice is an ideal charging station for users seeking to enjoy the StandBy Mode in iOS 17.
---
Many features in iOS 17 have users more excited than a cool cider on a hot summer's day, and StandBy happens to be one of them. But without a charging stand that lets you charge your iPhone horizontally and thus kickstart StandBy mode, it won't be any good.