NFTs are everywhere right now. Everyone's dipping their toes in the NFT waters now and not just the crypto enthusiasts. They have sort of become a cultural movement with even Hollywood embracing the trend.
Here, celebrities are launching their own NFT collections. There, prominent studios are releasing NFTs to hype up a movie release – yes, we're talking about The Matrix Resurrections NFT.
But one of the most dominant areas for NFTs is the digital art scene. In fact, NFTs have breathed new life into the digital art movement. Artists, new and old, big and small, are partaking in this zeitgeist hoping to sell their work as an NFT.
And where there is art, there are art collectors. Now, when you're collecting art, you would want to display it. And especially when you've spent thousands, and in some cases, millions of dollars to buy it, it's only natural to want to show it off a little bit.
Curiously, options to display this booming art type aren't very versatile right now. You can say that we're still in a very early stage. But that's not to say that they are non-existent. There are a few ways you can go about displaying your NFT collection. Let's discuss these!
Displaying your NFT Collection IRL
If you're a type of art collector who buys art for the sake of experiencing it, you would want to display your NFT collection in real life. Whether you want them to grace your home or art galleries, displaying NFTs IRL requires more effort than displaying physical artwork. But don't worry, you don't have to put in a ton of effort. There are various options available at your disposal.
Digital Frames
Digital frames have come a long way. And whether your NFT is a photo or a video, a digital frame can handle it. There are a variety of options to choose from in a gamut of shapes and sizes. But ultimately, when it comes to choosing a digital frame, it all boils down to the two most important factors: the price point and whether it'll support your NFT file format.
Here are a few popular choices in the crypto art community for your consideration.
Infinite Objects
This just might be the best option for displaying the video-format NFTs in real life. Infinite Objects will lend a very Harry-Potteresque quality to your NFTs. For the muggles who don't get it, they'll turn your NFTs into something resembling moving pictures with their video prints. The startup is also the choice of digital frame for the artist Beeple who made headlines for selling the most expensive NFT ever at $69.3 million.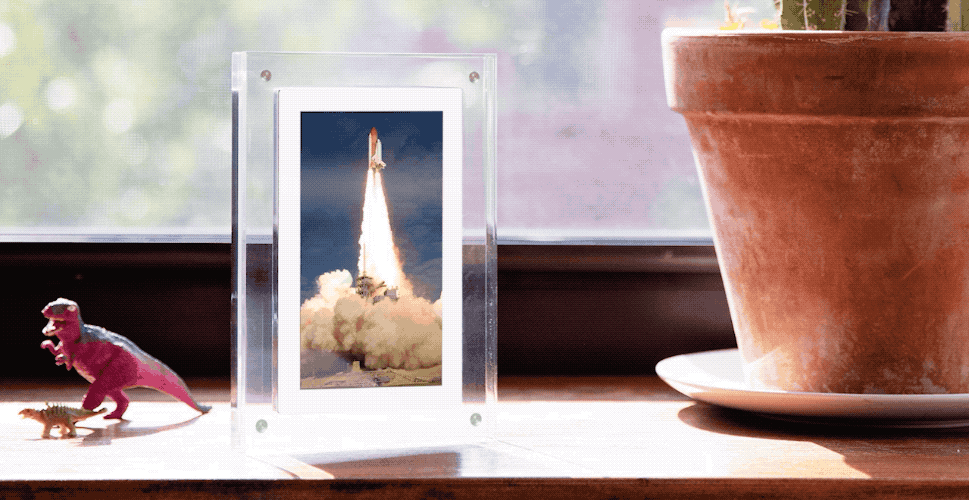 The digital frame from Infinite Objects plays your video on a loop forever. You receive the print like any other physical print and you don't have to go through any other hoops to set it up. There's no other additional software involved.
You can simply upload the video file to the Infinite Objects website, and make any edits required with the creator tool. The length of the video is not an issue; it supports videos up to 24 hours long.
Pay the fees and the company will ship your print in a frame that comes to life for the first time in your hands. Although it has a battery backup of a couple of hours, you'll need to keep it plugged to run it.
Price points start from $79 for printing your own video. You can choose from 5″ and 7″ size frames in an acrylic or bamboo style. You can also pay using the cryptocurrencies BTC, ETH, and USDC.
Pretty soon, the company will launch a feature specifically for printing NFTs where the NFT will have verification details and the artist's signature built into the back to verify ownership of NFT in real life as well. The artists will have to register to the Infinite Objects artist registry. After that, you'll be able to connect your wallet and authenticate ownership of your NFTs.
But the price of the prints will be decided by the artist in that case. They could also have a royalty percentage in the price if they decide. You'll still be able to print your NFTs like any other video if you don't want to connect your wallet.
If you own an NBA Top Shot NFT, you can connect your Dapper Wallet and print the NFT already. Authenticated NFTs, like NBA Top Shot NFTs, also have an authentication certificate with them.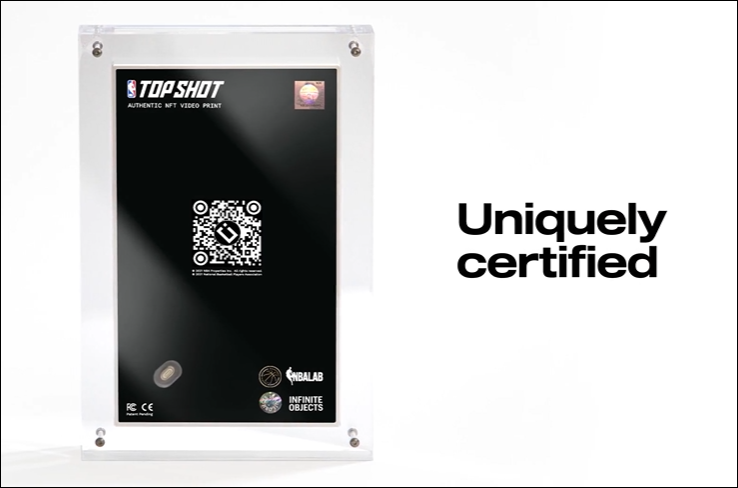 You can also order outside of the United States but the shipping charges and customs will vary.
Meural Canvas
The Meural Canvas from Netgear is a more versatile choice for displaying your NFTs. It's not just an option to display your NFTs, it's a digital frame that can display any of your photos and videos. For that reason, it's a little on the expensive side. Meural allows you to connect your crypto wallet to the app so you can directly display your NFTs on the canvas.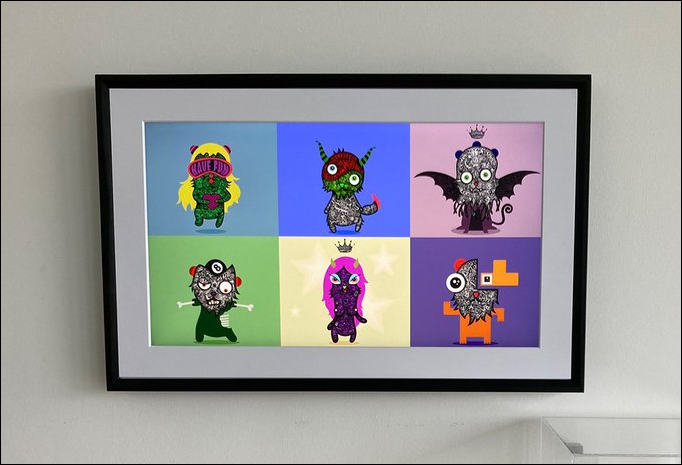 There are a variety of sizes available from a small 13.5″ x 7.5″ photo frame to large 16″ x 24″ or 19″ x 29″ canvases. You can sync an album containing any photos and videos using Meural's iOS or Android app. So, you can display your NFTs as well as any other moments you want after making a one-time investment.
Aesthetically, the frame also comes in a few colors like black, white, and dark and light wood. Prices start from $299 for the smallest size and go up to $599.
One of the highlights of using the Meural digital frame is the playlist feature of the Meural app. You can create custom playlists and even invite your family members and friends to share content to your canvas directly. The Meural app is very easy to use making the whole process seamless.
The frame is powered by a 1.8 GHz quad-core ARM Cortex A17 processor and 2 GB DDR3 memory. It even has 8 GB of internal storage. The display boasts a full HD LCD panel that can stunningly display your images and videos in a resolution of 1920×1080 px.
The 21″ canvas also has gesture support so you can change the artwork manually through the frame. You can only buy a Meural Canvas within the United States, though.
Qonos
Qonos frames made ripples in the NFT community with their launch. The first batch of 2000 frames sold out in 24 hours! It's an entirely NFT-based digital frame. The frames were made specifically for crypto enthusiasts who want to display their NFT art. Users can connect their wallets and display actual NFTs that they own, and not just a copy of their NFT.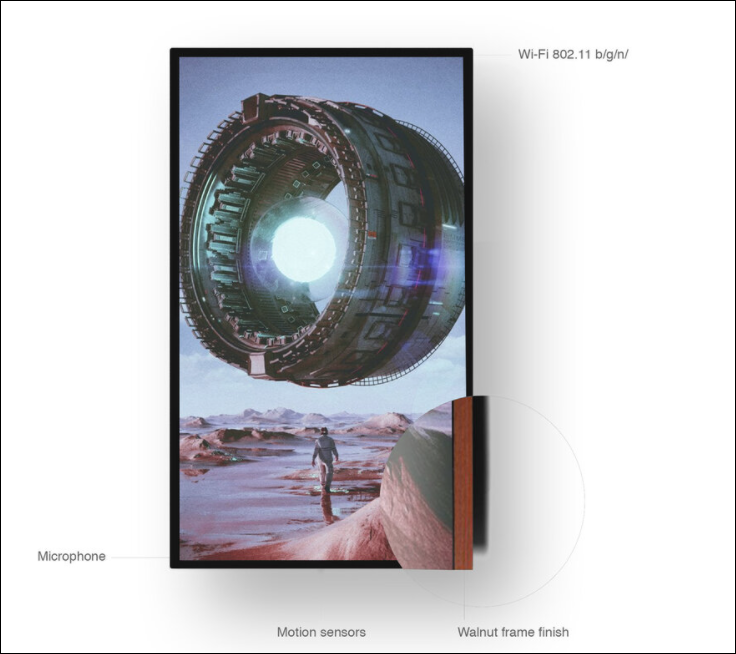 Qonos supports images, videos, GIFs, and can even be customized for full websites. Along with your NFT art, Qonos also has a $500 million worth of digital art library which anyone with the Qonos hardware can explore and display on their frame.
In addition to the vast library, users can also use curated art playlists to display art based on different moods. You can also customize playlists for different events and rooms and not just moods.
The curated playlists also have the additional benefit of not having to navigate the entire library, which is full of all kinds of art. But it's important to keep in mind that when you're displaying art from Qonos' library, artist or owner attribution credits will accompany the artwork.
Currently, it can be impossible to get your hands on a Qonos frame, though. Since its launch, the company has been overwhelmed with high customer demand, so currently, it's only open to commercial collaboration. You can collaborate with Qonos if you're an artist or an art gallery, for example. It can be a perfect way to display your artwork if you're an artist.
But the company does have plans to restart commercial sales in the future, so you can keep an eye. You can always contact them to inquire about custom orders. The frames are on the higher end of the price point, though. The 17.3-inch model can cost around $999 and the 24-inch version for around $1499.
The high-end price point is because of the excellent features. The frame comes with an integrated graphics processor for a seamless display of animations. The screen comes with a 1920×1080 px resolution. Qonos frames also come with proximity and motion sensors to save energy. The automatic display comes alive only when there's someone in the room.
Tokenframe
The Tokenframe is another digital frame that lets you display your NFTs by connecting to your wallet. It's a high-end frame available in various sizes and resolutions like 1080p, 2K, and 4K.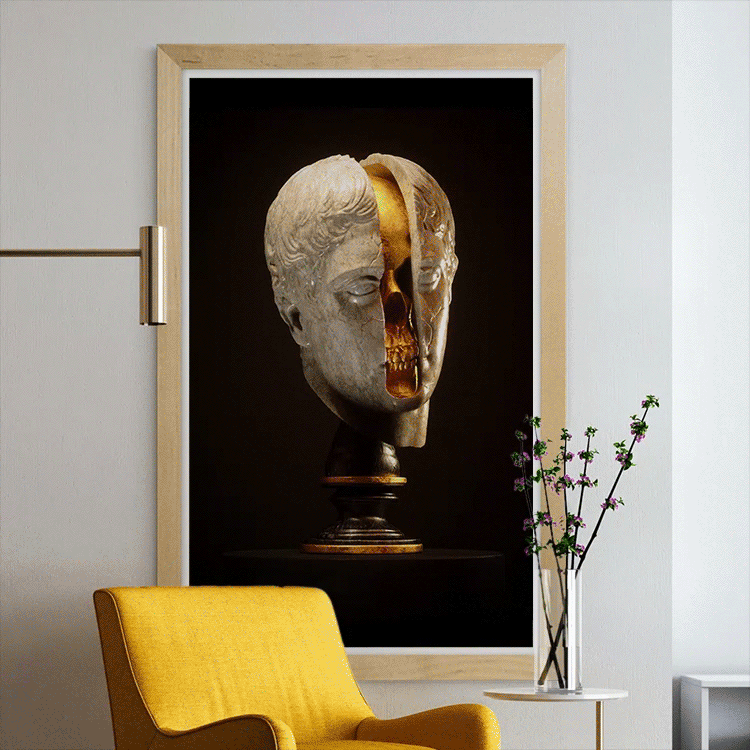 The anti-glare frames also have some other features like auto-rotation and a rotating wall mount so rotating your frames is an easy task. The frame is also perfect for playing video NFTs as it comes with built-in stereo speakers and even a headphone jack to immerse yourself in the NFT experience.
You can control the various aspects of the NFT display from the mobile app. The app allows you to control slideshow and scheduling for the artwork, whether you want to display QR codes for NFT authentication and other stuff.
Tokenframes are sleek frames that look extremely sophisticated like they belong in an art gallery. As such, they are also priced that way. The 10″ frame costs around $333 and goes up to $1,999 for the biggest 33″ frame. You can also pay using ETH, BTC, and CAD cryptocurrencies.
Samsung Frame TV
This one is not really a digital frame, it's a TV. And it's one of the most premium options on this list. The Samsung QLED 4K Smart TV is designed to resemble a slim photo frame. While the TV is on, you use it as a TV. But when it's off, it acts as a digital frame for your artwork.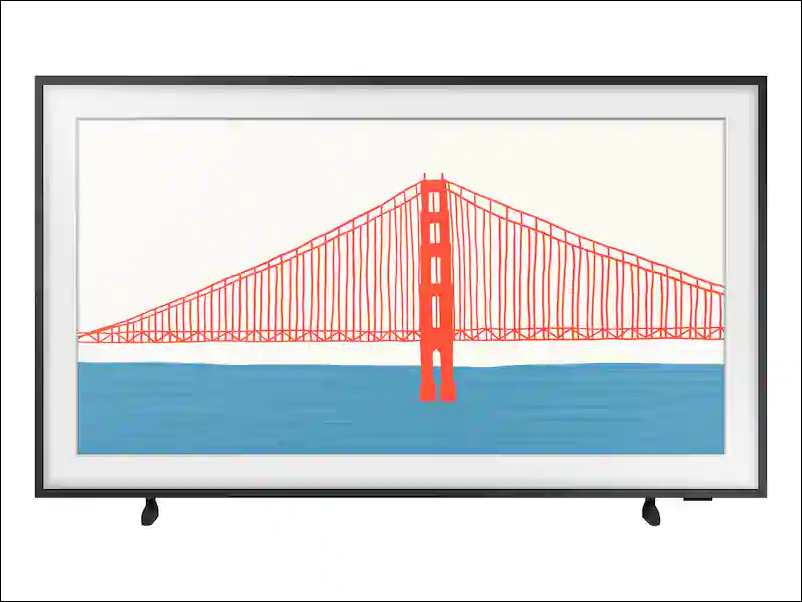 The TV resembles a huge digital frame so even when it's hanging on a wall, it looks like a frame and doesn't mess with your decor. The 'Art Mode' for the TV works on motion sensors. When there's someone in the room, the art comes on the TV, otherwise, the screen goes blank to save energy. The TV also comes with customizable bezels.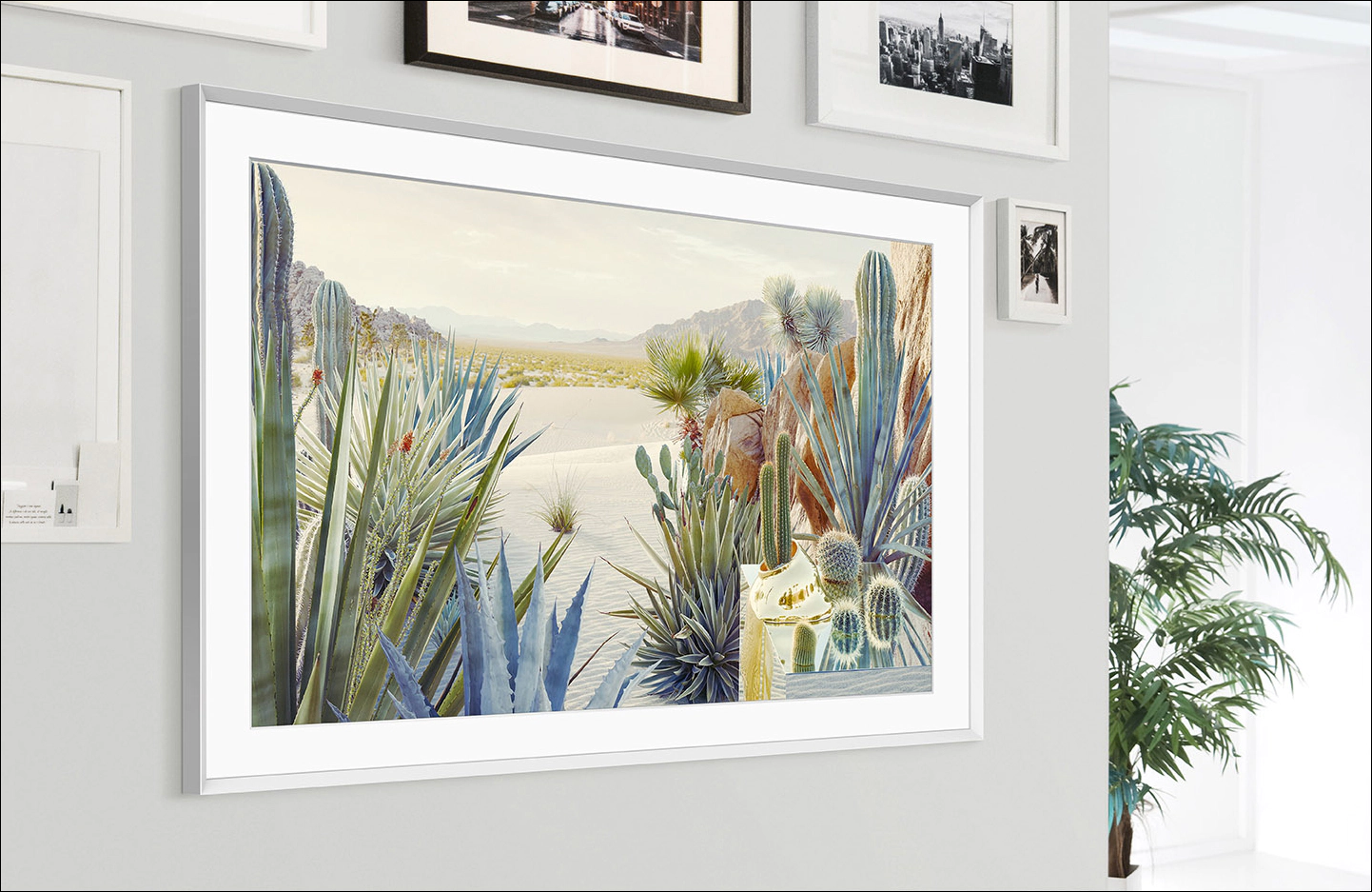 You can display any photos or videos in the art mode using a third-party app. It comes in various sizes and starts at $599 for the 32″ size and goes up to $4299 for the 85″ size TV. You can even change its bezels as they latch on magnetically.
So, if you don't want to simply invest in a digital frame and want additional functionality, The Frame is a good place to start. Although it is an expensive investment, if you want to invest in a TV, The Frame can be a good investment.
Dragon Touch
If you want an affordable option to display your NFT, Dragon Touch is the most accessible and economical option on this list. It's a standard digital frame that's not specifically built for NFTs. You can use it to cycle through any photos and videos, not just NFTs.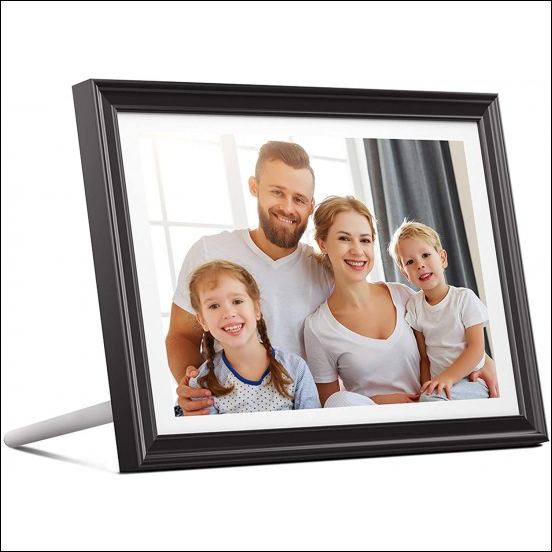 Still, it makes them perfect for your NFTs too. The 10.1-inch HD screen will make your NFTs pop on the screen, even if the frame isn't too large. Although it's an affordable option, it supports both images and videos up to 30 seconds long. With Wi-Fi connectivity and 16 GB onboard storage, you can display over 40,000 images on the frame. It supports both portrait and landscape modes with features like auto-rotate.
There are plenty of ways to share photos and videos to the frame. You can use a third-party app, a frame-specific email address, from your computer, or using an external device like USB or an SD card. The frame costs somewhere around $150.
Looking Glass Holograms
The Looking Glass Holograms are bleeding-edge pieces of technology that'll lend your NFTs a very sci-fi air. Although not all NFTs might work with them as you require 3D photos to turn them into Looking Glass holograms, they're worth checking out.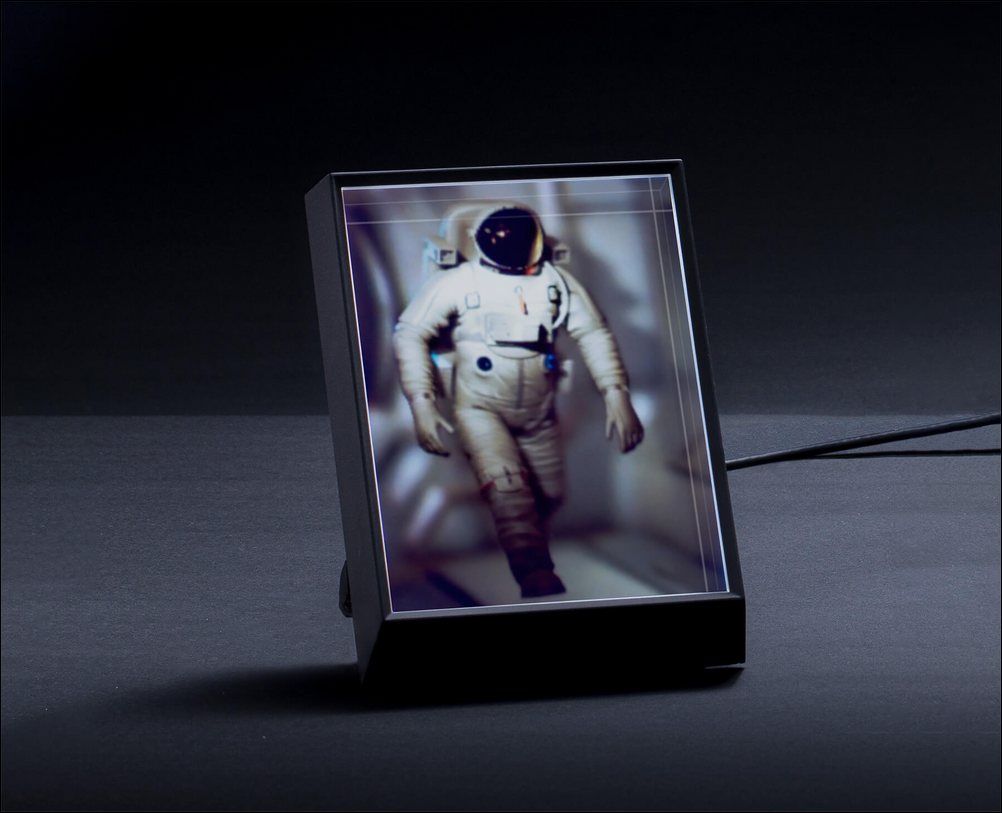 They also have a 2D to 3D converter that might actually come in handy when trying to see if you can display your NFTs as a Looking Glass hologram. They can also display holographic videos and 3D characters. There are a few options to choose from, namely Looking Glass Portrait, Looking Glass 4K Gen2, and Looking Glass 8K Gen2. You can also display videos as Looking Glass holograms.
Some creators have even sold their NFTs with the Looking Glass Portrait included. The base model starts from $399 so they aren't even all that expensive.
Solid NFT Prints
Apart from digital frames, there are also other options to display your NFT. Solid NFT is one such option. They help turn your NFTs into physical art.
The NFTs are made on special aluminum plates with a process called sublimation that makes them highly durable. It's one of their goals – "to make physical NFTs as durable as their blockchain counterparts".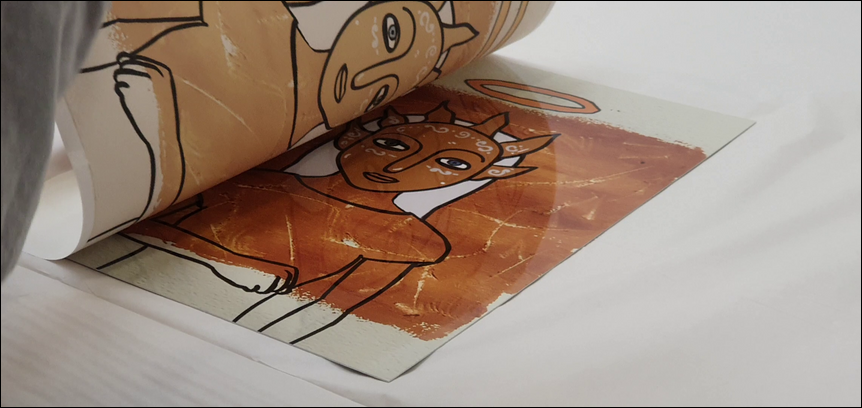 The NFTs can be printed in any size and shape up to a certain size limit which is 120×240 cm. The prints are also made with 100% recycled material which can be further recycled. The prints can also be glossy, semi-glossy, or matte as per your preference.
All prints have an authentication certificate on their back. Each transaction is also recorded on the blockchain to provide you with a public certificate for the print. There are also various framing options available.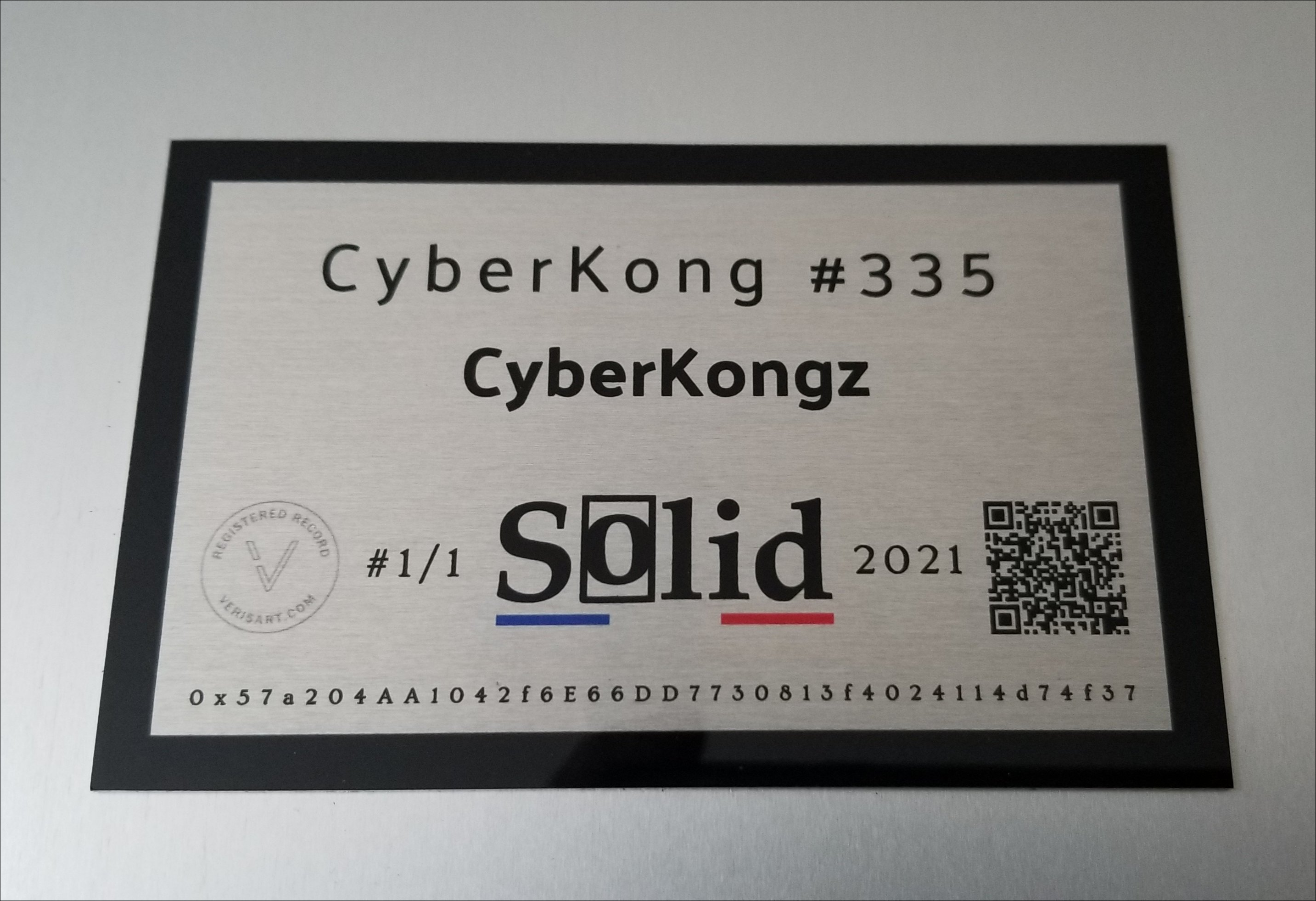 As each project is custom, you'll get the pricing quote from the company itself. Seeing as it's a print, you cannot use it for videos or GIFs.
DIY Physical Prints with QR Codes
Although digital frames or specialized prints are all great options to display your NFTs, they can also make a dent in your pocket. If you don't want to spend any more money on your NFT than you already have on buying them, you can always go the DIY route.
Simply print your NFTs yourself and create a custom art label to go along with it, like the ones you'll often find in art galleries. The art label can include the title of the piece, the artist's name, any other description you want, and a QR code linking to the informational page for the NFT on the associated marketplace.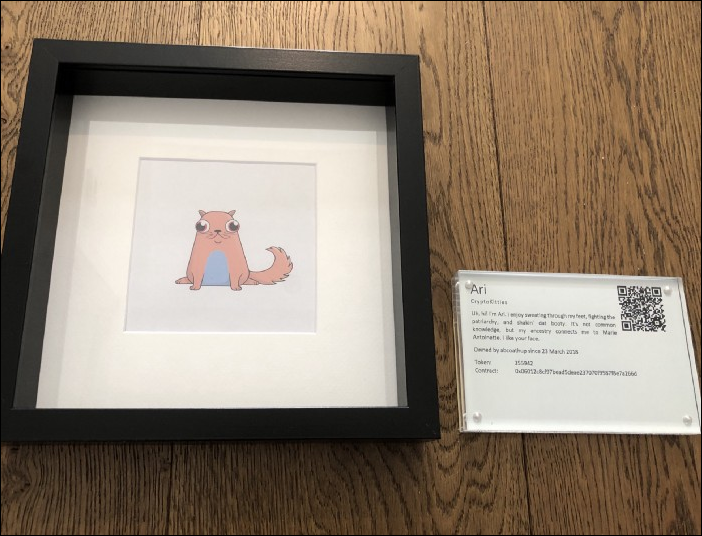 It's an affordable option, and you can decide how much to spend on it. From the quality of the paper to framing options, you can keep it as low or go as premium as you desire. As it's a simple print, it'll only work for images and not videos.
TokenCast
If you don't mind spending some time on the setup process, you can use the open-source app TokenCast to set up your own NFT gallery. If you have some spare digital equipment like Android tablets or TV screens or want to create your own digital frame using IPS monitors, you can use the Token Cast app to display your NFTs.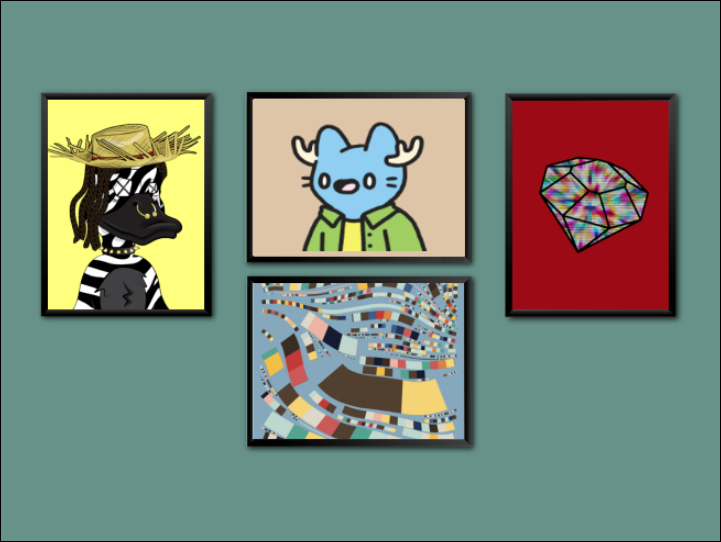 TokenCast is available as an Android app or you can use Raspberry Pi to cast your NFTs on digital screens. Using TokenCast, you can not only display your NFTs but also the QR code to authenticate ownership.
But you can only display NFTs that you own with TokenCast and not just any other artwork. It connects to your Ethereum or Tezos wallet and only displays the NFTs that you have in your wallet.
Displaying your NFT Collection Online
NFT art was born and bred on the internet and it makes sense to want to show off your collection to the community that understands it the best. And what would you know, there are tons of options to exactly that end, with more popping up every day.
These online websites work like art galleries for your NFTs. Here are a few popular choices worth considering.
Showtime
Showtime wants to establish itself as the social media for NFTs. And so far, it has succeeded. It is like the Instagram of the NFT world, sort of literally. The website looks and feels a lot like Instagram.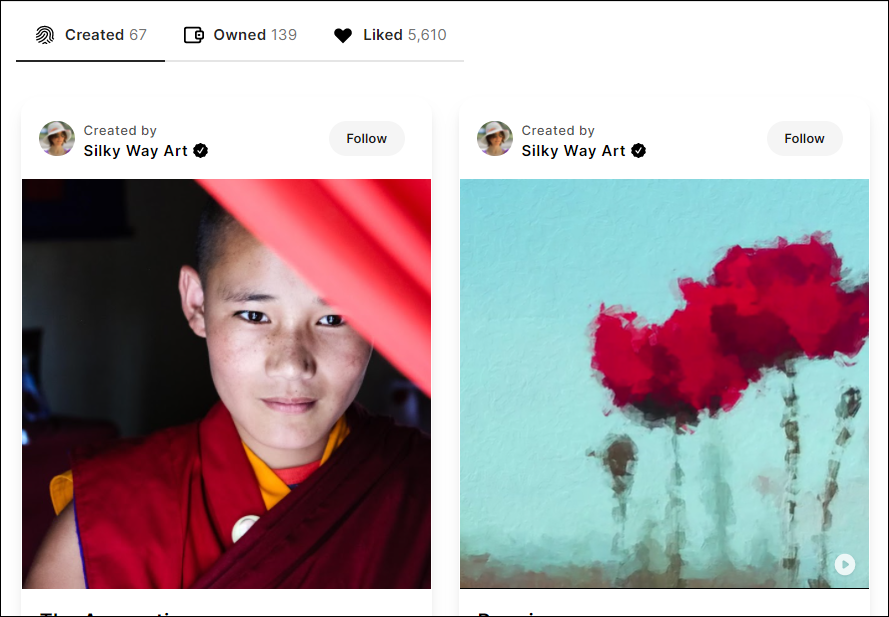 But the lack of originality doesn't work against it. In fact, this familiarity is probably the reason it's become popular. Even someone with not much experience with the NFT world won't have any trouble navigating Showtime.
The experience is a lot like Instagram, with one key difference. You have to connect your wallet to the site and it automatically creates a profile for you featuring all your NFTs. Anyone who visits your profile can see all the NFTs you own.
And just like Instagram, you can follow other collectors on Showtime. Interaction on the posts is also similar where you can like, comment, and share other people's NFTs and they can do the same for you.
The derivative nature of the website might put off some seasoned crypto users from it. But it's perfect for novices who hate the complexities of interacting with blockchain they often have to face.
Lazy
Lazy is another NFT art gallery you could turn to – a venture into the NFT space by the billionaire Mark Cuban of the Shark Tank fame. The website offers a "lazy" way to show off your NFTs.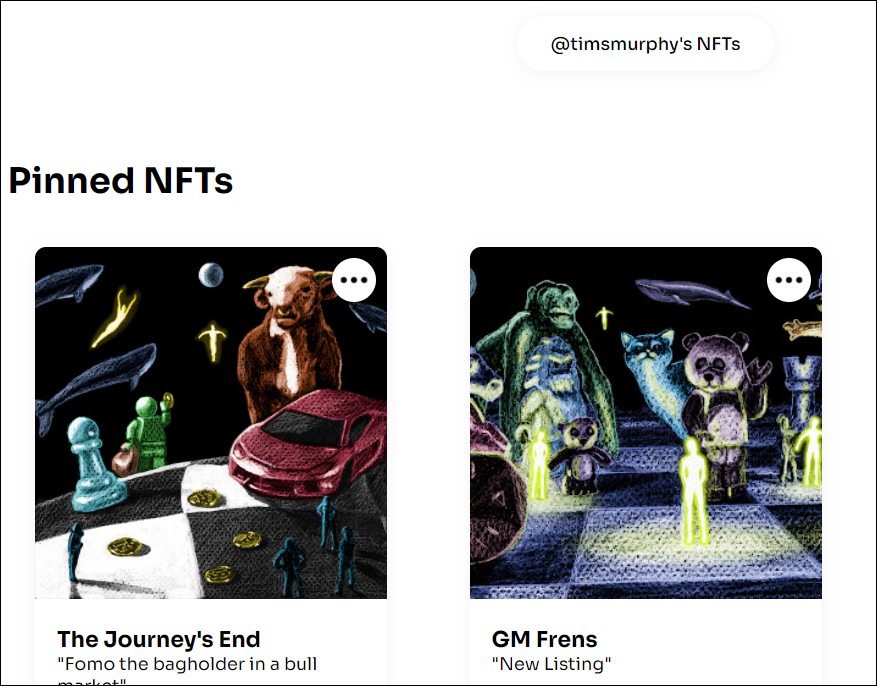 The homepage shows some featured and random NFTs you can explore. You can go to a collector's page to view all of their NFTs. A collector can also pin NFTs on their profile to feature some apart from the others. If someone has their NFT for sale, you can also directly buy it from Lazy currently.
True to its name and its motto, the website really does offer an uninspired and lazy way to show off your NFTs.
But the website is still in beta, so there's still hope for more features to come. You can connect your wallet and display your NFTs on the Ethereum, Polygon, or Solana blockchains.
OpenSea
NFT marketplaces like OpenSea, Rarible, SuperRare, etc., aren't just marketplaces for minting and selling your NFTs. You can just use these to display your NFT collection to the world.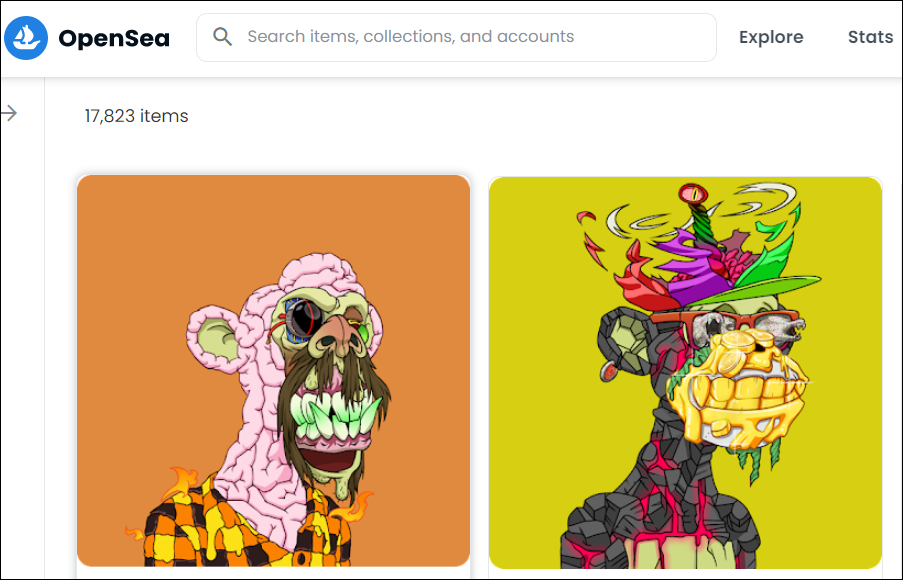 Many NFT enthusiasts come to these marketplaces and just browse other people's collections. It's a place to connect with other like-minded people. And OpenSea is one of the best places to flaunt your NFT collection. It's the largest marketplace visited by most viewers and is also easily accessible.
You can also display NFTs from more than one blockchain. It supports Ethereum, Klatyn, and Polygon blockchains with support for more blockchains coming soon. Anyone can explore your full NFT collection from your profile.
Head to the Metaverse
You cannot talk about displaying NFT art without talking about the Metaverse. It's almost impossible. And given the rate at which NFT galleries in the Metaverse are gaining traction, it would be a huge mistake.
A lot of virtual worlds, also known as metaverses, are building spaces specifically for NFTs. Some even let you experience full-blown art galleries virtually.
Whether you're an artist or a collector, metaverse galleries are the space to venture into right now. You can get exposure, connect with the community, and do so much more. And, it's just the beginning for the metaverse. As everyone likes to say – "metaverse is the future." And you definitely don't want to miss out on that!
Decentraland
Decentraland is not just a place to showcase your NFT art in an art gallery, it's a virtual world that lets you own a piece of it. The piece of Decentraland comes in the shape of a land parcel. Back when the platform launched, you could get a land parcel for as little as $20.
But ever since the NFT boom, owning a piece of land in Decentraland can be pricey. Land parcels go from anywhere between $6000 to $100,000. But if you're willing to part with that much money, Decentraland is the metaverse to show off your art collection.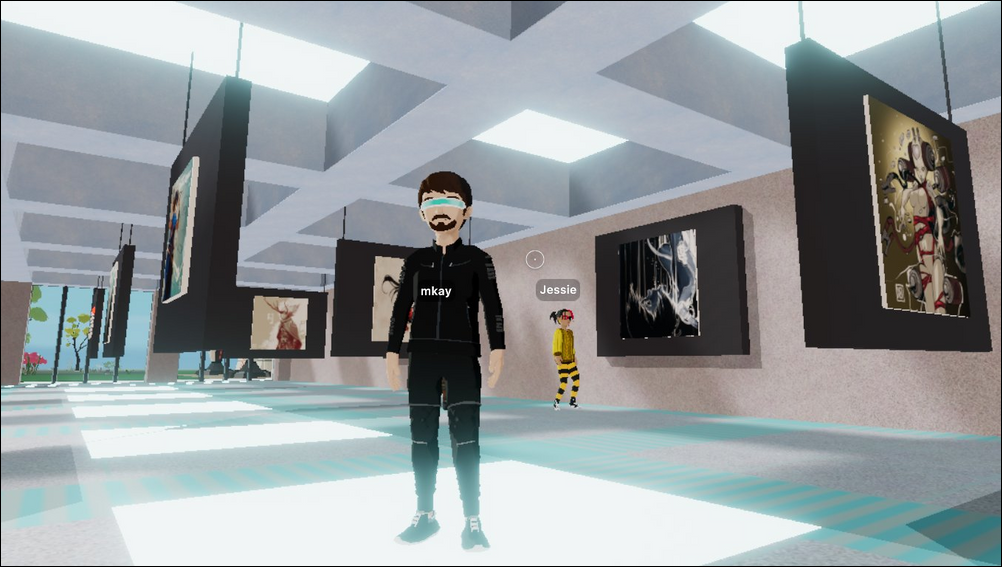 It has become a hub for NFT art with an abundance of art galleries and exhibitions. Decentraland even hosts Art-week every year. It is a 10-day-long cultural festival full of events, music, exhibitions, launch parties, and much more.
Even Sotheby's opened an art gallery in Decentraland last year. The fact itself attests to the prestigiousness of the metaverse in the digital art scene.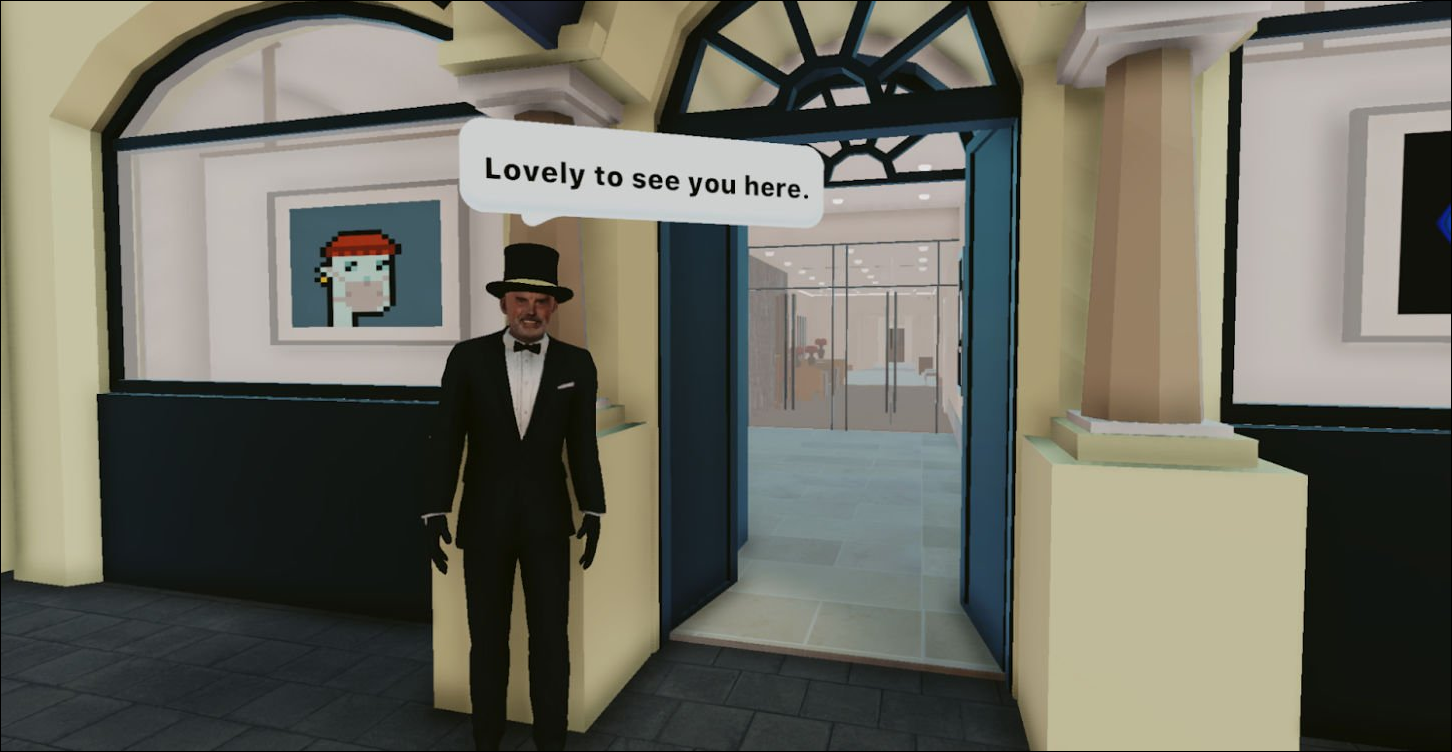 Once you buy a piece of land in the metaverse, setting up your art gallery is a piece of cake. People can then visit your gallery; you can also host events and even auction off pieces from the place like a real gallery.
Spatial
Spatial is the metaverse for art space. It offers a place to host events and exhibitions. Users can curate their own NFT gallery in just a few clicks on Spatial's social and collaborative platform.
Spatial lets you set up environments for your gallery where you can display your NFT art. You can also buy specific environments if you don't want to use one of the available environments or create a custom environment.
It also lets you hold special events in your gallery with up to 32 people where people can attend the live event with their avatars.
Setting up your gallery is as simple as connecting a supported wallet. Then, you can select which NFTs to display and how to place them in the gallery.
Cyber
Like Spatial, Cyber is another metaverse option that is easy to set up and completely free to use. It offers artists and collectors to show off their NFTs in a fully-immersive way.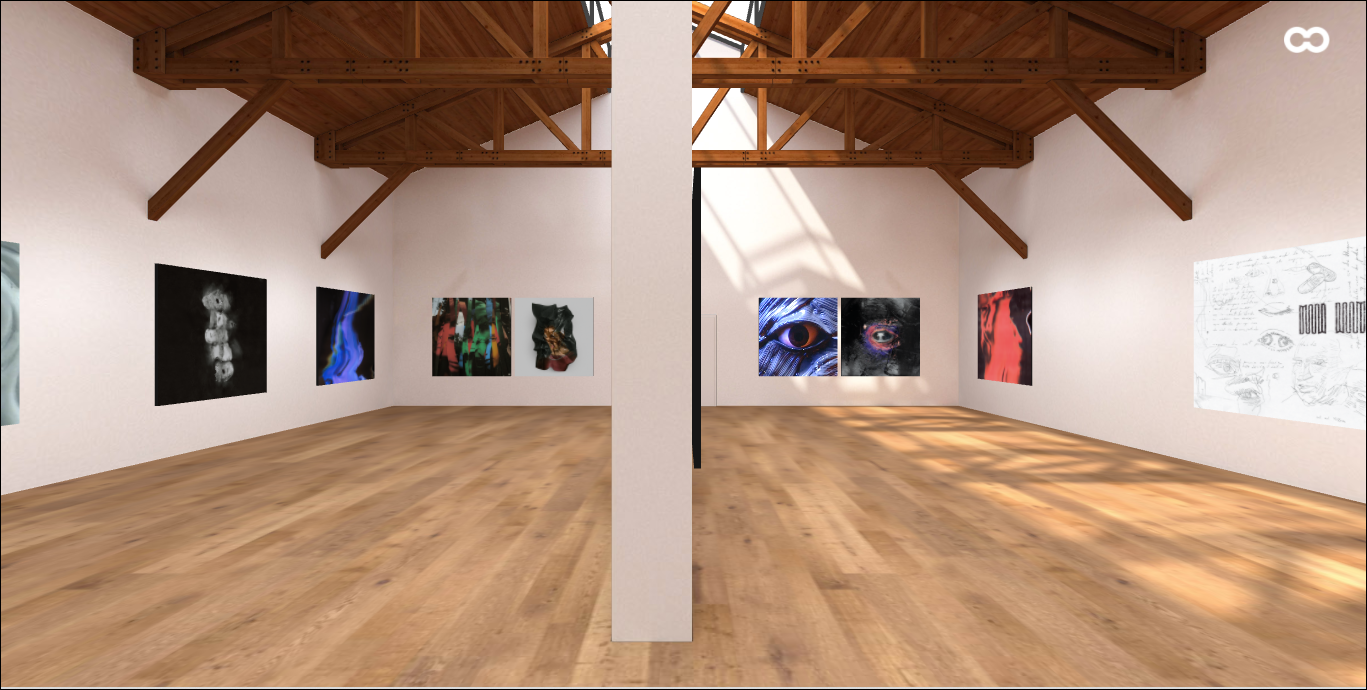 Displaying your art is as simple as connecting your wallet and choosing an experience. Cyber offers a variety of experiences, i.e., creative space for your gallery to choose from. There are sophisticated art gallery vibes, an underground show, a warehouse look, to name a few.
Once you're happy with your space, you can share it with others so they can come to visit. You can also invite others to collaborate in your gallery and display their NFT art in your space for creating a curated experience for your visitors.
---
These are just a few ways to display your NFT art. Whether you want to show off your collection in real life or to an online community, the options abound.