How to Earn and Use Channel Points on Twitch
Channel Points is a Twitch reward system that actively involves viewers in a stream. Here's how you earn, spend, and make use of your channel points!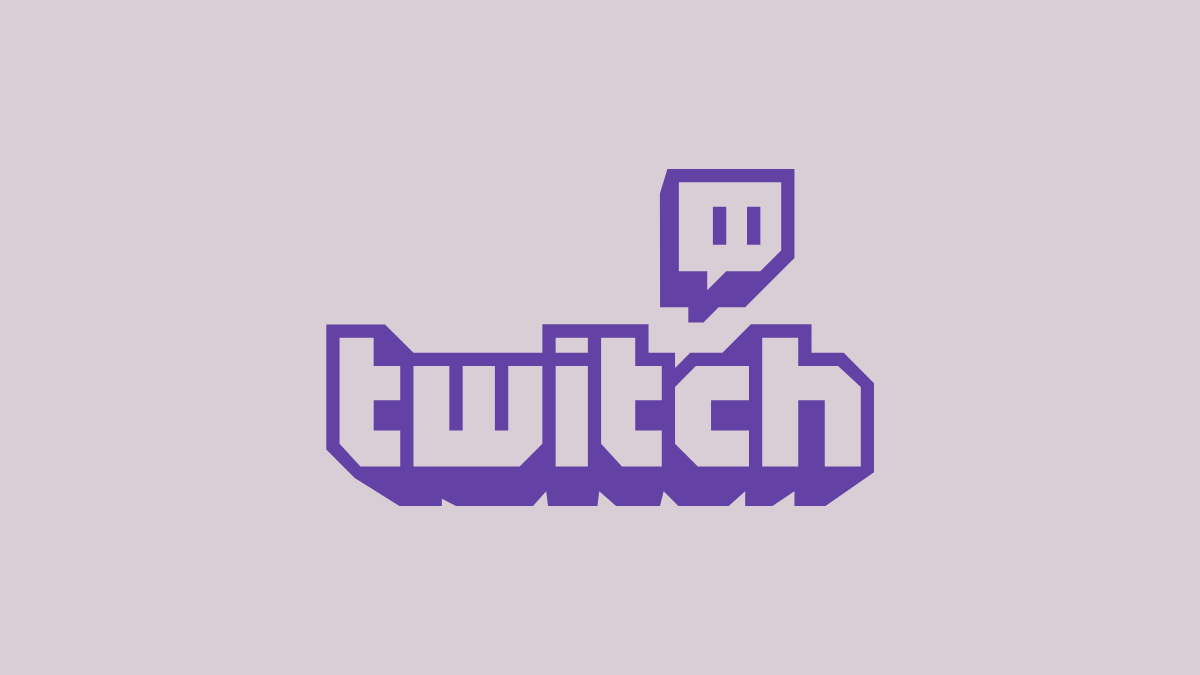 Twitch introduced its very own 'points system' in 2019. A system streamers can use to reward their viewers and have them come back to earn more or spend their rewards. Twitch Affiliates and Twitch Partners can enable channel points, customize, and manage them on Twitch. This puts both streamers and their audiences in a communicative zone.
Viewers on Twitch earn channel points in exchange for participating in certain activities on a streamer's channel. Activities like watching the stream, following the channel, subscribing, gifting subs, and raiding attract point-based remuneration for viewers. This is a fantastic way to not only get more views but also to build a reliable viewer base.
What's in it for Viewers?
Channel points on Twitch is surely a great practice to interact with an audience and keep them entertained, but how does an audience benefit from it? What do viewers get by earning channel points? Does the viewer get to spend/use these channel points or simply accumulate them?
To put it simply, viewers can do quite a lot with their reserve of channel points. They unlock various rewards on the streamer's channel, can set the streamer up for challenges of their choice, and vote on channel predictions. However, each aspect for spending channel points has its own rate. A minimum the viewer must priorly have.
---
How to Know the Streamer Has Enabled Channel Points
First, launch Twitch, and open a stream. The channel points are visible at the end of the stream chat. If you cannot see the stream chat, click the 'Expand' button' to the top right corner of the stream to open it.
Look to the bottom of the stream chat to locate a coin-like animation with the number '0' next to it. This is the 'Channel Points' button. Click this button. The channel points button can look like and be called anything apart from a coin — depending on the streamer's customization. It all works the same, nonetheless.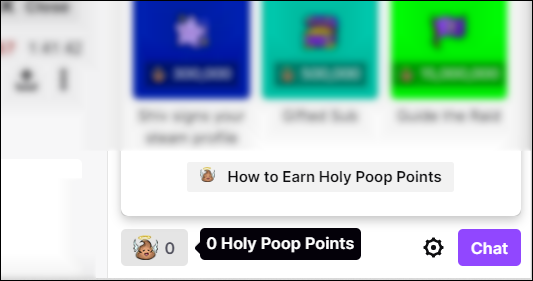 If you see that the streamer has disabled rewards, then you wouldn't earn channel points conventionally on this stream. Hit 'Got it!' and move onto either watching the stream or exiting it.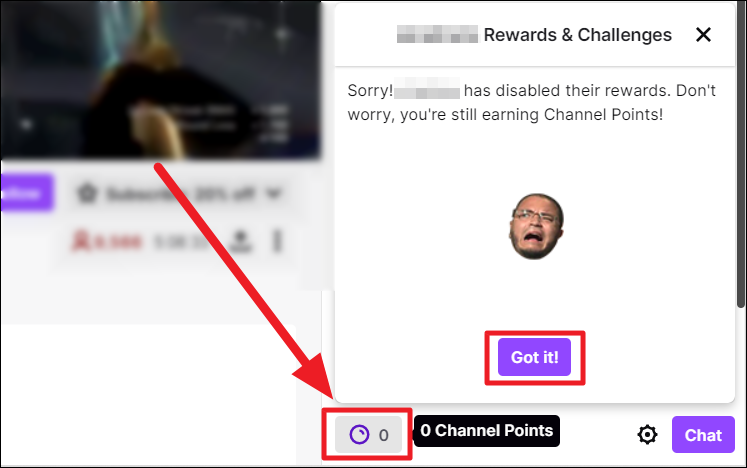 However, if you see a colorful list of rewards and challenges labeled with varying channel points upon clicking the 'Channel Points' button, then the streamer has enabled channel points.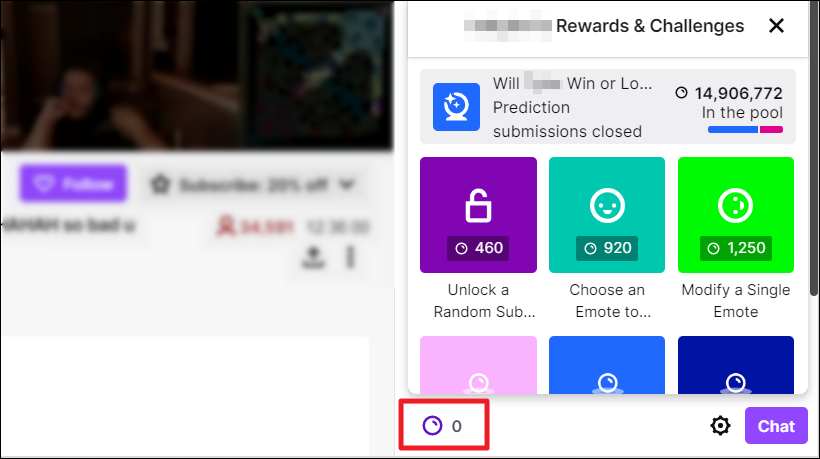 ---
Learn How to Earn Channel Points
To know more about how you can earn channel points on a channel, scroll through to the end of the tray of colorful boxes to find and click the 'How to Earn Channel Points' button. These are generally Twitch defaults that may or may not allow streamer customizations. They're usually the same on every channel.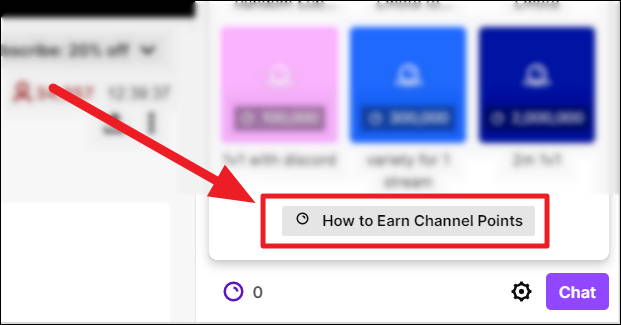 You will now see a list of ways you can earn channel points along with the value of each action.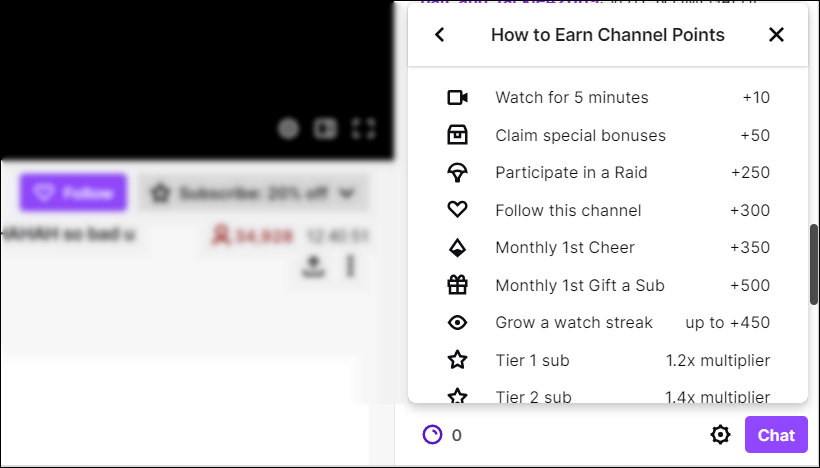 ---
What Each 'Channel Points' (CP) Terminology Means?
The rate list on how to earn channel points may seem straightforward. But only for obvious actions like 'Follow this channel', 'Claim your bonus', 'Watch for 5 mins'. Some terms can be confusing and just make no sense if you're a new viewer or only recently gotten into 'Channel Points' — both earning and using them.
Below is a list of all the terminologies in the 'Channel Points' section, what they mean, the value of each action, and what to do to gain that value, for better and easier reference.
Follow/Follow this Channel – 300 CP
The easiest and instant way to gain channel points is by following the channel. However, not every streamer would have this method enabled. Hit the 'Follow' button below the stream to gain a fixed rate of 300 channel points.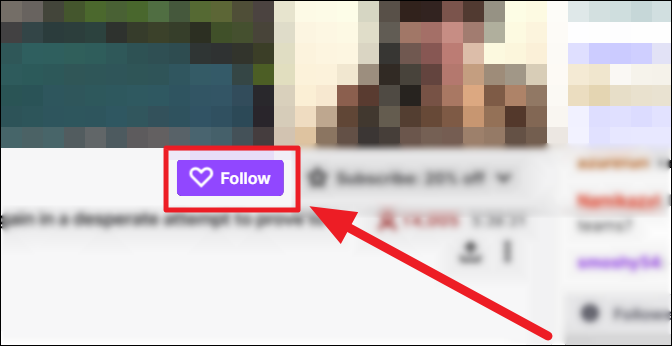 Your channel point score goes up by 300, now.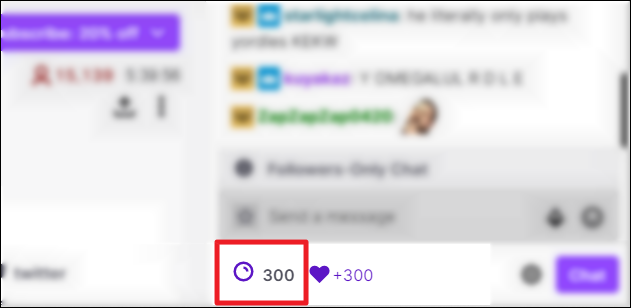 Only new follows are entitled to gaining 300 channel points. Therefore, this is a one time gain.
Claim special bonus – 50 CP
Sometimes, you receive a bonus upon watching a stream for a specified time (generally 15 minutes). This bonus is available as a green button right next to the channel points button. Click it to claim your bonus. The 'Bonus' is worth 50 channel points.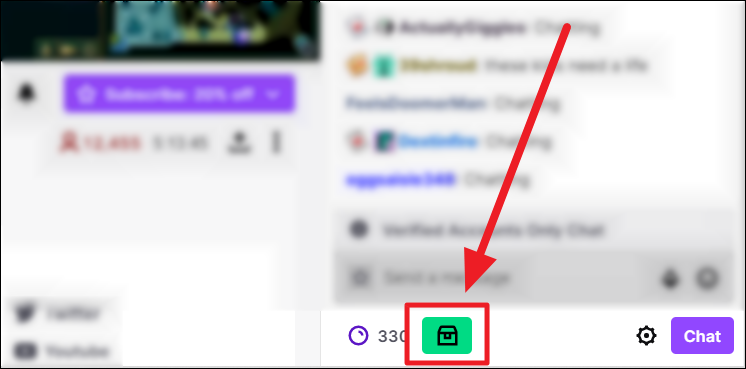 Watch a stream – 10 CP every 5 mins
The title of this action says it all. This applies to every viewer – follower or not. When you watch a stream for 5 minutes straight, you earn 10 channel points unless the streamer has this method disabled. With this criteria, the more you watch a stream, the more you earn.
Watch Streak
A watch streak is a consistent record of watching and returning to the same stream by the same streamer. Every new stream ought to be at least 30 minutes from the previous stream. You must watch each stream for a minimum of 10 minutes.
These 'watch streak' channel points proportionately increase with the number of times you return to the same stream by the same streamer — under the two mentioned conditions. When you return twice, it is called 'Watch Streak 2', thrice; 'Watch Streak 3', four times; 'Watch Streak 4', and so on. You can grow your channel points by keeping your watch streak strong and regular. These are the increasing rates for every streak:
Watch streak 2 – 300 CP
Watch streak 3 – 350 CP
Watch streak 4 – 400 CP
Watch streak 5 and above – 450 CP
Participate in a Raid – 250 CP
A raid is a selfless deed of generosity extended by one streamer to another. Raids are incredibly useful to help a small/new streamer grow their viewer base. When a streamer raids another streamer, they're essentially directing all their present viewers and everyone on their channel to the raided broadcaster (also known as 'target channel').
So, when you participate in a community-focused activity like a raid — that is, when you are in the raid and redirected to the target channel, you are paid in channel points. Once you join a raid, you will begin viewing the target channel's stream. Raids generally take place at the end of the raider's stream.
Gift 1st sub – 500 CP
Gifting a sub on Twitch is a single-time, non-renewable subscription. It's a manner of monetarily supporting your favorite streamer. When you gift a subscription every 30 days to a streamer/channel, you receive 500 channel points each time.
To gift a sub to a streamer, first, click the 'Subscription' button below the stream.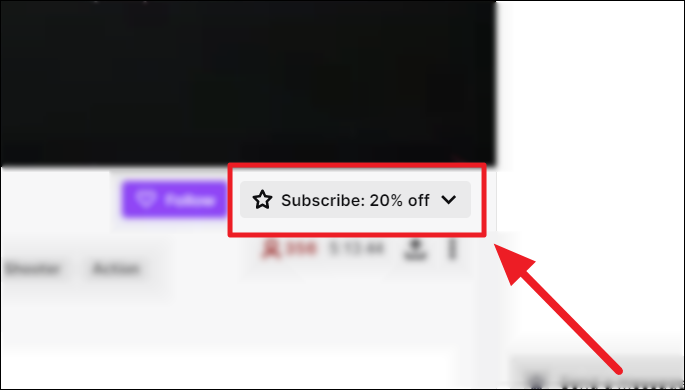 Now, click the 'Gift a sub' button to the left of the 'Subscribe' button.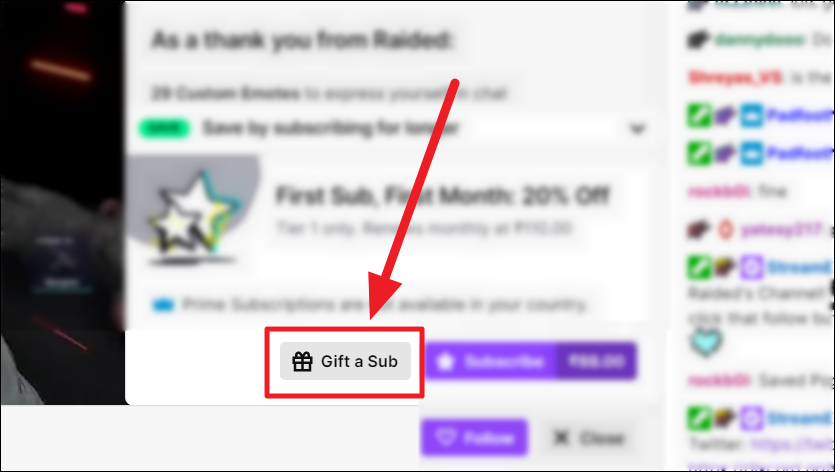 You will see a 'Gift 1 Sub' option in the 'Gift to the Community' dialog. Click the button with a price and a gift icon next to this option. You can gift multiple subs, but it's advisable to begin with a single sub and gradually increase.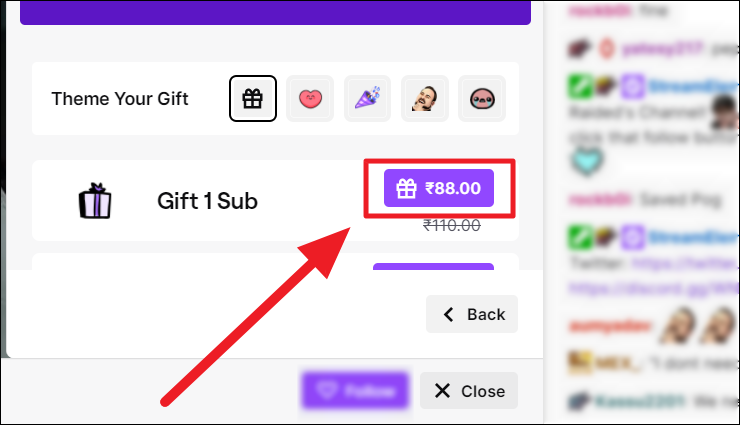 You will now redirect to a payment portal where you will pay and thereby gift the sub. Thus, earning 500 channel points!
You're not entitled to channel points when you gift subs anonymously.
Tier Subscriptions
Subscriptions on Twitch are a method of regularly supporting your favorite streamer financially. You can choose the renewal period of your subscription. Twitch has three tiers of subscriptions. Each tier increases in its price value for each subscription. Tier 1 is the basic list of prices for each number of subs. Tier 2 and 3 are part of Twitch Prime. You must be part of (or eligible for) Prime on Twitch to subscribe with tier 2 and 3 rates.
Each tier of subscription has its own set of benefits and channel point rewards. However, just a tier subscription wouldn't earn your increasing channel points. Your tier subscription channel points multiply the longer you watch a stream. Here are the rates for each tier and the rate at which your channel points will increase as you watch a stream.
If you are a:
Tier 1 subscriber – 1.2 times the basic rate
Tier 2 subscriber – 1.4 times the basic rate
Tier 3 subscriber – 2 times the basic rate
Here's an example to better understand this system. If you are a non-subscriber, you earn 10 channel points for every 5 minutes you watch a stream. Now, if you are a tier 3 subscriber, you earn 20 (10×2) channel points for each 5-minute watch time.
Being a tier subscriber also adds to the 'Bonus' (click to claim) channel points. So, if you are not a subscriber, you earn 50 channel points every 15 minutes you watch the same stream. Now, if you are a tier 2 subscriber, your bonus will be 70 CP (50×1.4). All you need to do is, click the green box to claim it.
Monthly 1st Cheer – 350 CP
Cheering is another way you can support your favorite Twitch streamer. It's also another economic mode of support. When you cheer for a streamer, you're doing so in terms of money; Bits, in Twitch words.
You must first purchase Bits with real money through Twitch and use them to cheer for a streamer. Each cheer can be a combination of a text message and a Bit gem emote or only the latter. When you place your first cheer with bits in 30 days, you gain 350 channel points.
You do not earn channel points if you cheer anonymously.
---
How to Use Channel Points on Twitch
Now that you've earned a considerable amount of channel points watching your favorite streams, maintaining a watch streak, cheering for your favorite streamers, following them, subscribing, etc., you have a list of actions in exchange for your channel points at your disposal. All of them cost differing rates of channel points.
Rewards and Challenges
The streamer can enable default rewards and challenges set by Twitch, their own customizations of the same, or a mix of both. You can spend your channel points to either buy a reward for yourself such as highlighting your message, allowing emote customization, unlocking emotes, choosing a skin, etc.
Or, you can use it to set a challenge for the streamer — like to sing a song, say your name, end the stream, follow you on social media — anything the streamer has enabled for your (the viewer's) use. Click the 'Channel points' button at the bottom of the stream chat to see all the rewards and challenges available on a particular streamer's channel.
Now, select the reward/challenge you want to buy with your CP. Follow the course of that particular activity to execute it and thereby use your channel points.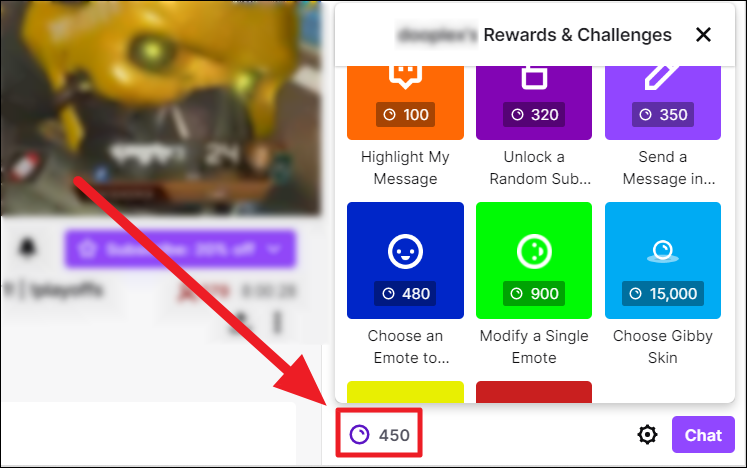 Channel Predictions
Streamers host predictions to gain more viewer traction and participation. To participate in a prediction, you must use your channel points. But, you also gain some channel points once the prediction is closed. These predictions can be related to the game, a common theme both the audience and the streamer are familiar with, etc.
So, if you see a channel prediction and you have enough channel points to participate, go for it. Place your bet! To find a prediction, expand the stream chat (if you cannot see it). Click the 'Predict' button in purple at the top of the stream chat.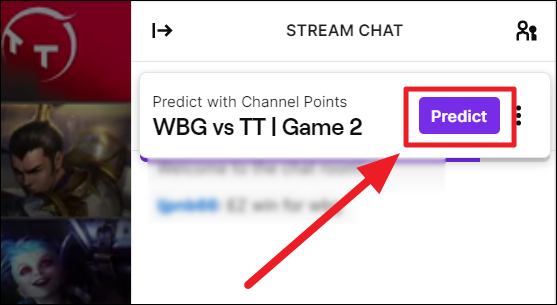 Or click the same 'Channel Points' button at the bottom of the stream chat. Now, if you see a section with a crystal ball at the top of the 'Rewards and Challenges' box right below the title, click it.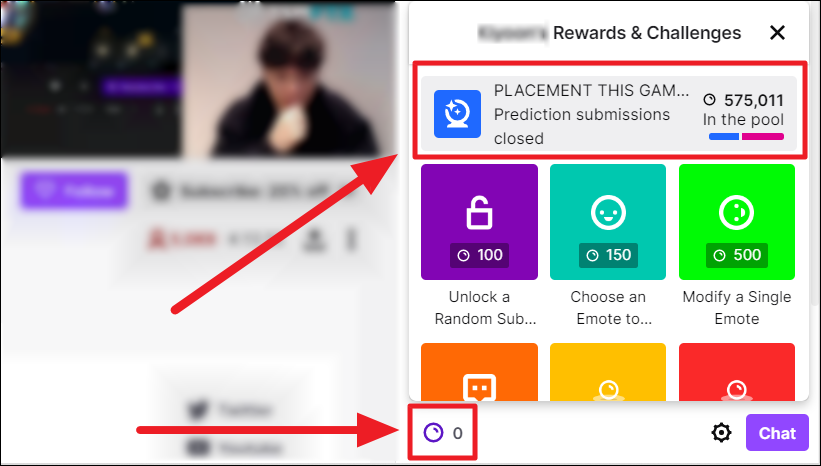 You will now see two sides of the prediction — a typical 'yes' and 'no' or 'A' or 'B' prediction only framed differently for different predictions. The number of channel points you use to predict will reflect in each side's total channel points.
So, you can either click/tap the channel point button with the number of CP required to vote for either side or use a custom number of channel points. If you want to predict with the latter, click/tap the 'Predict with Custom Amount' below the CP buttons.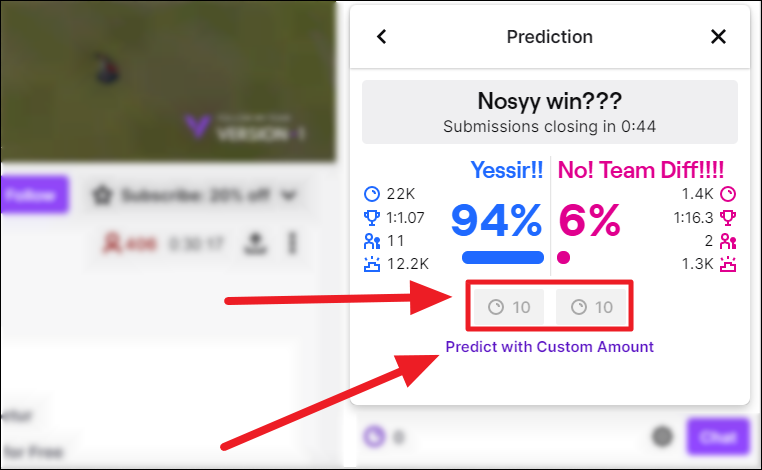 Next, enter the custom amount of channel points you want to predict with and hit 'Vote' on the respective side. If you don't want to vote with custom CP, click 'Cancel'.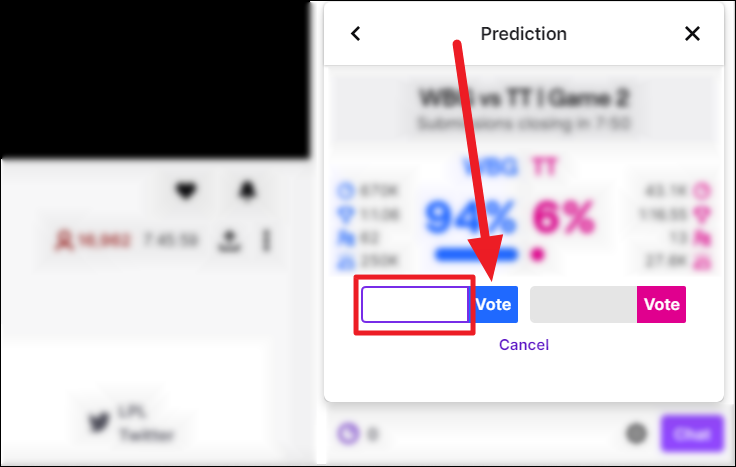 ---
So that's all about Twitch Channel Points or 'Loyalty Points'. It's a great way for streamers to build an interactive relationship with their viewers and a fun way for users to spend their earned channel points.
To set up the channel point system, a streamer must be a Twitch affiliate or a Twitch Partner. But to earn them, all you need to do is support the streamer! We hope you found our guide useful!