Sharing documents via mail might sound simplistic, but the repercussions it has had lends it far greater grandness. Not needing to fax documents or physically mail them doesn't just save time, it's also great for the environment.
But when it comes to signing those documents, it can get complicated for some people. Most people prefer printing the document, signing it, scanning it, and mailing the scanned copy. Not only is it time-consuming, but it also defeats the purpose of saving paper. Believe us, there's a far easier way to do this.
What is an Electronic Signature
An electronic signature is just an image of your signature that is layered over your document electronically. You should not confuse an electronic signature with a digital signature, which is something else entirely. A field of cryptography that people use to validate the authenticity and integrity of online documents – digital signatures are complicated and entirely out of scope here.
An electronic signature, on the other hand, is simple and what you need when you need to sign over any forms or documents.
Electronically Signing a PDF File
Signing a PDF file is easy and quick. All you need is the Adobe Acrobat or Adobe Acrobat Reader DC to sign any PDF file. As Adobe Acrobat Reader DC is a free service, you don't even need to be a paid subscriber to use this feature.
Open the PDF file in Acrobat Reader. If you're viewing the file you want to sign on the web, you need to download it first.
Click the 'Sign' icon (looks like a fountain pen) from the toolbar.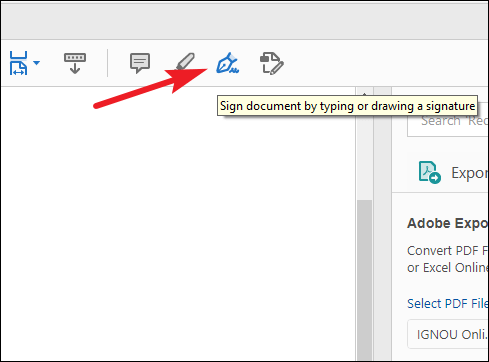 Alternatively, you can also go to 'Tools'.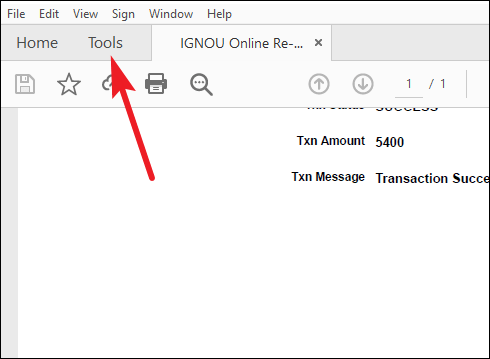 Then, click the 'Fill & Sign' tool.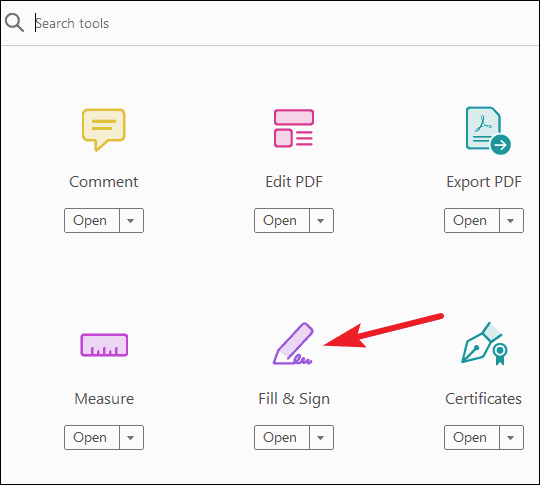 The options for Fill & Sign tool will be displayed. You can also the Fill & Sign tool to request signatures from others by specifying where to sign and tracking the progress. Click once again on 'Fill & Sign' to proceed with electronically signing your document.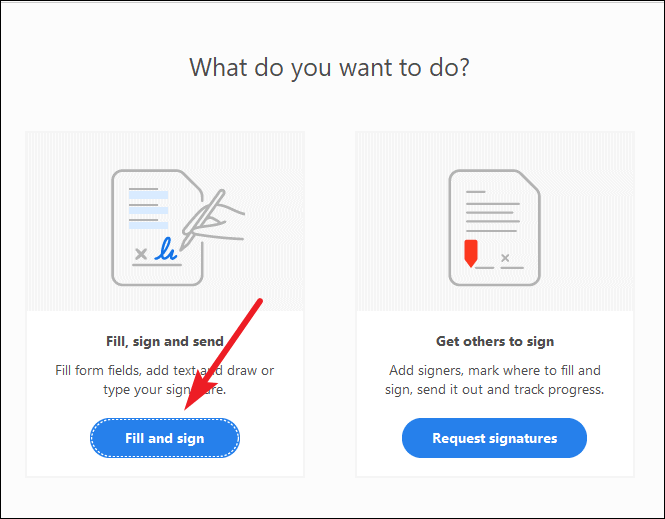 The Fill & Sign toolbar will appear underneath the main toolbar. If there are any form fields, Adobe will detect them automatically with the Fill & Sign tool. You can also hover over any field to display a blue box over it. Click it, and the cursor will appear, and you can fill the form. Various options for filling the form like a checkmark, cross, lines, circle, etc., are available in addition to text so you can fill it as if you were using a pen-paper.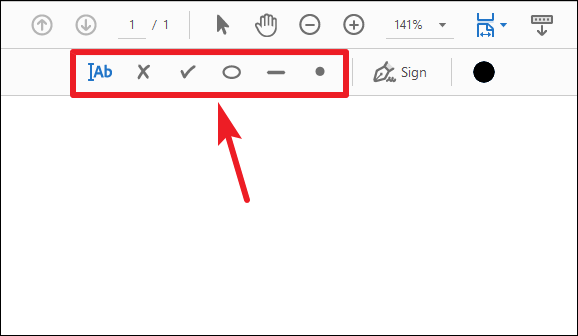 To add a signature, click the 'Sign' button from the Fill & Sign toolbar.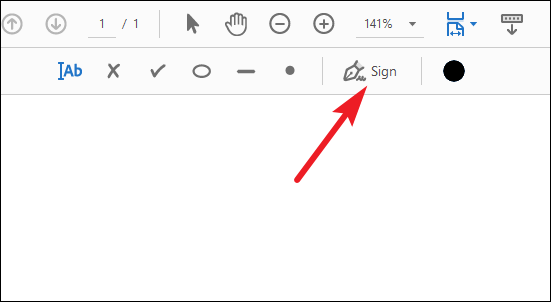 Two options will appear: 'Add Signature' or 'Add initials'. If you've previously added a signature, it'll also be available as an option to choose from. Select the option you want to proceed with.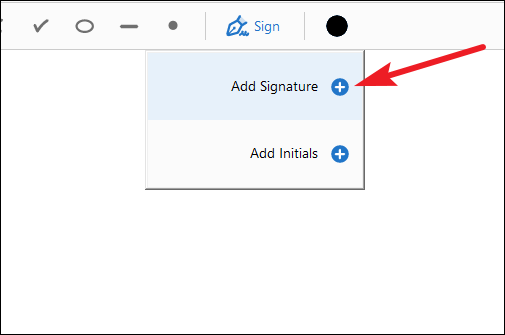 If you're signing for the first time, you'll see a signature or initials panel. You can type, draw, or insert an image of your handwritten signature in the signature panel.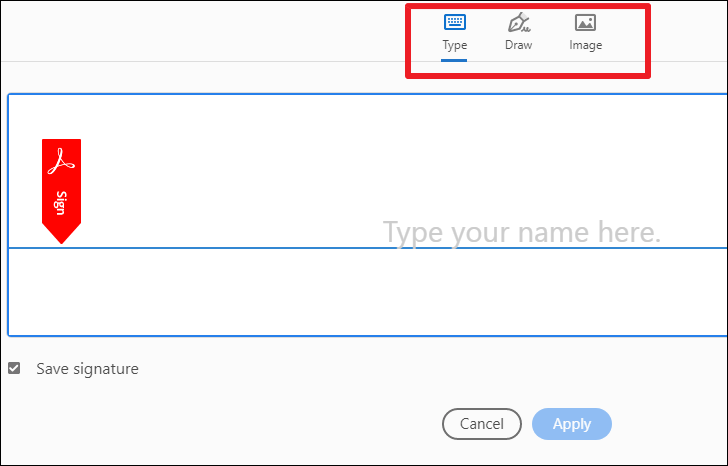 Under the Type option, there are 4 different styles available to choose from. Click 'Change style' to view all available styles and select a different one.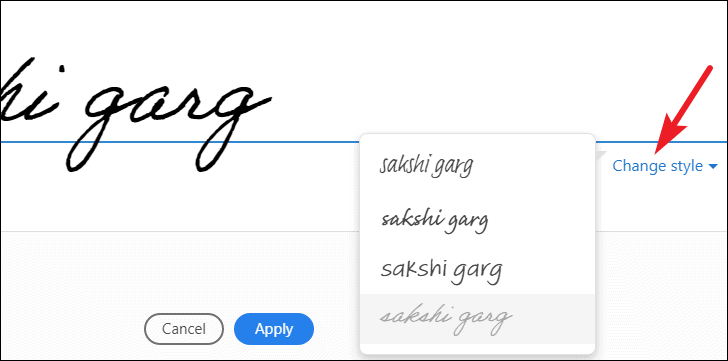 Under the Draw option, you can draw your signature manually.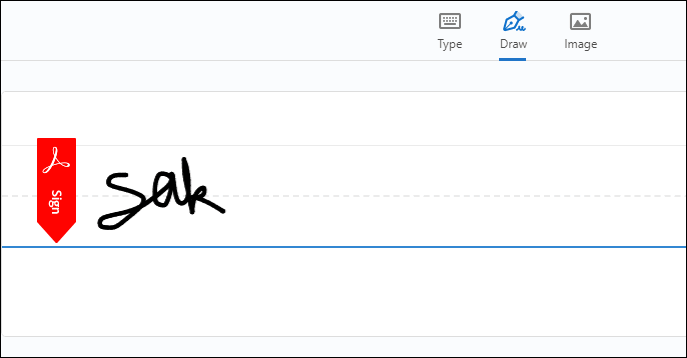 The Image option allows you to add an image from your computer. Click the 'Select Image' button to upload a photo. You can use JPG, JPEG, PNG, GIF, TIFF, TIF, and BMP files.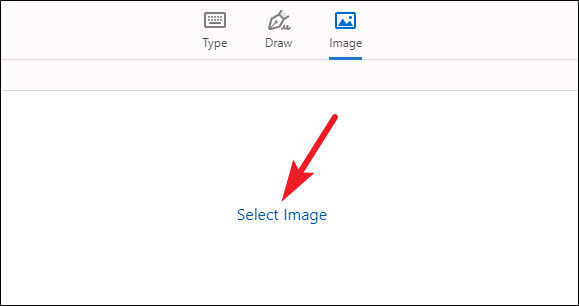 Note: To add a scanned image of your handwritten signature, sign in the middle of a blank sheet of paper to avoid any edges. Then, photograph or scan it. If you photograph it, make sure to avoid any shadows. You can also use an app to scan the signature. Import the photo/ scan to your computer. You don't have to additionally edit or crop it as Acrobat imports only the signature if the scan/ photo is clean enough.
Keep the option for 'Save signature' selected to save it for the future. But this option is only useful if you're signed in to your Acrobat Reader or Acrobat account. Adobe saves the signature in the Adobe Document Cloud securely.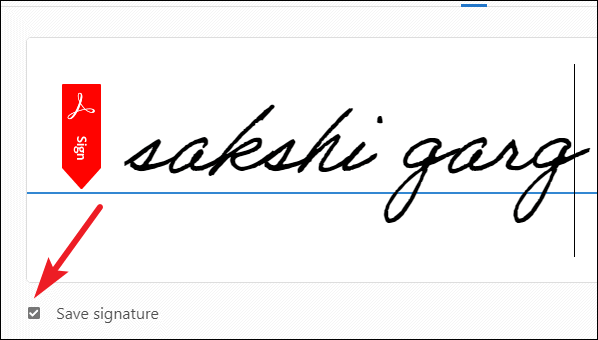 Finally, click the 'Apply' button and then click the place in the document where you want the signature to appear.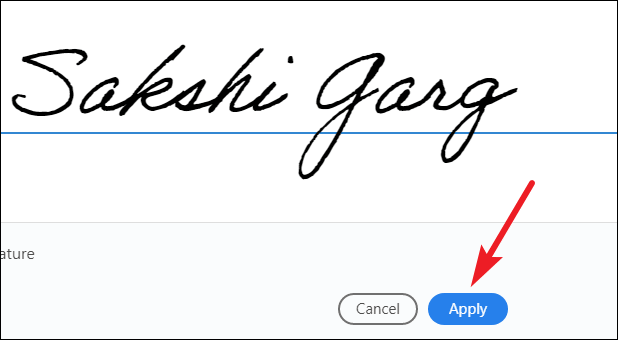 You can move or resize the e-sign by highlighting it and then use the arrow to move/ resize it.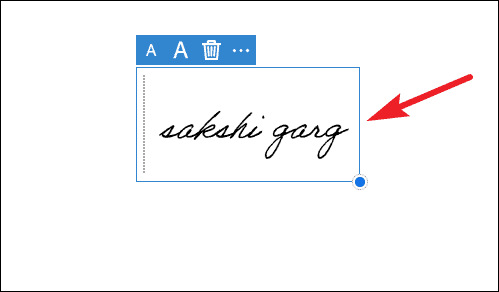 Finally, click 'Next' if you want to share it right away or save it to share later. You can share the document as a read-only document or request signatures from other people on it.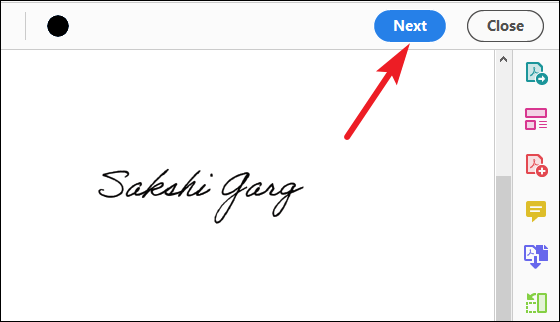 ---
Signing a PDF electronically is the easiest task in the world with Adobe Acrobat/ Reader. So, go ahead and stop taking printouts of the documents you need to sign. With multiple signing options like text, draw, and image available in Acrobat/ Reader, you can sign it however you want – even with your handwritten signature.