How to Fix Broken Registry Items in Windows 10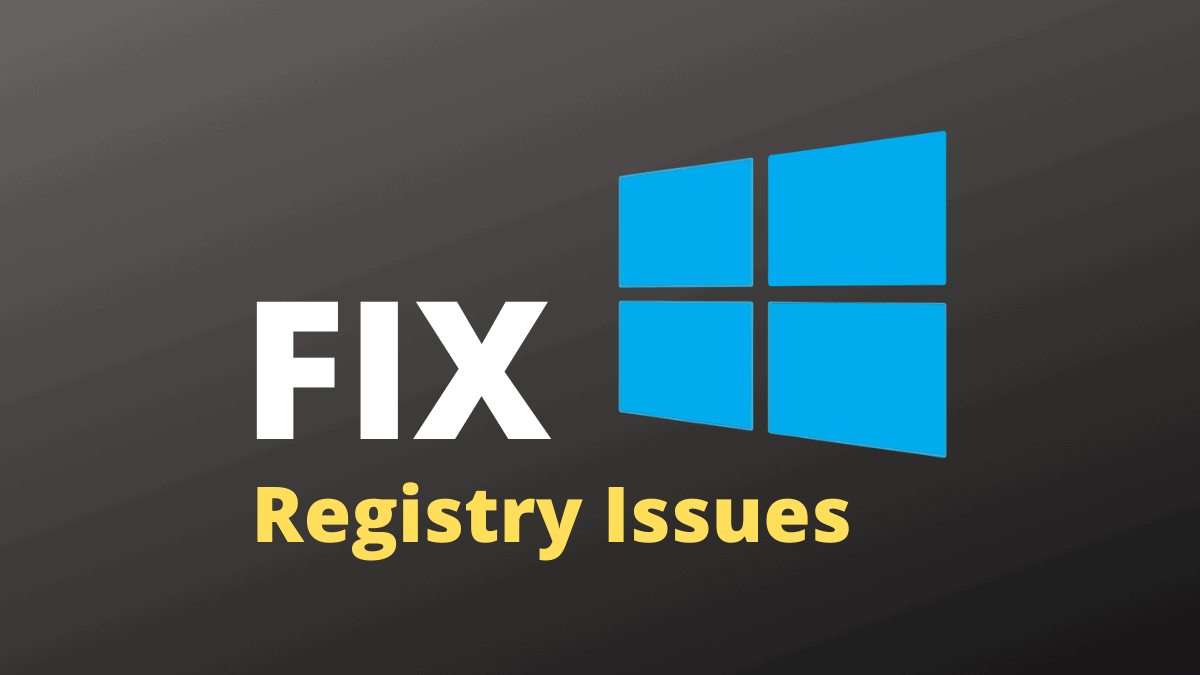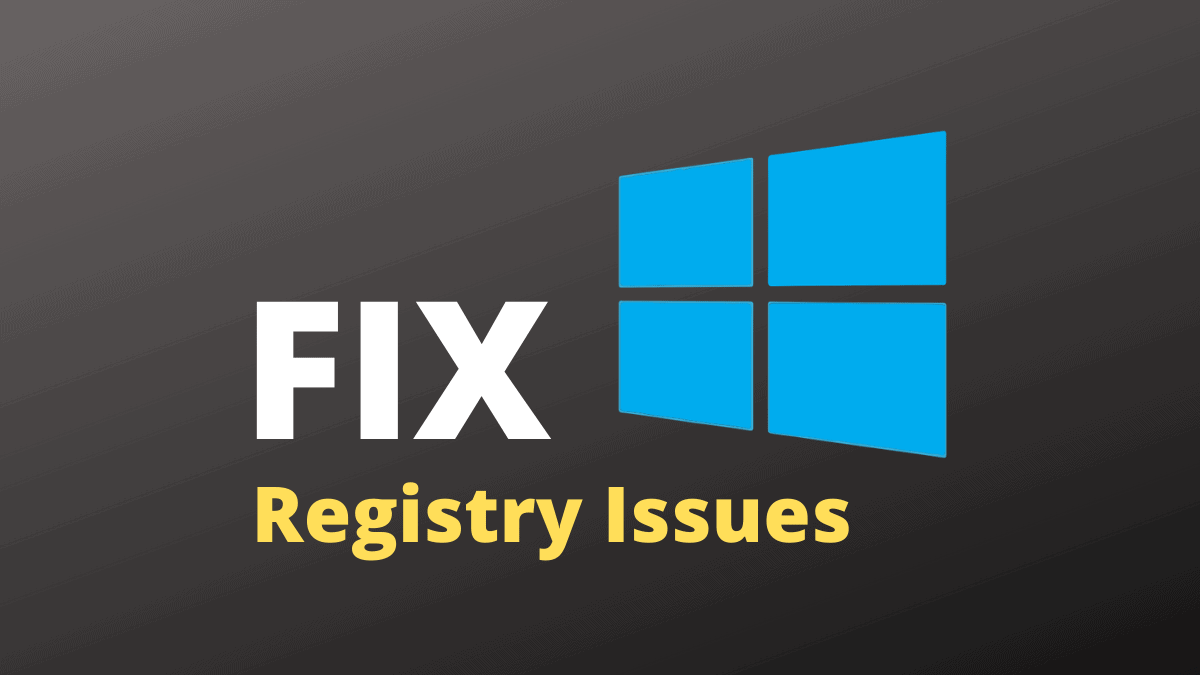 The Windows operating system is in an essence a mammoth software. It has kept adding on layers upon layers of functionality over the years, while still being compatible with most ancient software. From the command line interface to Windows 10, the operating system has come a long way. Windows has changed and modified itself beyond belief.
But over the years, there is one thing that has been the backbone of this entire operating system. The thing that runs the whole operation. We are talking about the Windows Registry. The registry is the place where all the information about absolutely all the items are stored. It stores information about all the applications, drivers, settings, and the files running Windows itself.
So you can see how essential it is that the Windows registry always runs in fine form without any issues or errors. Because if such an issue arises, any particular part of the operating system might stop working properly, be it any application, hardware, or Windows itself. This may also lead to your PC crashing or freezing up. Applications with erroneous registry entries will start hanging up, crashing, or not starting at all.
---
What causes these registry errors?
Registry errors can be caused by many reasons. When applications are incorrectly or incompletely installed or uninstalled, it can lead to all the files not being modified properly in the registry. This can lead to an application acting up.
Using various popular PC cleaning tools can be the issue. Although these tools can speed up a PC considerably, it may sometimes clear out those registry values which were essential for the proper functioning of the applications or the hardware installed in the PC. In those cases, the errors start happening after the tools have completed the cleaning process.
Malware or various types of viruses are yet another issue. Malware typically inserts registry values or modify existing registry values to execute itself and complete its operation. The more vicious and advanced malware lodge themselves into multiple locations in the Windows registry, to make it nearly impossible for any person to delete those entries manually. Some antivirus applications are overzealous. They, due to faulty coding or to market their efficiency, show much greater malware than what is actually present in the PC. These applications may also remove more, different, or incomplete registry entries related to the malware, which may also lead to registry errors and subsequently, PC errors.
You should always shut down your Windows PC properly. Because a copy of the registry is saved to the system memory each time you shut down the PC. When you hard shut down the PC through the power button, or the PC shuts down due to a crash, it does not get an opportunity to save a copy of the registry. Occasional occurrence of such incidents may not corrupt the registry, but prolonging such practices can lead to an error-prone Windows registry.
Avoiding these issues can go a long way in preventing registry errors in the initial stages itself.
---
Before starting, back up the registry
Before you start to rectify your registry errors, it is important that you keep a backup of the existing Windows registry, no matter how error-ridden or broken it is. It is a thumb rule that the registry should always be backed up before tinkering or modifying it. Why is that? The Windows registry is like a very old structure. It must be preserved and handled with care. The Windows registry is so vast and complex that you can never be careful enough with it. One wrong move and your PC can become unresponsive.
To open the Windows Registry, right-click on the Start menu and click on 'Run'.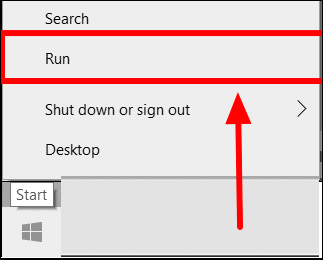 In the 'Run' system box, type 'regedit' and click on 'OK'.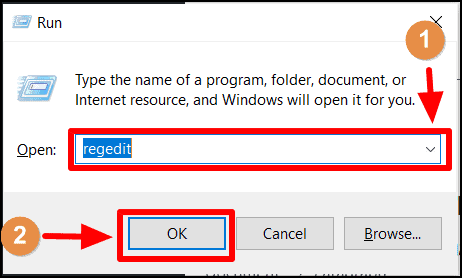 You will be asked to provide confirmation. Click on 'OK'. Now, the Windows registry system box will open before you.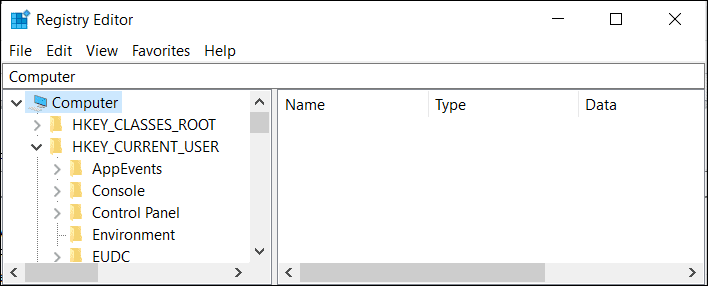 Right-click on 'Computer' and select 'Export' from the context menu.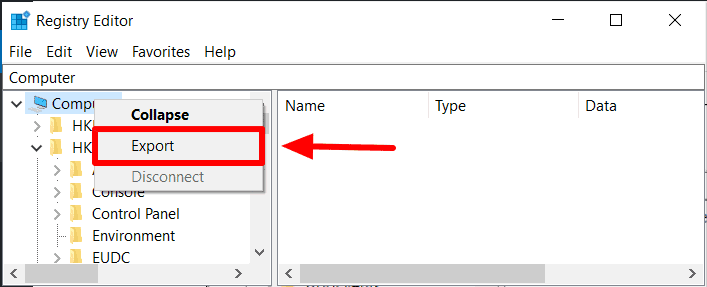 Name the exported file and store it in your hard disk.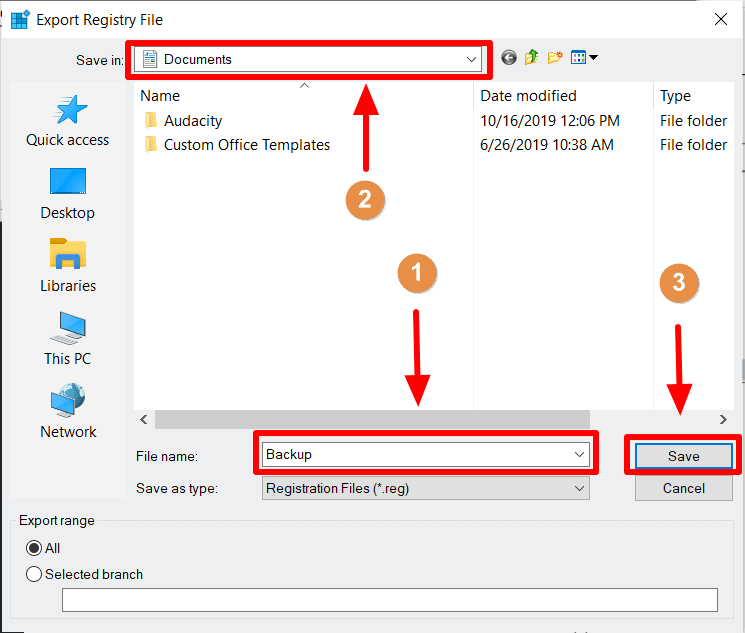 A backup file of all registry values will be created in the selected location.
---
Perform an SFC scan & execute a DISM command
The System File Checker (SFC) is a command-line tool in Windows which checks for any damages and errors in Windows system files and then tries to fix them. Often an SFC scan can help you get rid of any registry errors. The DISM command, although used to repair system images, can sometimes even prove handy in repairing registry files. Using both may give a better chance of rectifying the registry errors.
Right-click on the 'Start' button and click on 'Command Prompt (Admin)'.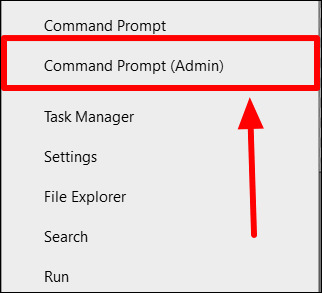 In the open command prompt window, paste the following command and hit enter.
sfc /scannow

Windows will scan and fix the erroneous files in your system.
For further assurance, after the completion of the SFC scan, type/paste the following command and hit enter.
DISM /Online /Cleanup-Image /ScanHealth
The scan will complete in a short period. It will notify whether there was any data corruption or not, and whether it has rectified it or not.
These command line tools will most probably remove your registry errors.
---
Use the Windows automatic repair process
Automatic repair is a wonderful tool that has been included by Microsoft in its Windows operating systems over the past few years. It is a helpful tool in automatically checking and solving any errors which prevent Windows from booting up properly. It can also be used to solve registry issues as well.
To start the process, right click on the Start button and click on 'Settings'.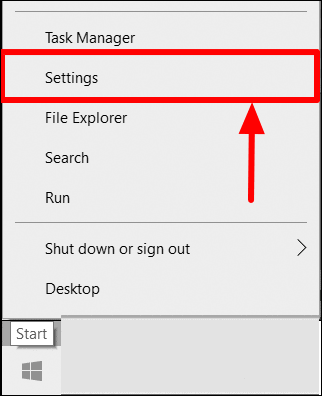 Click on 'Update & Security'.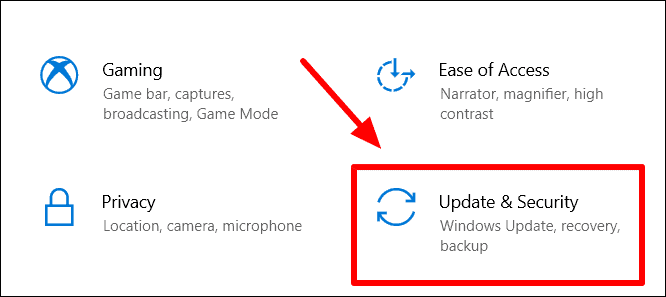 Click on 'Recovery'.

Under the 'Advanced Startup' section, click on 'Restart now'.

Now your PC will restart and take you to the Windows Recovery Environment (WinRE) Mode. Click on 'Troubleshoot'.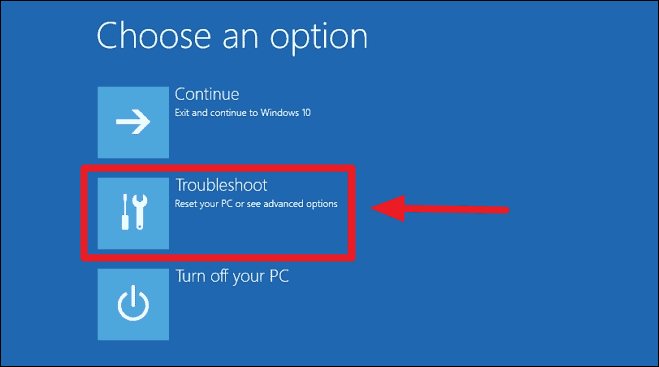 In the next window, click on 'Advanced Options'.

Now click on 'Startup Repair'.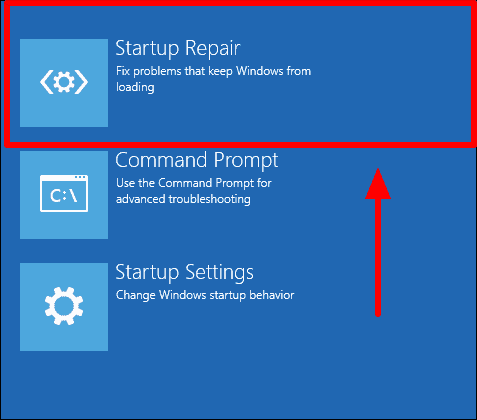 Now Windows will start the Automatic repair process. Usually, Windows finds all errors and rectifies them automatically.
---
Restore the secret registry backup
This is a very well kept secret not known to many people. Windows stores secret backups of its registry, which can be used in repairs and restorations by Windows itself. But you can access it to restore your Windows registry to a state where it was functioning properly in an error-free state. Although this process does involve a few steps, the work is well worth it. Most of the time, this process is enough to rectify any and all registry errors.
Follow the steps of the 'Automatic Repair' process until you reach the window where you click on 'Startup Repair'. Then click 'Startup Settings' to proceed.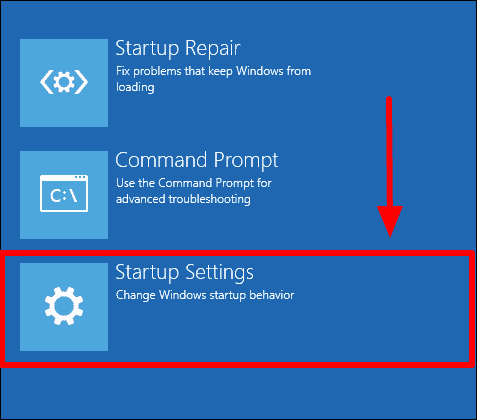 On the Startup Settings screen, press the 'F6' button on the keyboard to restart Windows in safe mode with command prompt enabled.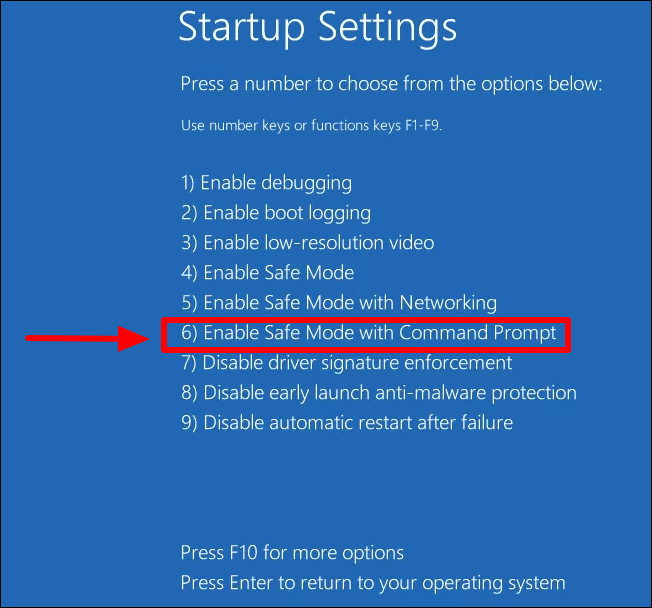 Now Windows will boot successfully in safe mode with the command prompt as the default user interface. In the command prompt, type the following commands one-by-one:
cd /d C:\Windows\System32\Config
xcopy *.* C:\RegBack\
cd RegBack
dir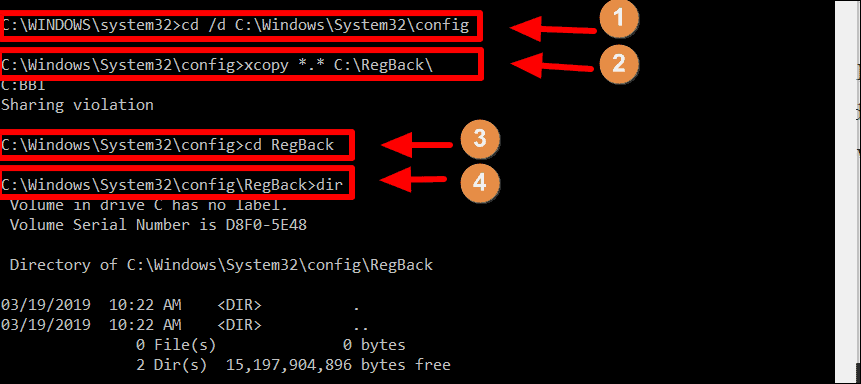 These commands will show the date when the registry was last modified. If changes were made a long time ago, then do not continue with this process. If the modifications were done recently, then you can proceed with the following steps.
Now issue the following three commands:
copy /y software ..
copy /y System ..
copy /y Sam ..

After the completion of the process, exit safe mode and restart Windows normally. Hopefully, the errors should have rectified.
---
Restore Windows 10 to an earlier point in time
System restore is a convenient tool when something goes wrong in Windows. It takes back the operating system to a pre-set point. This step requires a system restore to have already been enabled in the operating system so that new restore points can be created.
System restore can help you move before the time when an incomplete application installation or uninstallation process took place, when registry cleaning tools erroneously removed entries from the registry, or when malware was installed into the system. In all likelihood, system restore will solve all problems related to the registry.
→ How to Use System Restore in Windows 10
---
Reinstall Windows 10
If none of the above steps worked, then it's time for the last step. This is the ultimate solution. All registry issues will be solved by a reinstallation, or 'Reset' in Windows 10 terminology. The reset of Windows 10 remove all the installed applications and settings and places a fresh installation of Windows on the PC.
Because the reset process creates the original registry of the operating system again, there can be no chance of any registry errors after this.
→ How to Reset or Reinstall Windows 10 without Losing Data
---
Conclusion
Fixing a Windows problem can never be easy enough. Even more so, when it's about internal stuff such as registry values. This comprehensive article should solve most or all registry issues on your PC, and also serve as a preventive guide on avoiding registry-related issues in the future.