Educational organizations like schools, colleges are mostly taking online classes for their students due to the Covid-19 Pandemic. It is easier to take virtual classes for middle/high school students. However, it is a bit difficult to take online classes for the kindergarten/primary students without interruption, as they are not used to the concept of virtual classrooms yet. Fortunately, if you are using Webex, you can mute all your participants at once and take classes without any interruption.
There are two ways you can mute all participants in a Webex meeting. If you've an ongoing meeting and everyone has already joined, you might find the 'Mute All' option helpful. But if you just created a meeting and participants are yet to join, you might find find the 'Mute on Entry' option more useful.
How to Mute All Participants During a Webex Meeting
Assuming you already have a Webex meeting ongoing, we'll skip straight to the part where you need to press that 'Mute All' button.
Click on the 'Participant' menu in the toolbar at the top on the Webex meeting window. Then, select 'Mute All' from the list of options to mute all participants in the meeting at once.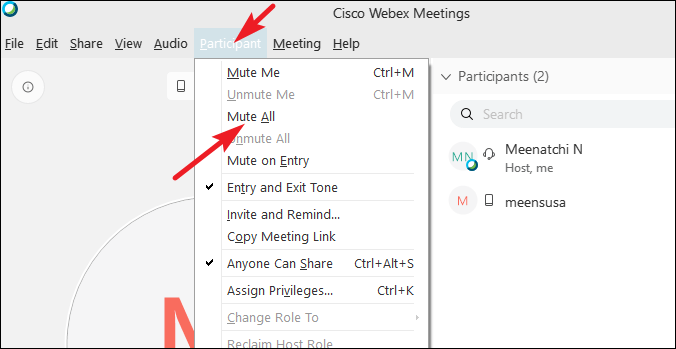 ---
How to Mute Participants as they Join the Meeting Room
You can configure a Webex meeting to automatically mute participants as they join. This is helpful if you've just created a new Webex meeting and participants are yet to join the meeting.
From the Zoom meeting window, click on the 'Participant' option from the toolbar and select the 'Mute on Entry' option to enable it for the meeting.
Any new participants joining your Webex meeting will now be muted by default.
---
You should be able to mute your Webex meetings by using either of the options explained above. If you want to mute everyone temporarily in a meeting, the 'Mute All' button is pretty useful. However, when you know you're hosting a meeting with participants who would unnecessarily speak (preschool kids, probably) right after joining, it's better to put them on mute as they join so you can keep your sanity.