Chatting is one of the central experiences of Microsoft Teams. A lot of work gets done in chats. It also saves a lot of time by reserving only the absolutely important matters for meetings. There is also the added benefit of having a record of all correspondence. All conversations are saved in Microsoft Teams whether you are chatting with someone privately or in a channel.
But over time, the messages tend to pile up. And if you ever need to find any old messages, it is neither convenient nor practical to scroll through your conversations. And of course, the folks over at Microsoft Teams know that too! And they don't want you to scroll endlessly through your conversations either.
You can search your old chats effortlessly in Microsoft Teams. And even if the search results pile up too, you can always use the filters to navigate through the search results. If you're wondering how, all we have got to say to you is that the infamous Command Bar in Microsoft Teams is not just a Command Bar; it moonlights as a Search Bar too.
To find an old message, type a keyword from the message in the Search Bar at the top, and press the 'Enter' key. That's the only catch – you must remember at least some keyword, partial or complete, that the message contains.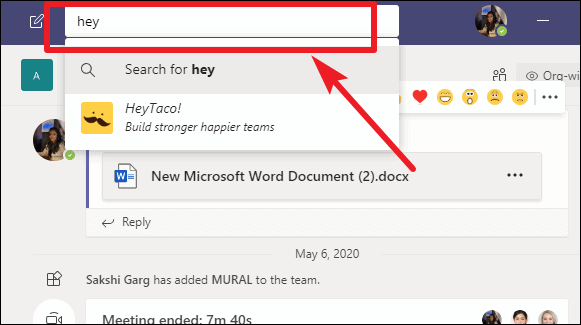 All the messages containing the keyword, whether posted in a Channel or a private conversation, will appear on the left side of the screen.
And if the search results are feeling too infinite to go through, you can use the filters to optimize the search.
To limit the search results to a single person, use the filter From, and enter the person's name. You can only filter messages from a single person at a time.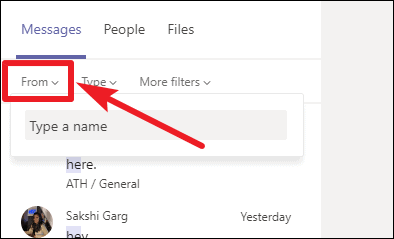 Use the filter Type to filter the search results by messages received in a 'Channel' or 'Chat'. Select 'All' to go back to viewing all types of messages again.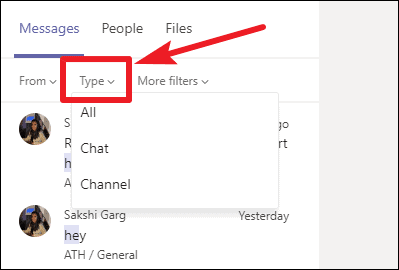 Click on More Filters to apply more filters like 'Subject', 'Date Range', 'Team', 'Channel' on the search results. You can also filter the messages by if they have an attachment or if someone has mentioned you in them.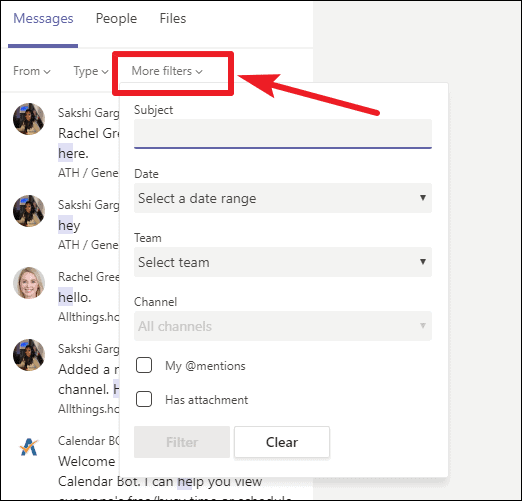 ---
You can easily search for any old messages from your conversations in Microsoft Teams using the Command Bar at the top that also acts as the global Search Bar for the app. One of the best things about the Search Bar is that it is accessible from all navigation areas of the app.
You can search for messages, people, or files in the app using it, but it is most useful for finding messages as People and Files have separate dedicated sections too. And you can also use filters to streamline the search even further.