iPadOS 15 has a new feature to make life easier for iPad users. Let's introduce you to Quick Notes. An extension of the popular Notes app, this new feature lets you create a note on any screen or app on iPad. Without even having to open the Notes app, you can jot down important information right there in the quick note.
Even though Apple primarily markets the feature for Apple Pencil users, it's useful for Apple Pencil users and non-users alike. You can easily access the quick note even if you have an Apple external keyboard.
What is a Quick Note?
Quick Note is a small notes window that opens in a corner of your iPad screen. This window is small enough so that it doesn't take over your entire screen. But you can resize it with a simple pinch of your fingers to make it bigger or smaller. It cannot be shrunk down than its default size, though.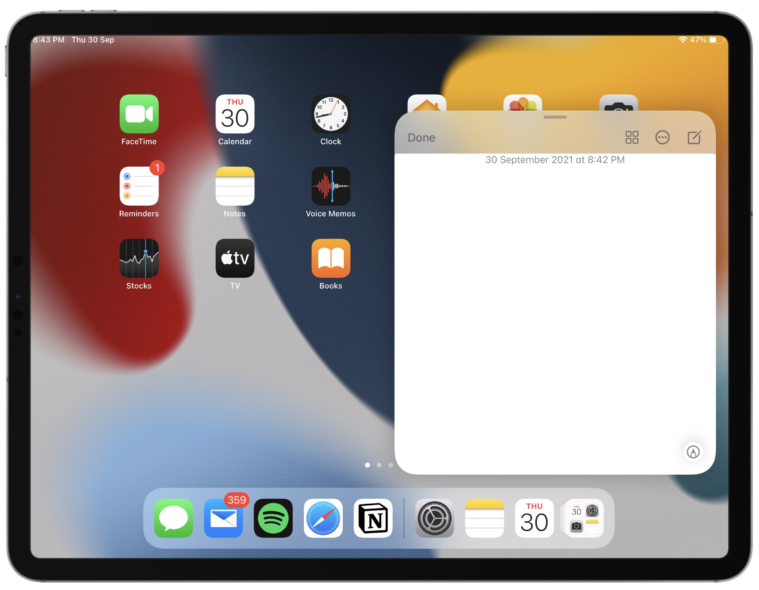 You can also move the window to any corner of the screen. Or you can also move it completely aside where it'll remain as a visible edge ready to be summoned at its master's will.
Everything else works much like a normal note. You can handwrite in it using your Apple pencil, or type using your keyboard. It has all the options that a note has, like adding checklists, drawings, photos, tables, or other formatting options.
But it also has a feature exclusive to quick notes: you can simply add the link you're currently on (from a browser or a few apps) with a single tap. iPad will also show the Quick Note thumbnail you created when you add a link from an app or highlight text in Safari when you visit the site next time. You can resume whatever you were doing from the Quick Note.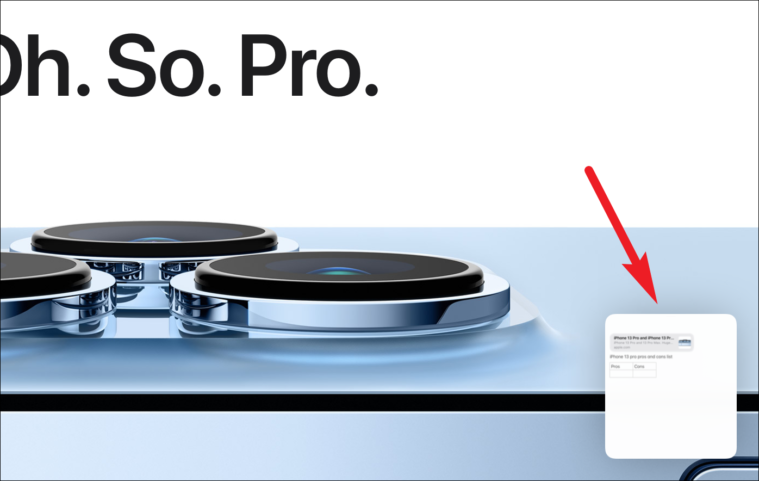 What makes it even more practical is that you can view all your quick notes from the floating window itself with simple left and right swipes. You can also share it directly from here. The quick notes you create on your iPad will also be available on your iPhone and Mac. Now that we know what it is, let's get to the business of how to use it.
How to Create a Quick Note on iPad
There are a few ways you can access the Quick Note on your iPad.
The simplest and most fascinating way to create a quick note is by swiping left from the bottom-right corner of the right part of the display by using either your Apple pencil or your finger.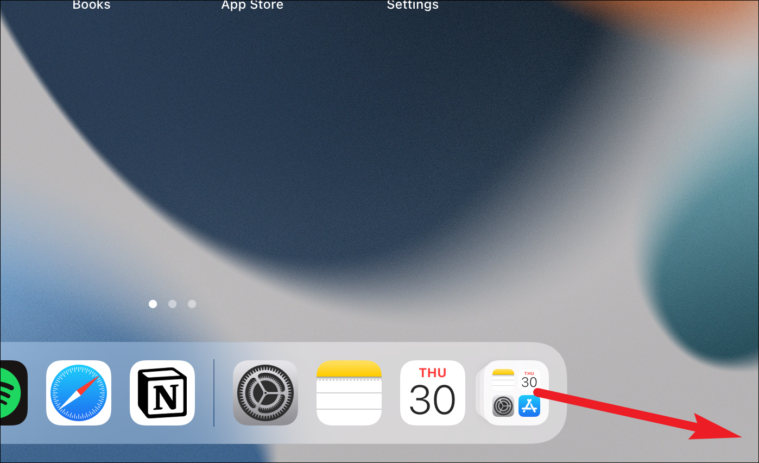 If trying to swipe seems too complicated, you can also access it from a more familiar place – the Control Centre. But this method requires an initial setup on your part as you have to add it to the controls included in the Control Centre. Open the Settings app on your iPad and go to the option for 'Control Centre'.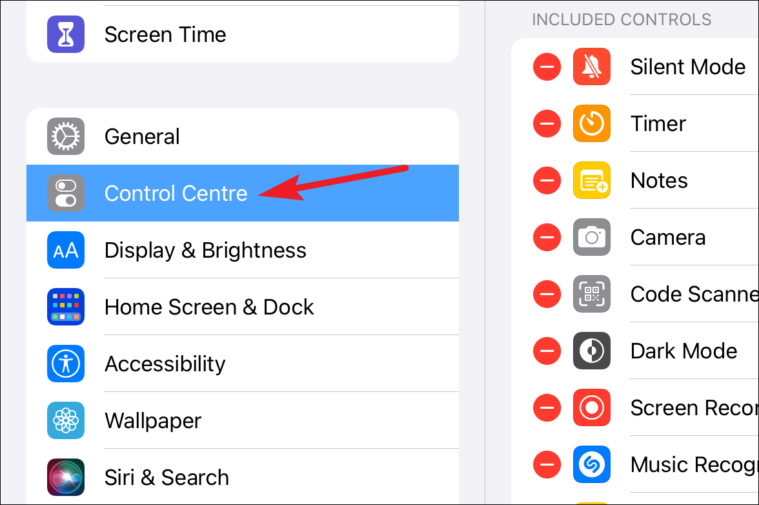 Make sure you have the toggle for 'Access Within Apps' open or you won't be able to use this method to create a quick note within an app. Then, scroll down to 'More Controls' and tap the '+' icon to the left of 'Quick Note'.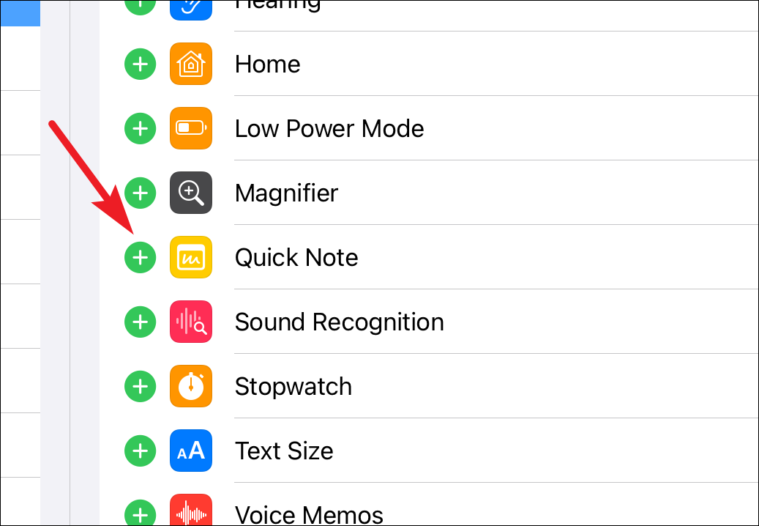 Now, when you want to create a quick note, swipe down from the upper-right corner to bring down the Control Centre. Then, tap the icon for Quick Note (notepad with scribbles in it).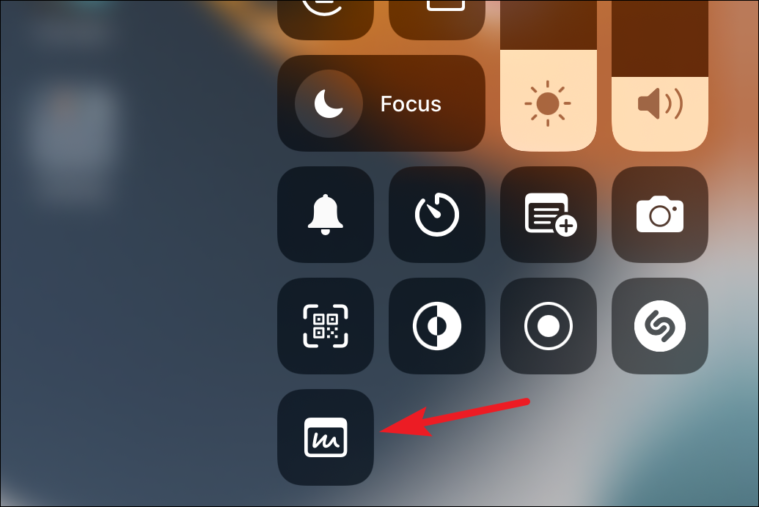 For Apple external keyboard users, you can also use the keyboard shortcut Globe key + Q to create a quick note. If you use any other keyboard other than Apple's external keyboard, you can also use this shortcut if your keyboard has the Globe key.
Using Quick Notes on iPad
Once you've created a quick note using either of the above methods, here are some things you need to know about using it.
The quick note window will open in the bottom-right corner of the screen by default. To move it anywhere else, tap and hold the bar at the top of the floating window and drag it somewhere else.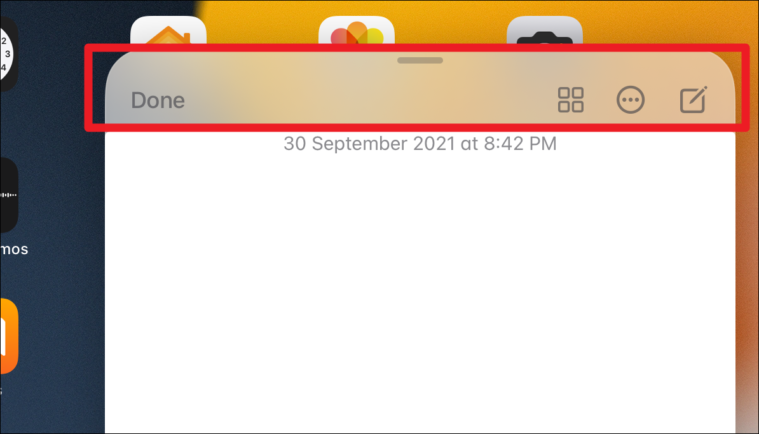 To move it aside, drag the note to either of the side edges of the display. An arrow will be visible where you park it. Hold and drag the note onto the screen again using the arrow.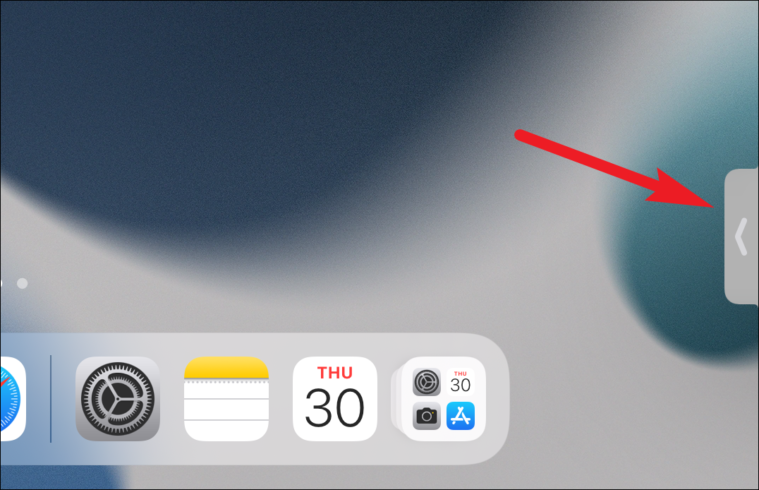 To resize the window, use two fingers and pinch outward to increase the size or inward to make it smaller.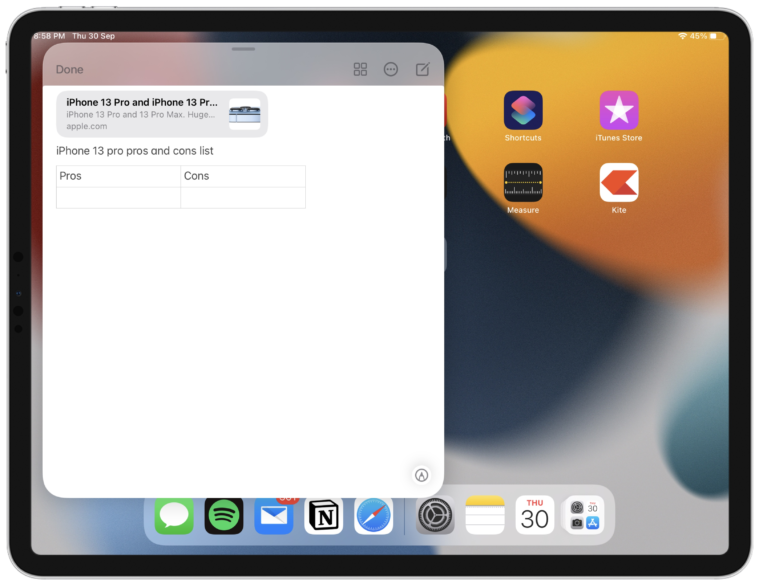 By default, the last quick note opens when you create a quick note. To start a new note, tap the 'New Note' icon in the upper-right corner of the window. Keyboard users can use the Command + N keyboard shortcut to start a new quick note.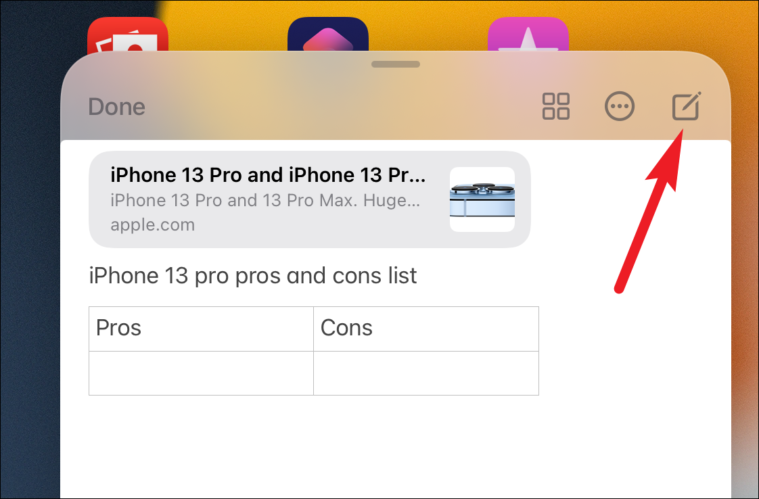 You can change this setting to start a new note instead of opening the last quick note when you create a quick note. Open the Settings app and go to 'Notes'.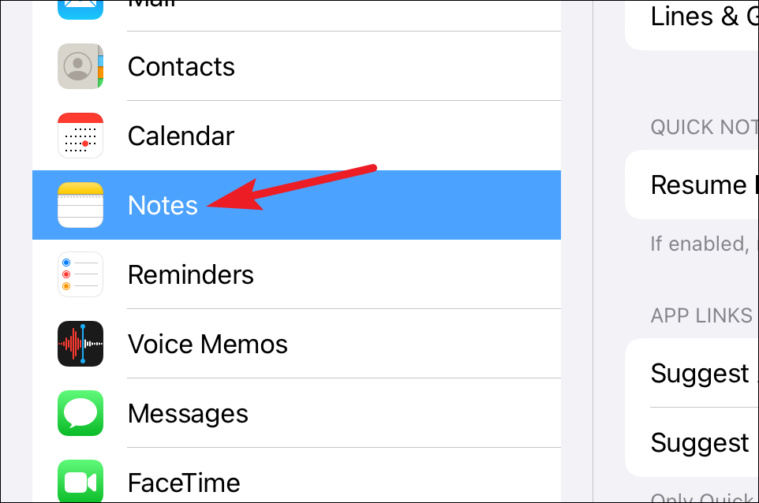 Then, turn off the toggle for 'Resume Last Quick Note'. Now, when you create a quick note, it'll always open a new note by default.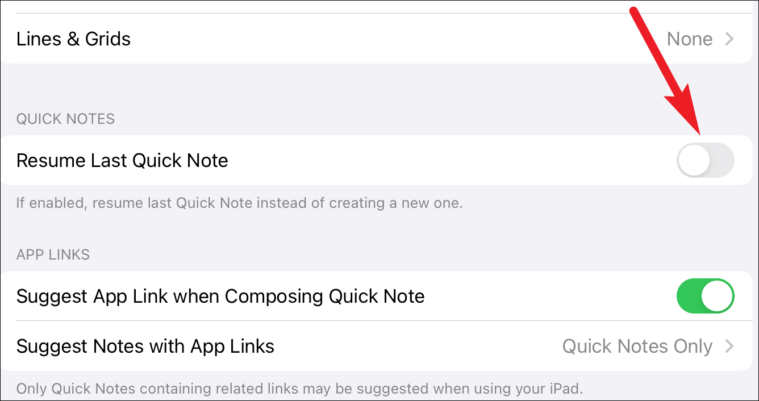 To use other features of notes like checklists, photos, tables, etc., go to the menu above the keyboard and tap the corresponding icon.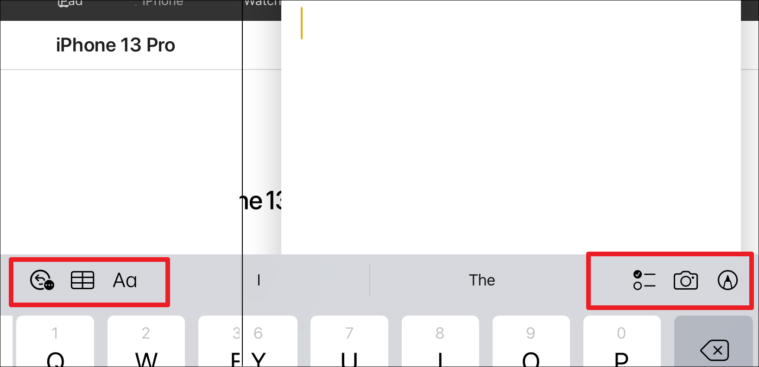 Tap 'Add Link' when you want to add the link for the current page from Safari or an app to the note.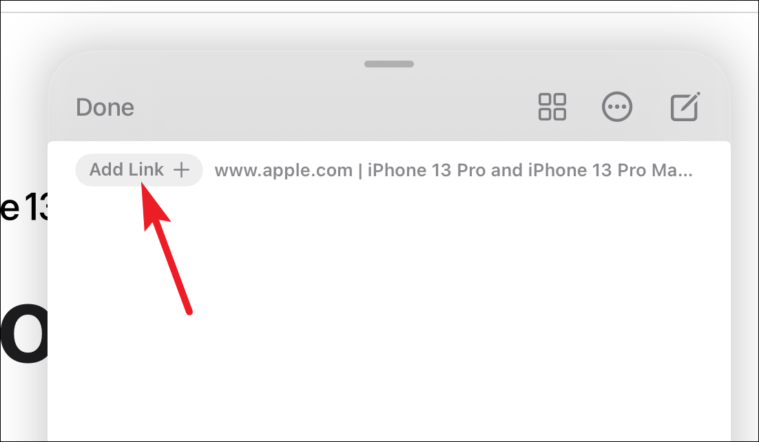 To switch to other quick notes, swipe left or right on a note. All quick notes you've created can be accessed by swiping left or right on the floating window.
To share or delete a quick note, tap the 'More' icon (three-dot menu) from the Quick Note window.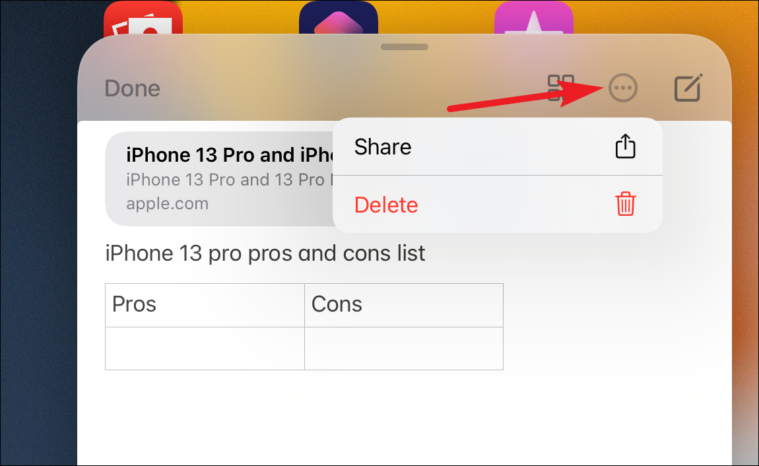 All your quick notes are also available in the 'Quick Notes' folder in the Notes app. You can access it from the Notes app itself.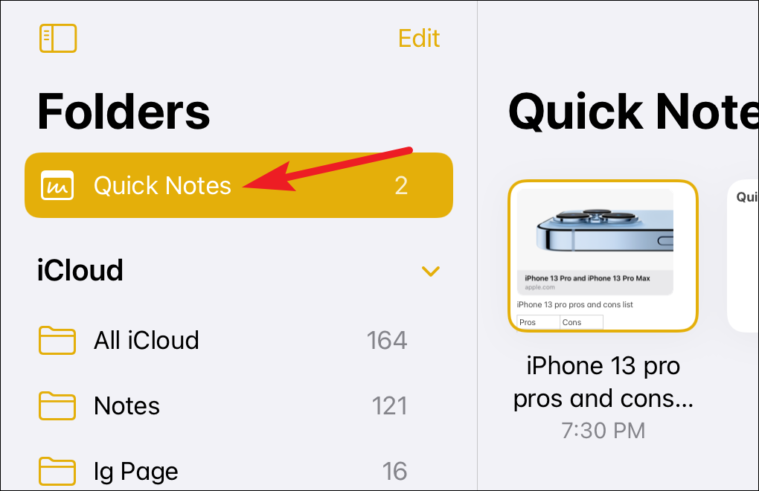 Or, tap the 'Quick Notes' icon from the floating window.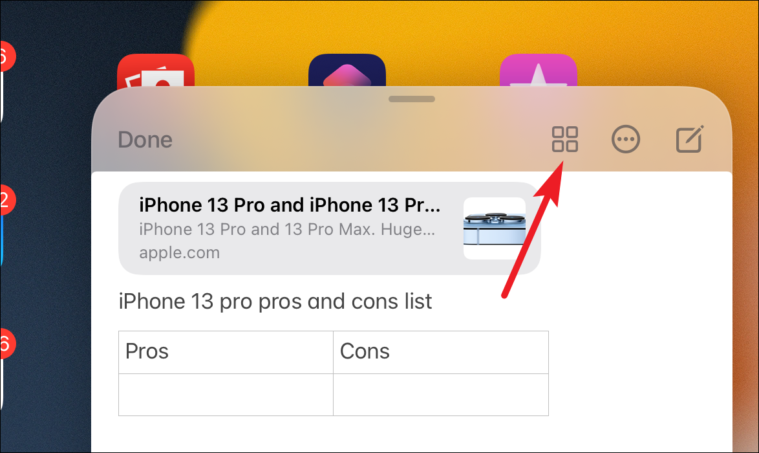 You can move a quick note to any other folder in your Notes app. But if you move it to any other folder, it won't be a quick note any longer. So, it won't be available in the Quick Notes window within apps.
Note: You can only lock a quick note if you move it to another folder.
---
That's everything you need to know about this newest feature in iPadOS 15. Hopefully, you've taken note (pun intended) and will swipe left next time you want to jot down something in a jiffy on your iPad.