Calendars are a significant part of our lives unless we lived in the Stone Age, where dates, timing, schedules, meetings, 9 to 5, and basically our modern-day routine didn't matter and moreover, didn't exist. Paper calendars modernized our style of marking our dates and planning our days. Diaries, sticky notes, and any writing surface added variety to this manner of scheduling and staying in touch with our daily happenings. But with evolving technology, our every necessity has improved too – including the calendar.
Today, we do have physical calendars and diaries, but not all of us look at them nor do we have the time and pace to use them (mostly, it's laziness). Instead, we rely on calendar apps or electronic calendars available on our respective operating systems to do the job. These calendar applications don't just help us look at our days, months, and years, but they also efficiently push us to utilize their features and maximize our own productivity.
If you're out here, looking for the best calendar app(s) to work with, on your Windows 11, we bring you a compilation of the most punctual calendar apps.
Google Calendar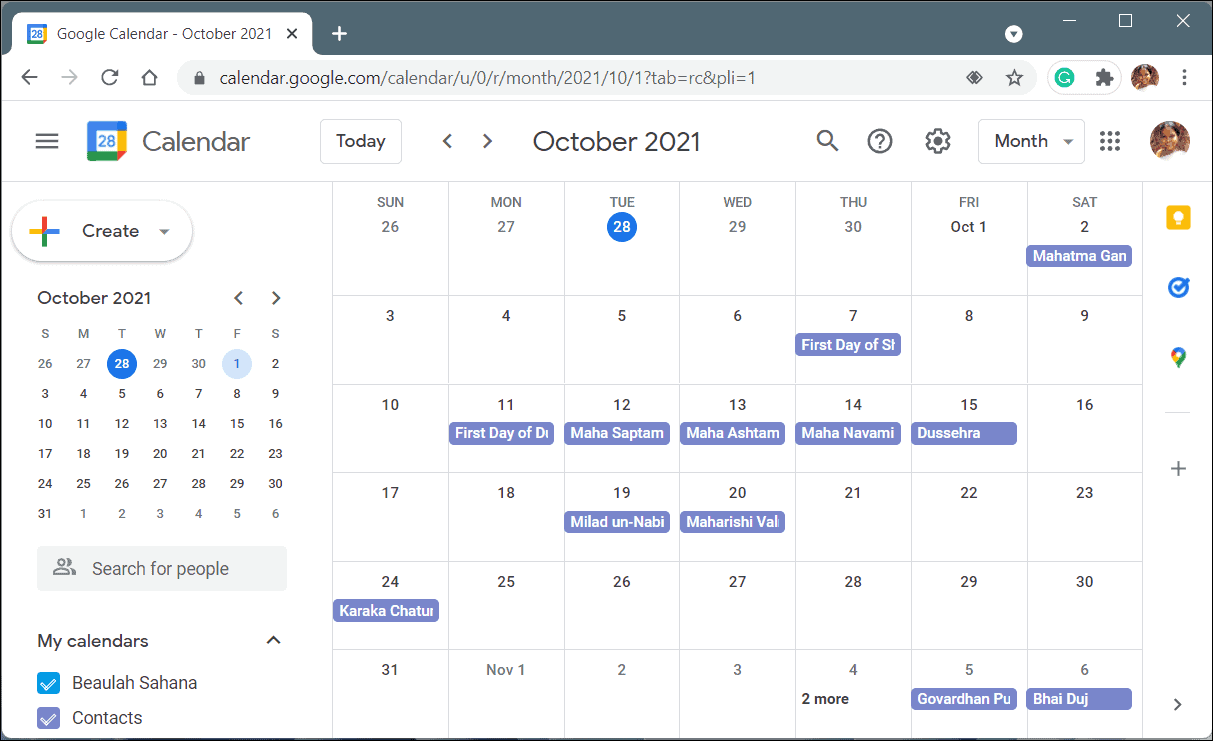 Google Calendar is one of the most effective and the most integrated calendar apps in the world. It works equally great on both Android and iOS platforms. It's freely available as a downloadable application and as a web client.
Google Calendar offers a wide array of features that build upon the basic algorithm of a calendar app. From creating multiple calendars, sharing calendars, syncing your CRM software, enabling world clock, and setting your working hours, to hiding schedules, finding the right time for meetings, booking appointment slots, inviting guests, and e-mailing them, Google Calendar does it all.
These features bite only into a single portion of the application. The service has an expansive range of facilities that regularly expand and add to the app's overall efficiency.
---
Mail and Calendar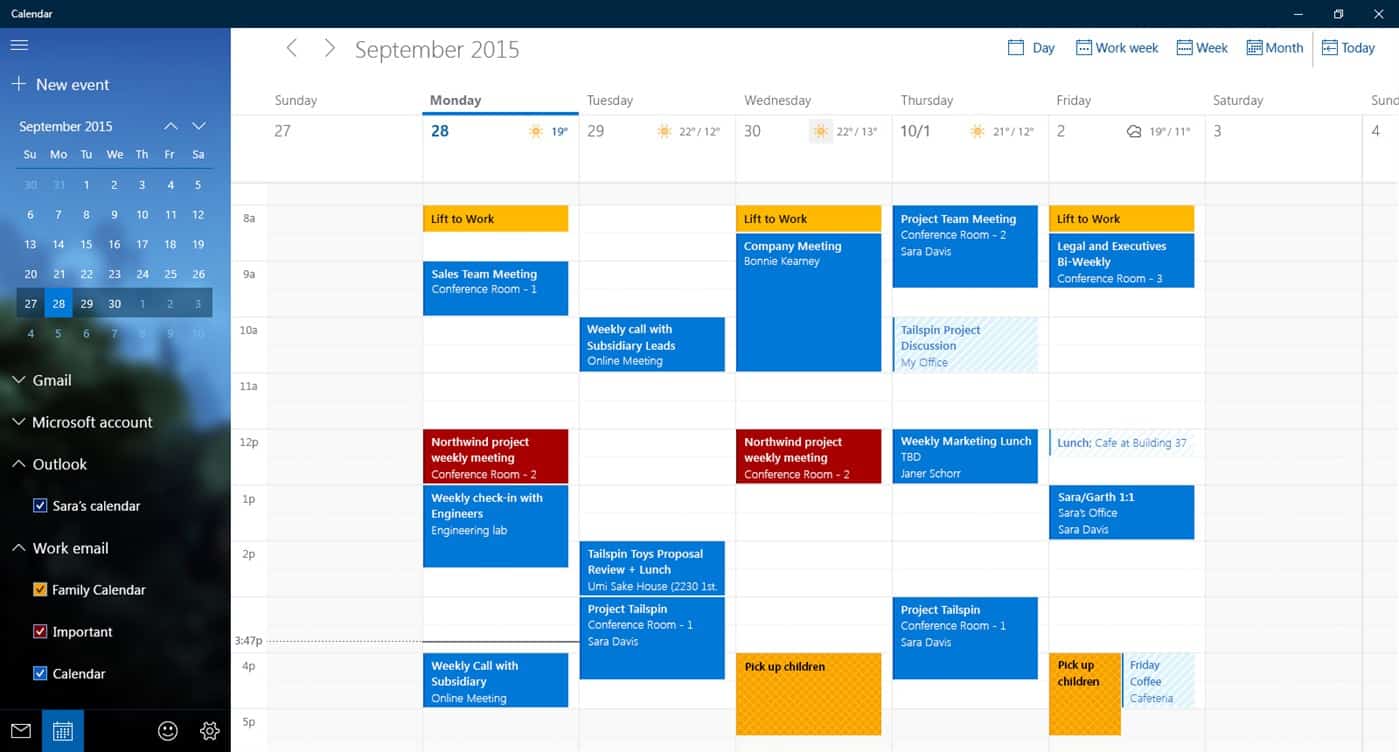 Mail and Calendar is Microsoft's own scheduling service. It's a lot like the Outlook Calendar, but with the perks of being smaller in size and good-looking. Plus, Mail and Calendar is a free, individual application. So, it doesn't require an Office package nor your wallet to serve you.
Mail and Calendar, known as just the 'Calendar' application on Windows 11 is a fairly basic calendar app. It has a simple interface, easy to understand and use. It's generally the default calendar application on a Windows device.
Microsoft Calendar allows switching to other Microsoft apps like To Do, People, and Mail, right from the app window. You can also add different holiday calendars to your own. The app offers a decent amount of personalizing options such as Dark and Light mode, customizable background colors, and background images. Mail and Calendar enables integration from Gmail and other e-mailing platforms. You can attach files from your Cloud, drag-and-drop events, and use Smart lookup amongst other features.
---
Calendar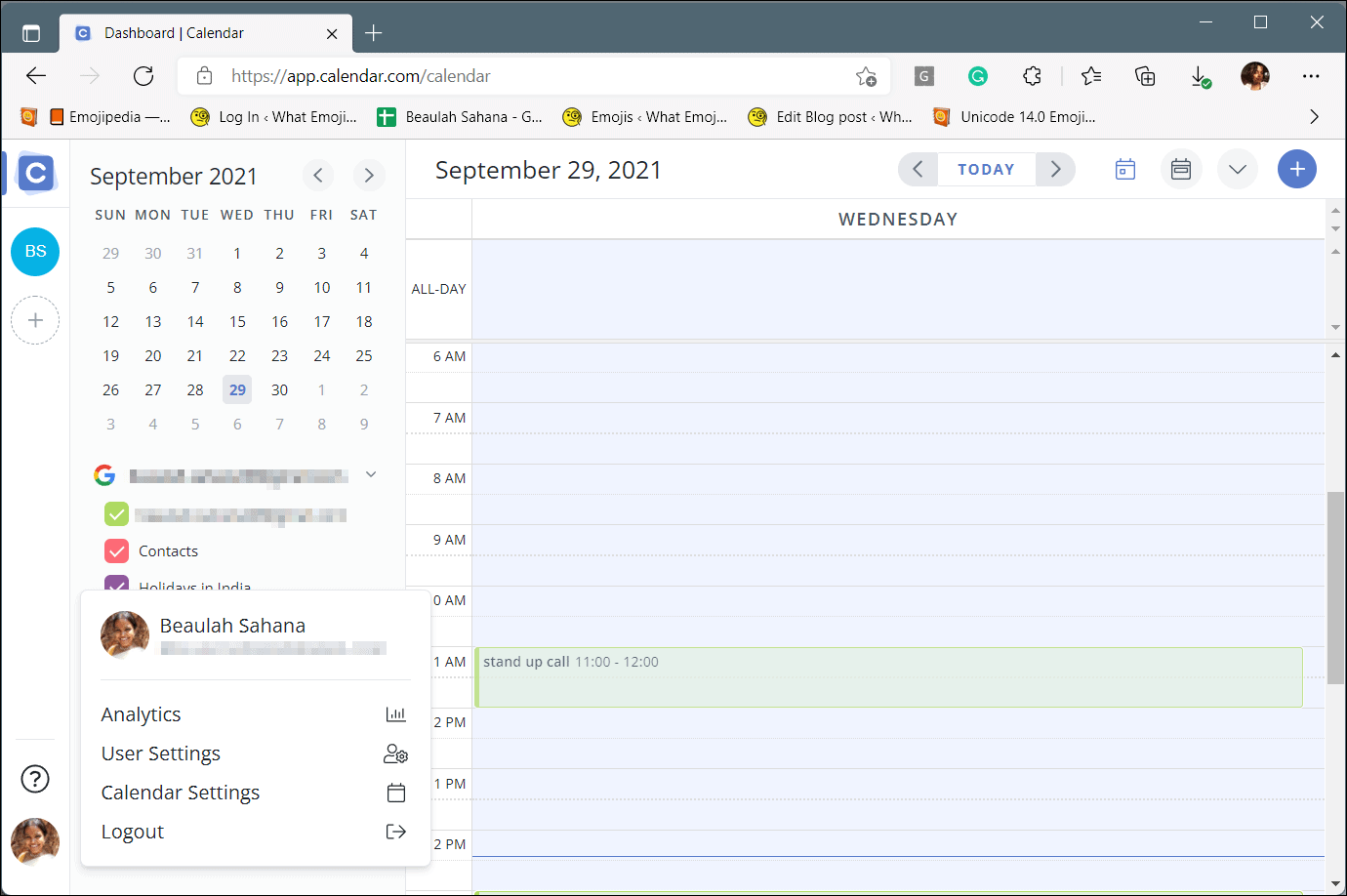 If you're constantly on the go with meetings, scheduling online and in-person meetups, or in general, someone who is tasked with sending appointment/meeting invites, then, Calendar can be a great option for you. It is your average calendar app but with some productive twists.
Calendar is a web application for Windows and a downloadable app on Android and iOS devices.
A highlighting feature of Calendar is its personal/work analytics. You can now see the amount of time that actually goes into work and how your teammates are fairing at it, as well. You could also add multiple workspaces on Calendar, and with that, multiple calendars too.
Apart from scheduling meetings, Calendar allows you to choose the medium of the meetup and send relevant info such as meeting links (if it's an online meeting), office/location addresses (if it's an in-person meeting), etc and attach it with the invite. You can further color-code events and choose from the given or customizable time-slots.
Calendar is strictly a workspace application that aims to improvise your usual scheduling experience. You can use it as a personal calendar assistant, but it really works best in a work environment, and moreover, a remote work environment.
---
Outlook Calendar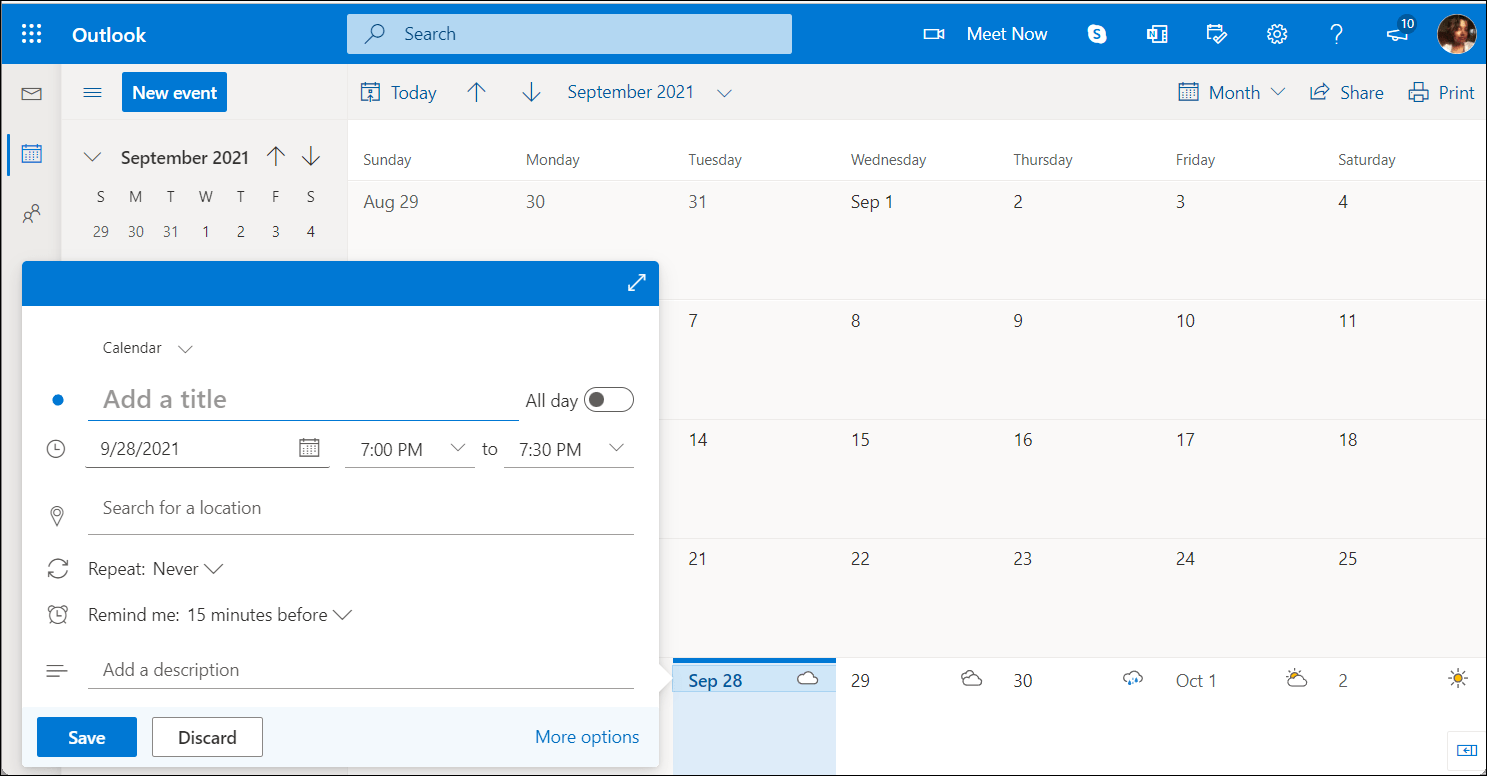 Outlook's Calendar has a rather sophisticated appearance to it – bland in other words. For an active Outlook user, this calendar application is the best match.
With a simplified user interface, the Outlook calendar app opens to a good variety of useful features. If you're looking to commercially integrate this calendar application you need the subscribe (pay) for an Outlook license. Non-commercially, you can directly use the app's web client or via Outlook mail.
Apart from scheduling events, planning, and the regular calendar-app-work, you can also integrate international holidays, your favorite sports teams, favorite TV shows, and TeamSnap into your Outlook Calendar. The calendar also adds a tiny (and cute) weather icon next to each day, this way you can plan according to the weather in your locality.
Outlook Calendar allows sharing calendars – but only the necessary part(s) of it. Here too, you can switch between To Do, People, and Mail anytime you want. You can also directly access other Microsoft apps such as Word, PowerPoint, OneNote, and Excel.
---
TimeTree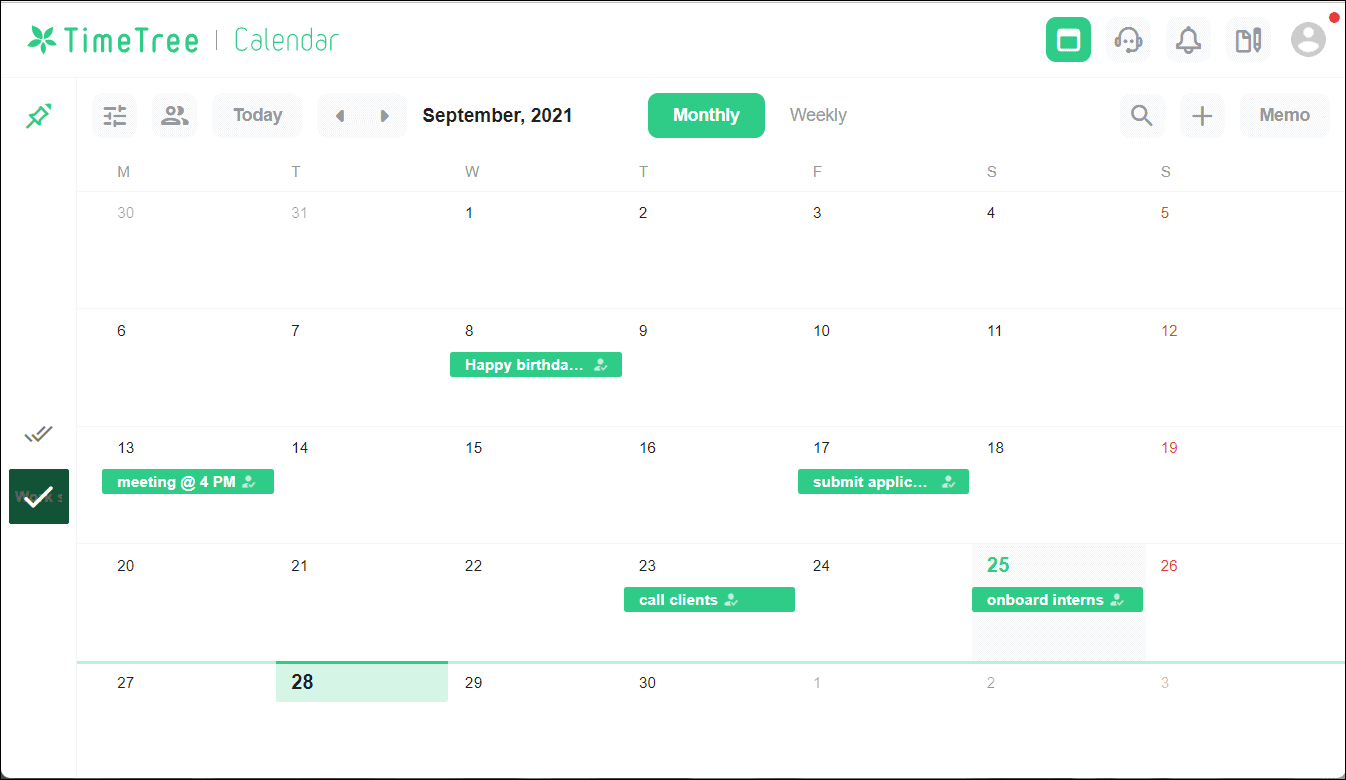 TimeTree is a one-of-a-kind calendar application. This platform offers you to choose the purpose of the calendar even before you start scheduling. As you can tell, this one's a purpose-driven app. Work schedules, important dates in relationships, family time management, school work, you can calendar all of it, and more with TimeTree.
You can further customize the look and feel of your calendar – add a cover image, change colors, and describe what your calendar is all about. Adding people to your calendar (based on the purpose and type of calendar) is easy and quite straightforward – all you need is to copy and paste the invitation link correspondingly. Besides adding calendar information, you can also make notes and jot points in an adjacent Memo section. What's more? This fantastic calendar app is all for free!
---
Daybridge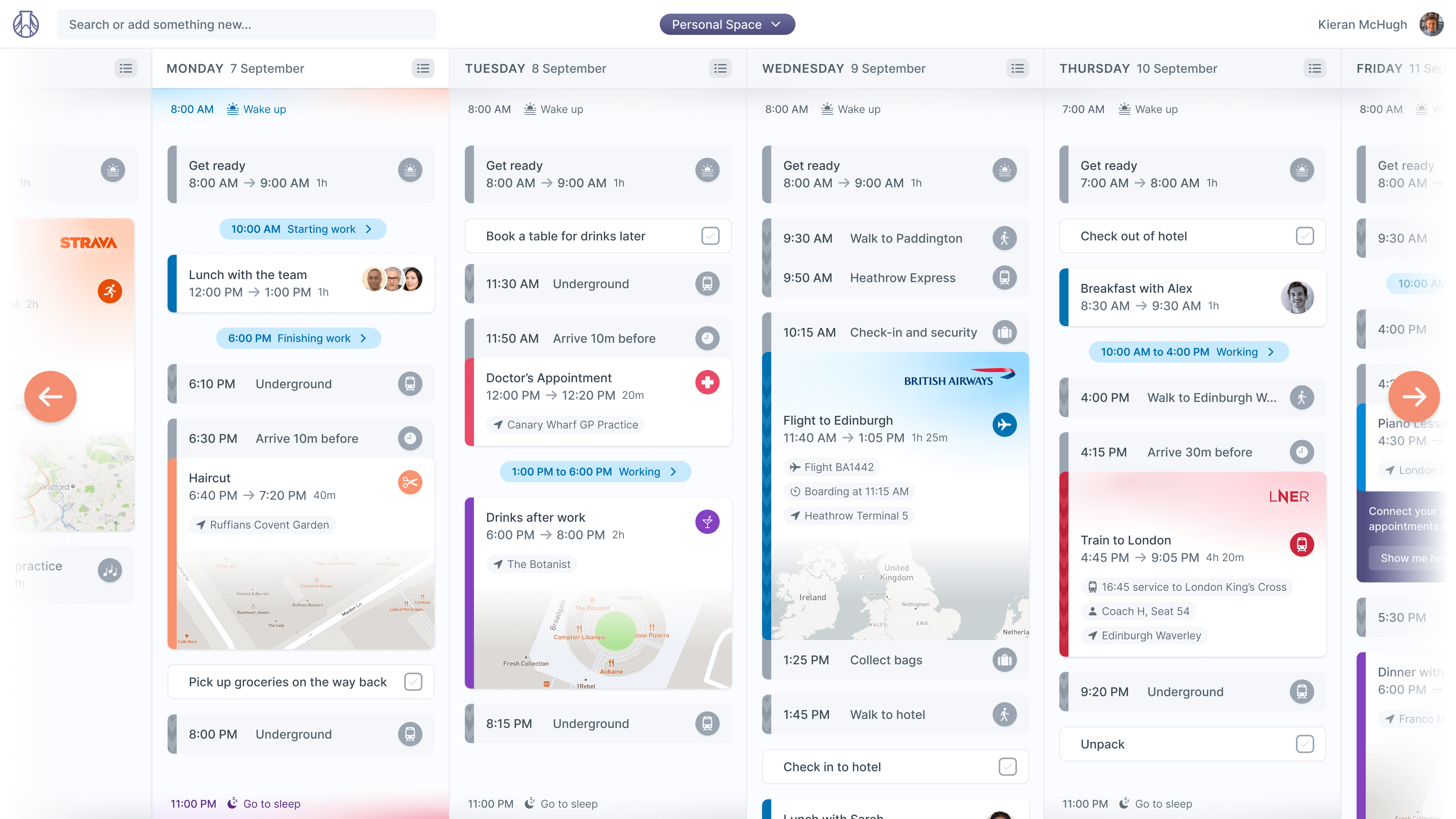 Daybridge is a brand new calendar application that is yet to fully release to the general public. Only the Beta program is available as of yet – which you can join and stay updated with Daybridge's regular course of production and features towards the release date.
Travel Help is one of the impressive features of Daybridge – it helps sort your itinerary and your jetlagged sleep cycle apart from your sleep routine. Some of Daybridge's basic features include blocking time from an endless work schedule, creating tasks on To-Do lists, managing events, reminders, and organizing your time into different spheres.
Besides, Daybridge allows you to structure your calendar according to your convenience. Thereby, negating the emptiness from seeing empty calendar grids. You can also connect to other services and products on Daybridge, via IFTTT. This wonderful calendar application promises to first learn about you and then, about your schedule.
---
Kin Calendar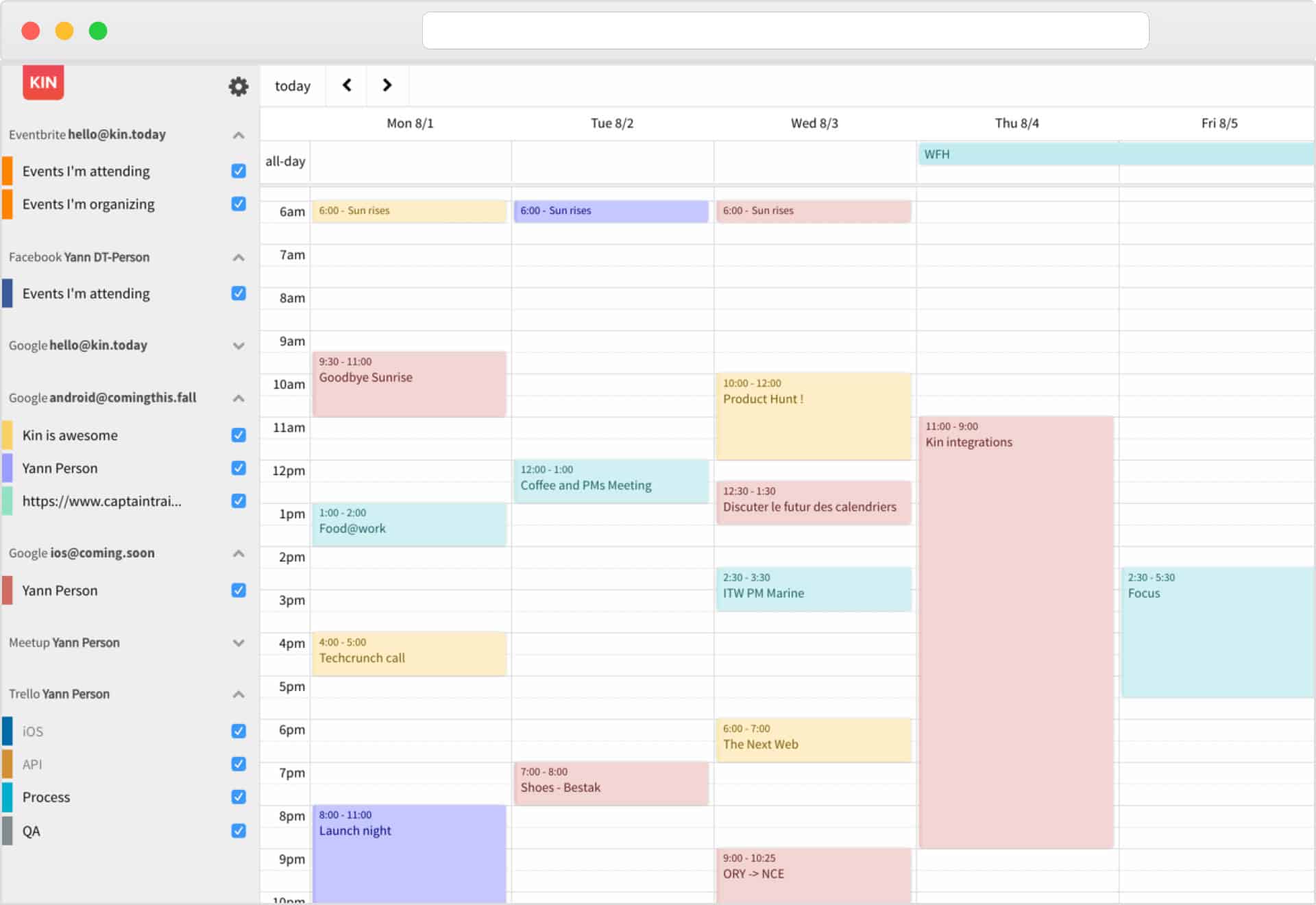 Kin Calendar is a paid calendar application. It costs about 2 Euros or $2.33 per month and 20 Euros or $23.28 per year.
The situation with Kin Calendar is a little like Outlook Calendar. Only here, the parent platform required to access the calendar application is Mailbird. If you're a Mailbird user, then Kin Calendar would be the handiest calendar app for you. That's not the only specification that calls for this calendaring partner. If you're someone who enjoyed Sunrise by Microsoft and felt a tiny heartbreak when it was taken down, then Kin Calendar may be the nearest replacement.
---
One Calendar
One Calendar offers calendar integration from Google, Yahoo, Outlook, Office 365, iCloud, NextCloud, GMX, Synology, and many more platforms. It offers a simple view and an easy-to-use interface.
On One Calendar, you can create, manage, and share appointments, personalize your Calendar view with custom colors and themes, send across invites, view unanswered invites, and use live tiles. A major highlight of this calendar application is its offline functionality.
---
Lightning Calendar by Thunderbird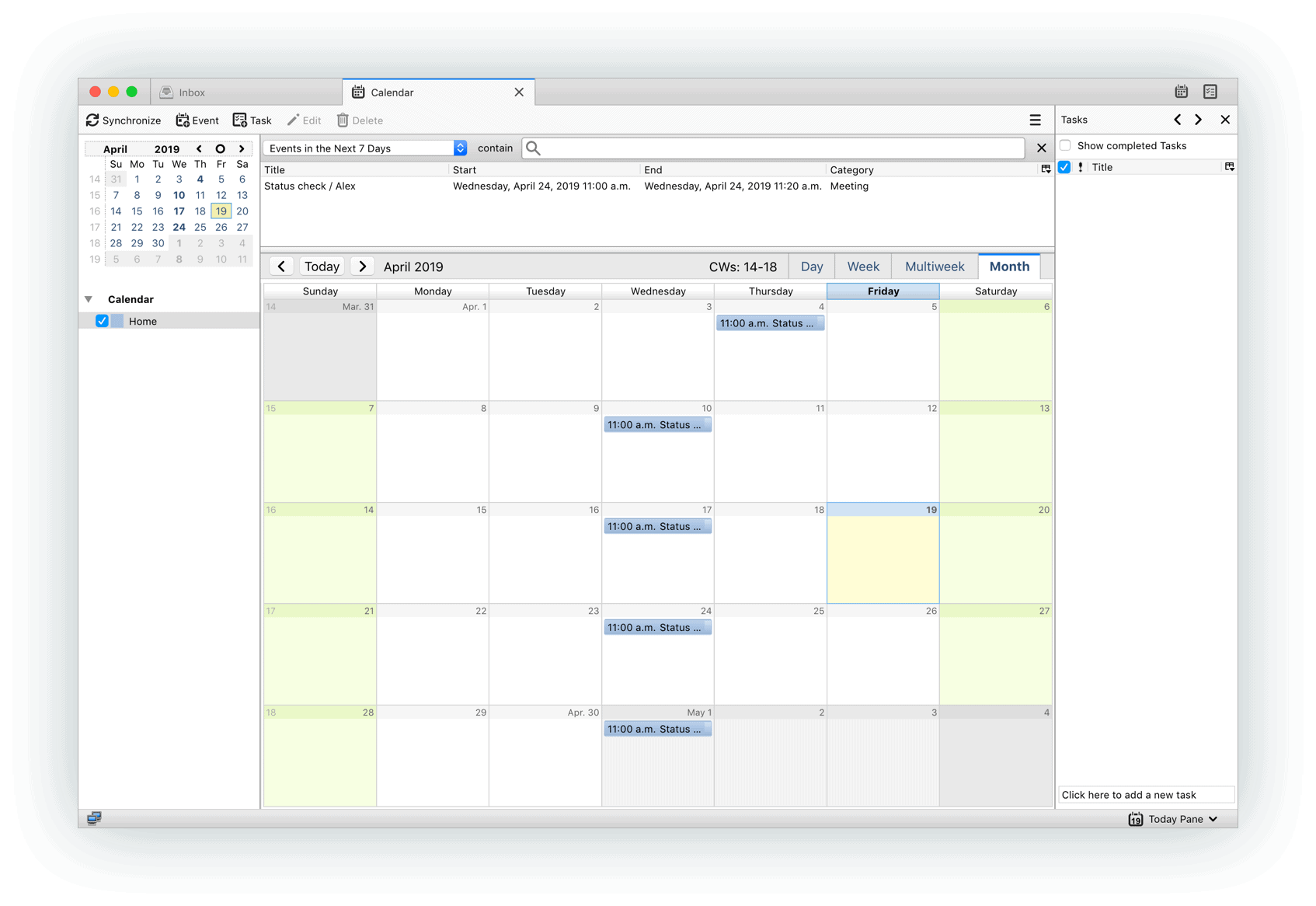 Lightning Calendar is a calendaring add-on introduced by Mozilla Firefox. This calendar application is an addable feature to Mozilla's e-mailing platform, Thunderbird.
As a given, you will need to use Thunderbird, in order to access and utilize Lightning Calendar. You can also use Lightning Calendar via Seamonkey e-mail.
With Lightning Calendar, you can create and manage several calendars, create To-Do lists, categorize tasks, send event invites to friends or attendees, choose your privacy settings, and subscribe to public calendars. It's a great organizing tool for small or large companies or enterprises. It's a pretty simple and non-fancy calendar, unlike TimeTree.
---
Calendaring is not a luxury. Think about our memory for instance. We have the fantastic ability to remember and recall things, but, it's not always to the best of our capacity. We fall short at times. And that's okay because we're only human. So, calendars, especially in today's day and age, are a necessity – and we hope you found the perfect calendaring partner for your Windows 11 device.