The television landscape has changed rapidly over the past few years. Streaming services have taken over traditional cable television. Seriously, cord-cutting is not just a blind trend; it's clearly the more practical and economical approach with a slew of streaming devices available at your disposal to choose from.
But shifting from a traditional cable subscription to a streaming device doesn't mean we're ready to let go of all the cable channels and the content they offer. Some channels still have remarkable content to offer. And let's admit it, there's something nostalgic about watching a show the traditional way, with commercials and everything.
TNT cable network fans, too, who've said goodbye to their cable subscription don't have to leave their beloved channel behind. There are plenty of ways to watch the channel without a cable subscription. Of course, all these ways do include paying for a subscription. But as an online subscription is more economical for most people than a cable TV subscription, it still is a better deal.
Sling TV subscription
A Sling TV subscription is one of the most economical packs to get TNT online. At first, its packages might seem confusing, but it shouldn't discourage you from opting for this service. A little rundown of the available packages will help clear any confusion.
There are two packages available with Sling TV – Sling Blue and Sling Orange. What can be confusing at first sight is that both base services cost $35/ month. Sling Blue offers 3 streaming devices, 45+ live channels, and Free 50 Hour DVR recording whereas Sling Orange offers only 1 streaming device, 30+ channels, and Free 50 Hour DVR recording. So, Sling Orange should be cheaper, right? Why isn't it? The difference is in the channels offered as both clearly offer separate things. The latter offers sporting and family channels such as ESPN, ESPN2, Disney, and Freeform that makes it more expensive than the former.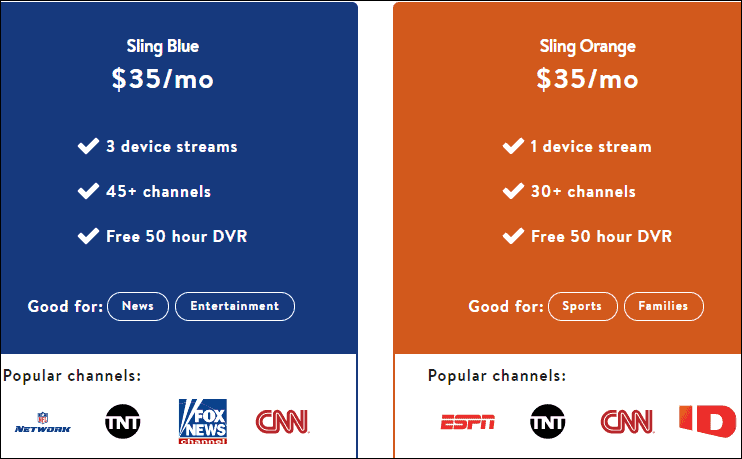 For TNT lovers, the channel is included with both the packages, so the decision ultimately boils down to what other channels you want. You can also get both Orange and Blue for $50/ month that increases your total channels and streaming devices to 4.
Hulu with Live TV Subscription
Hulu barely needs an introduction. It has a well-established rapport as a streaming service. But what many people sometimes overlook is the fact that it also has a great plan that can club your streaming library with live channels.
With its Hulu + Live TV subscription plan, you get 65+ live channels, and one of those channels is TNT. Given, it is a bit more expensive as it retails at $64.99/month. But with its great lineup of channels and other features like 2 screens, Live Recording with 50 hours of Cloud storage, it is clearly a no-brainer for people who are already paying for Hulu's streaming library or want access to it. Users can also opt for a bundle subscription at $71.99/month which also includes Disney+ and ESPN+ along with Hulu + Live TV.
AT&T TV Subscription
An AT&T TV subscription is another great option for TNT lovers. The AT&T TV subscription has a great channel lineup and various packages that offer great flexibility of choice. The lowest package, dubbed Entertainment Package, starts from $69.99/month and the good news for TNT fans is that it is one of the 65+ channels included with this plan.
Other plans include Choice Package which retails for $84.99/month and includes 90+ channels and Ultimate Package which offers 130+ channels for $94.99/month. Both these packages include TNT, and they also offer HBO Max for a year.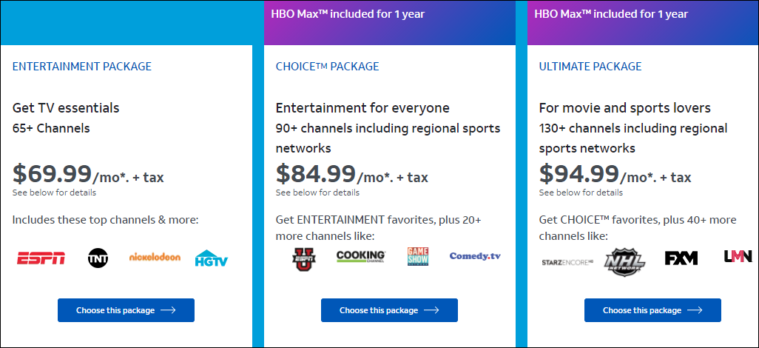 YouTube TV Subscription
Last but not the least, users also have the option of buying a YouTube TV subscription. YouTube TV offers 85+ live channels, including, obviously TNT, at just the cost of $64.99/month. At this price, it is one of the most economical subscriptions available out there that offer such a great lineup of channels. It includes all fan-favorite channels like league networks for all your sporting needs and other entertainment channels like PBS, Comedy Central, etc.
YouTube TV also offers 3 screens and 6 accounts. But one of its most attractive features has to be the unlimited cloud DVR storage which is more than any other subscription out there offers.
---
All of the above subscription plans offered above are great steals. You can use them to watch your content on browsers and iOS/ Android devices, and they all support most streaming devices like Amazon Fire devices, Roku, Apple TV, Chromecast, and Smart TVs. All these services also offer a free trial which you can avail to see if it's the right choice for you. And unlike cable TV, there are no hidden costs for equipment and no contracts either.
So, those desperately looking for all the benefits of the TNT cable network without the extra charges of a cable TV subscription are bound to find something suitable for their needs.