Families share stuff. That's the way it's always been. So, why should it be any different for digital stuff? You use a Google service, and chances are some or all of your family members use it too. With Google Families, you can share these services with family members with complete ease.
When talking about the free services, it doesn't make that much of a difference. But when it comes to subscriptions, everyone wants to take the most cost-effective way, and sharing subscriptions is the way to do it. Google Families lets you do just that.
But that's not all it does. With the Google Families feature, you can share calendars, notes, photos, storage, and content subscriptions with your family. So, let's dive right into what this feature entails.
What is Google Families
Google Families or Google Family Group, as it is interchangeably called, allows you to create a family group of up to 6 people. The person that sets up the group is called the 'Manager'. They are the ones responsible for managing the services and other subscriptions for members. The manager can also create and manage accounts for users under 13 in the family group.
Youtube Premium sharing. The benefits that family members can enjoy include YouTube Music Premium, YouTube Premium, YouTube TV family plans. Family members also enjoy the benefits of a shared Google Play family library to share purchased apps, books, movies, TV shows, etc., and Google Play Pass for access to all games.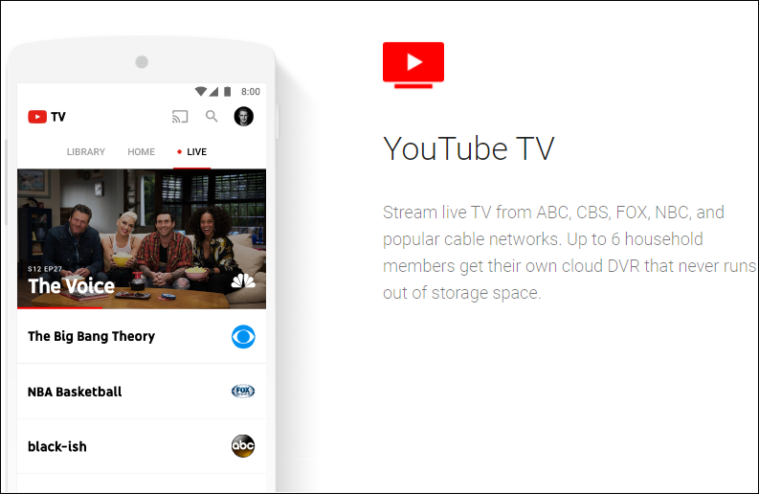 Google One sharing. Google Family Group also includes access to Google One family plan. All family members get access to their separate storage and other benefits of Google One.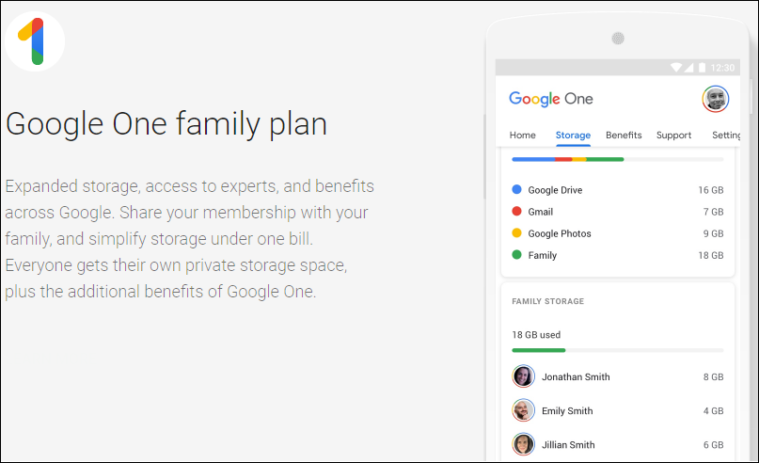 Calendar, Notes, and Google Assistant sharing. Family members also get a shared calendar, notes, and Google Assistant to make planning events and sharing information easy.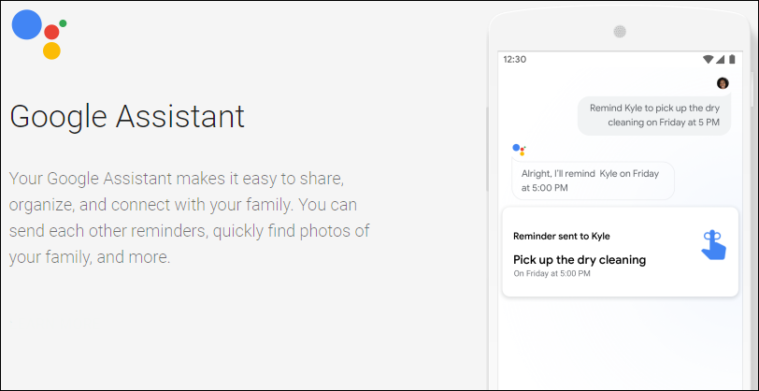 One of the best features under Google Families is for parents, though. Google Family Link, a service under Google Family Group, allows parents to keep tabs on their kids' devices.
What is Google Family Link
The thought of your child exploring the internet unrestricted is a scary one. There's a lot of stuff out there, and having a personal device makes children – young or teenaged – that much more vulnerable.
Of course, you don't want to throttle their inspirations and aspirations completely. But keeping an eye on them and monitoring what they do on their device should be an easy task.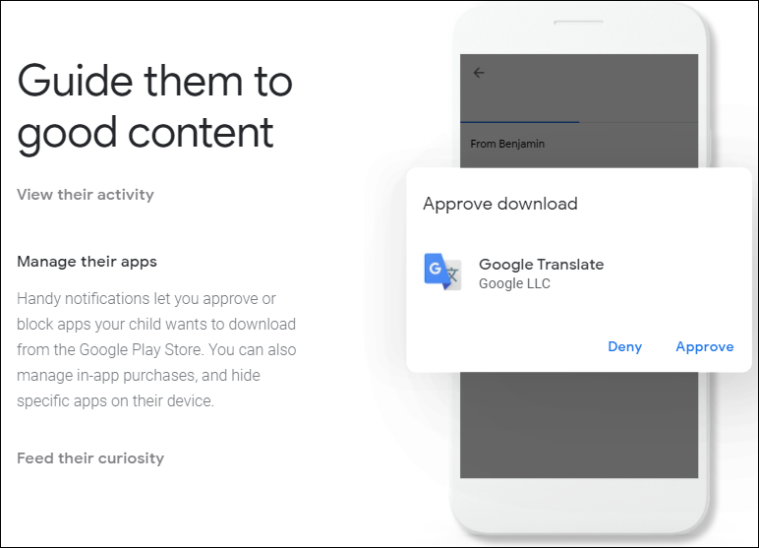 If your child has an Android device or a Chromebook, then Google Family Link does exactly that for you. Parents can manage the screen time for kids, control which apps they can download with permissions, lock their device remotely, track their location, and much more to ensure their children's well-being.
How Does Google Families Work and How to Set it Up
You can set up Google Family Group in several ways. If you set up Family Library from Google Play, family sharing for YouTube TV, use Family Link to create a child's account, get Google One, etc., these acts create a Family Group automatically and make you the family manager.
Creating and Managing a Google Family Group
You can go to families.google.com from your browser and create a family group expressly. Click the 'Get Started' button to create a group.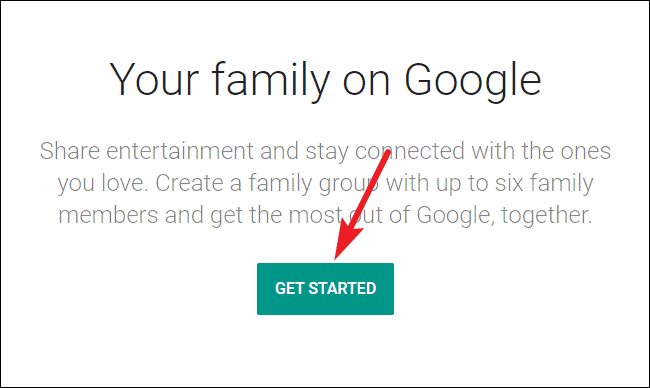 Then, click the 'Create Family Group' button to create the group.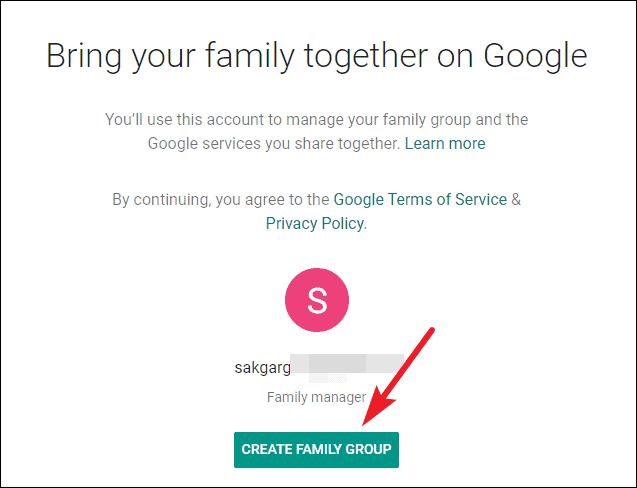 Only the family manager can invite and remove members from the group. Enter Google addresses of up to 5 members to send them an invite to join your family group. You can also skip this step now and invite members later. Click the 'Send' button after entering the email addresses.
Note: You can only add family members who live in the same country as you.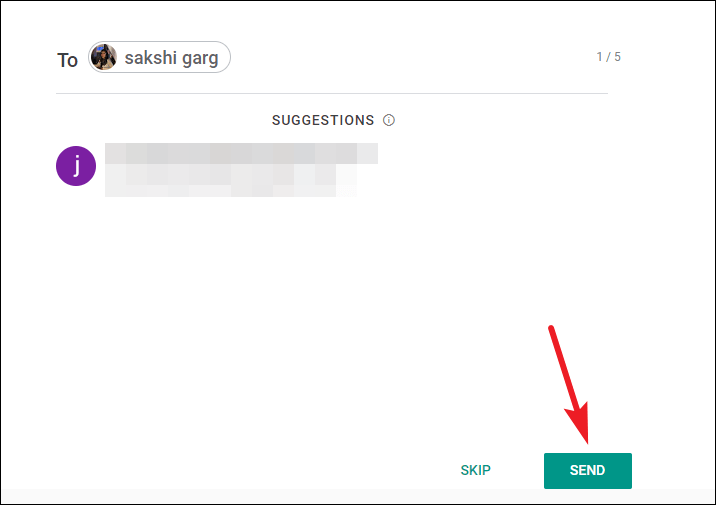 You'll get an email when they accept your invitation. Adding more members (if you have slots left) or removing a member can be managed easily from the Google Families page. Click the 'Invite family member' button to send another invitation. To remove a member, click on their thumbnail.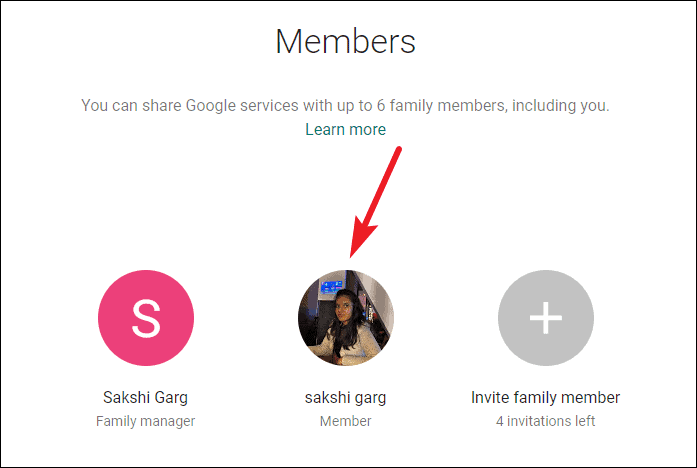 Then, click 'Remove member' from the pop-up window.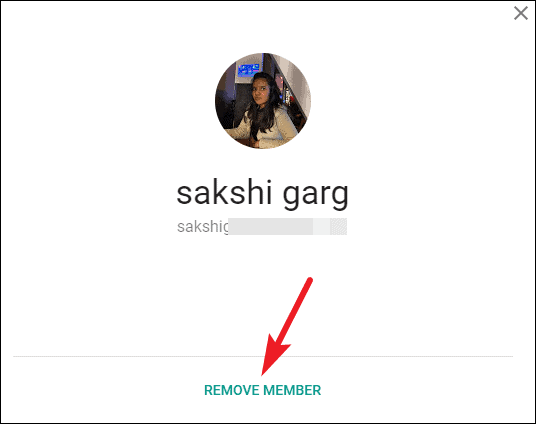 You can also manage which subscriptions to buy or cancel for the family from here or the individual apps on your device.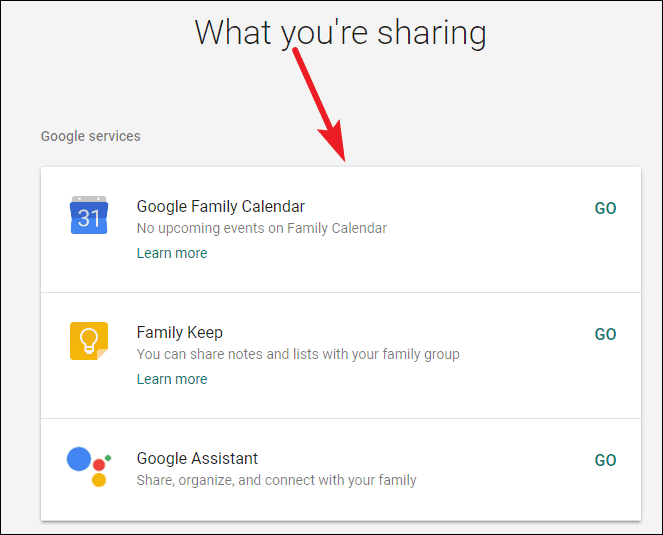 How Much Does Google Family Group Cost
One of the common questions that people wonder about is the cost of a Family Group. Creating a family Group doesn't cost anything, neither does using free services like Google Family Link, Google Keep, Google Calendar, or Google Assistant as a family.
You only need to pay when you buy a subscription for services like YouTube TV, Music, Google One, etc., or purchase content for Google Play Family Library. And the cost for these subscriptions/ content differs depending on which subscription we're talking about.
But with the subscriptions, the catch is that you don't have to pay extra than you would have if you were going to use it individually. For the cost of a single subscription, 6 members can enjoy the benefits.
Who Can Purchase Content for the Group
The family manager has to set up a family payment method for the entire group. Using this payment method, anyone can buy content from the Google Play Library that includes apps, movies, Tv shows, books, etc. The manager will get receipts for anything you buy using the family payment methog. But only the family manager can buy subscriptions for services such as YouTube Premium, Google One, and others.
The family manager can set up purchase approvals for Google Play Library. So, even though the family members can buy anything from Google Play themselves, the manager would still need to approve the purchase.
Although you get to share apps with family members, in-app purchases are not part of this setup. Even if a family member makes an in-app purchase in an app that is already being shared among family members, other members do not get access to said item.
What Can Google Family Members see
Another question that plagues the minds of users before setting up Family Group is the extent of content that other family members see. You can rest assured that signing up for a family group does not compromise your privacy in any way.
The family group members can see your name, age, email address, and profile photo. But other than that, your private content remains yours. In fact, it's a better alternative than sharing subscriptions the old-fashioned way. Normally, if you want someone to have access to your subscription, you'd share your email address and password with them. And with that information, nothing's private. They have complete access to your account.
But when sharing a subscription using the Family Group, they get to access the app with their credentials, and no privacy is compromised.
The same goes for other data. When sharing stuff from Google Play, family members only get access to the purchased apps, movies, books, etc., that you want to share with them. And even then, they get to access it with their credentials.
Even Google One storage and your Google Photos are completely separate. Other family members can see how much storage you're using in Google One, but not your files. The files on your phone or Drive, your photos (unless you're sharing them), notes, contacts, search or browsing history, in short, everything else stays private.
Deleting the Family Group
You can also delete the group without having to delete your Google account. Of course, only the family manager can delete a group.
Go to the Google families page, and click the 'Main menu' icon from the top left corner. Then, select 'Delete family group' from the menu.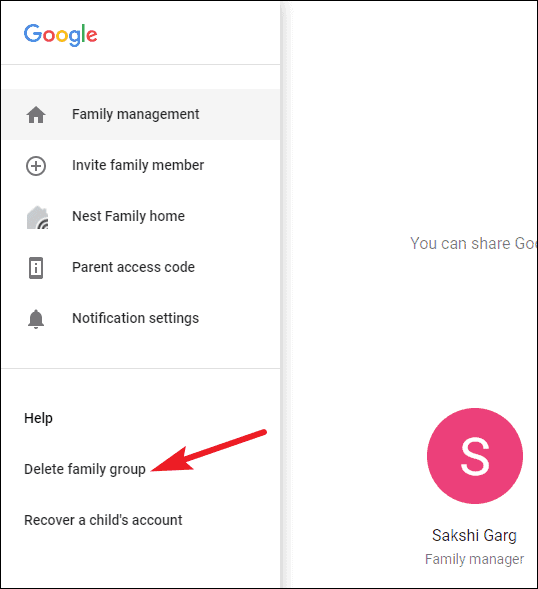 Leaving the Family Group
Although only the family manager can add or remove other members of the group, you can choose to leave the group for yourself at any time. If you want to join another group, you first need to leave the one you're currently in. Go to families.google.com from your browser.
For members, it'll only show the members of the group and nothing else as managing the services also comes under the manager's forte. Click the 'Main menu' icon (three horizontal lines) at the top left corner of the screen.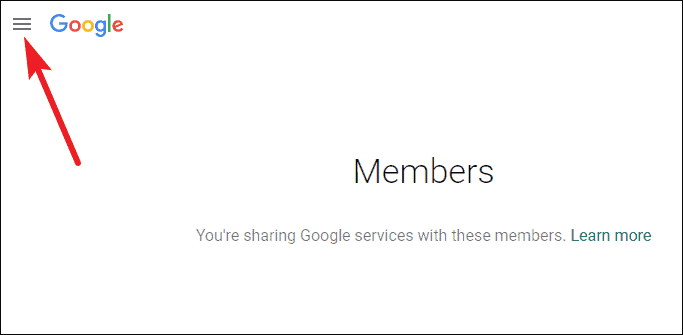 Then, select 'Leave Group' from the menu.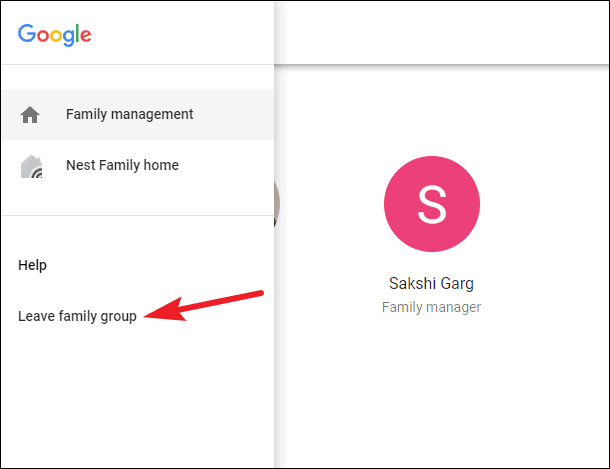 When you leave the family group, you lose access to all the subscriptions and content from the Google Play Library. You also cannot use the family payment method anymore. But you retain access to the content that you purchased (even with the family payment method).
Important Note: You can only switch groups every 12 months. If you leave a family group and join another, you cannot join a new group after this for a year. This goes for the family manager as well as members.
---
Google Family Group is a great way to enjoy Google's services as a family. You can share subscriptions, content, calendars, notes, even Google Assistant to make life easier for you and your family.