While ChatGPT was only launched to the general public on 30 November 2022 – mere two months since its release at the time of this writing – the popularity it has experienced has been unreal. To call it the most popular AI tool till now would not be an exaggeration. It can answer questions on diverse topics in a way that you feel like you're interacting with a human. You can use it for research, get help with coding problems, and much more.
But while ChatGPT is undoubtedly great, it has some limitations. Ranging from mildly vexing to downright inefficient, these restrictions can completely derail your experience. Fortunately, you could enlist the help of some Chrome extensions to make ChatGPT cater to your needs. Even if you don't think of anything about ChatGPT's limitations, these Chrome extensions will boost your overall productivity. And we've compiled a list for you because you certainly deserve the best. Let's get going!
Note: ChatGPT is experiencing exceptionally high demand. So when the service is saturated, you can't access ChatGPT and it also affects the working of the extensions listed below. Keep that in mind as you use them. According to their website, they are working on scaling their systems.
1. WebChatGPT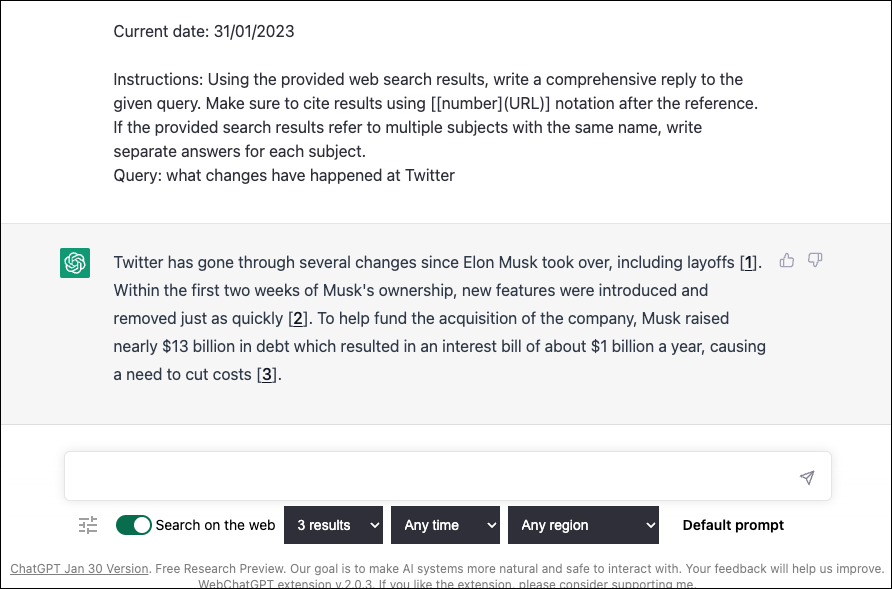 ChatGPT has been trained on a vast information repository from the internet. But one of the main problems with it is that it does not have knowledge of events and the world after 2021. So, it can give you outdated information at times.
But with the WebChatGPT Chrome extension, you can address this problem. When you have WebChatGPT installed on your system, the extension augments the chatbot by providing it with the latest and relevant results from the web for the prompt you enter. The answers the bot then provides are more relevant. ChatGPT also shows you the web results it used, i.e., the ones the extension provided, to arrive at its answer for your peace of mind.
You can even configure certain parameters like time, region, or how many search results it should use. WebChatGPT has to be one of the best Chrome extensions you can use for the AI chatbot, even with all the additional information/ links it litters the screen with.
2. ChatGPT Everywhere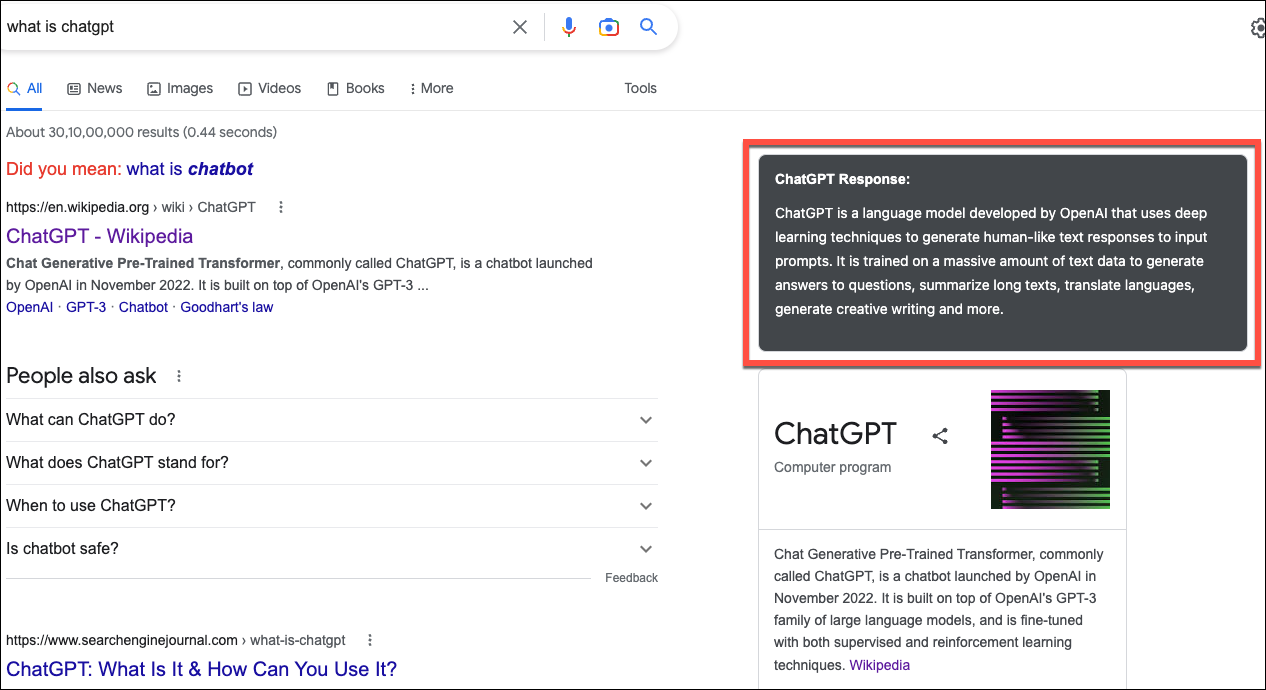 ChatGPT is simple enough to use but there's a catch; you can only use it in a separate browser tab. Whenever you want to ask the AI something, you need to navigate to the address to interact with it.
But with ChatGPT Everywhere, you can have the AI bot (almost) everywhere. Installing the ChatGPT Everywhere extension gives you access to the AI on all the websites and even during Google Search.
Here's how it works: when you search for something on Google, the extension automatically kicks in, and along with the search results from Google, you also get an answer from ChatGPT in an extension frame on the right of the search results.
Unfortunately, it does not work like this on other Search Engines. But you can access it on other search engines and any other websites by clicking the extension icon. The extension window will open on the right side, where you can enter a prompt and get a response from ChatGPT.
But unlike ChatGPT's interface, when using it in the extension window, your old queries aren't saved; asking a new query will wipe off the old response. To use the extension, you must be logged in to ChatGPT on your computer.
3. ChatGPT for Google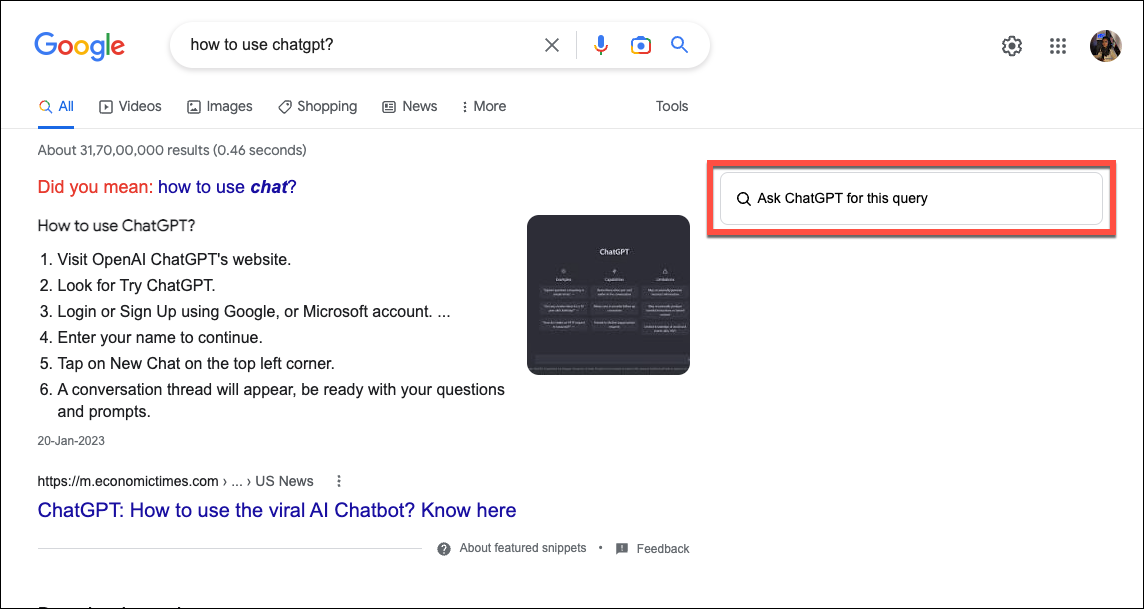 For users who also want the ChatGPT functionality everywhere but would also like to control when responses from ChatGPT should kick in when you Google something, ChatGPT for Google might be the extension for you. After all, you might not want all your queries to go to ChatGPT.
On Google, this extension works largely the same as the one above. The extension shows the response from ChatGPT to your Google query in a panel right on the Google results page. But there is one key difference – you can configure whether you want the response from ChatGPT on every Google search query, on queries you end with a '?', or only manually when you click a button.
To access it on other websites, simply click the extension icon. The interface for ChatGPT will open in the extension frame and you can ask your queries without having to navigate to a separate tab. Again, you must be logged into your account on ChatGPT for the extension to work.
4. ChatGPT for Search Engines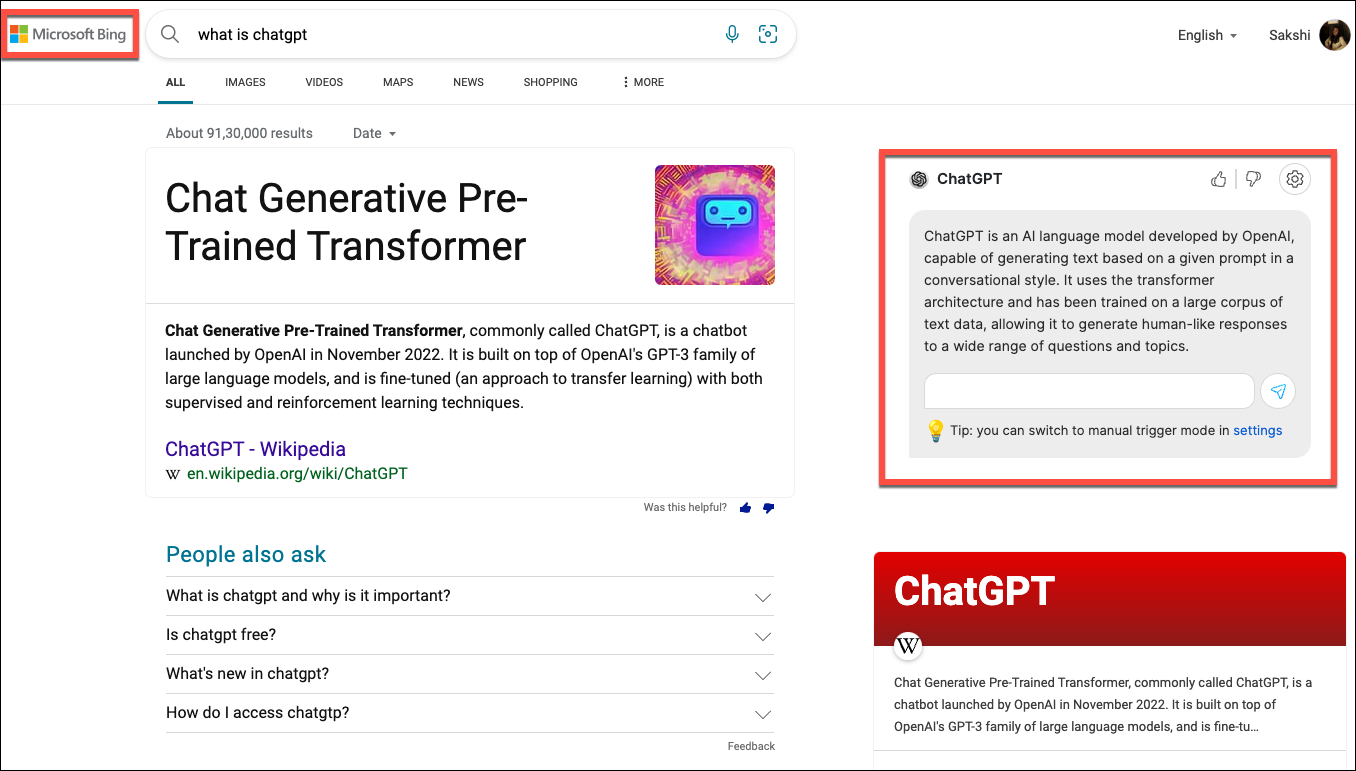 If you're a Bing user, instead of either two extensions above, you'll want to prefer this one. For some reason, they won't work on Bing. ChatGPT for Search Engines works largely the same as the ones above. When you're on any search engine – Bing, Google, DuckDuckGo – you'll get direct results from ChatGPT for the query you entered in the search bar on a small window on the right. It's the perfect way to get the best of both worlds.
You can also control whether you want to invoke ChatGPT always, only when you end queries with a '?' or manually. You can even highlight anything from a webpage and send it as a query to ChatGPT directly with a context menu entry or access ChatGPT on any website in the extension pop-up menu.
5. Merlin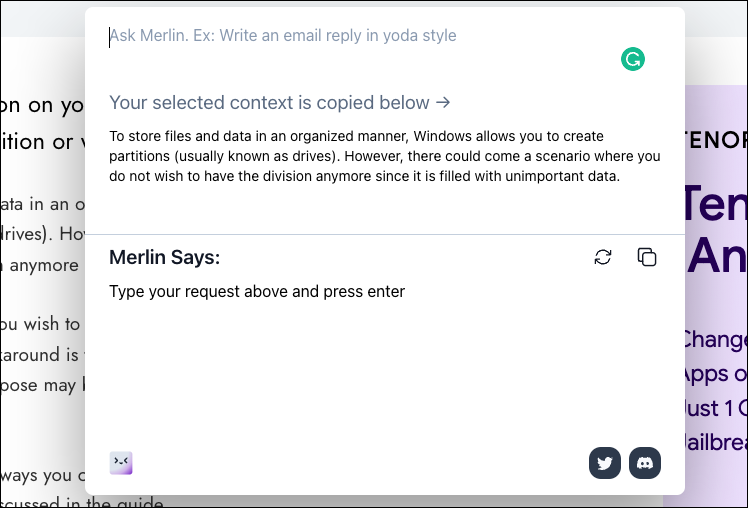 If you can't get enough of OpenAI's ChatGPT and want it with you every step of the way, you have to check out Merlin. Keeping true to its name, it brings the magic of ChatGPT across your entire browser in a very intuitive manner. You don't have to go to the extension icon even; Merlin literally brings ChatGPT to the entire browser.
You can use the Cmd + M (Mac) or Ctrl + M (Windows) keyboard shortcuts to invoke Merlin anywhere and it'll pop up in a box, ready to serve you. Just enter your prompt in the space provided and you'll get ChatGPT's answer right there. You can even select text from the web for additional context and then invoke Merlin and enter your prompt. The answer from ChatGPT will cater to both the selected text and the entered prompt in this case. While it'll work in a similar manner on Google as well, there's also an additional "Ask Merlin" box on the search engine just to make the AI chatbot that much more accessible.
You don't even need to log in to your ChatGPT account for Merlin to work. Trust us, you need to try it now. The only catch with Merlin is that it doesn't work on the Bing search engine for some reason.
6. ChatGPT Writer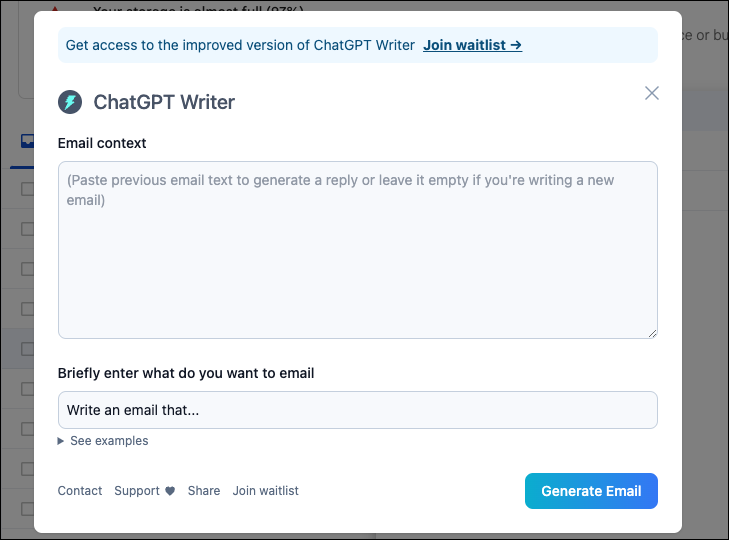 If you're only looking for something to help you write emails and messages in your day-to-day, whether for work or something else, you need the ChatGPT Writer Chrome extension in your life, or rather your browser.
ChatGPT Writer's specific focus is on helping you write and you can use it on any website. All you need to do is tell ChatGPT Writer what you want it to write about and you'll have a generated email/ message. Then, simply copy the response by clicking a button and paste it where you want to send it.
You can even use it to write replies to previous messages or emails by adding those in context. But if you're adding any previous messages in context, remember to remove any sensitive information they might contain as the message prompt and context is shared with the chatbot.
7. YouTube Summary with ChatGPT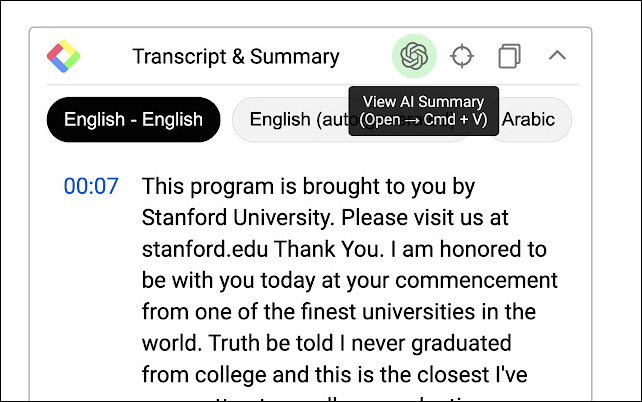 With this extension, you don't have to suffer through insanely long YouTube videos that take forever to get to the point. If you have the extension installed, you'll see a transcript box on the video on the right. But more importantly, you can get the summary of the transcript from ChatGPT.
All you need to do is click a button and ChatGPT will open in a new tab but it won't require any additional input from you. The entire transcript and your request to summarize it will load automatically in the chatbot, and in no time, you'll find yourself looking at the summary of the entire video. If you're someone who finds watching long videos annoying, this extension is for you.
8. Summarize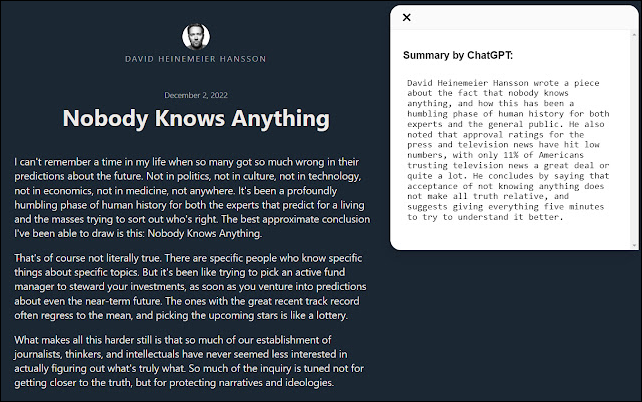 It's not just videos that you need a quick summary for sometimes; texts and articles fall in this category too. And with Summarize, you can easily get summaries for long articles in a jiffy without having to leave the website or getting into a copy/ paste hassle.
Simply clicking the extension's icon starts a ChatGPT request to summarize the article/ blog post/ webpage you're currently viewing. And a response from ChatGPT will appear in the extension frame. If you often find yourself skimming through long articles and wishing the writer knew the 'b' of brevity, this extension will save you tons of time.
9. Promptheus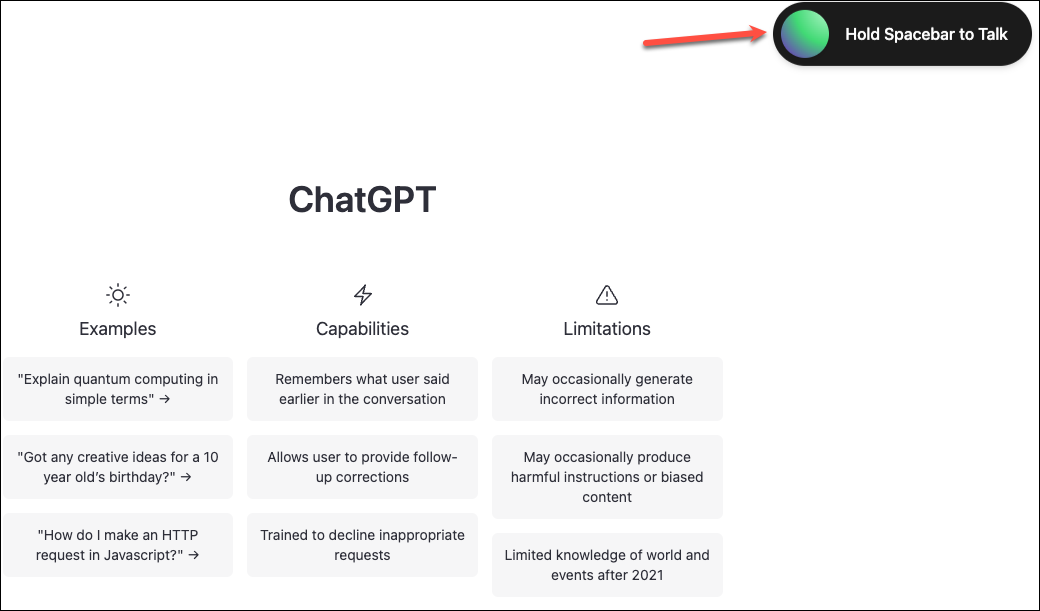 If you're more productive using voice search instead of typing your queries or commands, you might not have cozied up to ChatGPT. Unfortunately, the only way to interact with the chatbot is by typing your questions.
But Promptheus is a Chrome extension that can help you address this concern. With Promptheus, you can easily dictate your queries on ChatGPT by pressing the space bar. The extension takes care of transcribing your query and sending it to the AI bot. The extension interface also hovers on the top-right corner of the screen, so it never gets in the way.
10. tweetGPT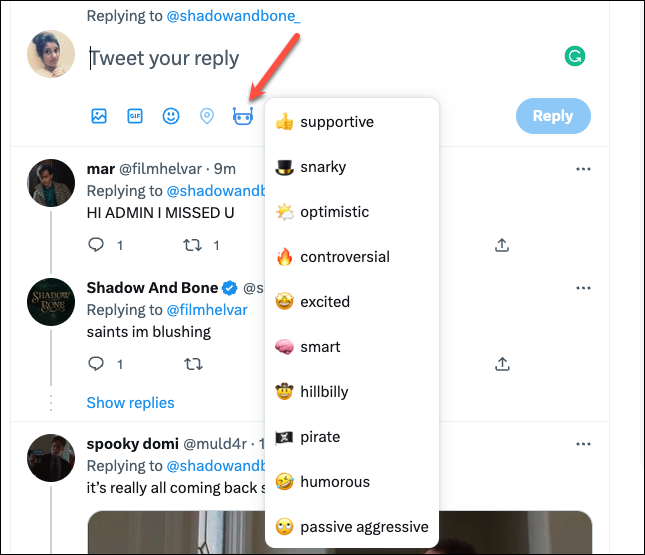 If your work involves tweeting, tweetGPT might just be the extension you need. We know it's exhausting to think of tweets or replies to tweets that have just the right amount of humor or snark. tweetGPT uses ChatGPT to compose new tweets or replies to tweets for you.
After you install the extension, your Twitter compose box will have an additional icon. All you have to do is click the said extension icon from the compose box on Twitter and choose the tone you want the tweet to be in. tweetGPT will do the rest for you. All that would be left for you would be to press the Tweet button. It's that simple.
---
There you have it. Hopefully, using this list, you'll find some good Chrome extensions that utilize ChatGPT's capabilities and give your productivity a boost.