Home Screen widgets are a new feature of iOS 14, and they've been a big hit. With iOS 14, you can arrange your Today View or Home Screen with different size widgets. With widgets, you have more control over the look of your iPhone Home Screen.
One of the best things about widgets is that you don't only need to rely on the stock or native widgets to have a particular widget on your screen. There are so many third-party apps popping up in the App Store, offering endless possibilities for different types of widgets. But there's also a little downside to that. It can get very overwhelming to choose from all the apps that are now offering custom widgets on the App Store.
In fact, it can get so confusing that one might even abandon the search for an app altogether and decide to stick with the native widget. We get it. That's why we have assembled this list of best calendar widget apps for you. Now you can have your pick from the crème de la crème of the calendar widget apps and not go through the headache of navigating through so many apps.
Ermine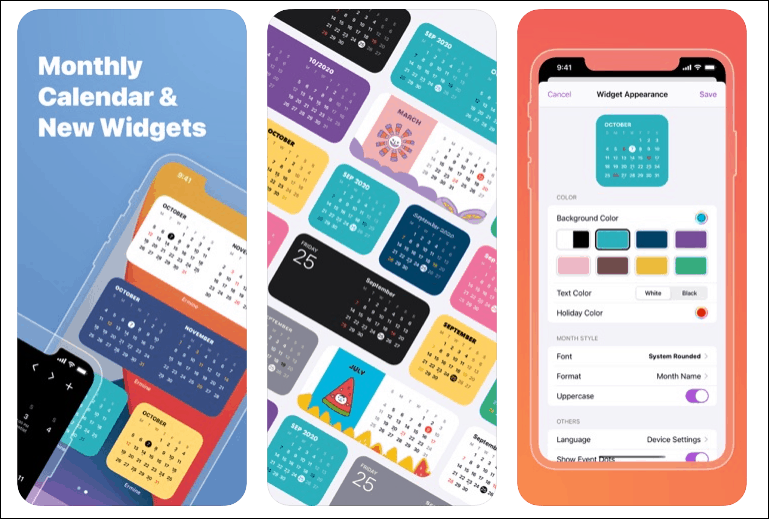 Ermine is truly one of the best calendar widget apps out there. Although it only supports two widget sizes – small and medium – it is still amazing. The widget does not only display a monthly calendar like many other apps, but it displays your monthly calendar. You can have information about upcoming events, meetings, birthdays, and holidays, all on your Home screen.
And it is completely customizable. You can change the background and foreground colors of the widget. With the Pro version, the options to customize are even more extensive. Now, one of the best parts about Ermine has to be the Illustrated Calendar widget with a cute, new illustration every month on the widget! Although there are only two widget sizes available, you'll find that there are more than just a couple of options for the widget. It's definitely worth trying out.
---
Dawn – Minimal Calendar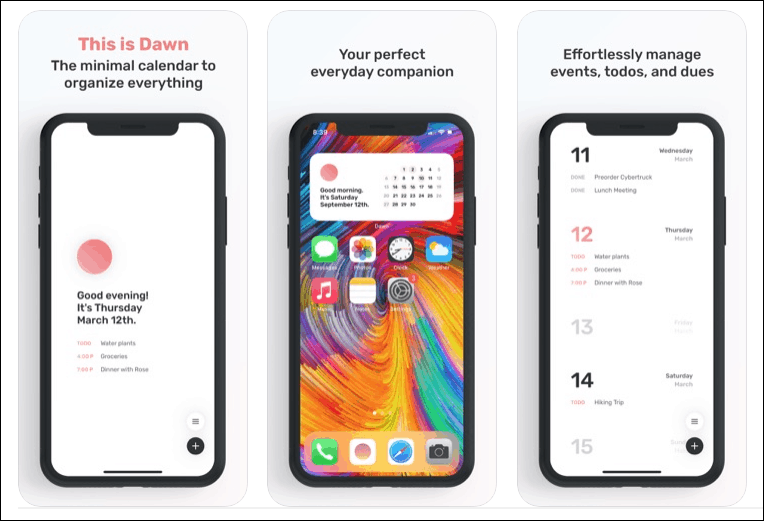 Dawn is a pretty popular calendar in iOS. It's elegantly minimal without compromising functionality. In fact, it offers much more functionality than your average calendar app. It integrates events, to-do lists, reminders, and dues, all in one place, making it highly efficient to manage your whole days.
And with its iOS 14 widget support, you can have a calendar widget to manage your entire day right on the Home screen. The widgets for Dawn stay true to the agenda of the app and provide the cleanest, minimal look. Managing your entire day cannot be more efficient or elegant than with the Dawn app widget.
There are so many choices for the widgets too. You can have the monthly calendar in all the three sizes, with the biggest size showing calendars for the upcoming two months as well. You can also have widgets for just your upcoming events or to-do list, or both of these combined with the calendar on a single widget. Although you cannot customize the look, it will not be much of a problem. The elegant, minimal look it offers doesn't leave much to be desired in that area.
---
WidgetCal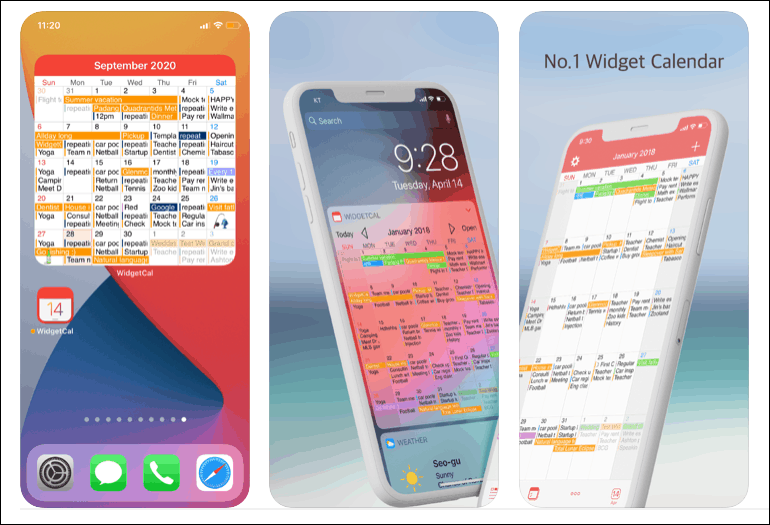 For people who like having their entire monthly calendar laid out in front of them in a visual manner, WidgetCal is the perfect choice for them. The calendar widget with WidgetCal practically looks like a page from your monthly planner. The WidgetCal calendar widget can integrate multiple sources or lists for events, reminders, etc. and show them all across one view. You can even slap stickers (emojis that behave like stickers in the app) across certain events to make them more visual, like a gift for birthdays, an airplane for flights, etc.
It only supports the large-sized widget, but that's completely justifiable as it needs all the space to show the events for the entire month. It is also compatible with the Dark mode. There's also the added functionality of being able to add the widgets for the previous as well as the next month's calendar if you want. And if you're worried about the space, just stack the widgets together in iOS 14. This way, they won't take up extra space but will always be just a swipe away.
The widget might not be the most aesthetically pleasing you've laid your eyes on. But for people who want the certain functionality it offers, it's the best option out there. The app is free to use, but you can upgrade to premium and get rid of the ads.
---
Widget Calendar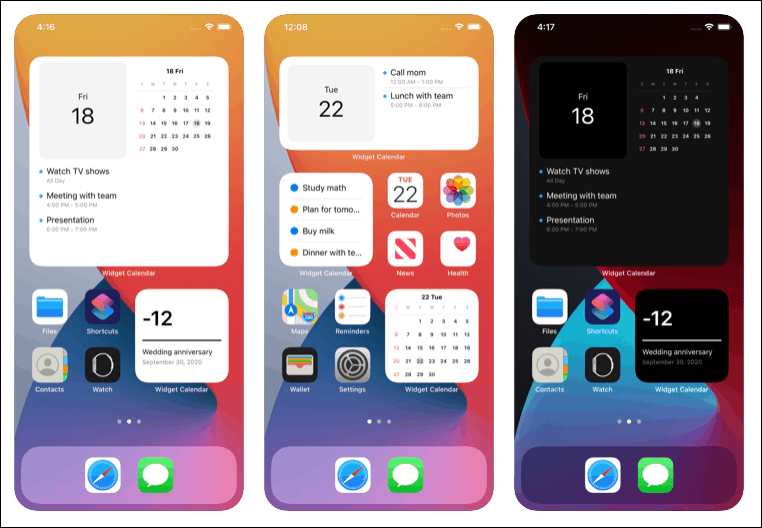 Widget Calendar is another great app for a calendar widget in iOS 14. It has a neat and minimal look that doesn't compromise on functionality. You can have the monthly calendar with upcoming events for the day right on your screen. But it just doesn't support the calendar widget. You can also widgets for reminder lists as well as D-Day (days left until an event/ anniversary) with the Widget Calendar app.
It supports all three sizes of widgets, and you can stack the same-sized calendar, reminder, and D-Day widgets to save up space on your screen if you like. The app also supports the dark mode. You can buy the app for a one-time fee of $1.99 from the App Store.
---
iOS 14 has made it really easy to keep the most important information handy with Home Screen widgets. You can add the widgets to the Today View to have a glance at them without unlocking the phone, but also the Home screen to get a quick look when your iPhone is unlocked.
In fact, most of us who rarely paid a visit to the Today View before iOS 14 are just now discovering how time-saving widgets can be. And with these Calendar widget apps, that discovery will become even more delightful.