MagSafe is Apple's patent for applying magnetic technology in electronic charging. These chargers have a magnetic construction that smoothly connects to the device's port without insertion. They magnetically attach and power the device. However, this type of Magsafe charging is for MacBooks and iPads.
Apple launched a whole new invention of MagSafe chargers for iPhones in 2020 – with the iPhone 12 series. This MagSafe mechanism offers wireless charging via charging pads or power pads connected to a power source or power adapter via a USB cable (mostly a C-type). MagSafe chargers sturdily latch onto an iPhone, iPhone cover, and most strongly to an iPhone MagSafe cover.
MagSafe chargers for iPhones do not come with the phone. They ought to be of separate purchase – and if you're here to check out the best buys for your iPhone 13, you're at the right place! Presenting, the best iPhone 13 MagSafe chargers.
Apple's MagSafe Charger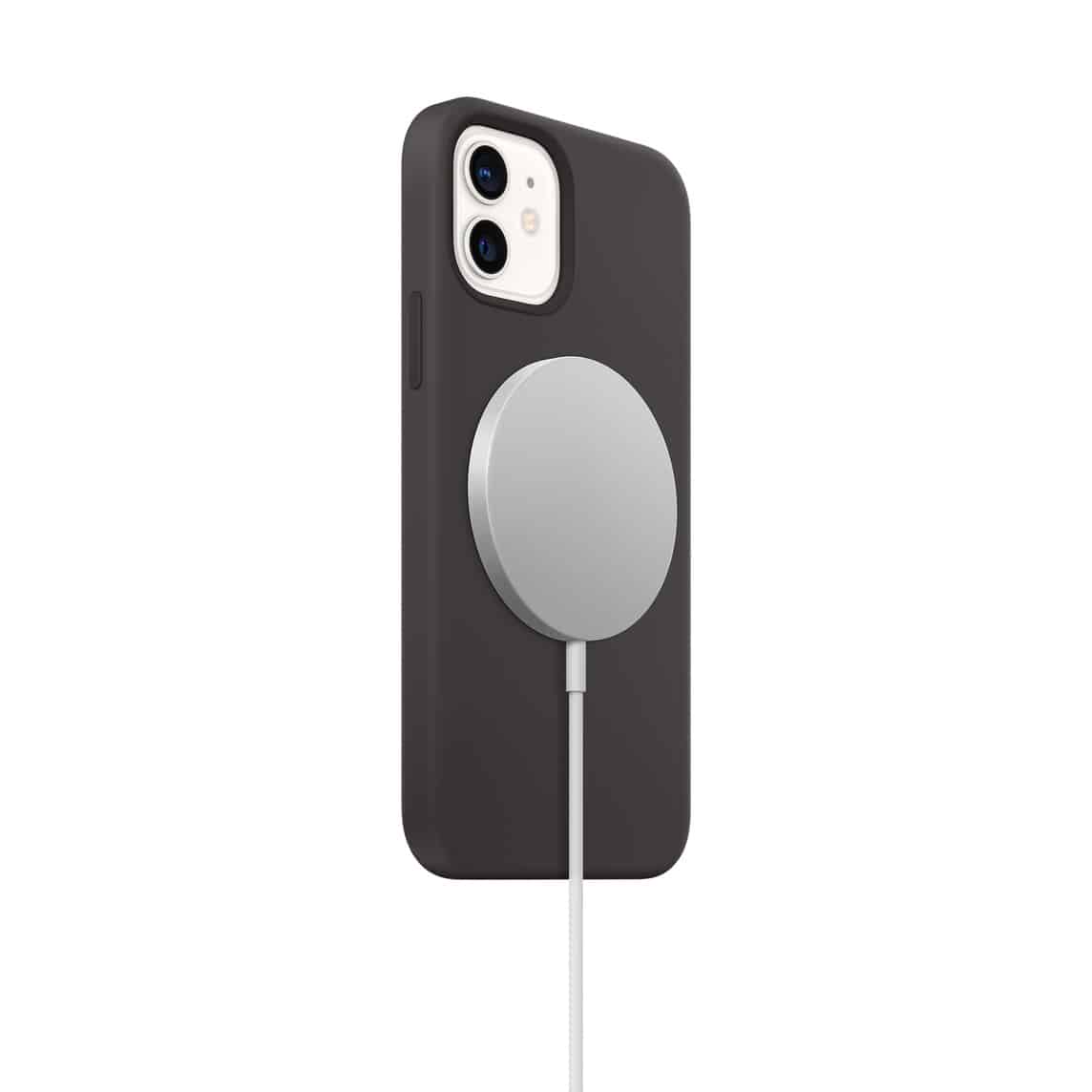 Apple's own home product; the MagSafe charger tops our list of the best MagSafe chargers for the iPhone 13 – for the obvious, premium quality-based reasons. This MagSafe charger can wirelessly charge all iPhones from and above series 8.
Though the power bed may not magnetically align with your iPhone 13 as precisely as it does with the iPhone 12, it can still optimally charge your iPhone 13 up to 15W. The power disc sticks so firmly to the back of your official iPhone case and the MagSafe case, that when you pick up the phone, you'd pick the charging disc as well. However, this magnetic force is not that clingy with other light and thin cases. If it's a heavy phone case, then MagSafe may not penetrate enough to charge up the phone.
The Apple MagSafe charger package comes with the MagSafe charging power transmitter (disc-shaped power bed) and a 1 meter C-type USB cable. You will need to purchase the power adapter separately. Apple recommends using its 20W power adapter for best and fast charging.
---
Apple's MagSafe Battery Pack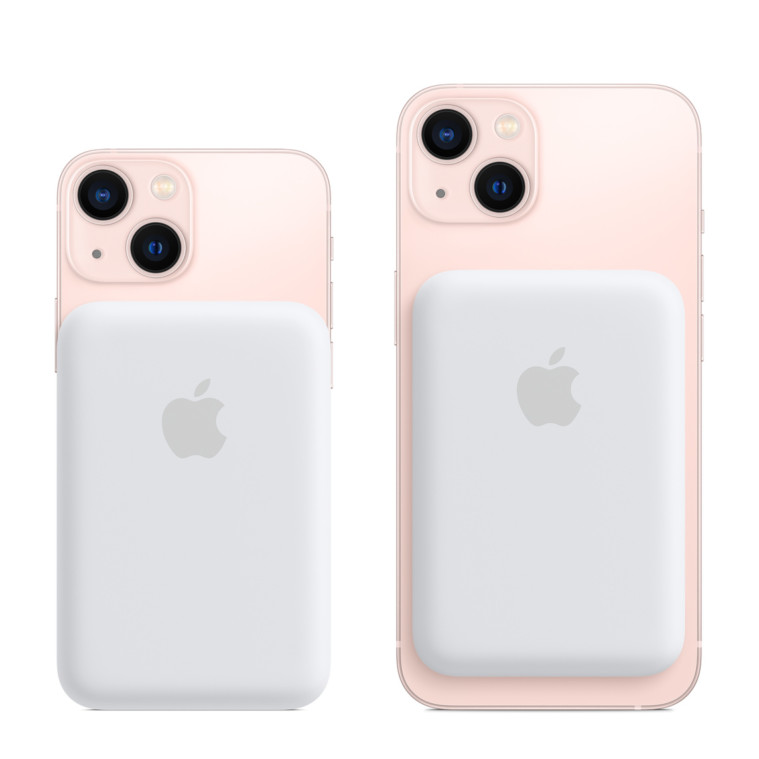 If you're looking for a portable MagSafe charger, Apple's MagSafe Battery Pack may just be your best buy. The Battery Pack magnetically attaches to the back of your iPhone 13 and begins automatic charging, without interfering with credit cards or fobs. Automatic charging effectively keeps your device from overcharging or heating.
All you need to get the pack started is a power adapter (preferably 27W and higher) and a C-type USB Lightning Cable to speedily charge the Battery Pack until it's full or has enough charge as per your requirement. Apart from charging the Battery Pack via a C-type lightning cable, you can also charge it by plugging the same cable into your iPhone 13's Lightning port – this would charge both the iPhone and the Battery Pack. You cannot wirelessly MagSafe charge the MagSafe Battery Pack.
MagSafe Battery Packs are sold individually, and all the other necessities would require separate purchases.
---
Boost Charge Pro 3-in-1 MagSafe Charging Stand By Belkin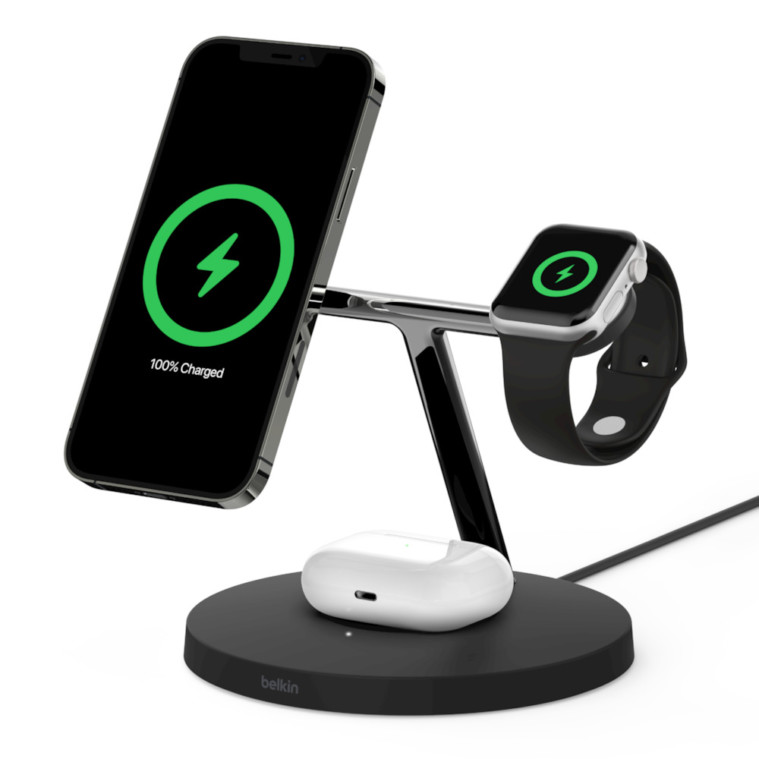 If you own 3 Apple devices – an iPhone 13, AirPods, and Apple Watch, then Belkin's 3-in-1 MagSafe Charging Stand would be the ideal MagSafe accessory for you.
This triple charging station is compatible with iPhone 12 series and above. They stick great with official MagSafe phone cases as well. The charging pad allows a floating transition between portrait and landscape orientations while charging your iPhone 13. The Boost Charge Belkin 3-in-1 charging stand delivers up to 15W to all connected Apple devices. It also incorporates LED lighting to indicate correct alignment. This charger is available in black and white stainless steel, smooth and sleek finishing.
Belkin recommends removing any MagSafe wallets or phone covers supportive of card holding before placing your iPhone to charge. Also, it is advisable to not have any confidential documents like credit cards, passports, badges, and magnetic items like key fobs, etc., between your iPhone and the MagSafe charging pad.
In case, you need a twin charger only, then Belkin has a charger for just two devices as well.
---
Boost Charge Wireless Charging Pad By Belkin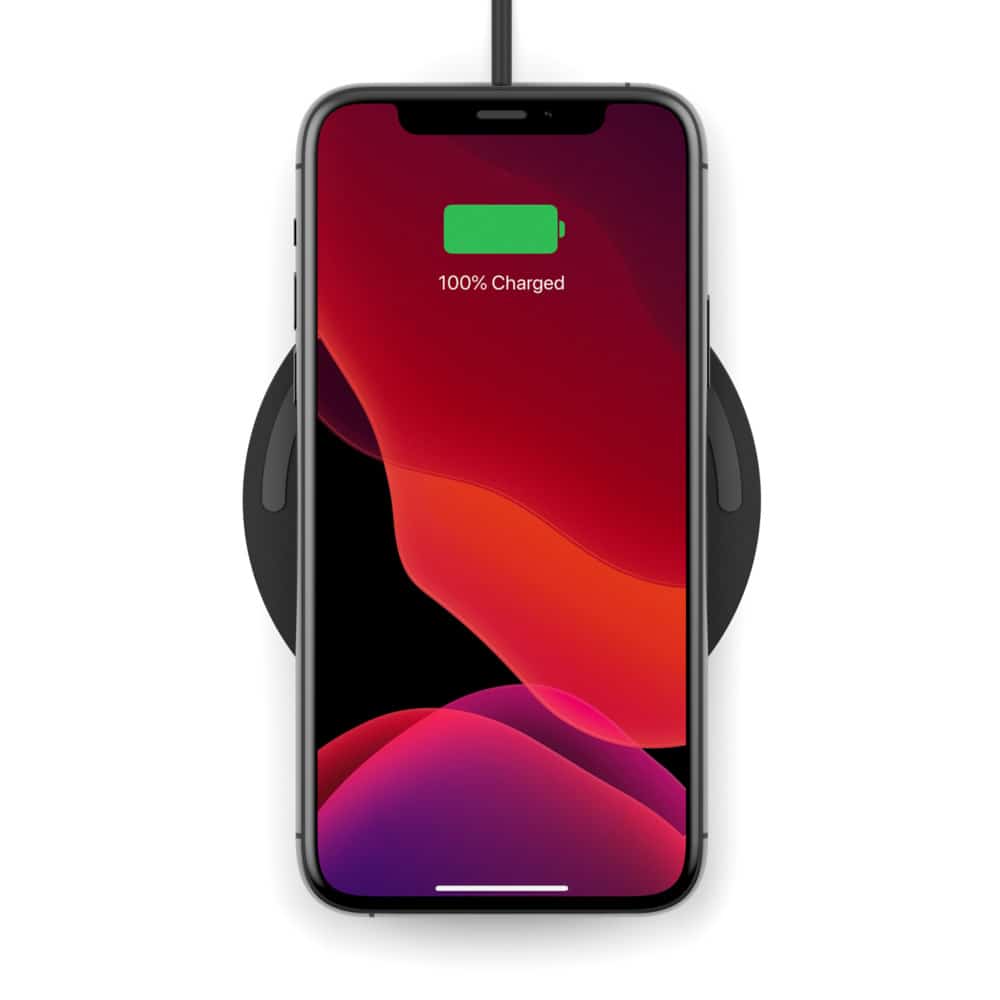 Belkin's Wireless Charging Pad from the Boost Charge Pro series is a wholesome MagSafe charger for iPhones starting from and above the iPhone 8 series. Equipped with a non-slip charging surface, the Belkin charging pad can charge your iPhone 13 with up to 15 watts of power and keep it from slipping away during vibratory notifications.
The charger can charge through phone cases that are not thicker than 3 millimeters. This model too has an LED indicator for alignment and charging indications.
The Belkin Boost Charge Pro Wireless Charging Pad package is inclusive of both the charging pad and the power supply unit.
---
PowerWave Magnetic 2-in-1 Charging Stand By Anker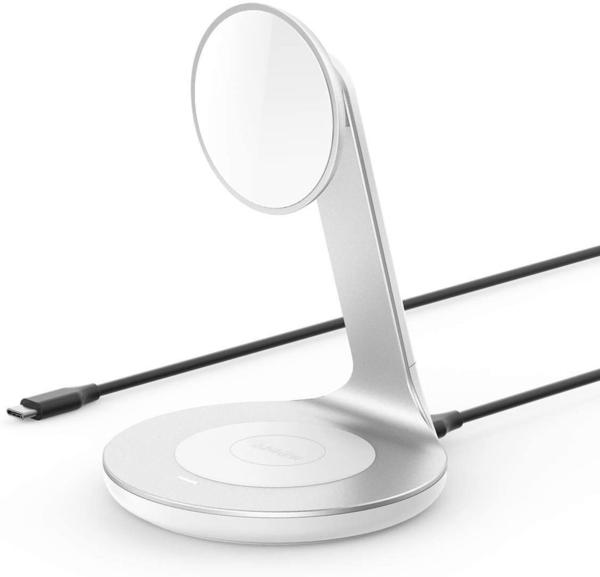 If you're one device less from owning three Apple devices, then Anker's latest charging device, the Magnetic 2-in1 Charging Stand would be a smooth alternative to a 3-in-1 charging station. This charging stand allows you to charge both your iPhone 13 and AirPods or any other Qi-compatible earphones, at the same time.
The power pad of the charging stand fastens quite strongly to the back of your phone, and therefore, you will need to hold the charger in place before snapping your iPhone from it. The magnetic alignment is automatic, so you wouldn't need to struggle to find the "sweet spot". This charging stand is only compatible with the iPhone 12 series and above. It works well with all MagSafe phone cases – but may leave behind some compression marks.
Anker's 2-in-1 Magnetic Charging Stand ensures 7.5W of power delivery and it is recommended to use an 18W or above power adapter. Wall charging may not render proper functionality and hence, adapters are essential. The package includes the 2-in-1 magnetic charging stand and a C-type USB charging cable of 4 feet.
---
MagSafe Charger by Journey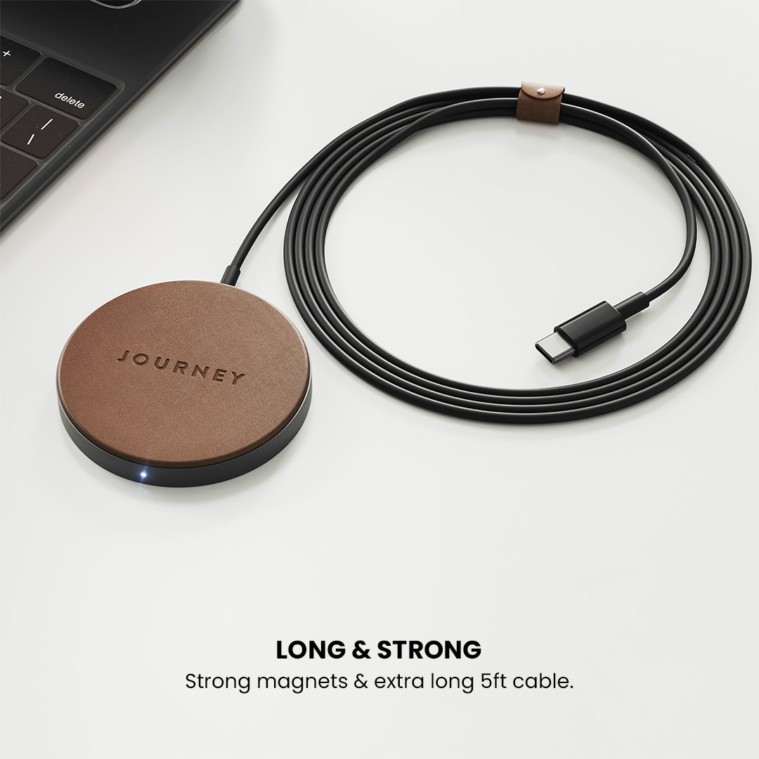 Journey is a very recent addition to the MagSafe game, but it does offer a compelling product. The brand's MagSafe chargers have a minimalistic touch and feel to them. They're designed with soft leather and tough aluminum covering, which just adds to the chicness and productivity of this charger.
The magnetism of this charger is strict and strong. It doesn't detach from your iPhone 13 easily unless you use both hands. The charging pad can penetrate up to 8 mm of MagSafe phone covers and automatically aligns to your phone/phone case. It is also programmed to detect over-charging and effortlessly guards your device against both heat and damage. The charger is designed with LED indication to indicate correct alignment and charging. Journey provides an extra-long USB cable (5 meters) along with their MagSafe charger. This MagSafe charger is available in black and saddle brown.
Journey recommends using a 20W power adapter with their MagSafe charger.
---
KKM Magnetic Wireless Charger With Kickstand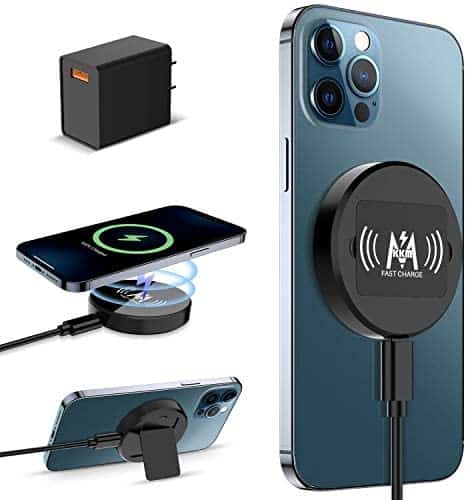 The KKM Magnetic Wireless Charger is a budget-friendly option for MagSafe charging. This charger offers a powerful magnetic power transmitter that has almost 38 magnetic embeds – which fixates and align to the back of your iPhone 13 or MagSafe phone cover. The charger also charges other MagSafe accessories like AirPods.
The KKM charger powers your device with up to 7.5 watts of power. An additional feature with this MagSafe charger is its kickstand! You can go hands-free and view in both orientations while charging your iPhone 13. The charger is incompatible with thick phone cases. You will need to remove a thick phone case, a wallet, a card-holding phone cover, or anything else that can contend with the magnetic flow, before charging.
The package includes a KKM magnetic wireless charger with an in-built kickstand, 18W power adapter, 1 meter of USB A to USB C type charging cable.
---
Threekey Magnetic Wireless Charger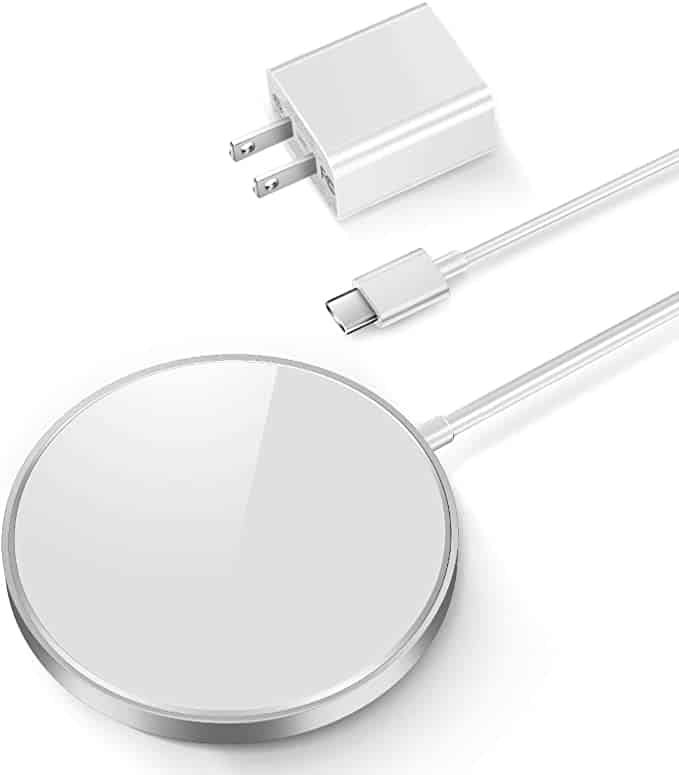 As you can tell, this charger introduces the need of the hour – a non-slip base. The Threekey Magnetic Wireless Charger consists of a power pad with four non-slip pads at the bottom, and a built-in USB C-type charging cable. The charger magnetically clasps to your iPhone 13 and can power it to up to 15W.
Threekey's package also includes a 20W power adapter that can adapt to 4 different power supplies – 15W, 10W, 7.5W, and 5W. This MagSafe charger is comparatively smaller and as smooth as the Apple MagSafe charger – but the non-slipping kind. Like all the other chargers on this list, this one too is programmed to detect any foreign object. It is advisable to remove a thick phone cover, cards, passports, or anything that can interfere with a direct magnetic connection, thereby fueling direct MagSafe charging.
---
HaloLock MagSafe Wireless Charger With Kickstand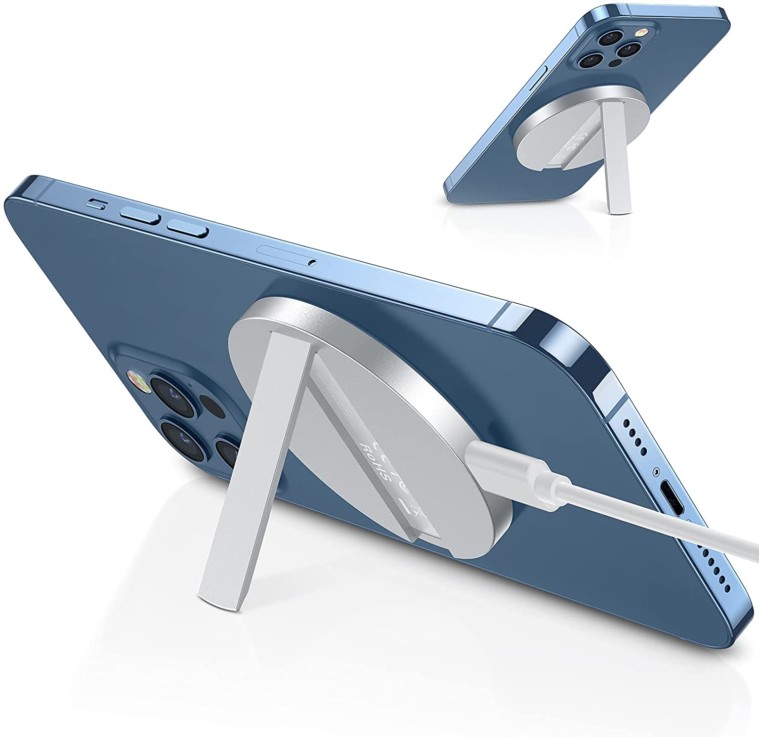 A metallic power pad connected to a removable C-type USB charging cable is the basic charging design of the HaloLock MagSafe Wireless Charger. The pad further integrates a kickstand that facilitates ease of using your phone, hands-free. The charger magnetically attaches the best to an iPhone 13, a MagSafe phone cover, or a HaloLock case.
Heat management is one of the highlighted promises of the HaloLock wireless charger. This MagSafe charger requires a minimum of 18W power adapter and can take a dead battery to full charge in about two and half hours. The package includes a MagSafe wireless charging pad and 5 feet C-type USB cable. Does not include the power adapter.
---
PowerWave Pad By Anker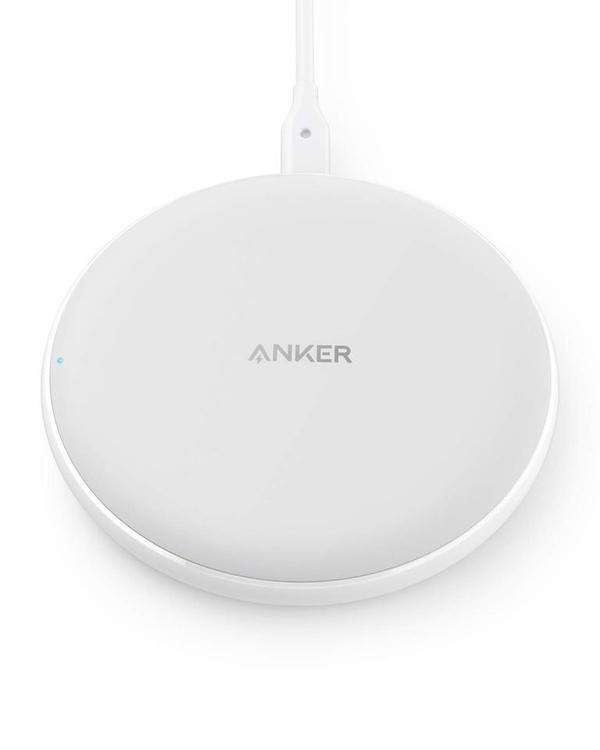 Anker's PowerWave Pad is an affordable alternative to Apple's MagSafe charger. It's undoubtedly bulkier than Apple's MagSafe charger and does not offer the same MagSafe experience of strong magnetic alignment. You will need to manually adjust your phone to the center of the charging pad to begin wireless charging. But, the good news? You wouldn't pick up the charger when you pick up your phone!
The power pad charges your iPhone up to 7.5 watts and delivers up to 5 watts of power to AirPods and other wireless earphones/earbuds. The pad can also charge through phone cases that are no more than 5 millimeters thick. In case your phone cover is made of magnetic, steel, or any other magnet-sensitive material, or if you have a card-holding phone case, you will need to remove the case before charging.
The package contains a PowerWave Pad and a Micro USB Cable of 4 feet.
---
Honorable mention. Slipperiness can be an issue with this technology of charging. And here's a device that could help stabilize the sloppy situation in MagSafe charging.
Spigen MagFit for MagSafe Charger Pad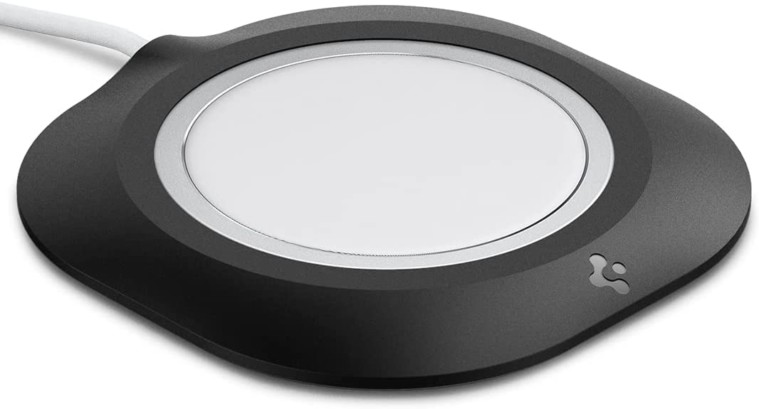 Spigen introduces the MagFit – a case for your MagSafe charging pad, that will keep the pad from sliding around. MagFit is a simple Nanotac Tech device with a nonstick base and a smooth and soft finishing that will gravitate your phone down, onto your MagSafe charger. And if you were to snatch your phone and be on the go, you wouldn't bring the charger along. It's super light and envelops your MagSafe charging pad in place.
---
MagSafe chargers are the new-gen way of charging your device. They're reliable, magnetically strong, and powerful as a novel niche in electronic technology. If you're planning for a MagSafe charger for your iPhone 13, it surely deserves the best and we hope you found it on our list.