While the world has become even more dependent on technology, you must be all geared up to use the technology to its best, and we have got your back for all questions on setting up things in the virtual world.
Zoom cloud meetings, fondly called Zoom has become the new video conferencing trend. Zoom is not only used by professionals as in the age before COVID-19, but also by a large number of families to connect with each other and by teachers and students for online classes.
There are a lot of features offered by Zoom that makes it a widely used platform and you might not know them all. The one that is a saviour when all of us are taking meetings from home is the ability to automatically mute mic when joining a meeting.
First-time Zoom users may not be aware of the mute feature and might keep talking about personal things even when on a Zoom call. Also, multitasking while at home; you might forget to press the mute button each time you join the call. With this feature, you can maintain your privacy in case you are not aware that the meeting is active already.
Muting your mic is also helpful when you don't want your pretty face to highlight in a Zoom call just because you coughed or made a noise that you'd not prefer to be heard in the meeting. Zoom highlights the video feed of the person who's talking, if you're not joining a Zoom call to speak, it's better to keep your mic mute.
Automatically Muting Mic for Zoom Meetings
You need not worry about clicking the mute button each time you join a meeting. Follow the steps below to automatically mute your mic when you join a Zoom meeting.
You should have the "Zoom Cloud Meetings" application installed on your desktop or phone to be able to use the feature.
Now, when you are not in any conversation or meeting, open the Zoom app and click on the 'Settings' gear icon on the top-right corner of the window.
When you click on Settings, the app opens a pop-up window for the various settings available in Zoom. Select the third option 'Audio' from the left panel of the settings window.
On the 'Audio' settings screen, you'll see several selectable options at the bottom. The third option, 'Mute my microphone when joining a meeting' is what you are looking for. Check this box and make sure it turns to blue as the other already checked boxes.
You can close the Settings window after enabling the option to automatically mute mic when joining a meeting.
Any meeting you join now will have Mic muted by default in the Zoom app, you won't have to worry about turning it off each time anymore.
That said, if you'd like to speak in a meeting, you can unmute yourself by clicking on the 'Unmute' button in call toolbar at the bottom-left corner of the Zoom meeting window.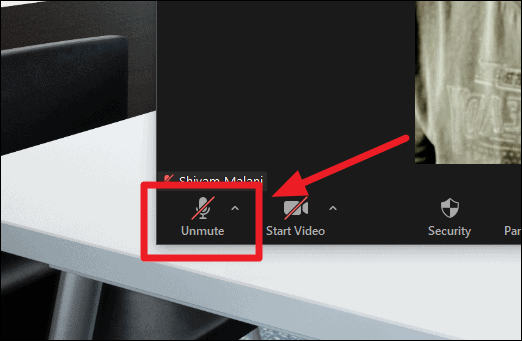 ---
Bonus Tip: Automatically Turn Off Camera Too when Joining a Zoom Meeting
Don't want to appear in a Zoom meeting unless everyone has joined? You can choose to set a default setting to turn off your camera automatically when joining a Zoom meeting.
Go to Zoom settings like we did before, and this time select the 'Video' option from the left panel.
Then, under the 'Meetings' section on Zoom video settings screen, tick the checkbox for the 'Turn off my video when joining meeting' option.
Similar to the mic setting, your camera is also now set to be turned off by default when joining a Zoom meeting.
To enable camera after everyone has joined the meeting, or when you want to turn on your video, click on the 'Start Video' button in the call toolbar of the Zoom meeting window.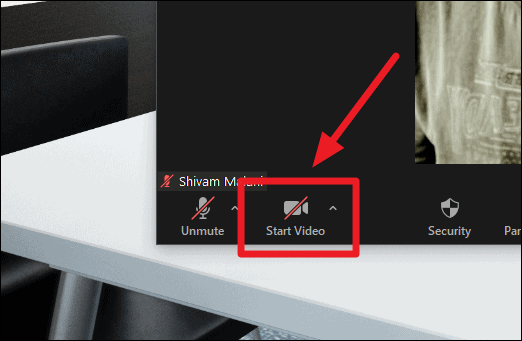 ---
Turning off your Mic and Video before joining a Zoom meeting can save you from some accidental embarrassing moments as well as give you time to get comfortable for the meeting while not being late to the meeting.