Microsoft Teams dominates the virtual meeting and remote collaboration landscape currently. Previously, the app was only popular in organizations and offices to facilitate collaboration and communication. Remote teams often relied on it to stay connected.
But the pandemic ushered in a new age for the app. Users worldwide were flocking to the app for their virtual meeting needs. The app also became a place for small businesses, teachers, and personal users.
There's no doubt the app is great for communicating with users. But it can also just as quickly become a nuisance, much like pretty much everything else these days. Of course, it's not the app that creates trouble, it's some people. It's possible you're being spammed by someone on Microsoft Teams, of all places. The gall of some people! There are plenty of casual places to annoy someone, yet they've chosen the most unlikely of places.
Or rather, you're being contacted by someone who's ignoring every guideline your organization puts in place. And you want to put an end to it. But blocking someone on Microsoft Teams can be tricky. Let's dive right into it.
Can You Block Someone on Microsoft Teams?
Before we get to that, there's one important distinction to get right. Microsoft has now made Teams into two separate apps. Microsoft Teams for Work or School is the original Teams app that was made for large teams. It's the one with teams, channels, apps, and everything else that makes it a powerhouse for collaboration.
Microsoft Teams for Personal and Small Business Use is the liter version of Teams Microsoft introduced last year to cut down on complications. Teams Personal does not have all the hoopla, like channels or apps, that make it difficult for a newbie to understand Teams. It's a simple communication app where people can chat and have audio or video meetings.
Now, it's absolutely possible to block someone on Teams Personal. And it's also very easy to do so. Considering that anyone can contact you on Teams Personal, it's also necessary.
The contacts you block will not be able to message or call you. Nor will they be able to see your presence on Teams.
But blocking someone on Microsoft Teams for Work or School is an entirely different matter. You cannot block organization members or guests in Teams for Work. But since users have to be invited to join an organization, the chances of someone spamming you are relatively non-existent.
Previously, you could block certain users in Microsoft Teams for Work, like guests, i.e., members outside of your organization or users with an authenticated phone number. But now, there's no option to block users from Microsoft Teams if you're using a work or school account. Apparently, Microsoft has removed the option as some users were abusing the feature by blocking contacts in their organization to avoid necessary communication.
If someone is bothering you, you can either mute them. Or you can report them to the IT admin or your HR if it's bad. Alternatively, if you're getting unnecessary notifications in a group chat or channel you don't belong in, you can simply leave it.
Blocking Someone on Teams
Blocking someone in Microsoft Teams Personal is rather straightforward. Open the Microsoft Teams app and go to 'Chat' from the navigation bar on the left.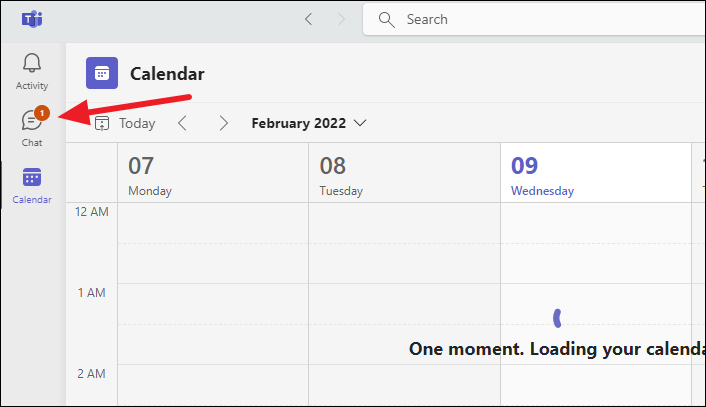 Find the contact you want to block and hover their contact in the chat thread.
If you can't find them, you can use the 'Search' option on the top to find their contact.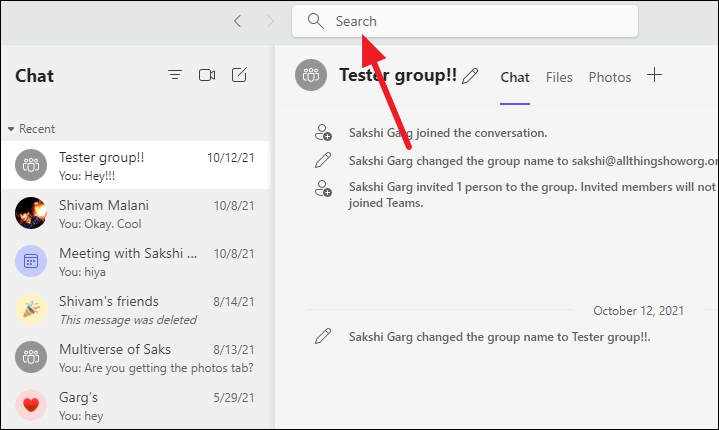 Click the 'More options' icon (three-dot menu) towards the right.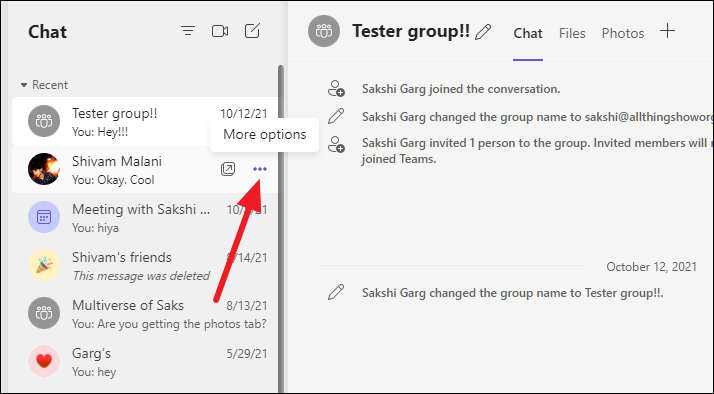 Click 'Block' from the menu that appears.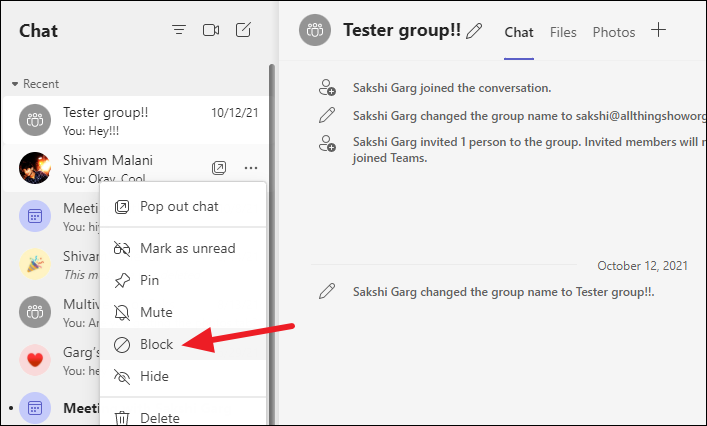 Note: If the contact you just blocked is part of a group chat, you will receive their messages in the group. You'll have to remove them from the group.
Unblocking Someone in Teams
If you wish to unblock someone later, you can unblock them from settings.
Go to the 'Settings and more' option (three-dot menu) next to your profile icon on the title bar.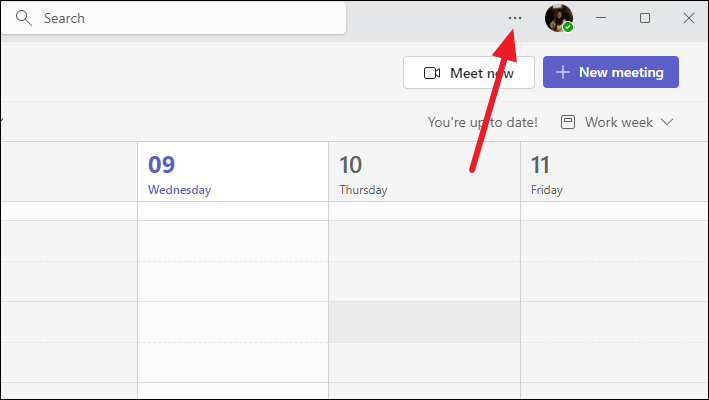 Then, go to 'Settings'.
Go to 'Privacy' from the menu on the left.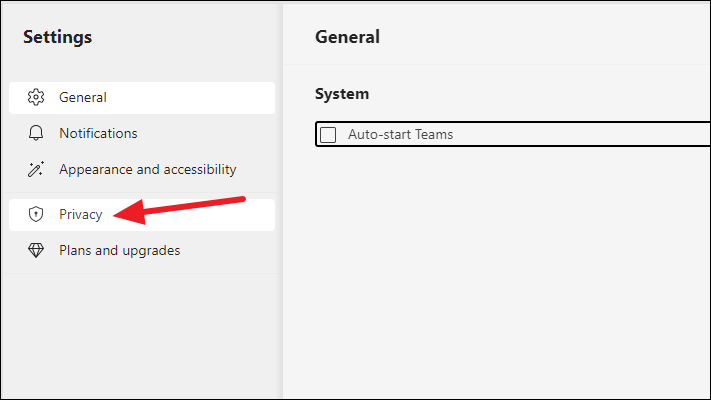 Then, click 'Manage Blocked Contacts'.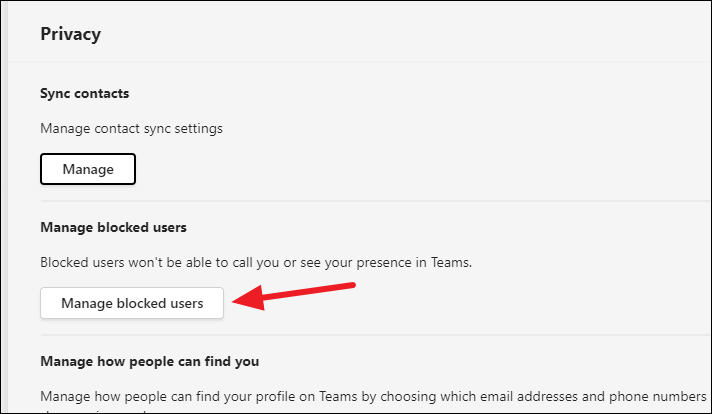 Find the contact you want to unblock and click the 'Unblock' option.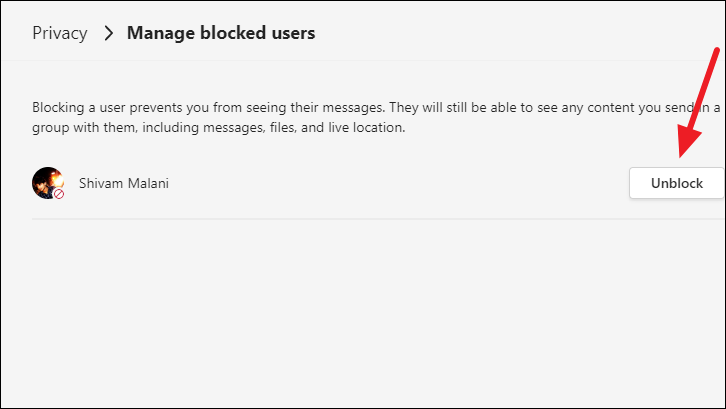 Alternatives for Teams for Work
Although there's no option to block someone from within or outside your organization on Microsoft Teams for Work, there are a few things you can do.
First, you can block all calls from users without a caller ID. This might not be ideal for everyone. But if you don't wish to be disturbed by users without a caller ID, it offers a handy solution while also decluttering your Teams account with unnecessary calls in history.
Go to 'Privacy' from settings in the Teams app.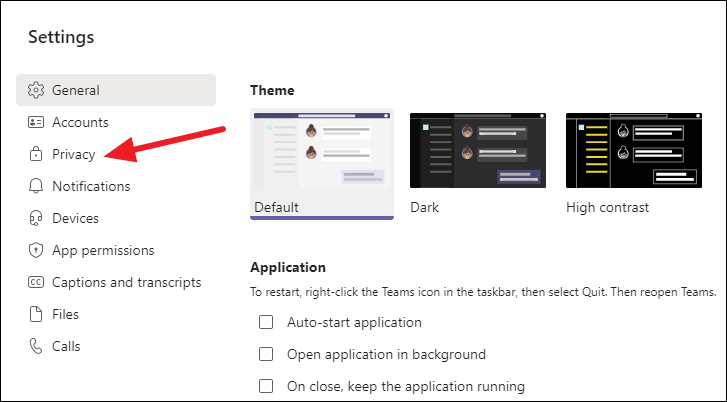 Then, check the option for 'Block calls with no caller ID'.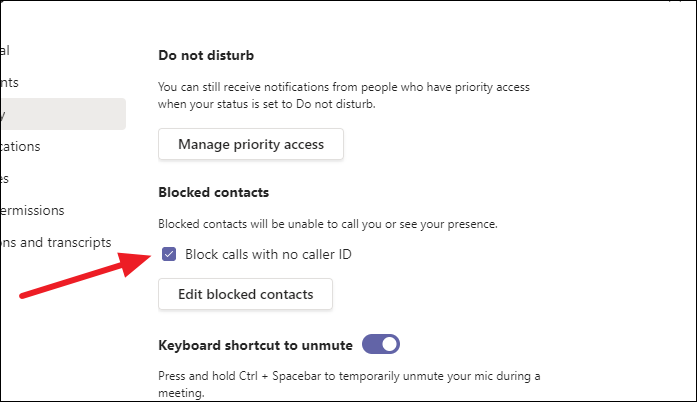 Mute and Hide Someone on Teams
When the option to block someone is not available, you can mute them to prevent them from disturbing you.
Go to 'Chat' from the navigation bar on the left.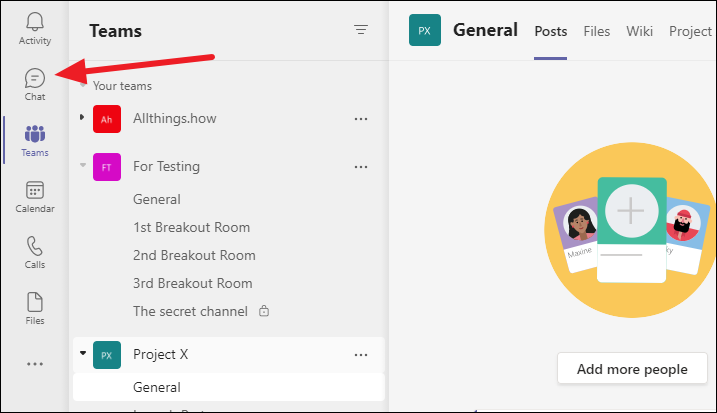 Hover over the contact you want to mute and click the 'More options' icon (three-dot menu).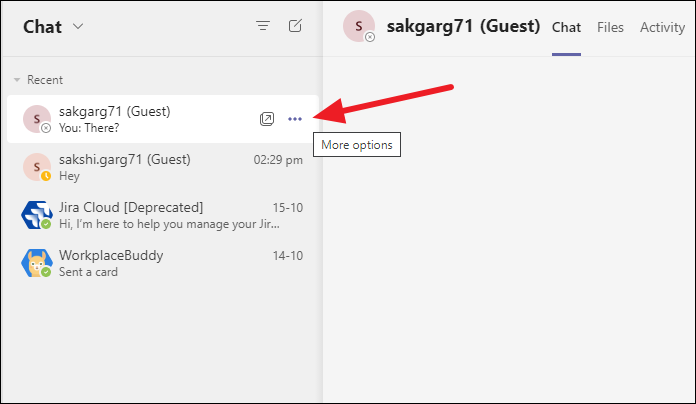 Then, select 'Mute' from the menu.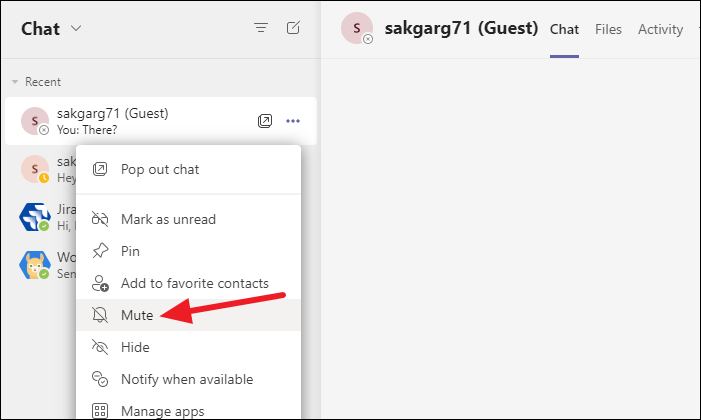 Muting users will not show you any notifications when they message or call you.
You can also hide their chat so their messages won't even appear among your chat threads, potentially distracting you. From the 'More options' menu, click 'Hide' so their chat doesn't appear in your chat list anymore, no matter how many messages they send you.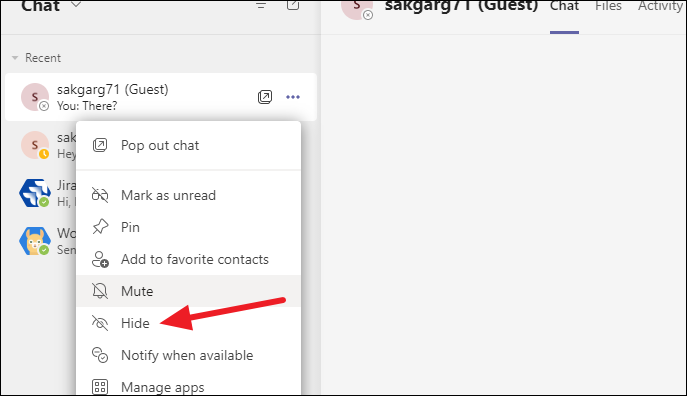 ---
Microsoft Teams is a great place to communicate, especially for businesses. So, it can become really annoying if someone keeps disturbing you while you're trying to work. Even though blocking someone isn't always an option, you can still prevent them from breaking your focus.