In the vein of any good assistant, Siri tries to go above and beyond in helping you. How does it do that? It doesn't wait for you to ask for help anymore. It analyzes how you use your device and apps to offer personalized suggestions and better search results.
Most of us aren't even paying attention to this passive form of helping; we get so used to it. But if you find Siri suggestions annoying or invasive, you can disable them. And Apple offers a lot of control over the entire matter.
Let's understand exactly what these suggestions are and what you can do about them.
What are Siri Suggestions
Siri analyzes a lot of information stored on your device. This includes information like Safari browsing history, emails, messages, images, notifications, and contacts. It also includes information provided by other third-party apps installed on your device.
Siri then uses local, on-device processing to personalize your experience. Personalized experience includes shortcuts, suggestions in searches, share sheet, calendar, Look Up, Visual Look Up, Safari, apps, and more.
Siri tries to help you when you're performing these actions:
Glance at the lock screen or start a search: Overtime, Siri learns your routines. And once it knows you better, it offers you suggestions on the lock screen or in the search for apps you might be inclined to open at that time because of your past behavior.
Receive calls: When you receive a call from an unknown number, Siri still tries to help by suggesting who might be calling if it can find the number in your emails or events.
Type: Even when you're typing on your phone, Siri is always trying to be helpful by offering suggestions for names of movies or places – things you might have viewed on your iPhone recently. It can even suggest the estimated arrival time if you type "on my way" in a chat to someone.
Search in Safari: Whenever you're searching for something in Safari, Siri is trying to help dually. First, it's offering suggestions for websites or other information you might want to search in the search field. Additionally, it also suggests words or phrases above the keyboard depending on what you were recently reading.
Create email and events: When you're creating an event or writing an email, Siri's again trying to help by siggesting people you might want to add based on whom you've added to previous events or emails.
Leave for an event: If you have an event in your calendar that also includes the location, Siri will suggest you when to leave after assessing the traffic conditions.
Confirm an appointment or book a flight: Whenever you confirm an appointment or book a flight from a travel website, Siri suggests adding it to the calendar and will even do it for you.
Read News Stories: Siri also suggests topics you might be interested in reading in News as it learns more about what interests you.
And this still might not be an exhaustive list of all the ways Siri is trying to help you with suggestions based on what it learns about you. But these examples do provide a fine picture of the extent Siri analyzes everything you do on your device. And for some people, this invasiveness can be scary.
But you can control what suggestions Siri can offer and restrict others.
How to Turn Off Siri Suggestions
Open the Settings app and scroll down. Then, tap the option for 'Siri & Search'.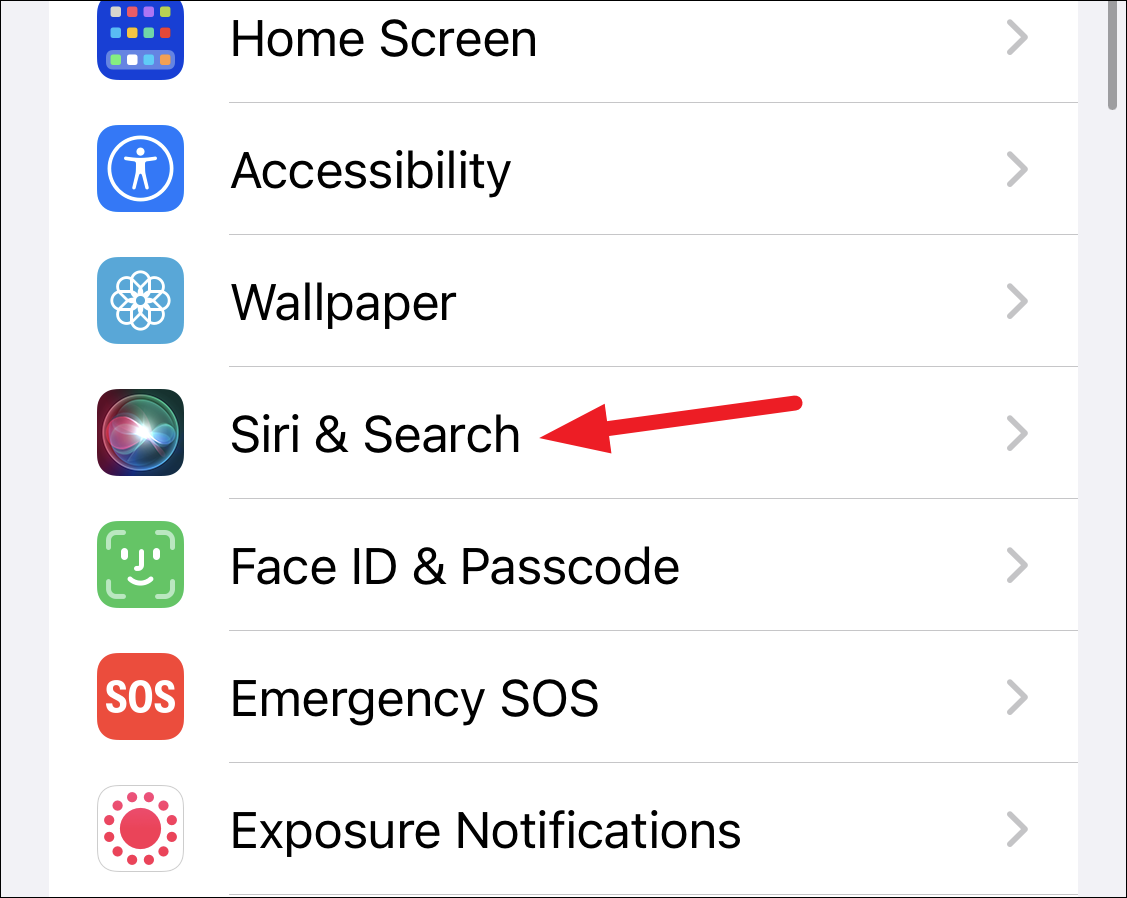 Scroll down and these are what your options would look like if you're using iOS 15.
Clear Siri Suggestions in Look Up and Spotlight
First, you'll see a section for 'Content from Apple'. Underneath it, there are two options: 'Show in Look Up' and 'Show in Spotlight'.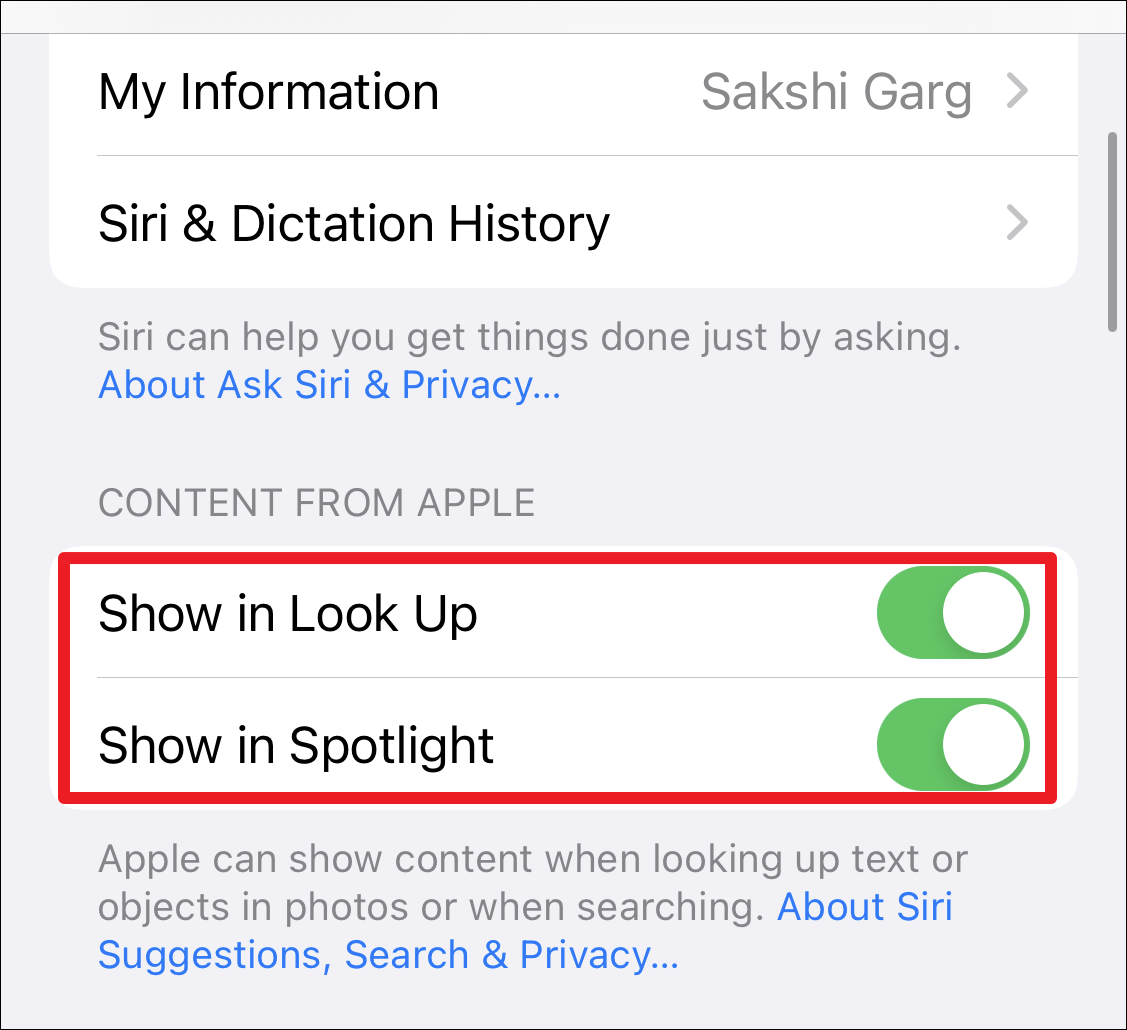 If you want Siri to stop offering suggestions in Look Up, disable the toggle for the former. When you select some text anywhere on your device, say while reading an article in Safari, one of the options available there is Look Up.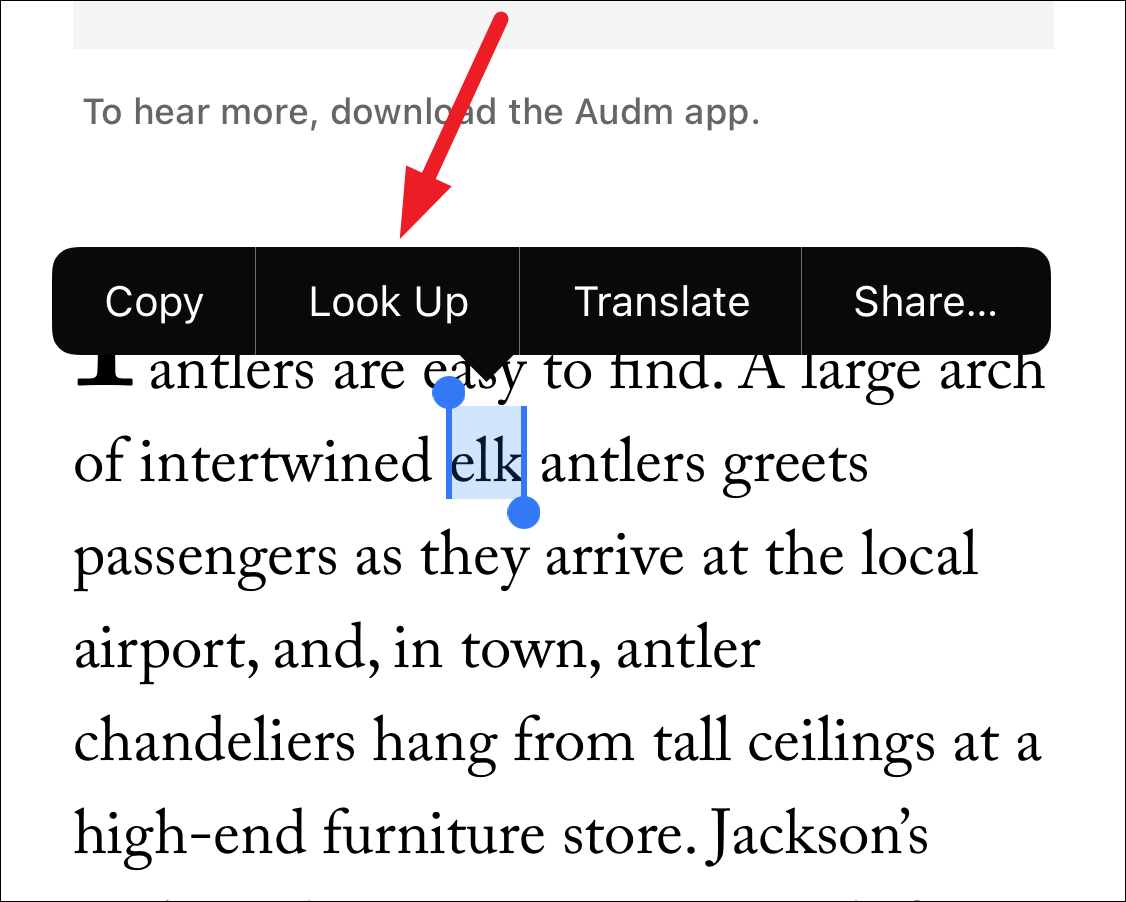 When you tap it, most of the suggestions you see are from Siri. Turning off this option will clear those suggestions.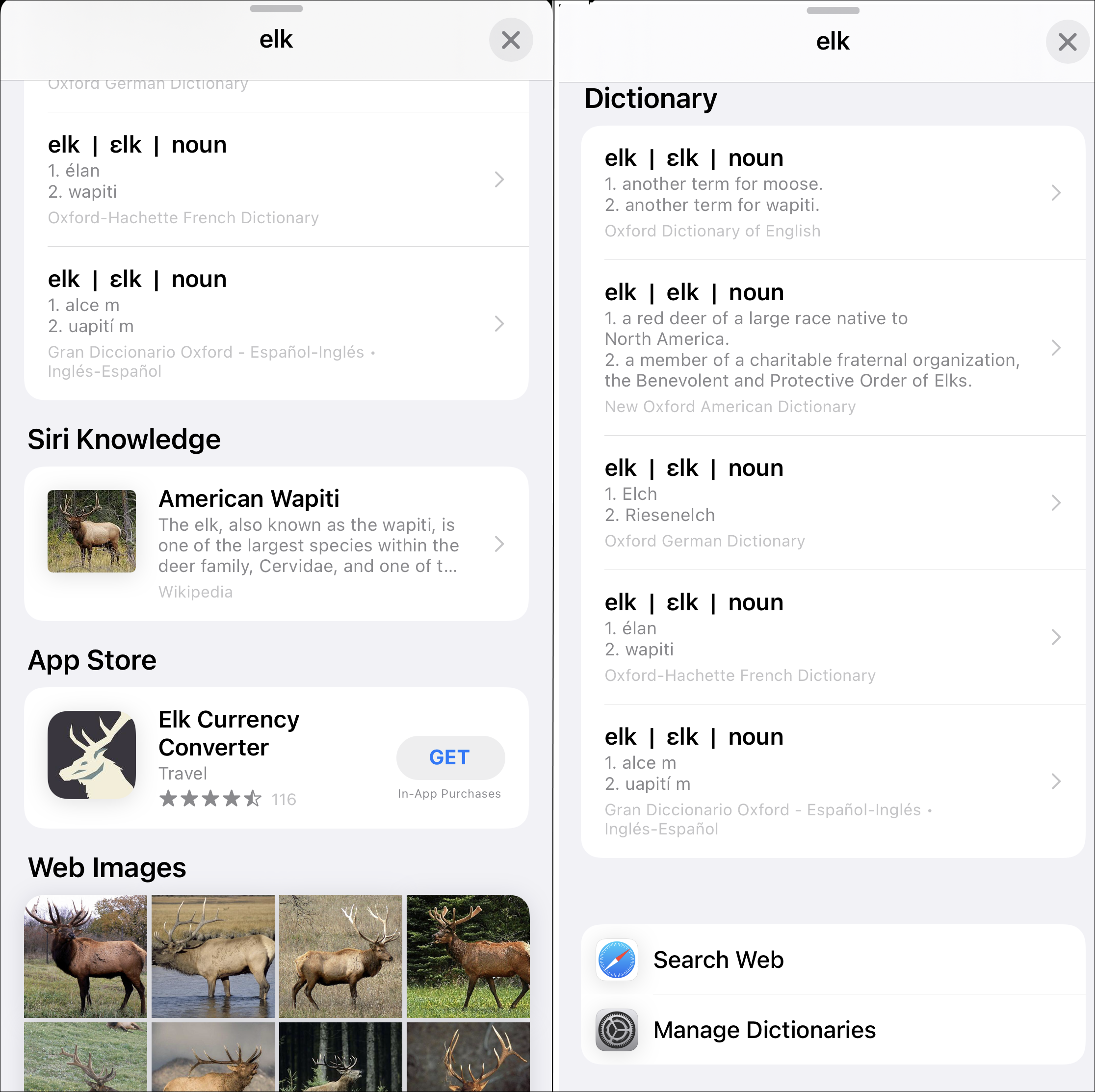 Similarly, when you swipe down on your screen, the spotlight search appears. If you type anything there, the results are flooded with Siri suggestions. To clear these, turn off the toggle for the latter.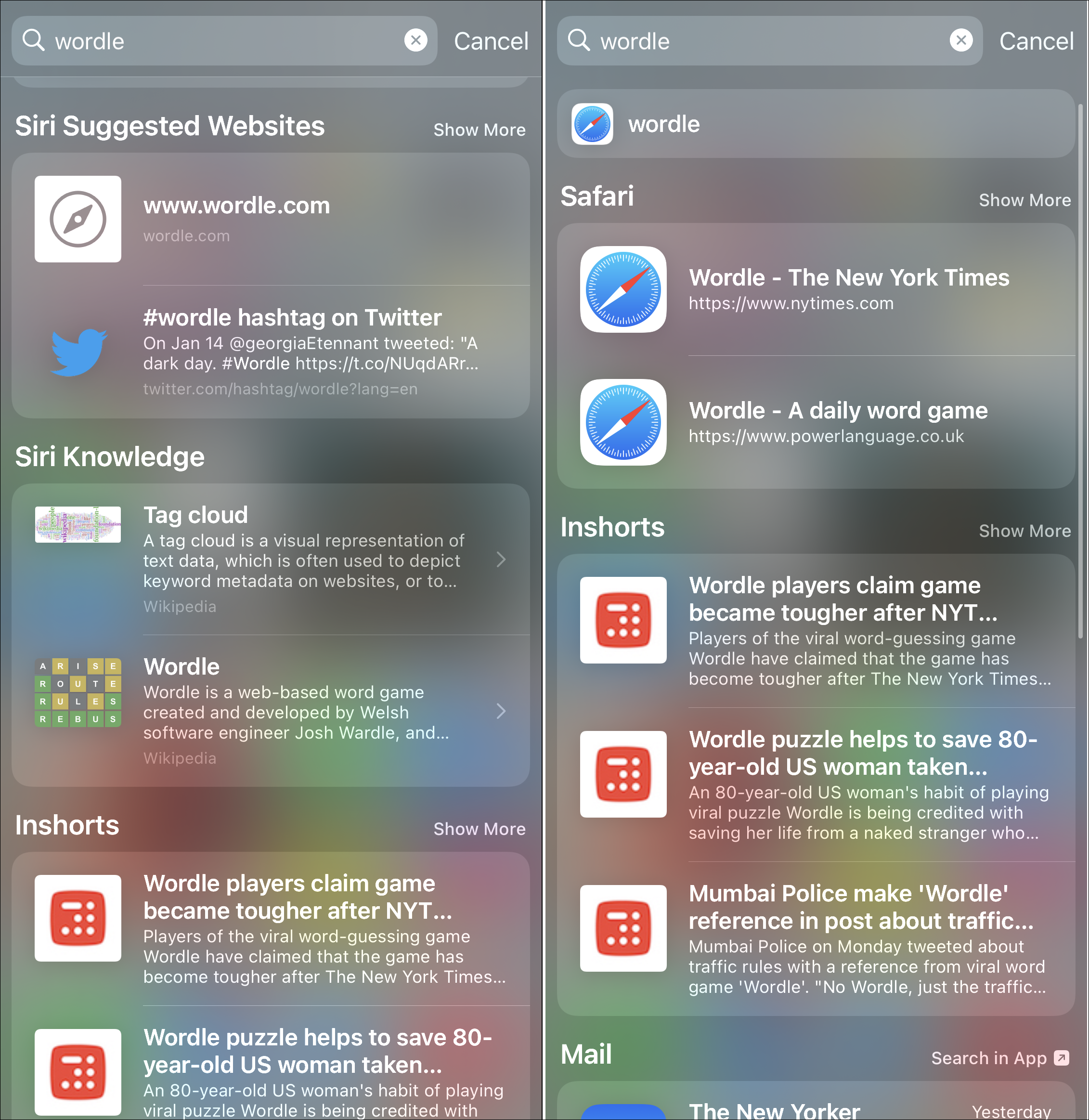 Clear Siri Suggestions Elsewhere
The next section in Siri and Search settings is for 'Suggestions from Apple'.
If you don't want Siri to show notifications, such as any app you might want to open depending on your daily habits, turn off the toggle for 'Allow Notifications'.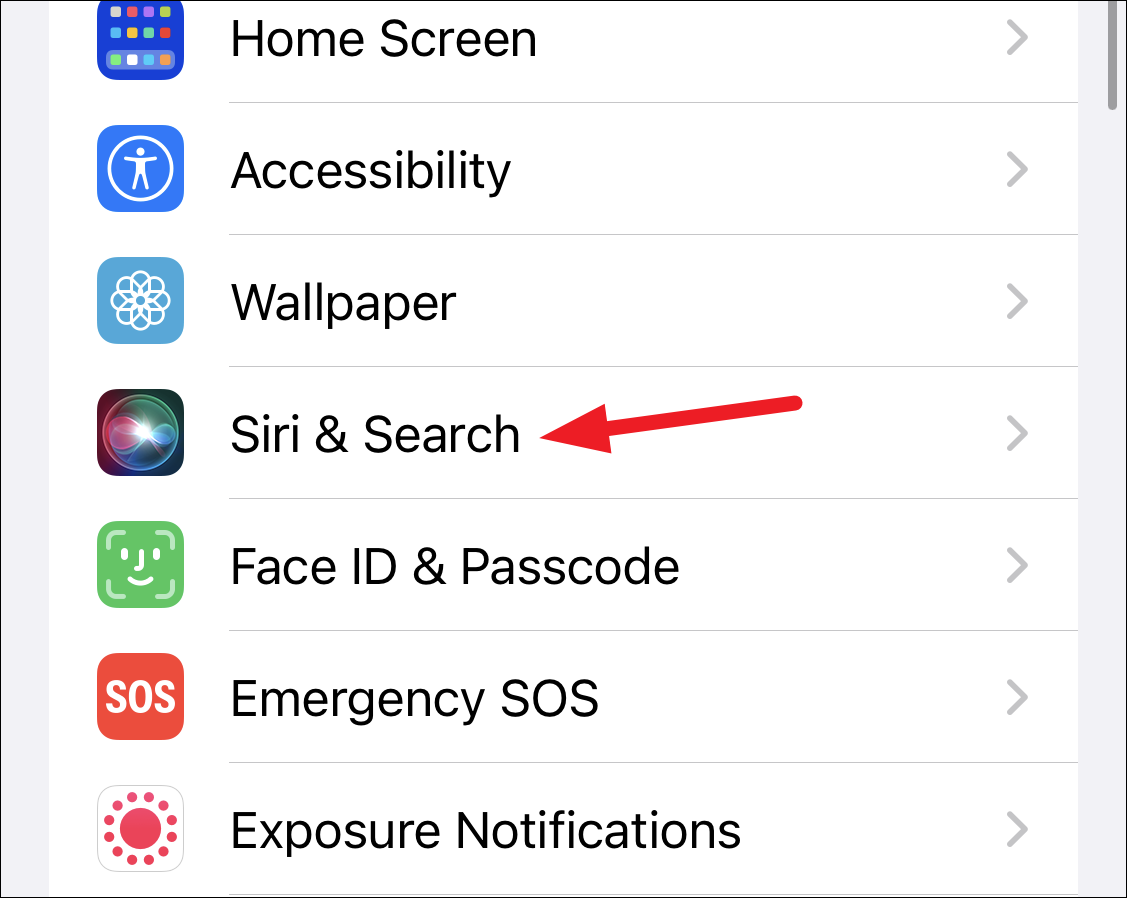 Next, you must have noticed that there's a section of Siri suggested apps in the App Library.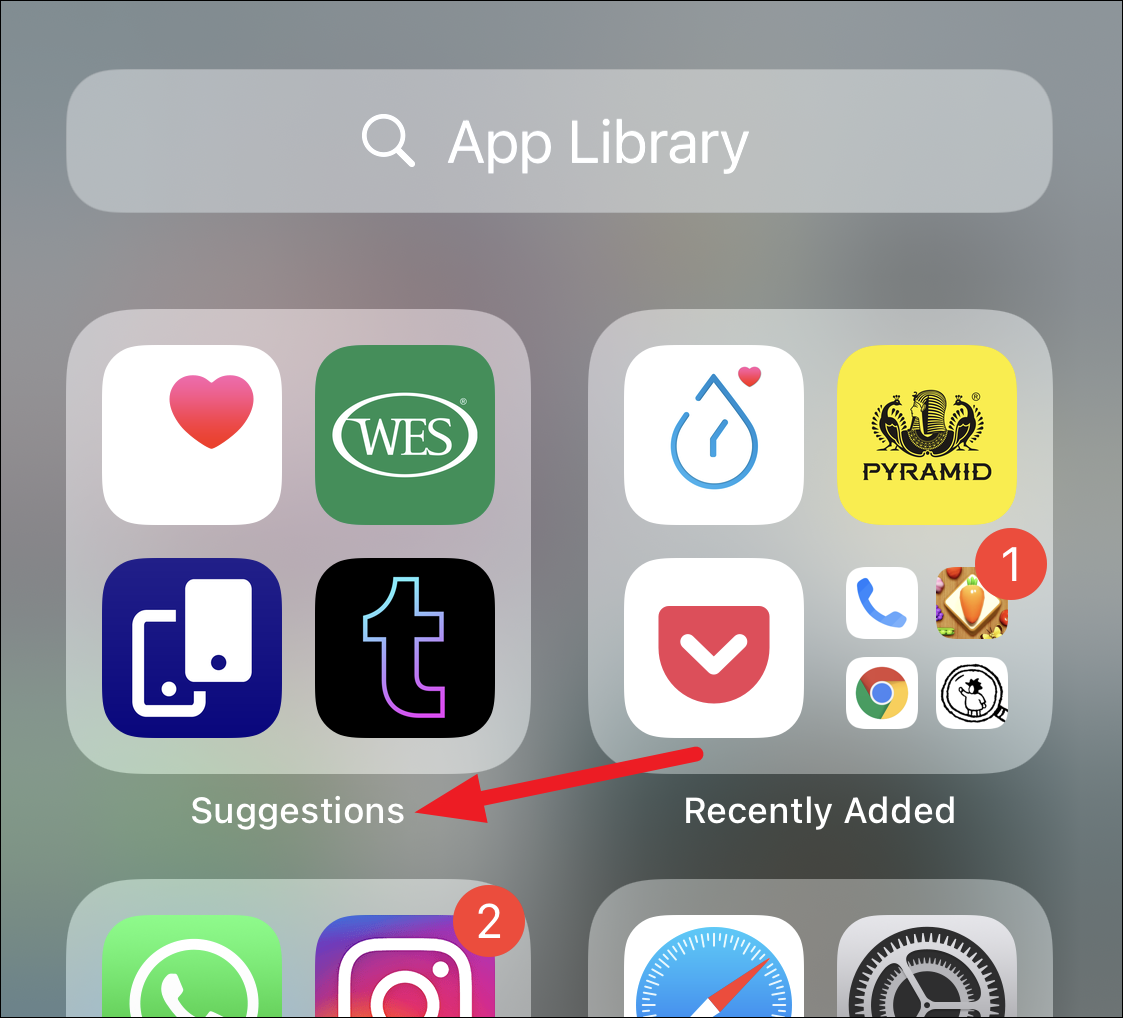 The Spotlight also shows Siri suggested apps along with some shortcut actions for apps based on your usage pattern.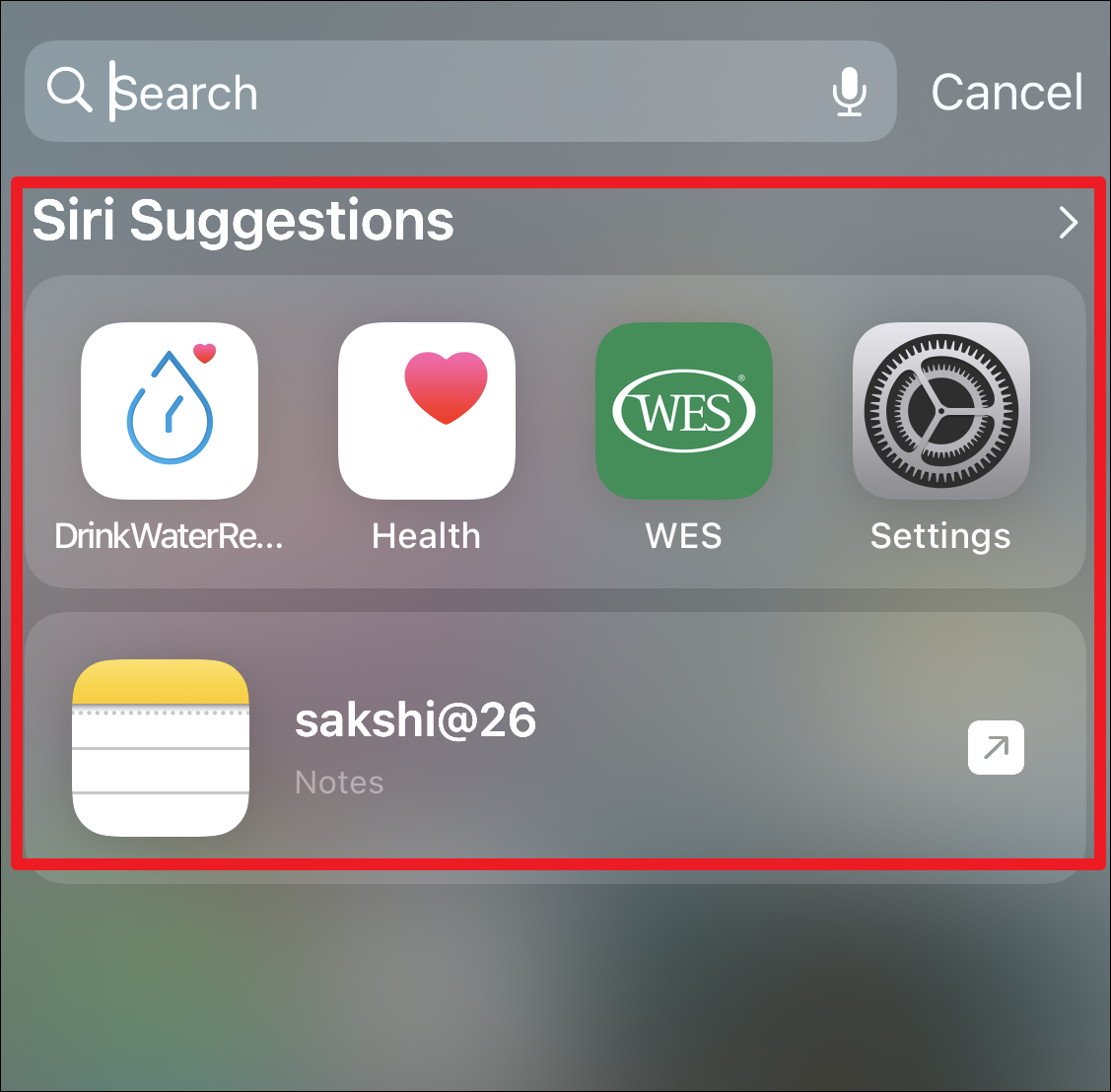 To clear these suggestions, turn off the toggle for 'Show in App Library & Spotlight'.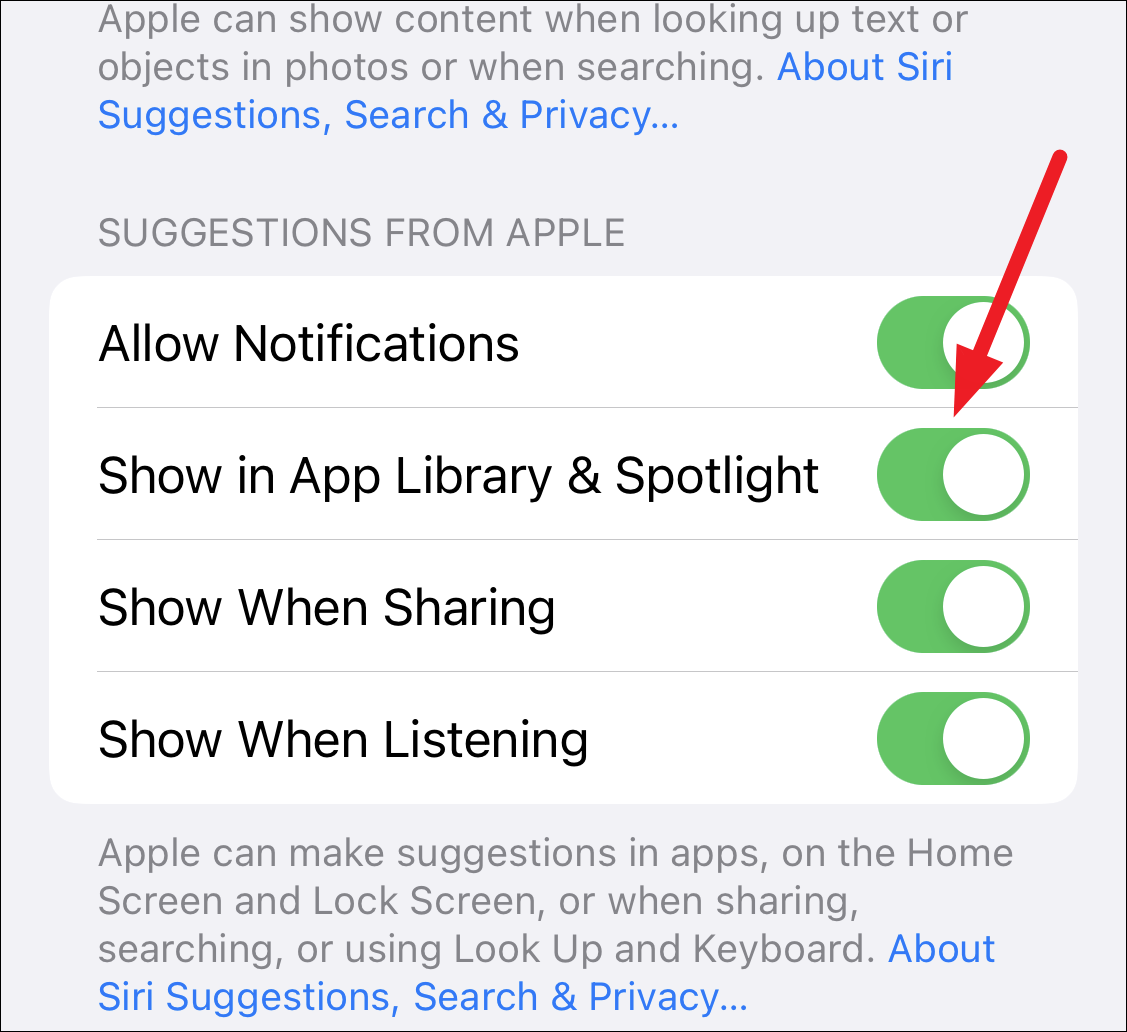 The next option is 'Show when Sharing'. Disabling this toggle will clear all Siri suggestions in the share sheet.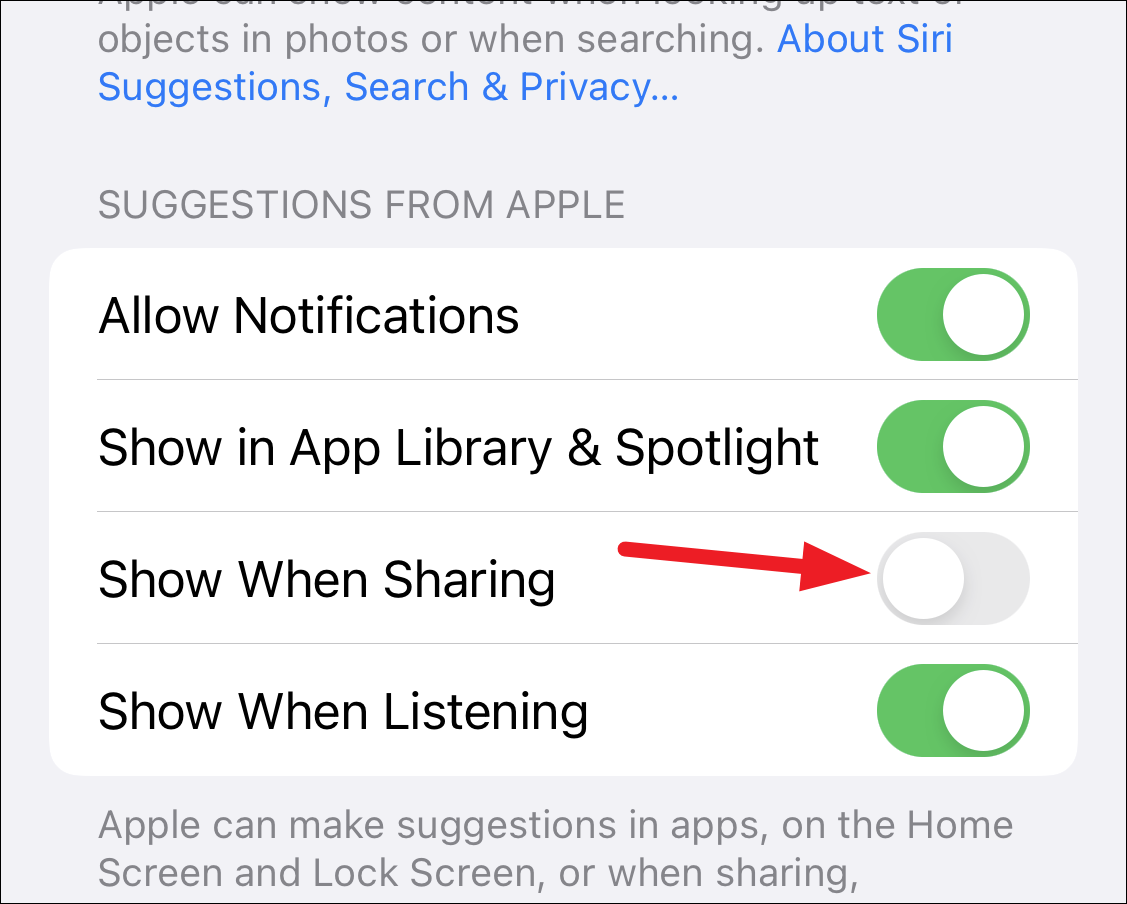 If you go on to share something, say from Safari, the top section of the Share Sheet shows a quick share panel. This panel has sharing suggestions from Siri that include chats from Messages or other apps like Whatsapp, Telegram, etc. whom you often contact or have recently contacted.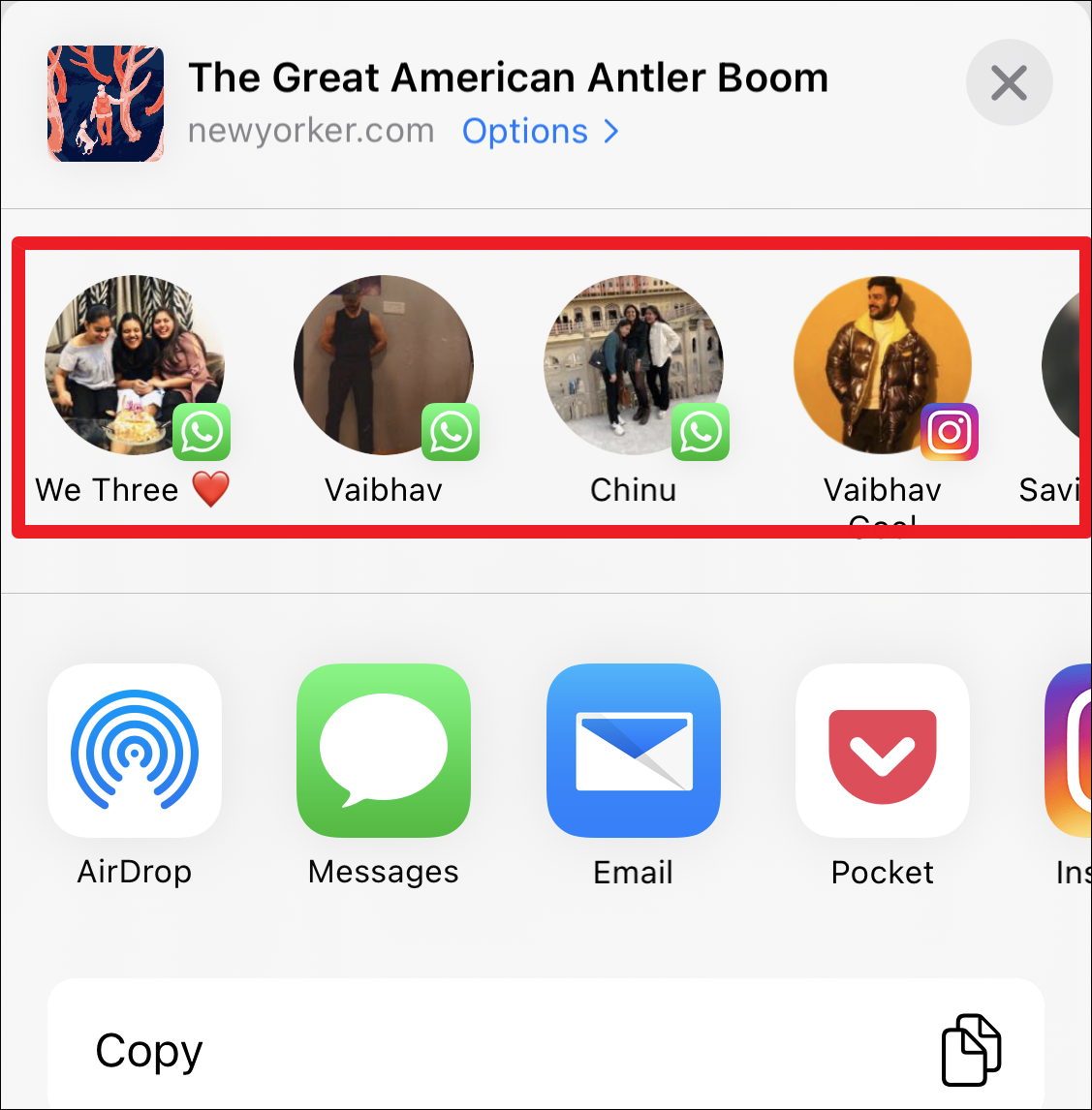 This section will vanish entirely when you disable this option.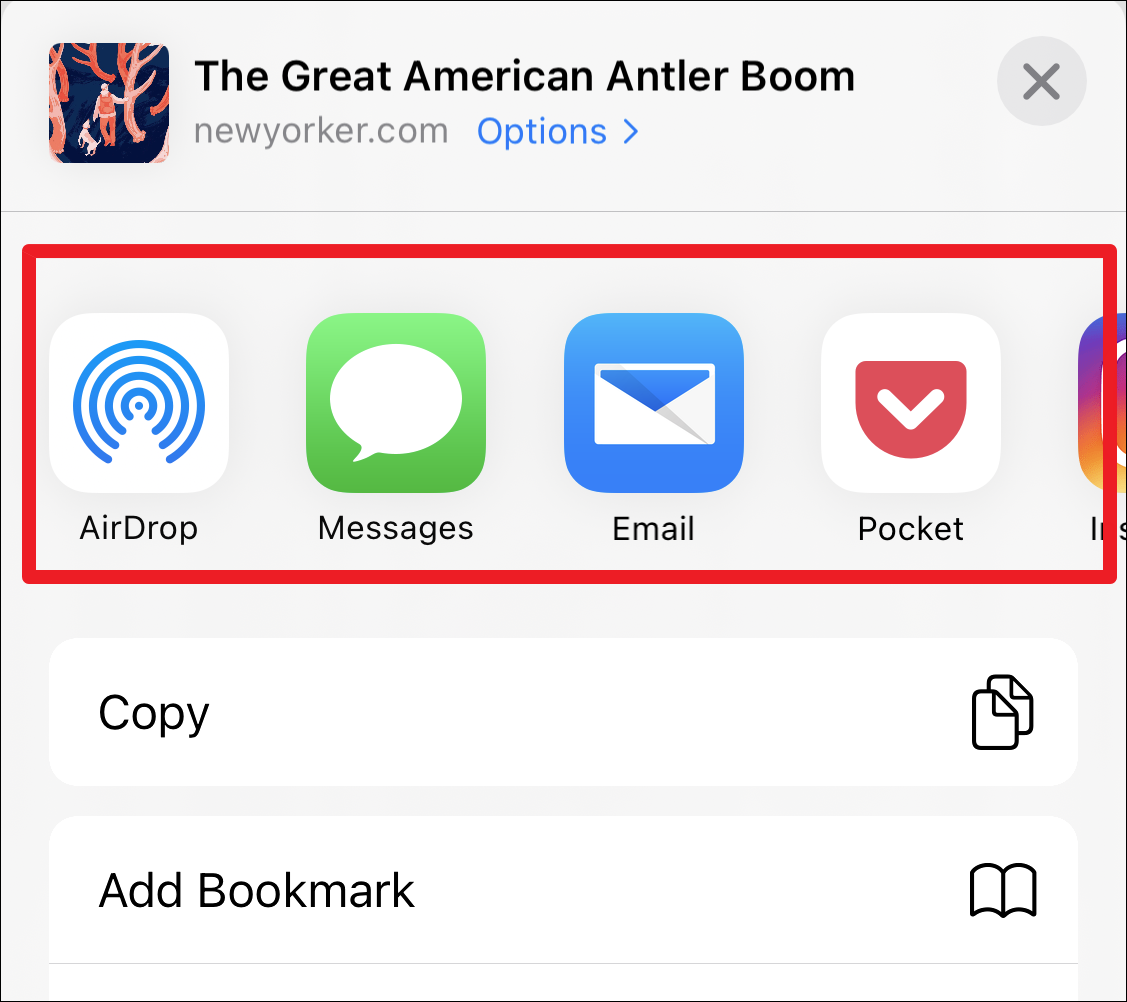 Last, if you don't Siri suggest anything when you have your headphones connected, turn off the toggle for 'Show When Listening'.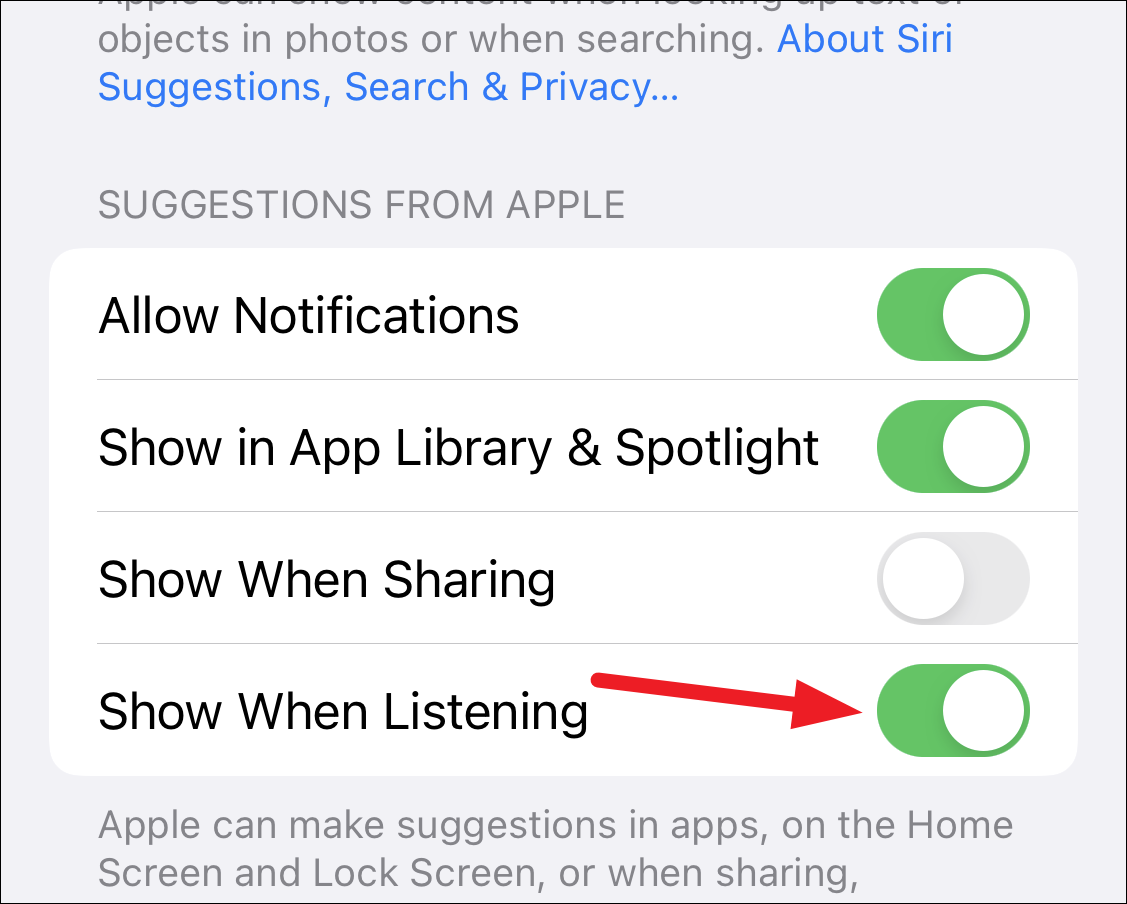 Clear Siri Suggestions for Individual Apps
You can also clear Siri suggestions for only certain apps. In the Siri and Search settings, scroll down and you'll a list of apps that work with Siri suggestions.
If you don't want Siri to analyze how you use that app and make suggestions about it across other apps, turn off the toggle for 'Learn from this App'.
To stop suggestions for the app to appear on the home screen, turn off the toggle 'Show on Home Screen'. Disable 'Suggest App' to entirely prevent any suggestions from Siri for the app. If you simply don't want Siri suggestions for the app and app shortcuts to disturb you, turn off the toggle for 'Suggestion Notifications'.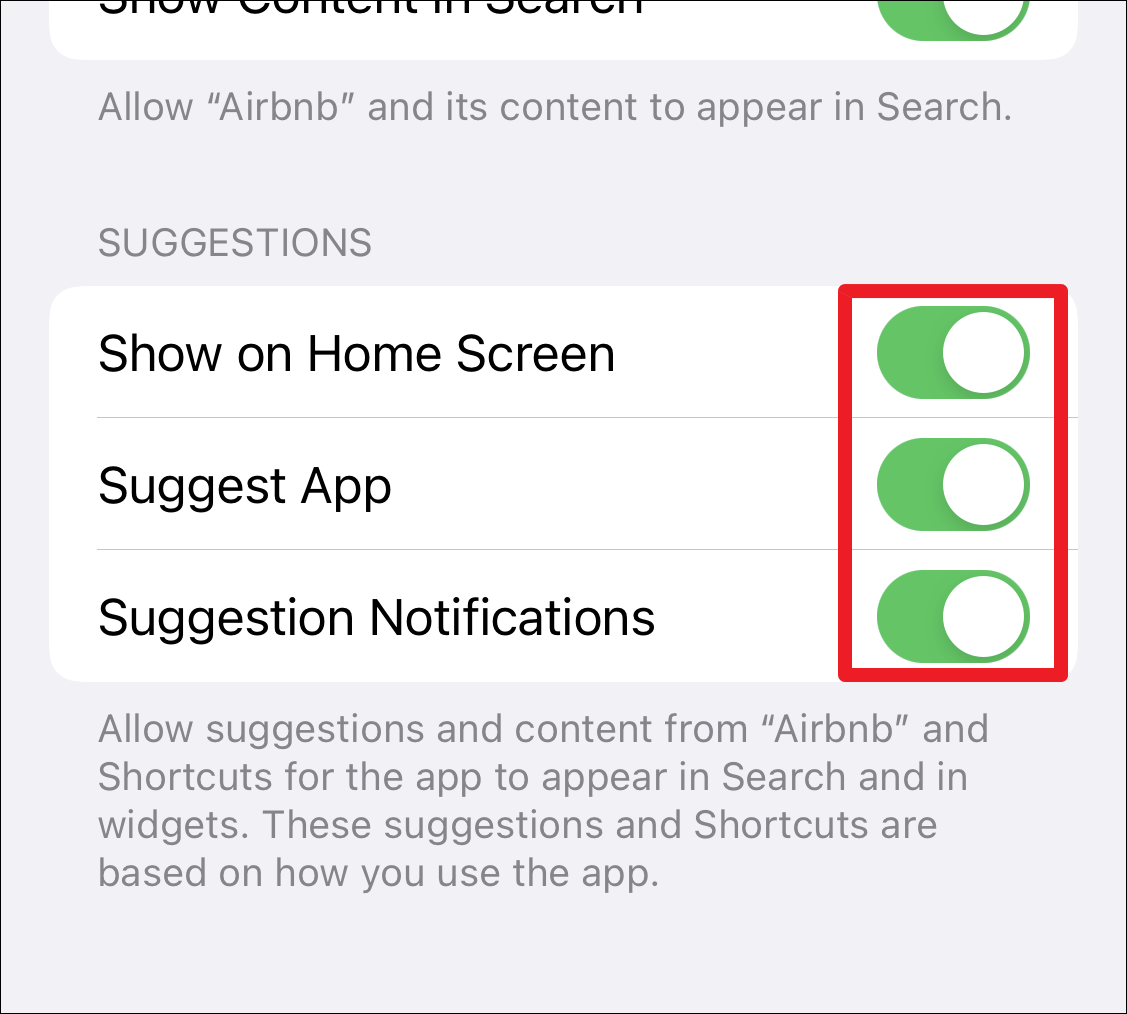 Clear Siri Suggestions in Safari
To clear Siri suggestions from appearing while searching in Safari, open the Settings app. Then, scroll down and tap the option for 'Safari'.
Then, turn off the toggle for 'Safari Suggestions'.
When you search for something, Safari preloads the result it thinks you're most likely to open based on your bookmarks and browsing history. Turn off the toggle for 'Preload Top Hit'.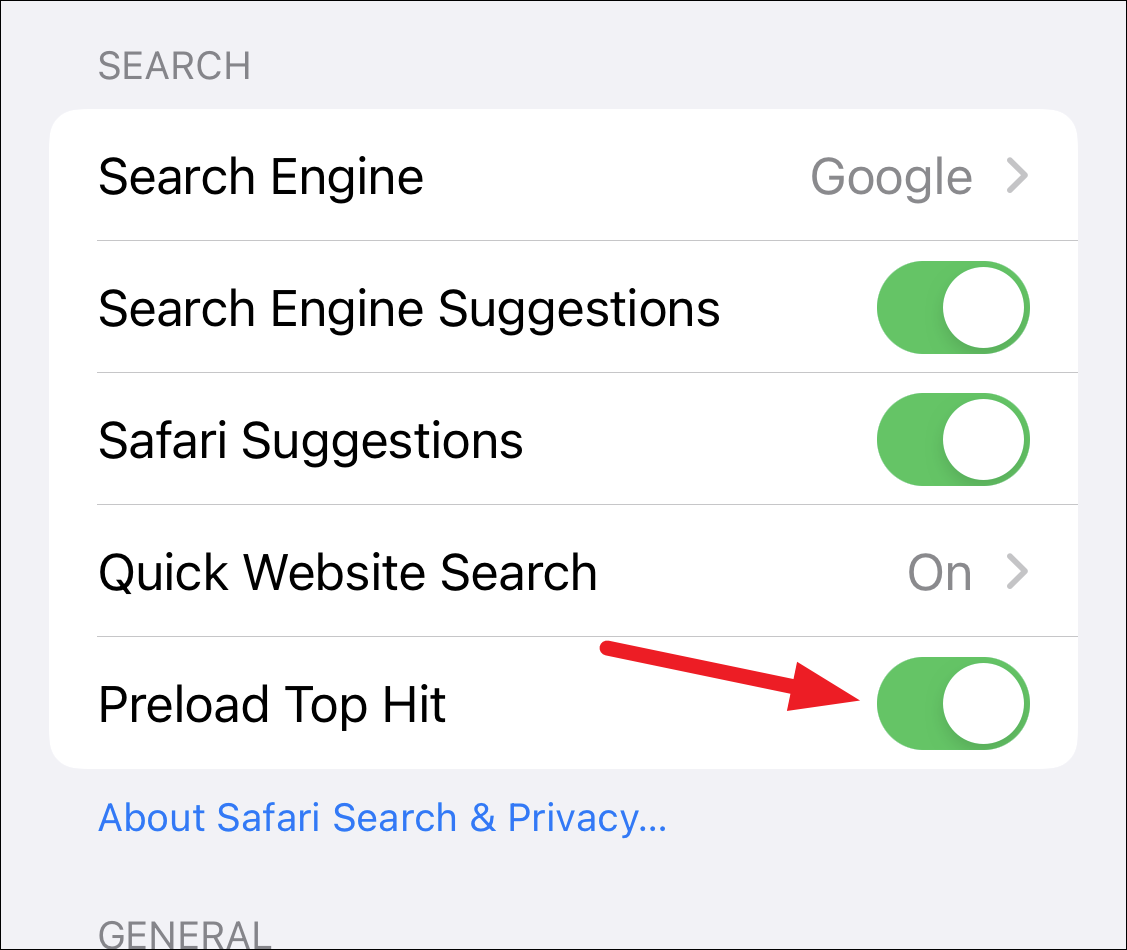 ---
Siri may offer suggestions in a variety of ways. But Apple offers a great deal of control over these suggestions. You can disable all of them or selectively disable them as per your interests.