"eBooks are notoriously difficult to create" – this is the perception most people have of the format. But in reality, it's the farthest thing from the truth. Whether you are a writer thinking of self-publishing, or an online business owner who wants to use eBooks as a tool for marketing, you shouldn't shy away from this wonderful format.
And unlike popular opinion, you really don't need a content writer or a graphics designer to create an eBook. Canva makes it really easy to create cohesive and visually engaging eBooks. And with its templates and drag-and-drop tools, it doesn't matter if you've designed a day before in your life or not. You can create a professional-looking eBook that'll be eye-catching.
While creating an eBook, you're either just looking to create a cover for your eBook while the text part is done, or you want to create a complete eBook from start to finish. With Canva, you can do either of these with ease.
Creating a Complete eBook in Canva
Either go to canva.com on your browser or open the app. Go to the search bar and type 'ebook'. Generally, when you type a keyword in the search bar, one of the suggested options that appear underneath is what you're looking for, and clicking it will take you to the templates for the desired category. But in this case, the only suggested option that appears is 'Ebook Cover'. Instead of clicking it, what you want to do is press the enter key after typing 'ebook'.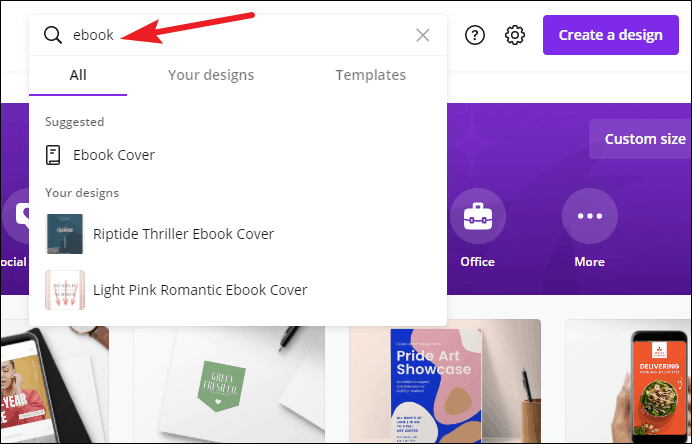 Now, this will bring up the templates for eBooks of all categories. Some of these templates will also have multiple pages, and one of these is what we'll be looking for. Although you can create your eBook from scratch, starting with a template will make things easier and faster.
Hover over a template you like. If it has multiple pages, it'll indicate so in the bottom-left corner of the thumbnail. If the template has, say, 4 pages, it'll say '1 of 4 pages', and they'll start previewing in the thumbnail itself.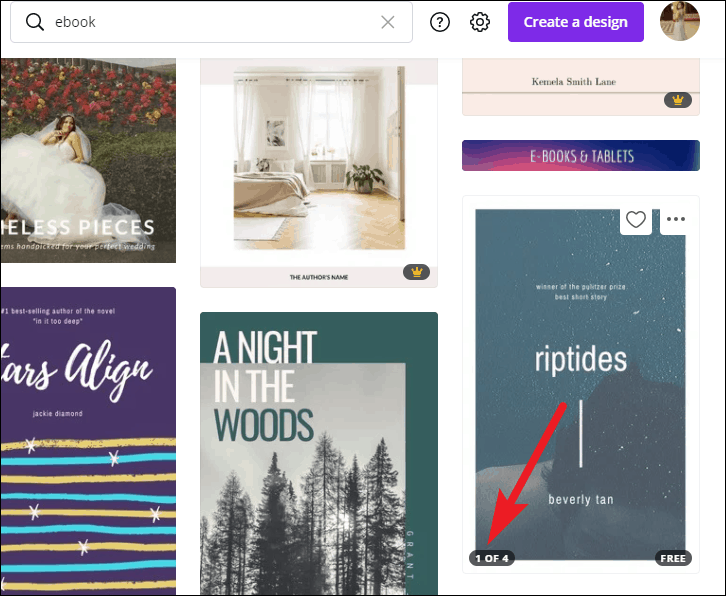 Click the 'More' option (three-dot icon) and select 'Preview this template' to preview it on the large screen. Or click 'Use this template' to directly use it.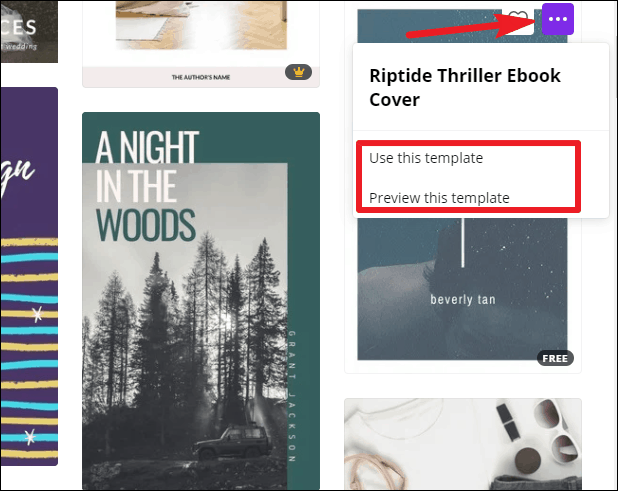 The template will load in the editor. Although the template might not have many pages – in this case, it only has 4 – it'll still provide a good starting point. You'll have a cover page, most likely an Index page, maybe a back cover or an epigraph, and a few pages with content (chapters and such). You can decide to toss out or edit any page.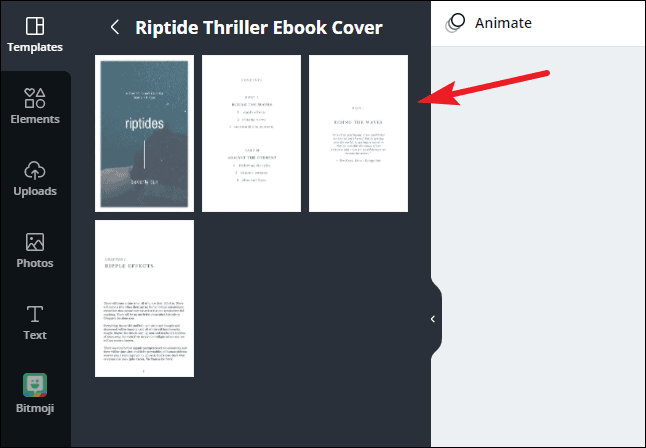 Everything in the template is customizable. Let's start with the cover page.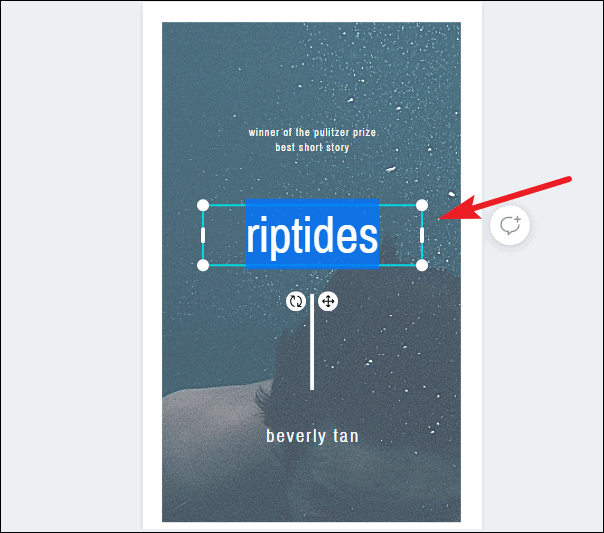 From text to images, you can change everything to make it your own. But you can also use the images included in the template itself. Note that if the image isn't free, you'll have to pay for it. You can also use your images or logos instead of turning to Canva's content library.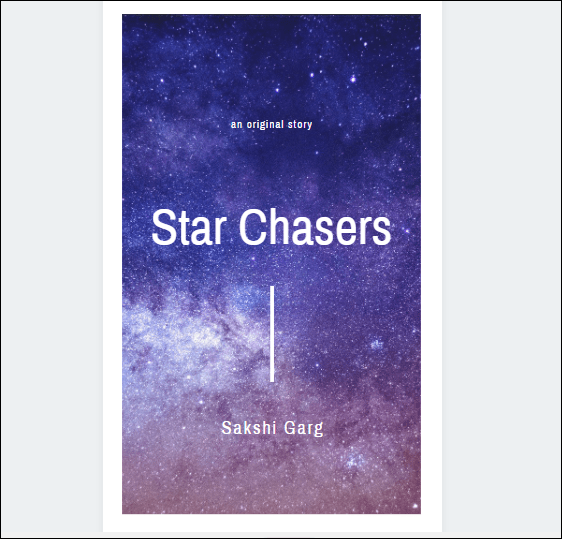 The same goes for the rest of the pages. There are tonnes of design elements in Canva, from images and graphics to fonts and filters – go all out while designing your eBook. You can also use vectors or pull quotes; the possibilities are nearly endless.
But it's also important to stick to a theme or a structure, so it doesn't look like a mishmash of myriad elements thrown together haphazardly. Each page of your eBook can be thought of as a separate design page, and you can design it like any other post type in Canva.
To increase the number of pages in your book, you can duplicate a page and edit it accordingly. For example, the book needs more pages with the story. So, in this template, go to page 4 and click the 'Duplicate' button to add a similar page. Your Canva eBook can have a maximum of 100 pages.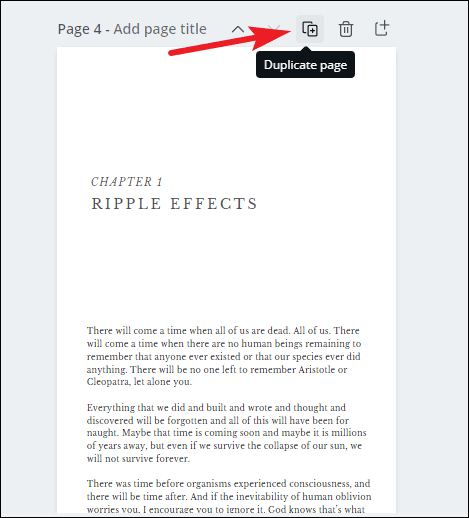 Once you're done, click the 'Download' button to download the eBook.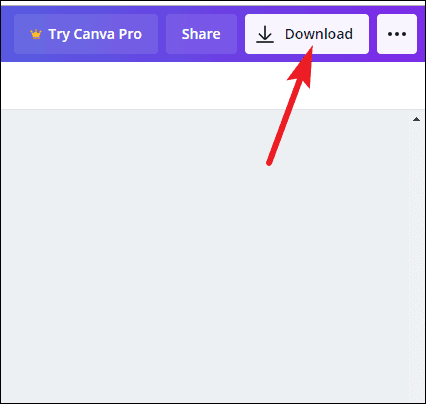 Select 'PDF' from the file types. Under Pages, keep all pages selected unless you don't want certain pages. Then, click the 'Download' button.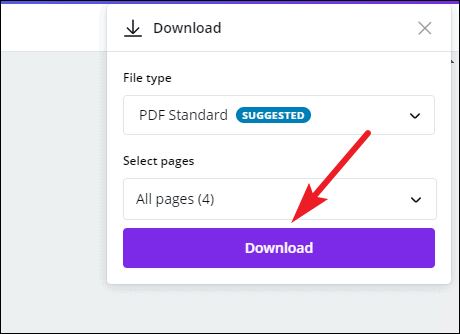 For a book with more pages, you can start a new design. Go to the Canva home page and then to 'Your designs'. Hover on your eBook design, and click the three-dot menu.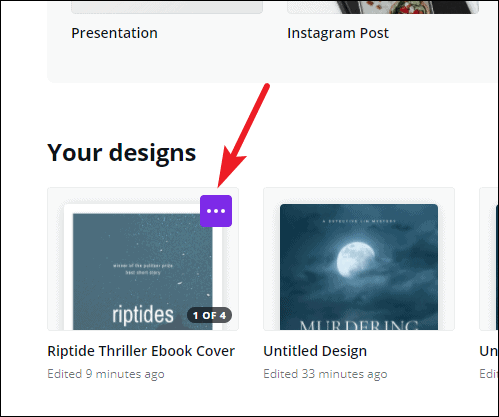 Then, select 'Make a Copy' from the options.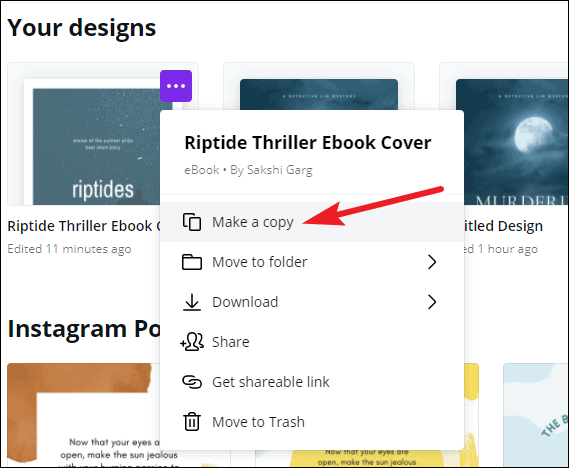 In the new copy, edit the pages accordingly. For example, there'll be no need for a cover page in this copy. Download the eBook as a PDF after finishing the design. You can then merge the two PDFs.
Creating Only the eBook Cover in Canva
Now, if you're writing a novel, short story, non-fiction, novella, recipe book, etc., and only want to design the cover page for your eBook, you can do that too. The cover is one of the most essential parts of your book. Even though pretty much everyone knows the saying, "Don't judge a book by its cover," pretty much everyone does it to varying degrees. So, having an extraordinary cover is a must for a great first impression.
Go to the Canva home page, and search for eBook. But this time, click 'Ebook Cover' when it comes under suggestions.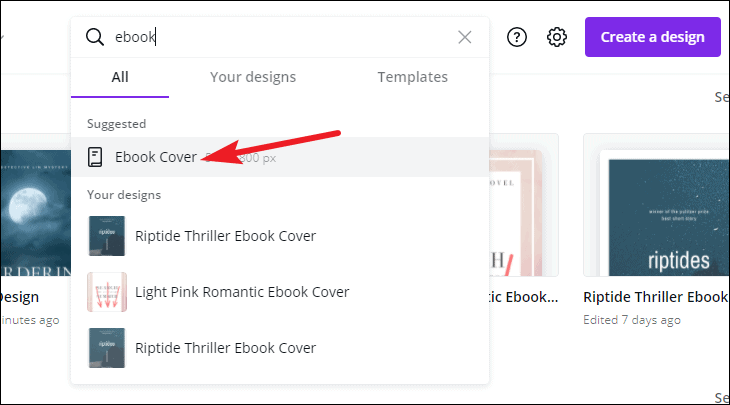 The templates for eBook covers will appear. Canva has templates for a lot of categories: thriller, romance, cookbook, inspirational story, etc. Browse through the templates to find one that works for you.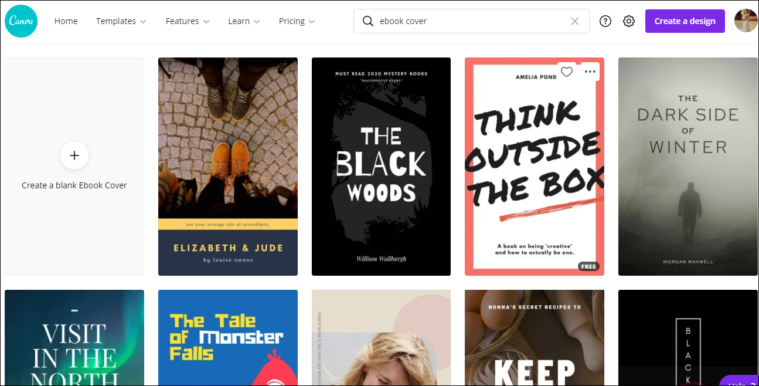 If browsing through all the templates feels too overwhelming without any genre categorization, then click the 'Create a blank eBook cover' button.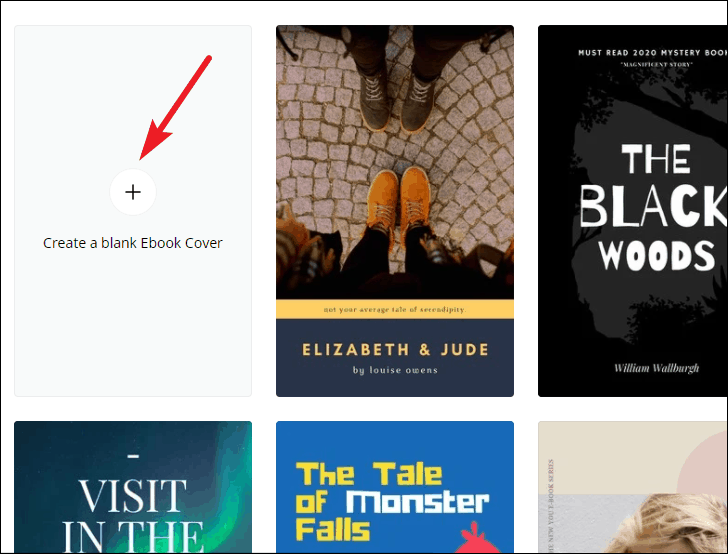 In the Canva editor, the left panel has an option for Templates. Go to it, and type the genre name in the search bar to narrow down the templates.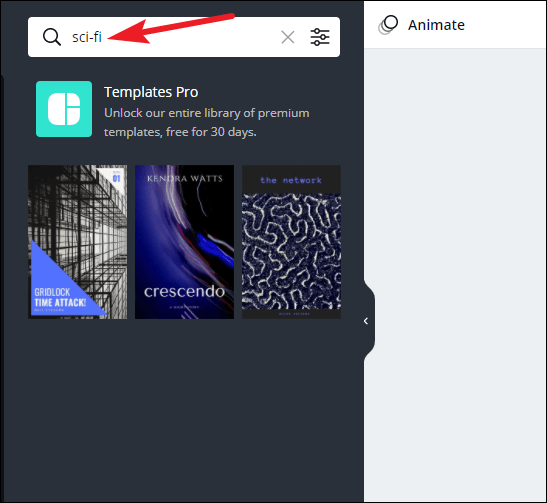 It'll even have a 'Wattpad cover' category, and a 'For You' category (based on your past choices).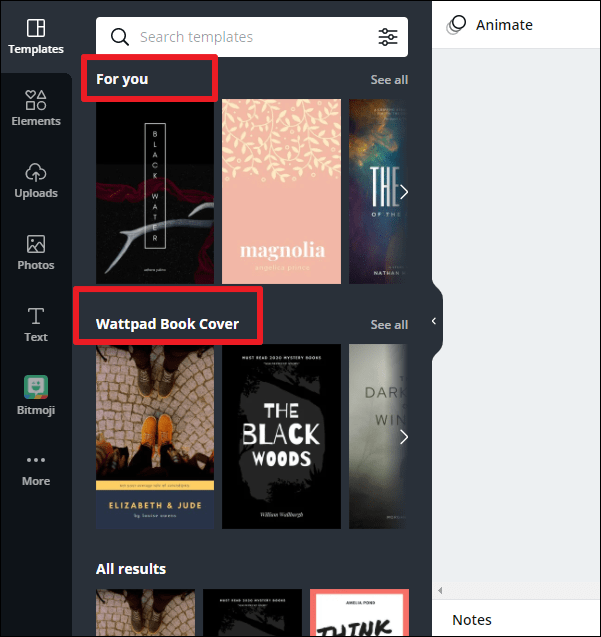 The template you choose will be completely customizable, from image to text and every element in between. Each separate element will be highlighted separately in blue, and groups will be highlighted as dotted lines. You can even change the color or font of the elements without changing them.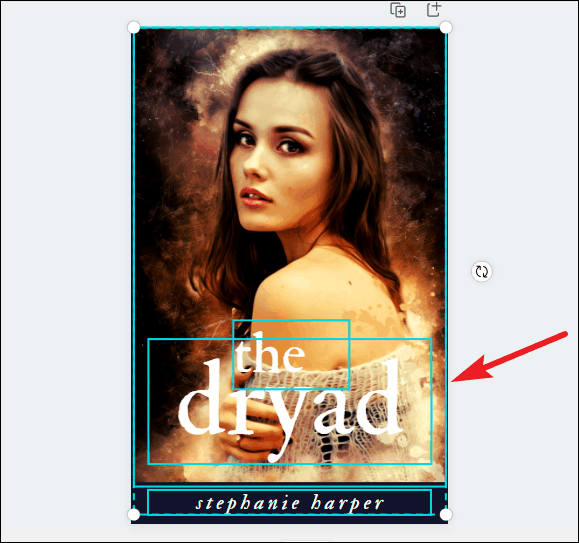 Then, once you're done, click the 'Download' button and download the cover in PNG (suggested), JPG, or PDF file types as per your requirement.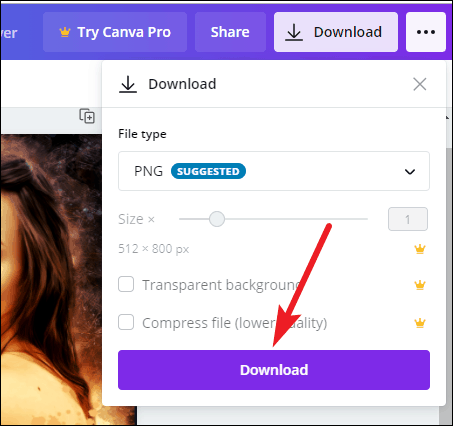 Will the eBook Have Page Number?
One of the most important questions that people often encounter while creating an eBook is the format of the page number. And naturally, it's still at the forefront when creating one with Canva. Will the eBook that you create with Canva have page numbers like a print book? Straight up answer, no. And that's for the better.
You can manually enter a page number on each page if you want to. But unless you're creating a fixed layout eBook, it's not advisable. Most eBooks have a reflowable layout, and as such, the size of the font or screen may change depending on the device and settings. That means what each page contains might change too.
Now, for a reflowable eBook, if you've created an index and entered the page numbers for chapters, your reader might not find the chapter on the said page number because of device or setting differences. It's a recipe for chaos and confusion.
So, it's better to not have page numbers, or at least an index with page numbers mentioned next to the chapters in a reflowable eBook. But if you plan to convert to a fixed eBook format, you can absolutely go for it.
---
eBooks are a great tool in today's digital world, whether you're planning to put your work of fiction or non-fiction out there or you want to market your business. And with Canva, you can design eBooks seamlessly. You can also collaborate with other people or design on the go using the mobile app. Canva makes it all an easy process.