ChatGPT has taken the world by storm. Everyone's talking about it. And to think that it's only been 2 months since it was released to the public is mind-boggling; it has already crossed the threshold of 100 million users.
However, in addition to the AI chatbot actually being brilliant, social media has also played a role in this meteoric rise. Currently, there's no shortage of advice (to use the term lightly) on the internet that's moving people to use ChatGPT. And in a hurry to try out this free AI chatbot tool that every internet guru is recommending all of a sudden, people didn't stop to understand the mechanics behind the model. For starters, most people didn't even ask the most fundamental question – how is your data used by the company?
But if you finally stopped to think about it and now want to delete your ChatGPT account and data, the process is easy, even if not exactly straightforward. Let's dive right in.
Can Anyone See Your ChatGPT Data?
Before addressing your main concern, let us first take a look at this tangent instead. Who can see your ChatGPT data and what do they do with it?
ChatGPT is a conversational model from OpenAI which works in form of dialogues. You provide a prompt to the chatbot and it gives you an answer in return. And all of your ChatGPT conversations can be viewed by the OpenAI team. The OpenAI team views your conversations to improve their systems. Only by viewing the conversations, they can ensure that the content that ChatGPT generates complies with their policies and safety requirements which is essential to keep their AI safe.
But that's not the only way your conversations might be used. OpenAI's AI trainers might also use your conversations for training and improving their systems. It's why you should never disclose sensitive information while chatting with ChatGPT.
Now if you want to delete your account, proceed with the instructions in the next section.
Delete your ChatGPT Account and Data
There's no direct option to delete your ChatGPT account on the website. The only way to delete your account is by contacting the OpenAI team and submitting a request to delete it. There are two ways by which you can submit a request to delete your data; we'll cover both.
Note: When you delete your account, the process is permanent. It will delete all data associated with your account. However, you won't be able to create a new account using the same credentials in the future.
Delete your Account using the Help Chat
You can submit a request to delete your account from OpenAI's Help Chat by going to their website. These steps can be performed by navigating to the mentioned website from any browser on either your computer or mobile phone. For this guide, we're using our computer but the process is the same.
Go to platform.openai.com and log in to the OpenAI account that you use for ChatGPT. It's important to log in to your account to complete the below steps for account deletion.
Then, click the 'Help' option in the top-right corner of the screen.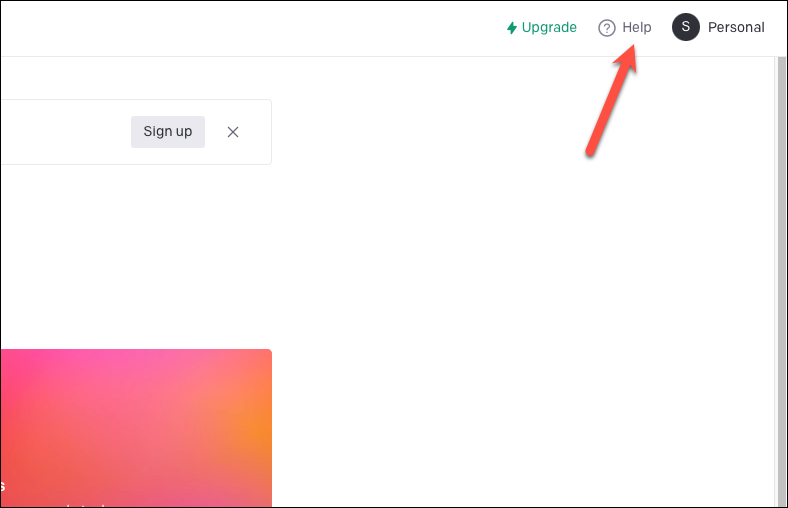 OpenAI's Help panel will open in the bottom-right corner. Click the 'Send Us a Message' option.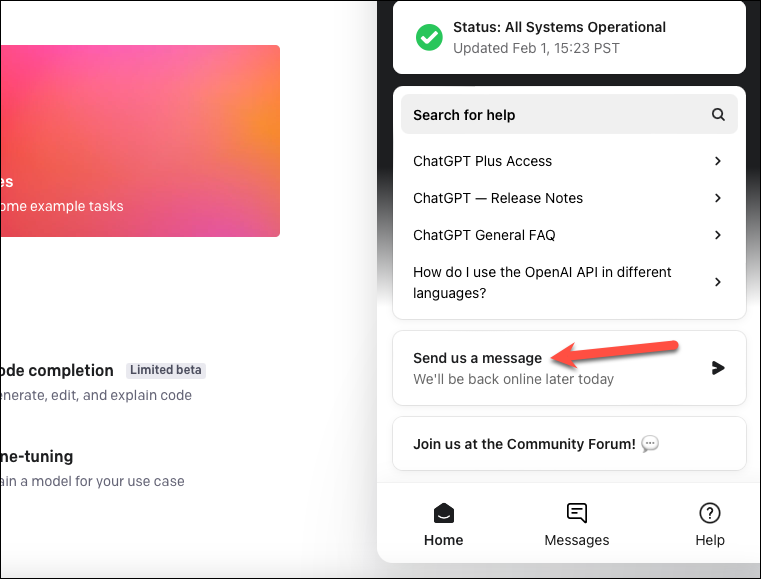 Then, select 'Account Deletion' from the options in the chat.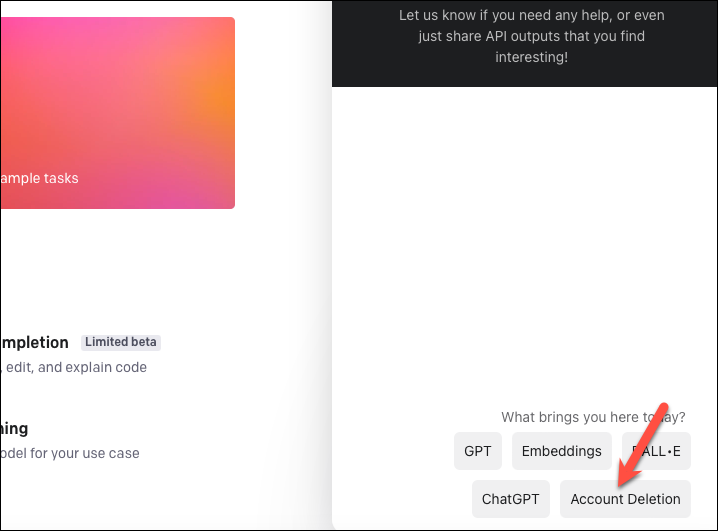 Complete the next steps in the account deletion workflow that might require you to confirm your request. Note that it might take some time for you to get a reply from the Help Chat. You can keep the chat open or you will also receive replies in your email.
Once you complete the steps, your request will be submitted and the OpenAI team will delete your account. It can take 1-2 weeks for your request to be completed.
Delete your Account Through Email Support
You can also email your request to delete your account to OpenAI's email support.
Send an email to deletion@openai.com from the account that you want to delete. The subject for the email should be "Account Deletion Request" and in the body of the email, add "Please delete my account".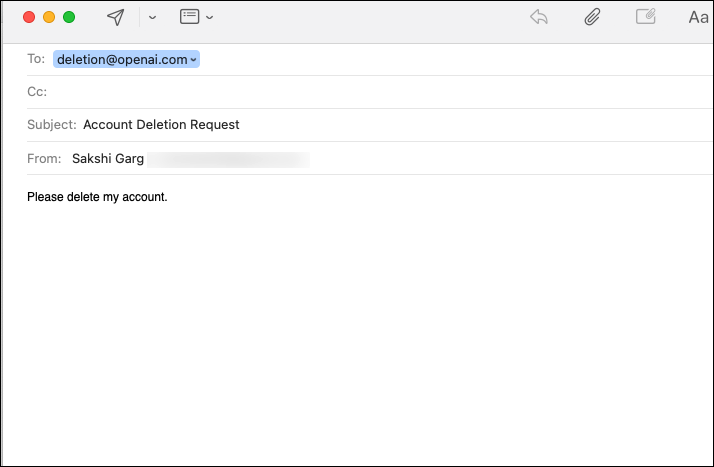 Your request to delete your account will be submitted and completed within 1-2 weeks.
Note: Once you send an email to deletion@openai.com, your request will be submitted and it cannot be canceled under any circumstances. Only send the email to the above address if you're absolutely certain that you want to delete your account.
Delete ChatGPT Conversations
Instead of deleting your entire account, you can also delete your ChatGPT conversations. ChatGPT keeps a record of all your conversations with the chatbot in your account and you can view them again or continue them whenever you want. Additionally, you can delete any conversation if you want to. But you cannot delete individual prompts from a conversation.
To delete a conversation, go to chat.openai.com and log in to your account.
Then, click the conversation you want to delete from the left panel to open it.
Once you open the conversation, a couple of options will appear on it; click the 'Delete' icon.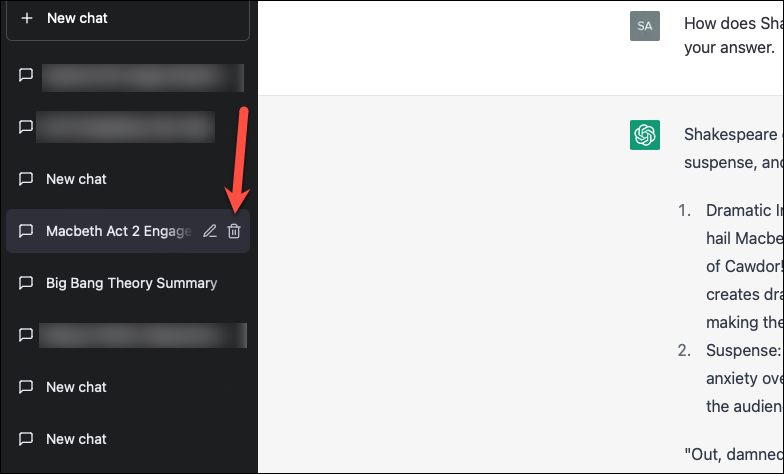 Confirm that you want to delete the chat by clicking the 'check' icon.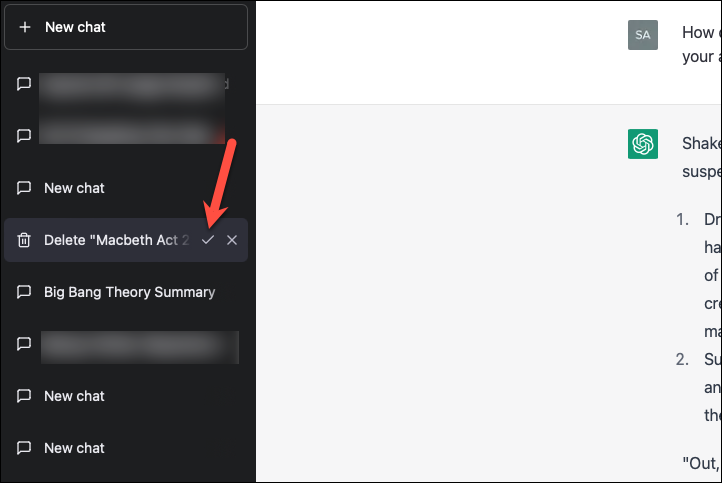 Repeat the above steps for other conversations that you want to delete.
To clear all the conversations on your account in one go, click the 'Clear Conversations' option.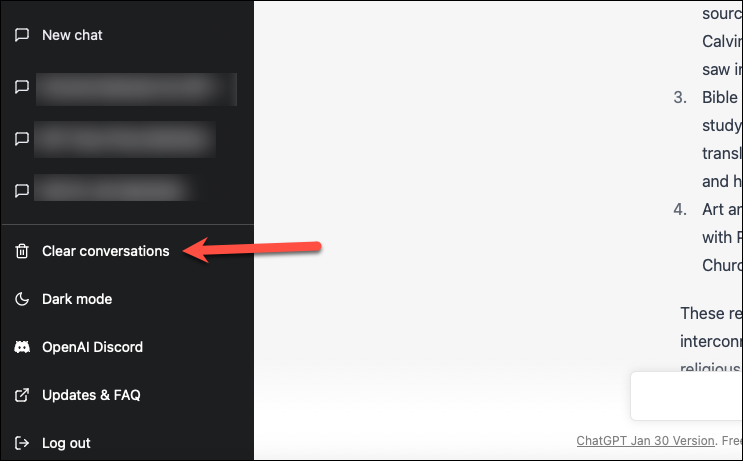 ---
ChatGPT might be a fascinating piece of software but if you're concerned about your privacy, deleting your account might be your best bet. Fortunately, it's easy to delete your ChatGPT account and its data despite the absence of a straightforward option.