Microsoft Teams makes inviting people to the organization very easy. It generates a unique link that anyone can use to invite people to join your organization; it is a very ordered process. By default, all team members can use this link to invite other people.
But if the owner of the organization doesn't want other members to be able to use the link, they can restrict it. The owner has privileges to disable or change the invite link at any given time. This feature is only available to the owner/ admins of the groups and not the members.
Open the MS Teams desktop or web app. Then, click the 'Profile' icon on the right side of the title bar. In the context menu that opens, select 'Manage org'.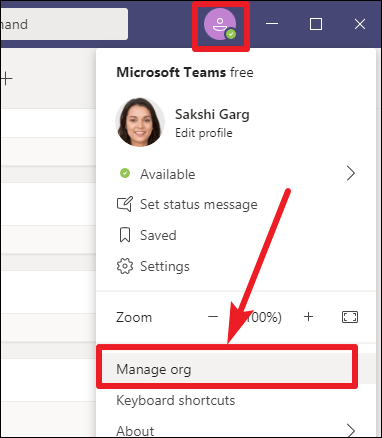 The manage organization screen will open. Go to the 'Settings' tab, and then click on the 'Manage Link' option.
Clicking on the option will expand it. To disable the join link completely, turn off the toggle for the 'Enable Link' option.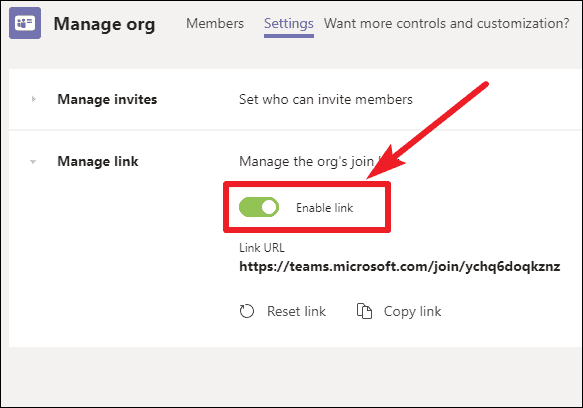 A confirmation dialogue box will pop-up on your screen. Click on the 'Yes, disable link' button to disable the organization's join link. Disabling the link will also render the invites that you have already sent useless if it hasn't been used by the invitee i.e. the link would stop working completely.

If you don't want to disable the link completely, you can also reset/change it. Doing so will render the previous link useless, so anyone you might have sent that link to won't be able to join the organization using it. This option may come handy if you've accidentally sent an invitation to a person or in case your Microsft Teams join link has been into the wrong hands and is being misused.
To change the join link, click on the 'Reset Link' option under the 'Enable Link' toggle.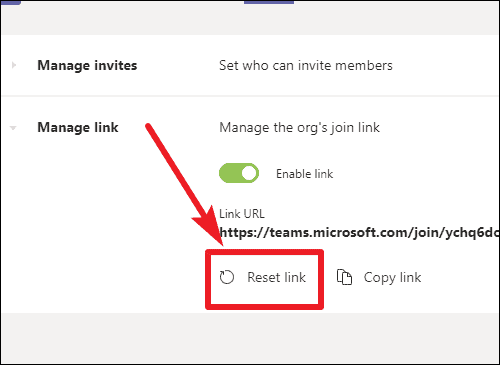 A confirmation pop-up will appear on your screen. Click on 'Yes, reset link' button to successfully change the join link of the organization.

Resetting or disabling the Organization's join link can give the owner more control over the management of their organization in Teams, and doing it is as easy as pie.