Meet now in Windows 10 is the new space for collaboration where you can invite anyone to a video call without any prior setup. It's a Skype service but neither you nor anyone you invite needs to be a Skype user to be able to use Meet Now in Windows 10.
With the recent Windows 10 update, Microsoft has integrated Meet Now shortcuts into the taskbar. And it's quite persistent there. If you don't use Skype much, it might even annoy a little to have that 'Meet Now' button persistently visible in the Taskbar.
Can I Uninstall Meet Now in Windows 10?
The answer is a big NO. There is no possibility to uninstall as of yet. Microsoft integrated Meet Now in Windows 10 as a new feature that cannot be uninstalled.
Some say, Meet Now is how Microsoft takes on Zoom. To gain some advantage over Zoom, Microsoft made Meet Now available in the taskbar of Windows 10 as a feature.
Anyway, while it's impossible to uninstall 'Meet Now' in Windows 10, but you can certainly hide it from the taskbar pretty easily.
Hide Meet Now from Taskbar
To simply remove the 'Meet Now' button from Windows 10 taskbar, right-click on the icon and select 'Hide' from the available options.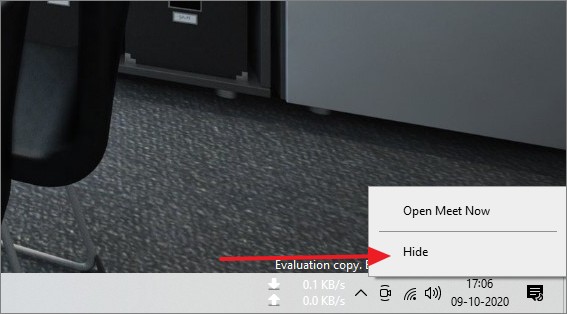 This will remove the Meet Now icon from ever showing again in the Windows 10 taskbar.
Move Meet Now to the Notification area
If you don't want to completely hide the Meet Now button but don't like it persistently available on the Taskbar, then move it to the hidden system tray icons list where all background apps are also put by Windows.
There are two ways to do this, you can either just drag and drop the 'Meet Now' button to the little 'arrow' icon. Or, configure it in the Windows 10 Taskbar settings.
To do it from the Taskbar settings, simply right-click on any empty space on the taskbar and select 'Taskbar settings' from the menu that shows.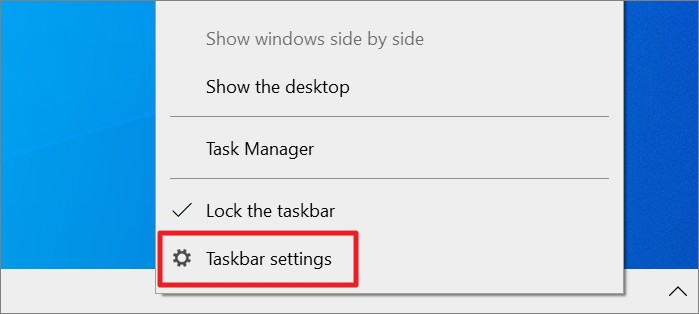 The Windows 10 Taskbar settings window will open. Here, scroll down to the 'Notification area' section and click on the 'Select which icons appear on the taskbar' option.

On the next screen, turn off the toggle switch next to 'Meet Now' to move the icon to the Notification area.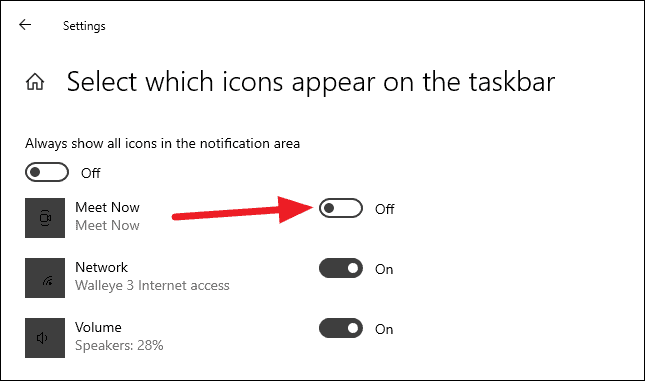 ---
Meet Now in Windows 10 is a great feature that allows anyone to create or join a video call from the PC. If you aren't already invested in Zoom or Google Meet and need something casual for your video calling needs, then 'Meet Now' is worth taking a look at.