Google Meet is a great app to have video meetings. Whether you're working from home or traveling, Google Meet makes it extremely easy to attend video meetings. You can attend meetings from anywhere using your computer or mobile phone with a good internet connection.
But that's what most video conferencing apps do. What if you don't have a good internet connection? What makes Google Meet unique is that it even has a provision for that. You can dial into Google Meet meetings using a phone number like a normal phone call. Let's dive right into all the details of this dial-in feature.
How Does the Google Meet Dial-In Feature work?
There are two ways you can use the Google Meet Dial-In feature to attend meetings from the phone.
You can either dial into meetings just from your phone and attend them entirely through your phone. When you're attending meetings by dialing in from your phone, the features that you have access to are quite limited, or rather non-existent. You just get to have access to the meeting audio and you can mute/ unmute yourself. Any other features that the rest of the participants are enjoying, like video feeds, meeting chat, screen sharing, polling, captions, whiteboarding, etc. aren't available to you.
There's another way you can use your phone to attend Google Meet meetings. You can use your phone for audio while in a video meeting. Consider this: you're experiencing issues related to audio on your computer, maybe your speaker or microphone isn't working, or you're breaking up due to a weak internet connection or have limited bandwidth. Whatever the case, you can join the meeting from your phone for just the audio while you're connected from the computer for video as well. In this case, you can use all the other features from the Google Meet app that every traditional app user has access to.
You can also use the Google Meet dial-out feature to call and add other people to the meeting. When someone uses the phone to join the meeting, they still count towards the 250 participant limit.
Who can use the Dial-In Feature?
Before we get into the details of how you'd go about using this feature, it's important to know whether or not you're even eligible for using it. The Dial-in feature is only available for Google Workspace accounts.
So, if you're a free Google Meet user, you cannot use your phone to dial into meetings. The only options available to you are the web app or the mobile app on your phone.
Additionally, the feature has to be enabled for Workspace accounts by the admin. If you're using a Google Workspace account and still can't find the option to dial in, notify your admin.
Also, you can only dial into meetings that were organized by a Google Workspace user.
Using Different Phone Numbers
All Google Workspace Editions include a US phone number to dial into meetings and a US/ Canada phone number for dialing out of meetings. Calling the US/ Canada phone numbers is free regardless of your Workspace edition. Any user from a dial-in supported country can call the US number to join a meeting. Similarly, any user from a dial-out supported country can call the US/ Canada phone number to use phone audio with meet video or to include other people in the meeting.
Google has now also made international phone numbers available for many countries. These international phone numbers are only available for the following Google Workspace editions:
Essentials
Business Starter
Business Standard
Business Plus
Frontline
Enterprise Essentials
Enterprise Standard
Enterprise Plus
Education Fundamentals
Education Standard
Education Plus
Teaching & Learning Upgrade
G Suite Basic
G Suite Business
To use international numbers, the Meet Global Dialing subscription must be on for your organization. Super-admins for the organization can add this subscription to the company policy. Meet Global Dialing subscription isn't a subscription exactly. You don't have to buy any subscription or pay for this feature to enable it for your organization. Your organization is only charged when the calls are made and not enabling the subscription.
With Meet Global Dialing subscription, the organization is charged per-minute rates for calls as per your data carrier. Only the users within the eligible countries can use and dial local numbers to these countries.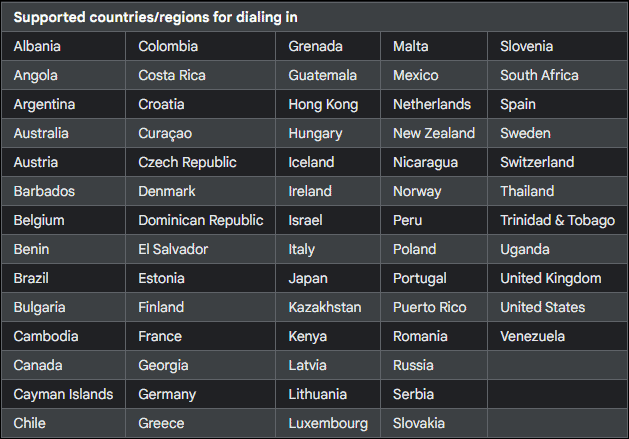 Here's a list of per-minute call rates for the supported countries for dial-in and dial-out phone calls. Dial-In is still free for most countries but charges apply for some supported countries. Global Dialing subscription makes dialing out of meetings possible out of 100 countries and dialing into meetings for 80 countries.
Use a Phone to Dial into a Meeting on Google Meet
You can dial the US phone number or the local phone number if your organization has a Global Dialing subscription to dial into meetings from your phone. Based on your region, Google Meet suggests the number most suitable for you.
When using a phone to dial into meetings, you can access a scheduled meeting 15 minutes before the meeting starts until it ends. Generally, if you try to dial in before that, you might get an error that Google Meet does not recognize the PIN. But if someone is already in the meeting, they can let you in.
You can dial into meetings even if you're from a different organization or have a different edition of Google Workspace than the meeting organizer.
There are two ways to dial into a meeting:
This is the best way to dial into a meeting for unscheduled meetings that are not on your calendar or the Google Meet app. But you can dial into shceduled meetings this way too. From the meeting information shared with you, enter or copy/ paste the phone number into your keypad and dial it. Once the call connects, enter the PIN number and press the # key. This method requires you to manually enter the pin.
Open the Google Calendar or Google Meet app on your phone. Then, tap the event from either app. From the meeting details that pop-up, tap the phone number for the meeting. The PIN enters automatically when you tap the phone number to join the meeting. This method saves you the work of entering the PIN manually, and hence is a bit faster. But you can only use it for scheduled meetings as no event exists for unscheduled ones.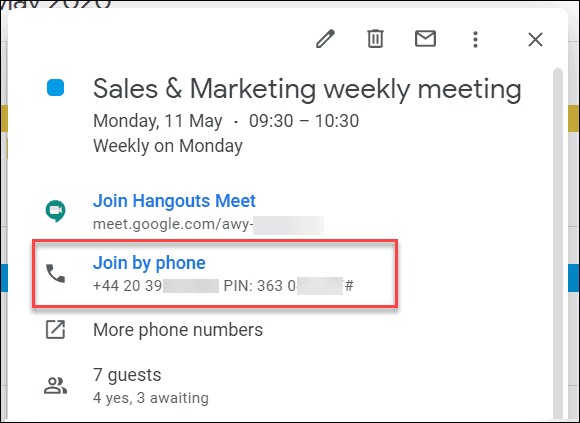 Muting or Unmuting in Meetings
There's not much else you can do in a meeting when you're joining only from your phone but you can mute/ unmute yourself. Others can mute you in a meeting, but for privacy reasons, they cannot unmute you. Only you can unmute yourself. You're also automatically on mute if you join the meeting after 5 participants.
To mute yourself, you can also press *6 from your phone's keypad or turn the volume of your phone to the lowest level.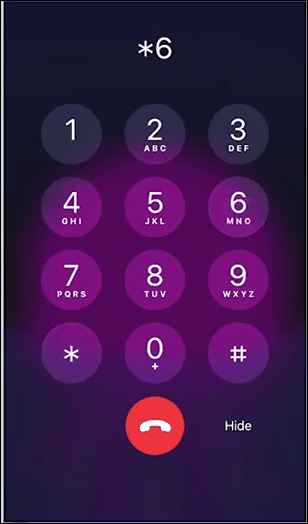 To unmute, press *6 again, or increase the phone's volume.
Use the Phone for Audio in Video Meetings
To use the phone for audio in video meetings, you can either dial out to your phone from the computer or dial in from your phone to join the meeting.
When you join from the phone for audio, you'll be on mute automatically if you enter when there are already 5 people in the meeting or if you were on mute on your computer.
Dialing Out to your Phone
You can call your phone from Google Meet on your computer from one of the dial-out supported countries. If you're dialing out to your phone, your computer will automatically join the meeting if you're not in it.
To dial out to your phone if you're in the meeting, click the 'More options' icon (three-dot menu) from the meeting toolbar. Then, click the 'Use a phone for audio' option.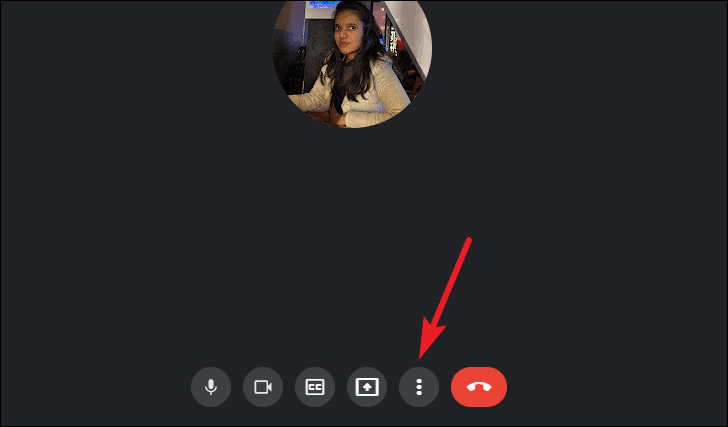 If you're in the green room of the meeting (preview screen), click the 'Join and use a phone for audio' button.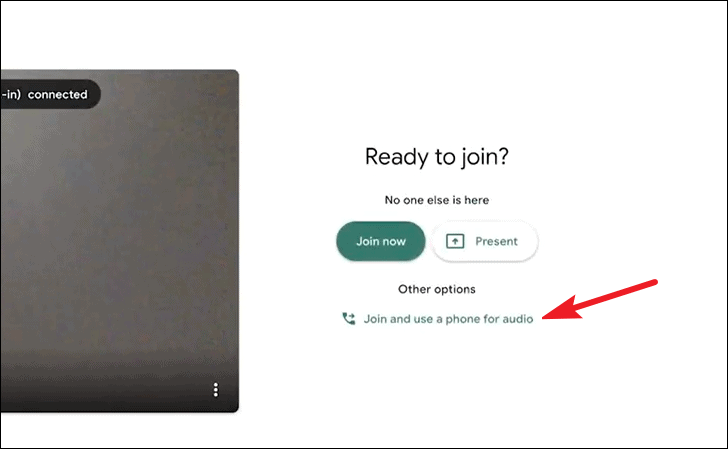 You'll enter the meeting on your computer automatically when your phone connects to the meeting. If you're not in the same domain as the meeting organizer, someone will have to let you in.
Go to the 'Call Me' tab from the menu that opens.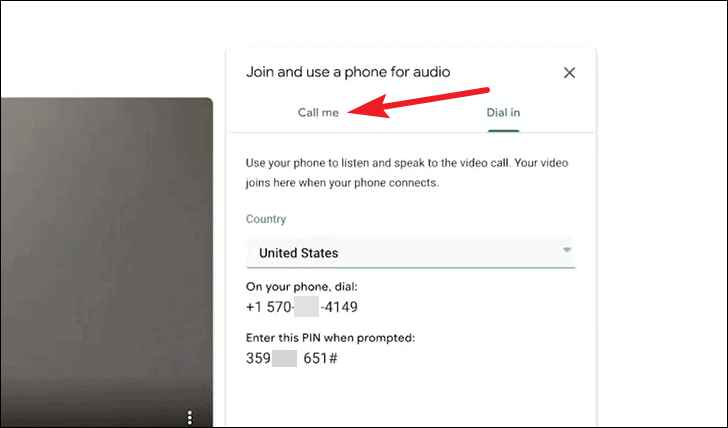 Then, enter your phone number. You can also check the 'Remember the phone number on this device' to save the number for the future.
Finally, click the 'Call me' button.
When prompted on your phone, press the '1' key.
Dialing In from your Phone
You can also dial into the meeting from your phone while you're joining from the computer for video.
If you're joining from a different domain than the meeting organizer or weren't invited to the calendar event, you must join the meeting first and someone has to let you in.
To dial in from your phone when you're in the meeting, click the 'More options' icon (three-dot menu) from the meeting toolbar. Then, click 'Use a phone for audio'.
If you're in the green room (preview screen), click the 'Join and use a phone for audio' button. Select 'Dial-in' from the overlay menu that appears. The dial-in number will be shown on your screen. Dial the number from your phone. Once you're connected, enter the PIN followed by the # key.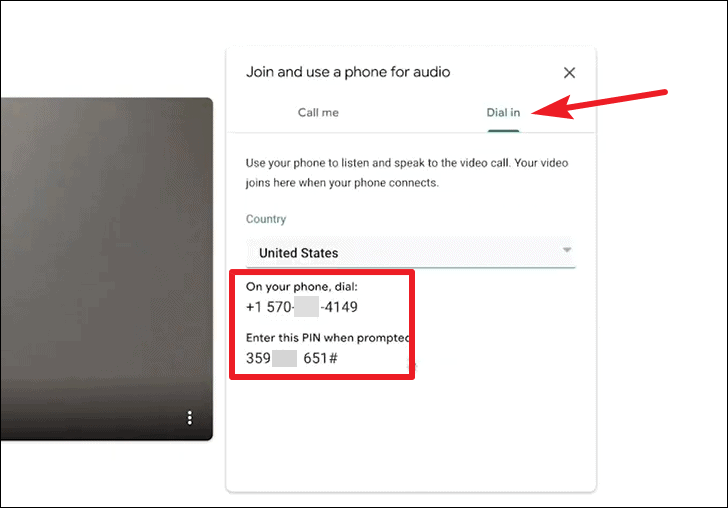 Then, when prompted, press '1' from your phone.
Disconnecting the Phone
If you want to disconnect your phone but stay in the meeting, just hang up the call from your phone. The meeting on your computer won't be affected but you'll be muted when you hang up from your phone.
To disconnect the phone as well as leave the meeting, click the 'Leave meeting' button from the meeting window on your computer.
Note: If you close your laptop or the meeting tab without leaving the meeting from your computer, your phone will stay connected. Your video feed will be disabled. And the call will become equivalent to if you had just called from the phone. In this case, you won't have access to any other meeting features other than the meeting audio and mute/ unmute privilege.
---
Joining a meeting on Google Meet by phone might not be something you'd even consider under normal circumstances, i.e., when you have a fully functional internet connection consider the limits it imposes on the features you can use. But in circumstances where joining the meeting from either the web app or the iOS/ Android app goes out the window, joining the meeting by phone can be a real life-saver.