The chances of someone not coming across a meme are pretty rare these days. The internet culture is saturated with memes. And they're not the domain of teenagers or 20-somethings anymore. All age groups are partaking in this internet trend, which according to some experts, has always existed in one form or another.
If you've never come across a meme, there's a good chance you've been living under a rock. But if you've never made a meme before, that's perfectly acceptable. Most of us are simply consumers of memes on the internet who play our roles by sharing them with friends and family.
But if you think you're ready to cross that threshold and step into the creator realm, you can do so all on your iPhone.
Best Apps for Creating Memes
To make a meme on your iPhone, you'll need to download an app that lets you make memes. There must be tonnes of options available in the App Store, but here are a few for your consideration.
One of the easiest apps to make memes on iPhone has to be Mematic. Not only can you use any photo from your gallery, but it also offers access to a large number of meme templates, stock photos, and GIFs. You can easily search for any meme template by using the associated keywords. The interface is user-friendly and you can get started in no time. It also offers customized fonts and font sizes. Even saving or sharing the meme is a matter of a couple of taps. There's also an expert mode that offers advanced layouts and typography tools for creating memes that you can enable once you gather your bearings.
Although the app is free to use and download, a pro subscription unlocks all the extra features the app has to offer. This includes access to all layouts, a gamut of font options, color palettes, custom watermarks, and no ads, among others. Upgrading to pro also removes the watermark for the Mematic app from your meme.
In addition to making memes, you can also use the app to create photo collages and edit your photos. Owing to the intuitive interface and ease of use, this is the app we'll be using in this guide.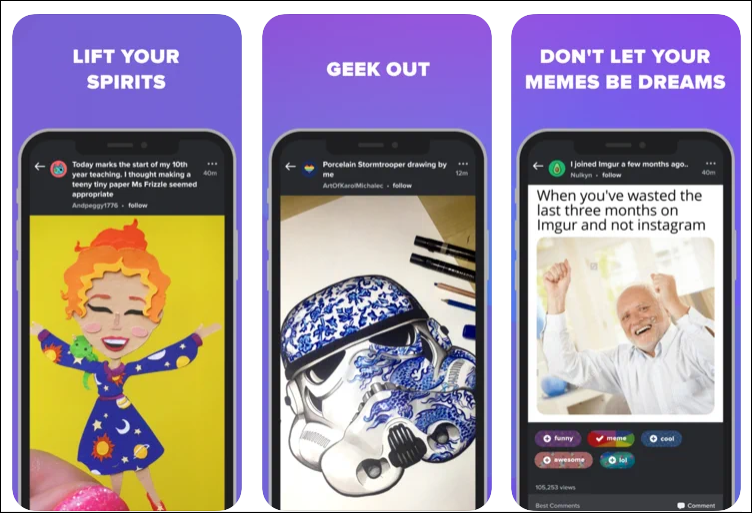 You might already know Imgur, even if not as an app where you can make memes. Well, let us re-introduce it. Imgur is not just a place to dive deep into internet trends, although it is notoriously famous for it. It's a rabbit hole of memes where not just Alice would be happy to wound up. It's terribly easy to lose your way there exploring the millions of hilarious images and GIFs that the app fosters. But if you're looking to dip your toes into creator waters, it's also the perfect place, especially if you already use it. Otherwise, you'll have to spend a couple of minutes to set up your account which you don't need to on other apps.
But once you get past it, you can get started on creating memes right away. You can use images from your camera roll or use one of the community meme templates available. Creating the meme is then as easy as adding the text. You can then save and share the meme. And the best part? It's completely free. You don't have to spend any money on pro features or in-app purchases down the line.
Although there is one department where I found the app wanting. There is no option to search for a particular meme among the meme templates. So, if your goal was to find a particular meme and offer your take on that, the only option is to scroll through the entire repository hoping you'll come across the right one. If that's not what you're looking for, you can skip this one.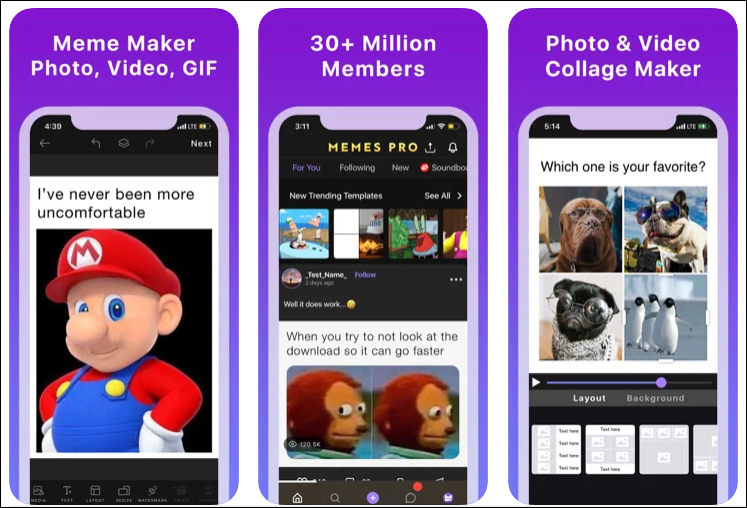 Memes.com is another great app in the Apple app store for those who want to become a memer. You can browse and discover memes from other creators on days when you desperately need some inspiration. And creating memes is easy as pie. You can use your own photos or use their library of photos, GIFs, and videos to get started.
There are plenty of other features like customizable fonts for text, layouts for photos, and meme soundboard. You can also create your own frames or choose one from the available ones. The latest and trending memes are updated regularly, so you can present your hot take on the most viral meme out there.
Although the app is free to download, it offers in-app purchases for certain elements or you can buy a subscription to unlock everything.
There is plenty of other fish in the sea, but we're ending the list here. I feel these apps offer everything you might want in an app for creating memes, especially when starting out. But if you want, you can check out other apps.
---
Creating a Meme
Now, it's time to get to business. We're going to use the Mematic app for the purpose of this guide to explain how to create memes on iPhone.
Go to the App Store and search for Mematic. Then, tap 'Get' to install the app on your iPhone.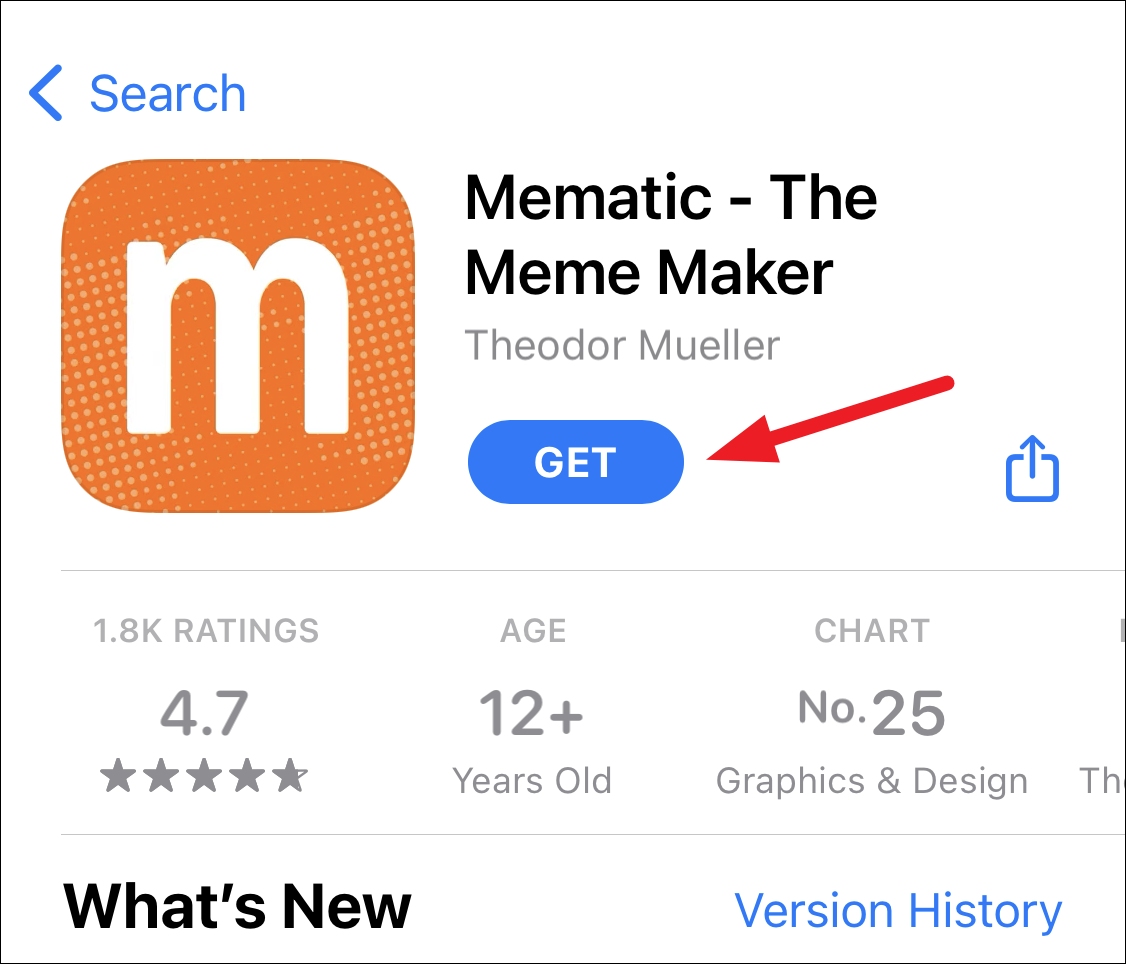 Open the app. On the home page, there will be two rows of photos. The first row offers various templates for the meme, while the second has frame layouts that you can use to create memes with multiple images or collages.
We'll choose a template from the first row. Even if you're not sure which template might best suit the meme you want to create, it's fine. Once you select the actual photo (if it's from a meme) or GIF for your meme, Mematic will suggest if it works better with another template. You can switch then.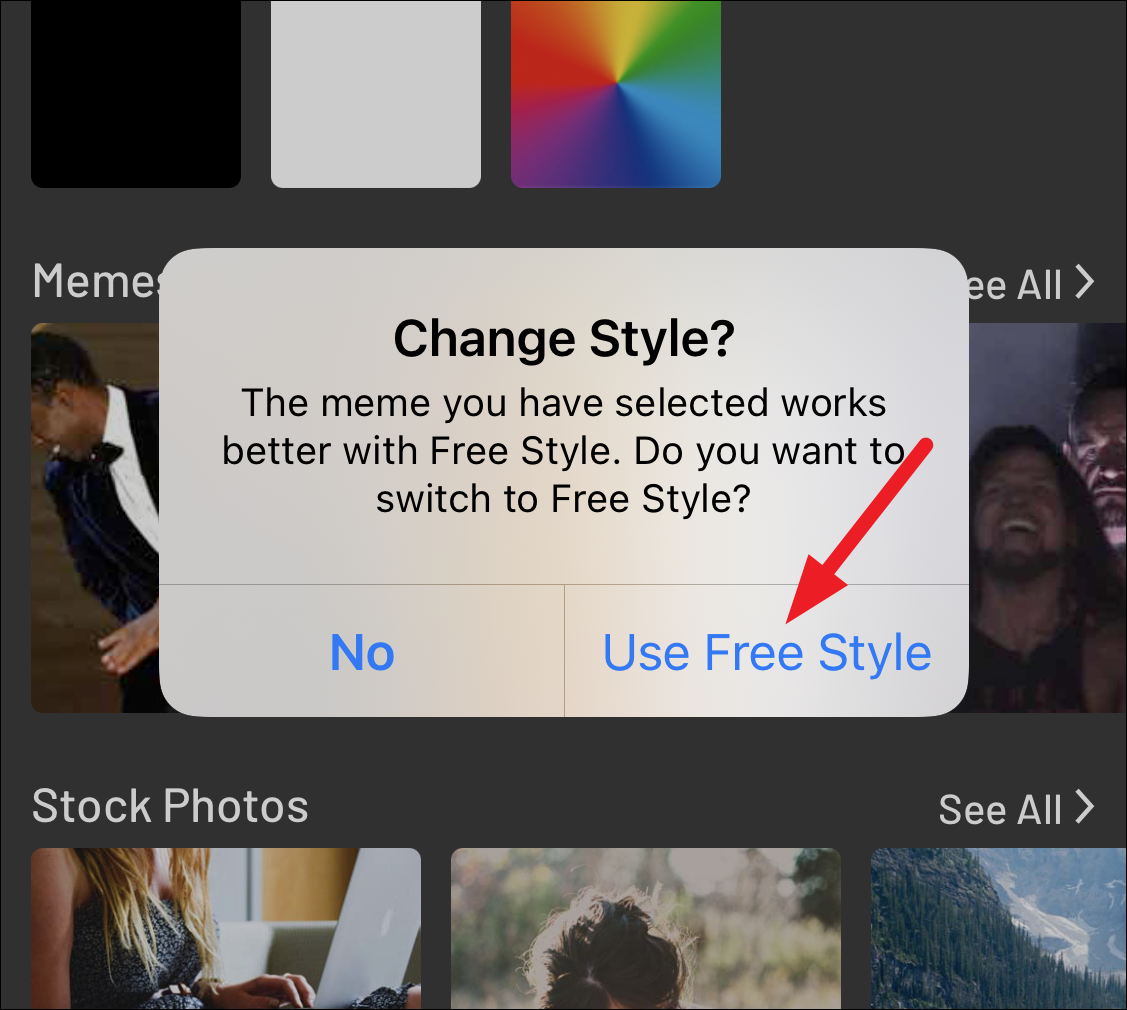 Here, we'll select 'Free Style'; it loads any memes the way they're supposed to look.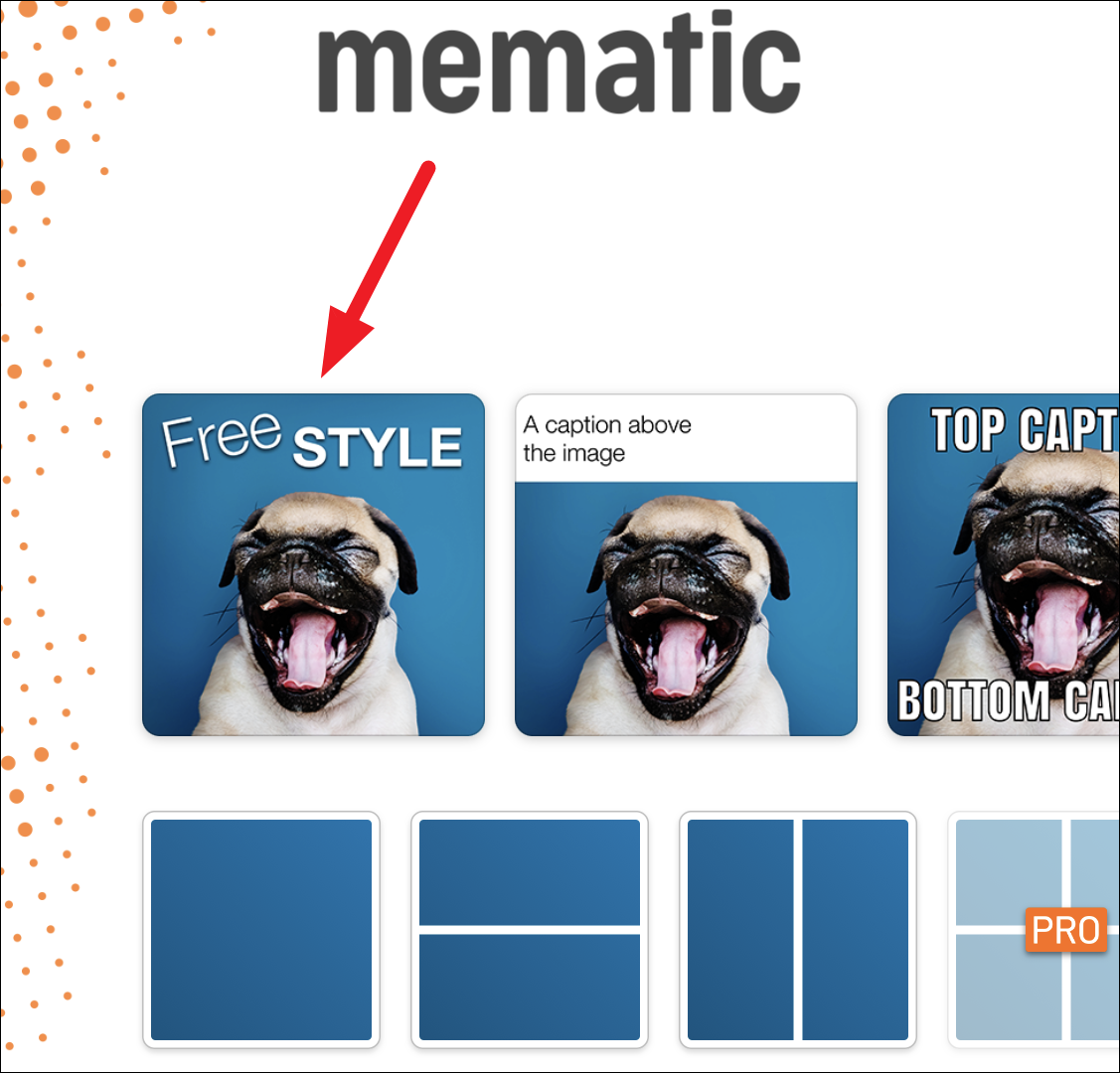 After choosing the template, select the photo that'll be the basis of your work. You can choose a photo or video from your gallery. Or, you can select a meme, stock photo, GIF, take a photo from your camera, or skip the photo entirely and choose a background color (if your meme is to be entirely text-based). To select a meme photo, tap 'See All'.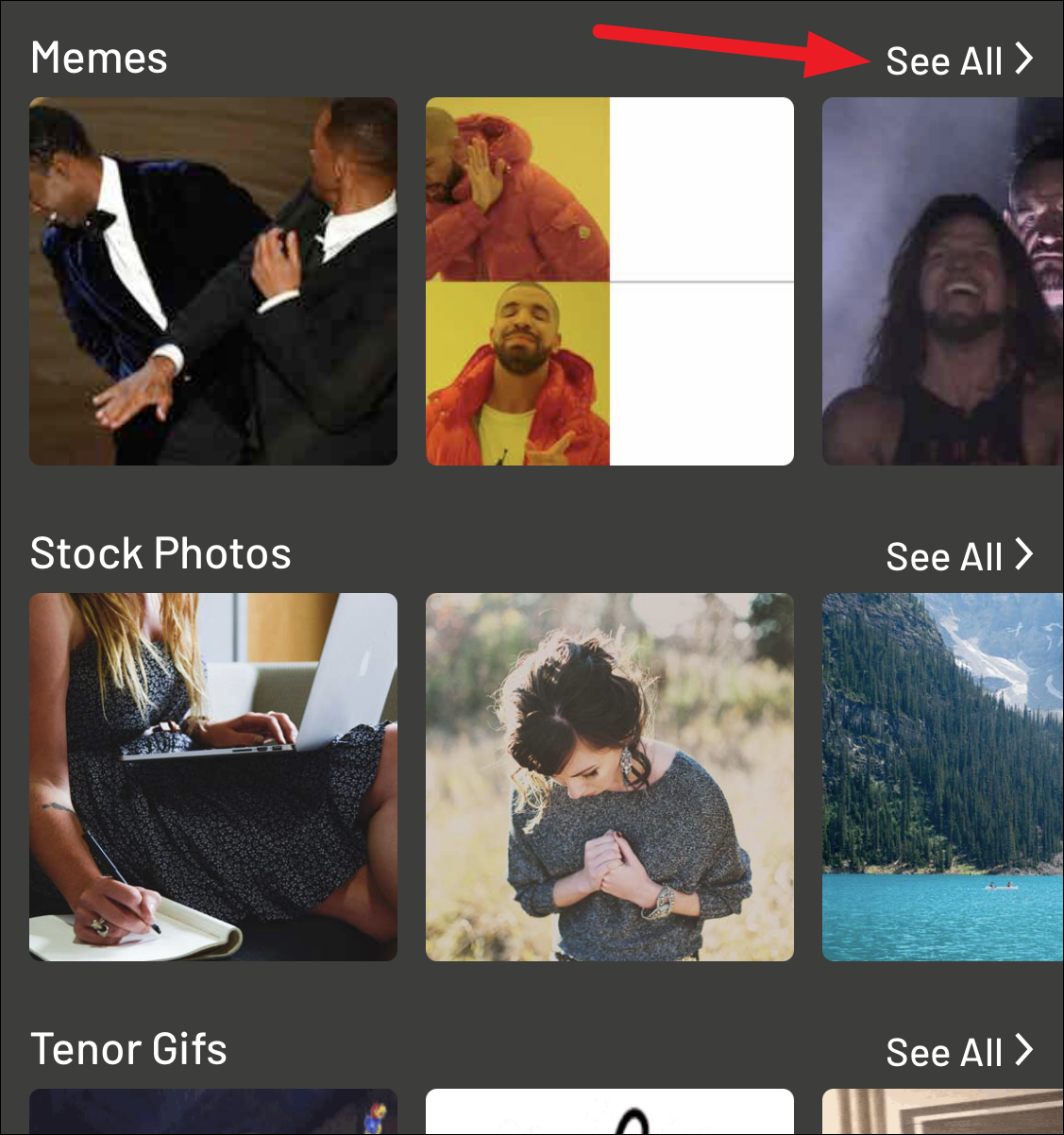 You can scroll through the memes until you find one you like or search for it using the search bar if you're on the hunt for a particular photo. Tap the thumbnail to select it.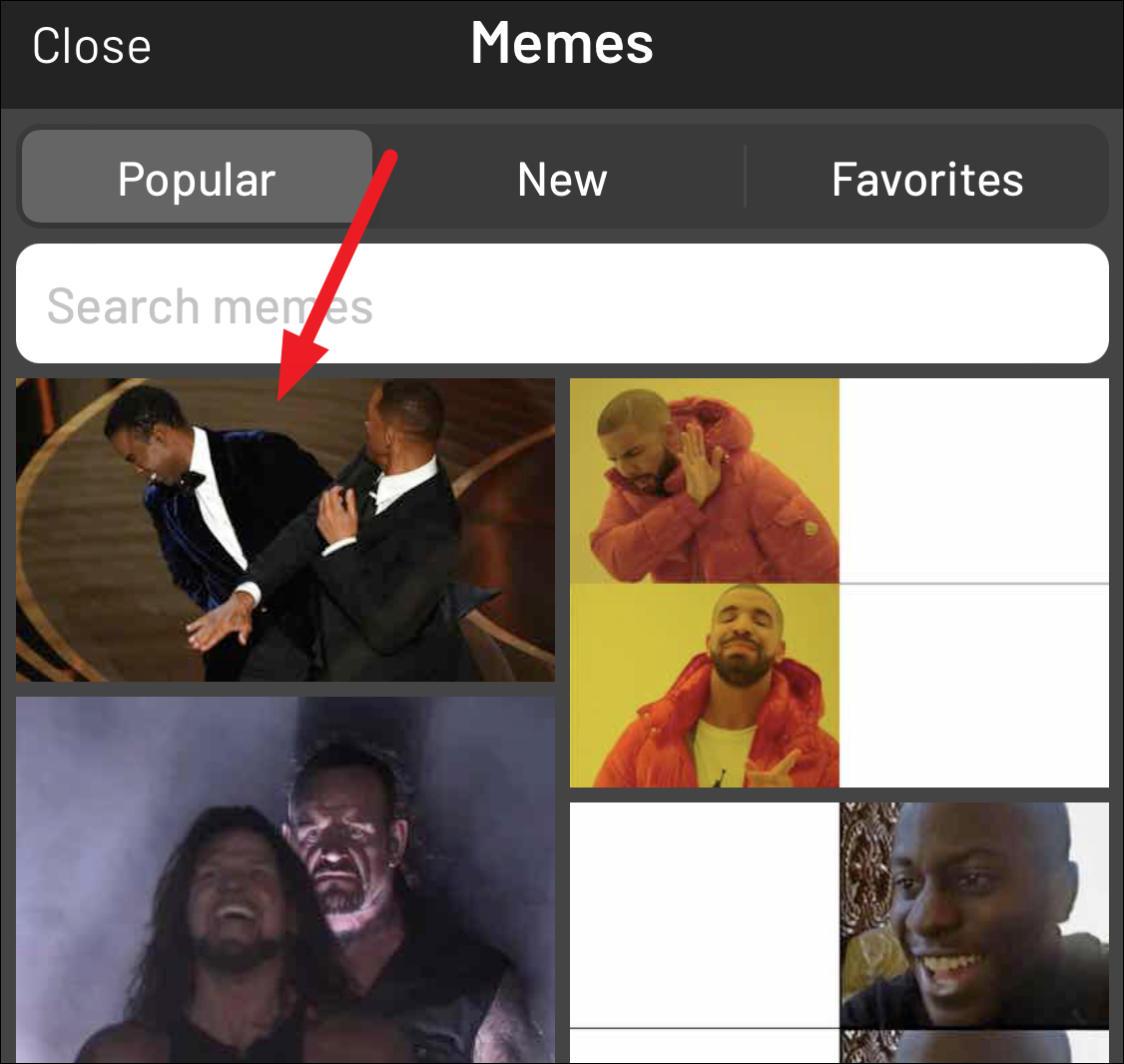 If you want to make any changes to the canvas, layout, or border, you can do so from the Background tab.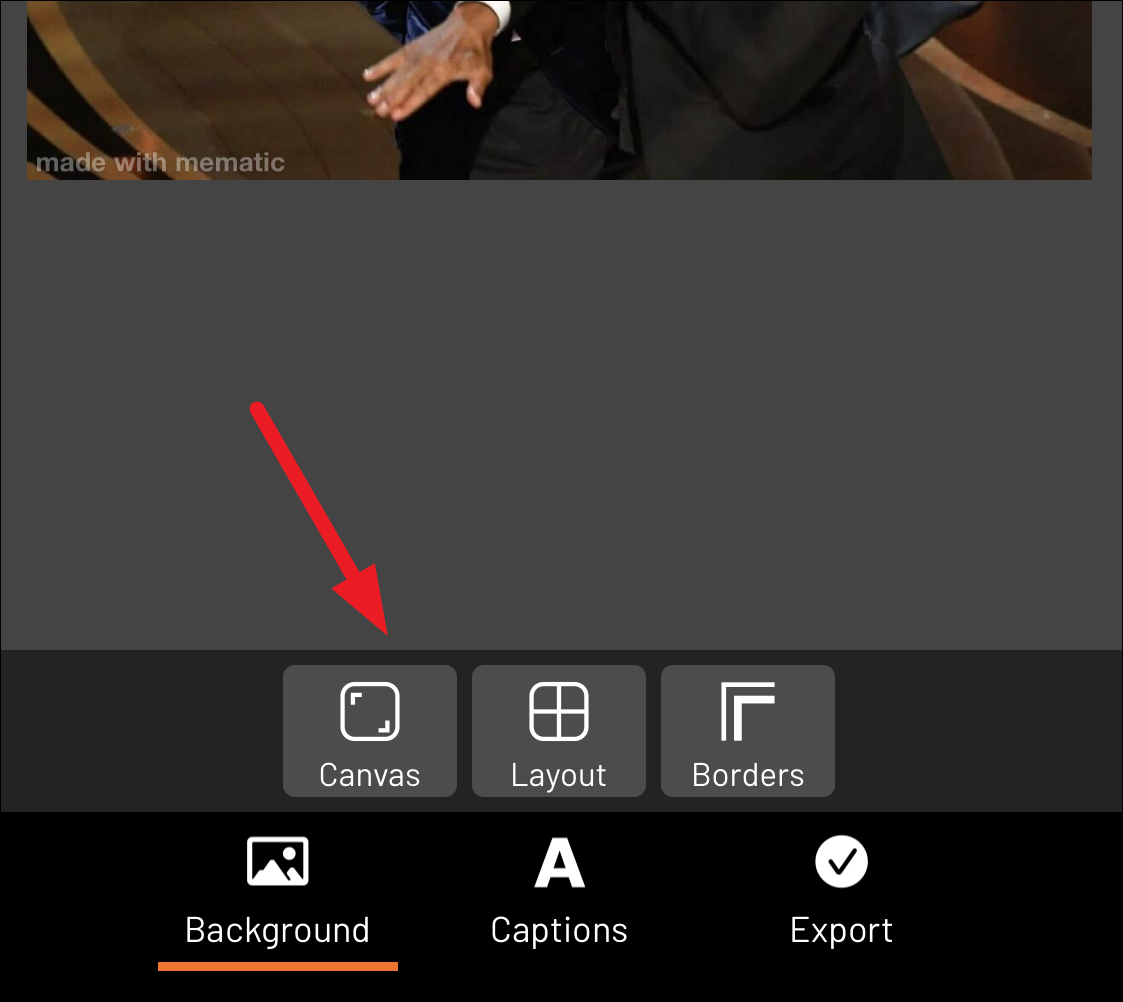 Then, go to the 'Captions' tab from the options at the bottom to enter the text – the crowning jewel of your meme.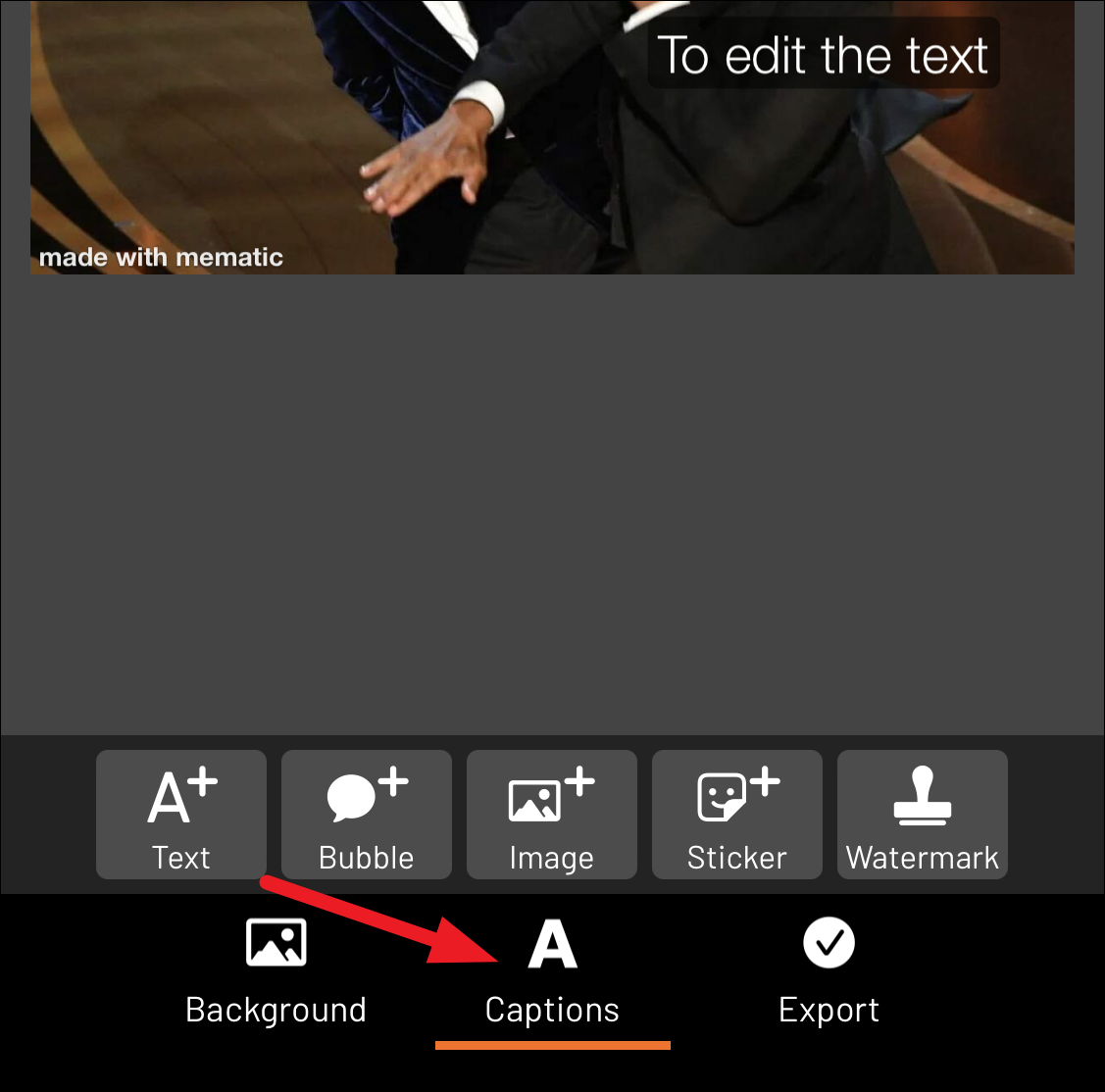 Double-tap the text to edit it. Type the captions to enter them. To change the font, style, size, color, or shape, tap the options from the text toolbar that appears when the textbox is active. You can also use the available presets for the text.
To use any other elements, like images, stickers, watermarks, etc., tap the options from the toolbar. When you're done editing, go to the 'Export' tab.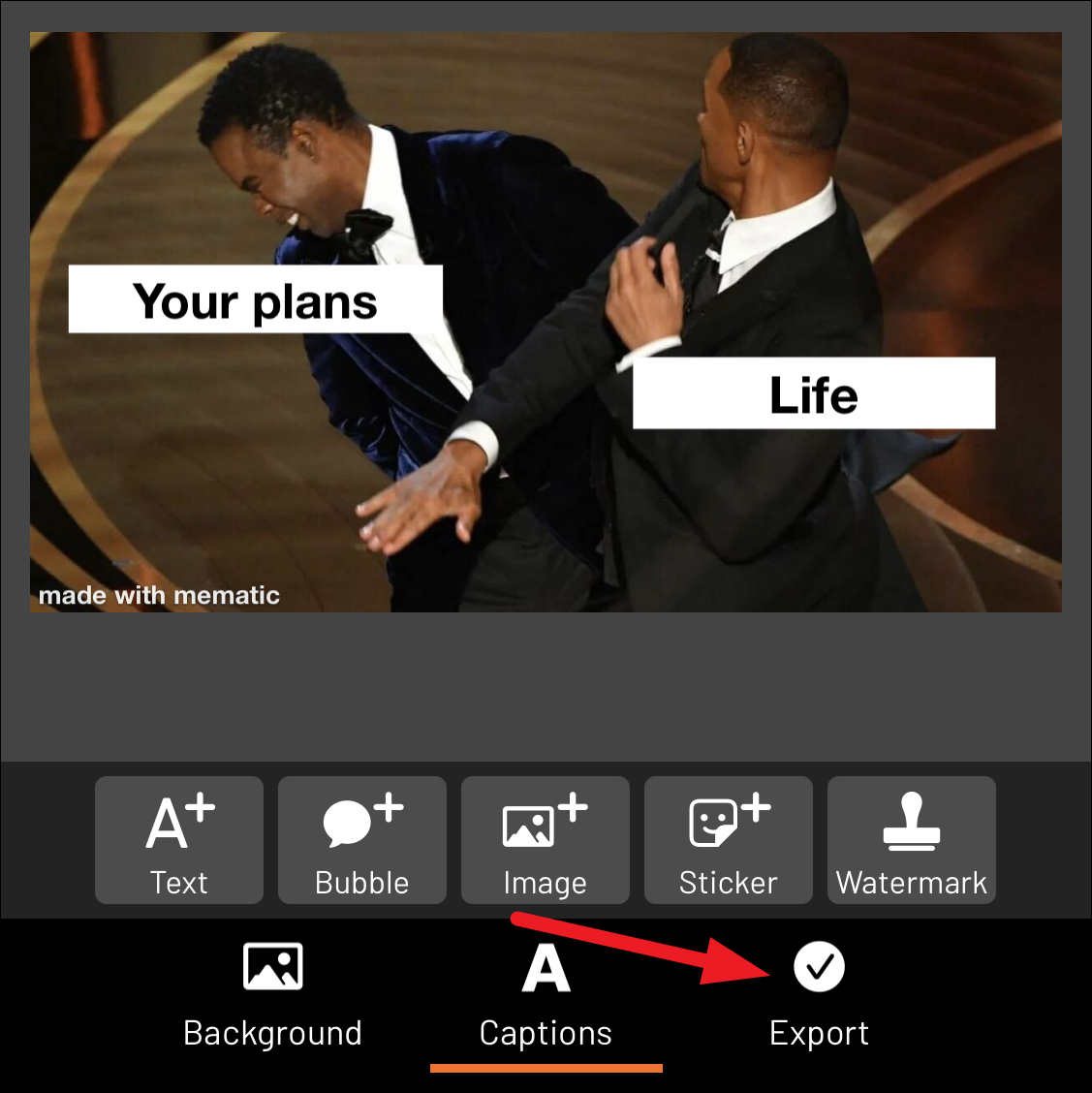 Tap 'Save' to save it to your camera roll or 'Share' to share on Instagram, Whatsapp, iMessage, etc.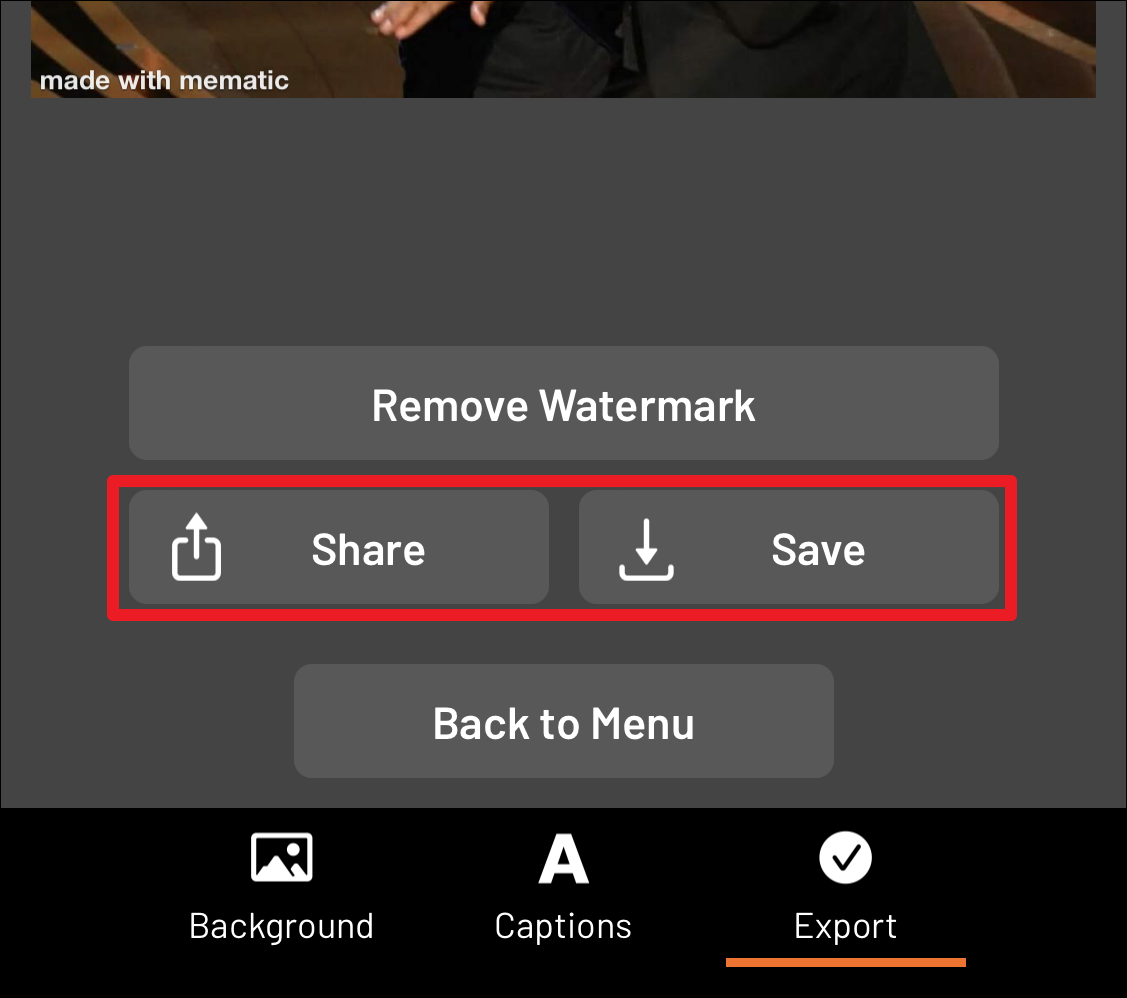 ---
Using an app on your iPhone, you can make a meme whenever creativity strikes, even when you're on the go. You can also use tools like knowyourmeme.com to assist you on your quest. So, go on and bless the world with your memes!