How to Pin a Post/ Toot on Mastodon
Learn how to pin a post (or multiple posts) on Mastodon so your followers can see the most important information about you right away.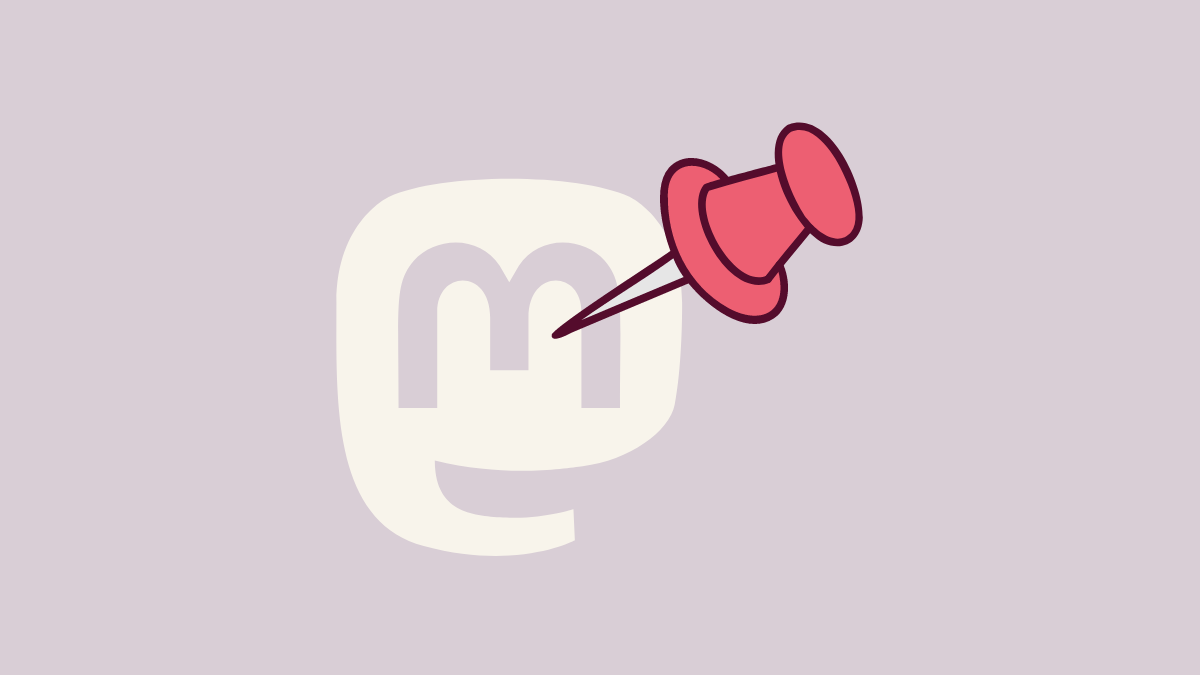 Mastodon is steadily becoming a replacement for Twitter. Thousands of users have migrated to the app either as a backup, in case Twitter completely blows it, or as a full-fledged alternative.
While Mastodon shares some similarities with Twitter, it is its own platform. And figuring out a new platform is always tricky. If you're on this journey, let us be your technical guides. Here's everything you need to know about pinning a post/ toot on Mastodon.
How Does Pinning a Post on Mastodon Work?
Posts (or Toots, as they are sometimes called) are the building blocks of Mastodon. They are quintessential to the Mastodon experience, as tweets are on Twitter. Using these posts, you can share the most essential information about yourself with your followers (or potential followers). But when you publish new posts, the old ones get lost. And no one has the time to scroll these days. That's where pinning a post comes in.
The posts you pin on your profile appear at the top, no matter how many new posts you publish after that.
You can pin public as well as private posts on Mastodon. Public posts are the ones that are visible to everyone whereas private posts are visible only to your followers. The same will be true for pinned posts as well. If you pin a followers-only post, the post won't be visible to non-followers visiting your profile until they follow you (or you approve their request, in case you have locked your account). But public posts that you have pinned will be visible to anyone viewing your profile.
Additionally, on Mastodon, you can even pin multiple posts at a time. Here's how you can pin a post.
Pinning a Post on Mastodon
While you can access Mastodon in various ways, from your server's address on the web browser, the official mobile apps, or countless third-party apps, we find using the web browser the easiest way to use Mastodon, especially if you're just getting started. So, that's what we'll be using for this guide. Mobile apps are also a great option to use Mastodon, but in this instance, they are not an option as the feature to pin a post is missing on the mobile app.
Open the web browser and go to your server's address. Then, log in with your account.
Click your username on the left to go to your profile. We're assuming that you've already published the posts you want to pin. If you haven't, first go to the compose box and publish the post.
Note: You can only pin posts you have published, not ones you have boosted (shared).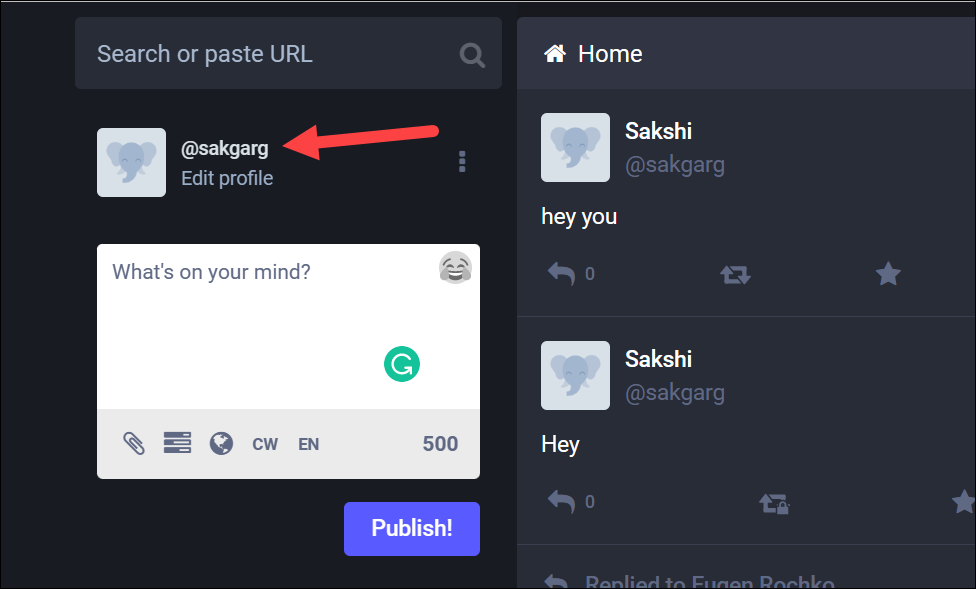 Then, go to the post on your profile and click the 'More' (three-dot menu) icon.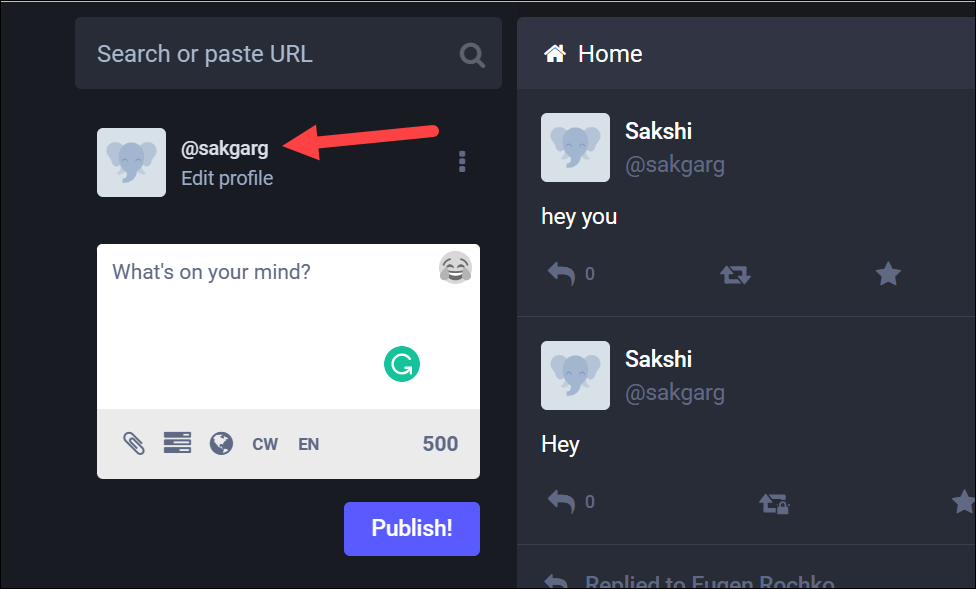 Select 'Pin on Profile' from the menu.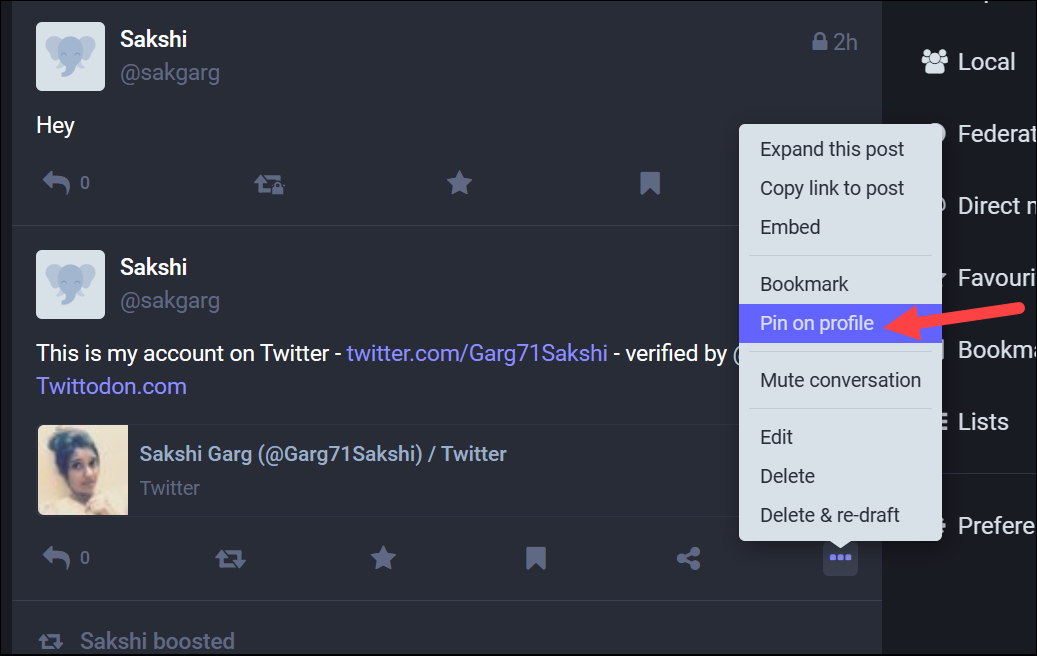 And that's it, refresh the page to see the pinned post. If you want to pin any more posts, simply repeat these steps. The posts you pin later will appear on the top.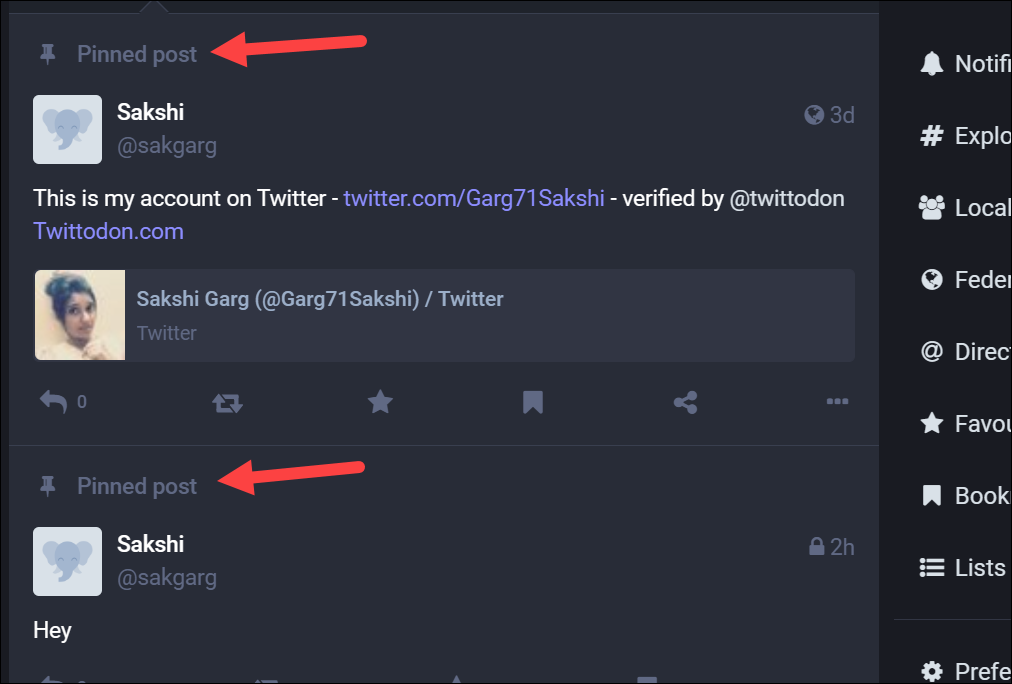 To unpin a post, simply open the three-dot menu again and click 'Unpin from Profile'.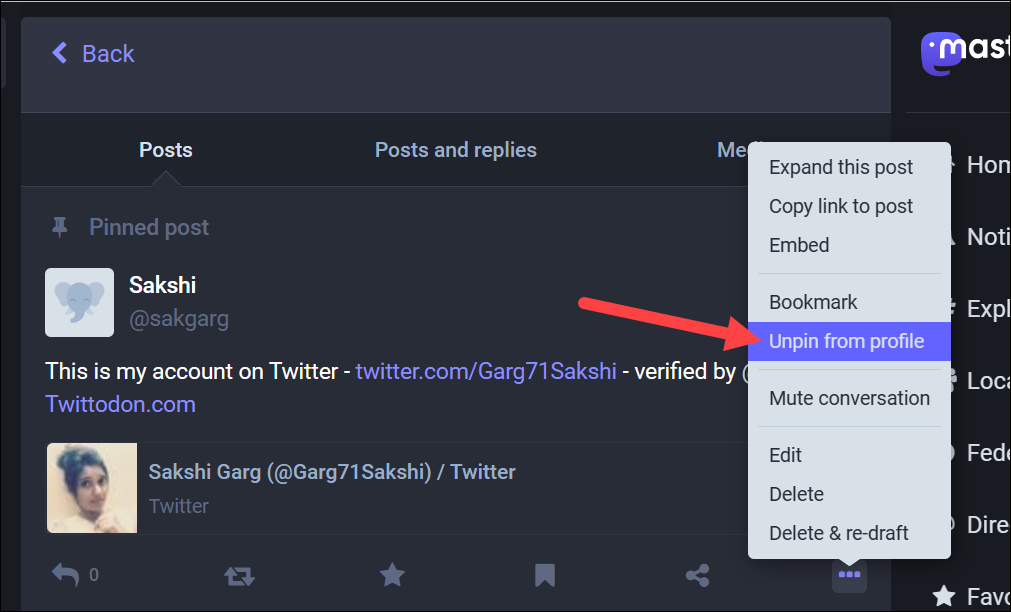 ---
Pinning a post can come in very handy when there's something important you want your followers or potential followers to know as soon as they visit your Mastodon profile. And Mastodon makes the whole task extremely easy.