When Apple introduced App Library in iOS 14, it was a game-changer for many people. A lot of users said goodbye to the clutter of Home Screen pages on their iPhones and embraced the organization App Library brought to their lives. Being able to drop Home Screen pages or delete apps from Home Screen and confine them only to the App Library really let us Marie-Kondo our iPhone home screens.
It was one of the biggest changes to the iPhone's Home Screen in years. But not everyone has cozied up to the idea of App Library. To a lot of users, App Library is just an additional screen that can be convenient at times but not enough to entirely replace their Home Screen pages.
Of course, it isn't an all-or-nothing kind of deal. Maybe you've dropped some screens in favor of a decluttered look. Or maybe you haven't dropped a single screen at all. Better yet, maybe you're waiting to first get used to the App Library before shifting to it entirely. After all, for years, Home screen pages were the only way iPhone users knew.
Whatever your preference, the fact is that you can only reach the App Library after swiping right a few times if you have more than a couple of Home screen pages. That makes it difficult to adapt to the idea of App Library. Instead of swiping all the way to the right, it would be easier to use the traditional Home screen pages as you've done for years. If only there was some way of getting to the App Library quickly without having to swipe so many times. Well, you're in luck because there is such a trick!
This trick gets you the App Library in just a couple of swipes, no matter how many Home Screens you have or which screen you're on. There could be 15 pages of Home Screen between you and App Library, and it won't matter.
Go to the white dots above the dock on your Home screen. Then, tap and hold them so they are highlighted by an oval. But don't hold them for too long. When you hold them for too long, you'd instead enter the jiggle mode on the Home screen.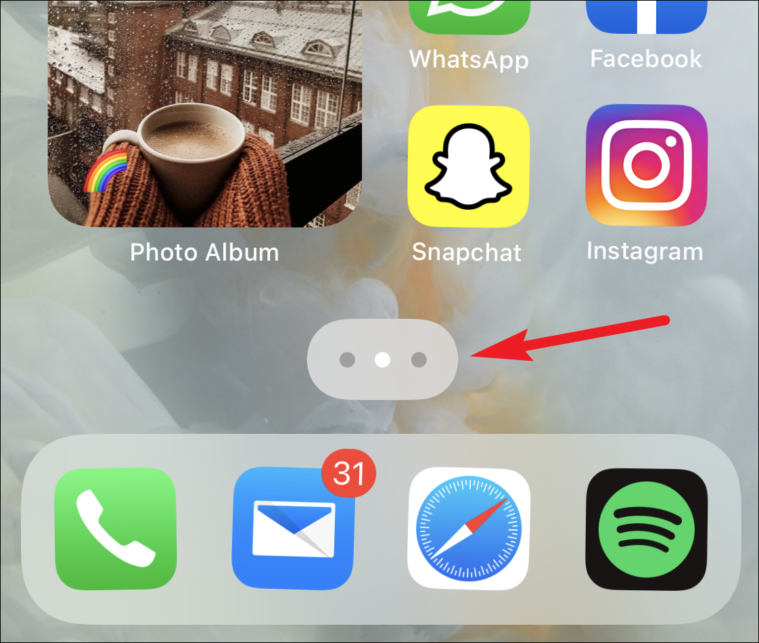 Quickly swipe to the right after tapping and holding the white dots. And you'd reach the last page of your Home screen in just one swipe.
Now, to get to the App Library, you only have to swipe left once.
---
Now that you have a quick way of getting to the App library, you can start using it more. You can also use the opposite of this trick to get to the very first screen in one go. Just swipe left on the dots instead of right.