How to Search Tabs in Chrome on Windows 10, Mac, and Linux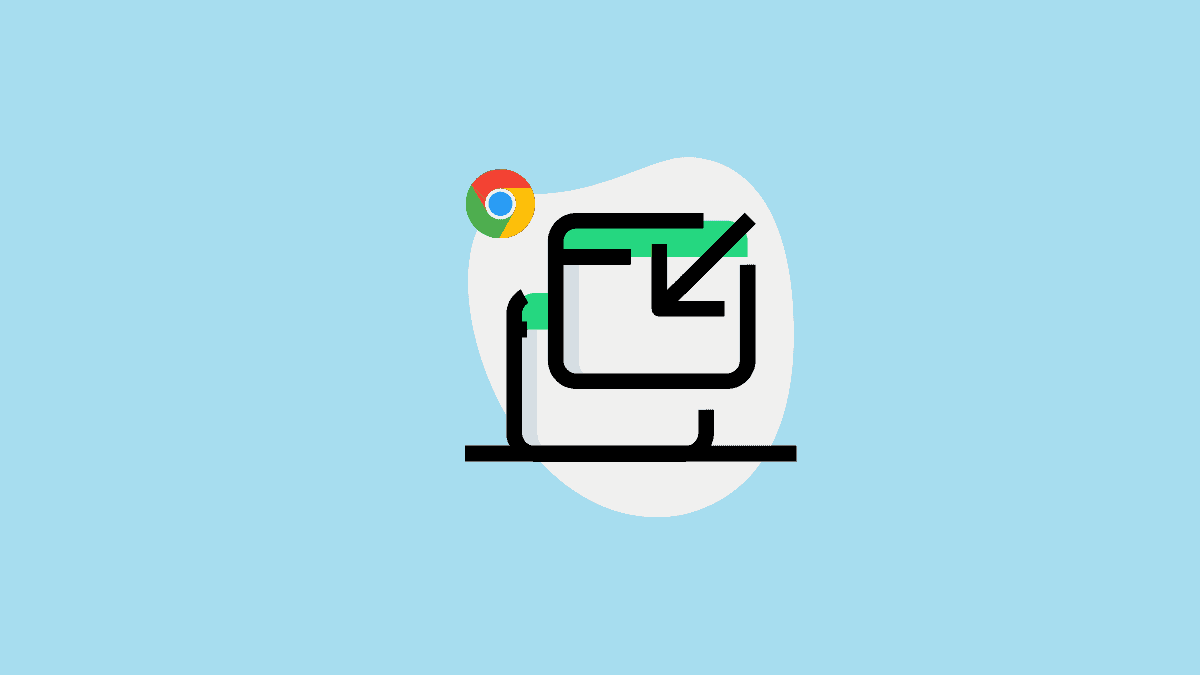 Almost all of us have at some point stared at the never-ending abyss that is the clutter of open tabs in our browsers. Whether you're working, studying, or casually browsing the internet, the number of open tabs can keep piling sometimes to the point where you get overwhelmed just by the thought of finding the right tab.
If you've ever found the right tab only after multiple trials-and-errors, you know what we're talking about. And you've wished for more control over your browsing habits countless times. But with the feature to search tabs, you don't have to. If you're a Chrome user, you're in luck. With these experimental features, you can search and switch between your tabs like a pro.
Using Chrome's new Tab Search feature
Chrome has a new Tab search feature which will add an elegant new button to your browser's tab area. This button will let you search and jump to any open tab on your browser in a couple of seconds.
If you're wondering how it escaped your notice, it's because the feature is not yet officially available anywhere other than the Chrome OS. It has been available for some time now on Chrome OS beta as a built-in feature where Google had been testing it. Whether or when it's going to make it to other OS, there's no news yet. Hopefully, now that it's being released in the stable version of the Chrome OS, it'll come officially to other OS soon as well.
To get it on your Chromebook, all you need to do is update to Chrome OS 87 when it rolls out to you. The rollout has just started and might take some time to reach you.
Now, with a simple trick, you can get the same feature in Google Chrome for Windows right now. It'll work exactly like the official feature for the Chromebook. For other Operating systems, this one's not for you. Skip to the next section of this guide to get a search feature for Chrome browser in your Mac or Linux system.
To enable the Search tab feature in Chrome for Windows, go to the Chrome shortcut on your desktop, and right-click on the icon. Then, select 'Properties' from the right-click menu.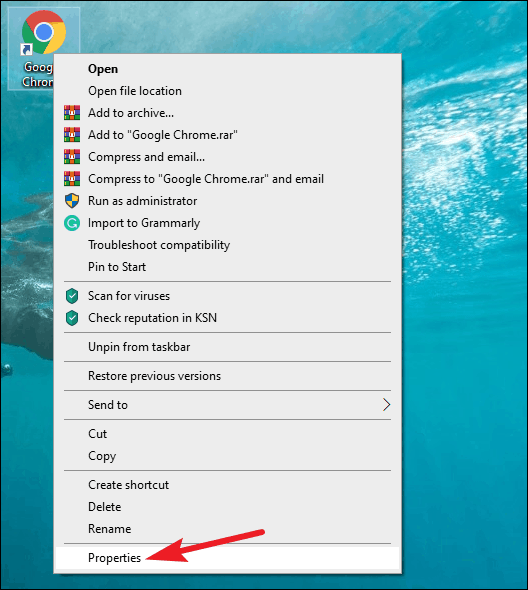 You can also go to the Chrome icon on your taskbar and right-click on it. Then, right-click the option 'Google Chrome' and select 'Properties' from the context menu that appears.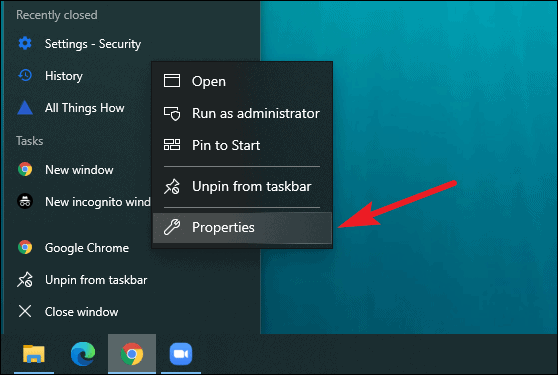 Note: The Chrome icon that you choose to open Properties will determine which instance of Chrome will have the feature. That is, if you open Properties from the shortcut icon on the desktop, then Chrome will have the tab search feature only when you run Chrome using that shortcut icon. And the same goes for the icon on the taskbar.
Once the dialog box for Properties opens, go to the 'Target' field.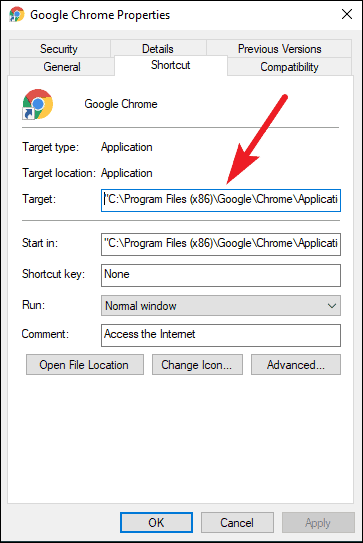 Then, append the following keyword at the end of the current string after entering a space.
--enable-features=TabSearch
So, the final line in the Target field would look like this:
"C:\Program Files (x86)\Google\Chrome\Application\chrome.exe" –enable-features=TabSearch
Click the 'Apply' button and close the Properties window.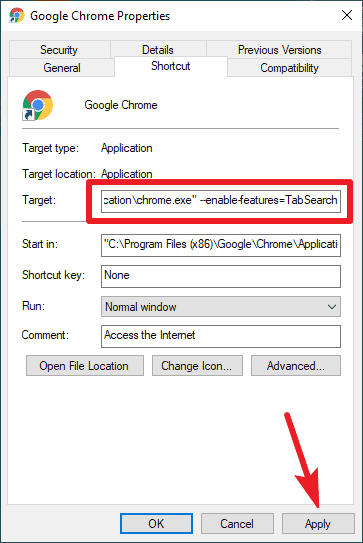 Now, close any Chrome windows if they are open, and re-open Chrome again. You'll now see a new button next to the 'New Tab' (+ icon) button on the tab bar. This button with the downward arrow is the new Search tab button.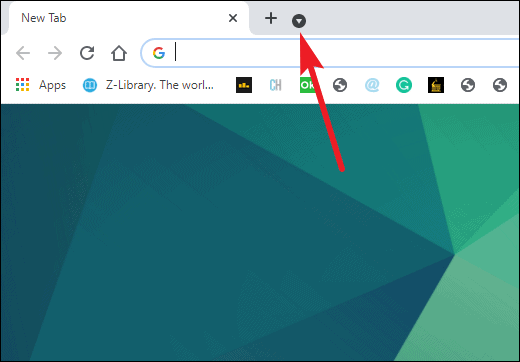 When you have multiple tabs open, click the button on the tab bar or use the keyboard shortcut 'Ctrl + Shift + A' to open the search menu. It has a textbox where you can enter the keyword that appears in the URL or the title of the tab you are searching for.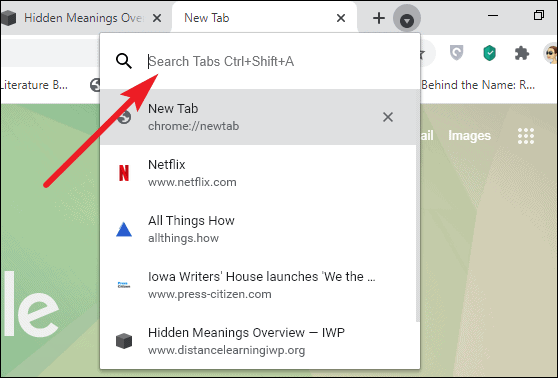 Chrome filters the tabs simultaneously as the user is entering the keyword. Click the search result to switch to that tab.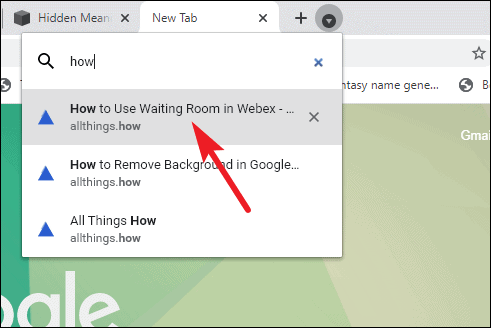 It also lists the 5 recent open tabs that you can quickly access. Click one of the options to switch to that tab. Hovering on an option will also reveal an 'x' on the right-side. Click it to close that tab directly from the Search tab menu.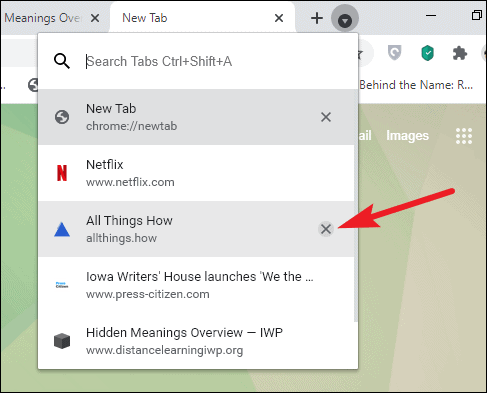 The Search Tab button is an efficient way to search for open tabs. It searches for all tabs, even if they are open in multiple windows. But it does not include any tabs open in the Incognito mode.
Tab Search is an experimental feature as of yet, and there's no word whether it'll ever be officially a part of the Chrome browser on Windows or any other OS as a built-in feature. We guess only time will tell.
---
Use the Omnibox Tab Switch Flag for Mac and Linux
The Search tab button is a simple and elegant way to search for and switch between tabs. But, unfortunately, it isn't available for all OS users. Even for Windows users, it requires adding certain parameters to Chrome's properties, and not everyone might be comfortable doing that.
'Omnibox switch to tab suggestions' is a Chrome flag that adds an Omnibox to your Chrome browser on any OS, which you can use to search through your open tabs.
If you have never used or heard of flags before, they are experimental features in Chrome that aren't part of the default browser experience. They are not enabled by default, and many of them might never even make it to the public versions of Chrome. Also, flags can make Chrome crash or lose data, and they aren't tested for security and privacy either. So, it is advisable to proceed with caution before using flags.
Go to the address bar on your browser and type 'chrome://flags' and hit the enter key. The page for experimental features in Chrome, aka flags, will open. Read the warning on the page, then go to the 'Search box' if you want to still proceed.

Type 'Omnibox tab switch suggestions' into the search box. Omnibox switch to tab suggestions would appear in the results. The drop-down menu next to it would show the setting as 'Default'.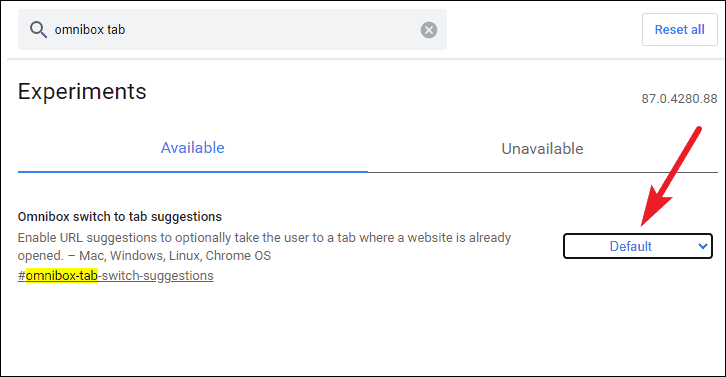 Click on it and select 'Enabled' from the drop-down menu.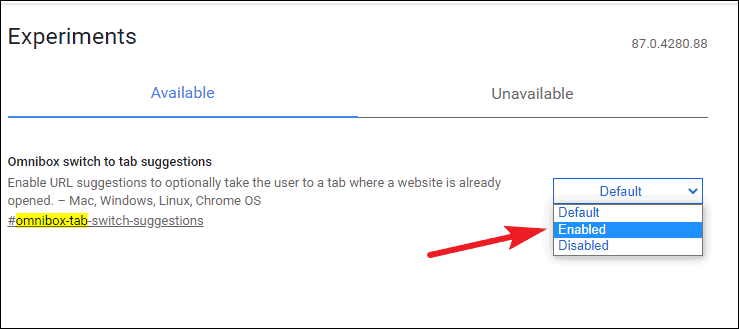 The browser will show the message that the changes will take effect the next time you relaunch Google Chrome. Now, you can let it be and continue doing whatever you were on Chrome. And then the next time you relaunch Chrome, you'll be able to use the Omnibox to search for tabs. Or you can click the 'Relaunch' button to relaunch Chrome right now. Chrome will restore your last session after relaunch.

As soon as you relaunch, Omnibox tab switch suggestions will start working. To test it, open a new tab, go to the address bar and type a word or phrase that appears in the URL or title of the tab you are searching for. And beneath the address bar, along with other results, the Omnibox would also show tabs that are open with a 'Switch to this tab' button next to them. Click the button, and you'd switch to that tab.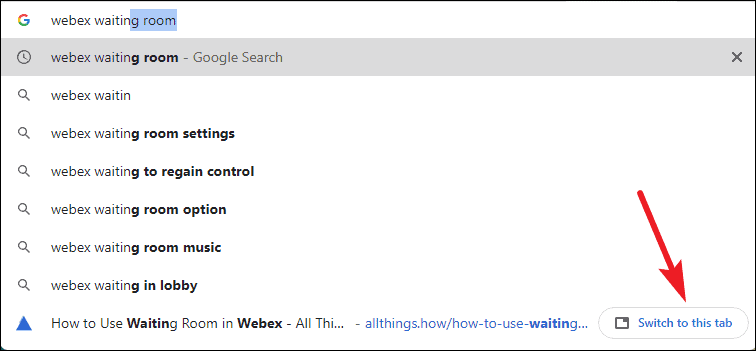 The Omnibox switch tab flag shows all the tabs in suggestions, even if they are open in multiple windows. But it skips any tabs open in the private browsing mode. It's a neat way to search for tabs, at least until Google decides to bring the search tab feature to all operating systems officially.
---
Having a plethora of tabs opened in your browser can feel like drowning at times and affect your productivity rather horribly. The option to search for tabs in Chrome is going to be a lifesaver for many.