How to Set Custom Chat Wallpaper on WhatsApp
WhatsApp allows you to have a general wallpaper for all chats, and custom wallpapers for the special ones. Here's how you do both.
WhatsApp is one of the mobile applications that allow users to have their own chat wallpapers, distinct from the app's default additions. However, that is not all that's customizable on this communication platform.
On WhatsApp, you can also have different wallpapers for different chats as well! You can choose to set an image as the general wallpaper for all chats and custom wallpaper for your favorite (or non) chats. Here's how you go about it.
Choosing Your WhatsApp Chat Wallpaper
Launch WhatsApp on your phone and open any chat or the chat that needs to have a new/different wallpaper from the rest. Tap the ellipsis icon (three vertical dots) to the top right corner of the screen.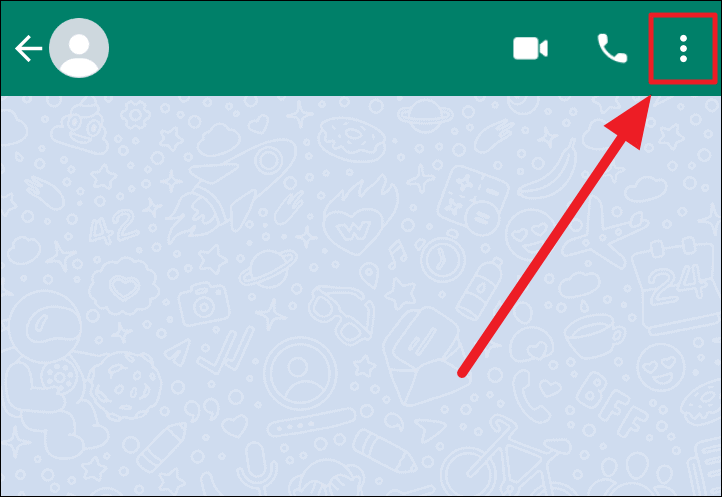 Now, choose 'Wallpaper' from the menu.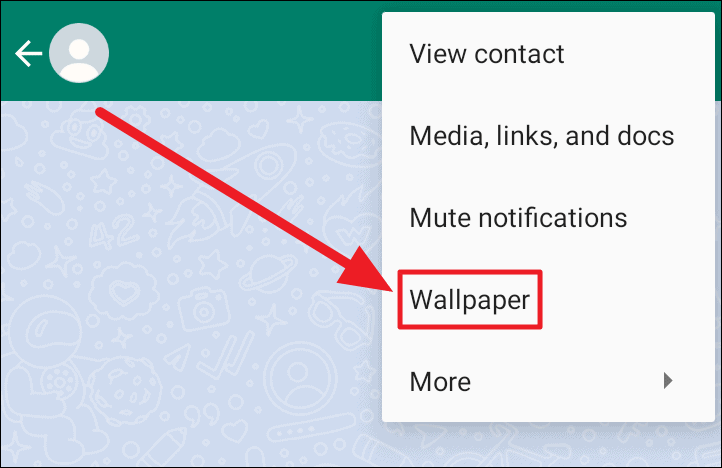 Tap to choose the desired wallpaper category on the 'Custom wallpaper' screen.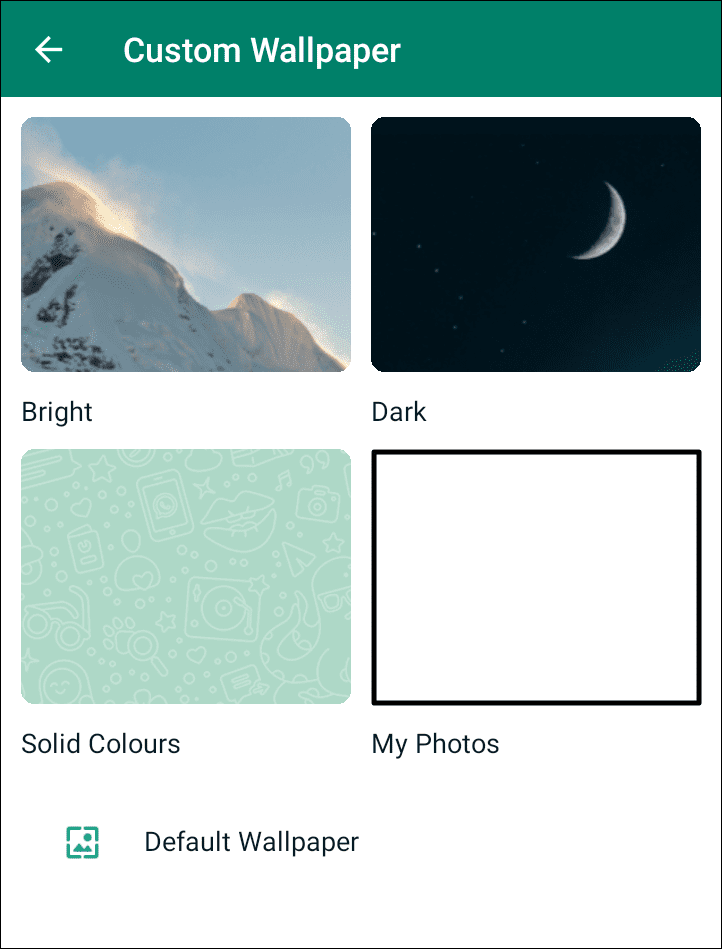 If you use dark mode, you will first reach the 'Chat Wallpaper' screen with the dimming option. Tap the 'Change' button here, and then, choose your wallpaper category on the following screen.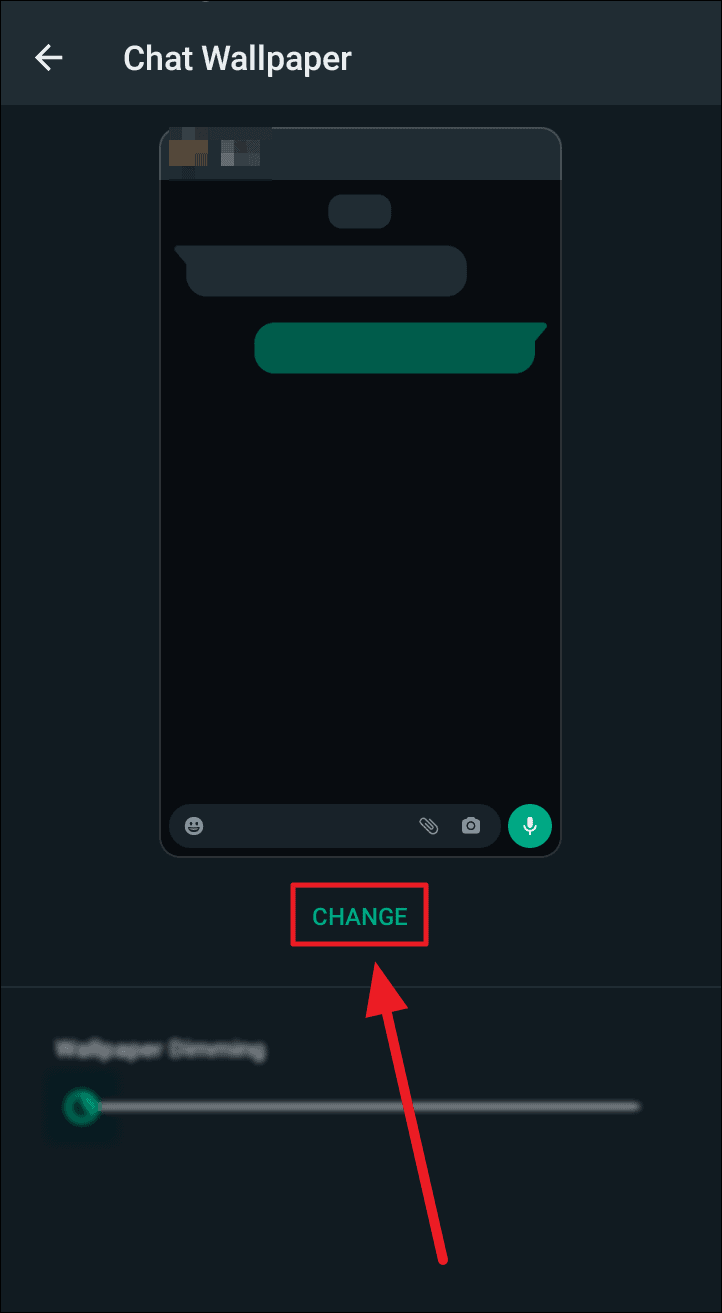 All wallpapers are applicable for both individual chats (custom wallpapers) and all chats.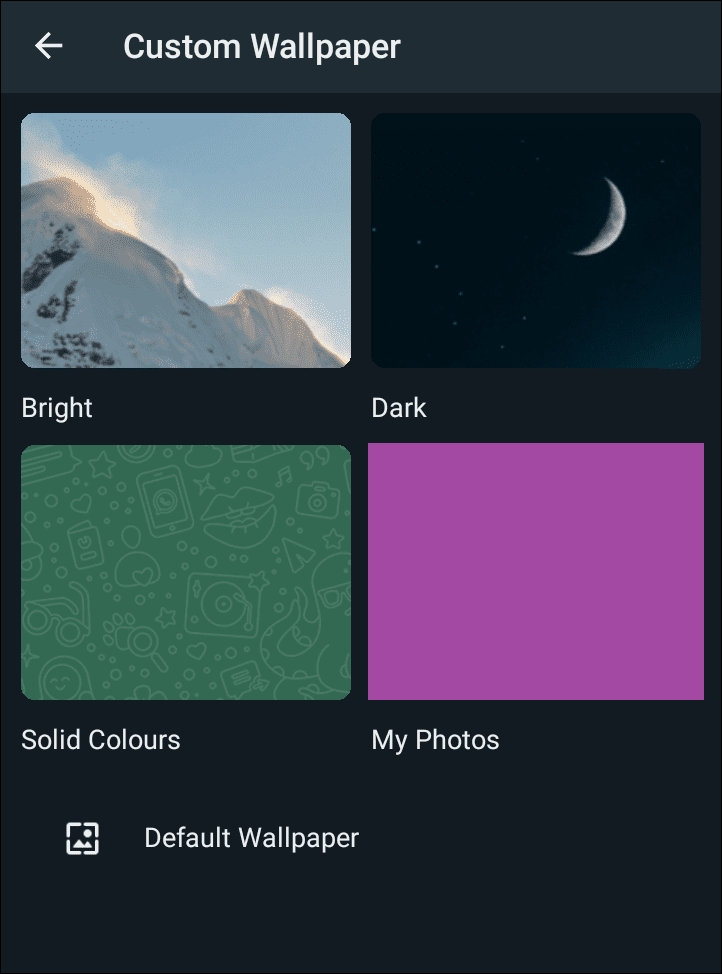 Bright Wallpapers are custom wallpapers composing bright and vibrant photographs and art that may feature light monochrome images as well.
Dark Wallpapers are custom wallpapers that follow a dark theme. They feature dark monochrome images, light and dark photographs, and even images with neon tints on a dark background.
Solid Colors are essentially colorful variants of WhatsApp's default wallpaper. You can choose to either have a plain and solid background or a solid wallpaper detailed with doodles, like the default wallpaper's design.
My Photos takes you to your gallery where you can choose a wallpaper from your own camera roll, saved images, screenshots, etc.
Default Wallpaper is WhatsApp's original wallpaper with a dark, mostly dark gray background with doodles.
Applying Your Chosen Wallpaper
Scroll through the list of wallpapers of your chosen category and tap to select your favorite. Now, tap the 'Set Wallpaper' button on the preview of the selected chat wallpaper.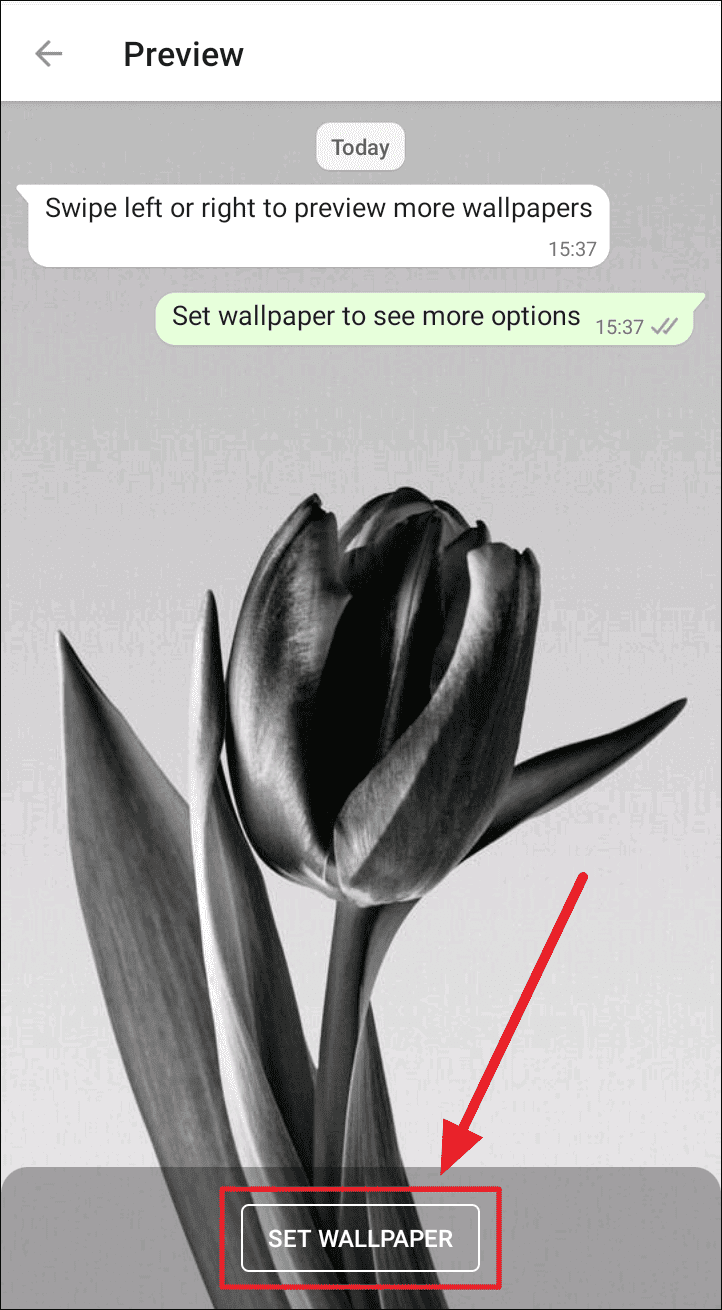 If you chose 'Solid Colors', you can choose to keep the doodles on your solid colored background or not. They are added by default. To remove these doodles, tap the tickbox next to 'Add WhatsApp Doodles' to deselect it and keep a plain solid colored wallpaper. Then, tap the 'Set Wallpaper' button.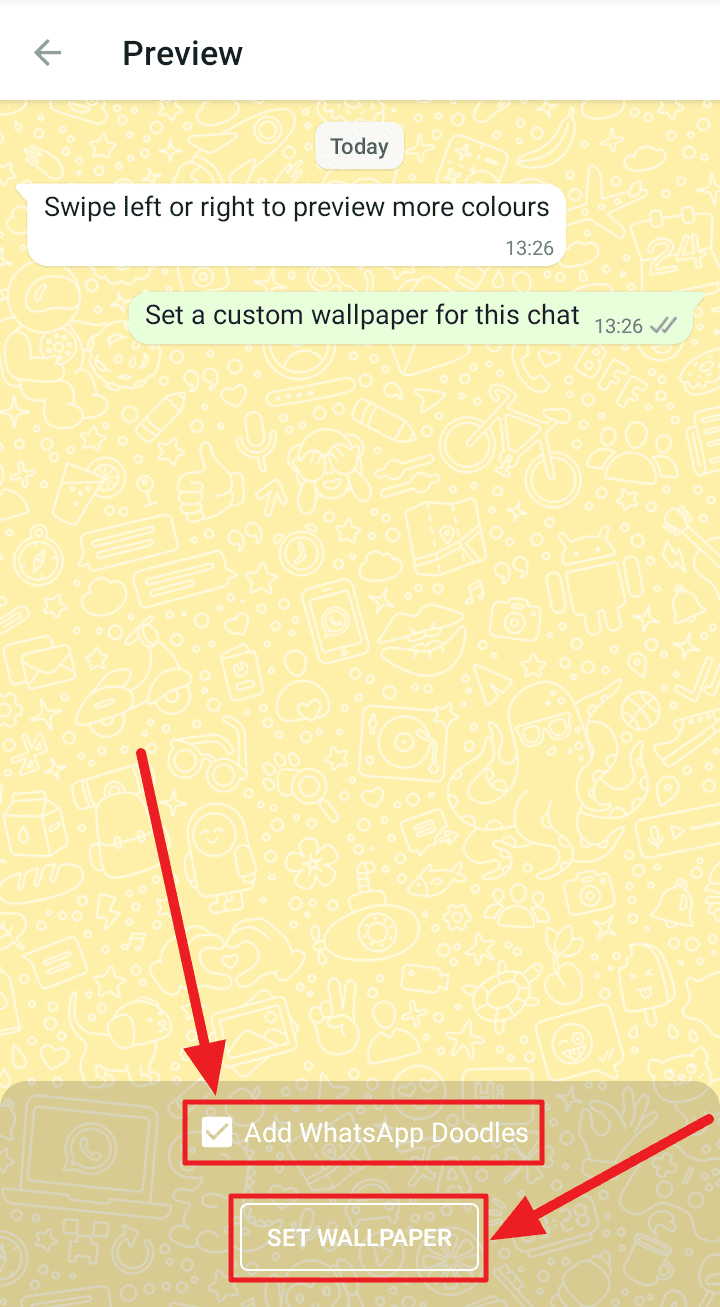 You will now see a 'Set Wallpaper' box to confirm if you wish to apply the chosen wallpaper for the particular chat you chose at the beginning ("For this chat") or for all chats in your WhatsApp's current theme ("For all chats in light/dark theme).
Tap the radio button in front of your choice of wallpaper application and hit 'OK'.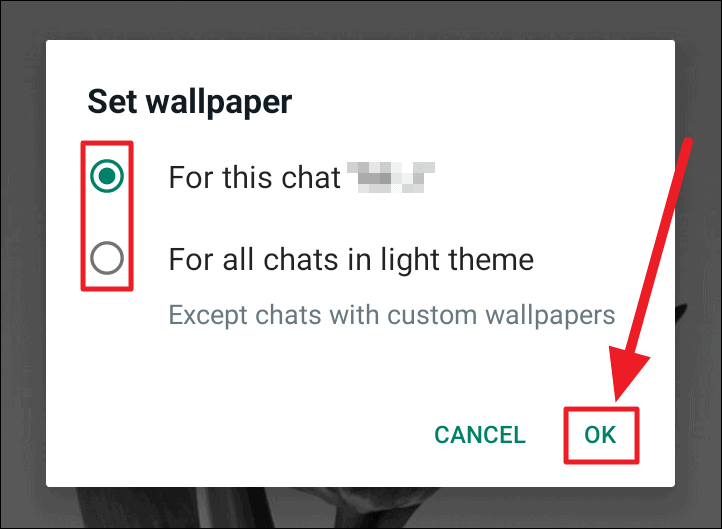 Your desired wallpaper is now set.
Important
When you apply a custom wallpaper – a separate chat wallpaper for a particular chat, you can consecutively change this custom wallpaper without having to make a choice in the 'Set Wallpaper' box. This isn't applicable when you apply a wallpaper for all chats.
When you apply wallpaper for all chats in a particular theme, the wallpaper will change accordingly as you change your WhatsApp theme (light/dark). This way, you can have two different general chat wallpapers for the two themes/modes and switch between them.
---
That's it! We hope you found our guide useful.