Location tracking has always been a controversial topic in the technological realm. Our phones use a motley of information like cellular services, GPS, Wi-Fi, and BlueTooth to pinpoint their exact location.
And the location of our phones almost certainly means our location for most of us. At least, for those of us anyway who haven't yet gotten sick of their phones and locked them in a cupboard. Even though location services may be controversial, they are also insanely useful. We can use apps like Maps and ride-sharing, food-ordering, cabs, and many more. But it also gives rise to privacy concerns. Some apps that have no business tracking our location are doing it. They use it like any other data that can be sold.
So, it's understandable wanting to stop or limit your location sharing. Of course, there are many other scenarios as well. Maybe you want to temporarily stop location sharing to preserve battery; location services do put a strain on the battery. Or maybe, this isn't about hiding your location from apps at all: You want to stop sharing your location with family or friends with who you currently share your location. Whatever your reason may be, we've got your back. If you're an iPhone user, there are several levels of limiting access to your location. Here's everything you need to know.
Turn Off Location Entirely
Turning off your location entirely will stop sharing your location with all apps and services. When you turn off your location, no one receives any notifications. Open the Settings app on your iPhone and scroll down to 'Privacy'.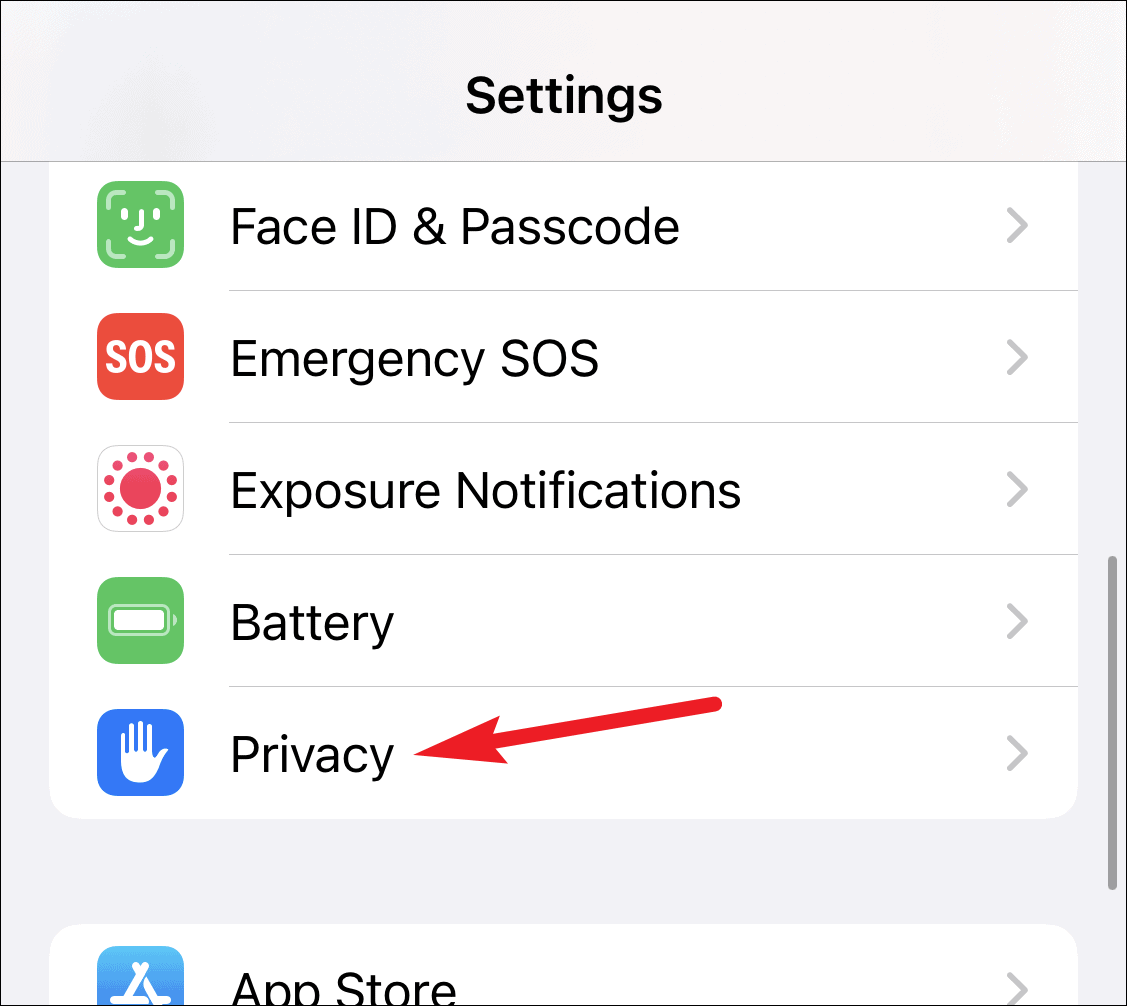 Tap the option for 'Location Services' to open it. It'll say location services are on.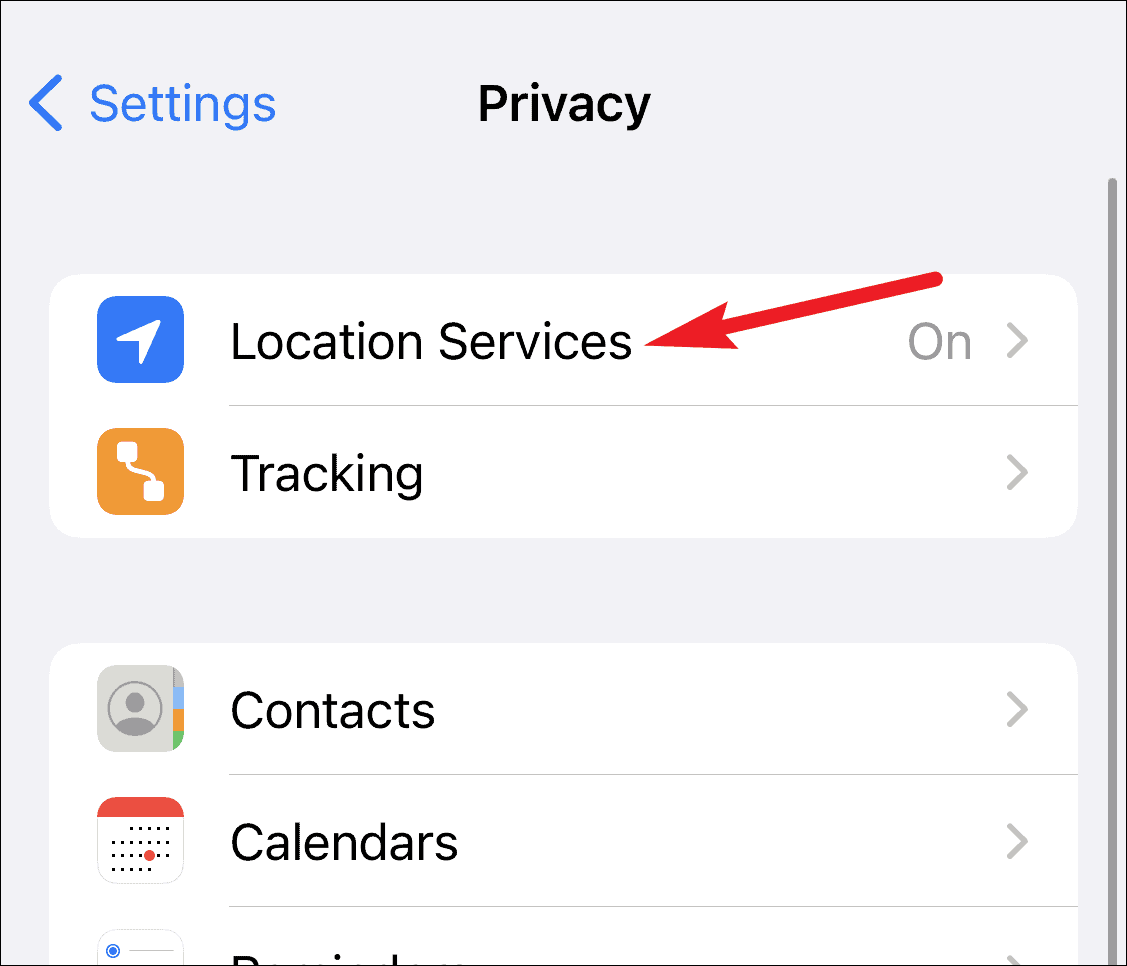 Then, turn off the toggle for 'Location Services' to disable sharing your location completely.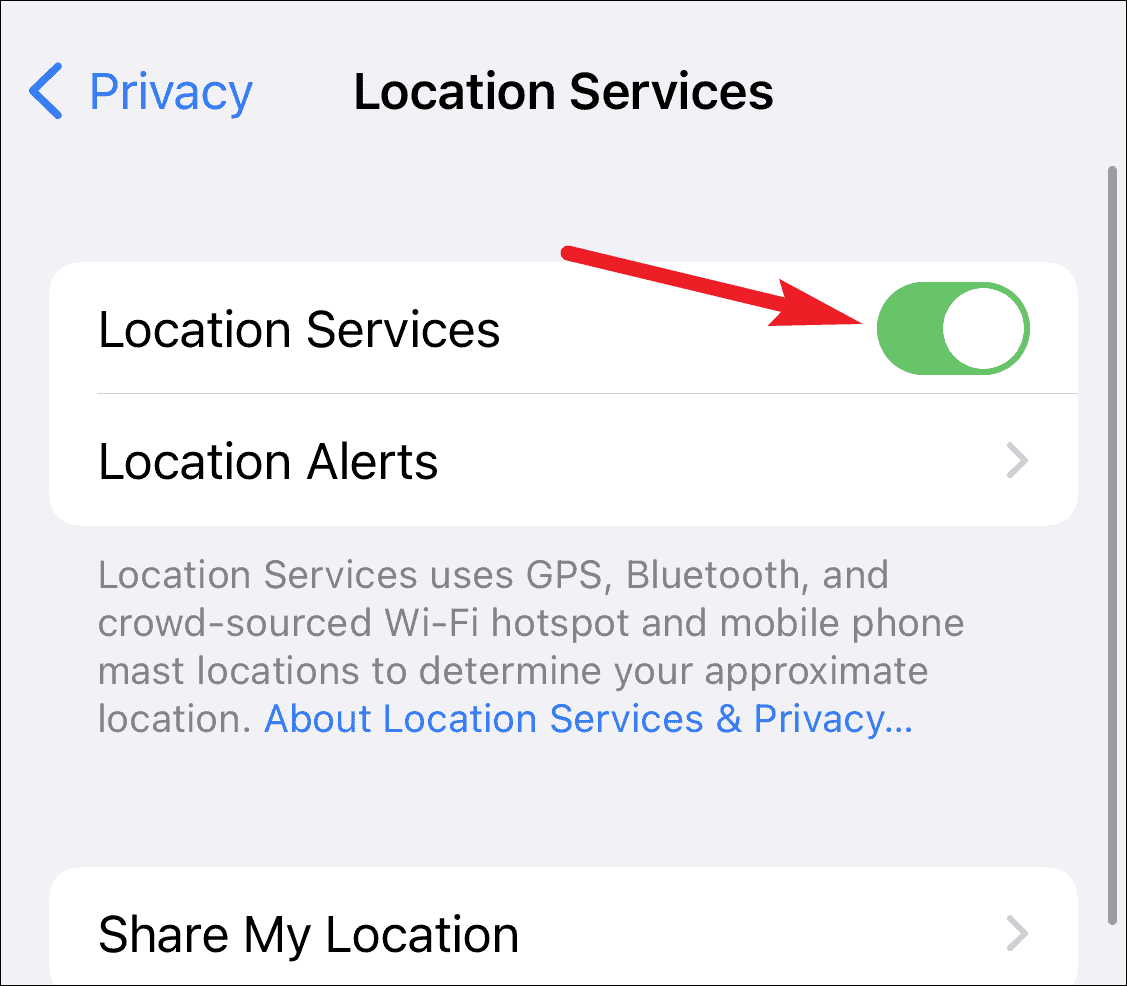 You'll get a prompt that while location services will be off, they will temporarily be enabled if you use 'Find my iPhone' and report the phone stolen. Tap 'Turn Off' to proceed. Location Services will be completely disabled.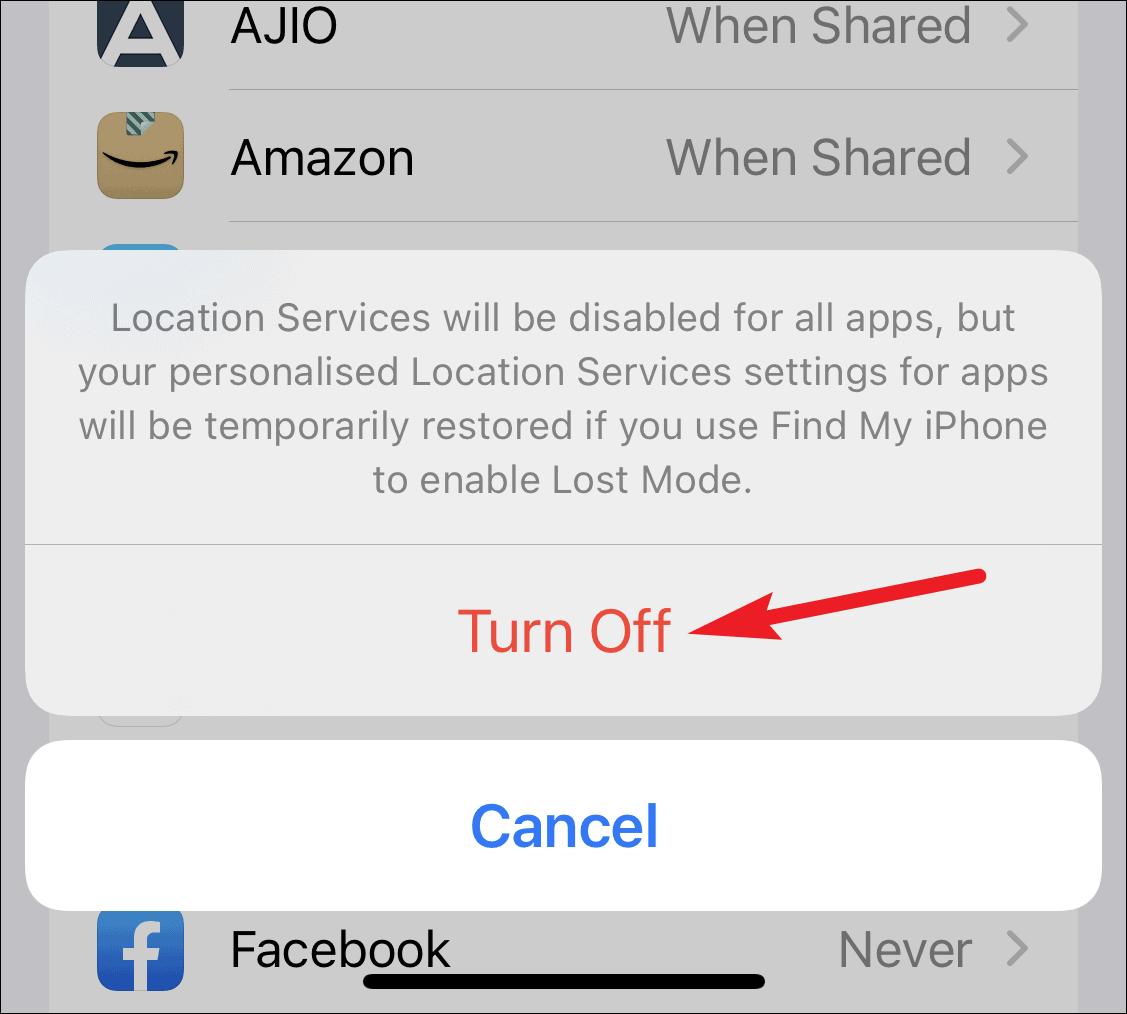 ---
Turn off Location for Certain Apps
If you only want to prevent certain apps from accessing your location, you can turn off location sharing for those apps individually. Go to Location services from Privacy settings.
Then, keep the toggle for 'Location Services' on and scroll down.
The list of apps that use location services will appear. Each app will have the type of permission it has next to its listing. These permissions will show either 'Never', 'When I Share', 'While Using', or 'Always'.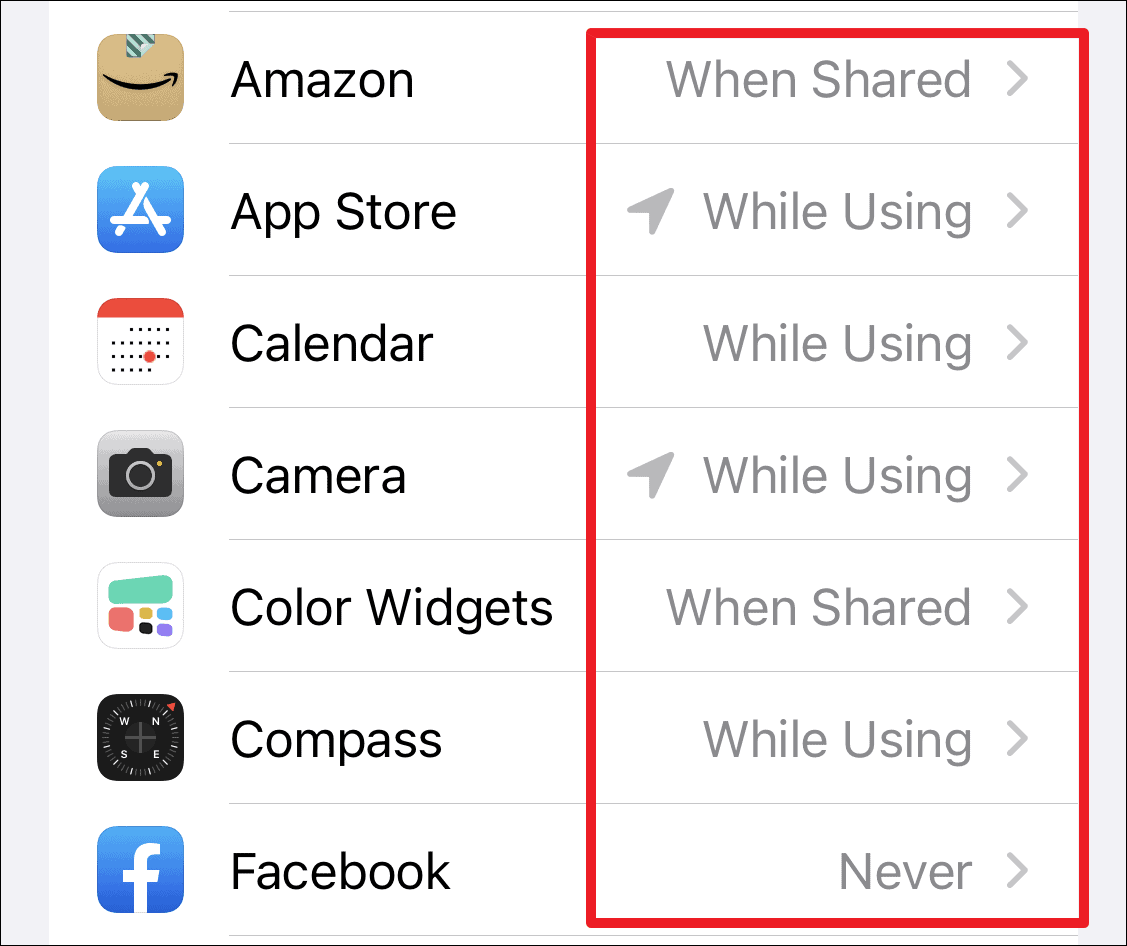 The apps that have 'Always' or 'While Using' next to them can access your location either always or when they are in use (when you have opened them or they are operating in the background).
'When I Share' refers to 'Ask Next Time or When I Share'. These apps will ask you next time you open them for permission to access your location. They don't have access to it yet but haven't been denied access completely either.
'Never' is pretty self-explanatory. These apps don't have access to your location, nor can they ask you for access until you change their permission explicitly from the settings.
To change the location access of an app, tap its listing.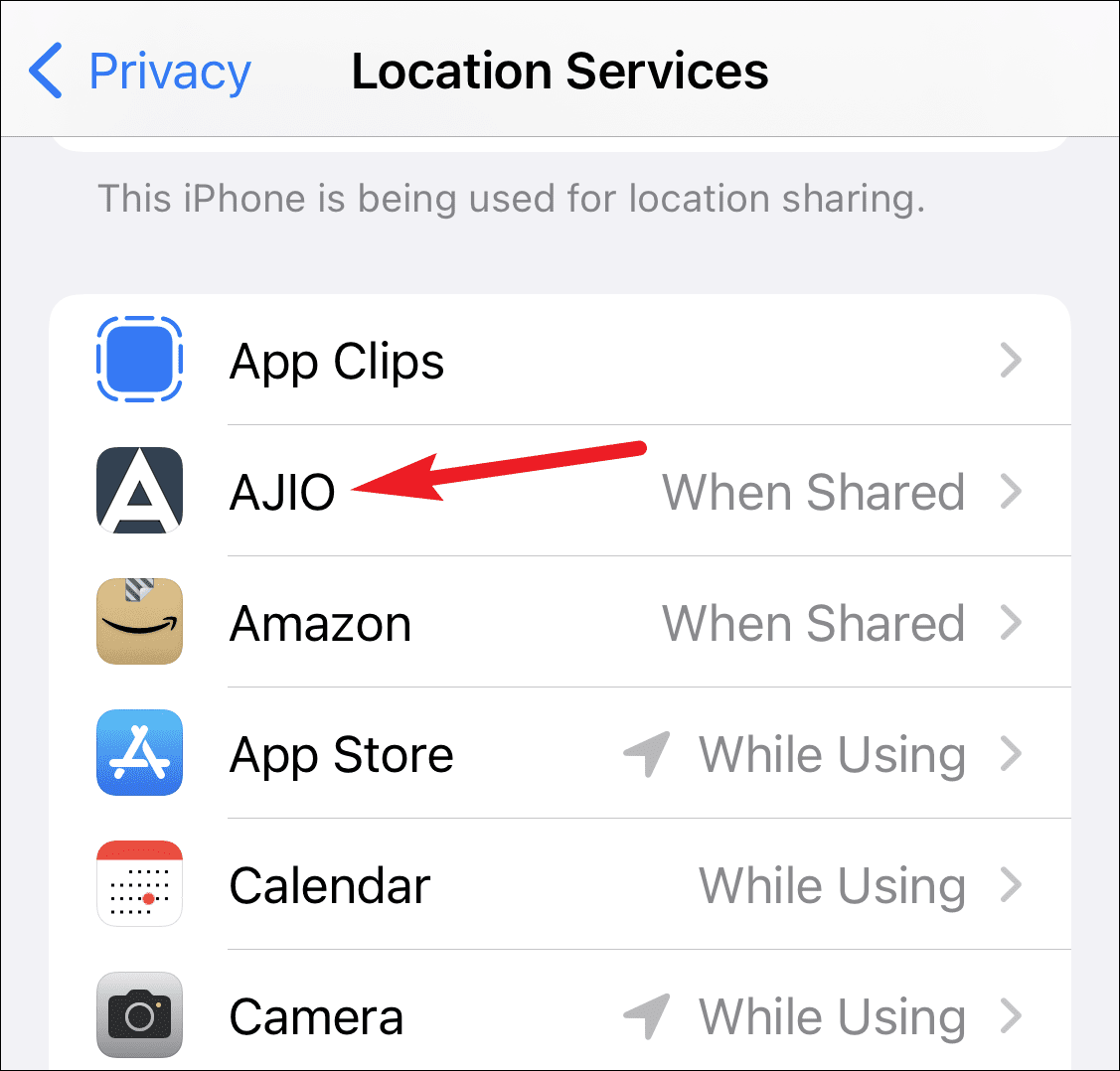 The options to change its access type will open. Tap 'Never' to stop sharing your location with an app completely.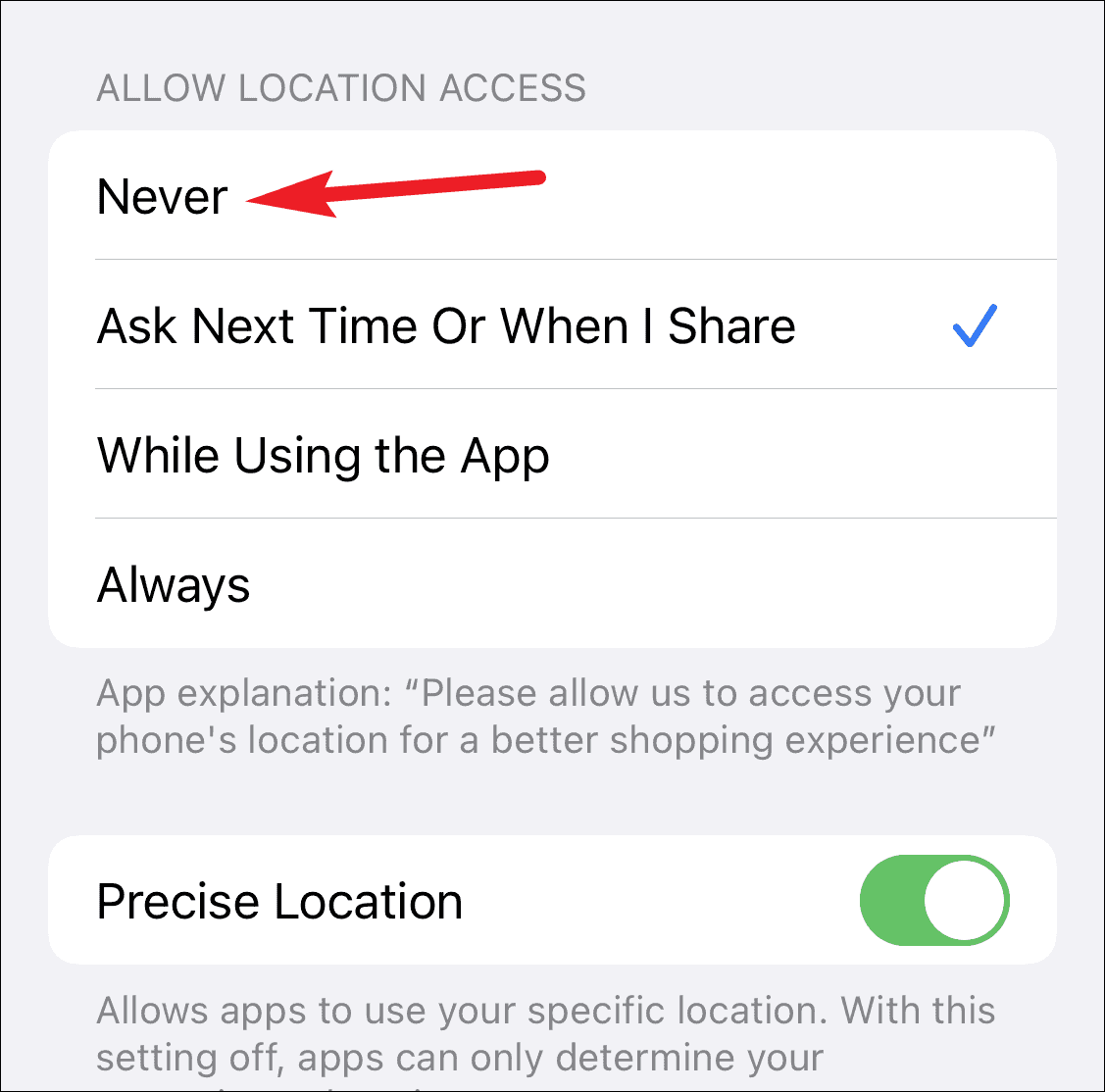 Note: You can also share your approximate location with an app instead of your precise location. Turn off the toggle 'Precise Location' while still sharing your location with an app.
Some apps will also have arrows next to them. A purple arrow indicates that an app has accessed your location recently. A hollow purple arrow indicates that the app can access your location under certain conditions. While a gray arrow indicates that an app has accessed your location in the last 24 hours. You can use these arrows to see which apps are accessing your location and if you see one that you don't think has any business accessing your location, you can change its permission.
To access system services that use your location, tap the option for 'System Services'.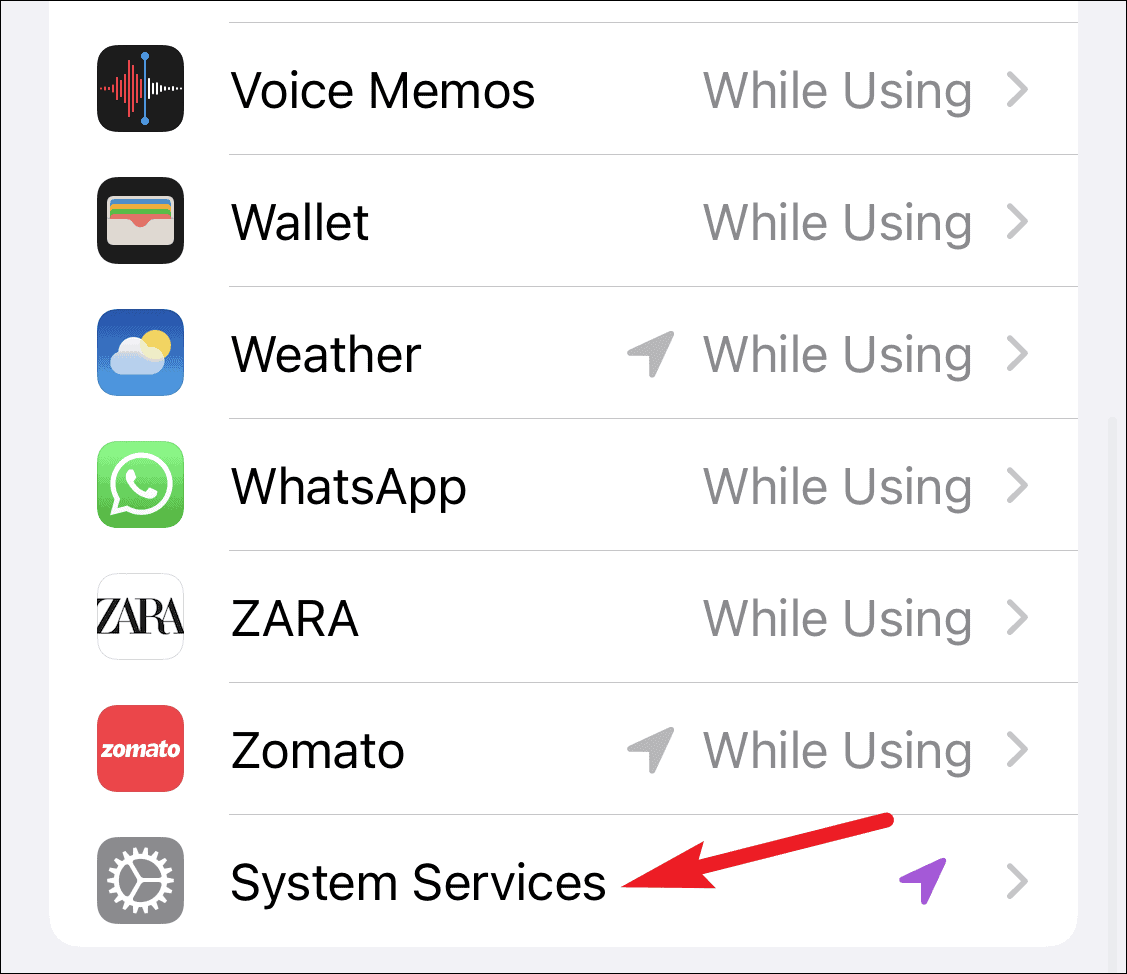 Then turn off the toggle for any services you don't want to use your location. But be aware that disabling access for the location for many of these services will impact some features and they won't work as expected.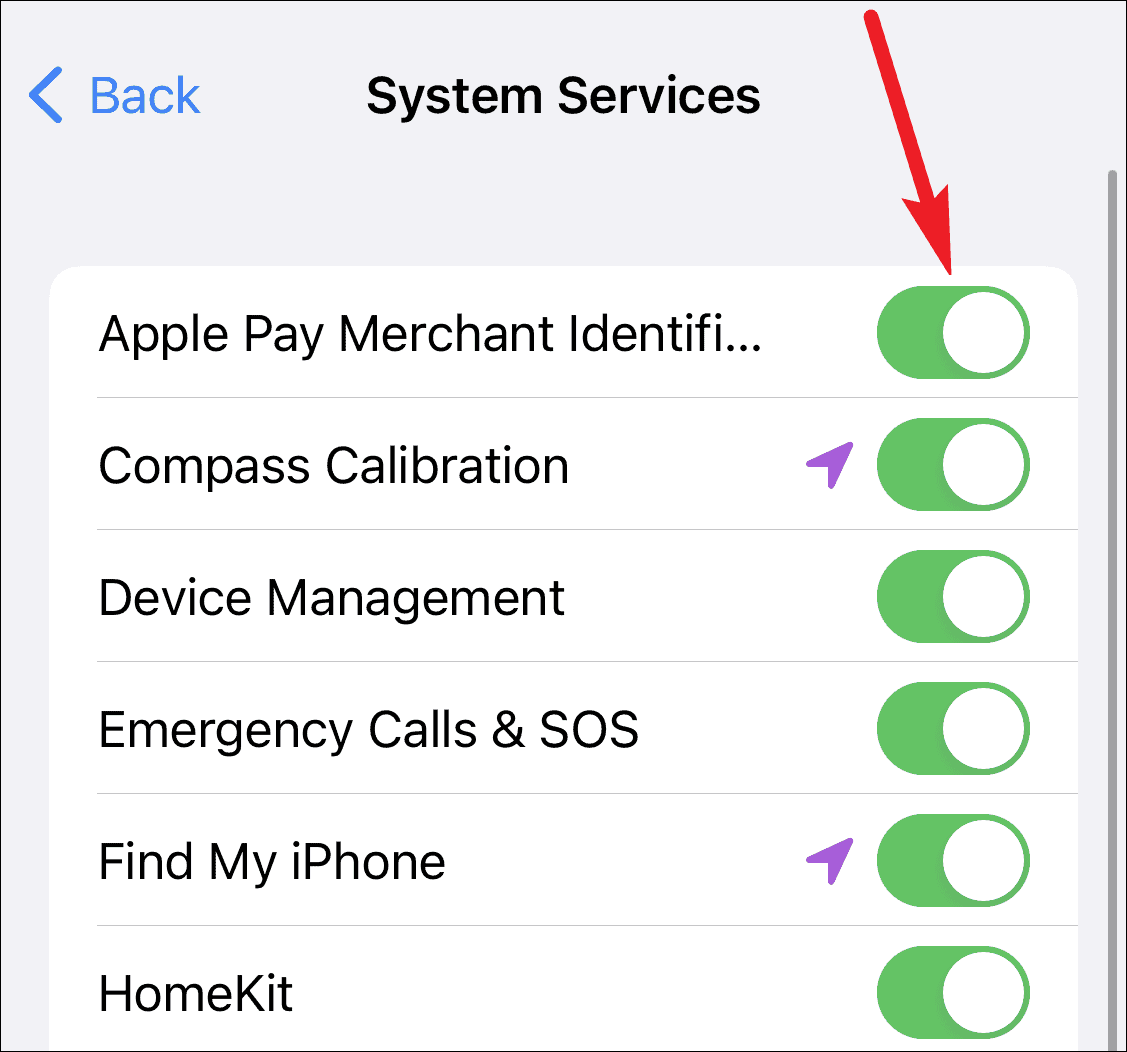 You can also enable the status bar icon where the location arrow will appear in the status bar whenever any system services request your location. Scroll completely down in System Services settings and enable the toggle for 'Status Bar Icon'.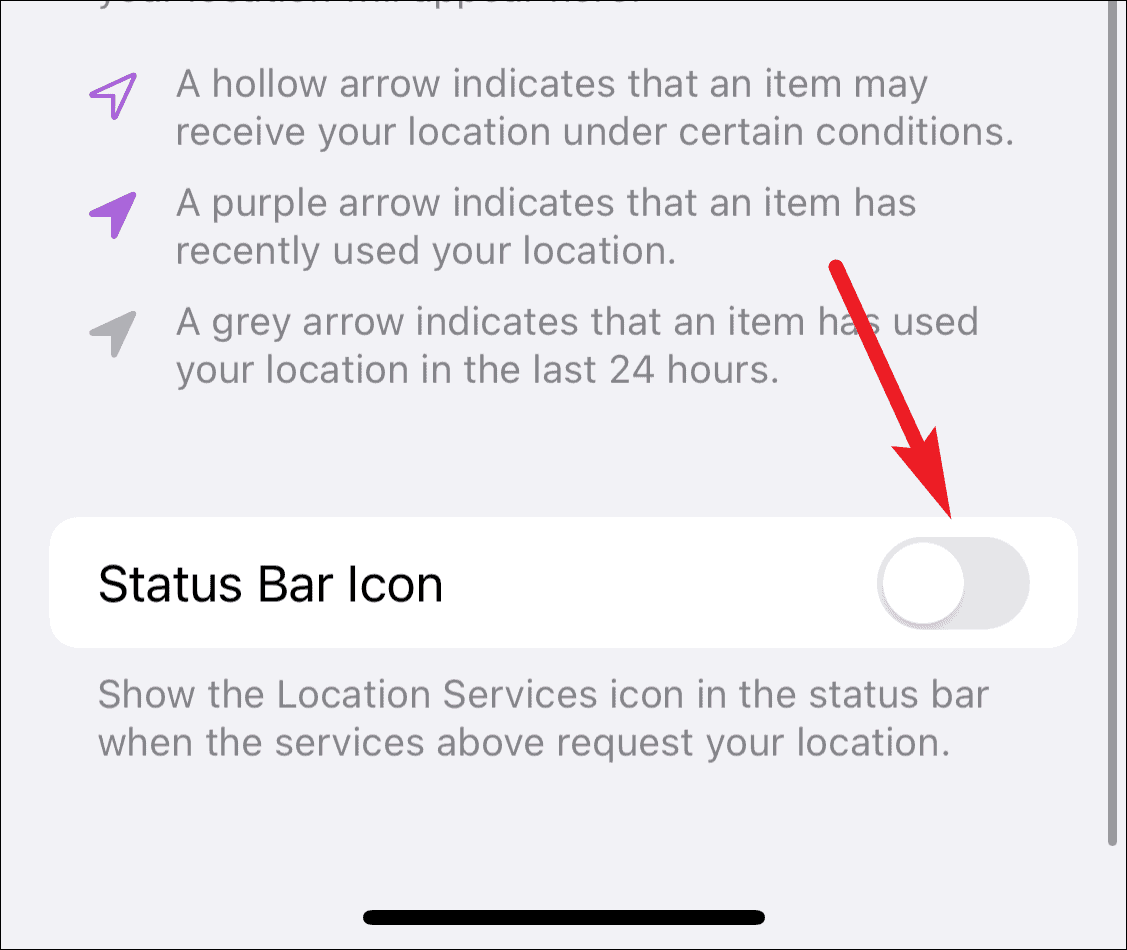 Turn Off Location on iPhone 11 and above models
If you have an iPhone with a U1 chip, i.e., iPhone 11 and above models, you might get the location arrow in the status bar even if you have disabled certain or all system location services.
Apple says that the ultra-wideband technology that these models use is regulated, and hence prohibited in some areas. iOS uses location services to determine if the iPhone is in such an area and whether it needs to disable ultra wideband.
Rest assured, the location tracking for this purpose is only done on your phone and your location never leaves the device. The ultra-wideband technology will not attempt to gather data when you disable location services completely.
---
Stop Sharing Location in Find My App
If you don't want to stop sharing location with apps, but instead want to disable Find My, tap your name card at the top in the Settings app.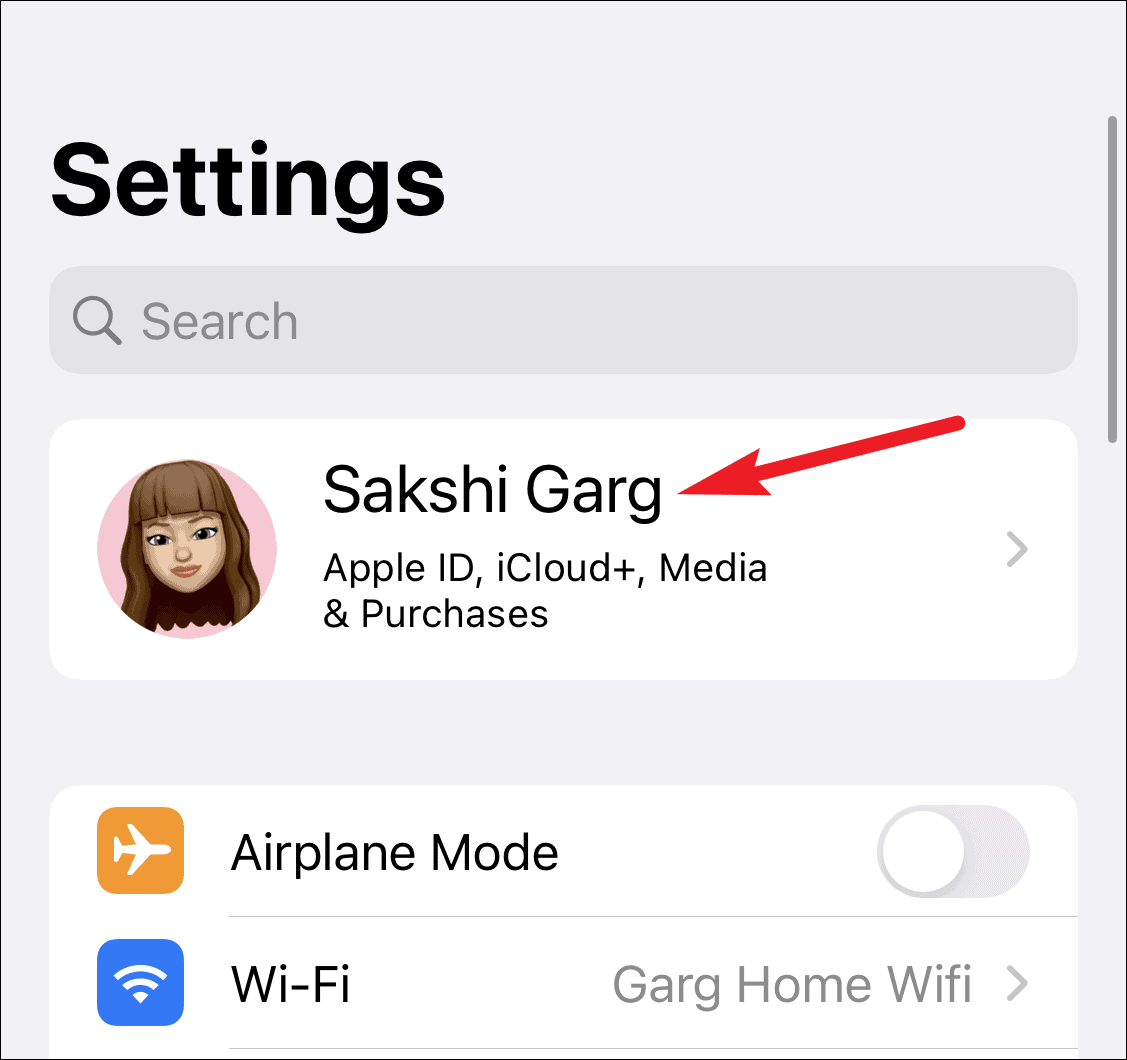 Then, tap the option for 'Find My'.
Find My settings will open. Disable the toggle for 'Share My Location'. Until you enable this option again, you won't be able to share your location with friends or family in Find My or Messages.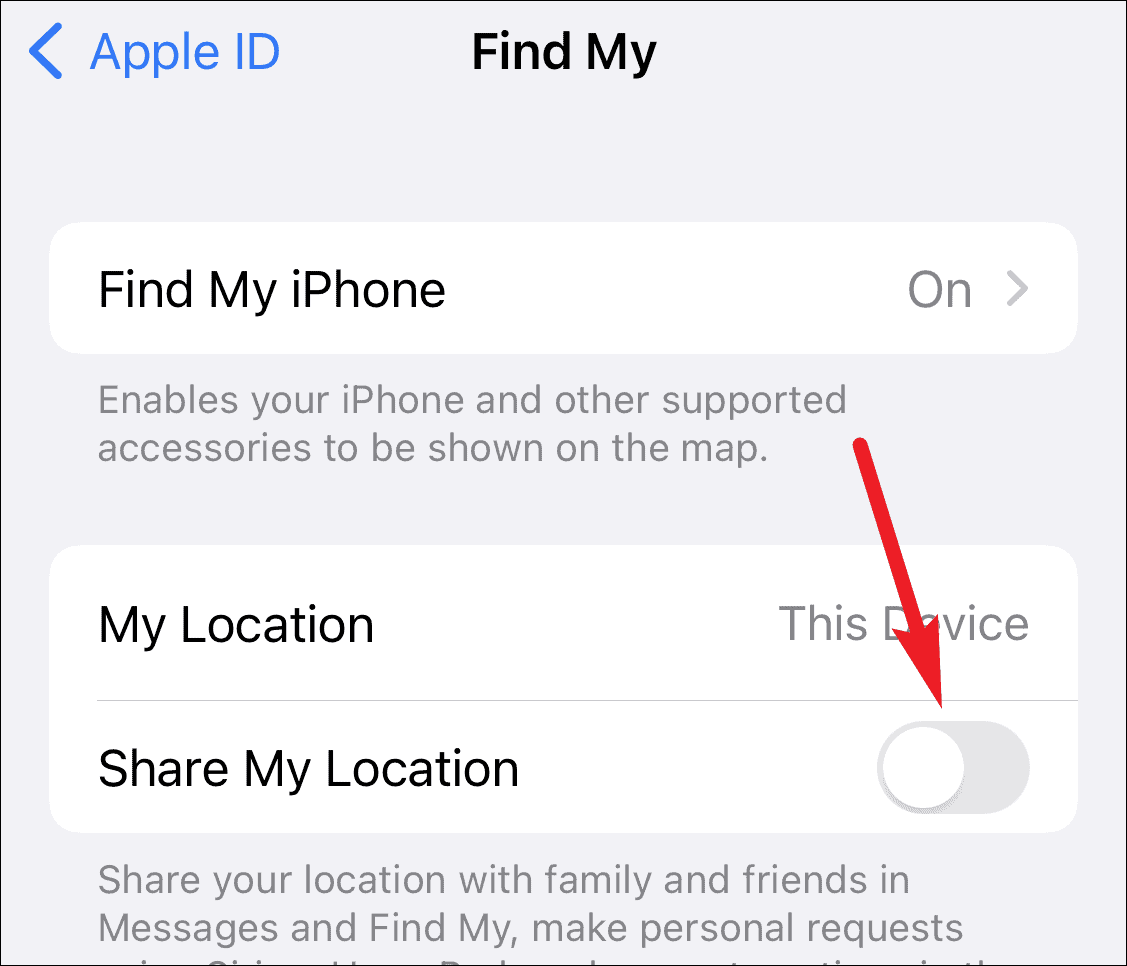 Stop Sharing your Location with Individuals
Instead of completely disabling the option for sharing your location, you can also stop sharing it with a particular person.
Open the Find My app on your iPhone. Then, go to the 'People' tab.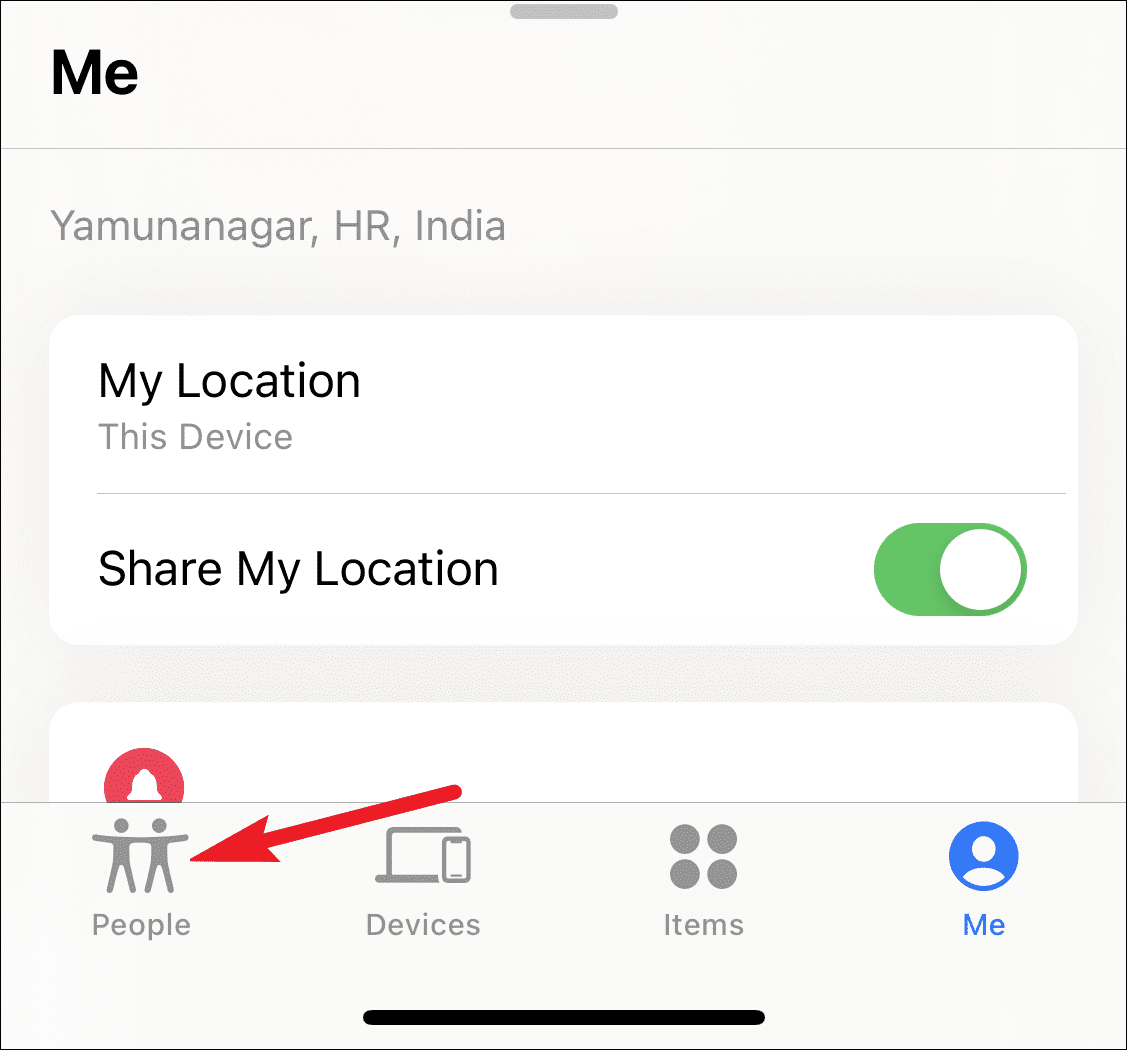 People who can see your location will appear there. Tap the person you want to stop sharing your location with.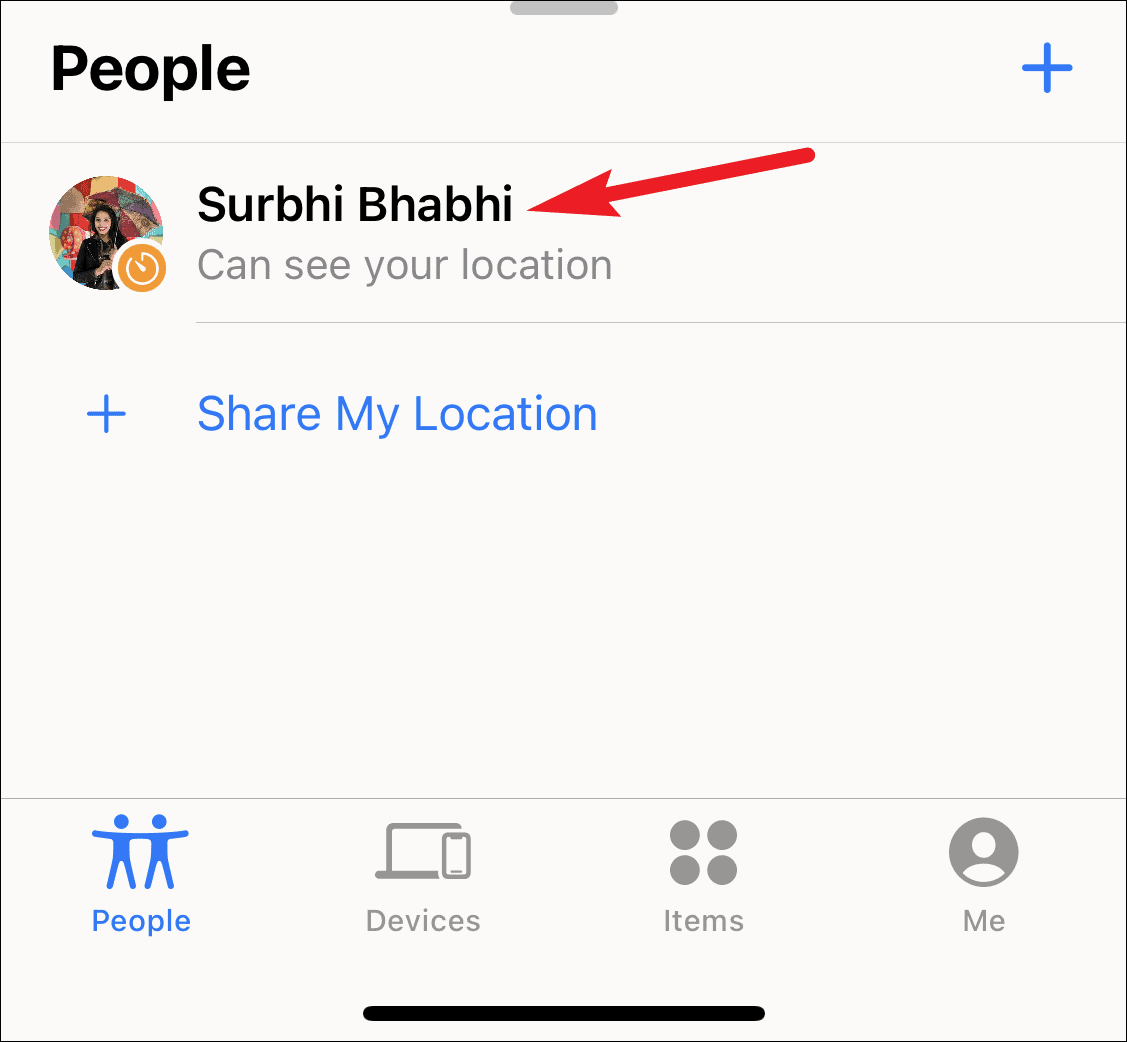 Then, tap the option for 'Stop Sharing My Location'.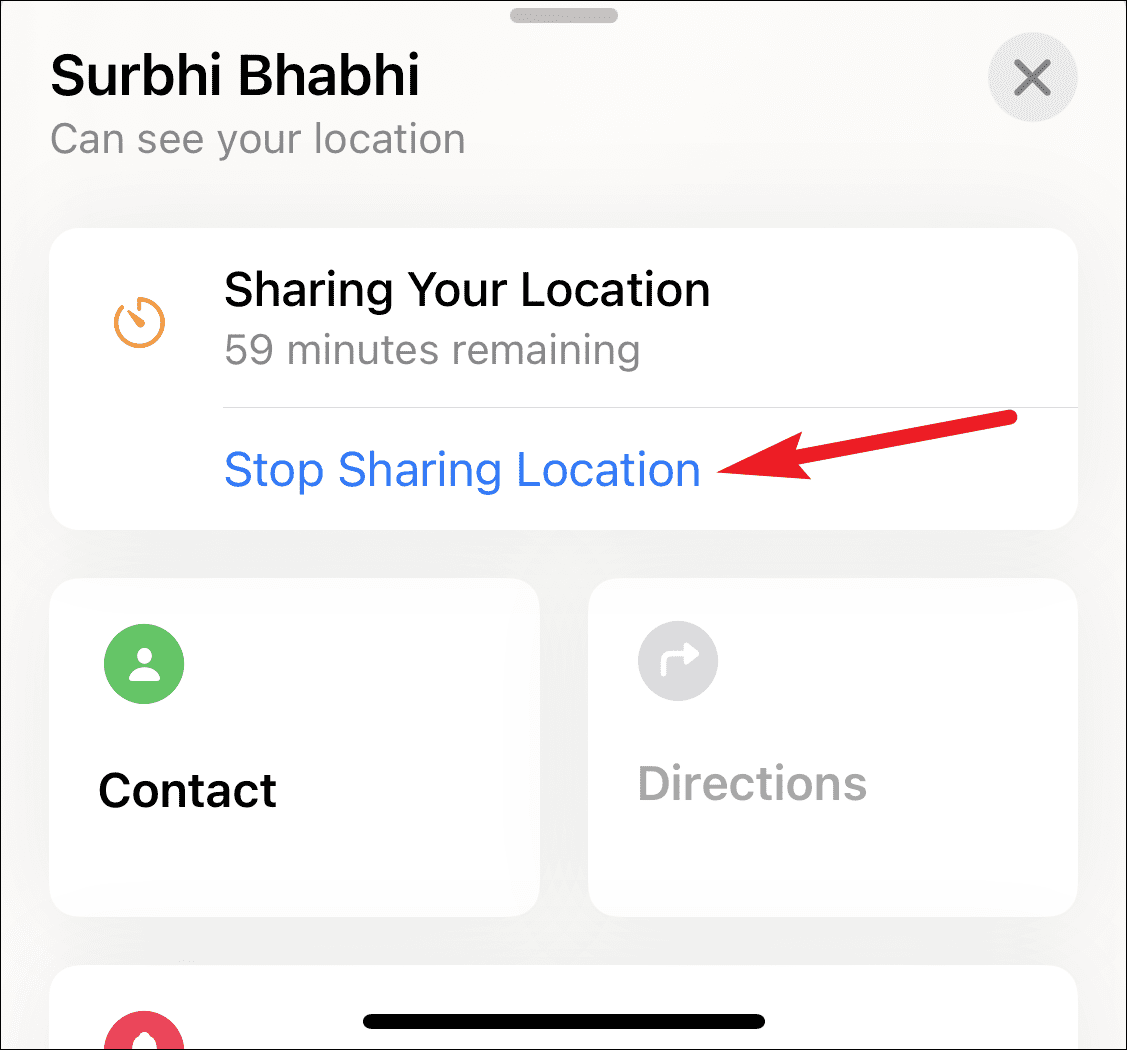 A confirmation prompt will appear. Tap 'Stop Sharing Location' to confirm your choice.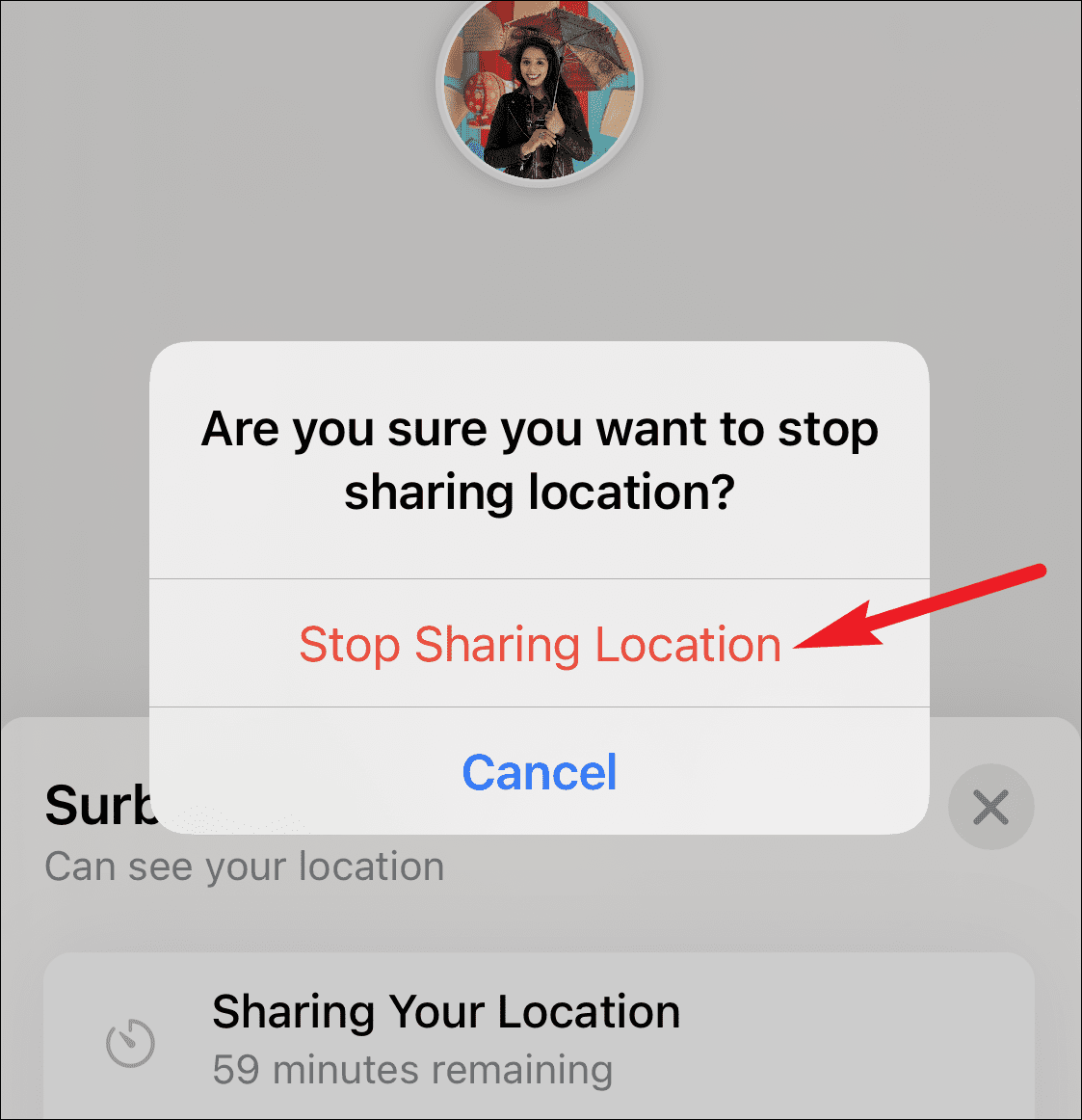 When you stop sharing a location with someone, they aren't notified. But they will be able to see that you aren't sharing your location when they open their People tab in Find My. Moreover, if you choose to share your location with them again, they will get a notification then.
---
Location tracking will always be a controversial topic. But at least, you get to have complete control over sharing your location in iPhone, whether it's with applications or system services, or your friends and family.