How to Sync Google Calendar with Windows 11
Effortlessly synchronize your Google Calendar with your Microsoft Calendar and stay up-to-date with your schedule on your Windows 11 device.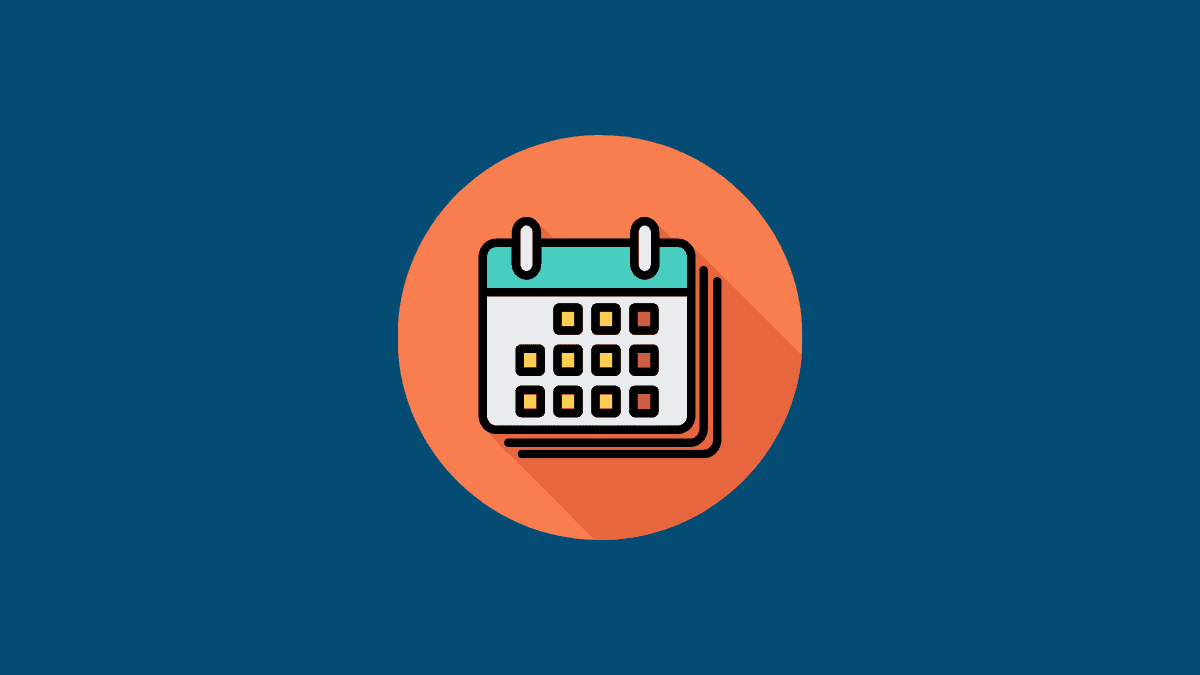 Google Calendar is a super versatile scheduling service. The application allows you to seamlessly schedule tasks and events from your personal agenda. It enables scheduling meeting rooms, allocating time slots, and using World Clock among a bunch of other features that smoothen workflow amongst individuals and workgroups. Google Calendar is a great application to plan, organize, and execute at a personal and professional level.
To integrate Google Calendar into your own space, you must sync your device with it. If your Windows 11 system went out of sync with Google Calendar for whatever reason or if it's your first time syncing Google Calendar with your Windows 11 device, here's how you can effortlessly synchronize the two, and stay up-to-date with your schedule.
Syncing Google Calendar With Windows 11
To sync Google Calendar with your Microsoft Calendar on Windows 11, first, click the 'Start' button or the Windows button on the taskbar, and select the 'Calendar' app from the pinned apps.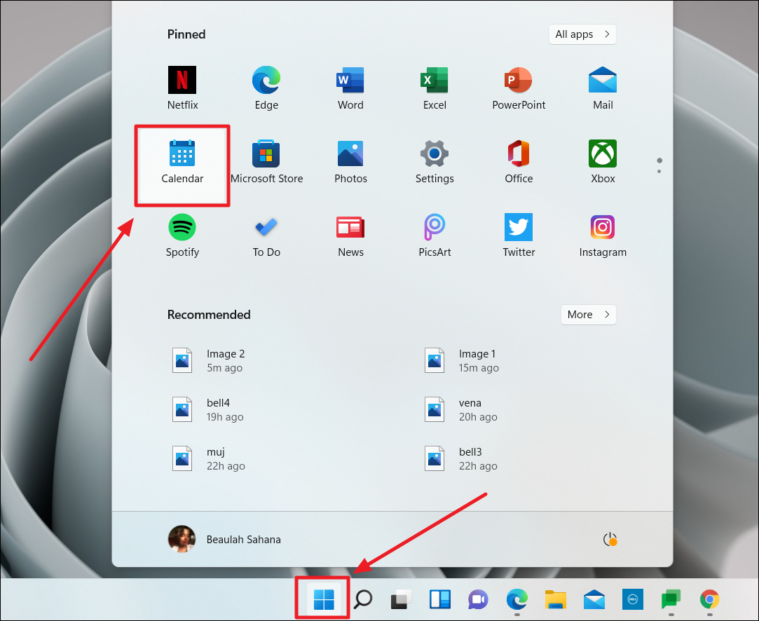 If Calendar is not a pinned app, you can either type 'Calendar' in the search field and select the relevant search result. Or, you can click on the 'All apps' button adjacent to the 'Pinned' heading.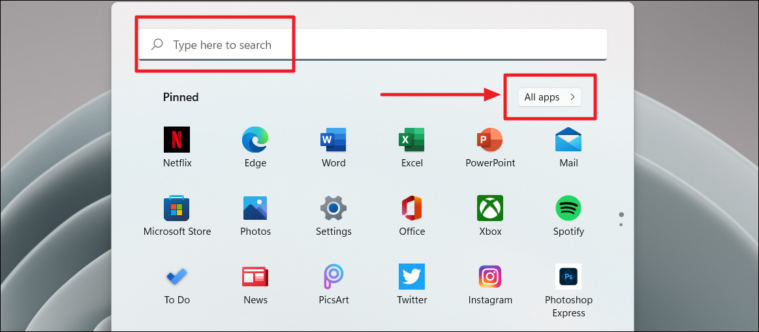 You can then scroll through the list of apps, and select 'Calendar'.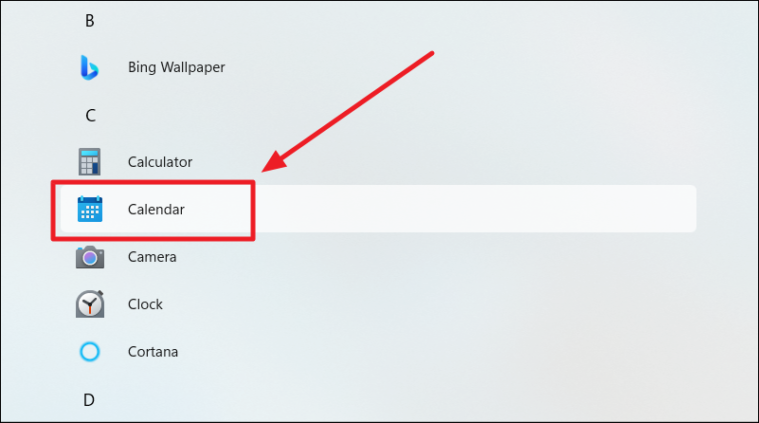 If you see the screen below, click on '+ Add account' or choose the account you wish to sync (if previously logged in). Enter the necessary credentials and continue with the same procedure that follows this guide.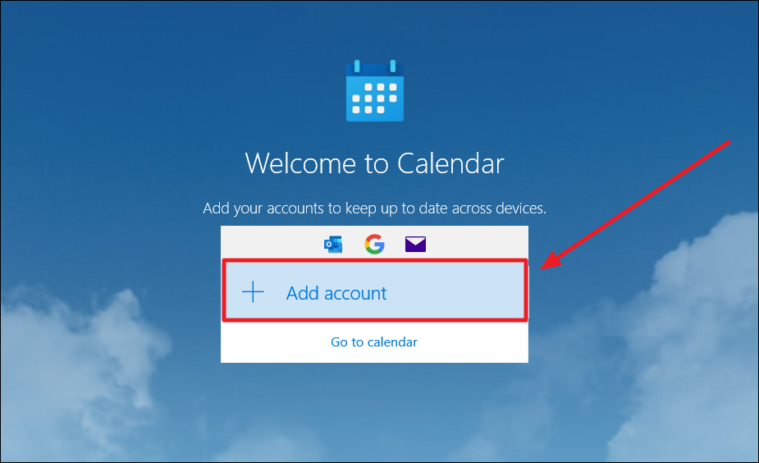 If you didn't see the previous window, and directly opened it into Microsoft Calendar, click the 'Settings' button (gear icon) at the bottom left corner.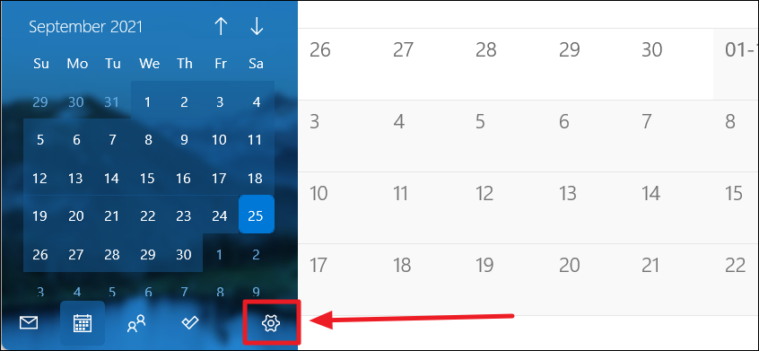 Choose 'Manage Accounts' from the Settings menu that opens on the right.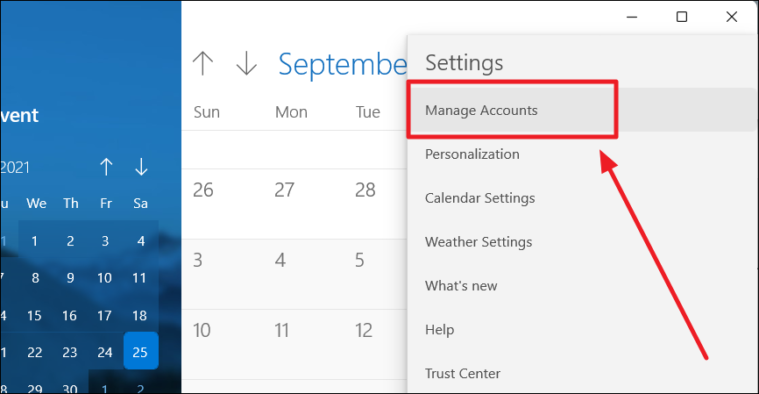 Under 'Manage Accounts', click on '+ Add account'.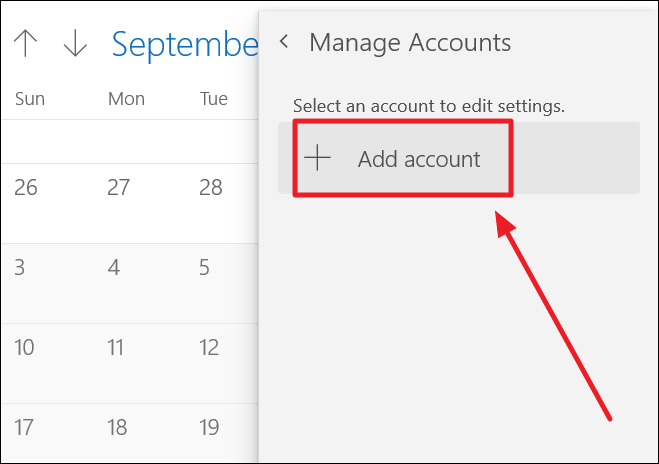 Select the Google account you want to sync with the Microsoft Calendar. Familiar Google account(s) will appear under 'Suggested'. If the account you wish to add is not here, click the 'Google' option from the list. Both will lead to the same result.
You will redirect to a 'Sign in with Google' dialog box. Here, recheck the email ID/phone number you are signing in with and click 'Next'.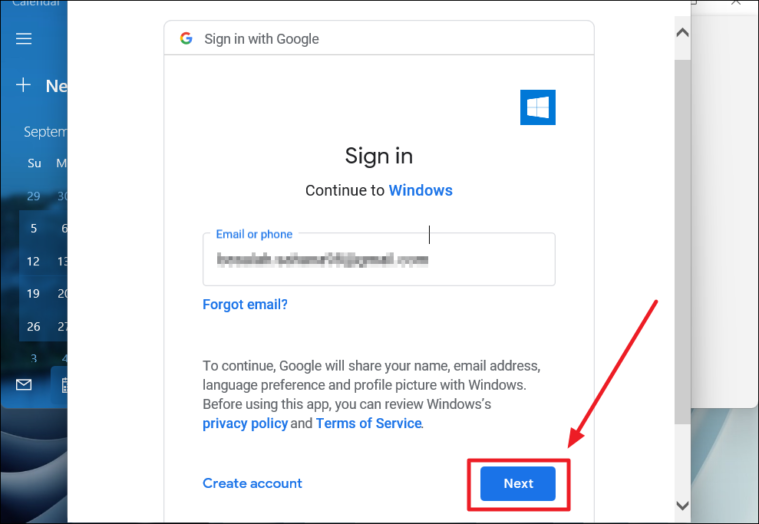 Type in your password and hit 'Next'.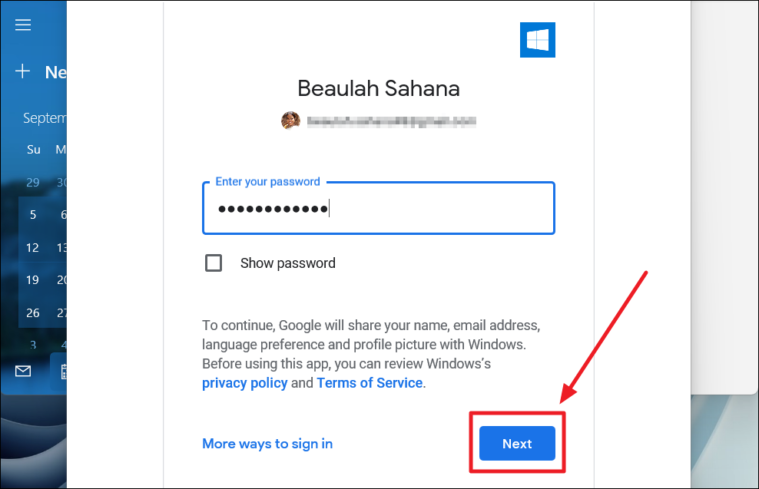 You will now view a 'Windows wants to access your Google account' confirmation box. Read the information on this box and then click 'Allow' at the bottom.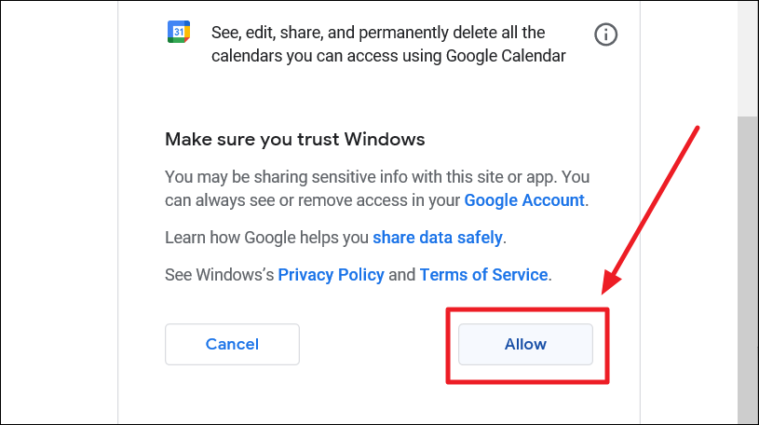 Google will ask you to type in the name you want to send messages with – enter the appropriate name and click on 'Sign in'.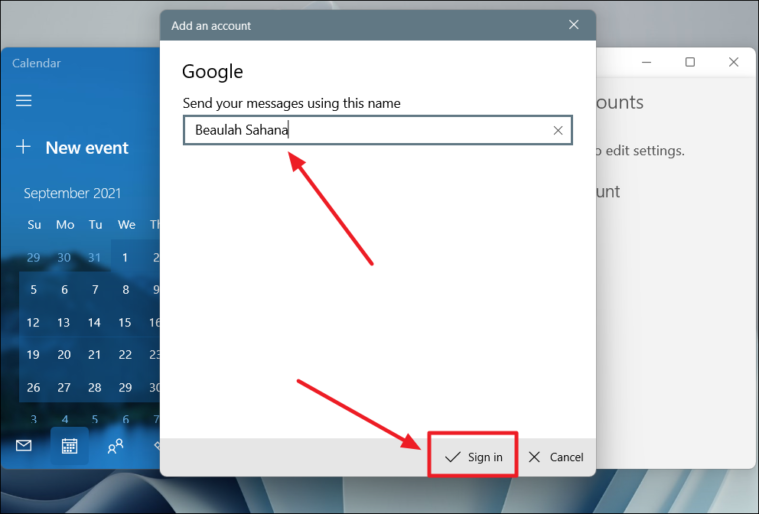 You will now receive a confirmation verifying successful account setup. Hit 'Done' to close the prompt.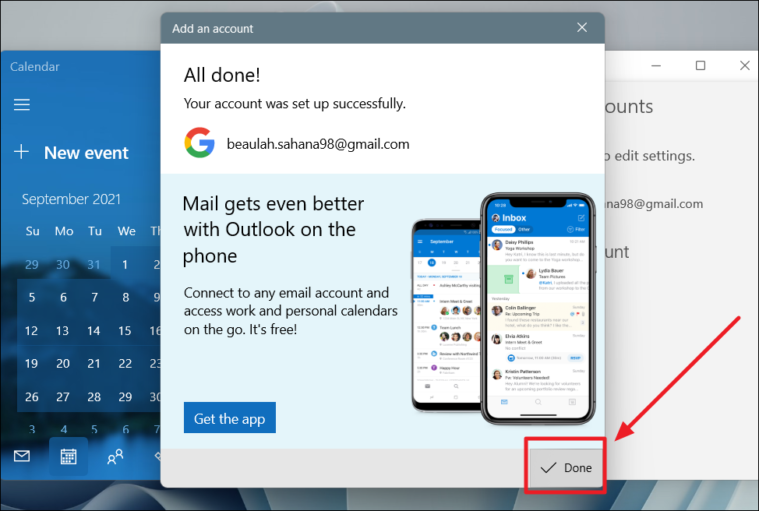 Your Google Calendar is now successfully in sync with Microsoft Calendar on your Windows 11 device.
Note: Syncing Google Calendar to your Microsoft Calendar will also, by default, sync your Google contacts and Email info.
If you don't want your contacts and email information synced with your Windows calendar, here's how you can deselect these sync settings.
Modifying Sync Settings on Windows 11
Choose the account name for which you wish to modify the sync settings, under 'Manage accounts' (as discussed before).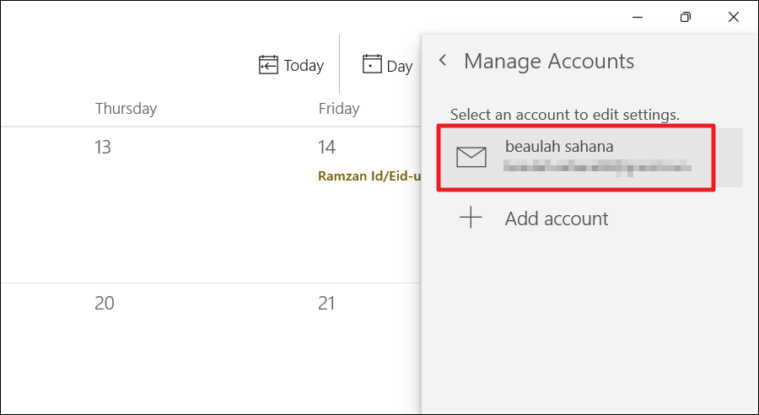 Select the 'Change mailbox sync settings' option on the 'Account settings' dialog box.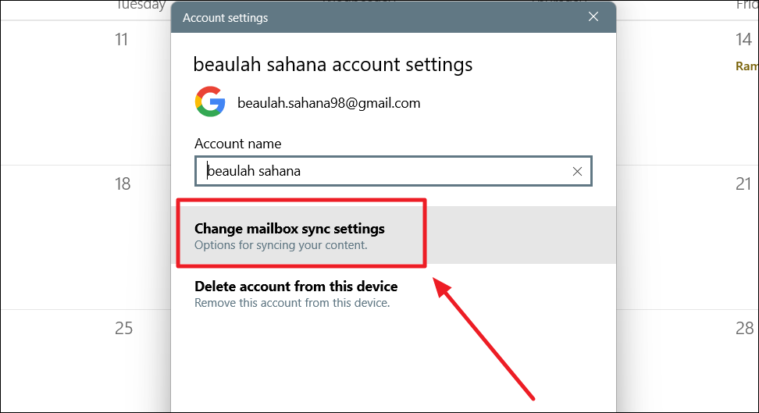 Under the 'Sync options' section, click the toggles under the sync options you wish to deselect. These toggles should read OFF and mustn't be colored. Click on 'Done', and click 'Save' on the same 'Account Settings' page the dialog reverts to.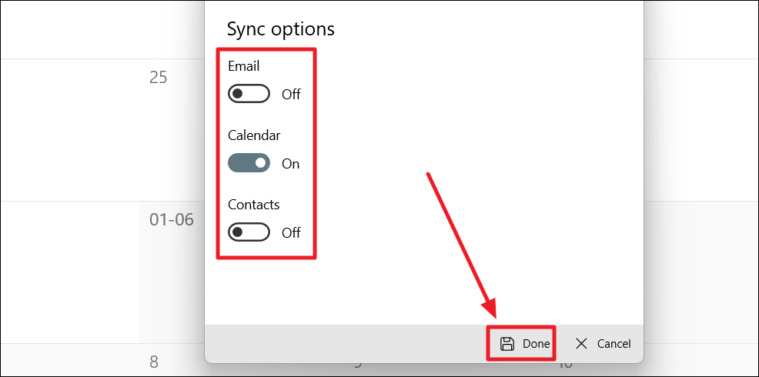 Your Google Email info and Contacts will now be out of sync with your Microsoft Calendar.
Modify What You See On Your Calendar
The Windows Calendar innately includes your Google Calendar info, the holidays in your location, and calendar information relating to your contacts. You can change them by deselecting the info you don't want to see on your Windows Calendar.
The options for the calendar info are visible on the left panel of your Microsoft Calendar. Here, click to uncheck the tickboxes for the info you don't want to see on your Calendar (they will all be checked by default).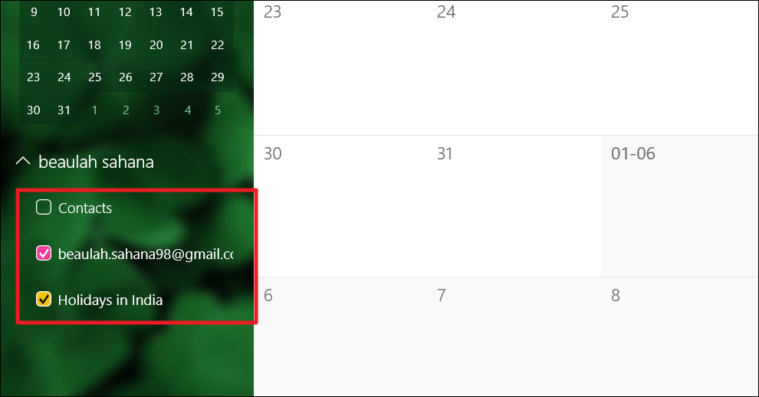 You will now see only the chosen information on your Microsoft Calendar.