While PowerPoint presentations have been the go-to for many years, they are not everyone's cup of tea. They can require a significant amount of effort, and even then, exceptional results aren't guaranteed. This is where Gamma AI enters the picture, ready to revolutionize the way we create presentations.
In the era of AI-powered applications, Gamma is a game-changer with its AI for automating something most students and corporate employees have worked with – slide decks. If you're looking to create beautiful, engaging content without the headache of design work, Gamma AI will be your new best friend. It is a platform that breathes life into your ideas and presents them in a visually stunning manner. So, let's dive into the world of Gamma AI and see how it can transform the way you present your ideas!
What is Gamma AI
In essence, it's a new medium for presenting ideas powered by artificial intelligence. Users have described it as a cross between Notion and Canva, and that is saying something. You start by writing what you want, and the system takes over the formatting and design work, delivering engaging and beautiful content.
Gamma AI uses your prompts to create beautiful docs, decks, and webpages for you in under 30 seconds. You don't have to worry about any formatting or design. You can also start with their templates instead of starting with a blank page. And you can customize the entire deck in just one click with the help of the AI.
Gamma AI also boasts a lot of other features. You can even present live, view analytics, embed charts, GIFs, videos, and even entire web pages. It's a beautiful new medium for creating presentations that are interactive, collaborative but, above all, easy to make, and you're going to love it.
Gamma AI Price
You can try Gamma AI for free. Gamma AI gives 400 credits to free users, which can be used to create and customize decks. It uses 40 credits for each new generation (deck, doc, or webpage) and 10 credits for each editing which takes an AI response like rewriting the content, adding cards, or finding images. Errors or clarifications do not cost any credits. You can earn more credits by referring others to Gamma.
Gamma Pro, which includes additional features like unlimited AI credits, advanced analytics, no "made with Gamma" watermark, etc., costs $16/month.
How to Use Gamma AI
Using Gamma AI is extremely easy with its intuitive interface.
Getting Started
To get started, navigate to gamma.app using any browser on your computer and click the 'Sign Up for free' button.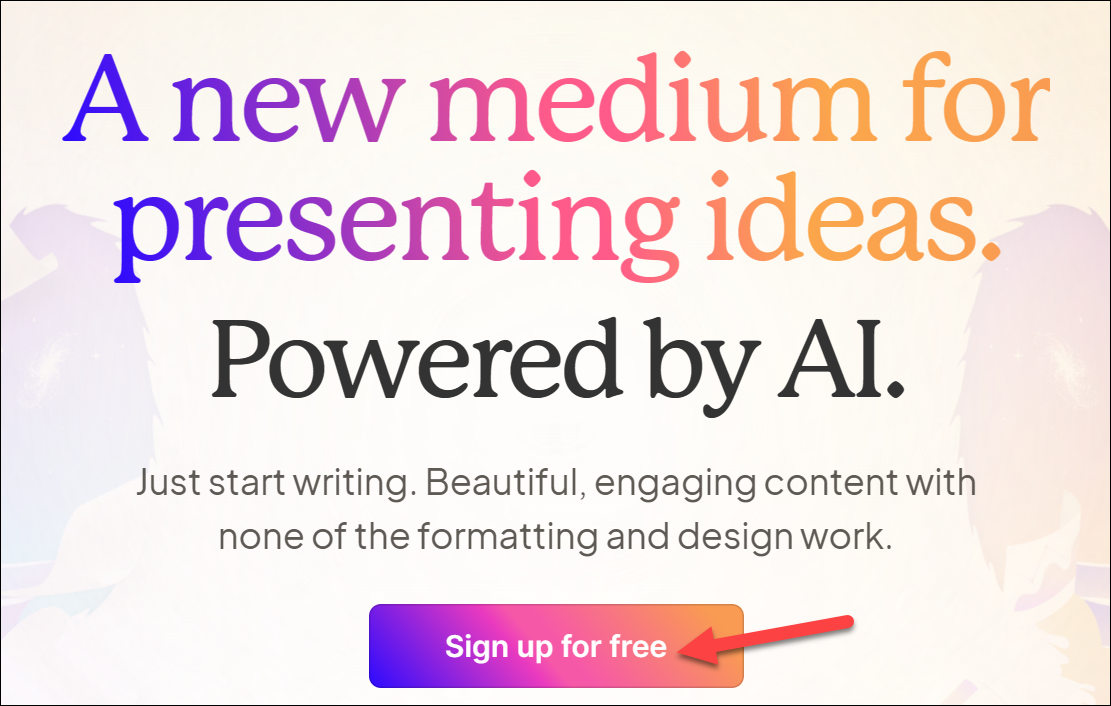 Sign up using your email address or directly using your Google account.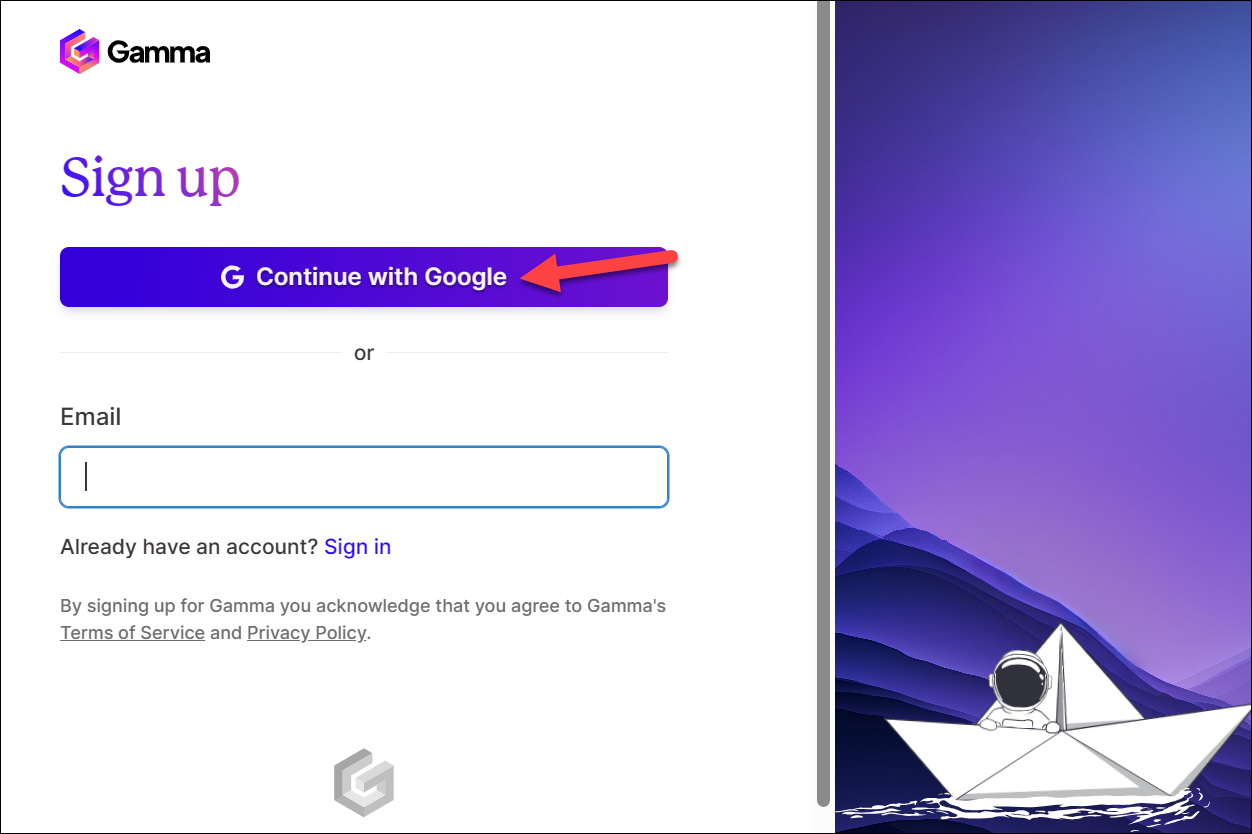 Then, choose whether you want to use Gamma personally or for your team/ company. You can always change these settings later. Enter a name for your Workspace and click the 'Create workspace' button.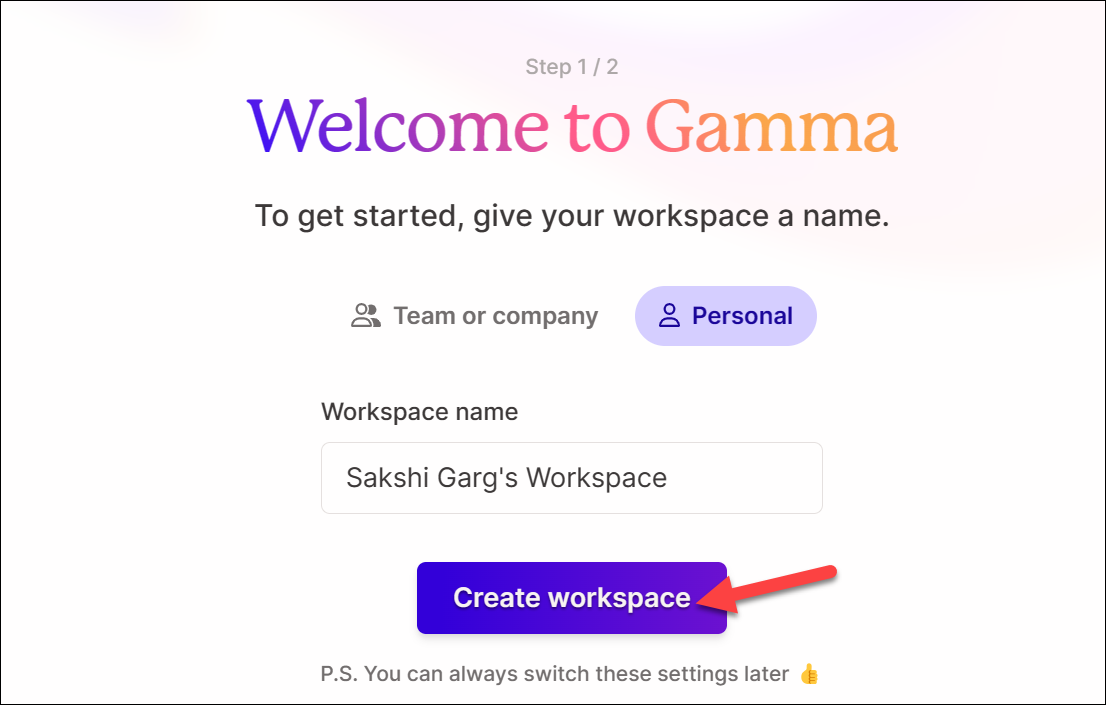 Next, select how you want to use Gamma AI and click 'Continue'.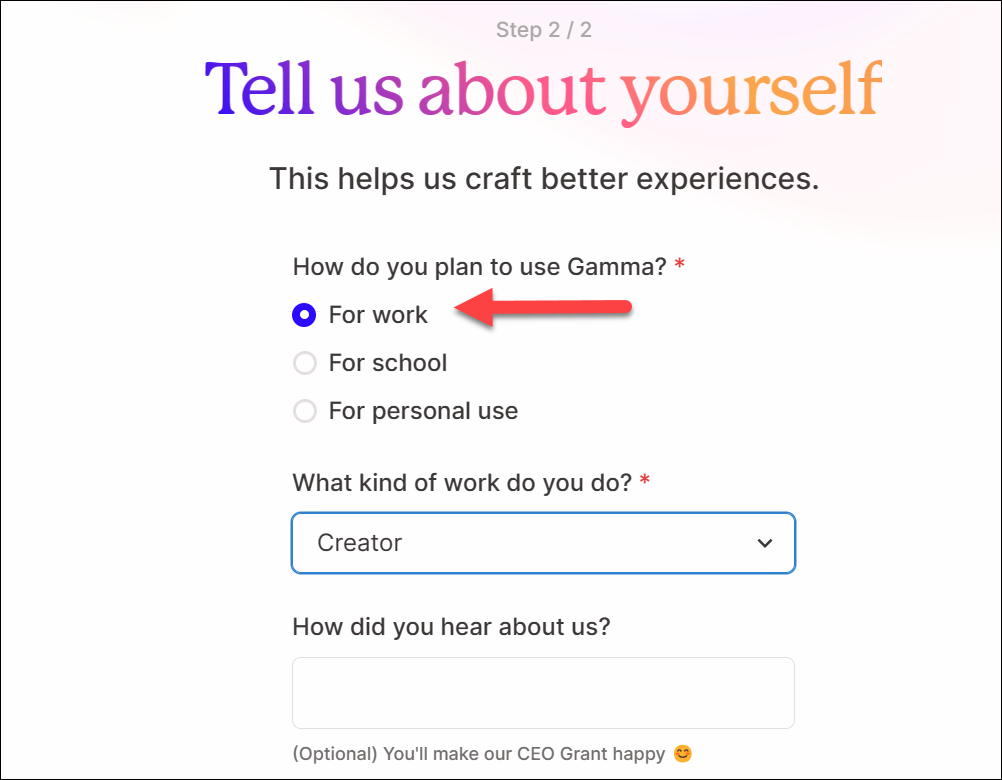 Creating with Gamma AI
Gamma AI is set up and ready to use. Select whether you want to create a 'Presentation', 'Document', or 'Webpage'. If you don't want to create anything now, click the 'Home' button in the top left corner. Remember that this will start a generate session with the AI and will use up your credits. For this guide, we selected 'Presentation', and hence, we'll be creating a deck.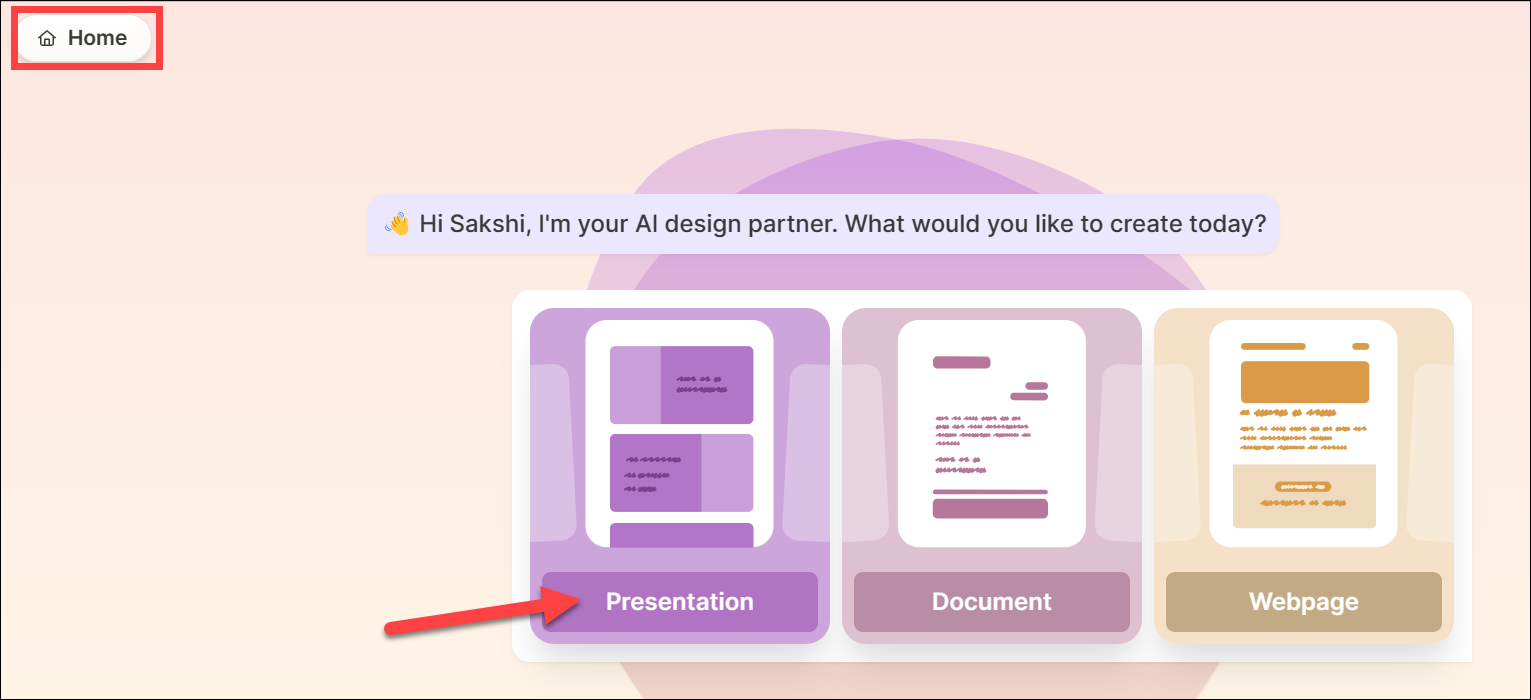 Then, enter the topic and press the 'Send' button or use one of their suggestions to get started quickly.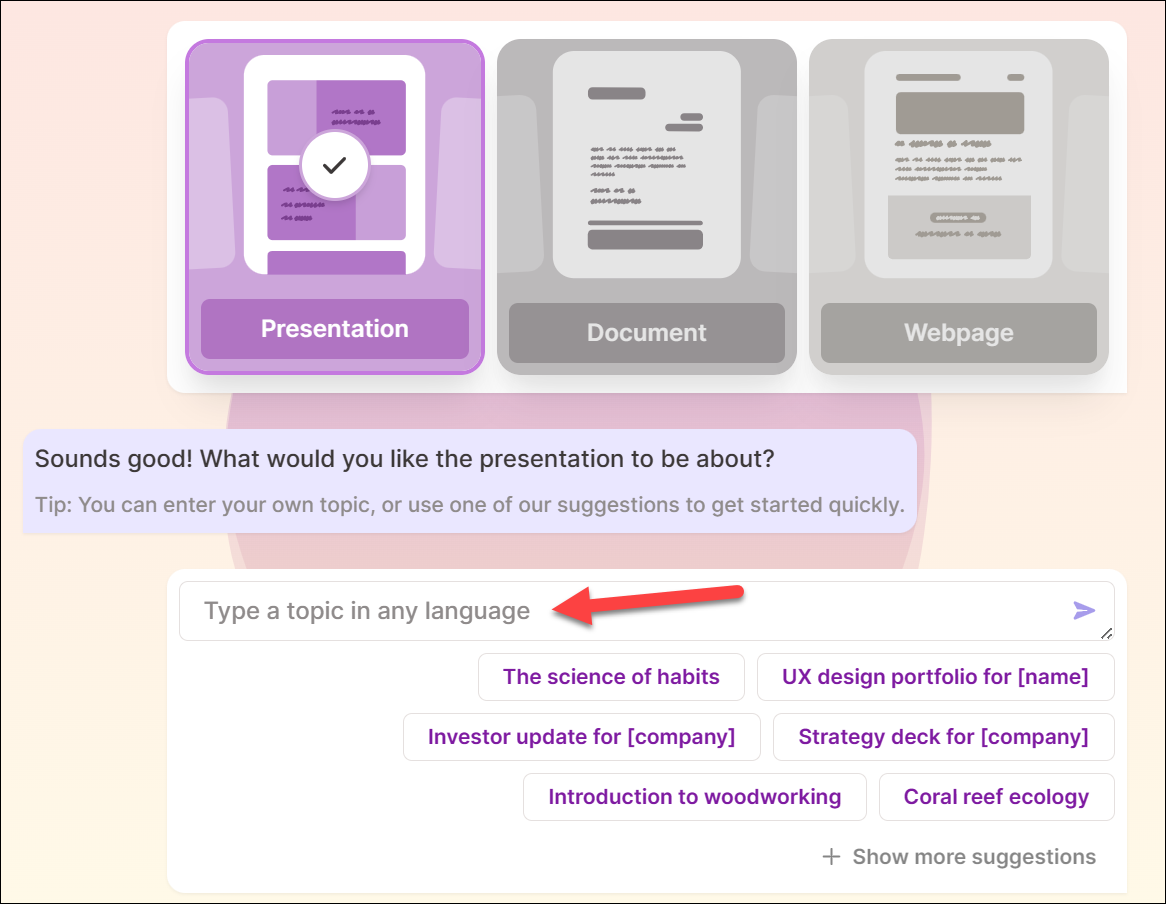 Gamma AI will generate an outline that you can preview. You can also edit it yourself or ask Gamma to regenerate it.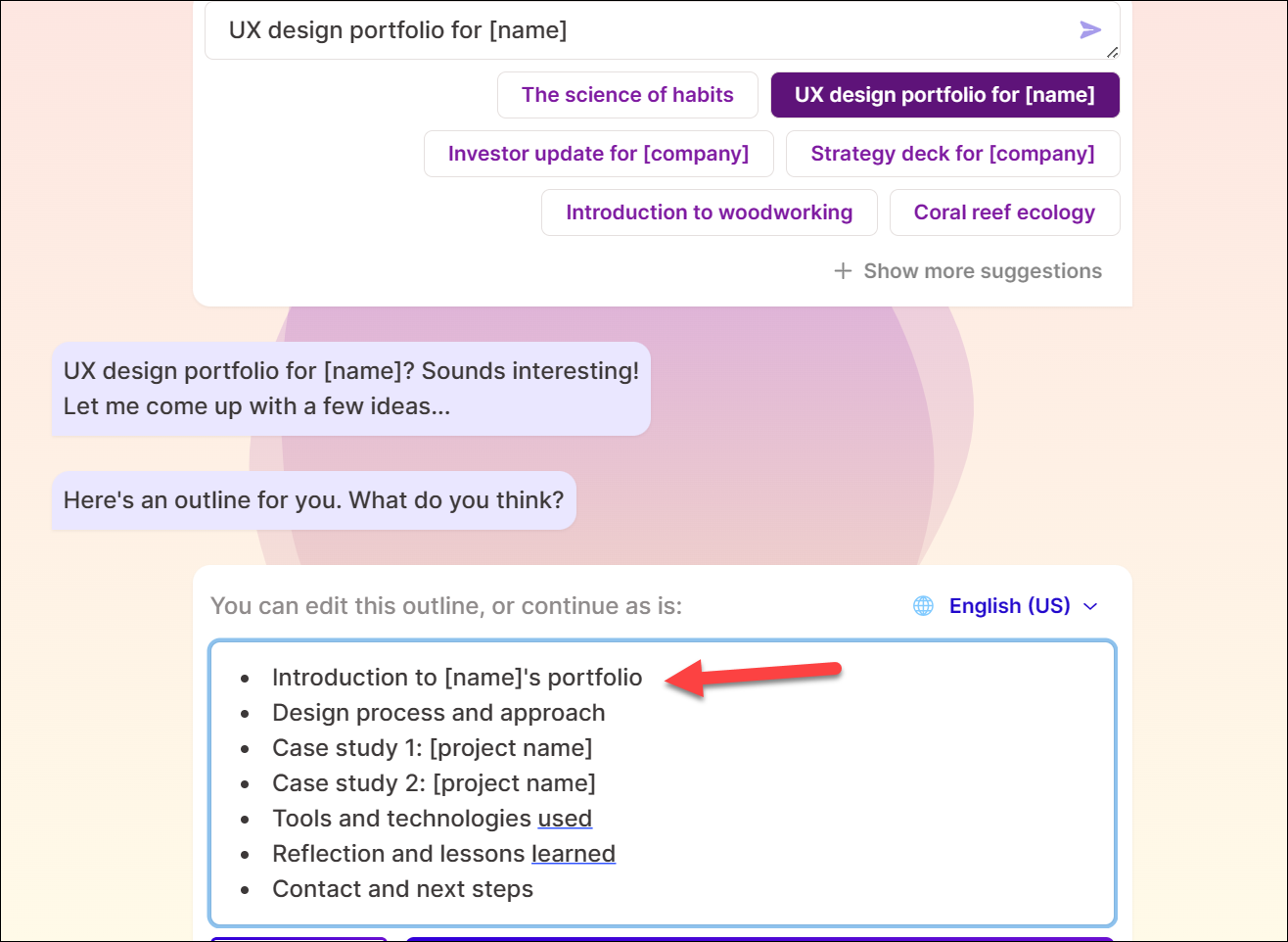 Once you're happy with the outline, click on the 'Continue' button. This act will use 40 credits.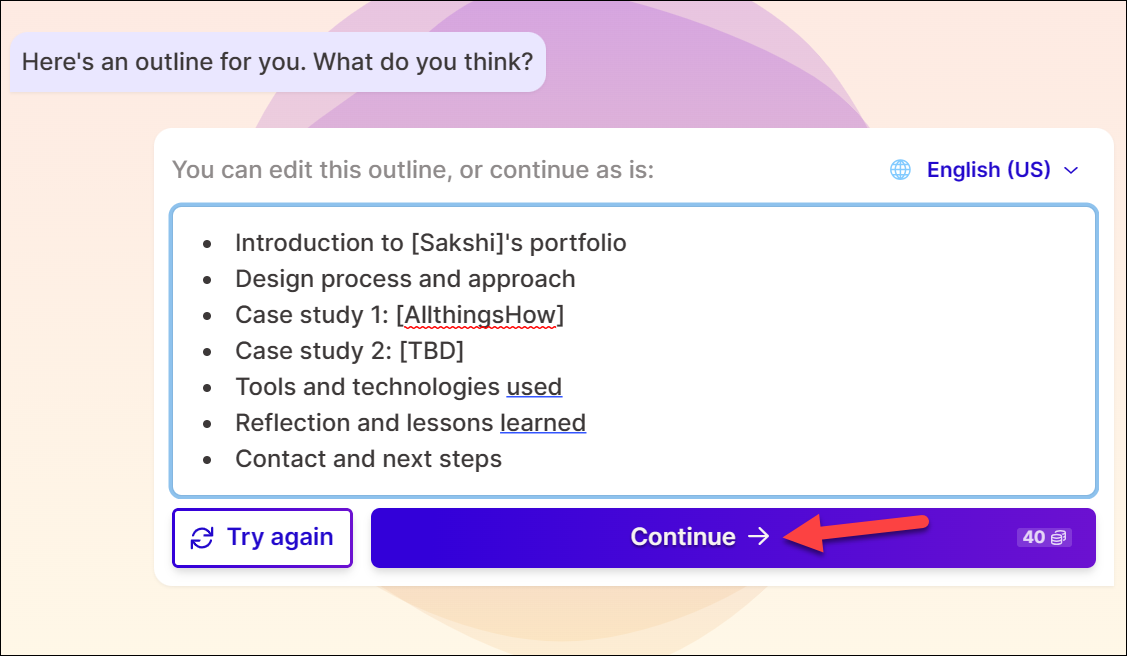 Next, choose a theme for your deck. You can navigate between different themes from the panel on the right or roll the dice, i.e., click the 'Surprise Me' button to let the AI choose a theme for you. Click 'Continue' once you're happy with the theme.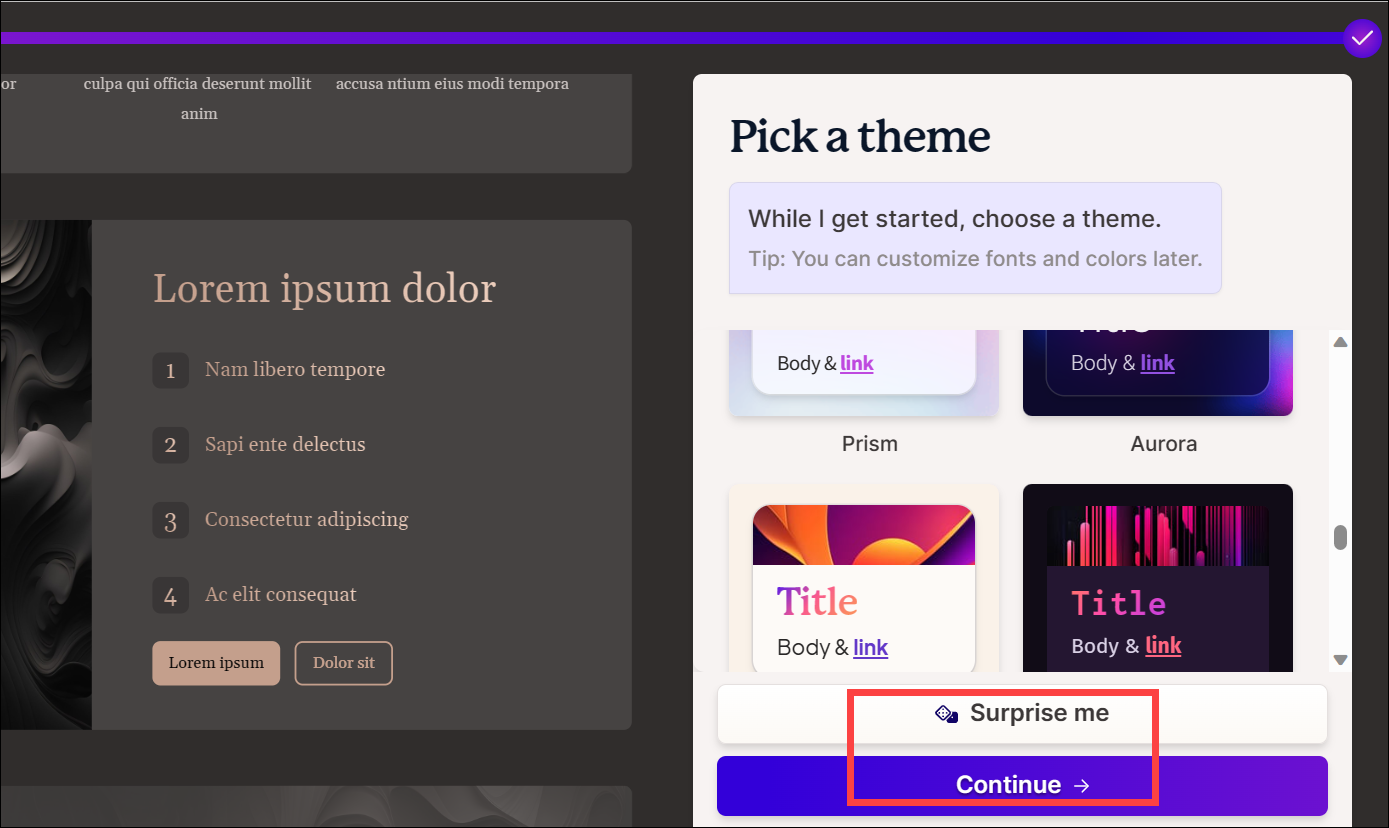 Gamma will generate the presentation for you.
Navigating the Editor
Once the AI generates the deck, you can customize it however you like it. All text and images are editable. You can edit it yourself or ask the AI to edit anything.
To ask Gamma AI to edit the presentation, click the 'Edit with AI' button from the toolbar on the right.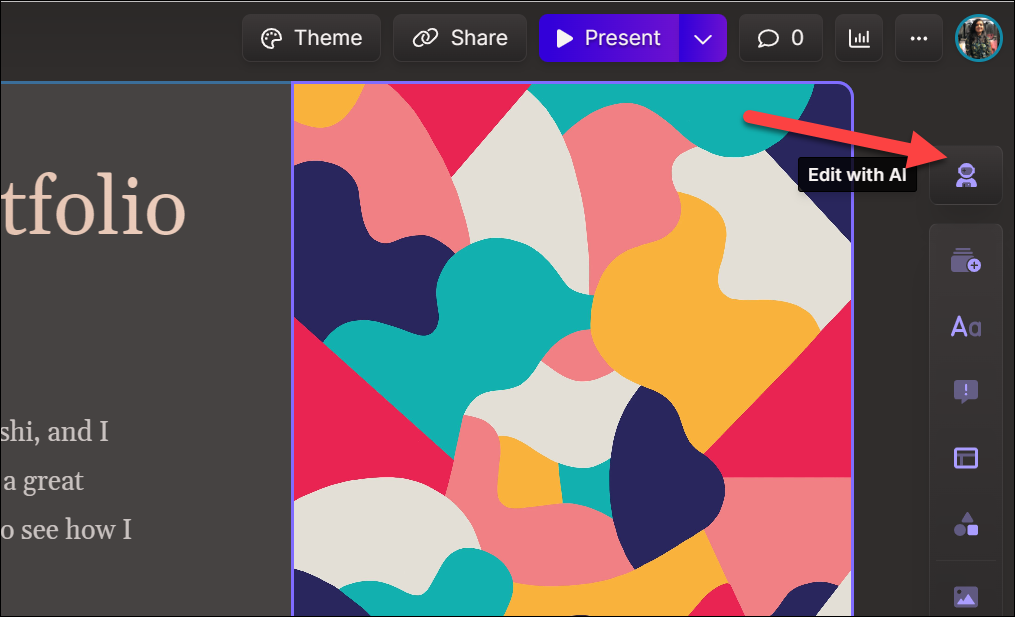 The panel for using the AI will open on the right. You can ask it anything – to change the entire theme, add a new card (slide in a presentation), edit the current card, expand on a topic, format the information as a table, or change the visualization.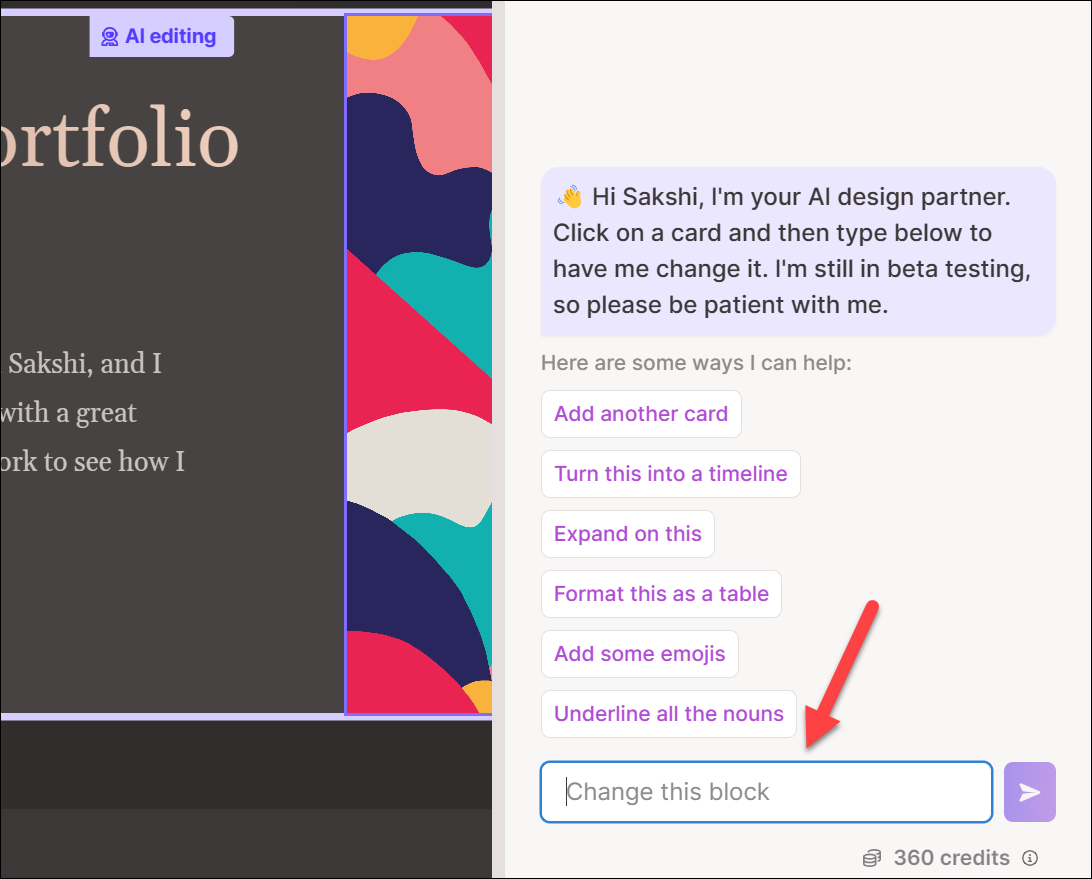 All you have to do is write your request clearly and click the 'Send' button. Each request will use 10 credits. To format a particular card, make sure you select it before sending your request.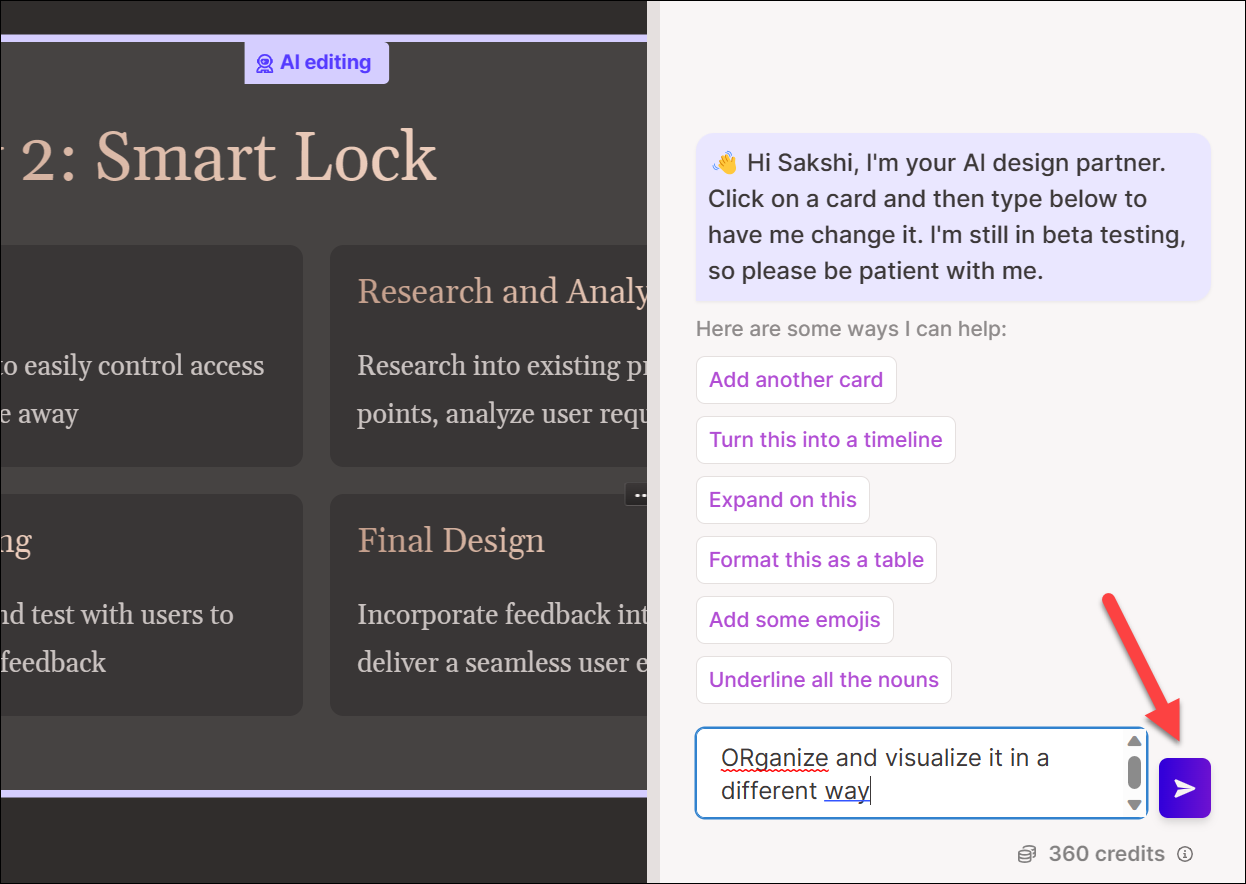 Depending on the request, it might show some suggestions for edited content, and you can choose which option you like. Or it might simply make the changes, and you can decide whether you want to keep the edited or the original card.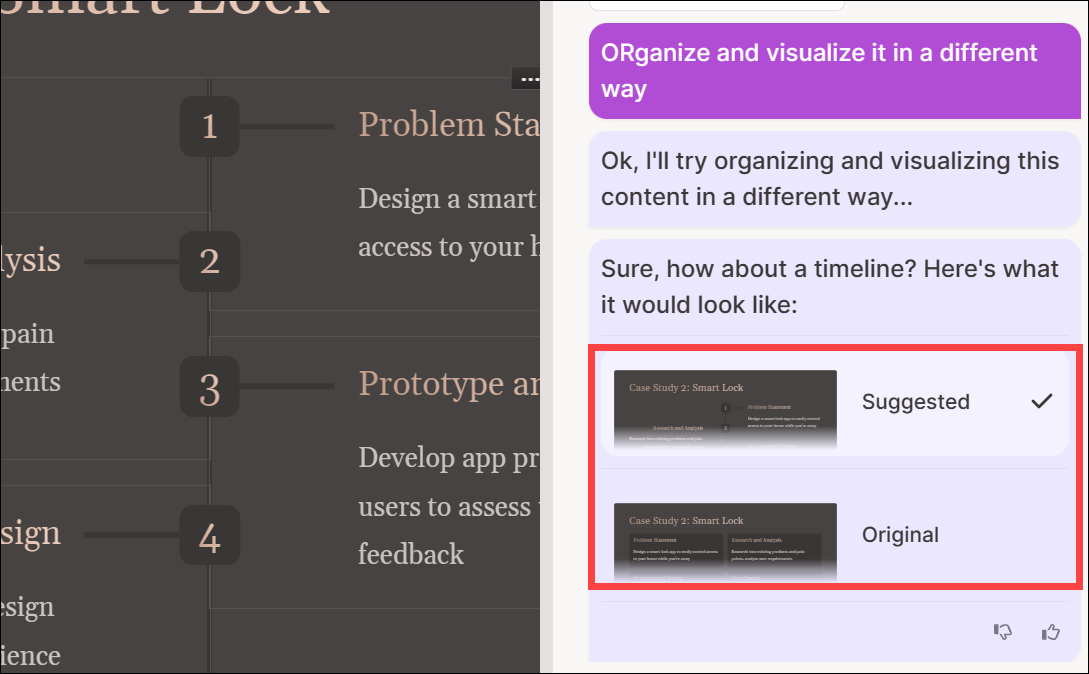 Other than using the AI, you can edit everything yourself as well.
To add a new card with AI, you can click the 'Add card with AI' option above the deck where you want to add the new deck.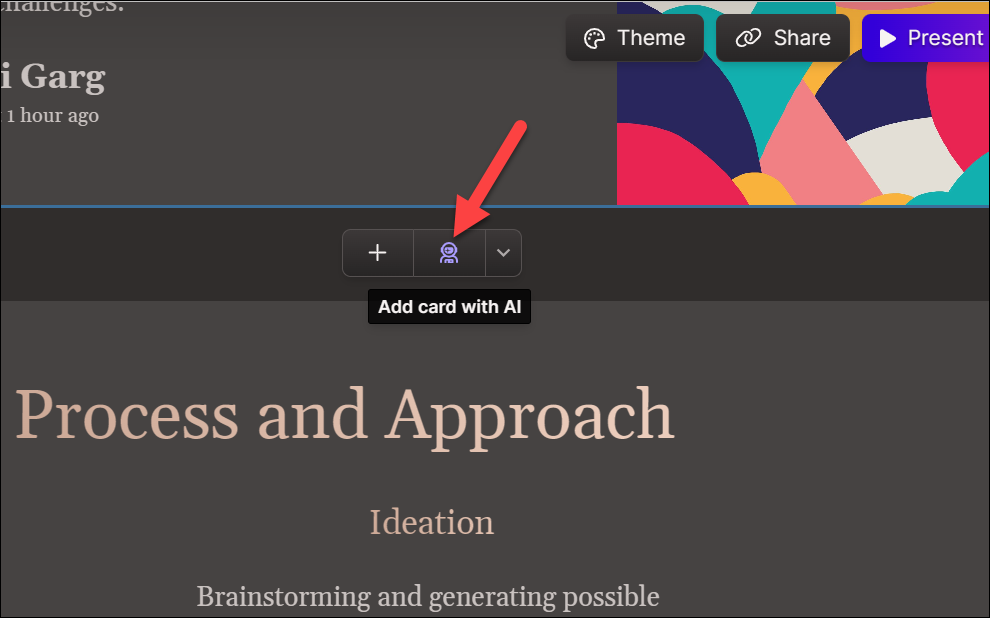 But if you want to add a card yourself, there are two options. To add a new blank deck, click the 'Add blank card (+)' option.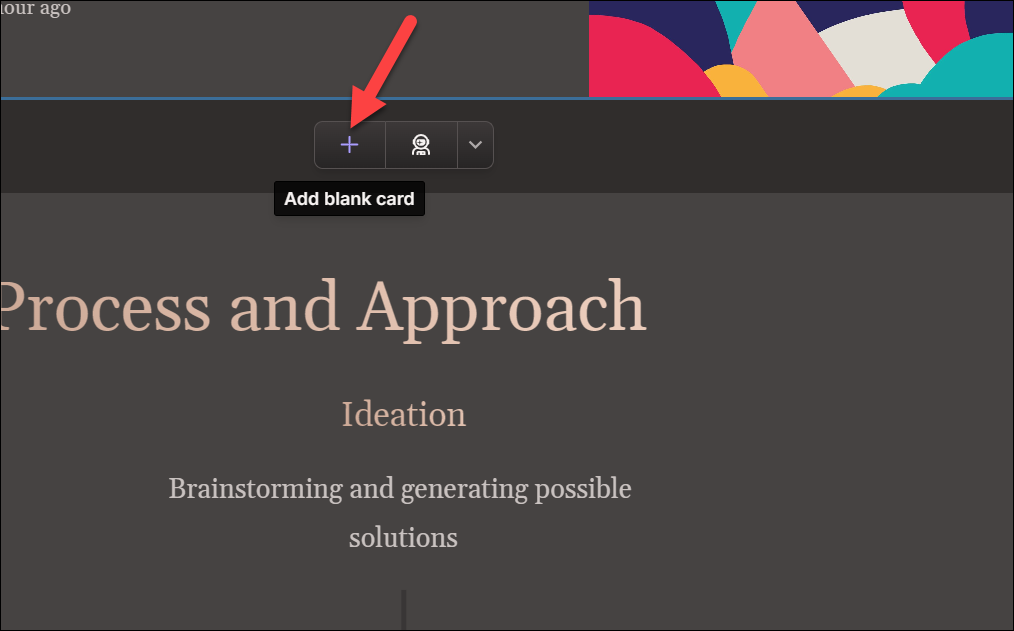 There are also templates to choose from for adding different types of cards. To view templates, click the 'Card templates' option from the menu on the right. The templates panel will open. Select the card you want to add. This will insert the card at the end.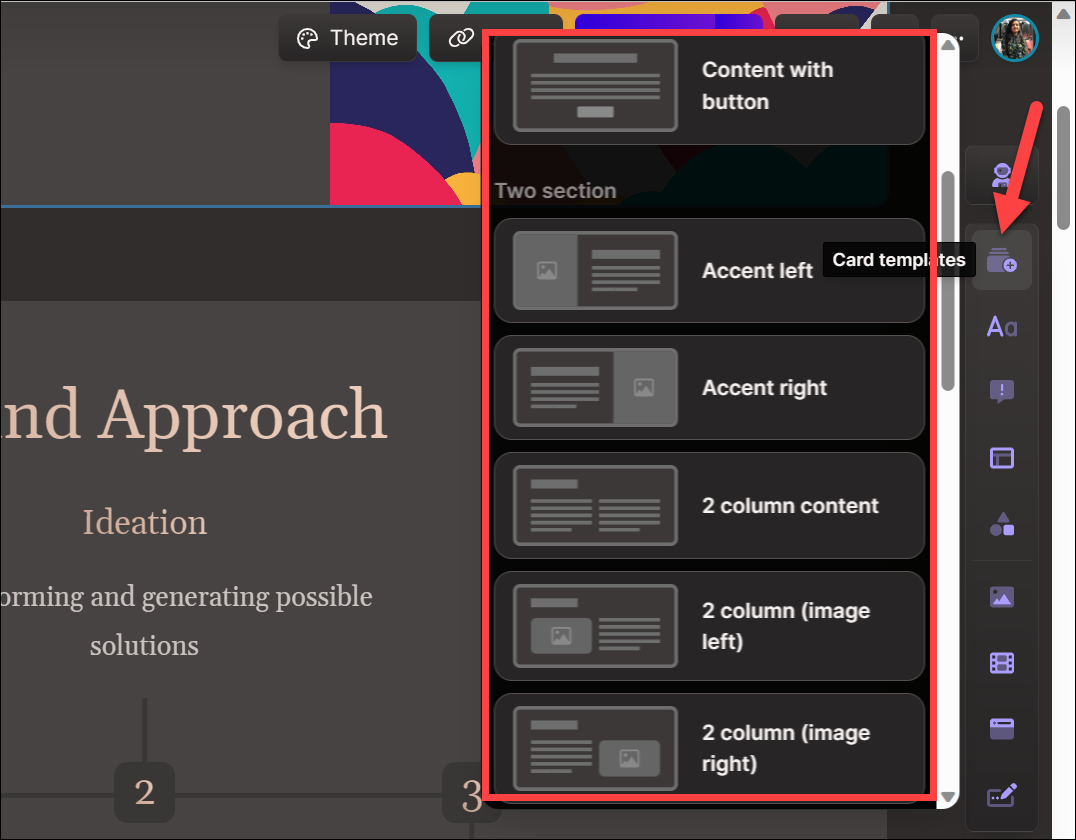 To add a card above any other card, click the 'Add from Template' option above that card.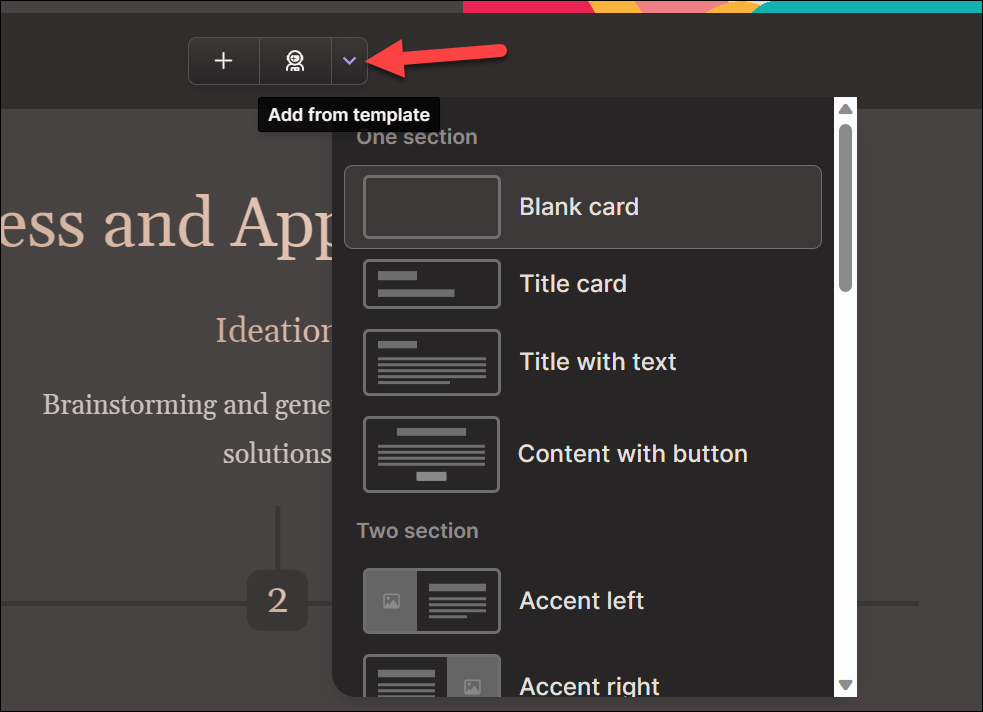 Similarly, you can choose different formatting for text from the 'Text formatting' option. You can also add callout blocks and other layout options.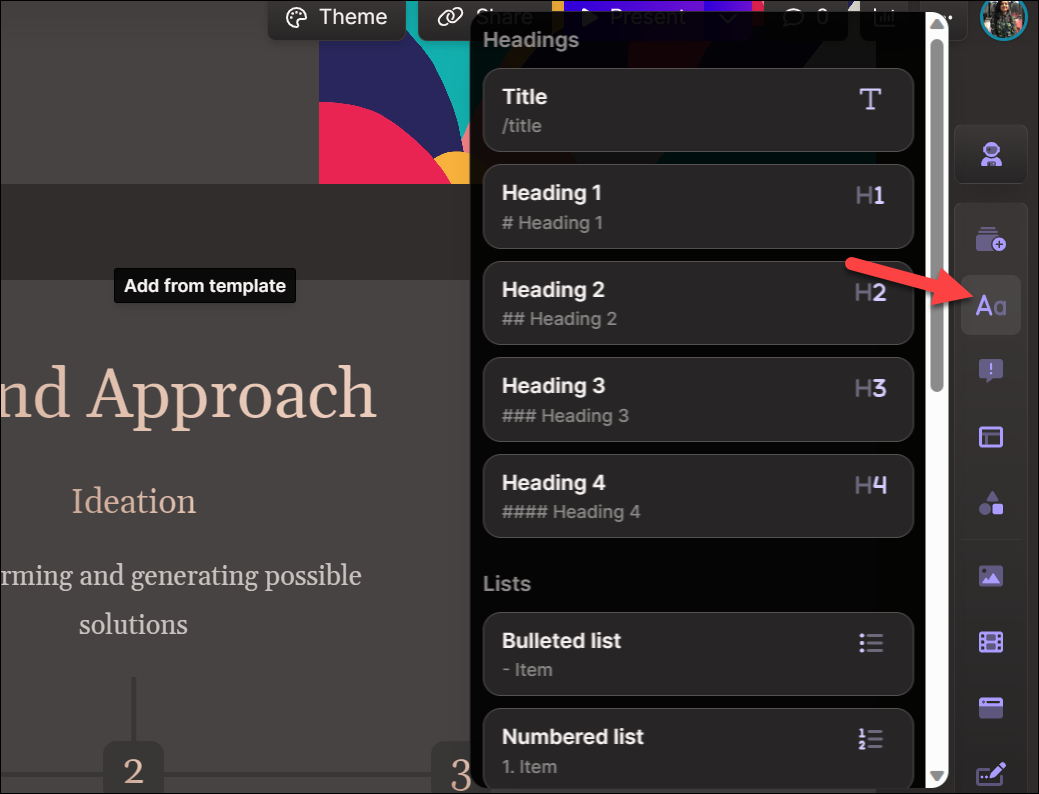 If you want to add visual elements such as timelines, diagrams, etc., go to the 'Visual Templates' option.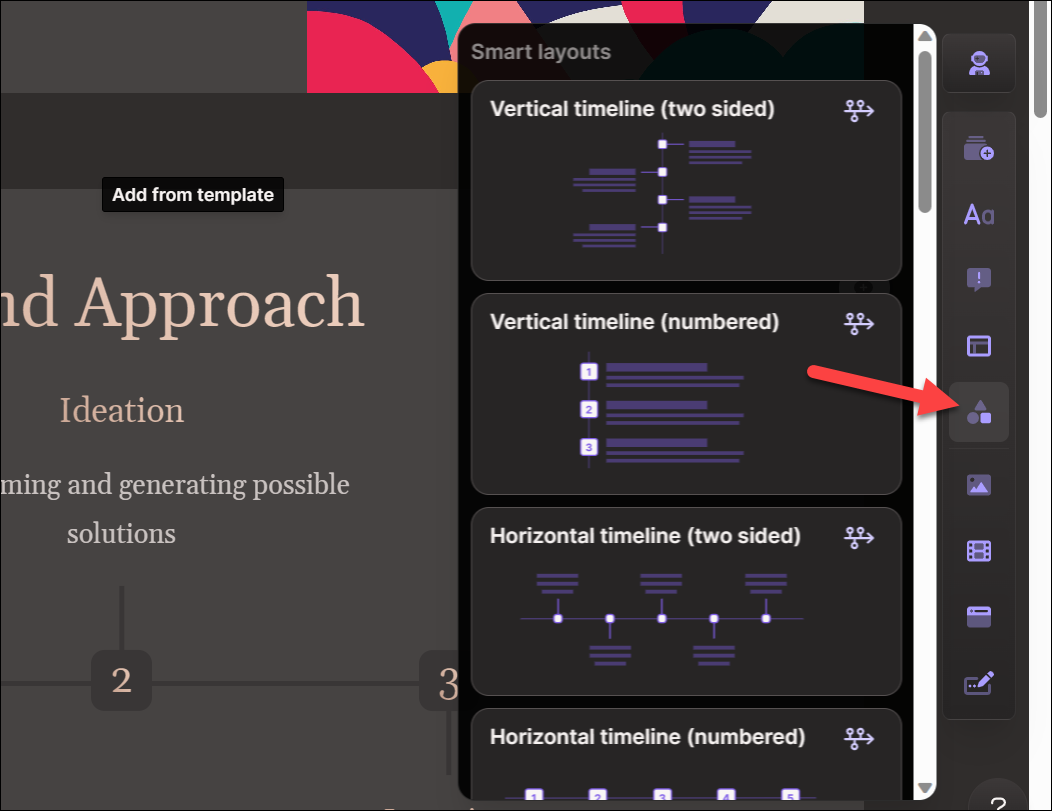 You can also embed photos (images, GIFs, etc.), videos (even YouTube, Instagram, TikTok videos, etc.), apps, webpages, forms, and buttons with the options on the menu bar.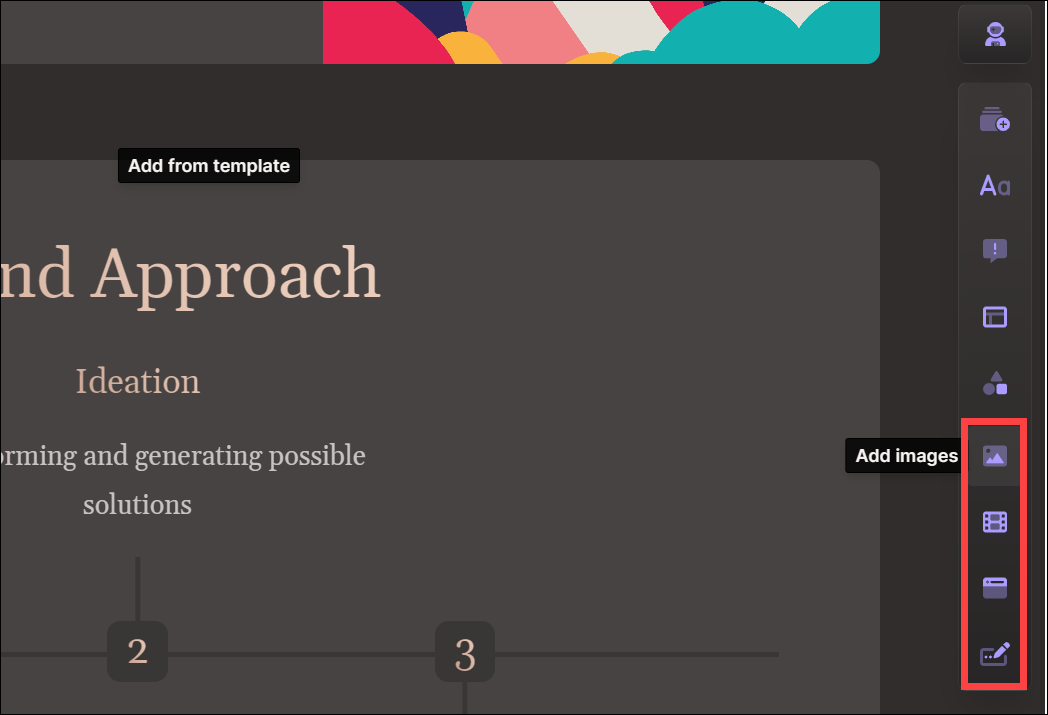 You can also edit the theme by going to the 'Theme' option from the toolbar on the top. The top toolbar also lets you share, present, or view the analytics for the deck from the respective options.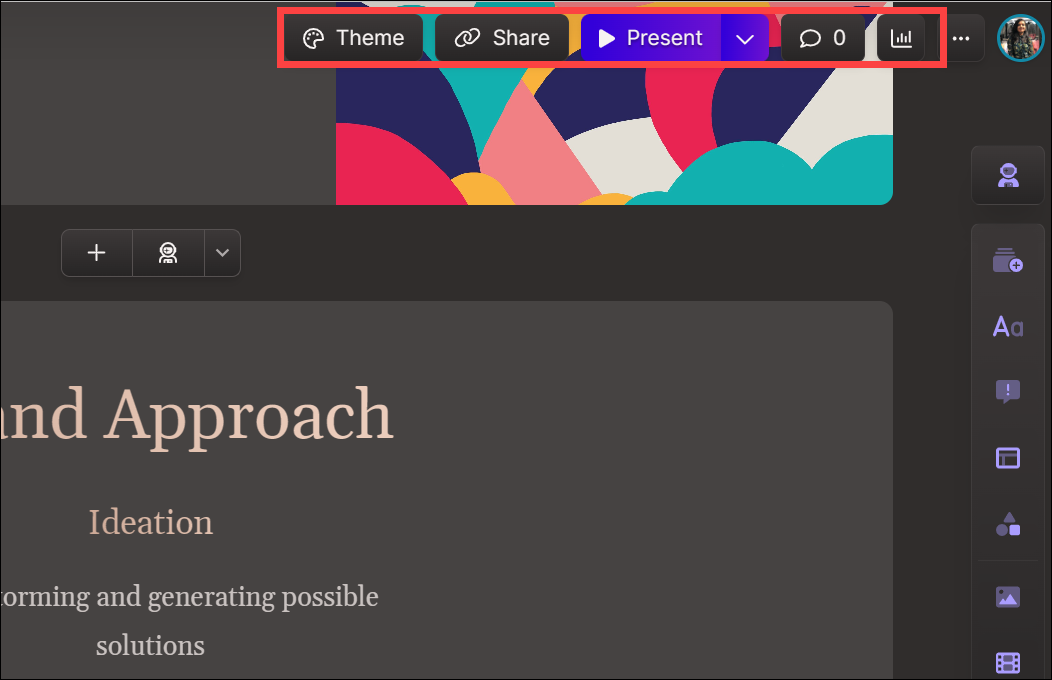 To go back to the Gamma app, click the 'Home' button in the top left corner.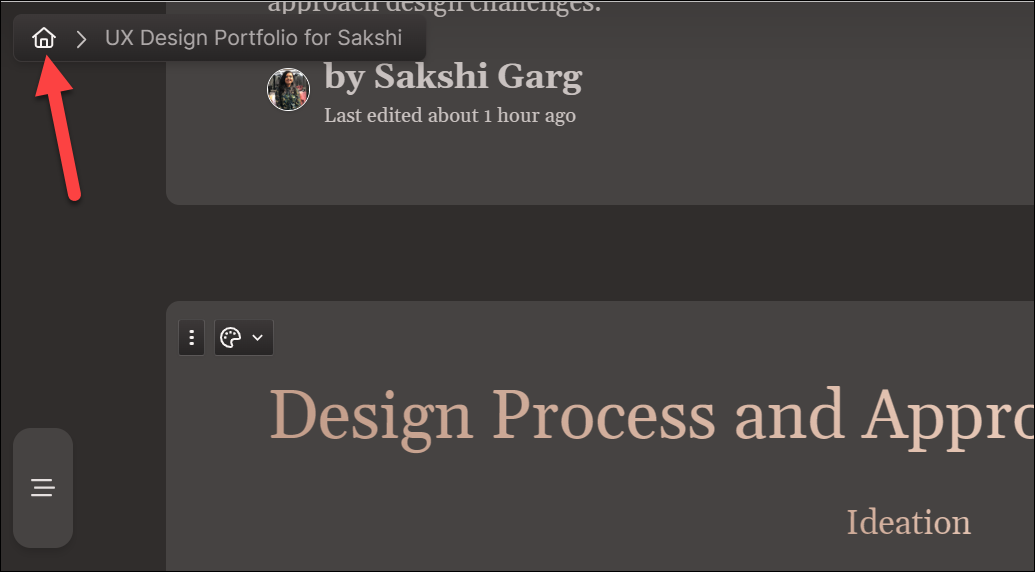 You can see all your decks here. You can also create a new deck by using the 'New with AI' option that uses Gamma AI to create the deck or 'New blank deck' option where you can start from scratch using Gamma's tools at your disposal.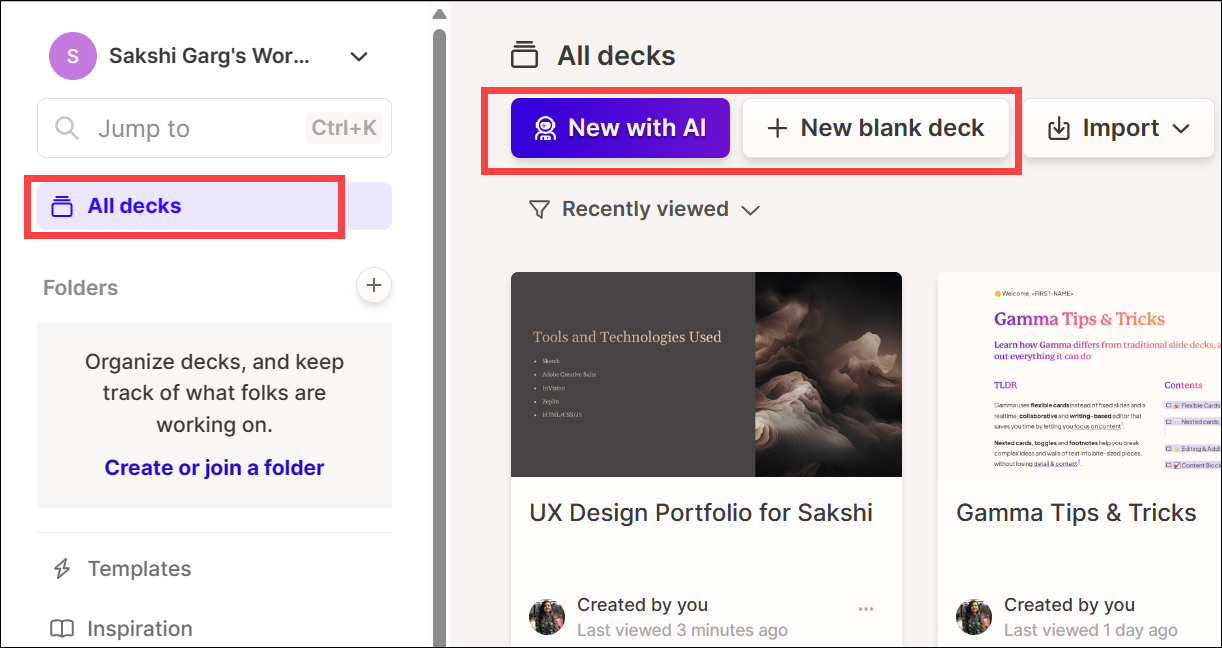 From the navigation menu on the left, you can also browse templates, themes, or some sample decks from Gamma (for inspiration), custom fonts, etc.
---
And that's about it. Using Gamma AI to create presentations, webpages, or docs is easy. Switching to a new medium, for something you have been creating for a long time using one app, can be daunting. But Gamma will make the transition seamless for anyone, especially given its intuitive interface.