The recent introduction of custom GPTs in ChatGPT by OpenAI offers a groundbreaking opportunity for users to tailor AI models to their specific needs. For the uninitiated, GPTs are customized versions of ChatGPT that anyone can create to help them with specific tasks, scenarios, etc. You can create them to help with work, hobbies, and just about everything.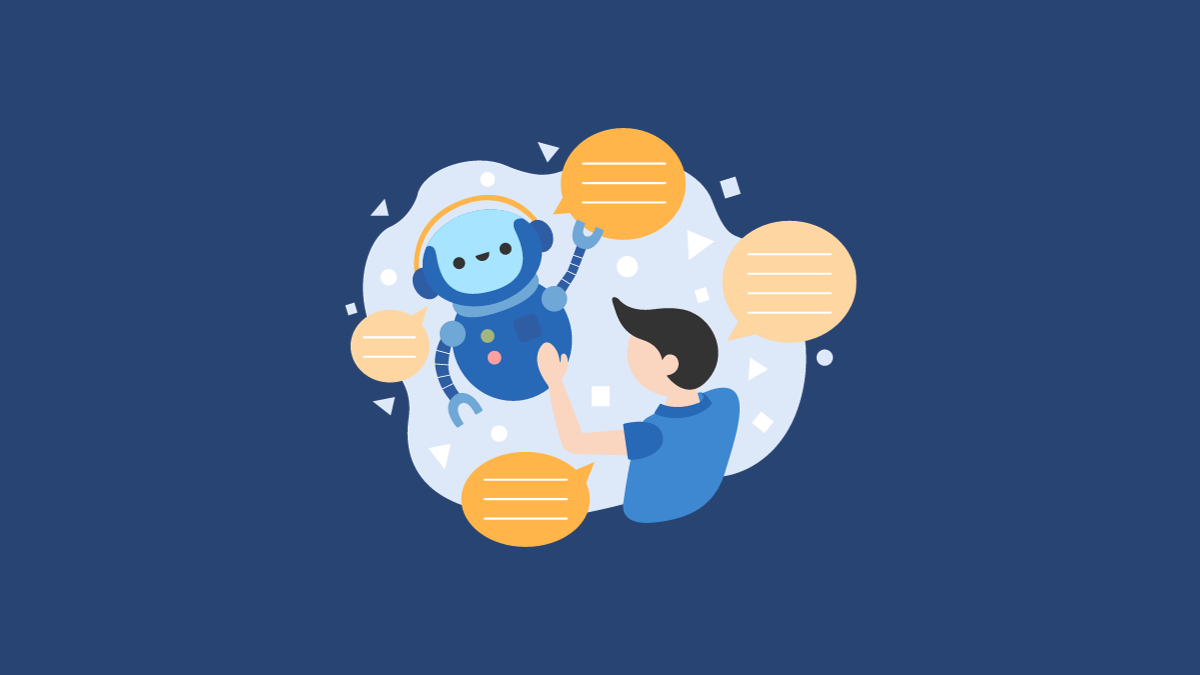 Apart from creating your own GPTs, you can also currently use GPTs made available by OpenAI. These include ChatGPT customizations like Board Game Helper, Creative Writing Coach, Sticker Whiz, Math Mentor, Sous Chef, The Negotiator, etc. OpenAI has also made available Canva and Zapier GPTs.
Note: GPTs are currently only available for ChatGPT Plus and ChatGPT Enterprise users.
The company also plans to launch a GPT store (similar to an App Store) in the coming weeks, where you'll be able to find GPTs created by others. With the GPT Store, OpenAI also plans to help make creators money based on how much their GPTs will be used.
While the GPT Store is not live yet, you can also currently use any GPTs that others have shared with you using a link or through their social media channels.
What about privacy? The most important question that must come to mind when you think about using GPTs created by someone else (not you or OpenAI) is privacy. Will the GPT creators have access to your chats with their GPTs? The answer is a straightforward no. OpenAI has also put automatic systems in place that will help ensure that GPTs follow their usage policies. The company does plan to implement analytics and feedback mechanisms for GPT builders in the future, but of course, without compromising on your privacy.
Now, GPTs can also have actions where creators can add third-party APIs to have the GPT perform an action, like looking up flight information. When you're using a GPT that performs an API call, parts of your chat will be shared with the third-party provider of the API (still not with the GPT creator).
Now, that all that's cleared up, let's see how you can use GPTs in ChatGPT.
Use GPTs in ChatGPT
While creating GPTs in ChatGPT requires some time, using them is quick and straightforward.
Go to chat.openai.com and log in with your ChatGPT Plus or Enterprise account.
From the left sidebar, click on the 'Explore' option.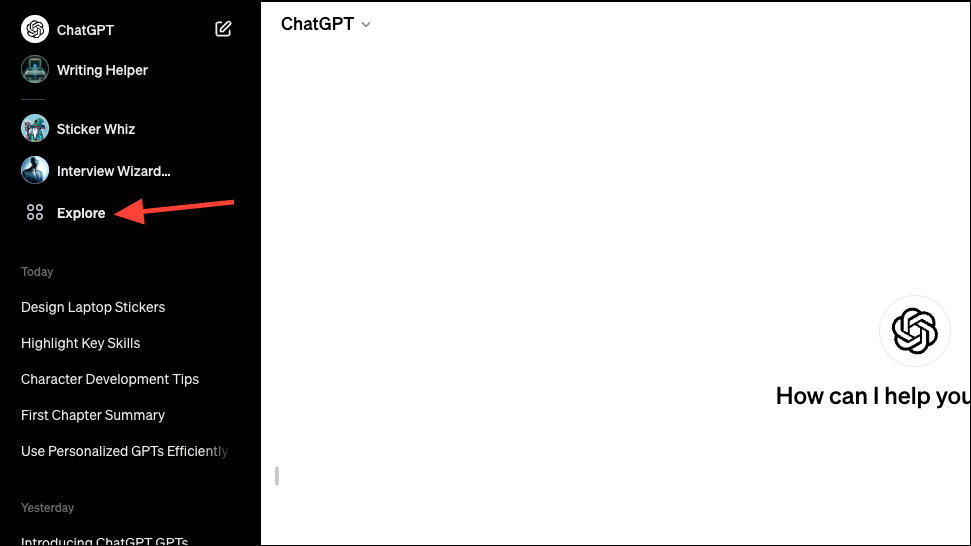 You'll find all the GPTs made by OpenAI in the Explore tab. Click the one you want to use.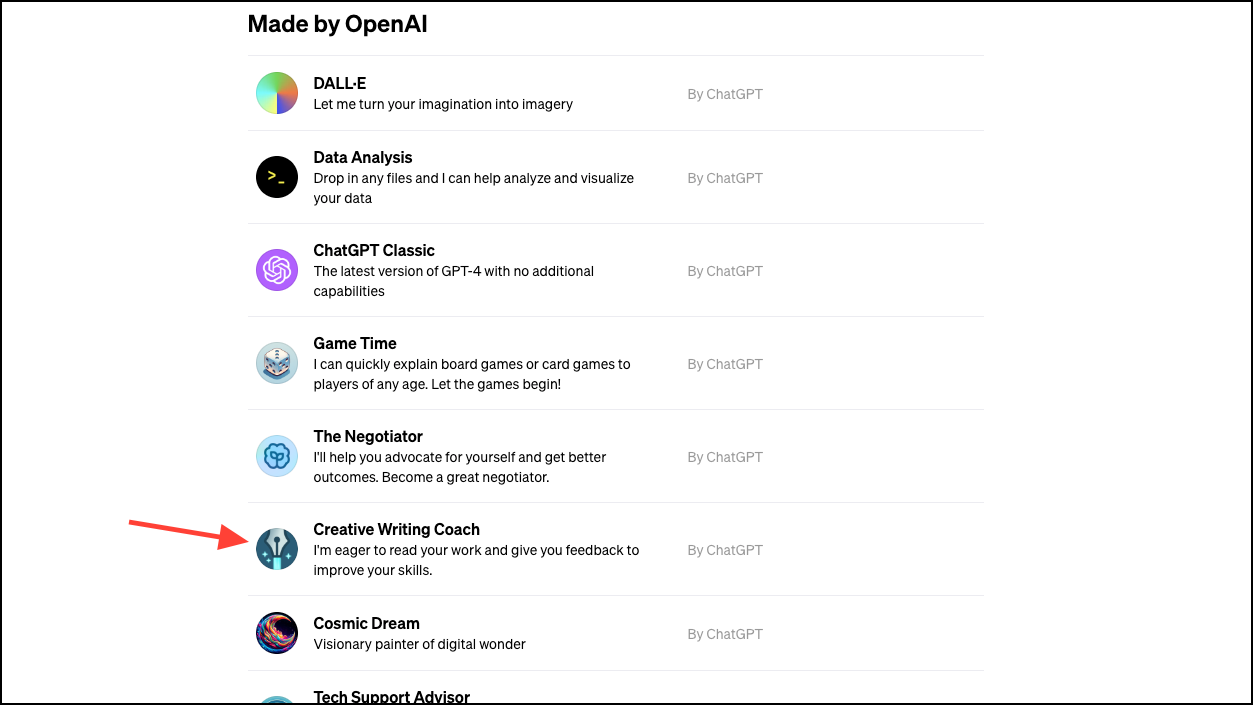 The GPT will open. Most GPTs will have conversation starters that you can click to ask a question. Or, you can simply type your prompt and send it to the GPT as you normally do with ChatGPT.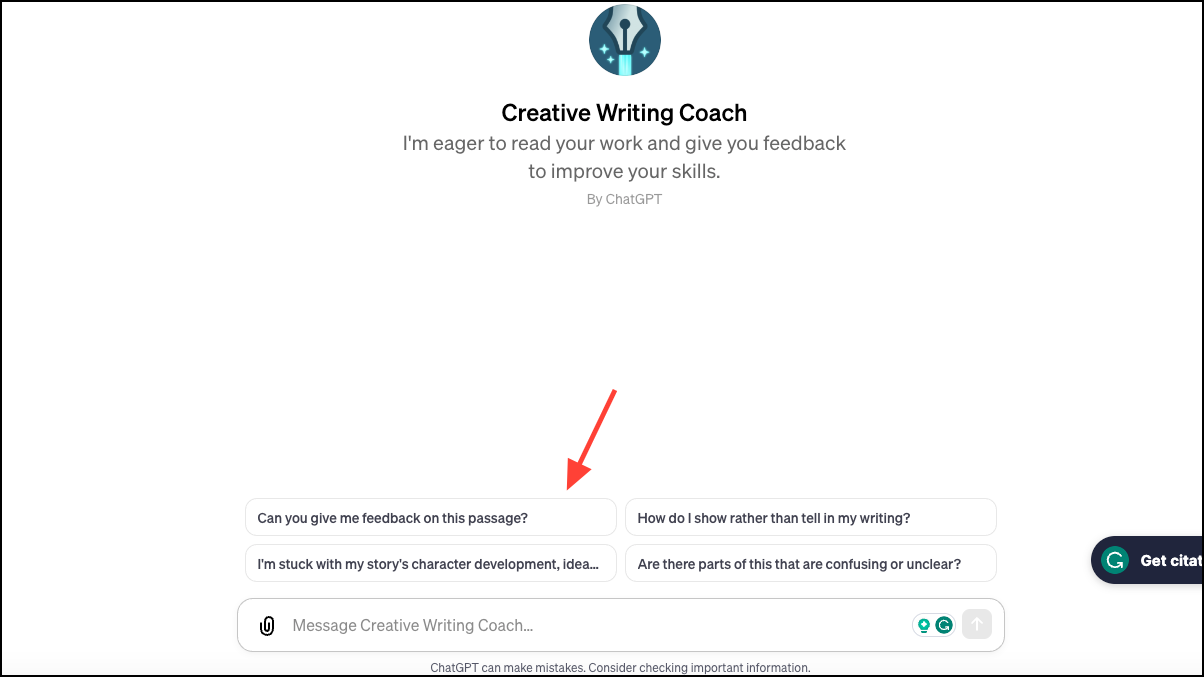 To start a new chat with the GPT, click on the GPT name in the top-left corner of the chat pane.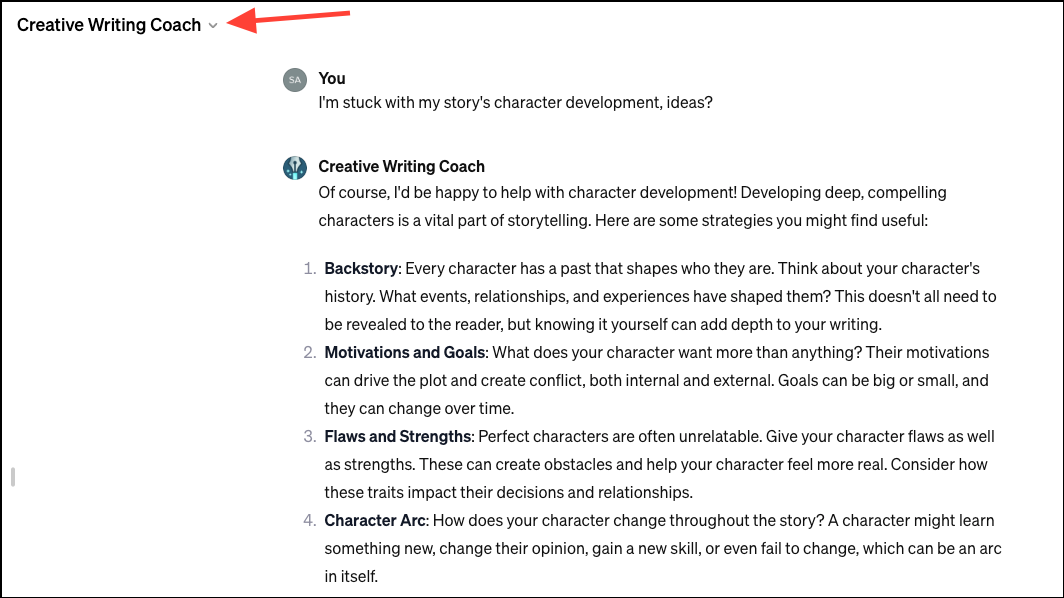 Then, select 'New Chat' from the drop-down menu.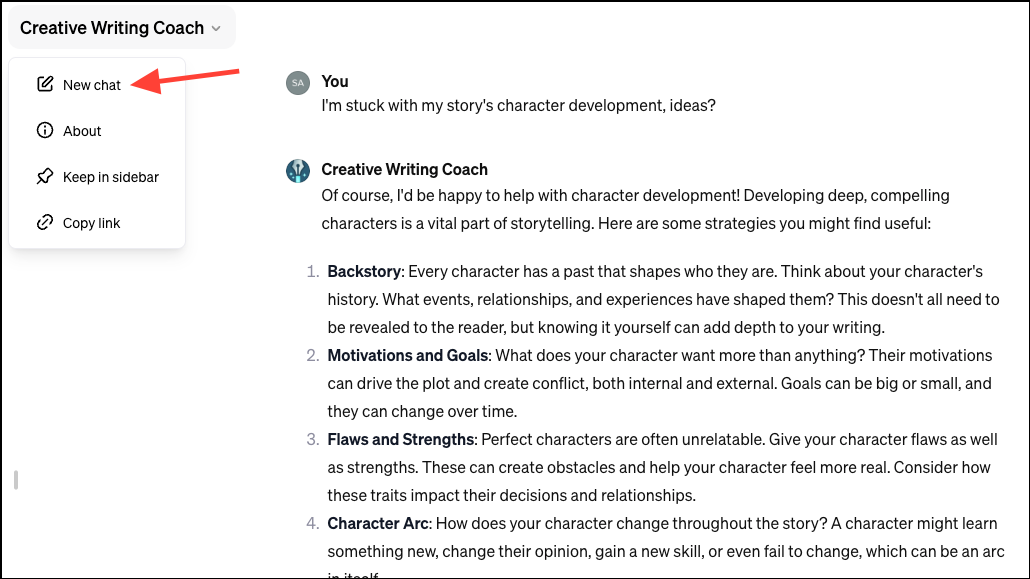 You can also find your recently used GPTs in the sidebar. To hide a GPT from the sidebar, click on the three-dot menu next to its name and select 'Hide from sidebar'.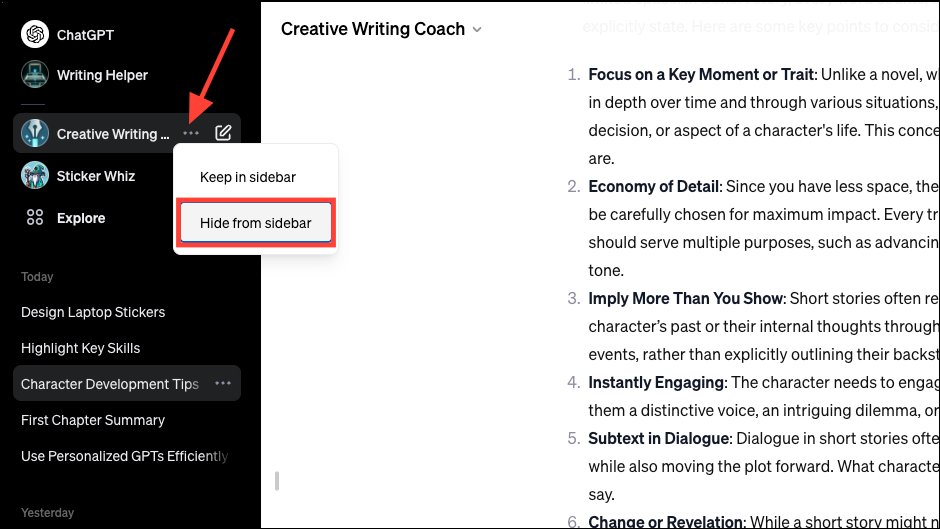 You can also use GPTs from other creators in a similar manner. Click on the link, and it'll redirect you to ChatGPT. Log in to your account if needed.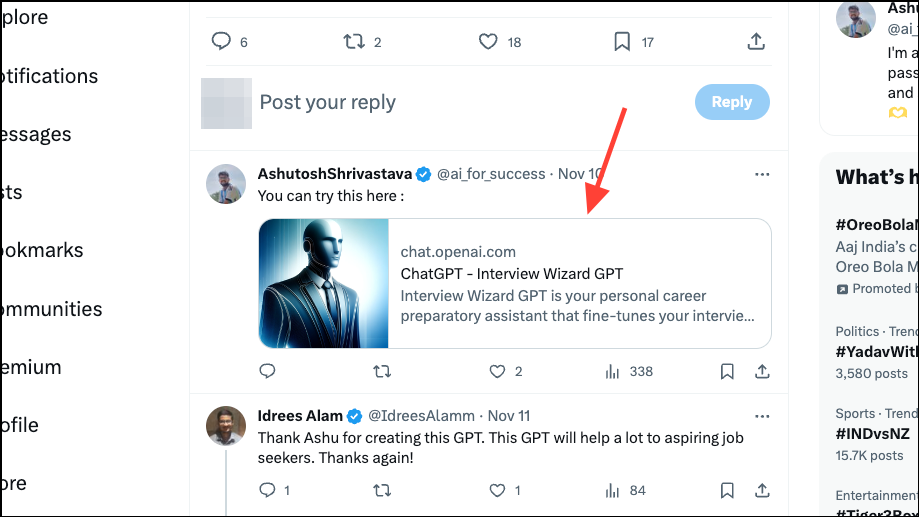 Then, chat away with the GPT.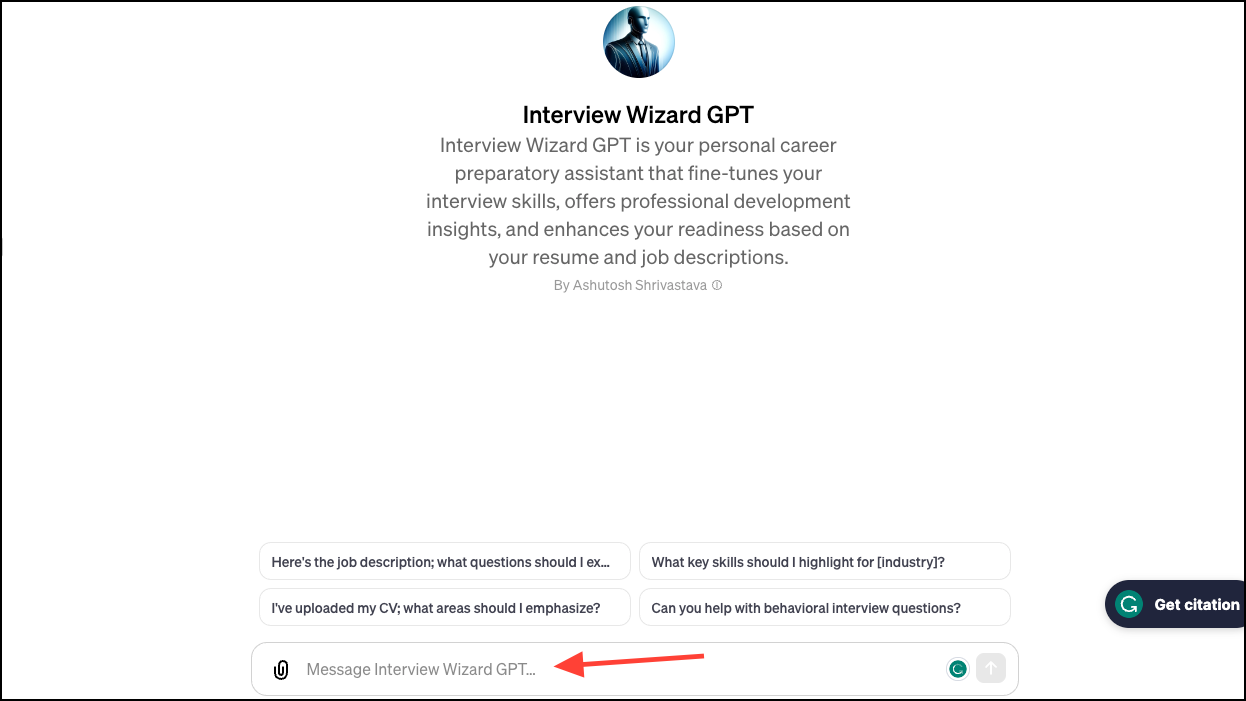 Currently, you can find only a couple of recent GPTs from the sidebar. To find a third-party GPT again, if it's no longer in the sidebar, you'll either need the link again, or you can go to a previous chat with the GPT and start a new chat from the drop-down menu.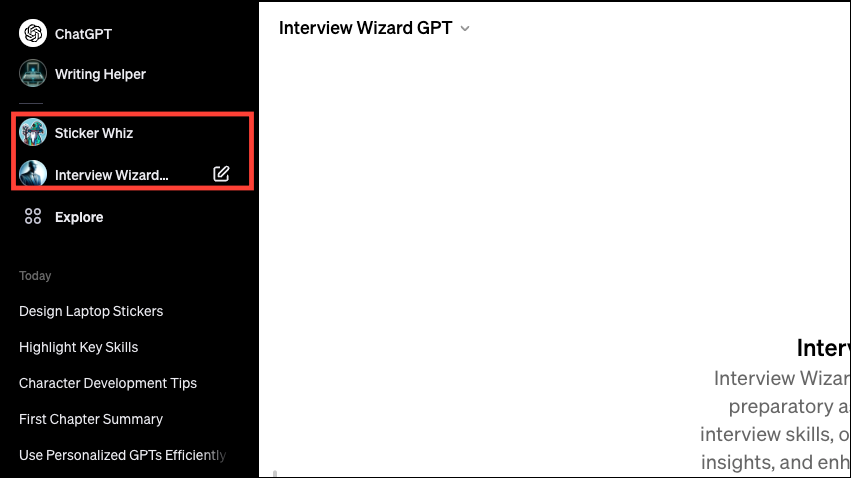 You can also pin a GPT to your sidebar. Go to the GPT in the sidebar, click on the three-dot menu, and select 'Keep in sidebar' from the options.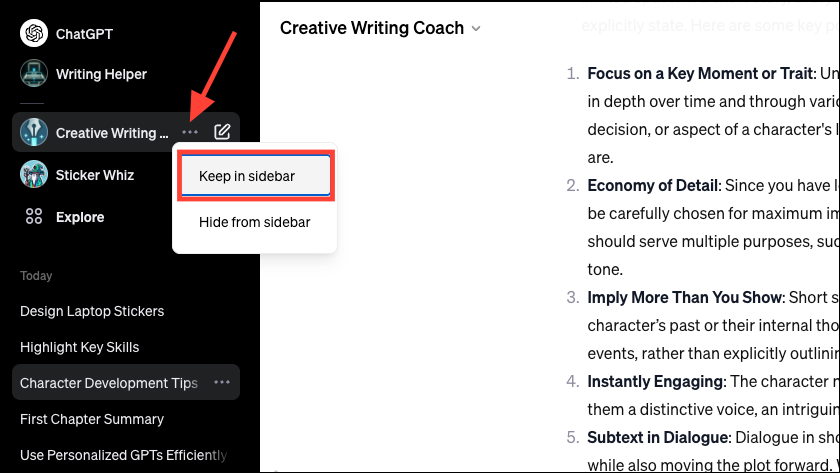 If the GPT is no longer in the sidebar, go to a previous chat with the GPT. Then, click its name in the top-left corner and select 'Keep in sidebar' from the menu.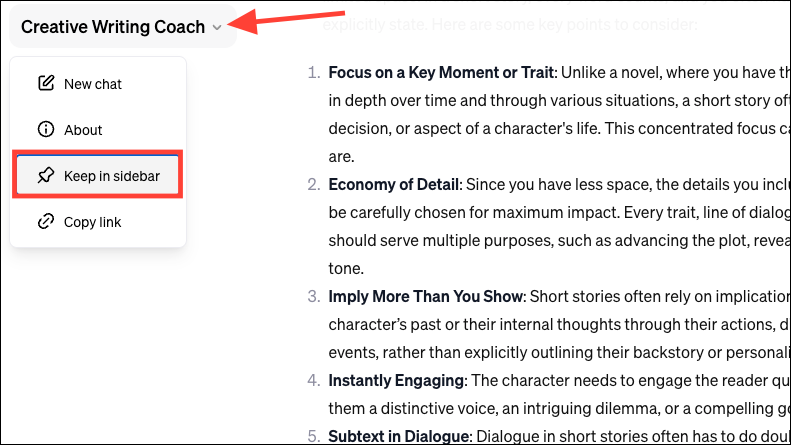 Pinned GPTs will appear above a line along with the GPTs you have created.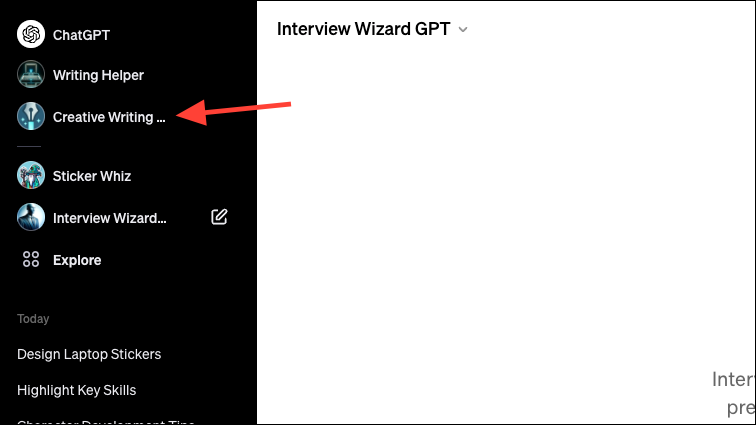 ---
GPTs in ChatGPT offer users a powerful way to customize their conversations and get help with specific tasks, making ChatGPT an even more versatile and valuable tool. By creating your own GPTs or using ones shared by others, you can tailor ChatGPT to your unique needs and interests. As the GPT store launches in the coming weeks and more creators share their models, the future of customized conversational AI looks bright.