The pandemic has completely changed the education system right now. Teachers across the world are scrambling to find resources to teach students better in a remote setting. We've got plenty of resources for video teaching right now to deliver lectures, but delivering lectures is not the only part of teaching.
Worksheets are just as much important while teaching, especially when you're teaching younger kids. Normally, teachers would have resources for the entire year ready, and they'll print out the pages and pass them out to kids in each class as needed. But with remote teaching, things are looking a lot different. You can't hand out the practice sheets to students simply. But with Kami, you can hand these out virtually!
What is Kami?
Kami is a digital classroom app that you can use to annotate, markup, and collaborate on PDF or Word documents. You can draw, write, comment, and much more with Kami on your documents.
It'll basically allow you to share your worksheets with students and they can write their answers straight on the documents without having to print them. You can then further use Kami to grade their worksheets too. It makes the whole process seamless, even in the remote setting. And one of the best things about it is that it can be used with your existing Learning Management System like Google Classroom, Schoology, or Canvas. So if you use any of these tools for your classes, you can just integrate Kami right into your existing setup.
---
How to Use Kami
Kami works with a web app so you don't have to download any additional software to use it to annotate your documents. Now, Kami has a freemium structure. So, basic features will work with a free account, but you need a premium account to access the more rich features.
Using Kami as a Teacher
Go to kamiapp.com and click on the 'Create an account' option to get started.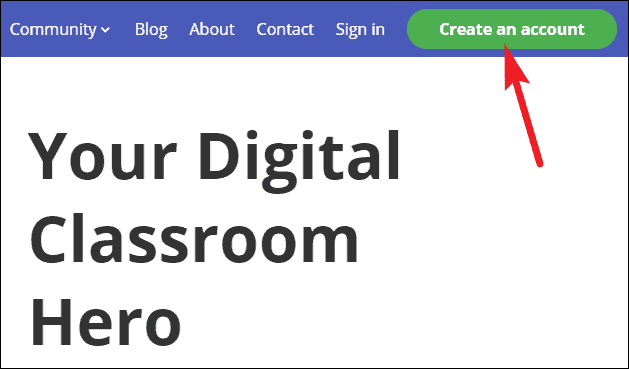 You can create an account using your email id and a password, or use a Google account to quickly sign up.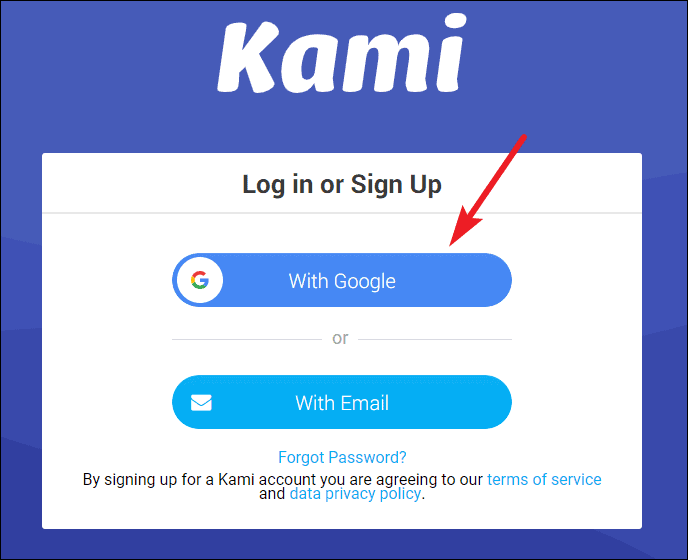 Then, you need to complete the sign up by further selecting what you're using Kami for. The options include K-12 school, College/ University, Work, or Personal. The option you select will further determine the premium model for you as the prices vary for schools and professionals.
If you want to use Kami for teaching, select 'K-12 school'.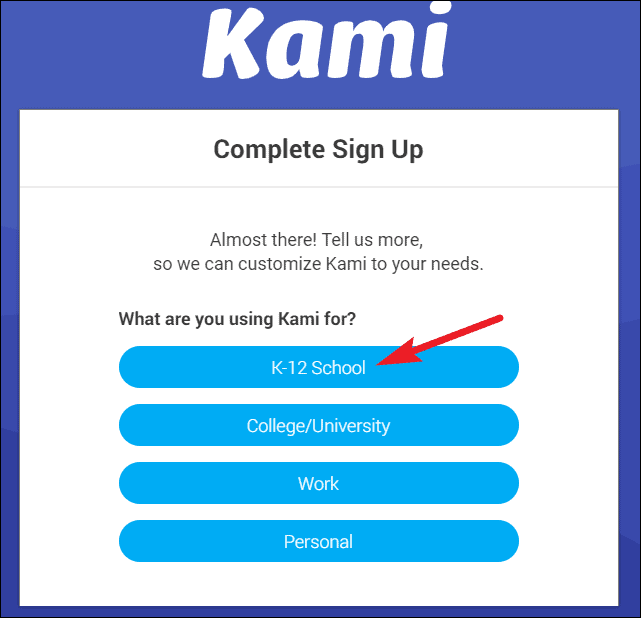 Then, it'd ask for further details – whether you're a teacher or a student, and if you're using any Learning Management System and the name of your school. Fill in these details and click on 'Finish' to complete the Sign Up process.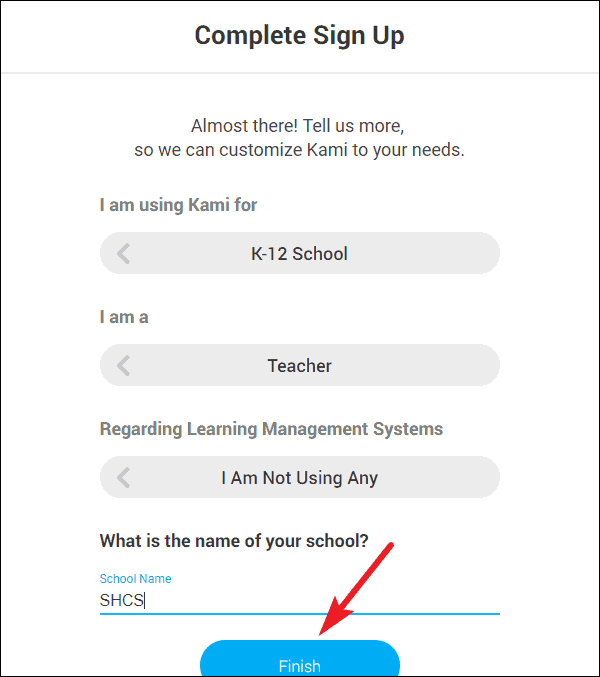 The Home Page for Kami will open. You can select a document from either your Google Drive or locally from your computer. To start annotating a document, click on one of these options and select the document you want to annotate.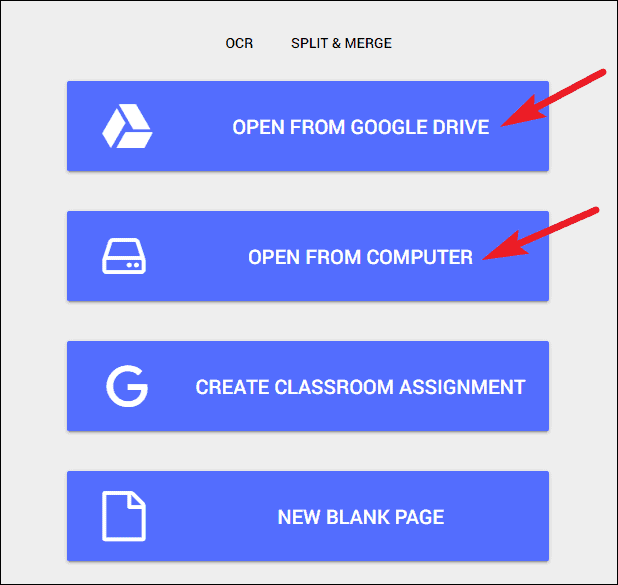 The document will open in Kami's editor on the web. The free account gives you access to limited tools. You can draw (freehand and shapes), write text, comment (text-only), highlight/ mark the text. Select the tool from the toolbar on the left to use it.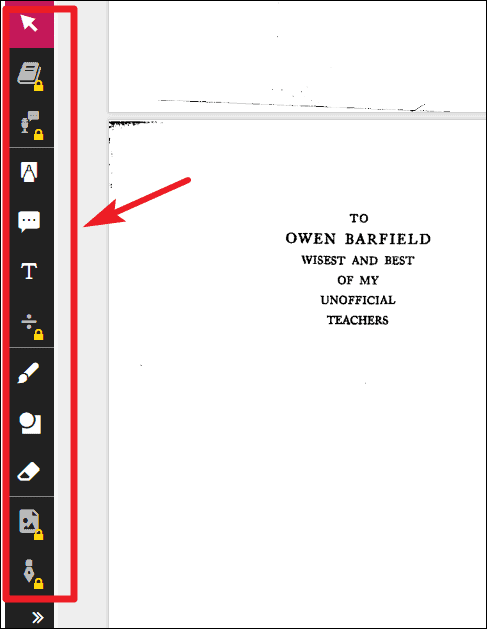 Kami also has an 'Annotation Summary' feature that shows all the annotations and the pages they are on in a summary form. You can click the object in the summary to go to that page directly. It'll be immensely helpful when you want your students to be able to go to your annotations easily.
To access the annotation summary, click the 'Toggle Sidebar' button on the toolbar at the header of the page.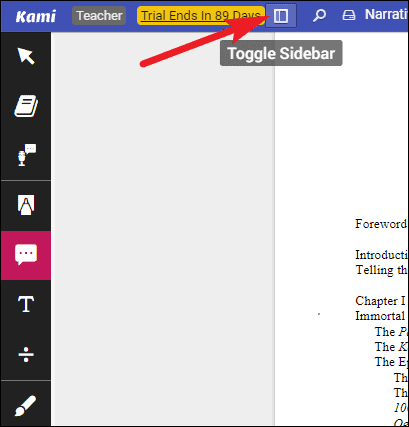 Then, click the 'Annotation Summary' option from the new options that appear on the toolbar.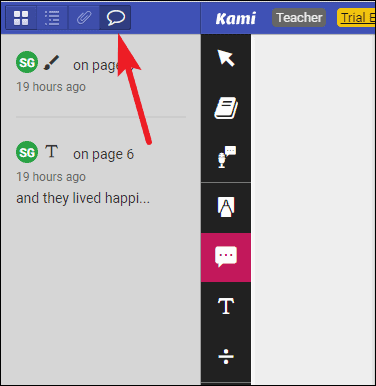 With a premium subscription, you unlock many new tools like Dictionary, Text to speech, Equations, Comments with voice recording, video recording, or screen capture, Media, and Signature.
The premium subscription costs $99/year for a teacher plan that allows a teacher to have up to 150 student accounts. Schools & Districts can get a custom quote from Kami's team. But you can get a free trial for 90 days before deciding to buy a subscription.
Kami has a Split & Merge tool that's quite interesting. The name gives away what the tool does. If you have a PDF that you only want a few pages of, you can use the Split & Merge tool to select and delete pages. You can also use the tool to merge pages from several documents into a single PDF. This PDF can then be stored on your computer, in Google Drive, or opened directly in Kami.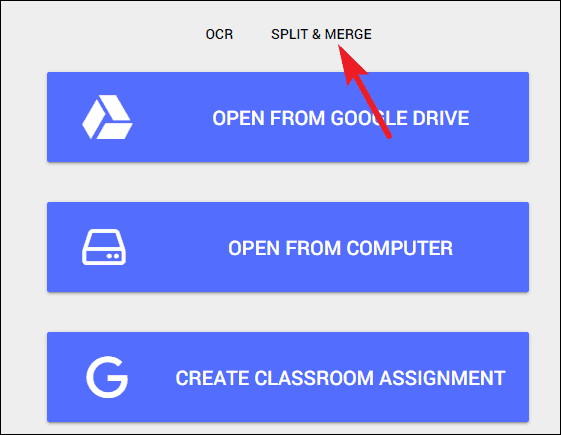 Sharing License with Students (Premium feature only)
When you're using Kami for teaching, you can share your license with up to 150 students so they can have access to all the premium tools too. To share your license, click on the 'Profile' icon on the top right corner of the screen.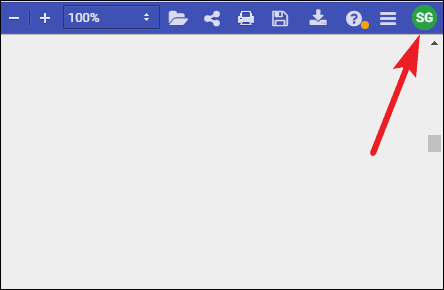 Then, select 'License Dashboard' from the menu.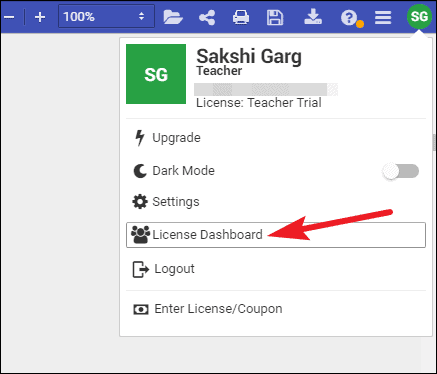 The details of your license will open. Click on the 'Administer License' option.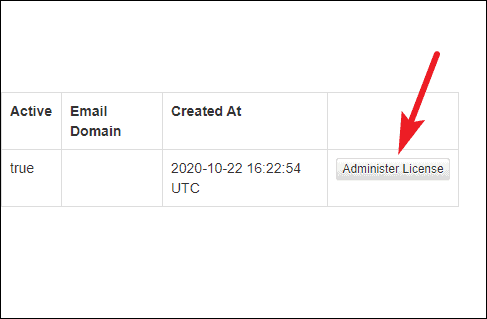 You can either share the link or your license code with your students to give them access and add them to your account.
You can also manage your licenses and remove any students from the dashboard later on.
Activating License (As a Student)
When the teacher shares the license link or code with the students, the student will have to activate the license for their account. If you don't have an account, create an account on Kami as a student first.
Creating an account as a student is the same as for a teacher. Go to kamiapp.com and click on the 'Sign Up' button. Create an account using either a Google account or an email id and password. Then, in the next step, select 'K-12 school' and 'Student' as your preferred choices.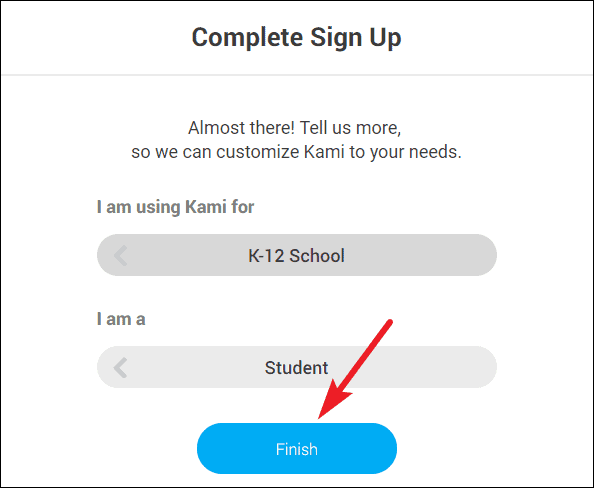 Now, if the teacher shared the code for the license with you, click on the 'Profile' button on the upper right corner of the screen. Then, select 'Enter License/ Coupon' from the menu.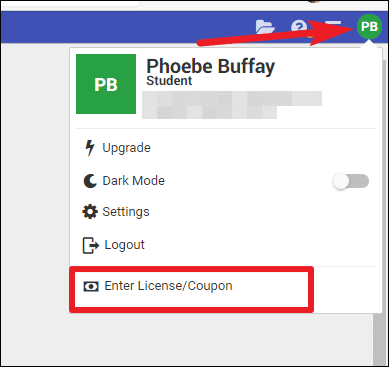 Paste/ enter the code you've received in the textbox and click the 'Apply' button and the license will be activated.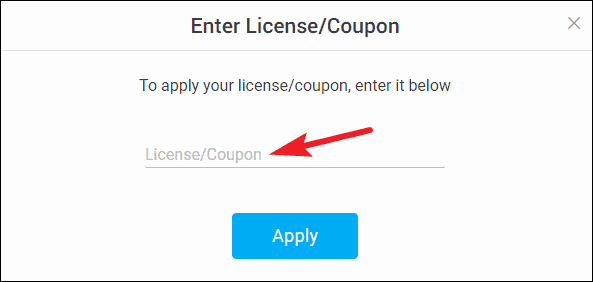 If the teacher shared a link with you, just click the link and sign in with your Kami account to activate the license.
---
Kami can be the tool you're looking for right now. You can efficiently share assignments and worksheets with your students, even while teaching remotely. And with the ease of use and accessibility, you or your students won't find it any trouble using it. And even if you're looking to use it for personal or professional use, there are separate plans for everyone. You can even add it as an extension to Google Chrome.