To call this the year of AI would not be an exaggeration. In what seems like a blink of an eye, artificial intelligence chatbots are everywhere. The only place where AI had yet to appear in a substantial form was social media. And Snapchat is helming that ship.
Snapchat has just introduced its very own integrated AI chatbot, known as 'My AI'. You'll be able to use the My AI chatbot within the Snapchat app itself. Let's dive right in.
What is Snapchat My AI
Snapchat My AI is a chatbot that uses the latest GPT technology from OpenAI – the folks behind ChatGPT. But the My AI chatbot has been customized for Snapchat. It would be available as a separate chat in your Snapchat chat lists, with the 'My AI' default moniker, but you can change it to anything, truly making it your own AI.
But there's a string attached. My AI is only available with a Snapchat+ subscription currently. If you're unaware, a Snapchat+ subscription provides access to exclusive and experimental features in the app. The pricing varies for different countries, but it's $3.99 per month in the US.
Snapchat is rolling out access to the chatbot slowly, and as such, it has only been released to Snapchat+ subscribers in the United States at the moment. The rollout to the rest of the world will be gradual.
You can use your personal AI sidekick in a variety of ways, like asking it to recommend a birthday gift for your BFF, writing a haiku, planning a hiking trip, etc. Like other AI chatbots, Snapchat My AI is also prone to hallucination and can say just about anything when tricked. So, it's important to be aware of its deficiencies.
Any conversations you have with My AI are stored and may be reviewed by their team to enhance the product. So, do not divulge any sensitive or secret information to the chatbot.
The AI can also occasionally produce biased, incorrect, harmful, or misleading information, despite its training.
How to Use Snapchat My AI
Snapchat My AI will be automatically enabled if you're a Snapchat+ subscriber in a supported country (US, at the time of this writing).
To chat with the chatbot, simply open the Snapchat app and swipe right to access your chats. Then, tap the 'My AI' chat from the threads.
That's it. Type what you want to ask the AI in the message box and tap 'Send'. My AI will reply you to the best of its abilities. The better your prompts, the better answers you'll get.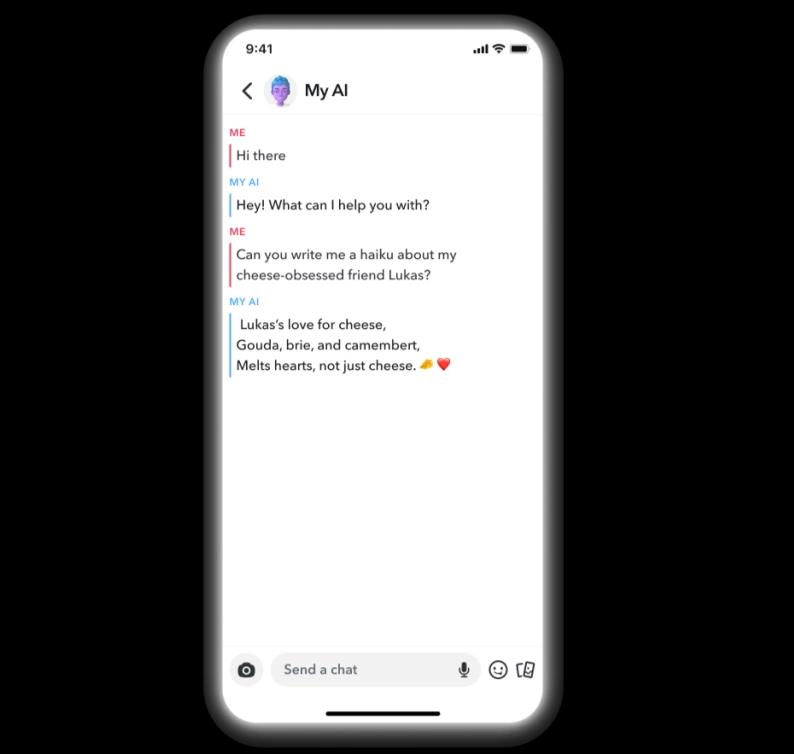 If it produces a result that is incorrect, harmful, biased, or misleading, press and hold that result and you can submit your feedback to the Snapchat team.
---
Having your personal AI chatbot in your social media app will make social interaction with friends so much more interesting!