What's the one word, or rather two words, you're hearing everywhere these days? That's right – Artificial Intelligence! AI has become the latest fascination in the tech world, with new tools dropping faster than you can wrap your head around them.
But not every AI tool will make an impact in a market starting to get saturated. ChatGPT and Bing AI have already caused quite a lot of ripples. And now, Notion AI is a new addition to this list. But if you're starting to become overwhelmed with all these tools that are seemingly starting to dissolve into a single AI category, fret not. They might all be AI-based tools but are miles apart, and we'll help you understand exactly how.
What is Notion AI
Notion AI is the collective set of AI features that you can find in the productivity and note-taking app Notion. With many organizational tools such as task management, to-do lists, project tracking, bookmarking, etc., Notion is an extremely popular workspace tool for teams and organizations.
Notion AI is meant to complement your experience within the Notion app. There's no separate web app to access it. Currently, AI can help you write, summarize, brainstorm, edit, translate, and rewrite content, among others. Unlike other AI tools which you have to use separately, the benefit of using Notion AI is that it works within the Notion app. So, if you're already a Notion user, you'll find it most beneficial.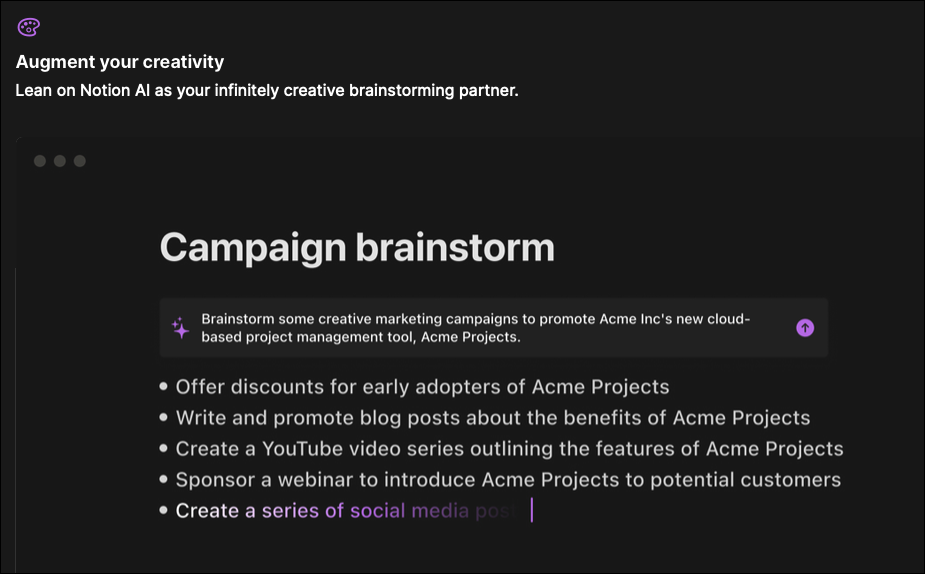 You can do a variety of tasks with Notion AI. For example, if you already have notes in your Notion app, you can ask the AI to summarize them and even present them in different forms, such as a table, actionable items, etc. without the need to jump to another app.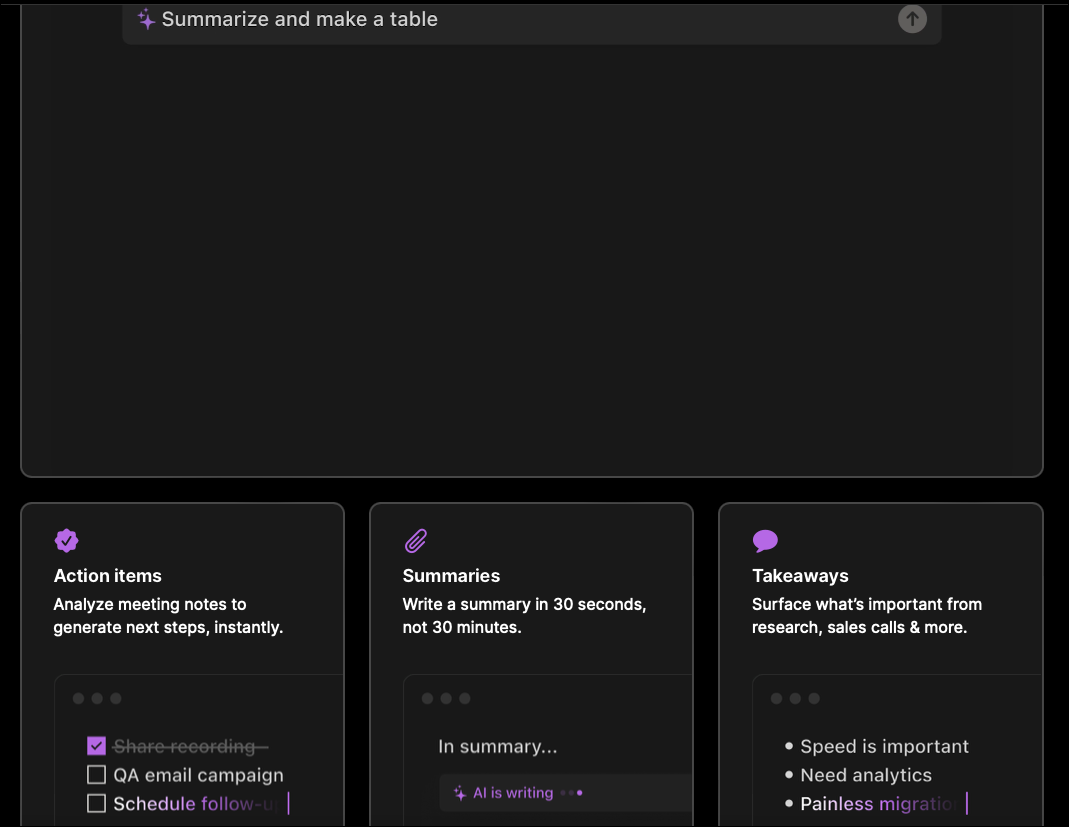 You can even ask it to rewrite any content in a different tone, help you brainstorm ideas, and make it your writing companion by asking it to continue what you were writing. It can also write blog posts, press releases, social media posts, essays, short stories, etc. from scratch. All in all, it can help you accomplish tons of writing tasks in a shorter period of time.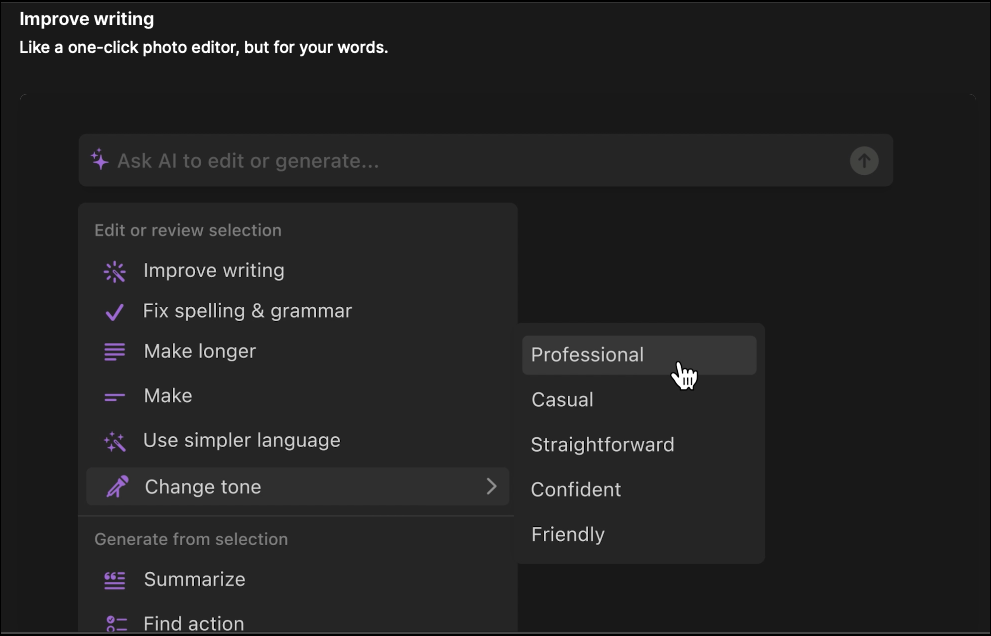 It is trained on large language models which enables it to understand the context and write your text for you.
You can access Notion AI on a Notion page by using the space key, / (slash) commands, or by highlighting any text and asking AI to perform an action.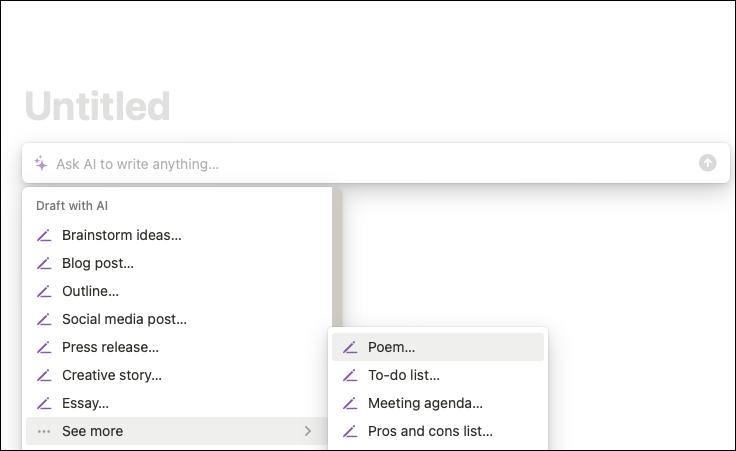 Notion AI vs ChatGPT vs Bing AI
Now that you know what Notion AI is, let's see how is it different from the two most popular AI tools on the web right now – ChatGPT and Bing AI.
ChatGPT is a conversational model which generates responses in a human-like manner. It can answer general as well as technical questions. Not only can it explain concepts like the Big Bang theory in simpler terms to you, but it can also help you with coding questions. Similar to Notion AI, you can also ask for its help to summarize or rewrite content, or draft ideas from scratch.
But since ChatGPT is a standalone tool, you'll have to copy and paste any content over and over to the web app to get it to do things like summarize, rewrite, provide action items, etc. However, at its core, it is a tool for having conversations with the chatbot and not tuned to help you with your writing tasks in the way that Notion AI is.
Now, Bing AI, on the other hand, has a completely different purpose. Integrated into the Bing Search engine in the Microsoft Edge browser, its primary goal is to help you with your search queries and help you find information more efficiently.
It also has a Chat mode where users can chat with Bing AI but since that is not its primary purpose, Bing AI has generated responses that have unnerved users when the conversation becomes longer. In fact, Microsoft has recently limited the number of responses Bing AI provides in Chat mode; after a certain number, it completely avoids providing any answer and you have to start a new chat.
Notion AI does not have conversational capabilities like ChatGPT or searching functionalities like Bing AI. Its goal is to help you write better and it can do a marvelous job of that. None of the other tools can help you augment your writing in a way that Notion AI can. Notion AI is also available on the Notion mobile apps, making it much more accessible than others.
Unlike Bing AI, Notion AI is not connected to the internet and does not have information for the past few months. In this regard, it is similar to ChatGPT. So, at times, it can provide outdated information. Also, just like any other AI tool, it can provide biased or harmful information despite its training.
Notion AI Pricing
Notion AI differs from ChatGPT and Bing AI in one aspect starkly; it is not free to use. While Notion AI was in alpha testing since November 2022, you could use it for free if you got access. But now it's a paid feature after its general release. Every Notion user can try out the AI for free for a limited number of responses – 20 per member. The free responses are only available till April 5, 2023, though. Every response that the AI generates counts toward your free quota. Even if you ask it to 'Try Again' for a prompt, it'll count towards a response.
Eventually, you'll have to buy an add-on plan for Notion AI once you run out of free responses or when the promotion period ends. It costs around $8 – $10 per month per member depending on your plan and how you pay. With an add-on subscription, each member in your workspace gets access to unlimited responses from the AI.
ChatGPT, on the other hand, is free to use but you might always be able to get access due to server overloading, while a ChatGPT Plus subscription costs $20 per month. Bing AI is also free to use currently but there is a waitlist to get access to the search bot.
---
Notion AI is a great tool for users who need a unique and powerful generative writing AI tool. And when if you already use the Notion tools to collaborate with your team, it's a no-brainer that you need to try it out.