Recording meetings to refer back to them, or to share as demonstrations and training material is a common practice, especially when using an online meeting or a workstream collaboration service. Webex users are no different. They share Webex recordings all the time – whether it was a recorded meeting, or training material, recorded especially to instruct others.
When someone shares a Webex recording with you, the chances of it being a WRF file are pretty high. And if you're new to the ecosystem of Webex, this new file format can confuse you. Especially seeing that you can't simply play it on your computer. So, let's see how you can view these WRF files. But before that, let's also see what exactly these WRF files are so you can understand them better.
What Are WRF Files?
A file with the extension .wrf is a Webex Recording File. These are files that are created especially with the Webex Recorder Player. There are three types of file extensions that a Webex recording can have: MP4, ARF, and WRF.
.MP4 files need no introduction. We're all very familiar with these. In the Webex ecosystem, MP4 is the newest recording format. Any Cisco Webex Meeting (WMS33.6 and later) and Event (WMS33.6 and later) sites support recordings with an MP4 format. Any sites with older versions can only support WRF and ARF file types.
When you save the recordings on the cloud using the older site versions, Webex saves them as an ARF file type. Webex Free users don't have the option to save recordings on the cloud; they can only save them on their computer.
Any meeting recordings saved to the computer using an older site version will automatically have a WRF file extension. Other than that, the new site users can also use the Webex Recorder Player to create WRF recordings over MP4 recordings. Why would they do that? MP4 recordings do not record any panels, such as the Chat Panel, or the Participant panel, or any files that you share using the Share File option in the meeting.
The Webex Recorder Player can do that. The Webex Recorder Player can also record as a standalone player, without the need to start a meeting. WRF recordings can also record any application on the computer (but only one at a time), including your mouse cursor, so they are an excellent choice for recording training material.
---
How to View a WRF File
Now that you know what a WRF file is, let's get to how you can view it. There are a few different scenarios where you could end up with a WRF file on your hands.
The first is that someone shared the WRF recording file with you. Now, if it's an email with a link to the Webex recording, you're in luck. You don't need any additional software or player to watch it. Just click the link and the video will play. But if you download the video, then it's a different story altogether.
If you have downloaded the shared WRF file onto your computer, or we're talking about another scenario where you recorded a meeting on your computer with the WRF file format, you need the Webex Player to view that video.
Open your Webex meeting site on the browser, and go to 'Downloads' from the navigation menu on the left. Then, find the 'Recorders and Players' section and click the Recording and Playback link to go to the download page.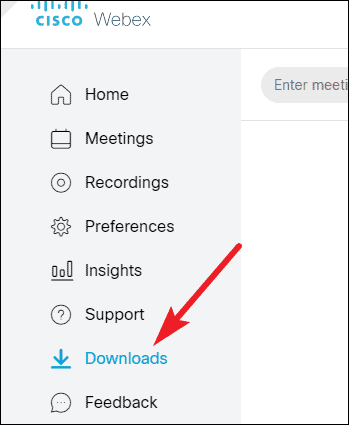 In case you can't find the recorders and players section in your downloads tab, or you just want to save some time, click use the button below.
Under the .WRF file type, click on the link for your Operating system and download the appropriate software to record, view, and edit WRF files.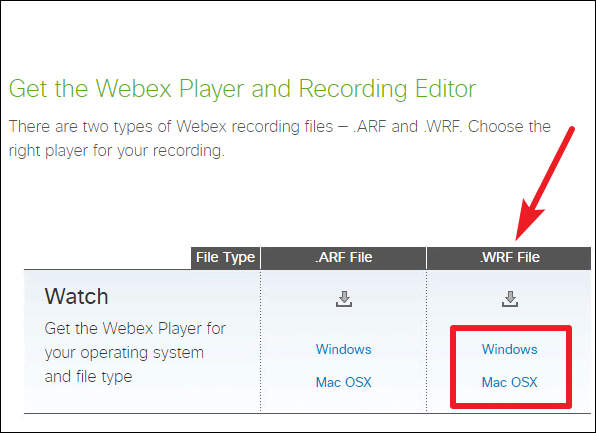 Follow the instructions on the Install Wizard window to successfully install the program. Now, the WRF file will open automatically in the Webex Recorder player.
If you want to view the WRF file on a mobile device, you'll first need to convert the file from the WRF format to WMV format. Then you can use a player, like the VLC media player on your phone to watch the converted file. Click here to download the converter for Windows. Then, download the zip file from the page.
---
Your first encounter with a WRF file type can be confusing, but they are simple to work with once you understand exactly what they are. Using the Webex Recorder, you can easily view any WRF files on your Windows or supported Mac systems.