When buying a new device, battery life is one of the most important metrics consumers consider. And with the newest addition of the Always-On Display (AOD) to the iPhone 14 Pro lineup, the question becomes more important than ever.
Always-On Displays aren't a novelty in the world of smartphones. Samsung and Pixel phones have touted them for quite some time. But even when Apple is fashionably late to the party, it brings something new to the table with its Always-On Display.
The display for iPhone 14 Pro and Pro Max is unlike other always-on displays, which are mostly black, or monochrome, and only display time and a few app icons that have incoming notifications. 14 Pro's always-on display is literally always on.
The display intelligently dims your lock screen to a very low level; nonetheless, it's still your lock screen. Everything on your lock screen – wallpaper, clock, widgets, and new notifications – is visible in this dim state. Some might say that the always-on display for iPhone 14 Pro is a little too on. If your wallpaper has bright colors, you might find them an adjustment.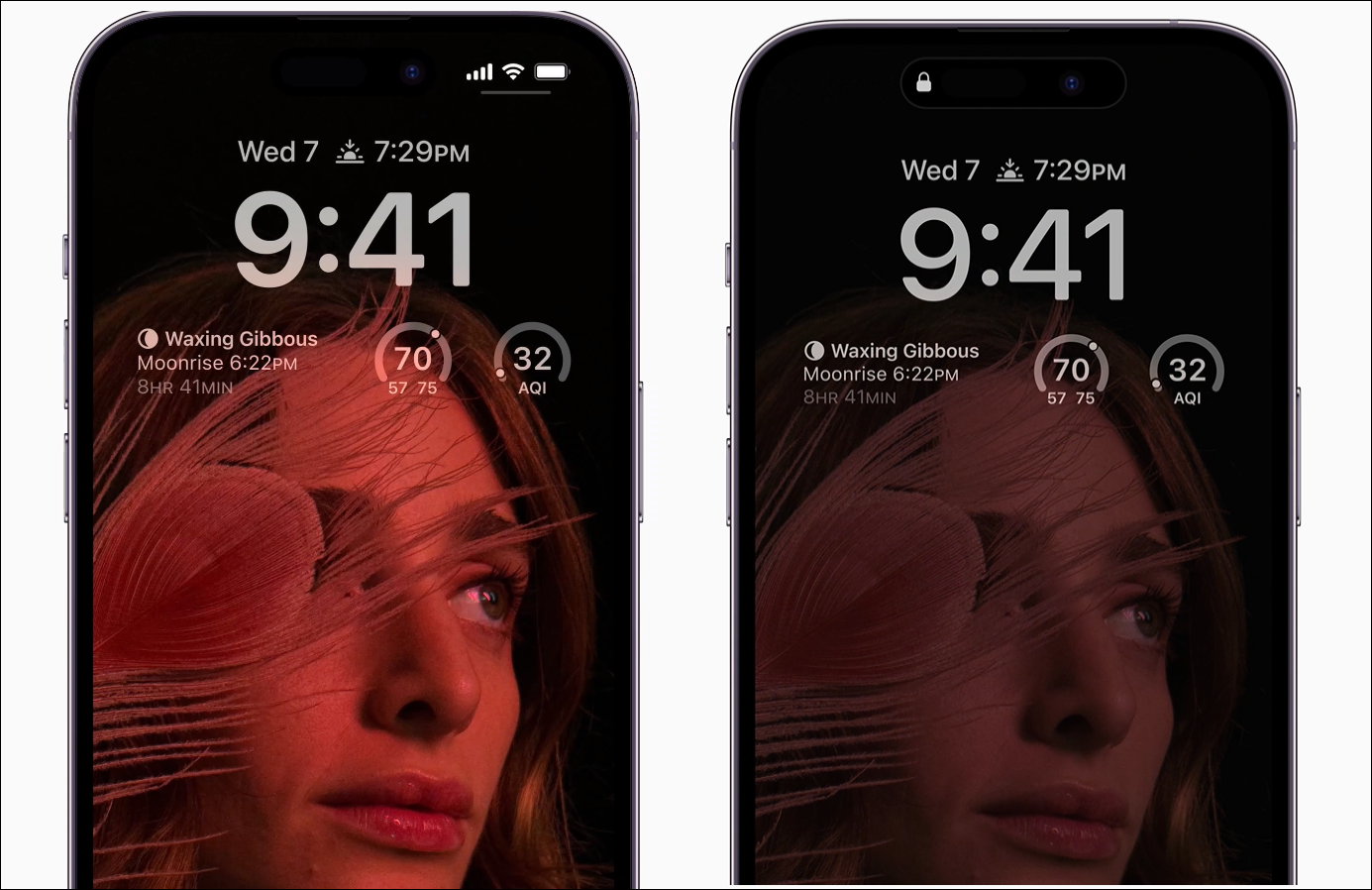 It also highlights the question of the battery life on these devices even more. There are a lot of comparisons to be had. How does this Always-On Display that's more on than any of its competitors stand up to them? And more importantly, how do iPhones 14 Pro and Pro Max fare to the battery backup of their predecessors?
Speculations say that the battery life on the 14 Pro lineup will perform admirably, and might even outlast, its competitors.
But when it comes to its predecessors? Despite Apple's best efforts and claims, it seems like they have fallen somewhat short in the battery-life area. Apple says that they have used many new technologies, like using multiple coprocessors in the chipset, to make it incredibly power efficient. And well enough, the refresh rate for the display falls all the way down to a low-power 1 Hz while AOD is on, as opposed to the 120 Hz battery-intensive refresh rate. Effectively, the screen only refreshes once per second in the AOD mode.
It also uses a low-temperature polycrystalline oxide (LTPO) screen in the display that adjusts the refresh rate dynamically. But no matter how far advanced the technologies might be, it'll have its toll on the battery.
That's what happens here as well. First impressions suggest that the battery life on iPhone 14 Pro is not at par with the iPhone 13 Pro. iPhone 13 Pro stunned users last year with its splendid battery performance, among other criteria. Expectations were higher, but also shaky, with iPhone 14 Pro this year.
However, after a full day of use, the battery on the 14 Pro lasted shorter than the 13 Pro for many users. Now, that's not to say your iPhone 14 Pro won't last you throughout your work day. Or that the performance of the iPhone 14 Pro is not impressive. Even with all the enhancements to the camera, display, and processor, 14 Pro delivers good battery backup. But it hasn't been able to outshine its predecessor. The Always-On Display does contribute to this: users who have turned off the AOD have seen improvement in the battery life.
Still, that shouldn't be too discouraging. 13 Pro was a great phone in itself. And 14 Pro does offer enhancements. But if you're wondering about upgrading from 13 Pro to 14 Pro, you might not find much to support its case. Sure, there are features like Dynamic Island, Always-On Display, and improved cameras with the photonic engine which make it top of the line. But are they worth upgrading from 13 Pro? We'd say you might want to hold off. But if you'll be coming from older models to the 14 Pro lineup, you'll have your socks knocked off of you.
Alternatively, if you're only looking for a phone that will deliver even greater battery performance, you can look to another iPhone from the lineup: iPhone 14 Plus. iPhone 14 Plus, which will become available on 7th October, houses the same battery as the 14 Pro Max, 4325 mAh, to be exact (14 Pro has a smaller battery size of 3200 mAh). But as it doesn't have as taxing features as the iPhone 14 Pro Max, it'll evidently deliver a better battery performance.